Get ready to embark on a sensational culinary journey that will awaken your taste buds and transport you to a summer paradise! Introducing our enchanting Fruit Salad with Absinthe Syrup – a delightful medley of fresh fruits infused with the intriguing essence of Absinthe, that combine to create a refreshing summer dessert.
As the warm sun embraces the vibrant colors of the season, our fruit salad comes to life with the juiciest slices of cantaloupe, honeydew melon, blood oranges, and navel oranges. Each bite bursts with natural sweetness and a refreshing zing, making it the perfect summer pick-me-up!
But what sets this fruit salad apart from the ordinary is the captivating twist of the Absinthe syrup. An elixir steeped in centuries-old tales of allure, Absinthe adds an alluring depth to the salad, elevating it to new heights of flavor. Its herbal notes mingle harmoniously with the fruit's juiciness, creating a symphony of taste that dances on your palate. It's an enchanting addition that will leave your guests intrigued and delighted.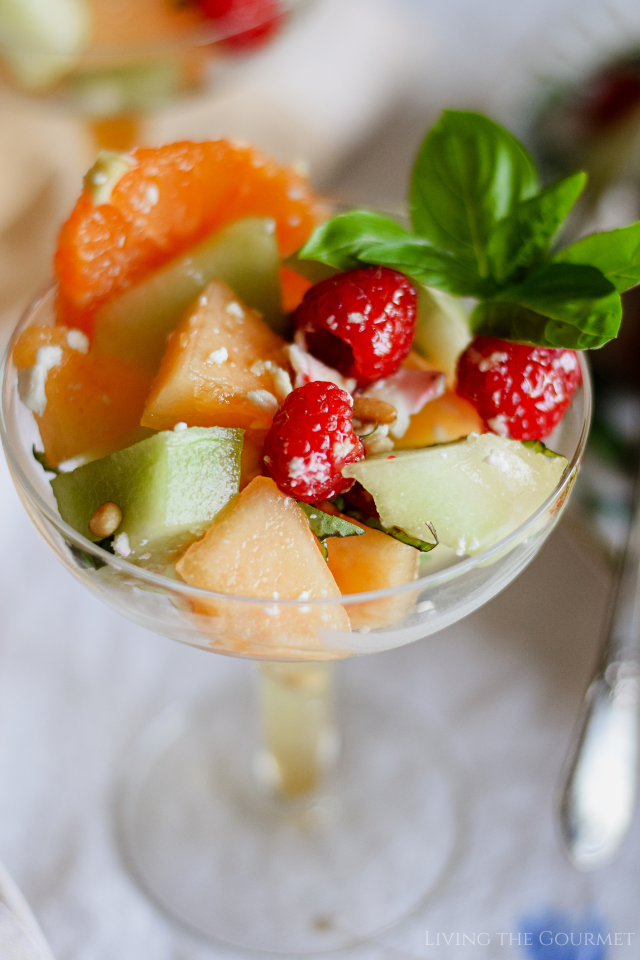 Picture this – a sunlit afternoon gathering with your loved ones, laughter filling the air, and the table adorned with a stunning fruit platter. The aroma of fresh basil and the nutty crunch of toasted pine nuts captivate your senses, as you eagerly reach for a luscious slice of fruit coated in the shimmering Absinthe syrup. With every spoonful, you savor the symphony of flavors, celebrating the essence of summer in each delightful bite.
So, join us on this extraordinary flavor adventure as we explore the marriage of vibrant fruits and the mystical charm of Absinthe. Let this Fruit Salad with Absinthe Syrup be your go-to summer treat, a refreshing oasis in the sweltering heat. Take a bite, close your eyes, and let the magic unfold! The recipe awaits you with open arms and a promise of an unforgettable culinary escape. Let's dive in together!
Stay tuned for the full recipe, where we will guide you through the simple steps to create this mouthwatering masterpiece. Embrace the flavors of summer and indulge in this blissful fruit salad, making memories that will linger long after the last juicy bite!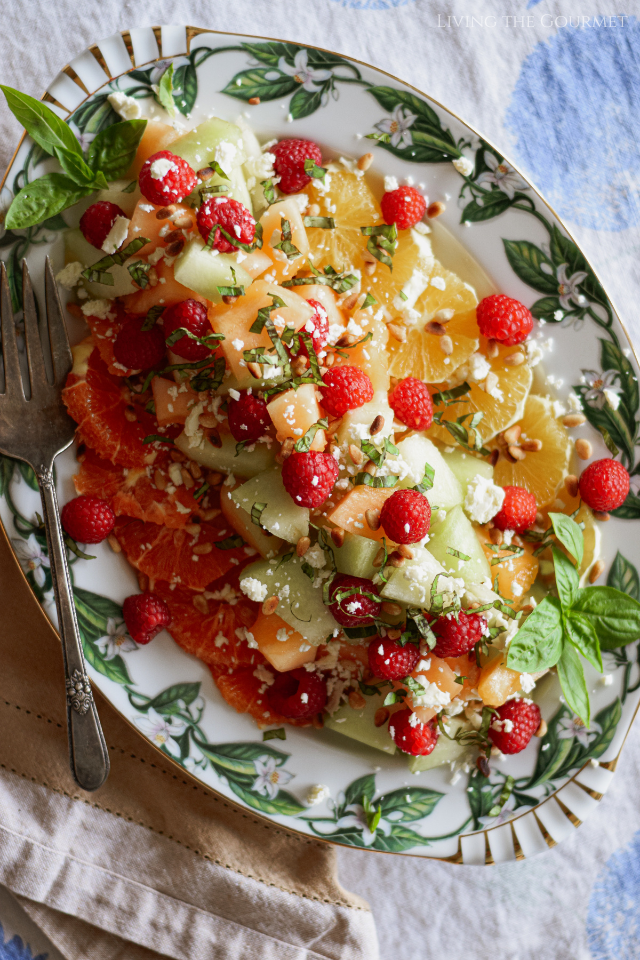 Ingredient Checklist – Everything You'll Need
For the Fruit Salad:
Cantaloupe, cubed:
Notes & Tips:

Choose a ripe and sweet cantaloupe for the best flavor. The flesh should be firm but yield slightly when pressed near the stem end.

Substitutions: Watermelon can be used instead of cantaloupe if preferred.
Honeydew Melon, cubed:
Notes & Tips:

Look for a ripe honeydew with a fragrant aroma and pale green skin. The flesh should be slightly soft and juicy.

Substitutions: Feel free to use other melon varieties if honeydew is unavailable.
Blood Orange, sliced:
Notes & Tips:

Select blood oranges with a deep red hue for a vibrant appearance. The skin should be firm and smooth, and the fruit should feel heavy for its size.

Substitutions: Regular navel oranges can be used if blood oranges are not in season.
Navel Orange, sliced:
Notes & Tips:

Choose sweet and juicy navel oranges for a refreshing taste. Look for oranges with bright and uniform color.

Substitutions: Use mandarin oranges or tangerines for a different citrus twist.
Raspberries:
Notes & Tips:

Opt for plump and firm raspberries to add a burst of color and flavor.
Check for any signs of mold or spoilage before using.

Substitutions: Blueberries or strawberries can be used as a substitute.
Basil Leaves, thinly sliced:
Notes & Tips:

Fresh basil adds a delightful herbal aroma to the fruit salad.
Tear the leaves gently to release their fragrance before slicing.

Substitutions: Mint or lemon balm can also work well if basil is not available.
Feta Cheese, crumbled:
Notes & Tips:

Use high-quality feta for a creamy and tangy element. To enhance the flavor, buy feta packed in brine.

Substitutions: Goat cheese or ricotta salata can be excellent alternatives.
Toasted Pine Nuts:
Notes & Tips:

Toast the pine nuts in a dry skillet over medium heat until golden and fragrant. Keep an eye on them as they can burn quickly.

Substitutions: Chopped almonds or pistachios can be used instead of pine nuts.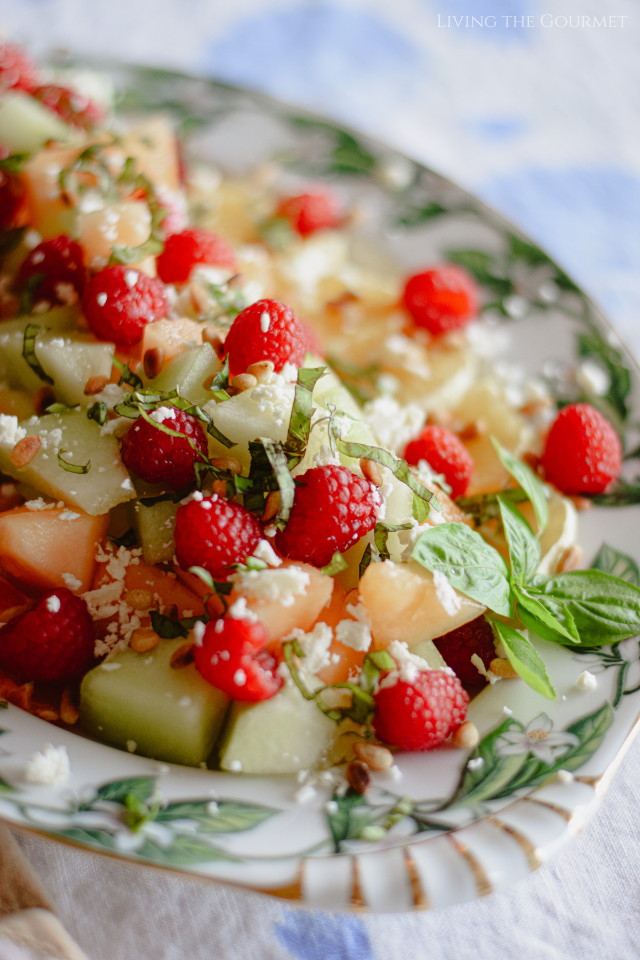 For the Absinthe Syrup:
Absinthe:
Notes & Tips:

Choose a reputable brand of Absinthe for the best taste.
Use it sparingly as Absinthe has a strong flavor and high alcohol content.

Substitutions: For a non-alcoholic version, substitute with a mix of herbal teas for a similar flavor profile.
Raw Honey:
Notes & Tips:

Use pure raw honey for a natural sweetener with floral undertones.
If your honey has set, warm the honey slightly to make it easier to drizzle over the fruit. Be careful not to overheat, as this will destroy the subtle nuances that define raw honey.

Substitutions: Maple syrup or agave nectar can be used as alternatives for sweetness.
This colorful and refreshing fruit salad with a touch of Absinthe syrup is sure to become a summer favorite! Feel free to customize the ingredients based on your preferences and seasonal availability. Enjoy the magical combination of flavors and textures in this delightful dish!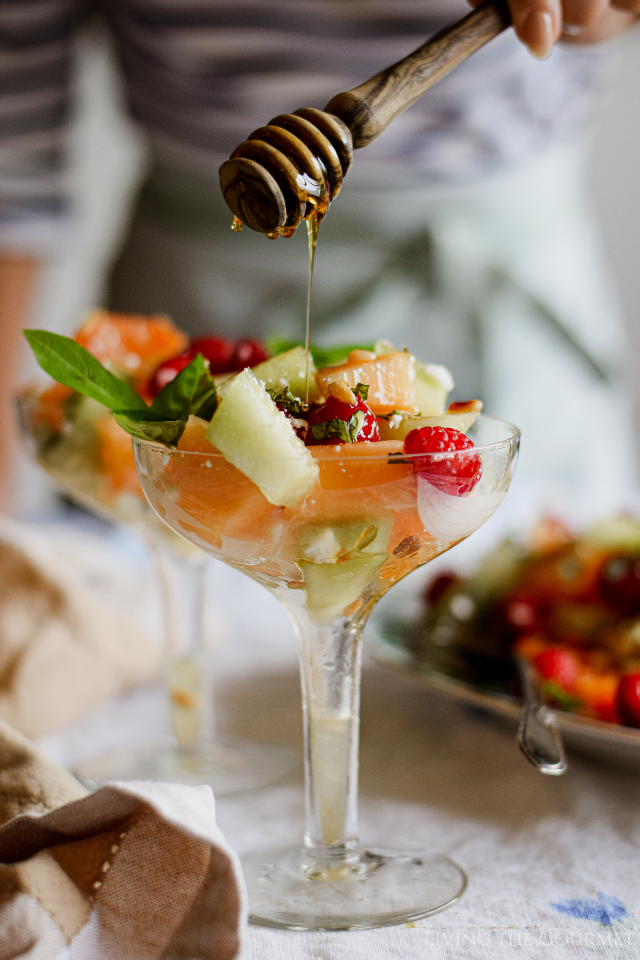 Pairings – When to Serve, and With What
Pairing this delightful Fruit Salad with Absinthe Syrup opens up a world of possibilities for creating a memorable and refreshing dining experience. As a vibrant and luscious appetizer, this fruit salad can perfectly complement a range of dishes, offering a balance of sweet and tangy flavors that tantalize the taste buds. Here are some pairing ideas to help to help turn your next meal into a culinary adventure:
Grilled Seafood: Serve this fruit salad alongside a selection of grilled seafood, such as succulent shrimp skewers or lightly charred scallops. The fruity sweetness of the salad beautifully contrasts with the savory, smoky flavors of the seafood, creating a harmonious balance on the palate.
Mediterranean Mezze Platter: Create a Mediterranean-inspired mezze platter with an array of dishes like hummus, baba ganoush, olives, and grilled halloumi cheese. The bright and citrusy notes of the fruit salad provide a refreshing contrast to the rich and savory elements of the platter, making it an ideal addition to a summer gathering.
Charcuterie Board: Pair this fruit salad with a well-curated charcuterie board featuring an assortment of cured meats, cheeses, and artisanal crackers. The juicy fruits and tangy Absinthe syrup add a burst of flavor to the board, balancing the richness of the meats and cheeses.
Summer Brunch: Serve this colorful fruit salad as part of a delightful summer brunch spread. Accompany it with fluffy buttermilk pancakes, freshly baked croissants, and a variety of spreads like lemon curd and fruit preserves. The salad's light and fruity essence complements the indulgent brunch items.
Tropical-Inspired Dishes: Use this fruit salad to enhance the flavors of tropical-inspired dishes, serving it as an appetizer or side to things like coconut shrimp, Caribbean jerk chicken, or pineapple-glazed salmon. The medley of fruits and the Absinthe syrup create a tropical symphony that transports diners to a sunny island getaway.
Salad Toppings: Elevate your favorite leafy green salads by using this fruit salad as a delightful topping. The combination of juicy fruits, creamy feta, and toasted pine nuts adds texture and complexity to the greens, transforming a simple salad into a gourmet experience.
The versatility of this fruit salad makes it an excellent addition to any summer dining occasion. Whether you're hosting a casual backyard gathering or an elegant dinner party, this appetizer will surely impress your guests and leave them craving more. Its vibrant colors, refreshing taste, and the unique twist of the Absinthe syrup promise to be the highlight of any meal.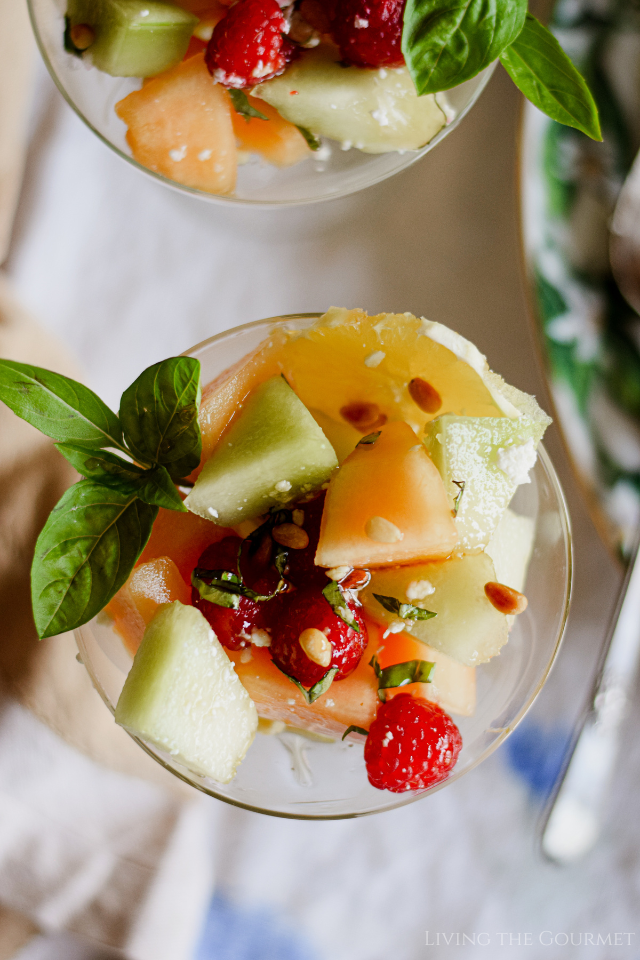 Variations – Making the Recipe Your Own
Whether you're looking to add a twist to the original recipe or create a non-alcoholic option, here are some delightful variations to consider:
Absinthe Substitution: For a non-alcoholic version, simply replace the Absinthe in the syrup with an herbal tea or a mixture of fresh citrus juices. Use anise or fennel to achieve a similar taste. Alternatively, you can use chamomile tea for a subtle floral note or mix lemon, lime, and orange juices for a citrusy blast.
Minty Freshness: Add a refreshing touch by incorporating fresh mint leaves into the fruit salad. The mint complements the fruity flavors and lends a cooling and aromatic element to the dish.
Exotic Fruits: Experiment with a variety of exotic fruits to elevate the flavor profile of the salad. Try adding sliced mango, passion fruit, kiwi, or dragon fruit for an exciting tropical twist.
Nutty Crunch: Enhance the texture of the salad by sprinkling toasted coconut flakes or chopped almonds over the fruits. The nutty crunch adds a delightful contrast to the juicy fruits.
Greek Yogurt Drizzle: Replace the Absinthe syrup with a drizzle of honey-infused Greek yogurt. The creamy and tangy yogurt complements the sweetness of the fruits, creating a creamy and satisfying dressing.
Citrus Zest: Boost the citrusy notes of the salad by adding a sprinkle of lemon or orange zest. The zest provides a burst of intense flavor and adds a visually appealing element to the dish.
Balsamic Glaze: Create a more savory and complex flavor profile by drizzling the fruit salad with a balsamic glaze. The glaze's sweet and tangy notes complement the fruits and add an elegant touch.
Frozen Dessert: Turn this fruit salad into a frozen dessert by tossing the fruits with the Absinthe syrup and freezing them until they become slightly icy. Serve the fruit salad in chilled glasses or bowls for a refreshing treat.
These variations offer exciting options for making this salad your own. Whether you opt for the original recipe or explore the different twists, this vibrant and flavorful fruit salad is sure to be a hit at any gathering or meal, bringing a burst of summer goodness to the table.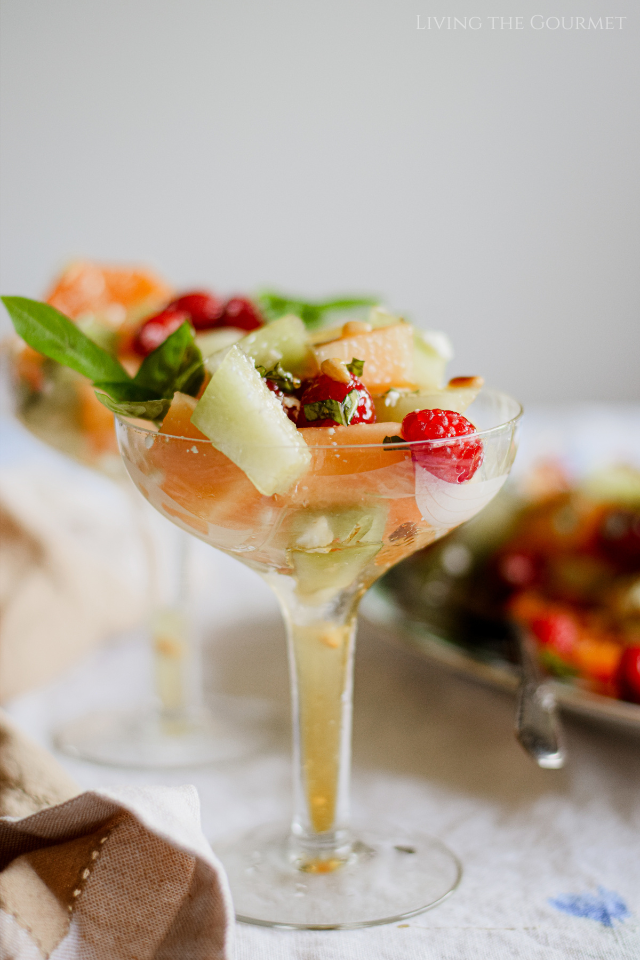 shop this post
Print
Melon Salad with Absinthe Syrup
---
Author:

Total Time:

15 minutes

Yield:

4

servings

1

x
1

cantaloupe, cubed

1/2

honeydew melon, cubed

1

blood orange, sliced

1

navel orange, sliced

1

cup

raspberries

5

basil leaves, thinly sliced

1/2

cup

crumbled feta

2 tablespoons

toasted pine nuts
For the Absinthe syrup:
2 tablespoons

Absinthe

2 tablespoons

raw honey
---
Instructions
On a serving platter, fix the fruit.  Top with crumbled feta, basil, and pine nuts as shown.
In a small bowl, whisk together absinthe and honey.
Serve the fruit in chilled glasses or bowls, drizzle with absinthe syrup and additional honey if desired.
Keywords: fruit salad, salad, melon, fruit, healthy
Recipe Card powered by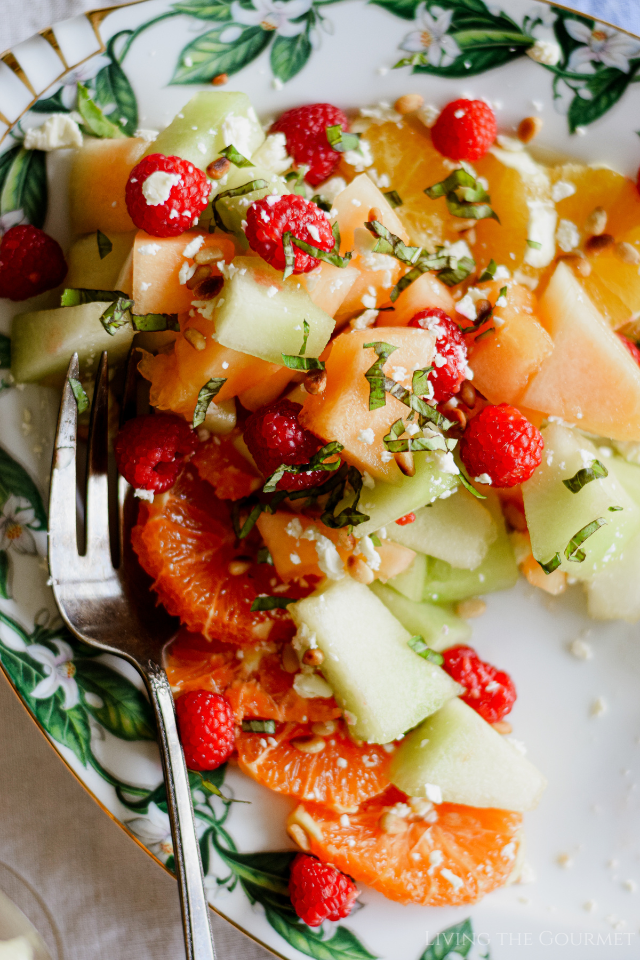 And that's our Fruit Salad with Absinthe Syrup. If you enjoyed today's recipe, be sure to like, share, and subscribe, it helps us more than you can know.
As always, if you have any questions or suggestions, be sure to let us know in the comments below, we always love hearing from you.
Happy Cooking!
1