These Mediterranean Style Tuna Stuffed Mushrooms are ideal for a light dinner on their own or a perfect accompaniment to any savored meal. This is a sponsored post written by me on behalf of Bella Portofino Tuna.
Today we're preparing a batch of portobello mushrooms stuffed with a savory mix of tuna, parsley, and plenty of parmesan cheese, along with baby spinach and breadcrumbs.  The addition of fresh lemon juice and zest brings in bright citrus notes that really help accentuate the savory mix.  This mix combines to create a delicious Mediterranean-theme that would likely fit right in at your favorite bistro.
These mushrooms are a great light dinner choice on their own, but can also serve a side to things like steaks, hardy fish such as salmon or shark, or alongside a spicy red pasta sauce. As a nice bonus, this recipe is fairly simple to prepare.
Below, we'll be going over the ingredients, and I'll be recommending several key substitutions. I'll also be covering a few delicious ways to get creative with this recipe.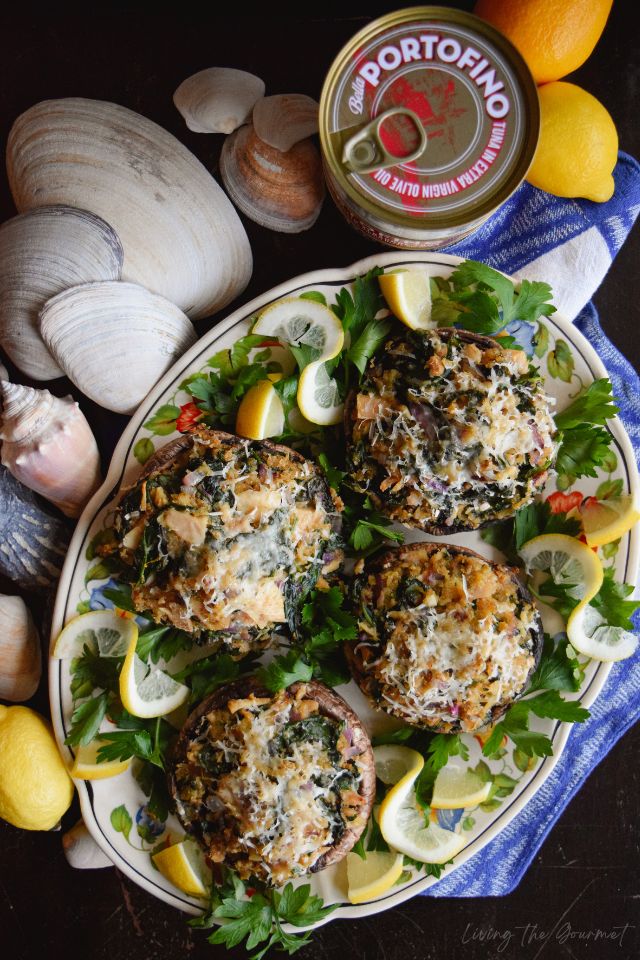 Ingredient Checklist and Notes
Portobello Mushrooms.  I'm using portobellos for this recipe, but any mushroom sturdy enough for stuffing, such as cremini or shitake, would work just fine.  However, I feel the 'meaty' texture and flavor of portobellos really helps this recipe shine.
Tuna.  For this recipe, I suggest using tuna in oil, and be sure to drain the tuna thoroughly before adding it to the recipe.
Red Onion. Adds a bit of color, and cooks up sweet.  That's why I prefer Red Onion.  Substitutes below.
Lemon Juice. As in all cases, fresher is better, so opt for fresh lemon juice if you happen to have some lemons on hand.  Bottled will work fine, but I do suggest fresh.
Lemon Zest.  For an extra 'hint' of lemon flavor, just be sure to rinse the lemon before zesting.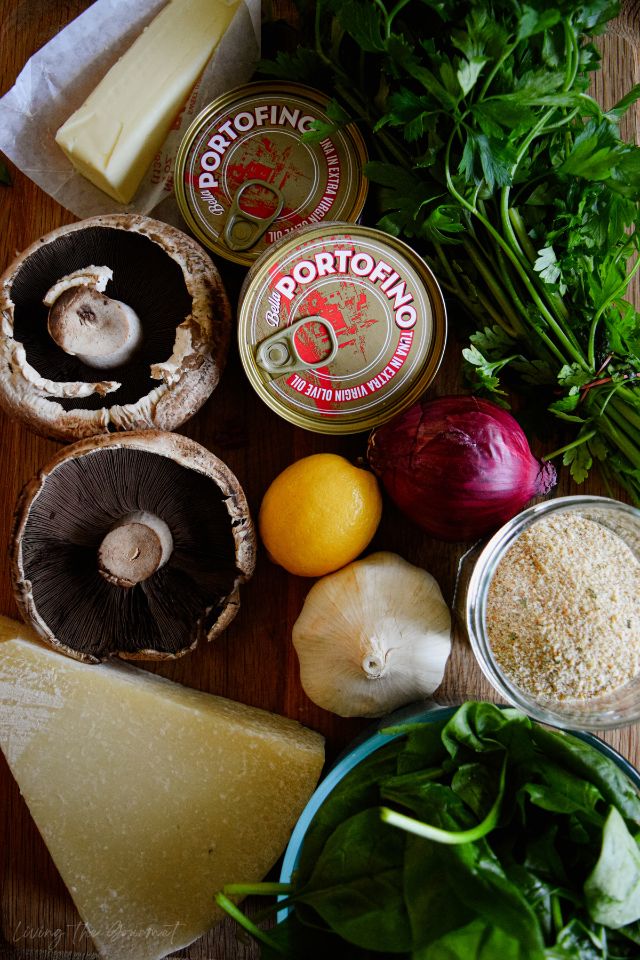 Fresh baby Spinach. Baby spinach is simply the smallest variety of flat leaf spinach, and contains all of the same nutrient values as its larger cousins.  While some frown on cooking baby spinach, the larger varieties, in my opinion, would simply overwhelm this recipe.
Italian-Style Breadcrumbs. Extra flavor from the seasonings is always a plus, but if you only have plain on hand see below for how to make your own Italian-style breadcrumbs.
Italian Parsley.  Also called 'flat leaf parsley,' this is the parsley that goes 'into' a recipe, while 'curly leaf parsley' is used purely as garnish.  Why is this?  Because curly parsley tastes like…nothing, or – at most – like grass, and has almost no aroma.
Garlic.  For today's recipe, be sure to chop the garlic up as fine as you can manage.
Olive Oil.  I'm using a fairly decent Extra Virgin Olive Oil for today's recipe.  Since you 'will' be tasting the oil in this particular recipe, I recommend using an olive oil that you wouldn't mind using as a dipping oil.
Parmesan Cheese.  Use your grating cheese of choice, not a whole lot to say on this one.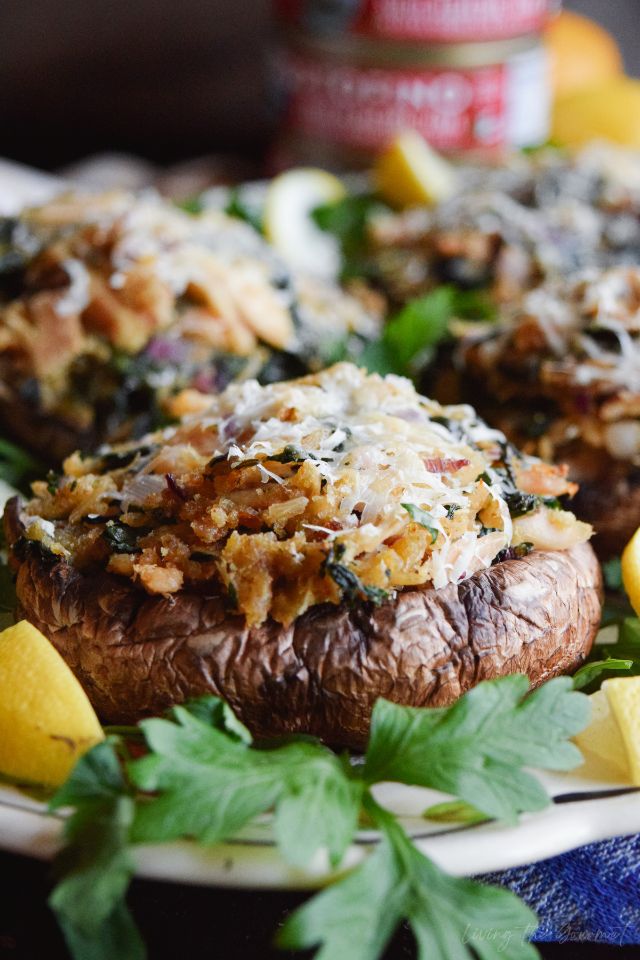 Substitutes
Fresh Lemon Juice.  If you don't have fresh lemons on hand, use an equal amount of bottled lemon juice.
Parsley.  An equal amount of cilantro and/or basil.  For best results, make a mix that's equal parts cilantro and basil.  Conversely, dried parsley, dried, basil, or dried oregano can all stand in for the parsley.
Make Your Own Italian Style Breadcrumbs.  Making Italian-style breadcrumbs at home is incredibly simple.  Just take half a cup of plain breadcrumbs, and then add in about a quarter teaspoon of black pepper, half a teaspoon salt, and a pinch each of red pepper flakes and dried oregano.  Add in dried basil and dried parsley (about a quarter teaspoon of each), if you happen to have these on hand.
Red Onion.  Sweet onion would be the best substitute, but 'any' type of onion would work.  Yes, these are used at a one-to-one ratio in place of the red onion.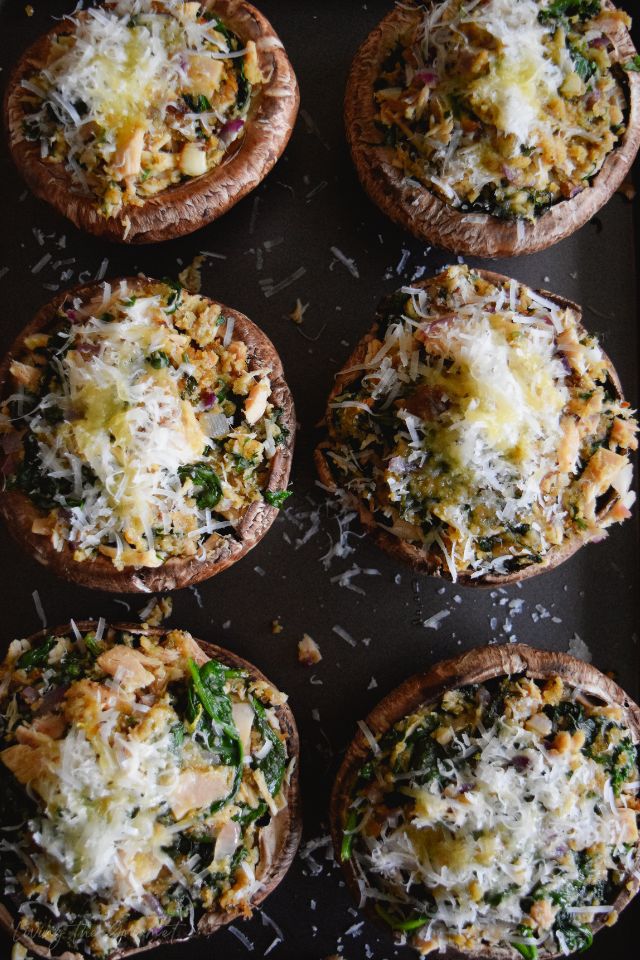 Get Fancy
Top it.  Top the mushrooms with a copious layer of mozzarella before baking for extra cheesy goodness.  Conversely, gouda, or a mix of mozzarella and gouda, would also work deliciously.
Mix It.  Mix in chunked feta, or chunked ricotta salada, into the stuffing for a delicious cheesy addition.
Experiment with other fish.  To really up today's recipe, prep a nice piece of salmon in a marinade, cook it, preferably by baking in the oven, let it cool, and then crumble that up to stuff the mushrooms.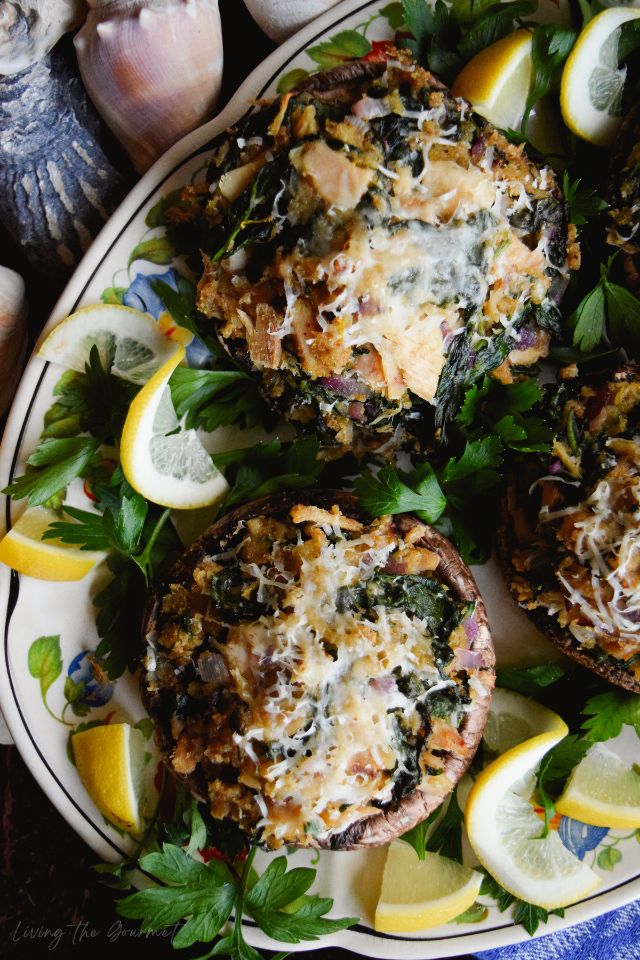 Print
Mediterranean Style Tuna Stuffed Mushrooms
Author:
Prep Time:

10 minutes

Cook Time:

15 minutes

Total Time:

25 minutes

Yield:

6

mushrooms

1

x
6

Portobello Mushrooms

2

cans of Bella Portofino Tuna - drained

1

small red onion - diced
Zest of

1

lemon

2

tbs. fresh lemon juice

16

oz

. Fresh baby spinach

1

cup

Italian style bread crumbs

4

tbs. fresh Italian parsley - chopped

4

cloves of garlic - chopped fine

2

tbs. olive oil

1

tbs. butter

1

cup

of grated Parmesan cheese
Instructions
Preheat Oven 350 degrees F.
Clean mushrooms with damp paper towels and gently rub the mushroom with olive oil inside and out.
Heat a large cast iron frying pan with the butter and olive oil.
Add the chopped onion and garlic and sauté on a medium heat until the garlic is fragrant.
Add the bread crumbs and toss and finally add the spinach, lemon zest, and lemon juice, grated Parmesan, tuna and toss to incorporate; turn the heat off.
Fill the mushrooms with this mixture and then top each mushroom with more grated cheese, finish off with a little drizzle of olive oil over each mushroom.
Bake for 10 – 12 minutes until the cheese is melted and slightly golden.
Serve with a lemon wedge.
Recipe Card powered by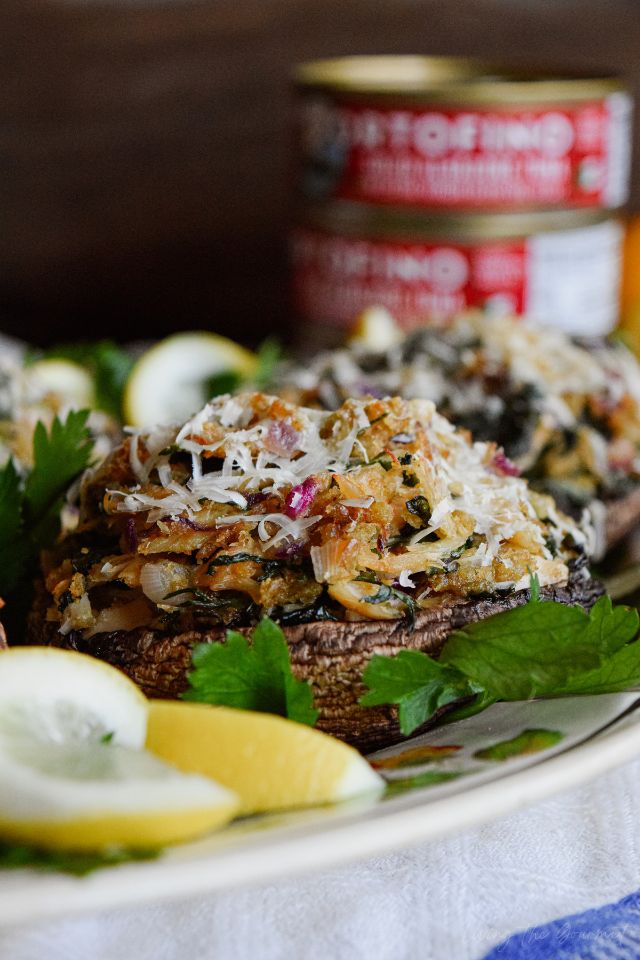 As an Amazon Associate I earn a small commission from any purchases made through the affiliate links within this post. For more information on this please see our disclosure policy. Thank you!
This is a sponsored post written by me on behalf of Bella Portofino Tuna.
25