Today we're preparing Barbecued Boneless Rib End Pork Chops, which we'll be pairing with a homemade honey mustard sauce and grilled avocados.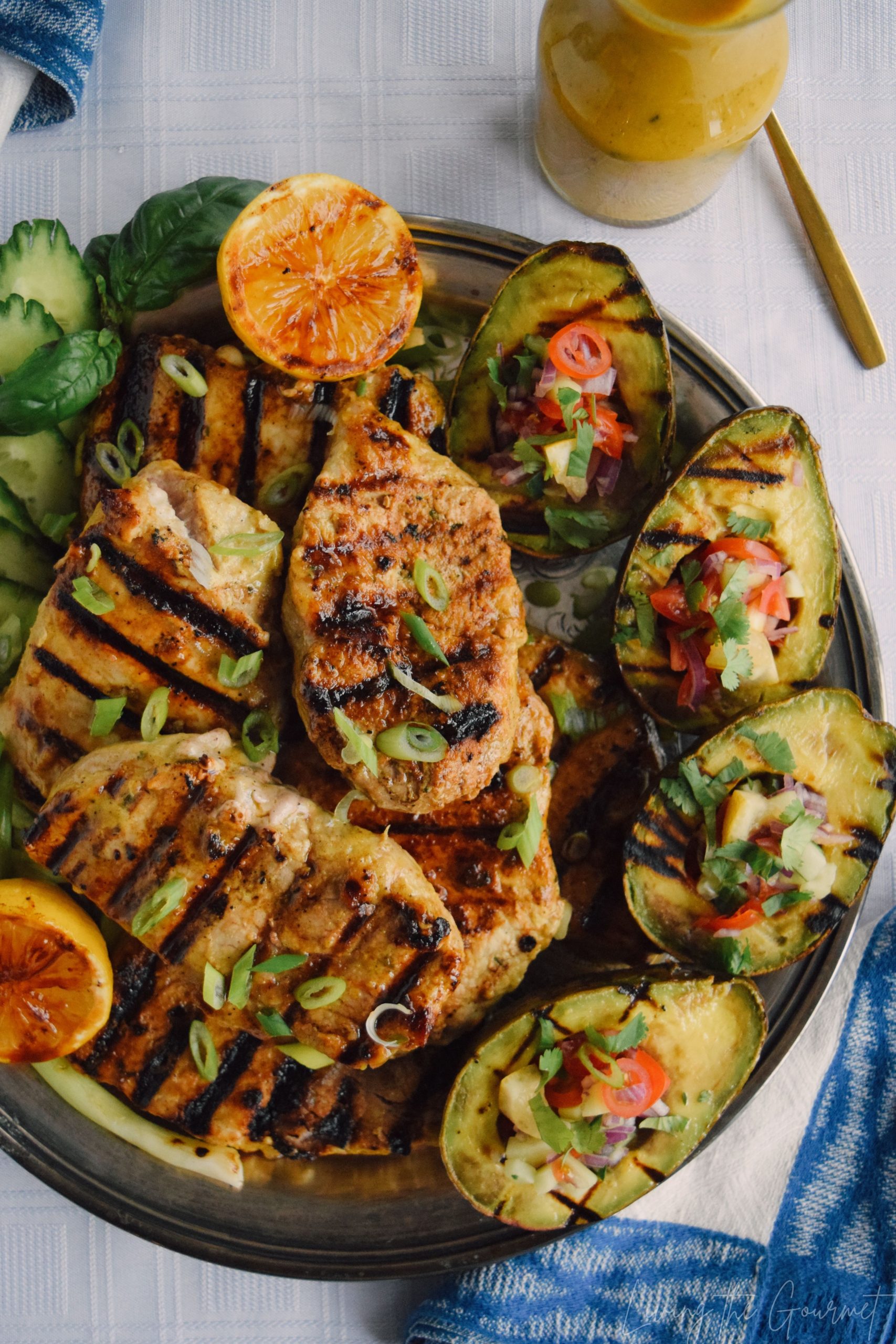 Why You'll Love Today's Recipes
1) The Honey Mustard Sauce. The mustard sauce goes great on today's pork, but is a great recipe unto itself, since it's delicious on salads or drizzled onto meaty sandwiches, or even just used as a dipping sauce.
2) The Grilled Avocados. Honestly, while I loved today's pork, the grilled avocados 'kind of' stole the show. I'll be honest and admit that I put these together just as garnish…but after tasting them, they become my favorite part of today's recipe. Slice, drizzle, and sear. They're just that easy to put together. Also, they're exceptionally versatile, pairing great with flatbreads, steaks, or even just on their own.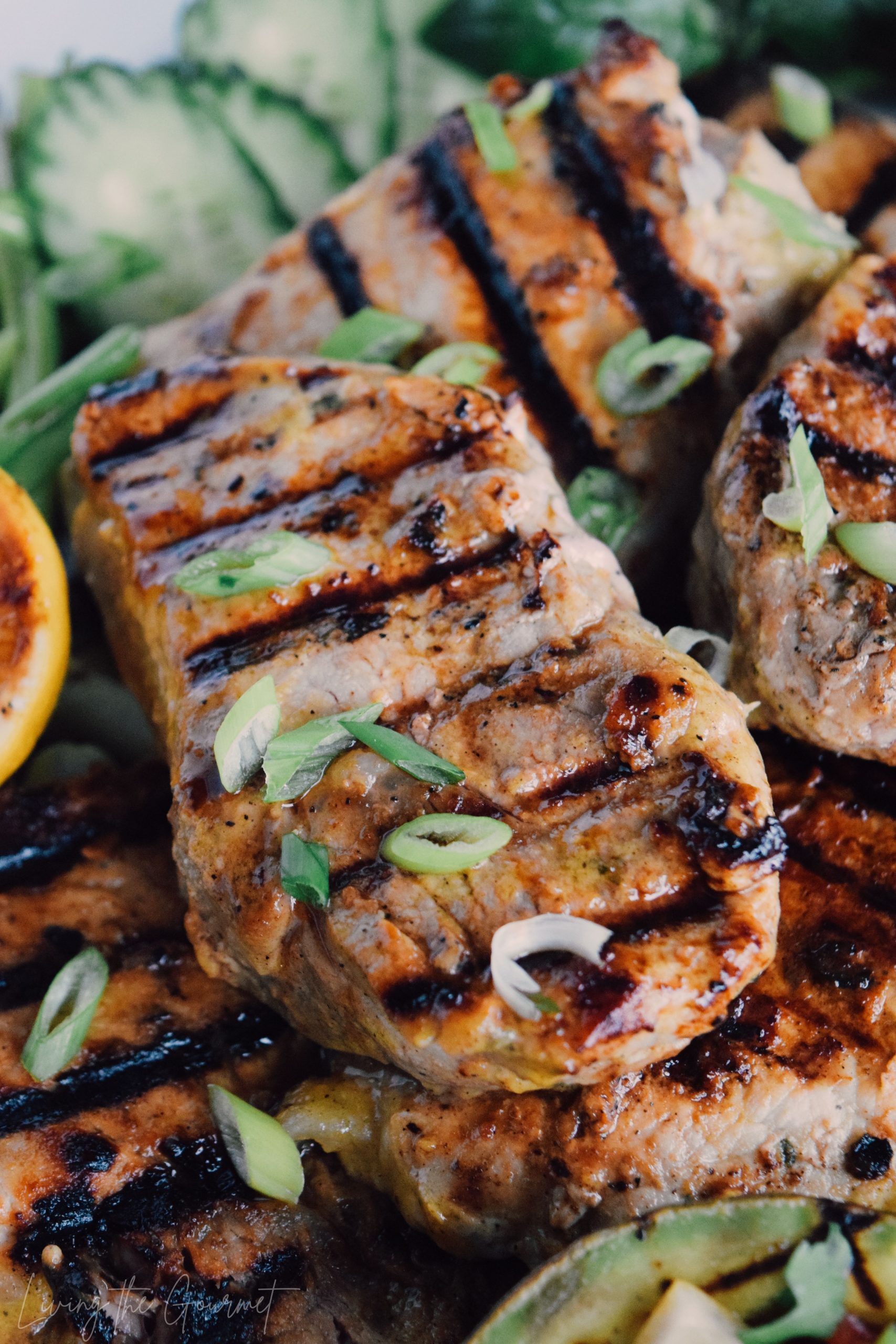 Ingredient Notes, Tips, and Substitutions
1) Fresh Basil vs Dried – and possible substitutions. As with most herbs, fresh basil and its dried counterpart are 'usually' but not always safe substitutions for one another. I'm using fresh basil today to achieve a 'bright licorice' or 'anise-like' flavor – but both of these flavors are entirely absent in dried basil, where a slightly 'mintier' flavor dominates. Furthermore, fresh basil has powerful aromatics that are reminiscent of a bright summer garden in full bloom, whereas dried basil boasts an earthier, vaguely 'darker' herbal aromatic profile. Since today's sauce is meant to be 'light' and 'fresh' on the palate, fresh basil is the way to go.
Substitutions: Fresh oregano at a one to one ratio. However, this is not an exact substitution, as oregano has a flavor that's markedly less 'bright,' as well as somewhat more 'herbal,' whereas basil is simply 'fresher' on the palate.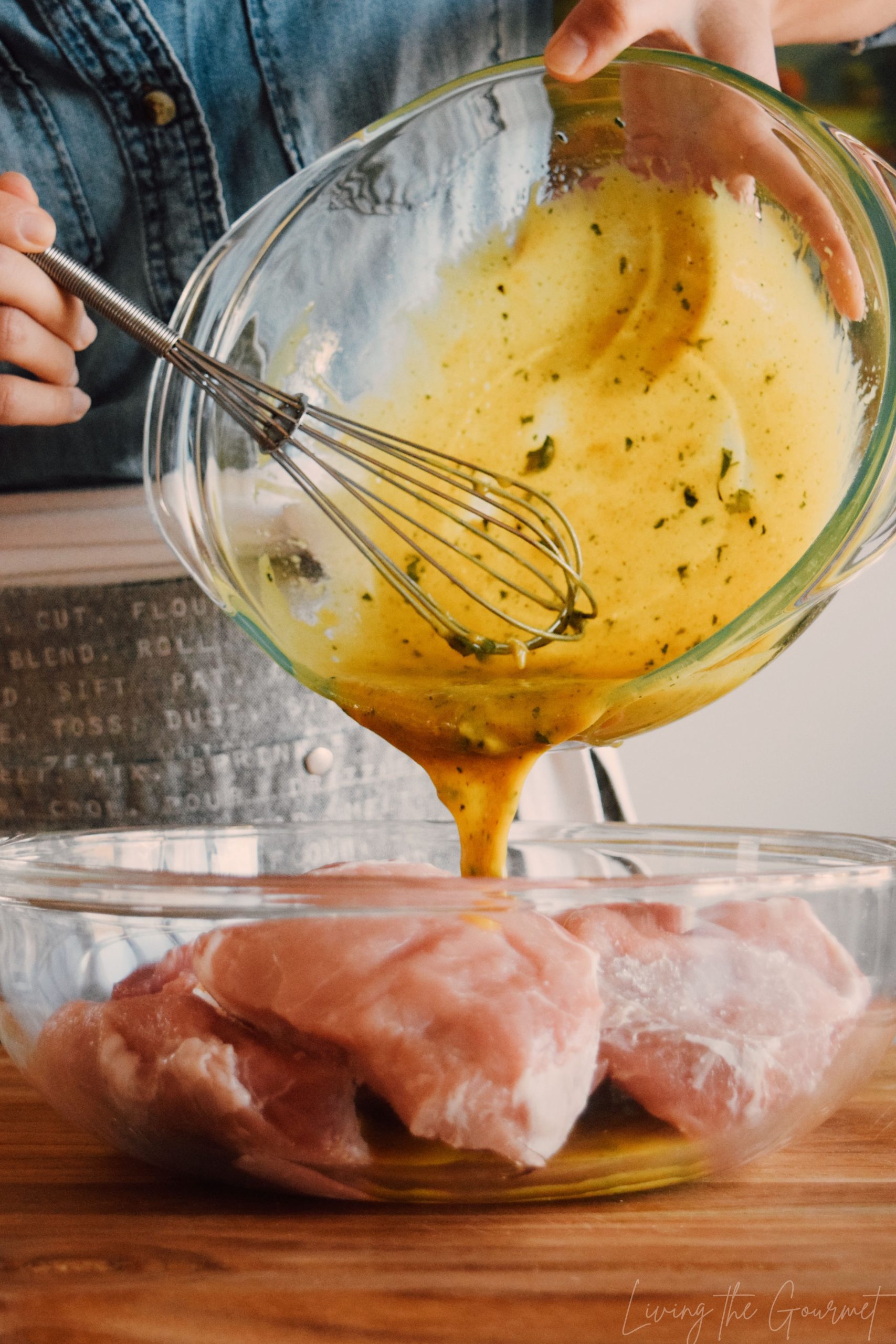 2) The Mustard Matters. Yellow mustard, plain yellow mustard, is what you want for today's recipe – and there are a couple of reasons for this. Steer clear of both spicy brown and whole grain mustards. To start off, spicy brown mustard varies wildly in quality and composition by brand, while utilizing a variety of ingredients to achieve its signature 'spiciness,' such as ginger, nutmeg, cinnamon, paprika, ground peppercorn, chili powder, and coarsely ground mustard seed. This type of mustard is often called 'deli style' since delis often pair this mustard with 'hardy' meats like pastrami, sausage, and salami – where you need a hardier, spicier mustard to stand up to the meat it's being slathered on. Simply put, we don't want these extra flavors in today's sauce. On the opposite end of the 'ingredient spectrum' we have 'whole grain mustard,' which is even spicier and more heavily textured than deli-style mustard, except that 'all' of its pungency and heat comes from its blissfully powerful concentration of 'mustard' – there are no other ingredients. It really is 'just' mustard. Now, while I love whole-grain mustard as much as the next gourmet, it would simply be overpowering in today's recipe, and would take away from, or even mask, the other flavors in today's honey mustard sauce. Thus, plain yellow mustard it is. Trust me…or don't, and if you don't please let me know in the comments below how it turned out, I love hearing from you!
But what about Honey and Dijon Mustard? Most Dijon mustard is not actually made in Dijon, France, and hasn't been for quite some time. Dijon is typically a mix of brown mustard seeds and white wine, although some brands will use black mustard seeds. This gives Dijon a flavor that is almost as 'spicy' and 'pungent' as many deli-style mustards, and so I would steer clear of Dijon for today's sauce. That said, honey mustard would probably work just fine for today's recipe if that's all you've got on hand, since honey mustard is simply mild yellow mustard mixed with honey – ideally at a one-to-one ratio.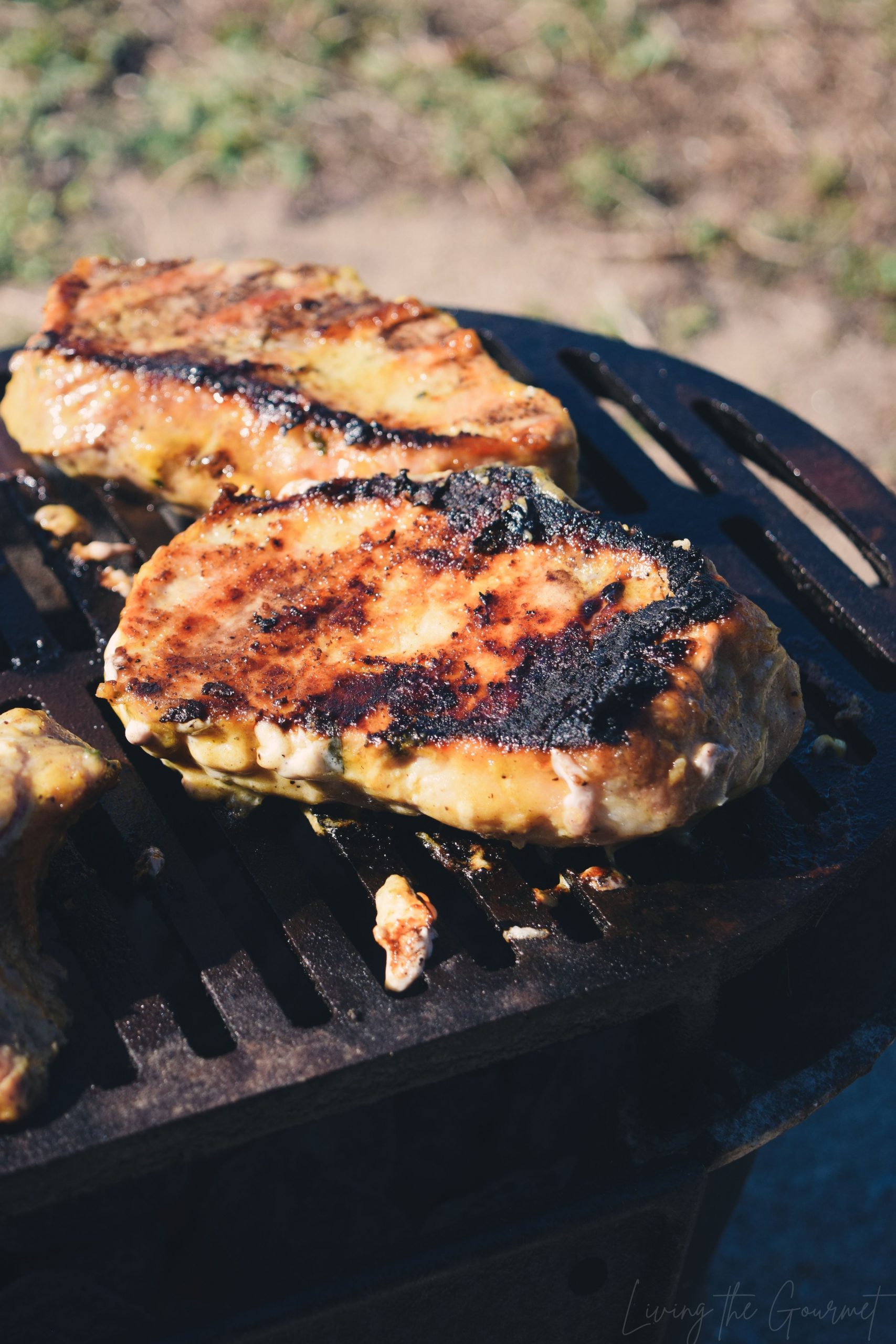 3) The Oil – Olive Oil or Vegetable Oil? The rule of thumb when deciding which to use when is as follows – olive oil gives far superior flavor and health benefits, but 'only' when used raw or when cooking at lower temperatures of no more than 350 degrees Fahrenheit, or when barbecuing over 'gentle' flames. Use vegetable oil for cooking at higher temperatures. The reason is that most olive oils have a relatively low 'smoke point,' which is the temperature at which the olive oil begins to burn away, giving your food a rancid taste and sapping its nutrients. Curiously, the lower the quality your olive oil, the 'higher' its smoke point. In fact, 'Light' olive oil actually has a higher smoke point than vegetable oil, while Extra Virgin Cold Pressed olive oil will tart burn away at merely a 'low simmer.'
4) Lemon Juice – Fresh or Bottled? The lemon juice is being used both in the honey mustard sauce and on the grilled avocados. In both cases, fresher is better. This is especially true of the grilled avocados, where we are applying the juice to the 'meat' of the avocados before grilling, which serves to 'seal in' the flavor of the juice. That said, slicing a lemon into squeezable halves or wedges is practically as easy as opening a bottle and measuring it out. Furthermore, bottled lemon juice simply isn't as flavorful, lacking the full 'zest' or 'brightness' of fresh lemon juice, since the juice begins breaking down chemically almost as soon as it leaves the lemon. Beyond that, the juice's flavor is often times further diluted with preservatives. As a result, if you want the full flavor and balance intended in today's recipe, use fresh lemon juice.
Substitution (Kind of): Since we're cooking the lemon juice in both cases, bottled 'will' work just fine if it's all you have on hand, or if you want to save your lemons for 'fresh' or 'raw' applications.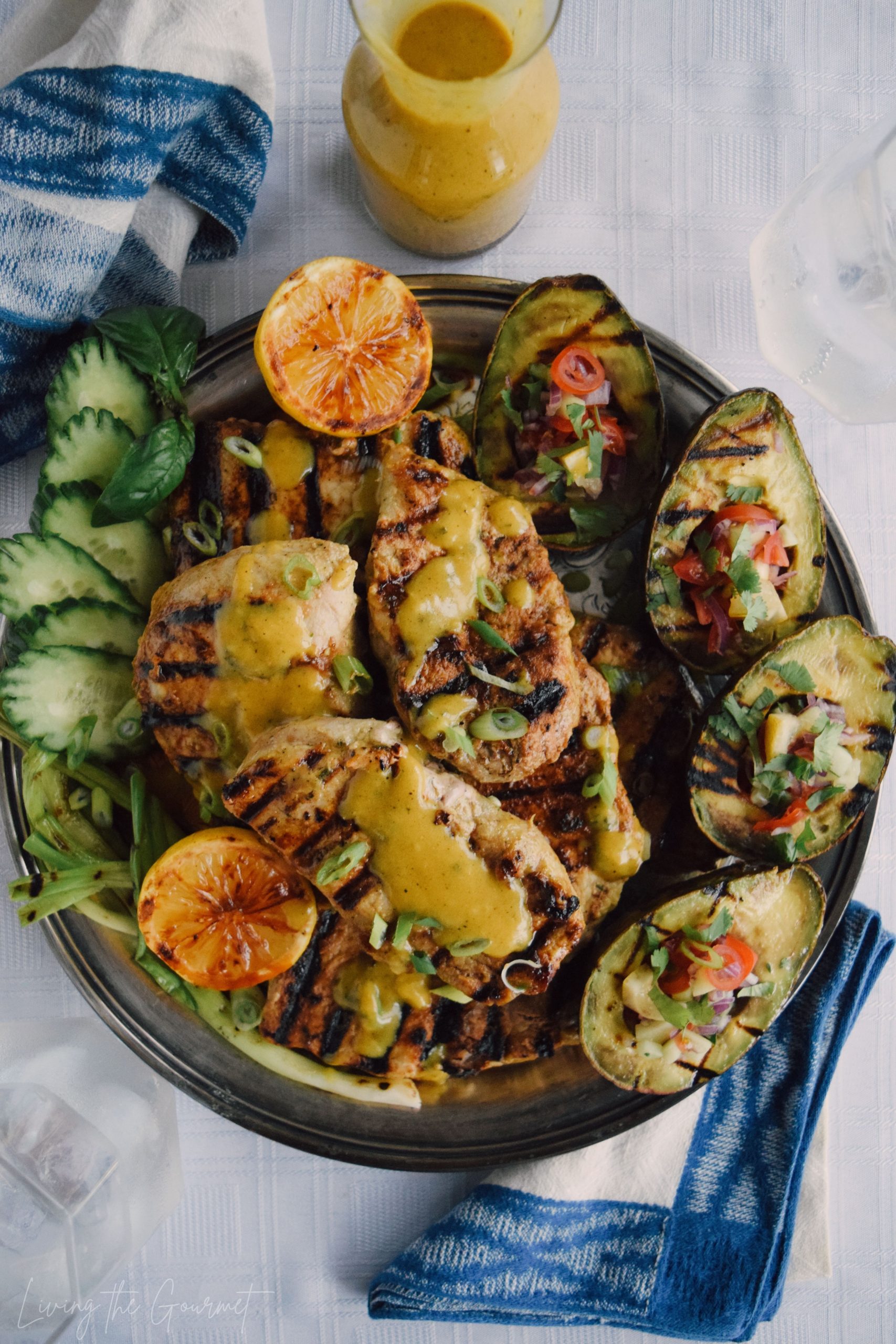 Avocados – A Few Tips
Picking an Avocado
Thankfully, we've left behind the peek of the avocado craze from a few years ago, but these things remain popular – and for good reason. Spreadable, moist, and just a tad oily with a 'neutral vegetal umami flavor,' these things have a multitude of uses that go well beyond salads and guacamole.
However, how do you pick the right ones? And once you've got them, how do you know when their ready eat? Here are a few tips for doing just that.
1) Color First. While color varies slightly between varietals of avocado, in general if you plan on eating them within a day or two, you'll want to start by selecting avocados that are roughly lighter than 'forest green,' but darker than 'kelly green.' Hess avocados, by contrast, start off quite dark and turn almost black as they ripen. Brown, drab dark green, or splotchy black is overripe – avoid those.
2) The Squeeze. Despite outlets ranging from ABC News to agricultural insiders pleading with consumers to stop squeezing avocados, we haven't and there's a reason we haven't – it works, kind of. Albeit, it leaves behind a lot of bruised fruit, and people often aren't quite sure 'what' they're squeezing for other than that 'kind of soft means edible.' With that in mind, pressing ever so gently at the top of an avocado will tell you if it's ripe or not – no need to go giving these little green guys the stress ball treatment. If the top yields ever so slightly to gentle pressure, it's ready to eat.
3) The When. The question now is 'when' are you planning on eating them? If you don't plan on using your avocadoes 'right away,' there's no harm in stocking on light green, rock hard avocadoes, since they'll ripen just fine at home if kept at room temperature. Remember, 'ripe' isn't synonymous with 'quality' or 'good taste,' it just means ready to eat.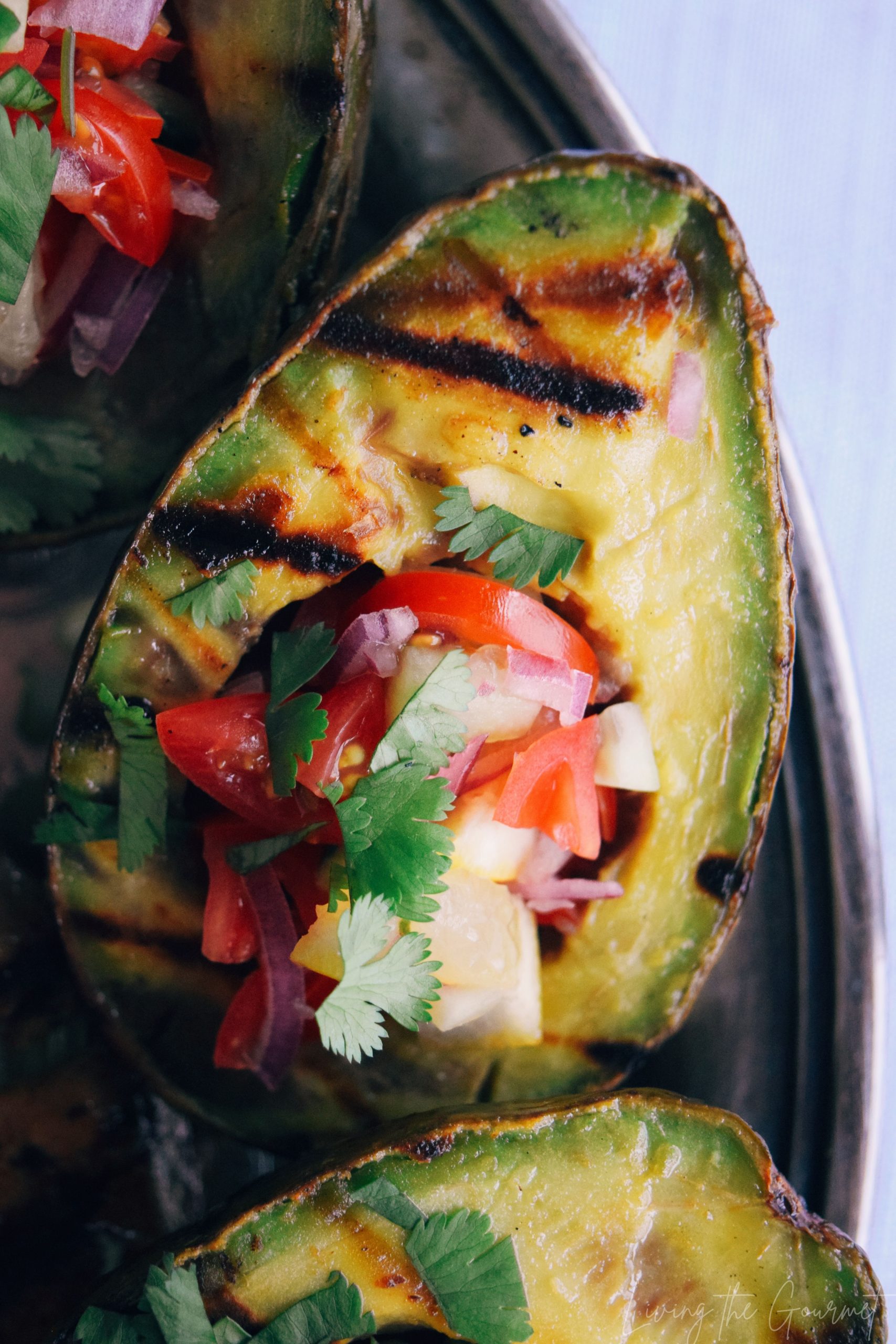 Slicing an Avocado
While this might sound like I'm bragging, I must admit that I never gave the process of slicing an avocado any thought, nor did I think this was a process people struggled with. But, lo and behold, 'avocado hand' is now a recognized 'condition.'
It seems that the slightly 'chubby pear shape' of avocados, and their almost perfectly circular oversized pit confounds some to the point of grievous injury.
So, here a few tips for slicing an avocado while keeping your hands nicely intact.
1) Slice it Lengthwise. Starting at the top of the thinner portion of the avocado, slice the avocado lengthwise, going deep enough until your knife hits the pit. Do this gently so as not to either dull your knife or injure yourself.
2) Continue the Slice. Steadying the knife perpendicular to the pit, continue cutting around the circumference of the pit in confident, gentle motions, until you have fully cut the avocado in half upon the axis of its circular pit.
3) Separate the Halves. It is now time to 'detach' the sliced avocado, such that you have roughly equal sized halves. Scoop out the pit.
4) The Rest Is Up To You. This part should be roughly self-explanatory, but you now have a properly pitted and halved avocado, that you can either slice onto salads, spread on bread, or make guacamole with.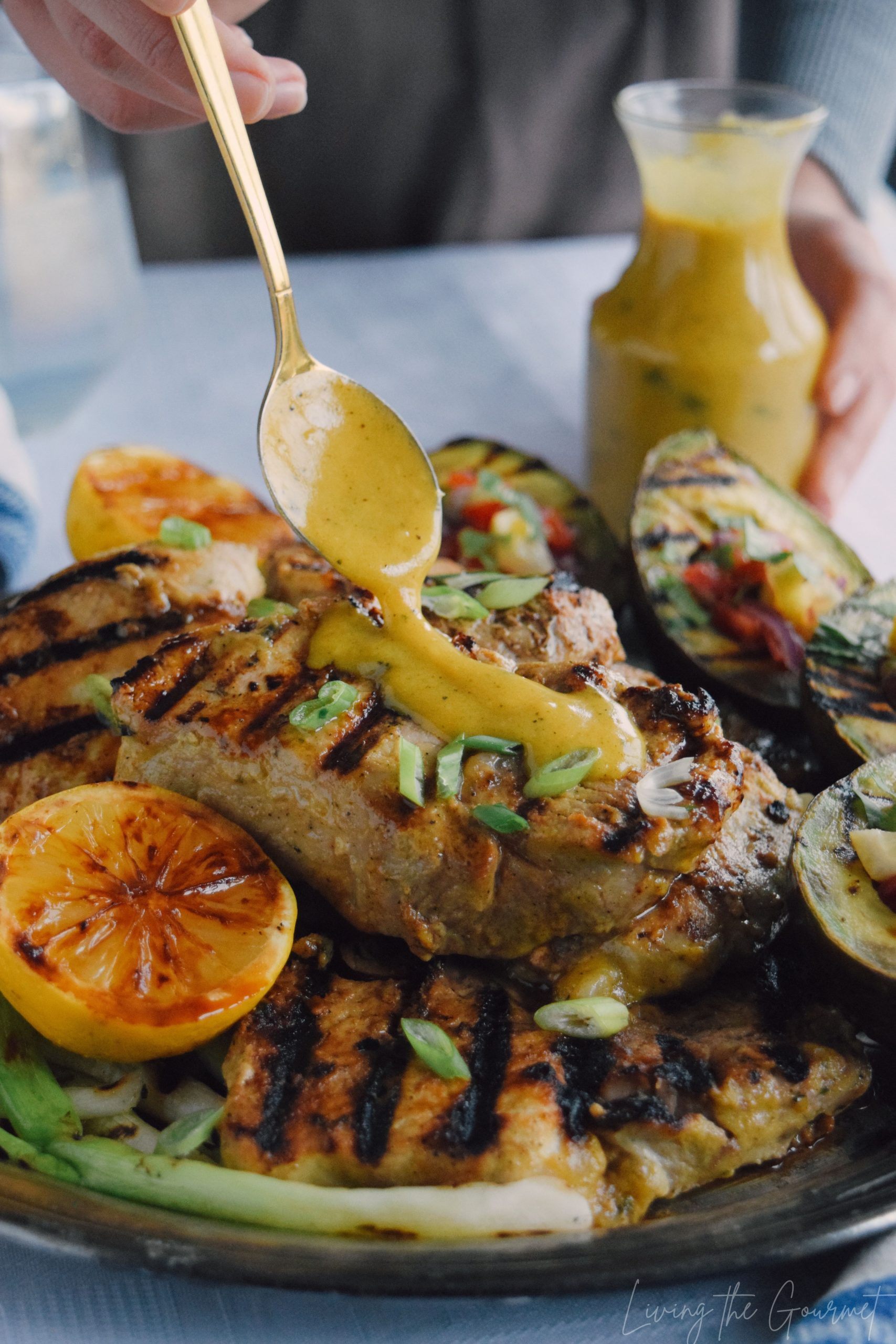 Barbecue Sides, Drinks, and Warm Weather Favorites
1) A Cold Drink. While grilled pork chops and tall beer are a match made in heaven, if you want to flavor things up a bit and play 'bartender' to yourself or your guests, our friends over at DrinkWorks have got you covered. Think of it as the "Keurig of Home Bars," simply pop a pod into the machine, and out comes a delicious, chilled 'adult beverage' (no ice required) that tastes like it was mixed by a master mixologist. With dozens upon dozens of drink pod flavors to choose from, including Margarita, Cosmopolitan, Mojito, Moscow Mule, Whiskey Sour, White Russian, and Old Fashioned, among many others, there's something for everyone.
2) Pickled Sweet Potato Salad. My absolute favorite way to eat sweet potatoes, this salad is sweet, crunchy, just tad acidic, and refreshing. As a plus, letting it sit a night or two in the fridge only enhances the flavors, meaning its perfect for making ahead.
3) Coleslaw. My preferred recipe for coleslaw combines the obligatory mayo-coating with a citrusy dressing. For a nice kick, I slice in jalapenos with the cabbage to create a sweet-and-spicy salad, with just a hint of crisp citrus.
4) Steak Platter – A Guide. This steak platter really covers what is, in my view, the 'ideal' grilling setup, from flatbreads and fries to a grilling-friendly relish (gremolata/chimichurri) for the meat. While the platter features beef, a lot of the advice is pertinent to grilled pork…or really 'any' type of grilling you might be doing.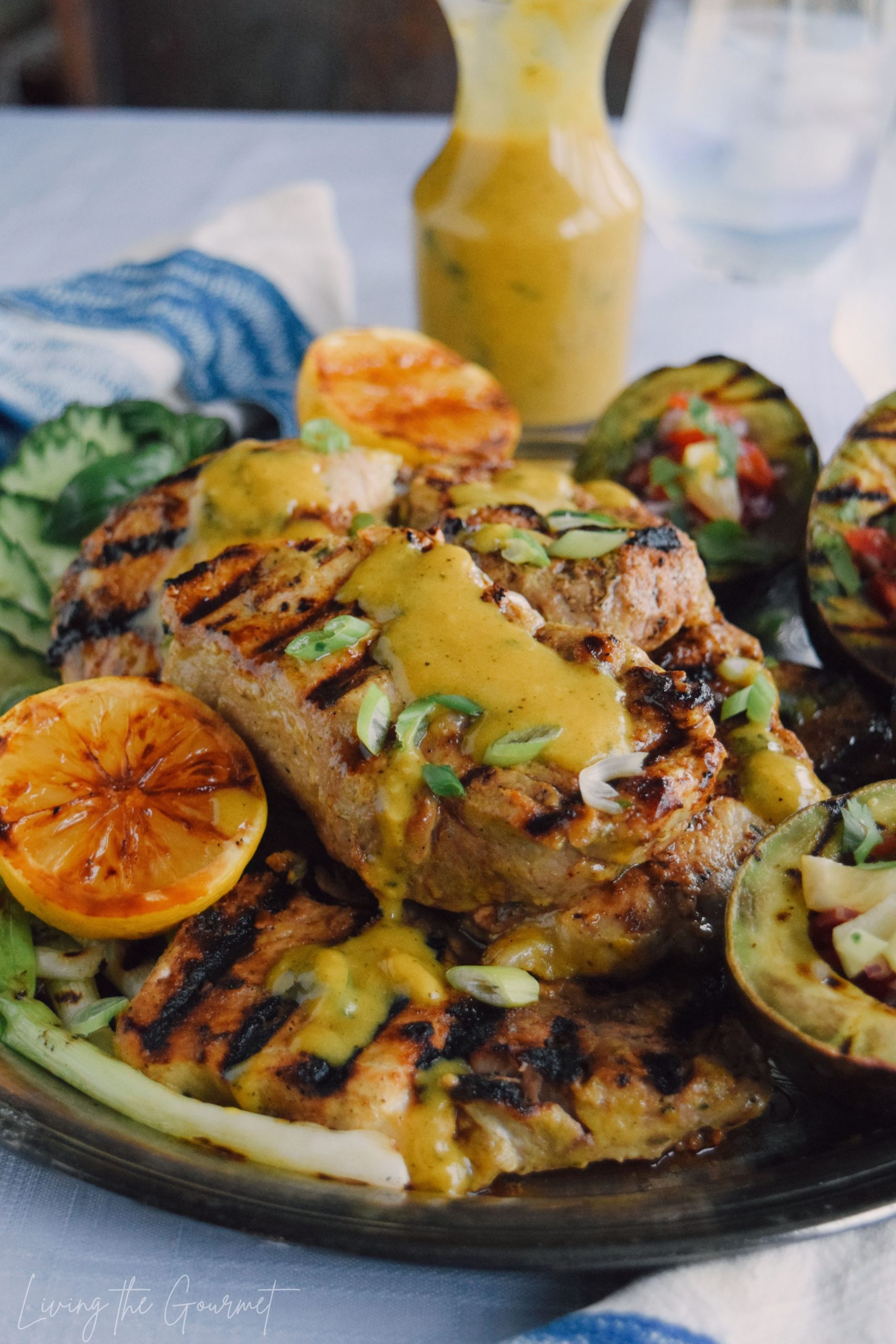 Print
Honey Mustard Grilled Pork Chops
---
Author:

Prep Time:

15 minutes

Cook Time:

20 minutes

Total Time:

35 minutes

Yield:

4

1

x
4

lbs. of boneless rib end pork chops – 1 inch thickness
For the Honey Mustard Sauce:
½ cup

of yellow mustard

4

tbs. honey

4

cloves of garlic – grated

4

–

5

fresh basil leaves – chopped fine

1 tsp

. salt

1 tsp

. black pepper
Dashes of freshly grated nutmeg

3

tbs. red wine vinegar
Juice of

½

lemon

½ cup

of cooking oil (I used Mazola Corn Oil)
For the Grilled Avocados:
2

avocados – sliced in half
Cooking oil, for brushing

1

fresh lemon or lime
Dashes of sea salt
Fresh ground black pepper
For the Filling:
1

tomato – diced

½

English cucumber – diced

¼

red onion – diced
Dash of Fresh lemon juice

2

tbs. cooking oil
---
Instructions
Combine all of the ingredients for the honey mustard sauce in a bowl and whisk.
Make two separate batches of this sauce; one for the marinade and a second one to drizzle over the chops when they are done.
Marinate the chops for up to 1 hour or overnight.  Remove the chops from the marinade and discard the marinade the chops were in.
Now we cook the pork chops.  For pork chops that are about 1-inch thick, we grill them over medium flames for about 7 – 10 minutes- this is over direct heat.  We turn the pork chops a total of about three times during the cooking process.  Once the pork chops are done cooking, we let them rest for about 4 – 5 minutes.  This allows the juices to set and seal.  If using a thermometer, the pork chops are done when the register 145 degrees Fahrenheit in the thickest portion of the chop.
Serve with a drizzle of the batch of honey mustard sauce.
For the Grilled Avocados:
Combine all the ingredients for the filling and toss.  Set aside.
Slice avocados in half and remove the pit.  Brush first with fresh lemon or lime juice and corn oil.
Heat a cast iron griddle or pan. Gently place the avocados flesh-side down on the heated griddle or frying pan.  The juice and oil 'will' sizzle, this is fine.
Allow to grill for about two to four minutes to achieve grill marks.
Remove from the grill and season to taste with sea salt and fresh ground pepper.
Fill the avocado with the tomato mixture and serve.
Notes
The Honey Mustard Sauce also makes a delicious salad dressing and dip for fries!
*Prep Time does NOT include Inactive Prep Time
Keywords: pork chops, honey mustard
Recipe Card powered by
0