This shop has been compensated by Inmar Intelligence and its advertiser. All opinions are mine alone. #GrillingWithMazola
Today we're preparing Grilled Pork Souvlaki, which we'll be pairing with a homemade Tzatziki. I prepared today's souvlaki with a little help from my longtime friends over at Mazola® Corn Oil. A recent clinical study shows that Mazola® Corn Oil reduces cholesterol at twice the rate of extra virgin olive oil. For more info on this claim, check out Mazola.com.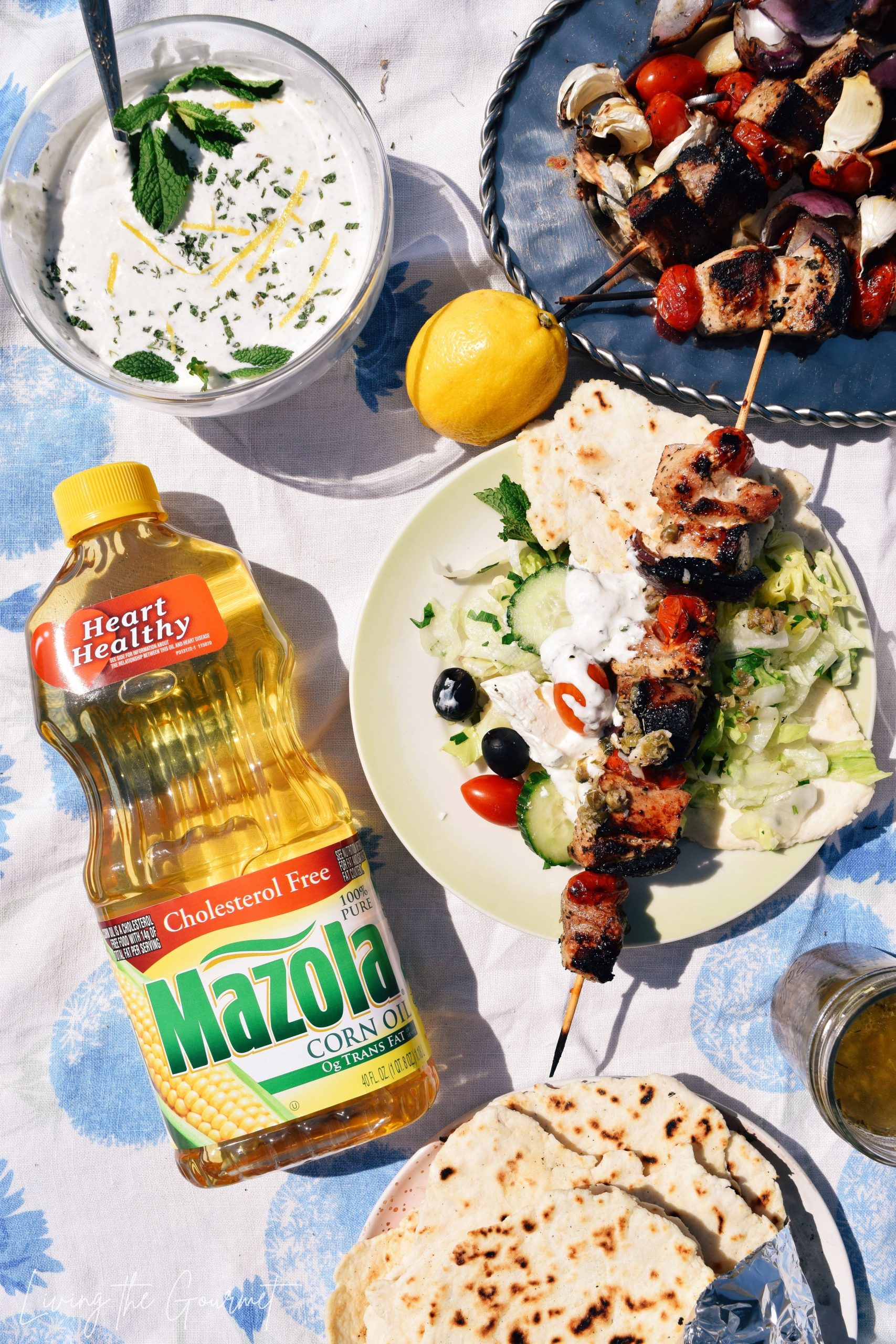 Courtesy of American 'diner culture,' Pork Souvlaki and Lamb Gyro is what comes to mind for most people when they hear the words 'Greek Cooking.' Easy to make and easy to love, both of these dishes have earned their place at the top of the heap, even if red sauce over pasta is far more common in Greek homes. That said, with the weather warming up, I'm looking for any excuse I can find to spend time outside with my family – and what better way to do this than to prep one of my all-time grilling favorites: Pork Souvlaki!
Now, without further delay, let's get grilling!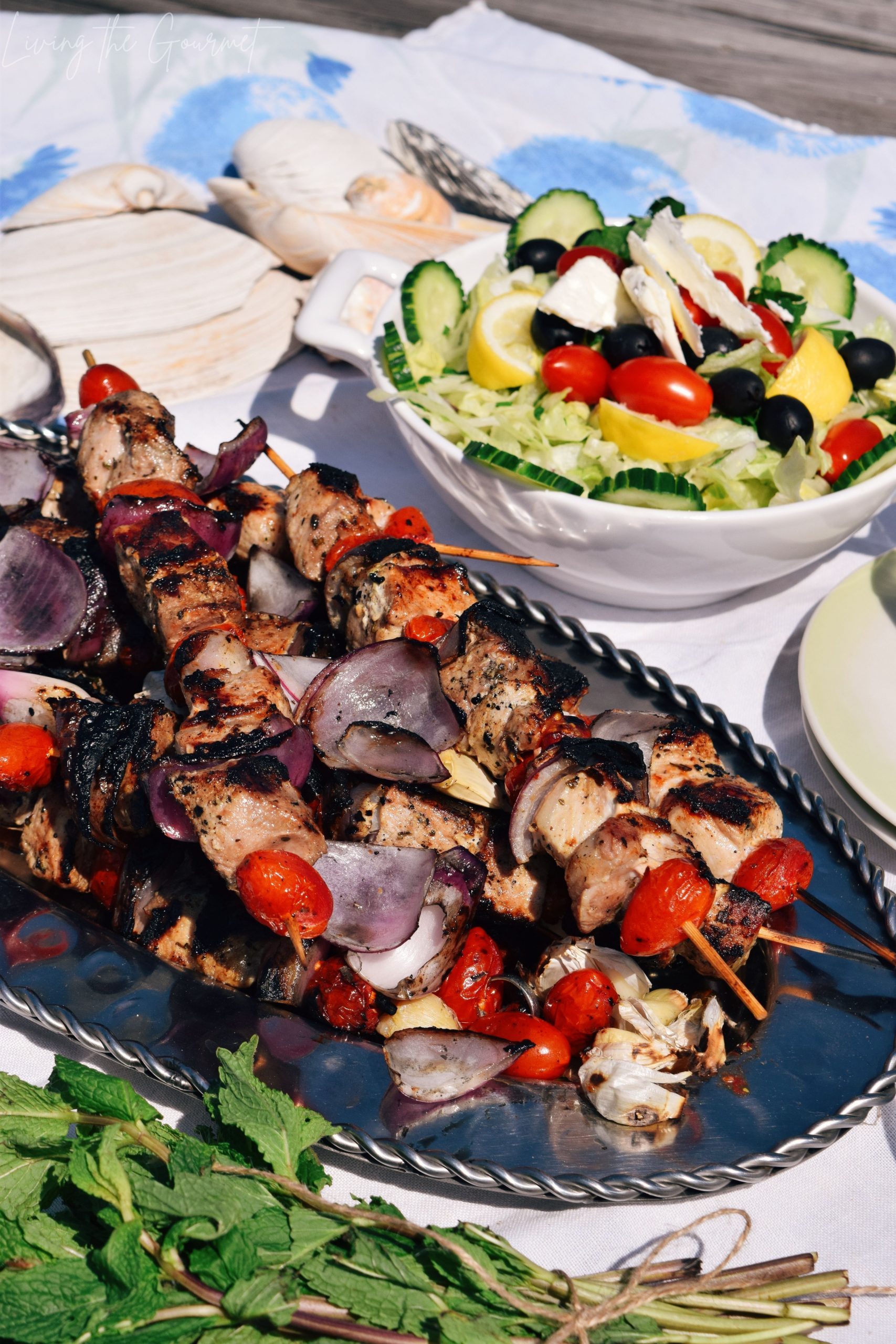 Ingredient Notes, Tips, and Substitutions
1) Fresh Mint. Often called 'the friendliest and most forgiving herb,' fresh mint definitely has that reputation for a reason. Mint is easy to grow (seriously, my mint has survived more Long Island droughts and flooding than I can count, and still comes back like clockwork), and it's even easier to incorporate into your cooking. From complex reductions for use on roasted lamb, to simply stirring a few chopped leaves into yogurt or ice cream, mint is a joy for home cooks and expert chefs alike. With that said, we don't want to go too heavy on the mint in today's tzatziki, otherwise it will be the only thing you taste.
Substitution: Dried mint. Dried mint has a lot of the same qualities that its fresh counterpart has – albeit with the usual 'earthy' or 'dark herbal' notes that pervade almost all dry herbs. For today's recipe, about one teaspoon will suffice, just make sure its thoroughly stirred into the sauce.
2) Fresh Oregano vs Dried – and Possible Substitutions. n an unusual twist, dried oregano is generally preferred in the kitchen over its fresh counterpart – although there are exceptions. The one word you'll likely come across when reading about fresh oregano is 'pungent,' and occasionally 'intrusive.' Fresh oregano has a tendency to steal the limelight. For this reason, it's at home in recipes with 'powerful' ingredients, or where other fresh ingredients are present. Things like Greek salads, whole roasted fish, grilled lamb, heavy sauces, or in herbal mixes for use in stuffing pork shoulders are where you're likely to find fresh oregano. In other words, recipes that aren't 'gentle' or light. For virtually all other uses, dried oregano is preferable, since the drying process mellows it dramatically – which is almost the polar opposite of what happens with other dried herbs, where the drying process has a tendency to 'concentrate' rather than mellow the herbs' most prominent qualities.
Substitution: Dried basil or thyme at a 1-to-1 ratio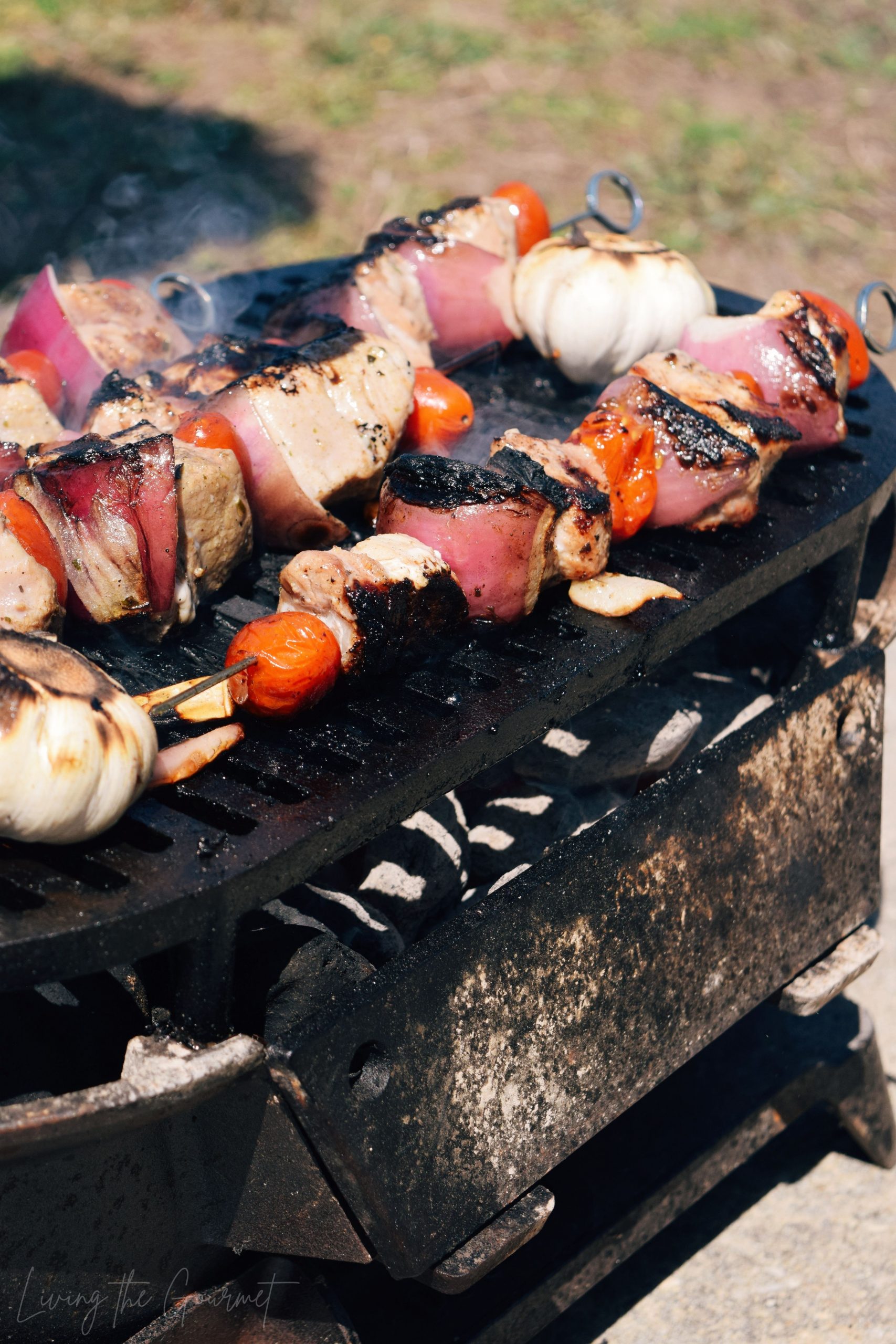 3) Mazola® Corn Oil. While Mazola® Corn Oil has more cholesterol blocking plant sterols than other cooking oils – four times more than olive oil for example – there are other reasons we're using this particular oil in today's recipe. First and foremost, it is completely flavor neutral, meaning I don't have to account for it in today's marinade or in the tzatziki. Instead, it works purely as a 'base' or 'carrier' for the rest of the ingredients – which is precisely what we're looking for. Also, it has a high smoke point of 450 degrees Fahrenheit, meaning it can reach that temperature without negatively impacting the recipe's taste and nutritional value. Obviously, this high smoke-point makes it great for grilling – which is what we're doing today. That said, this combination of traits makes Mazola® Corn Oil a great all-purpose oil, whether you're using it for marinades, sautéing, baking, or stir-frying.
4) Lemon Juice. The Fresher, the Better. We're using lemon in both the tzatziki and in the marinade. However, tzatziki should be as fresh and crisp tasting as possible, and for that reason I highly recommend using fresh lemon juice. That said, slicing a lemon into squeezable halves or wedges is practically as easy as opening a bottle and measuring it out. Furthermore, bottled lemon juice simply isn't as flavorful, lacking the full 'zest' and 'brightness' of fresh lemon juice, since the juice begins breaking down chemically almost as soon as it leaves the lemon. Beyond that, bottled lemon juice's flavor is often times further diluted with preservatives. As a result, if you want the full flavor and balance intended in today's recipe, use fresh lemon juice.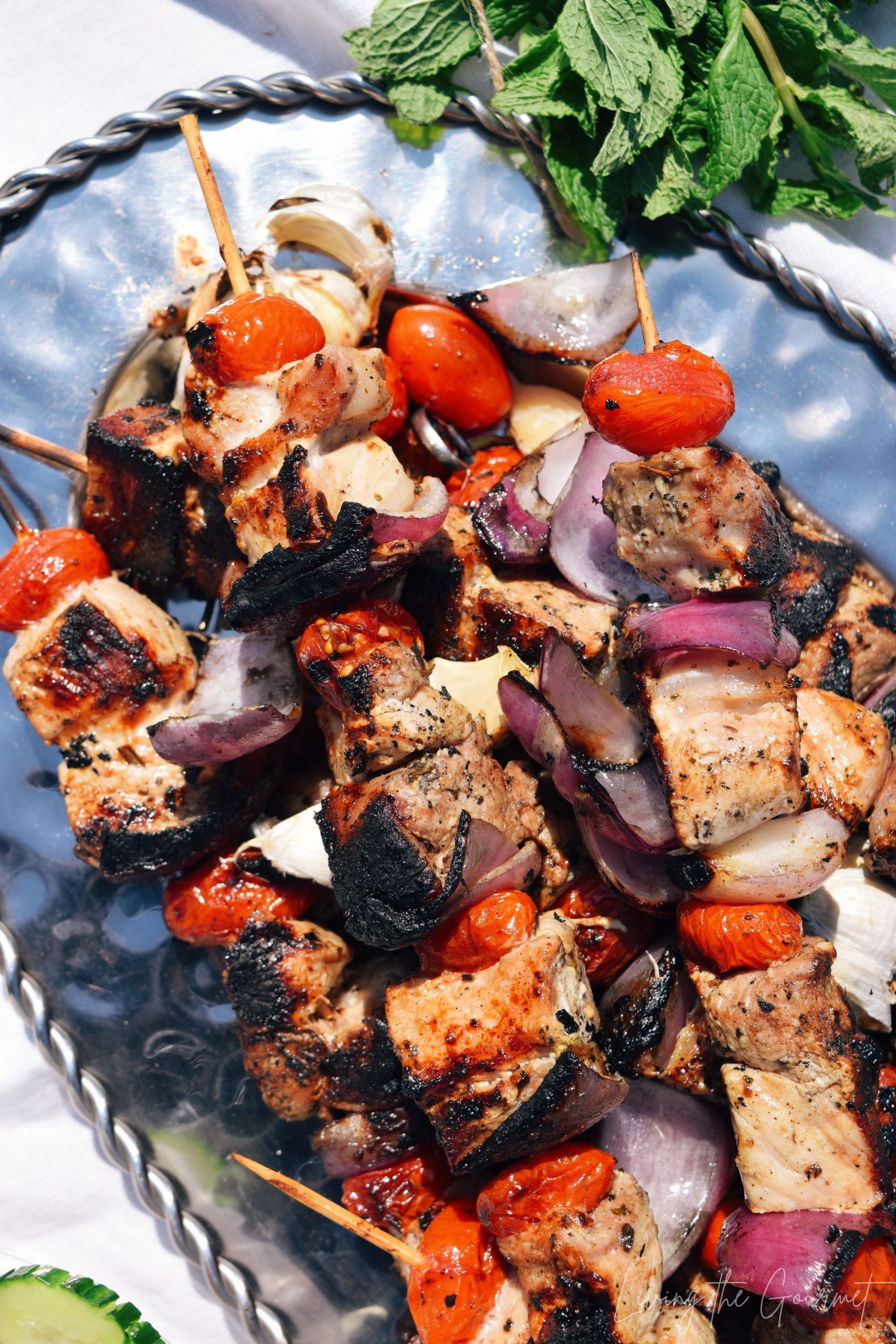 Selecting Quality Pork
When we think about selecting 'quality meat' we usually only think of 'beef,' whereas when we think about selecting chicken or pork we tend to simply buy whatever happens to be eye-appealing, or go with our favorite brand or with whatever happens to be on sale.
The truth is, however, that we should be just as picky about the pork we eat as we are with beef.
With that in mind, here are some tips for selecting quality pork: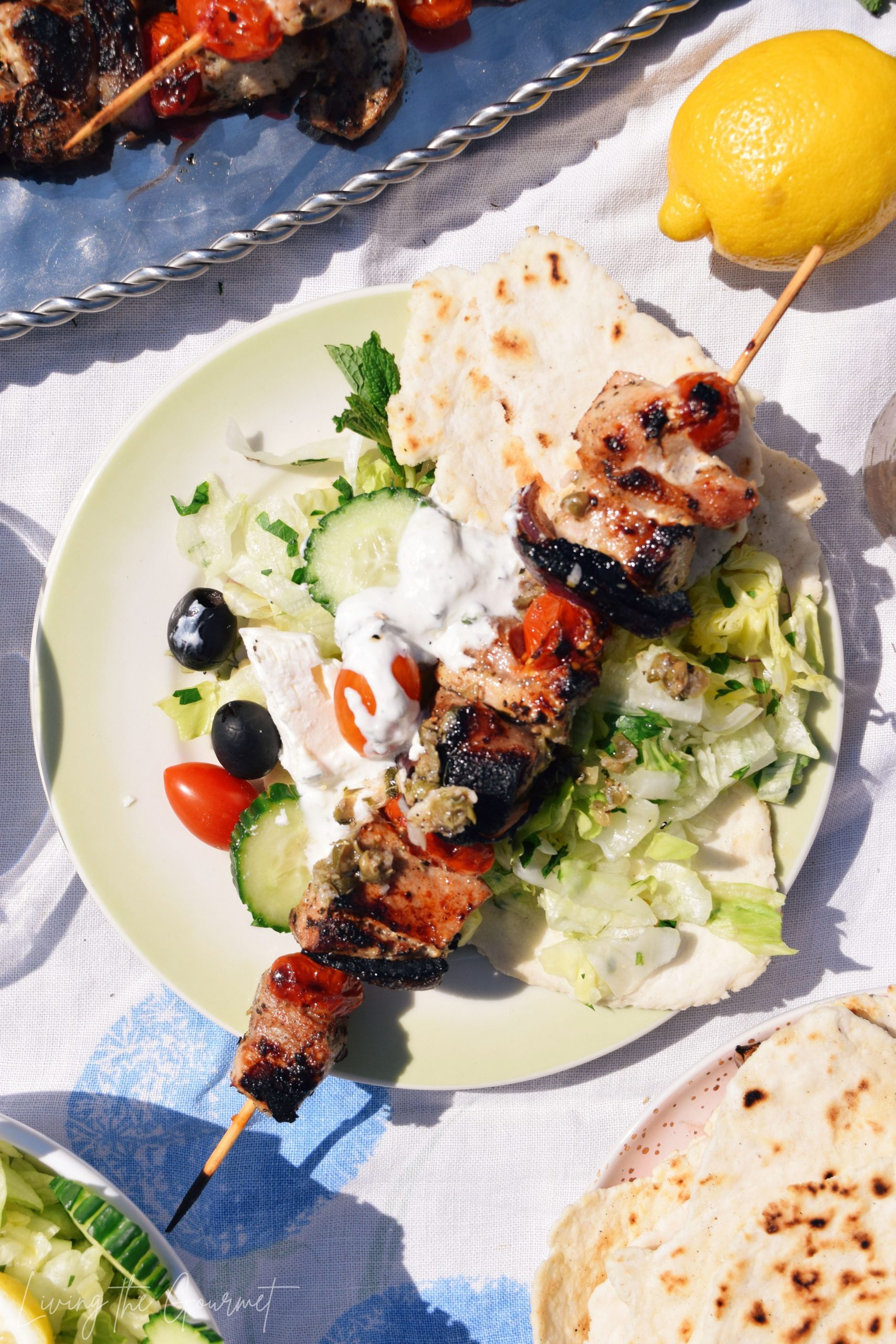 1) The Color – Pinker is Better. As with other meats, you want to pay close attention to the color. If the pork is 'grey' or 'whitish,' that means a lot of its juices have either 'set,' due to being left out for too long, or that they have simply drained away somewhere on its journey to the supermarket shelf. By contrast, pork that is pinkish or 'rosy red' is still full of free-flowing juice, and will provide you with a tender, juicy piece of meat, and a more flavorful experience overall. This is also an indication that the meat hasn't been sitting on a shelf, and of better-quality handling over all.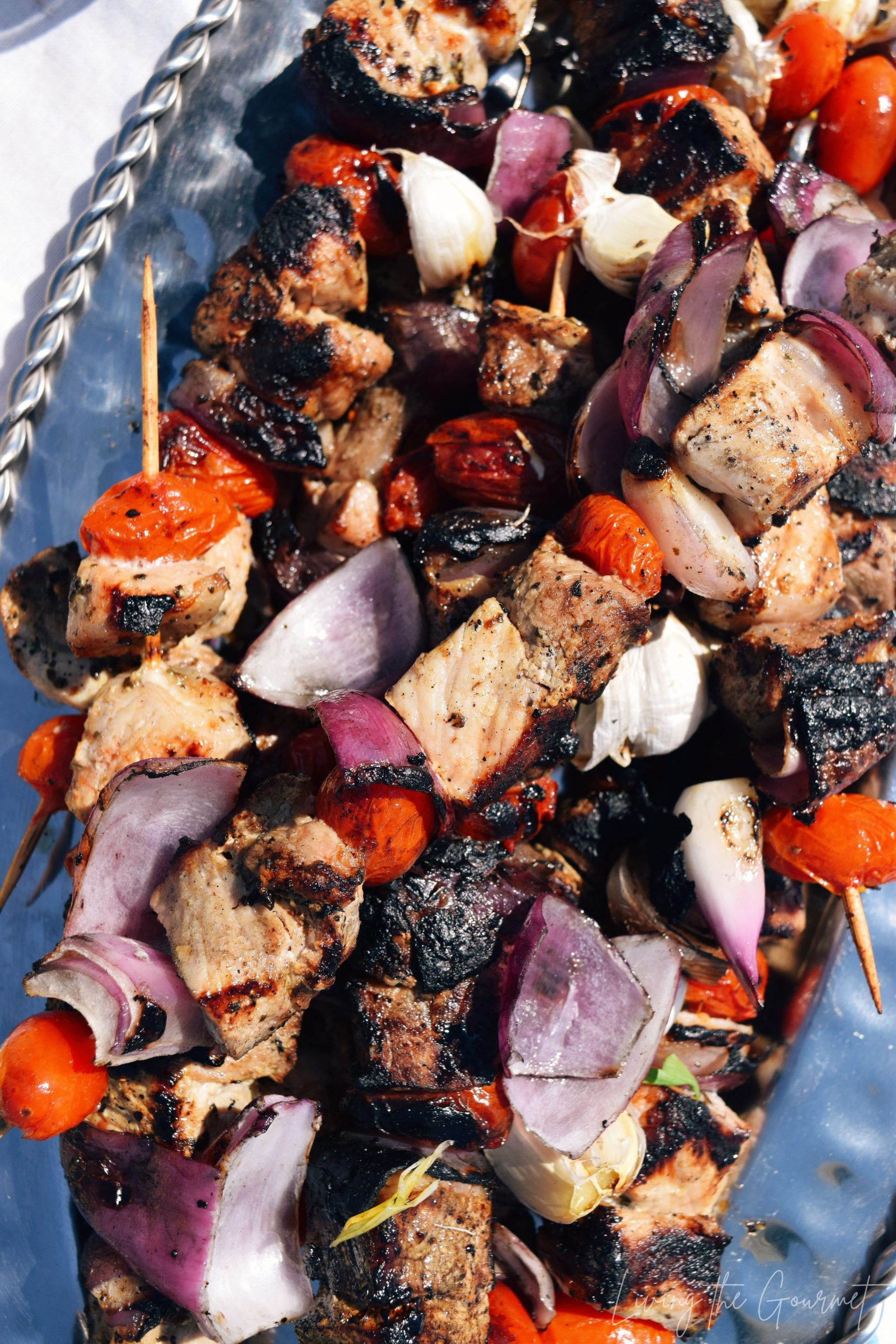 2) Marbling – The Skinny on Fat. The truth here is that if you want a 'good' tasting piece of meat, you need a piece with a decent amount of fat. The fat is where the flavor is. When the pork is cooking, the more 'fat' that reduces into the pan, the more fat there is for the meat to cook in, and a good portion of that flavorful 'fat' absorbs into the meat itself, resulting in a better tasting and juicier piece of pork. The same goes for barbecuing. As such, you want a nice 'rind' of fat on the outside of the meat, as well as 'speckled' within the meat itself.
3) The Color of the Fat. The fat should be white. Period. Specs of 'red' or 'black' or traces of grey are a nonstarter. Those are signs of decay and poor handling.
4) Bones are White. If buying 'bone-in' pork, you want a 'white' or 'off-white' bone. Dark bones are a sign of encroaching decay, meaning the pork has been sitting out on the shelf much too long.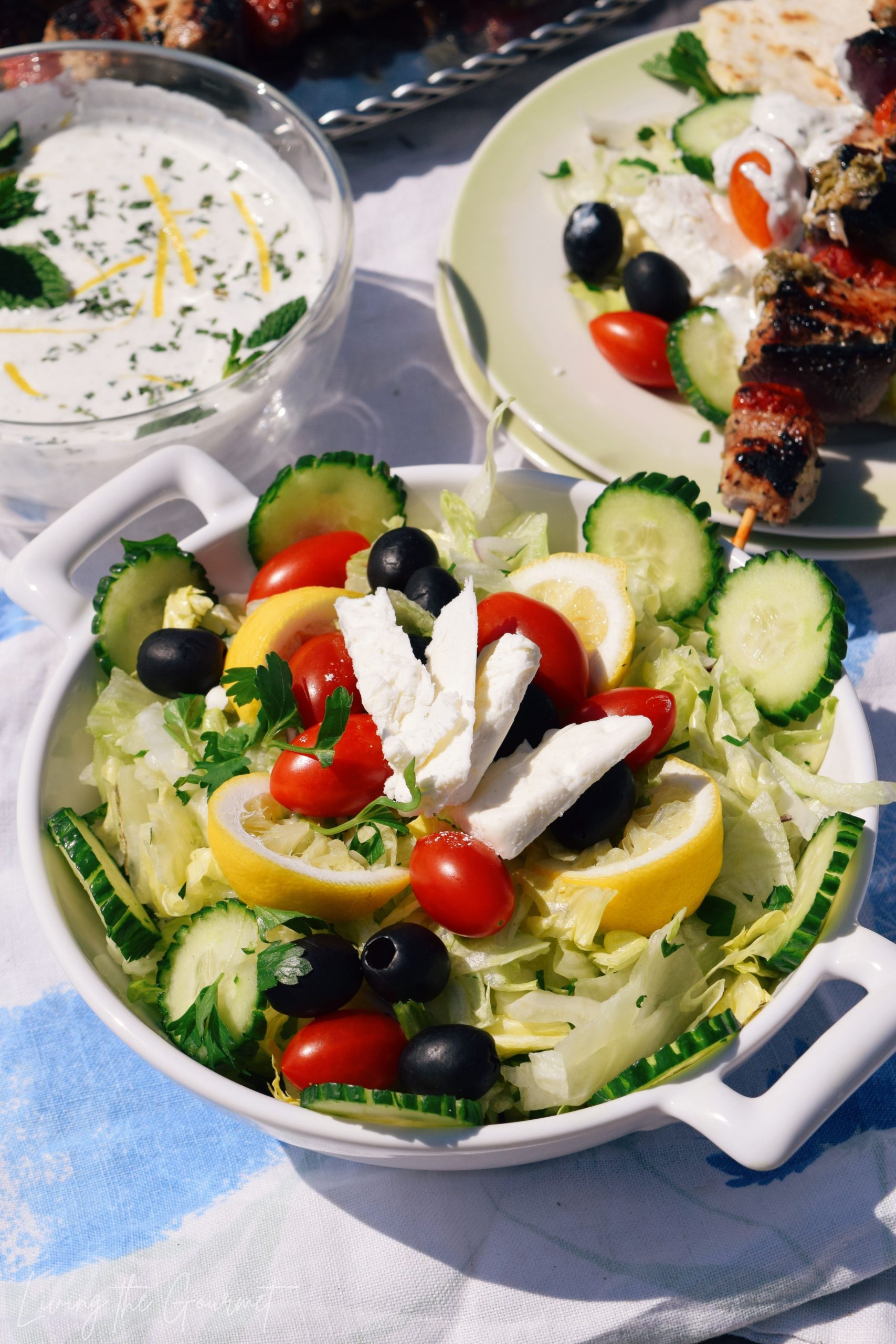 What to do with leftover Tzatziki?
1) Falafel. After souvlaki and gyro, I honestly think that falafel is the next 'best' pairing for tzatziki sauce. Roll some falafel in a flatbread with avocado slices, olives, and crisp greens, and you've got yourself a delightful meal.
2) On Salad. It should go without saying that a Greek salad topped with tzatziki is simply delicious. Mixed olives with peppers and dark greens, creates a fresh and crisp combination, with earthy Mediterranean umami notes. What's not to love?
3) Greek Meatballs. One of my favorite meatball recipes here on Living the Gourmet is my Sweet Greek Meatballs recipe, which combines moist fried meatballs packed with golden raisins, honey, and cinnamon. Topped with tzatziki, these meatballs are taken to a whole new level.
Print
Grilled Pork Souvlaki
---
Author:

Prep Time:

15 minutes

Cook Time:

20 minutes

Total Time:

35 minutes

Yield:

4

-

6

1

x
2 ½

–

3

lbs. cubed pork – cubed

Skewers

Grape tomatoes

Red onion – sliced into wedges
½ cup

Mazola® Corn Oil

3

– tbs. red wine vinegar
Juice of

½

lemon

3

cloves of garlic – grated

1 tsp

. sugar

1 tsp

. dried oregano

1 tsp

. salt

1 ½ tsp

. fresh ground black pepper

Sprigs of fresh rosemary – chopped
For the Tzatziki Sauce:
2 cups

of Greek yogurt

1/2

English cucumber, peeled and grated

4

cloves of garlic grated

½ tsp

. fresh ground black pepper

¼ tsp

. sea salt

1

tbs. of fresh mint – chopped

2

tbs. lemon juice

2

tbs. Mazola® Corn Oil
For the Greek Salad:
1

head of Iceberg lettuce – shredded

1/4 cup

fresh parsley –  then chopped

1/2

Fresh English cucumber – sliced

1/4

red onion – sliced thin

Cherry tomatoes 

Feta Cheese

Olives

Lemon wedges to serve with the salad

Dressing of your choice
---
Instructions
For the Pork & Marinade:
Combine all of the ingredients for the marinade in a small bowl and whisk.

Place the cubed pork into the marinade and let sit in the refrigerator for at least one hour or up to overnight.

Soak wooden skewers for 30 minutes before threading them with the pork, tomato and onion.

Remove the pork from the refrigerator and thread the skewers alternately with the pork, tomatoes and onion.

Prepare the barbeque.  When the coals are nice and hot place the skewers on the grill 8 – 12 minutes, turning 3 – 4 times until the pork is cooked through and the juices run clear.
For the Tzatziki Sauce:
Combine the ingredients for the Tzatziki sauce in a small bowl and mix.  Refrigerate until ready to serve.
For the Greek Salad:
Combine the ingredients for the salad and toss, leaving the lemon wedges on the side.  Serve and enjoy!
Recipe Card powered by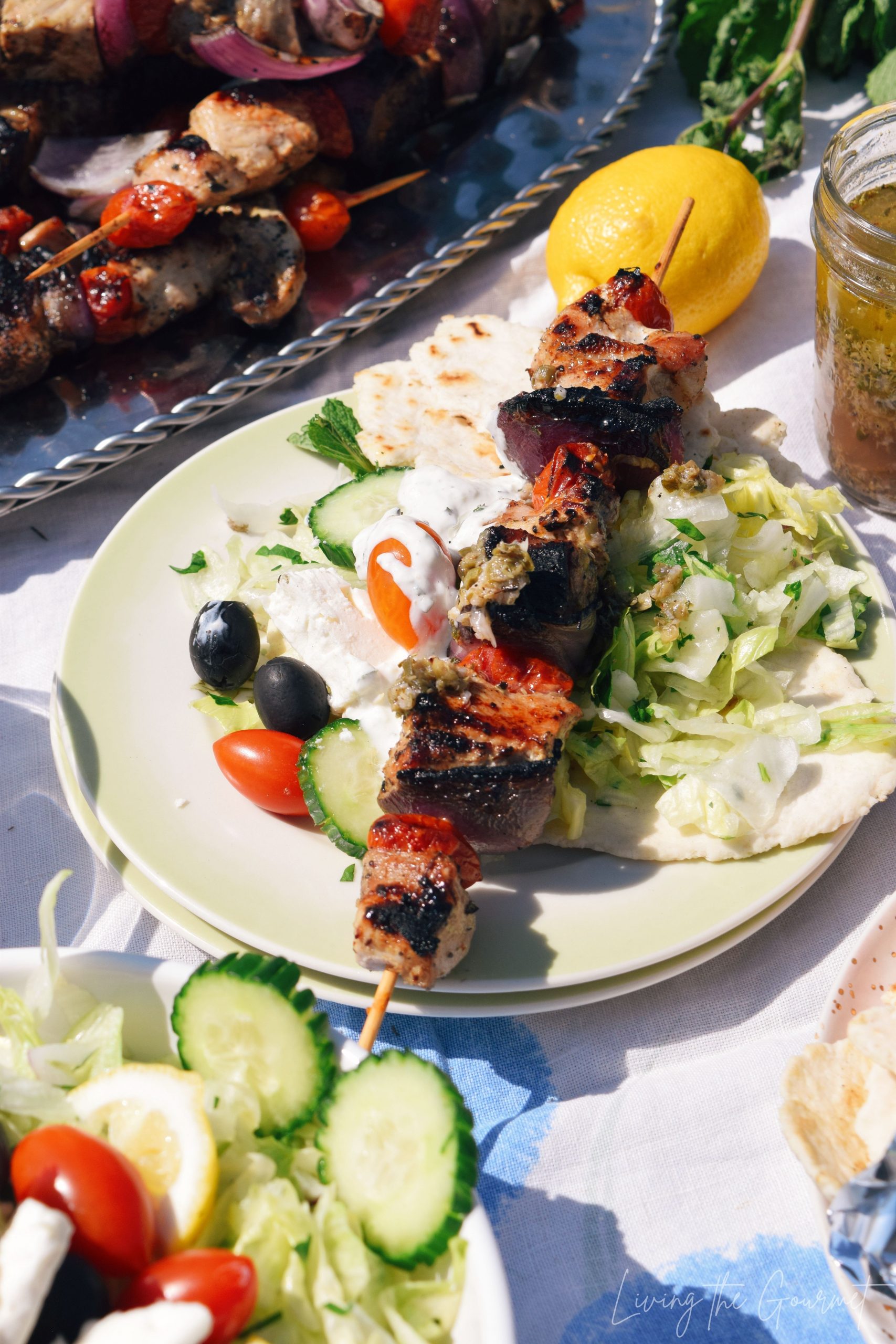 Corn Oil is a cholesterol-free food that contains 14g of total fat per serving. See nutrition information on the product label or at mazola.com for fat and saturated fat content.
DISCLAIMER: Corn Oil is a cholesterol-free food that contains 14g of total fat per serving. See nutrition information on the product label or at mazola.com for fat and saturated fat content.
DISCLAIMER *very limited and preliminary scientific evidence suggests that eating about 1 tablespoon (16 grams) of Corn Oil daily may reduce the risk of heart disease due to the unsaturated fat content in Corn Oil. FDA concludes that there is little scientific evidence supporting this claim. To achieve this possible benefit, Corn Oil is to replace a similar amount of saturated fat and not increase the total number of calories you eat in a day. One serving of this product contains 14 grams of Corn Oil.
0