This post is sponsored by Ronzoni Pasta®. All comments and opinions are my own.
Today we're preparing a smoky and spicy take on a beloved favorite – Three Cheese Three Chilies Mac and Cheese. Decadently rich and gooey, with a crisped panko topping, this mac and cheese is perfect for relaxed get-togethers like Friendsgiving, as a new crowd favorite at Thanksgiving, or simply as a weekend treat 'just because.'
We'll be putting together today's mac and cheese with a little help from our new friends over at Ronzoni®, whose pasta has been a staple in my pantry for as a long as I can remember – but more on them below.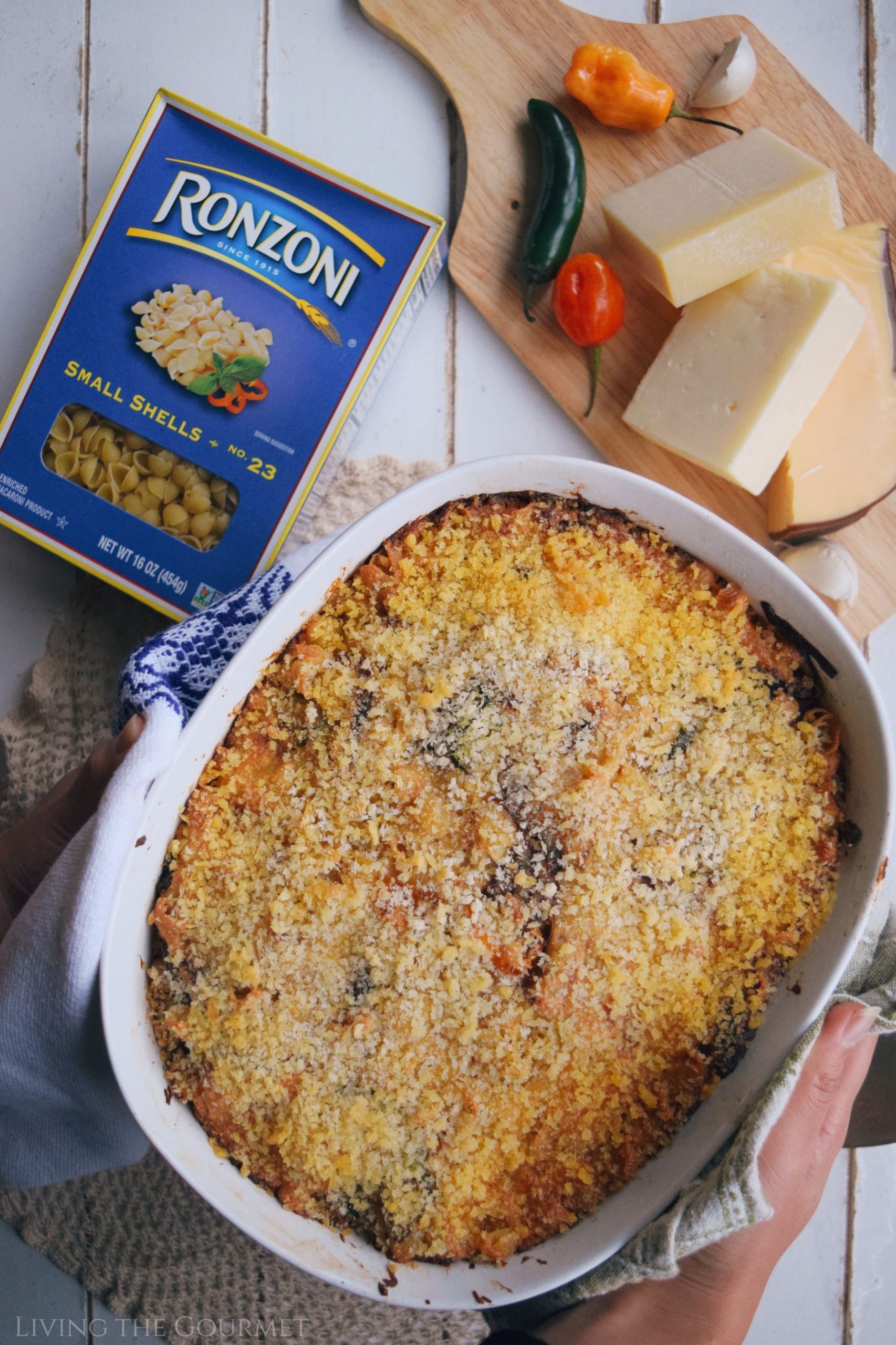 Mac n' Cheese is a true American classic and for good reason. It's an evergreen recipe that can be dressed up or down for any occasion. Today I'm sharing one of my favorite variations of this beloved comfort classic and one that I especially enjoy serving for Friendsgiving.
It has become something of a tradition for me to gather with a few close friends in past years as we each create a signature dish. Those who know me, know my love of spicy foods so it came as no surprise when I first unveiled this Three Cheese Chili Mac and Cheese some years back. It received rave reviews especially from a dear friend, who made me promise to remake for her again. To this day, she still raves about it. Now, while the holiday season is looking a little different for everyone this year, I'm determined not to let the current circumstances damper my celebrations. Though Friendsgiving this year will most likely be a zoom call served with a glass of wine and good laughs, I'm still preparing my spicy mac n' cheese dish to enjoy over our 'virtual gathering.'
No matter how you are celebrating this season, I hope you give this recipe a try.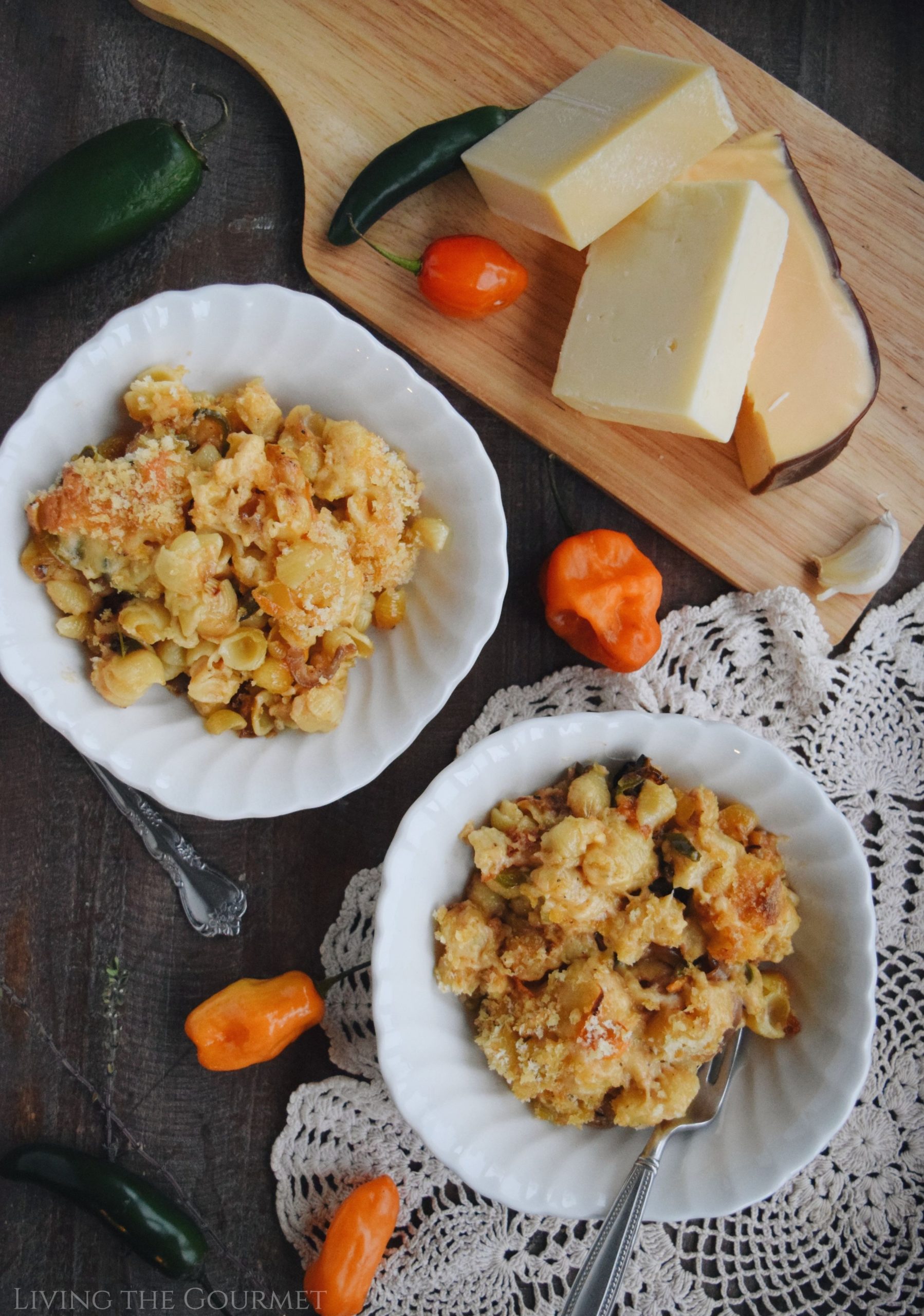 Why You Should Try Today's Macaroni and Cheese
1) Versatile. One of the things I love about mac and cheese is how versatile it is. It goes great with just about anything from burgers or steaks, ribs or pork chops, or roast chicken, turkey, or as a meal unto itself with a salad. Today's mac and cheese is definitely no exception.
2) A Fiery Twist on a Beloved Favorite. Featuring a trio of chilies, in addition to a dusting of cayenne pepper, today's mac and cheese definitely packs the heat. So, if you like a bit of a kick, be sure to give this mac and cheese recipe a try – you won't be disappointed.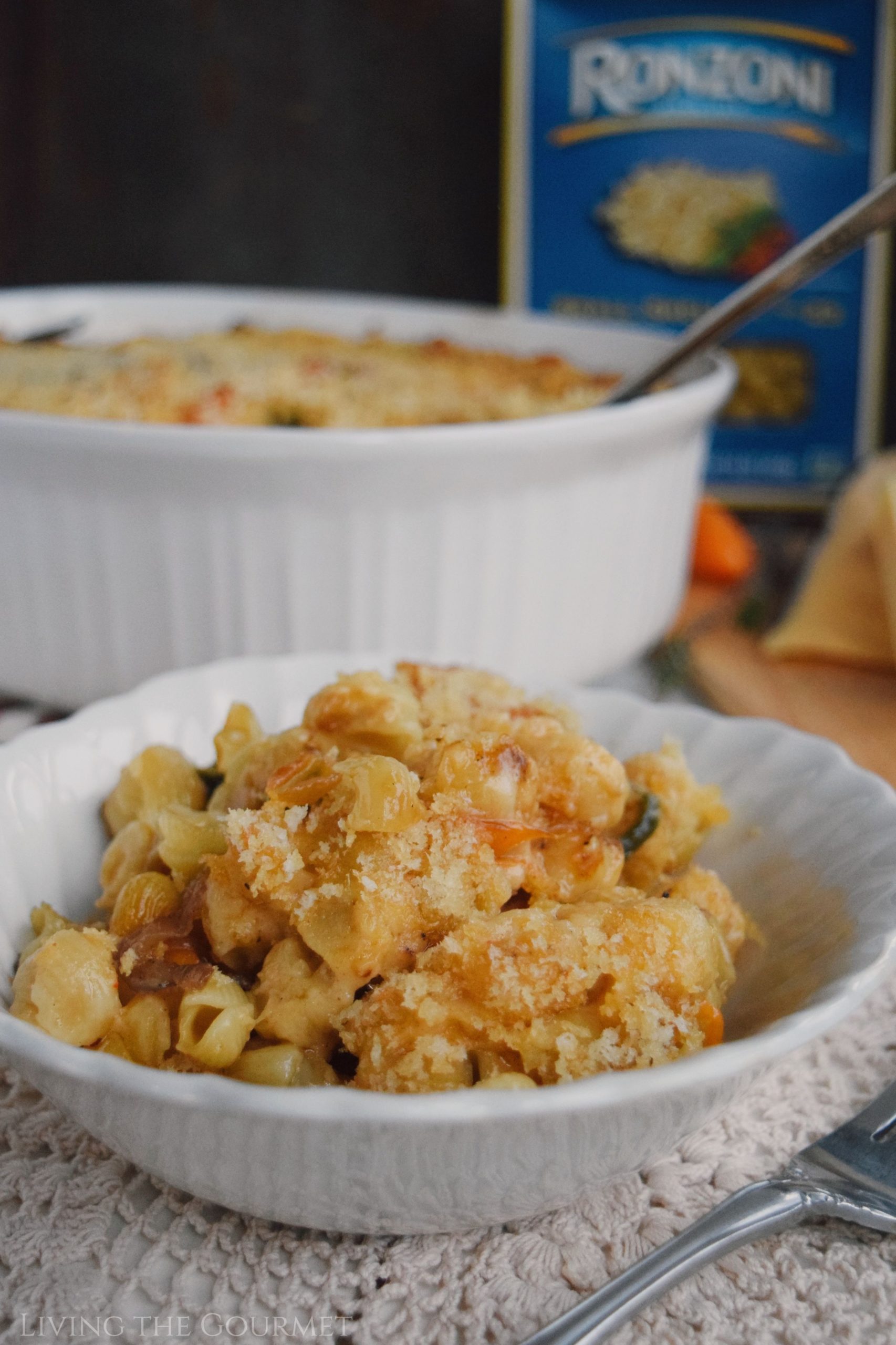 3) More Than Just Heat. Today's mac and cheese is definitely more than just heat. The smoky tones from the gouda and the earthy notes from the cayenne and paprika, set against the decadently rich texturing of the copious amounts of cheese, with the bright and fresh flavors of the chilies (they do bring more to the table than just heat), creates a pleasantly complex experience that's so much more than 'just' spice.
4) Get Creative. Play with the flavors! Experiment with your own mix of chilies or cheeses, or add in meat to create something of a 'mac and cheese chili.' The possibilities really are endless.
5) Any Occasion. I touched on this in my opening, but today's mac and cheese is just as good at home forming the centerpiece of a weekend get-together as it is at this year's Friendsgiving.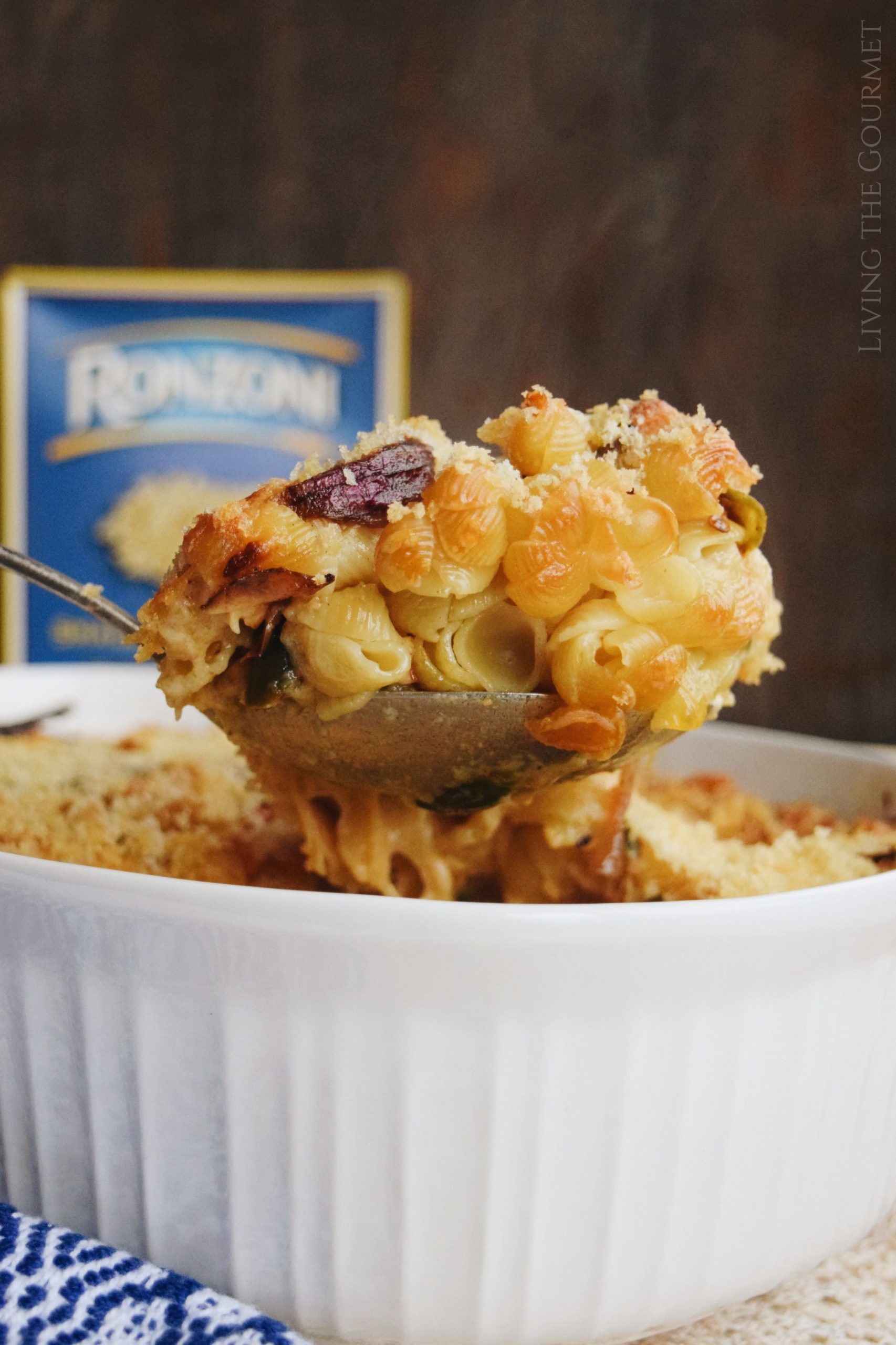 Ingredient Notes, Tips, and Substitutions
1) The Cheeses. For today's recipe we want cheeses that combine a couple of qualities. First and foremost, we want cheeses that melt down nicely, and that remain 'gooey' after cooking. However, we also want cheeses that pack flavor and a bit of sharpness but 'without' being overwhelming. Conversely, we want a nice backdrop of 'smokiness;' so much so that you might say that we want the recipe 'drenched' in smokiness to provide a delicious 'grounding' or 'anchoring' for the heat of the chilies. That rules out 'milky' cheeses like mozzarella, since 'milky' cheeses will dampen rather than accentuate or complement the chilies. Naturally, this doesn't leave us with that many options – except for one really delicious combination. Today, we're using a mix of Gruyere, cheddar, and smoked Gouda, which gives us exactly what we're looking for. Gruyere is nutty, melts nicely, and doesn't pack a lot of milkiness. Smoked Gouda melts down beautifully, while packing a whirlwind of the delicious smokiness we're looking for. Meanwhile, cheddar is the 'neutral guy' of the group, packing just a hint of sharpness, while melting down beautifully, providing the 'body' of the mac and cheese.
2) The Chilies. Here's where you can 'really' get creative – and adventurous. There's really no right or wrong combination of chilies to use. My mix of chilies is relatively medium-mild, since the combination of serranos, habaneros, and jalapeños aren't exactly going to set off any alarms. However, if you really want to ratchet up the heat with something like scorpion peppers or scotch bonnets, let me know how it turned out in the comments below.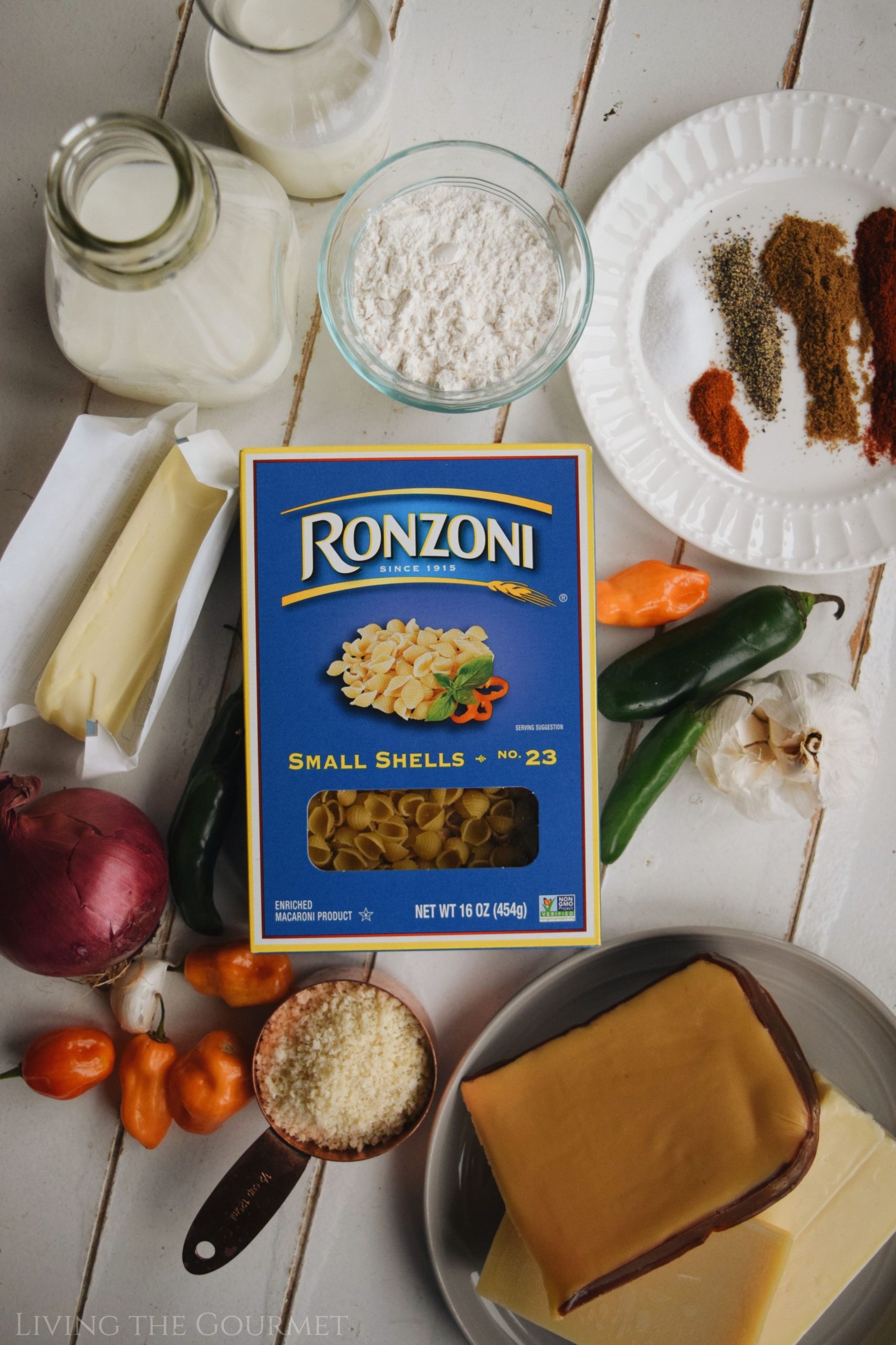 3) The Onions. Red onion vs white onion vs yellow onion vs sweet onion. Yellow onions are basically the 'workhorse' of the 'onion family.' They are perfectly palatable raw, and cook up quite nicely, they also lack the 'pungency' of other onions, featuring a balanced astringency. This makes them ideal for almost any cooked recipe that call for onions, especially sauces and soups, since they become sweeter the longer they cook. Spanish Onions are a type of yellow onion, but are somewhat sweeter, and pack less of a 'bite.' By contrast, red onions are the go-to onion for 'uncooked' recipes, being sweet, crisp, just a touch pungent, and a beautiful shade of 'vegetable red.' This is why they often feature prominently in things like Greek and Sicilian salads, fresh salsas, and the like. Also, if we're being honest, they really do 'not' cook well, since their beautiful red color simply washes out under heat, while their taste becomes almost identical to that of yellow onions, taking on something of a 'muted' sweetness. Then we have sweet onions, which completely forgo 'oniony bite' and astringency in favor of 'actual' sweetness. Seriously, I've bitten into these things like an apple. Since these onions are so delicious raw, they're featured prominently in things like garden salads, sandwiches, raw salsas, uncooked relishes, and the like. However, this sweetness comes at the price of perishability, meaning sweet onions tend to sour a bit more rapidly than their non-sweet counterparts. For today's purposes, while you can use whatever you have on hand, I would suggest either white or yellow onions.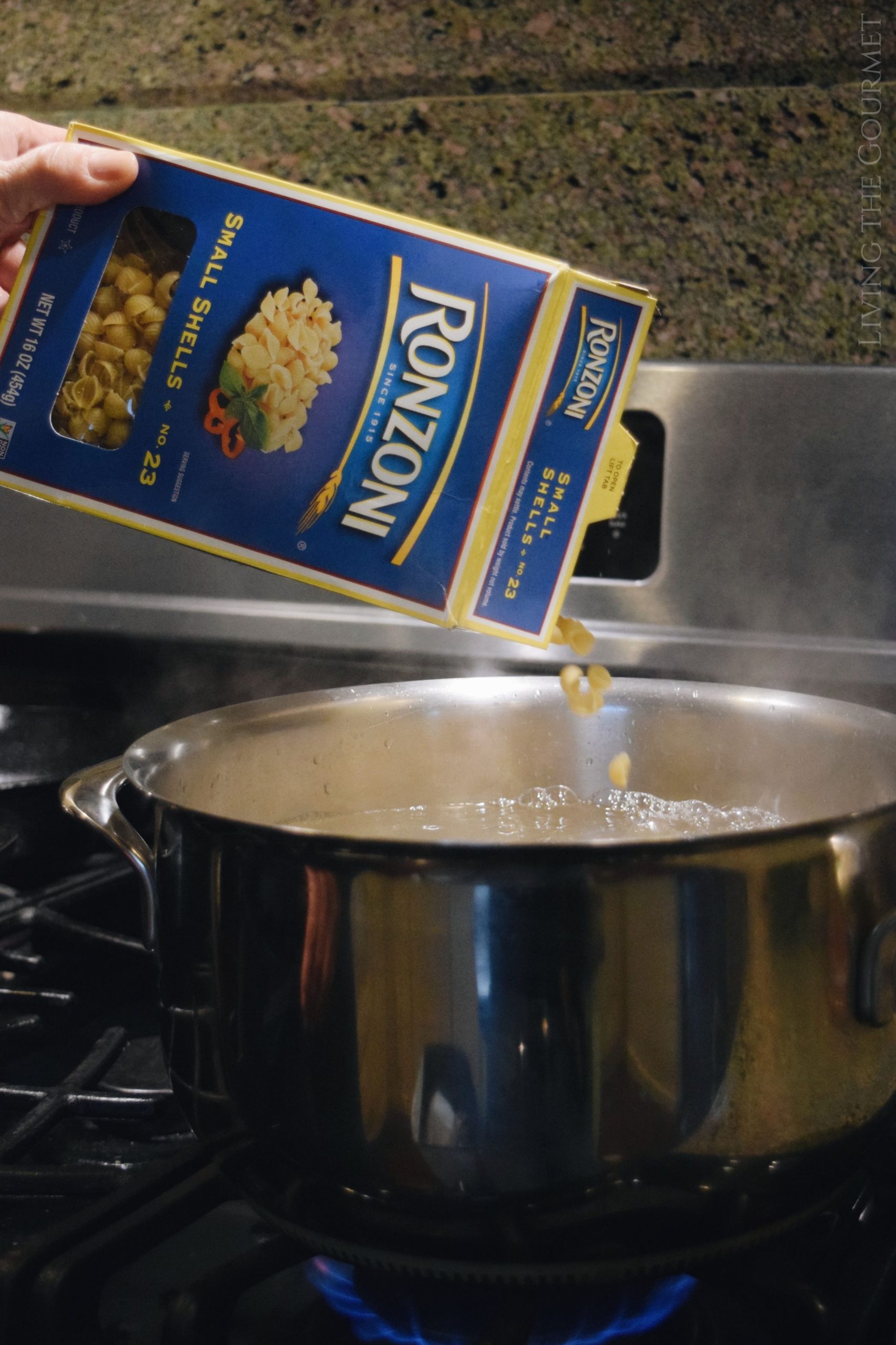 4) The Macaroni – Ronzoni® Shells. Today we're cooking with Ronzoni Pasta; we're using their shells in particular. I prefer shells for today's recipe since I love the way they 'catch' the melted cheese and the spice from the chilies, creating 'cheesy spicy bites' with each forkful. Coupled with the crisped panko topping, the combination is simply irresistible. Ronzoni has been a staple in my pantry since I was a child. I grew up eating their pasta, and it remains the pasta of choice in my home to this day. Providing reliable quality since 1915, and readily available in the pasta aisle of your local ShopRite, I wholeheartedly suggest picking up a few boxes of Ronzoni for your next Friendsgiving. There's also a ShopRite From Home offer happening now through 11/28/20. When you order online through ShopRite, you can save $3 when you spend $10 on Ronzoni® Pasta at ShopRite. Shop it here!
5) The Cayenne Pepper. You're probably most familiar with cayenne from its starring role in the bright red hot sauces that line supermarket shelves. In fact, because of its prevalence in hot sauce, cayenne peppers are among the most commonly consumed form of chili. Fresh cayenne peppers, paradoxically, are rarely available outside of specialty markets. Cayenne peppers are a 'moderately hot,' clocking in at about 25,000 and 50,000 on the Scoville Scale. For reference, jalapeños clock in at 2,500 to 10,000. Dried cayenne powder, however, is often dramatically 'cooler,' as chili seeds are at their hottest when they're fresh, and rapidly bleed away heat after being cooked. What cayenne powder lacks in heat, it makes up for with 'earthy warmness' and 'rustic spice,' which has the effect of concentrating the pepper's bouquet of aromatics and flavors, which are often hidden behind scorching heat when cooking with fresh cayenne peppers. Thus, while cayenne powder is bringing 'some' heat to today's recipe, we're using cayenne primarily for its earthy and rustic notes.
Substitution: Cayenne is hard to find an 'exact' substitute for, but you might consider an equivalent amount of 'Hungarian' paprika or chili powder.
Print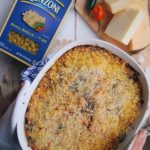 Three Cheese Chili Mac and Cheese
---
Author:

Prep Time:

10 minutes

Cook Time:

20 minutes

Total Time:

30 minutes

Yield:

4

-

6

1

x
1

lb. Ronzoni® Small Shells

1 ½ cups

milk

½ cup

butter

1 cup

heavy cream

1/2 cup

flour

1

onion – sliced

2

jalapeños – sliced

2

habaneros – sliced

2

serrano's – sliced

5

–

6

cloves of garlic – crushed and chopped

1 tsp

. ground cumin

1 tsp

. paprika

½ tsp

. salt

¼ tsp

. cayenne

1 tsp

. black pepper

4 oz

. Gruyere – shredded

4 oz

. cheddar cheese – shredded

4 oz

. smoked Gouda – shredded
---
Instructions
Cook the Ronzoni® shells as directed then set aside.
Heat a medium cast-iron frying pan and place the peppers, onion and garlic in the dry pan and sprinkle with salt. Grill to a slight golden char, then set aside.
Butter a deep-dish casserole dish and set aside.
Add the seasonings to the flour.
Melt the butter in a saucepan; whisk in the flour until smooth and slightly bubbles then whisk in the milk and cream and continue to cook until the sauce thickens.
Stir in the cheeses until smooth, then add in the grilled veggies.
Place the cooked macaroni into the prepared dish and pour the sauce over the macaroni.
Sprinkle the panko over the macaroni and top with pats of butter.
Bake uncovered until slightly bubbling and the panko is slightly golden about 40 – 45 minutes.
Recipe Card powered by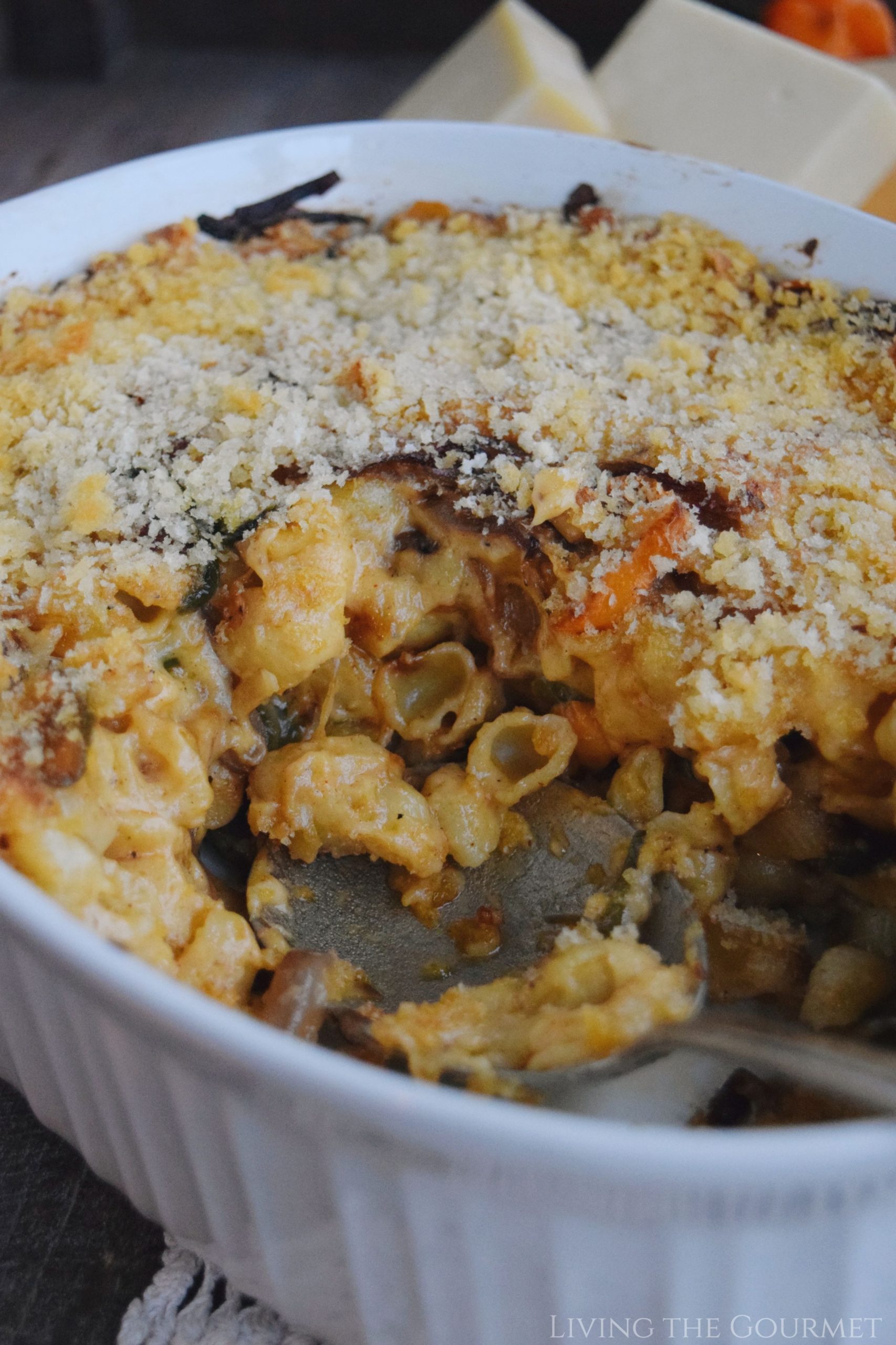 We want to hear from you! What are you creating this Thanksgiving/Friendsgiving? How do you plan on making your small gatherings special this year to keep the magic of the season alive? Share your favorite holiday recipe traditions with us down below and don't forget when you shop online here through ShopRite from 11/22/20-11/28/20, you'll save $3 when you spend $10 on Ronzoni with their ShopRite From Home offer!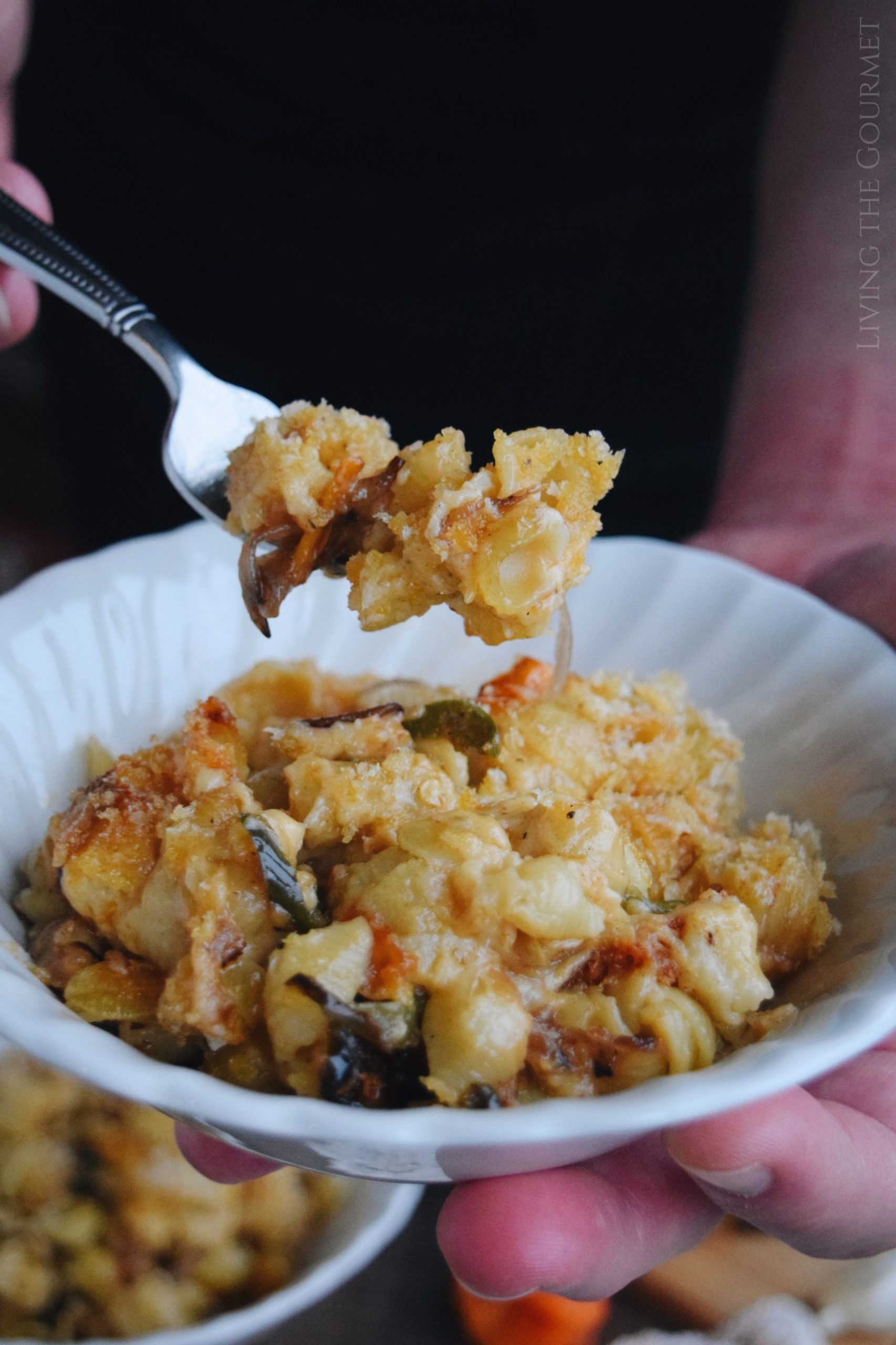 If You Enjoyed Today's Recipe…
Be sure to follow us on Instagram to stay up to date with all things Living the Gourmet, and for more great recipes, tips and tricks.
Did you make this recipe?
If so, let me know in the comments down below, or post a picture to Instagram, or to Pinterest, and I'll give you a shoutout on Instagram, or post your pin to one of my Pinterest boards!
0