Today we're preparing a pasta dish that brings together a medley of our favorite Italian flavors from anchovies and fresh lemon to ricotta, red pepper, and oregano.
What I love most about this recipe, however, is just how simple it is to make. Despite taking just thirty or so minutes to whip up, this pasta dish is a must have in your repertoire, whether as a quick Sunday meal or as a satisfying weekday treat.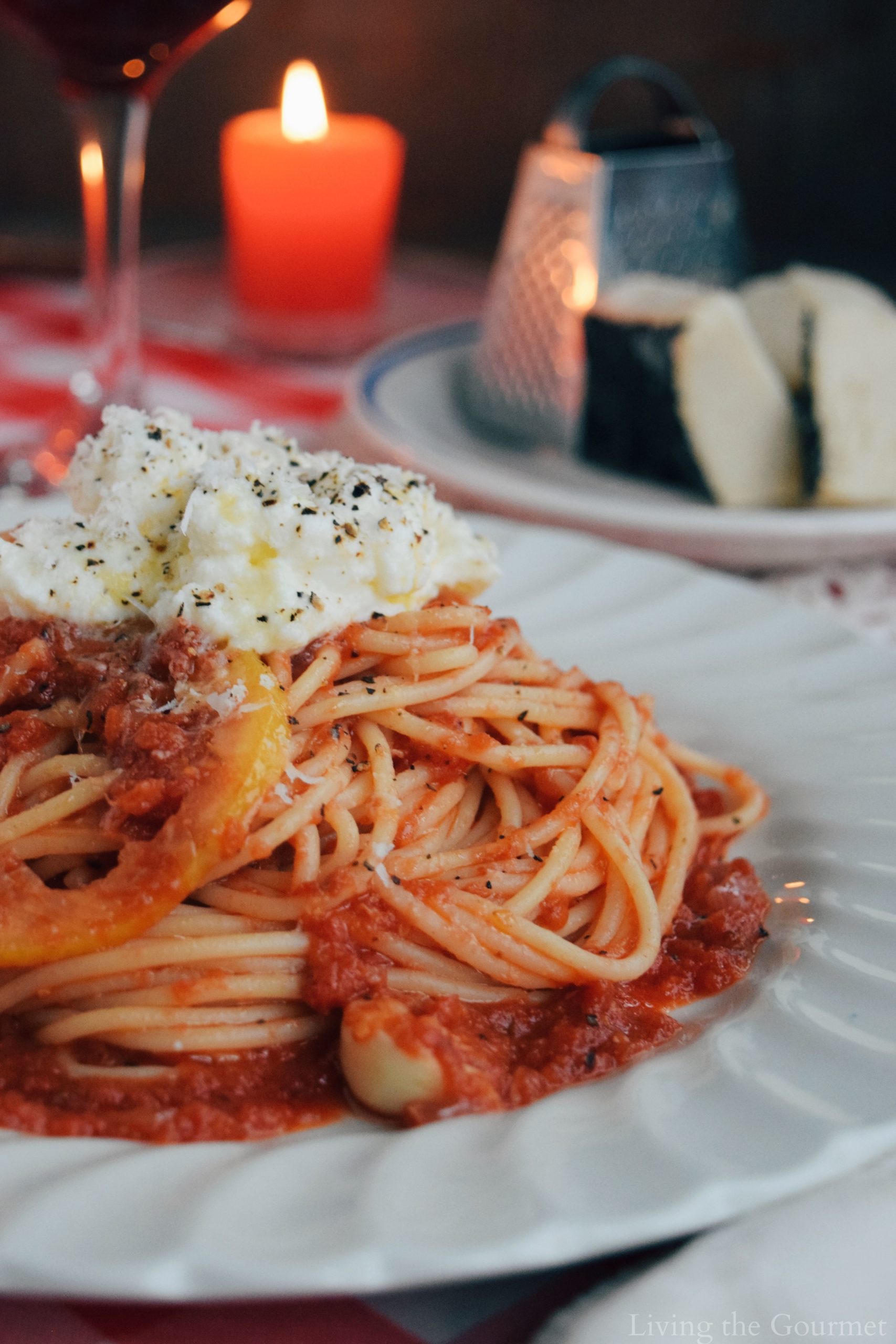 Ingredient Notes, Tips, and Substitutions
1) Ricotta – A Gift From the Ancients. One of the oldest cheeses in the world, ricotta has been produced in Italy since around 2500 BC. While we tend to think of ricotta purely as that creamy cheese that melts beautifully in things like stuffed shells and lasagna, ricotta also comes in smoked, aged, salted, and baked varieties. Produced from whey, ricotta is made from a variety of milks, including from sheep, goats, and Italian water buffalos. However, in the US, ricotta is produced almost exclusively from cow's milk. This naturally results in Italian ricotta being both naturally sweeter and somewhat less moist than its American counterpart.
2) Fresh Oregano vs Dried – and Possible Substitutions. In an unusual twist, dried oregano is generally preferred in the kitchen over its fresh counterpart – although there are exceptions. The one word you'll likely always come across when reading about fresh oregano is 'pungent,' and occasionally 'intrusive.' Fresh oregano has a tendency to steal the limelight. For this reason, it's at home in recipes with 'powerful' ingredients, or where other fresh ingredients are present. Things like Greek salads, whole roasted fish, grilled lamb, heavy sauces, or in herbal mixes for use in stuffing pork shoulders. In other words, recipes that aren't 'gentle' or 'light.' For virtually all other uses, dried oregano is preferable, since the drying process mellows it dramatically – which is almost the polar opposite of what happens with other dried herbs, where the drying process has a tendency to 'concentrate' rather than mellow the herbs' most prominent qualities.
Substitution: Dried basil or thyme at a 1-to-1 ratio.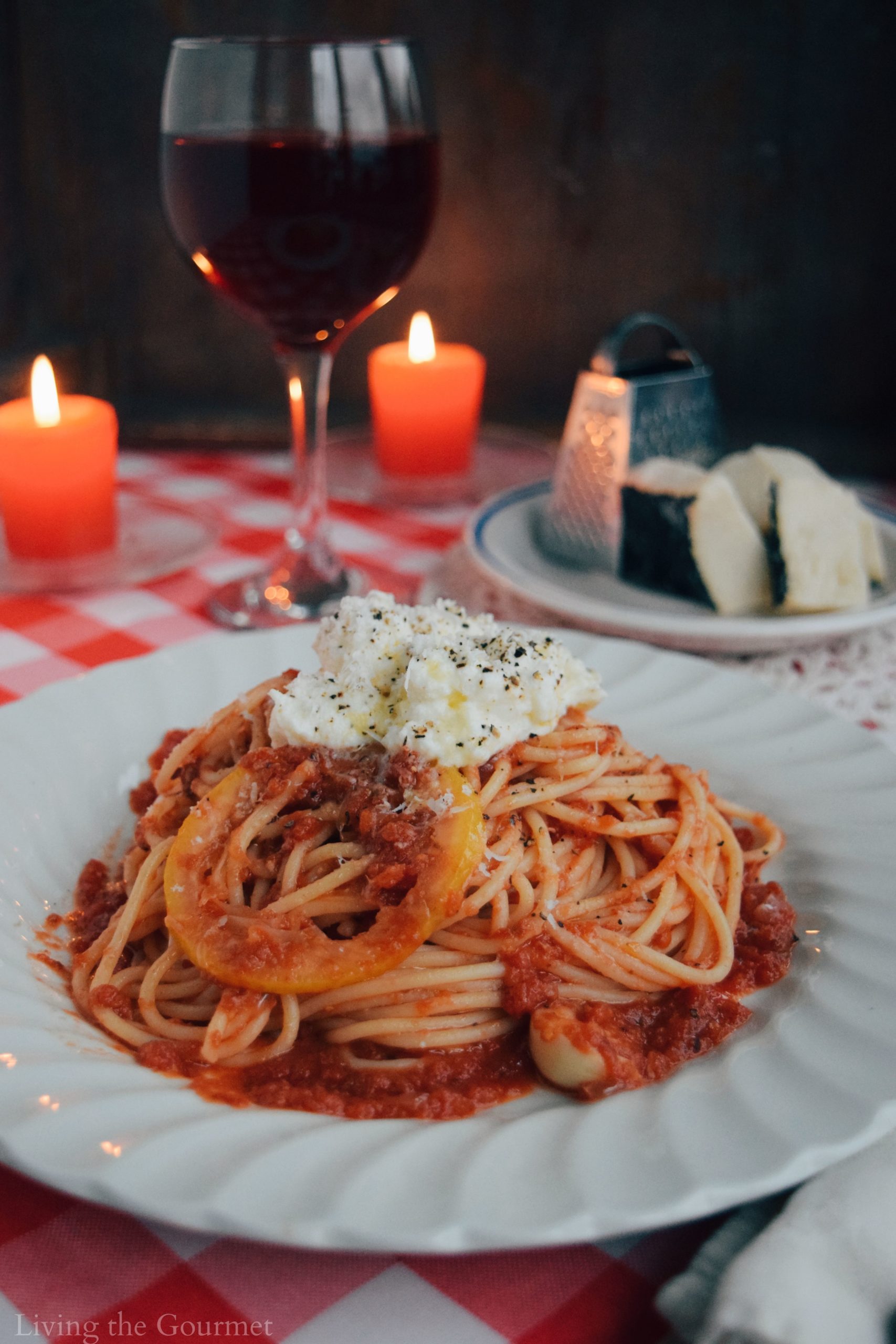 3) Sugar in Sauce – The 'Why' Behind the 'Sweet.' Like salt, sugar is a 'blurring' or 'melding' agent. That simply means that sugar helps to 'bind' flavors together. In recipes like red sauces, chilis, or stews, where you have a medley of different flavors coming together, some of which actually contrast quite sharply, you need 'something' to help 'blur' or 'meld' those ingredients together. The primary item for doing this is salt, but sugar also has a very similar effect. However, unlike salt, sugar also 'mutes' or 'blunts' acidity – despite being somewhat acidic itself (chemically speaking). That said, unlike the 'saltiness' of salt, which can come through quite powerfully, the 'sweetness' added by sugar is much milder and harder to detect, especially when used in very small quantities. Thus, sugar serves two purposes inside of today's recipe, melding together flavors and blunting acidity, while itself being a nearly 'invisible' ingredient.
4) The Lemon – Fresh is a Must in this Recipe. The lemon in today's sauce is acting as additional acid, as opposed to additional flavor. You need fresh lemon for this, not only because we want the rind, but also because bottled lemon juice simply isn't as flavorful, lacking the full 'zest' or 'brightness' of fresh lemon juice, since the juice begins breaking down chemically almost as soon as it leaves the lemon. Beyond that, the juice's flavor is often times further diluted with preservatives. As a result, if you want the full flavor and balance intended in today's recipe, use fresh lemon juice.
Substitutions: If you don't have fresh lemon on hand, simply add in a few tablespoons of a dry white wine.
Tipsy-Tip: To kick the recipe up a few notches, add in the white wine anyway.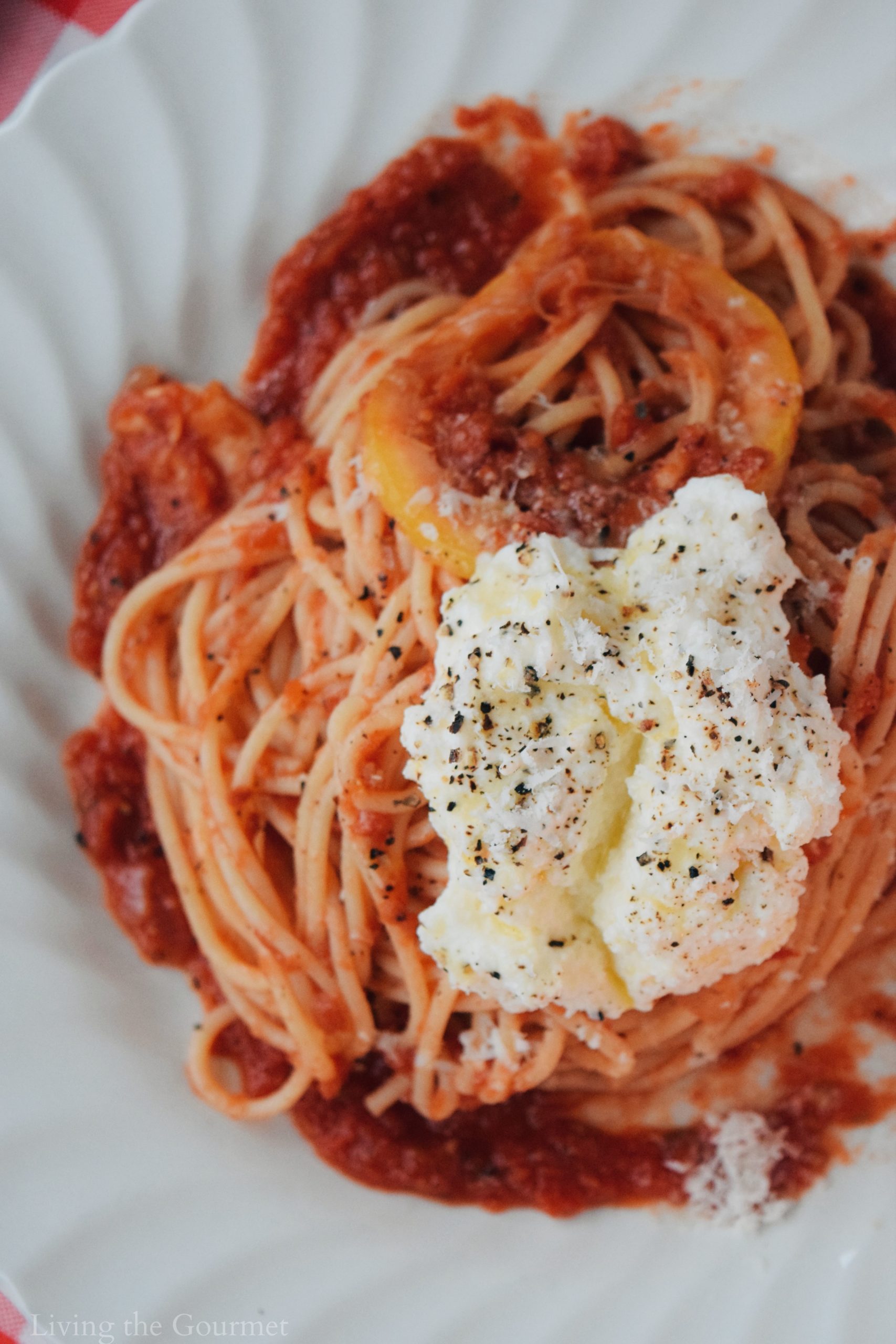 Pasta Pointers – How To Achieve a 'Perfect' Noodle
1) Undercook your pasta. As with all pasta, you don't want overcooked 'mush' with today's recipe. On the contrary, you want a 'firm' noodle. To do this, you need to start by undercooking your pasta. Think about this logically. You are taking your pasta from the boiling water in which it was cooking, and then adding it to the scalding hot 'sauce' form from the pot roast – in which it will invariably continue to cook for several minutes as the 'sauce' cools. Thus, if you overcook or even 'fully' cook the noodles prior to topping them with the broth from the pot roast, the noodles will be 'mushy' and overly tender.
2) No seriously – undercook your pasta. If you don't believe me, a 2017 article in Bon Apetit confirms that Al Dente is 'functionally' overcooked…usually. The article makes the point that you almost always finish your pasta by tossing it in some sort of cooked sauce, be it red sauce, garlic and oil, or – as we're doing today – topping it with a freshly cooked beef broth. Thus, if you want truly cooked-to-perfection pasta, you want prepare it "Molto Al Dente," which translates roughly as 'undercooked,' with the idea being that the pasta will continue cooking for a minute or two (or three) as you toss it in the sauce and then prepare to eat it. Of course, if you're not drenching your pasta in freshly cooked sauce, or coating it in heated oil, then feel free to cook it to the point of Al Dente – but that's precisely what we're doing with today's recipe.
3) Salt the Water – A Lot. I'm not going to expand too much on this point, except to say that salted water adds savory-ness to your pasta, dilutes its starchy qualities, and covers up any potential imperfections – which are present even in the highest quality brands you can buy. The end result is a better tasting, more palatable pasta.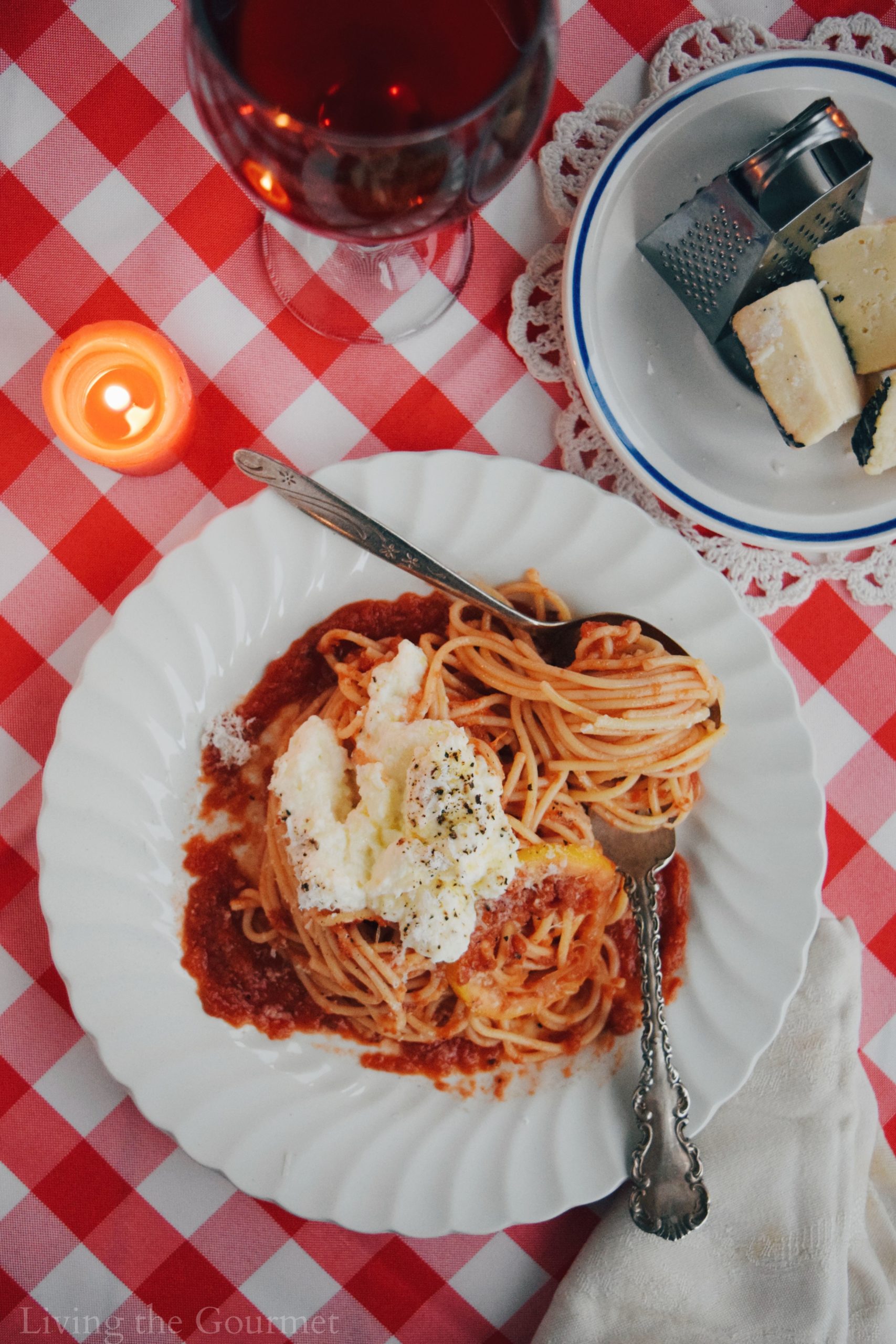 4) Rinsing Pasta Damages It. Rinsing cooked pasta damages it – end of story. I'm not sure where, when, or how this idea came about, but it's a painfully common ritual to rinse pasta under lukewarm-to-cold water in strainers after it's been cooked. I'm honestly not sure what this is meant to achieve aside from artificially cooling it down, or trying to 'unstick' the pasta from itself. The problem is, you can let the pasta cool by just leaving it alone, and the reason the pasta is sticking together is due to 'surface starch,' the same starch that serves to help sauce 'stick' to the pasta, and that gives the pasta a slightly more 'textured' quality. In other words, when you rinse off pasta after cooking, you're literally rinsing away added quality. Stop this, don't do it, it's silly. End of story.
5) The Noodle Shape – More Than Preference, Less Than Vital. Let's be real, no one has ever 'ruined' a recipe by picking the 'wrong' pasta to pair with their sauce, soup, or stew. However, there are some general guidelines that will help you maximize your enjoyment. As a rule of thumb, tube shaped pasta generally pairs well with thick hearty sauces that can 'trap' or 'catch' within the tube, such as ziti, rigatoni, and penne. The larger the tube pasta, the heartier the sauce it pairs with. Stick or 'rod' shaped pasta, such as spaghetti, spaghettoni, and capellini, are generally best paired with olive oil and garlic or tomato-based sauces, since these types of pasta serve best when they can be uniformly coated by the sauce, since the pasta cannot 'catch' or 'trap' heavier sauces in the way that something like rigatoni can. Ribbon pasta is generally ideal for creamier sauces. Think of the heavenly pairing of fettucine and alfredo sauce.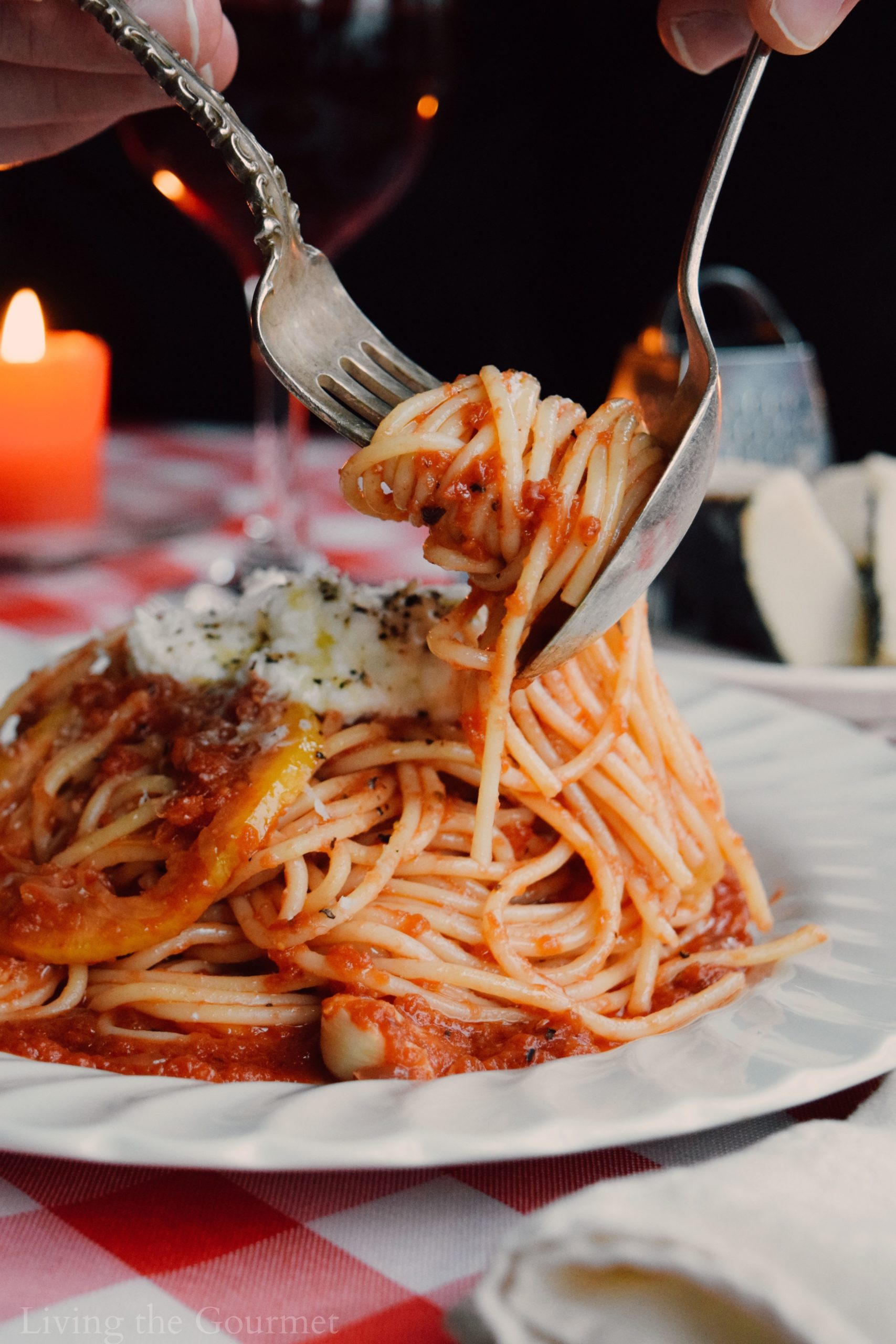 Print
Spaghetti with Tomato and Anchovy Sauce
Author:
Prep Time:

10 minutes

Cook Time:

20 minutes

Total Time:

30 minutes

Yield:

4

1

x
28 oz

. can of crushed tomatoes

6

–

8

cloves of garlic – crushed

1

medium red onion – sliced thin

2 oz

. can of anchovies – in olive oil

4

–

5

lemon slices with rind

1/4

cup

fresh grated Parmesan or Romano cheese

1 1/2 tsp

. salt

1 tsp

. fresh ground black pepper

1/2 tsp

. red pepper flakes

1 tsp

. dried oregano

1/2 tsp

. sugar

2

–

3

tbs. olive oil
Ricotta cheese

1

lb

. your favorite pasta

2

–

3

tbs. olive oil – more for drizzling
Instructions
Heat a large cast iron frying pan with a drizzle of olive oil.
Add the crushed garlic and sliced onion and sauté until the garlic is fragrant.
Add the anchovies with the oil and smash with a fork.
Add the seasonings, except the sugar, to the pan.
Add the lemon slices and sauté for a minute or two.
Add the crushed tomato and the sugar.
Add the grated cheese to the sauce.
Simmer on a gentle heat while preparing the pasta as directed, please make sure the water for the pasta is well salted.
Add a three or four tbs. of the salted water for the pasta to the sauce.
Taste the sauce for seasonings.
Drain the pasta then toss the pasta with the sauce.
Serve with a tablespoon of ricotta cheese on top of the pasta, a drizzle of olive oil, fresh ground black pepper and fresh grated Romano or Parmesan cheese.
Recipe Card powered by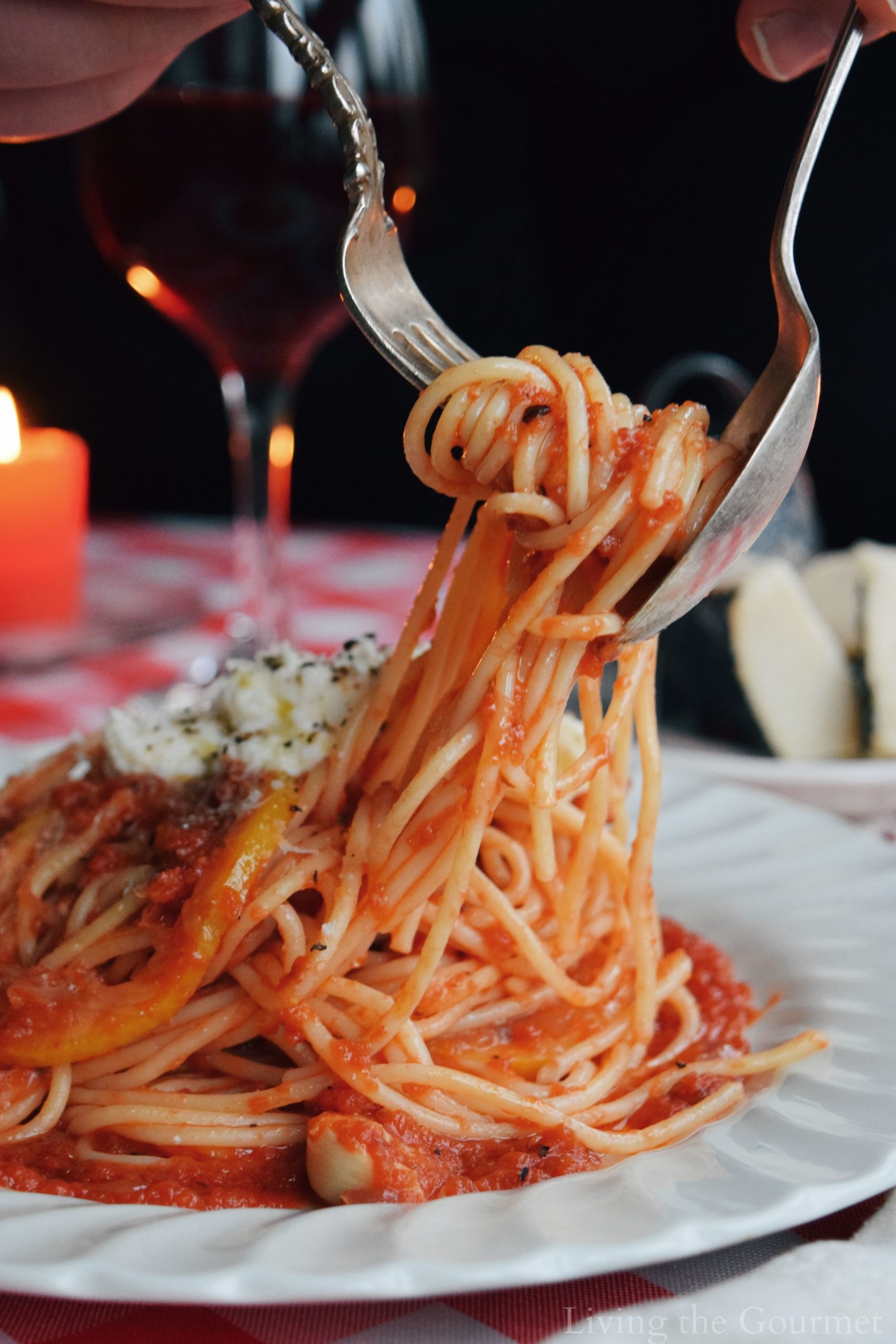 More Italian Favorites from Living the Gourmet
1) Ravioli. My favorite twist on a beloved classic, these homemade ravioli are blissfully simple to prepare, but the real draw here is the delicious mix of asiago, ricotta, mozzarella, and romano, coupled with a fresh red sauce, plenty of garlic, and fresh spinach.
2) Sweet Mediterranean Lasagna. This lasagna is a bit more colorful by design as compared to the traditional layers of noodles, red sauce, and mozzarella, featuring fresh baby spinach, a touch of sweetness from raisins and cinnamon, and 'Mediterranean' flavors such as capers, oregano, and lots of fresh garlic.
3) Meatballs with Rasins and Pignoli Nuts. My absolute favorite meatball recipe of all time. Moist, flavorful, and versatile, well able to accompany pasta or to prepare a meatball sandwich, or even to eat on their own.
4) Breadsticks. At the risk of being old fashioned, I'm going to suggest breadsticks to pair with today's eggplant, and these are much easier to prepare than you might think. Paired with some olive oil for dipping, or even some herbed butter or black coffee, these are super versatile and keep great. As a nice bonus, they never fail to impress the guests.
If You Enjoyed Today's Recipe…
Be sure to follow us on Instagram to stay up to date with all things Living the Gourmet, and for more great recipes, tips and tricks.
Did you make this recipe?
If so, let me know in the comments down below, or post a picture to Instagram, or to Pinterest, and I'll give you a shoutout on Instagram, or post your pin to one of my Pinterest boards!
2