Sweet peaches are rolled into a soft milky dough then baked to golden perfection and finally, drenched in a Tahini Caramel Sauce. Best served in the morning or evening as an after dinner delight, these sticky buns are a perfect send-off to summer.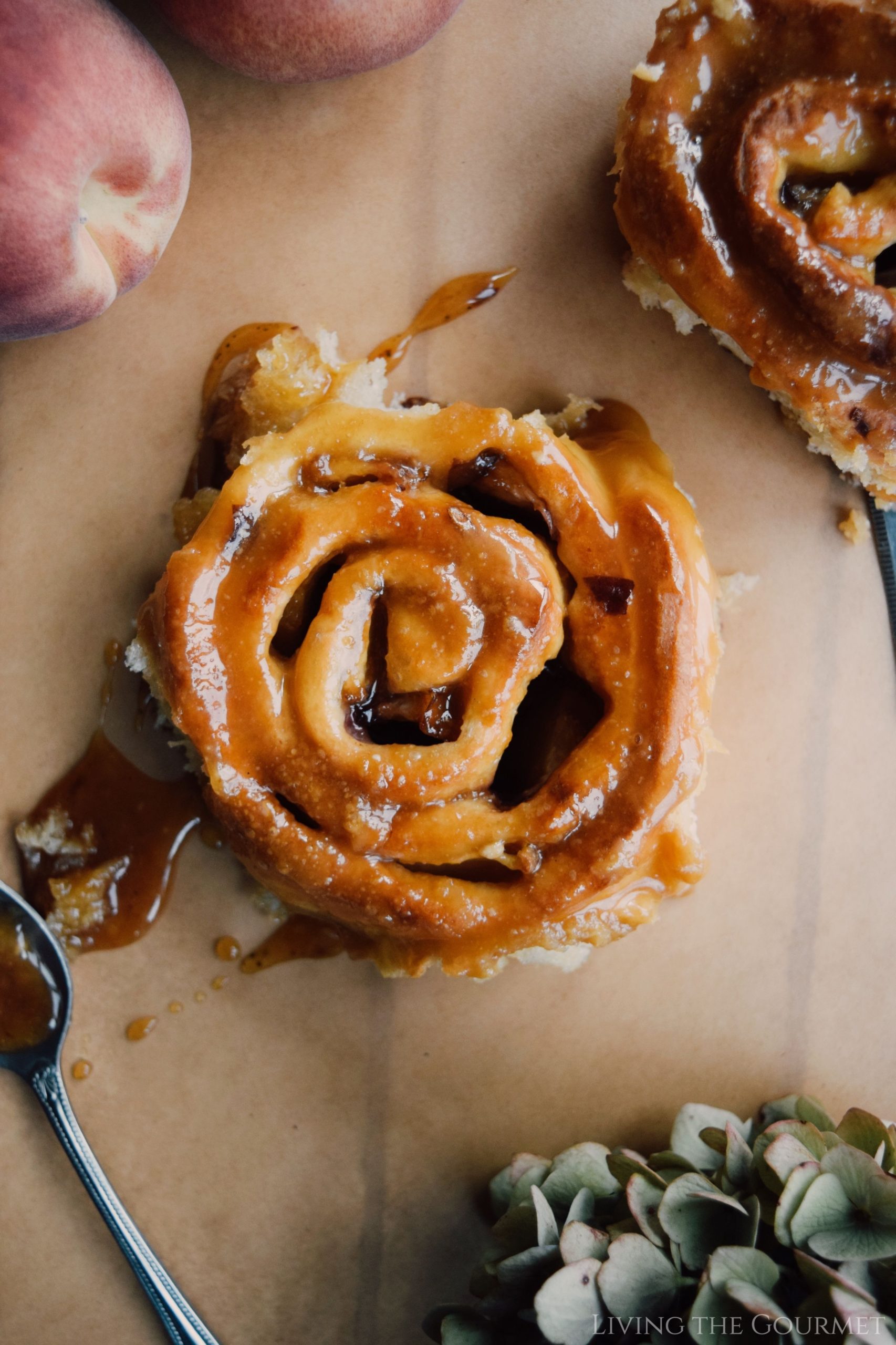 If you're familiar with the film, Five Easy Pieces, then most likely you will remember what is unarguably the most famous scene from the film- the diner scene. Jack Nicholson's character places an order for an omelet with toast, but the obstinate waitress tells him there is a 'no substitutions' rule and eggs are only served with rolls, not toast. The best line immediately follows after, "I'll make it as easy for you as I can. I'd like an omelette, plain, and a chicken salad sandwich on wheat toast. No mayonnaise, no butter, no lettuce… and hold the chicken."
I remember the film vaguely, but that scene is still quite memorable. A friend recommended this movie to me when I was a teenager as we bonded over classic films. So, if you haven't seen that movie yet, it's worth watching just to watch Jack Nicholson try and order breakfast.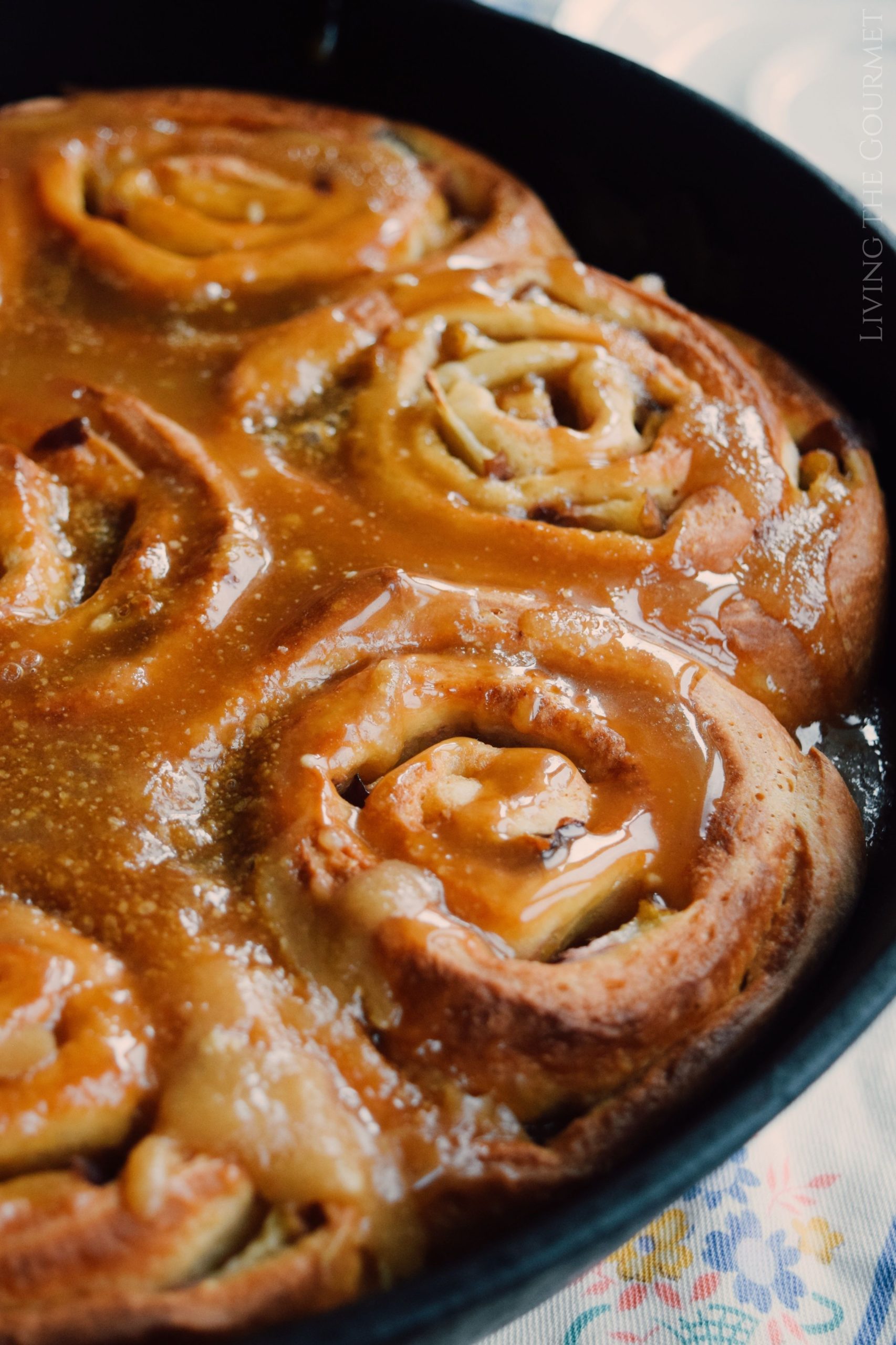 I was reminded of this film, while creating the recipe for these sticky buns. Why? Because, I never really understood the difference between a sticky bun and a cinnamon roll until recently. I imagine the person who invented cinnamon rolls went, "I'll have a sticky bun please, but no nuts and hold the sauce. Just give me a swirly bun."
Voilà. The cinnamon roll was invented! That's probably not at all how it happened, but I digress.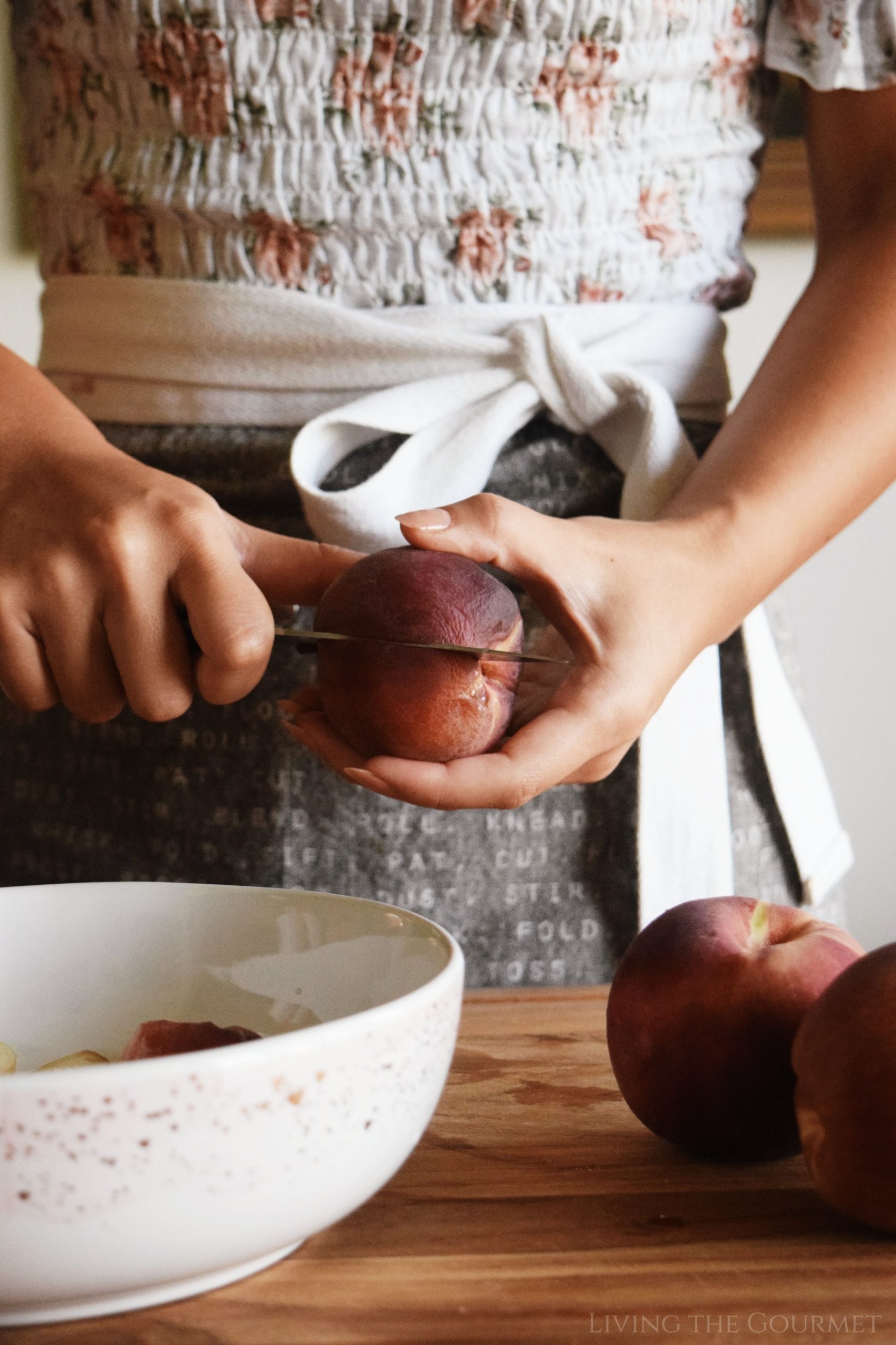 So, what exactly is the difference between a sticky bun and a cinnamon bun?
Well, the differences are subtle but impactful. The first being the method. Sticky buns are baked in their sweet, gooey caramel sauce, while cinnamon rolls are baked in the pan, sans any sauce, then topped with a cream cheese glaze. The second difference is the addition of nuts, which I personally scrapped for today's recipe, and I'll explain why next.
For our August-to-Autumn series, I wanted to take a versatile recipe and make it seasonal. Breakfast rolls seemed to be a good place to start. They are comforting and rich, but with a few adjustments, they can be enjoyed now to savor summer's final harvest, or saved for later to evoke the flavors of fall. I'm going to share a few tips below.
1. Baking with Fruit. With many recipes I share, I feel like you can get away with substituting any fruit. It's usually in the context of a pie or cake, however with this recipe, I suggest sticking to stone fruits, apples, or pears. They hold up better after storing more than one day. Berries will bleed into the bread, get a little mushy, and begin to add a tartness that some may not care for.
2. Brown Sugar. I'm really deviating here. Yes, you absolutely can use cinnamon sugar (see recipe card notes on how to make it), but I actually just used melted butter and brown sugar for the center. I wanted to the keep the flavors of summer with the comfort of fall, but the added touch of cinnamon would be grand here. It's all about preference on this one.
3. Nuts and other toppings. So toasted pecans are the traditional topping of a classic sticky bun, I omitted the nuts here because honestly, I just didn't want the crunch. By all means though, feel free to add them if you so desire. Other topping ideas could be toasted coconut flakes, other various nuts like walnuts, hazelnuts, or macadamias. You could even add white chocolate chips, but note, I would add the chocolate after the buns have baked. They will melt perfectly and maintain a smoothness without burning.
4. The Sauce. I'm a sucker for caramel in any shape or form. For today's recipe, since I left the nuts out, I added a drizzle of tahini to the batch for a subtle nuttiness. It worked and bonus points for adding a little creaminess to the sauce as well.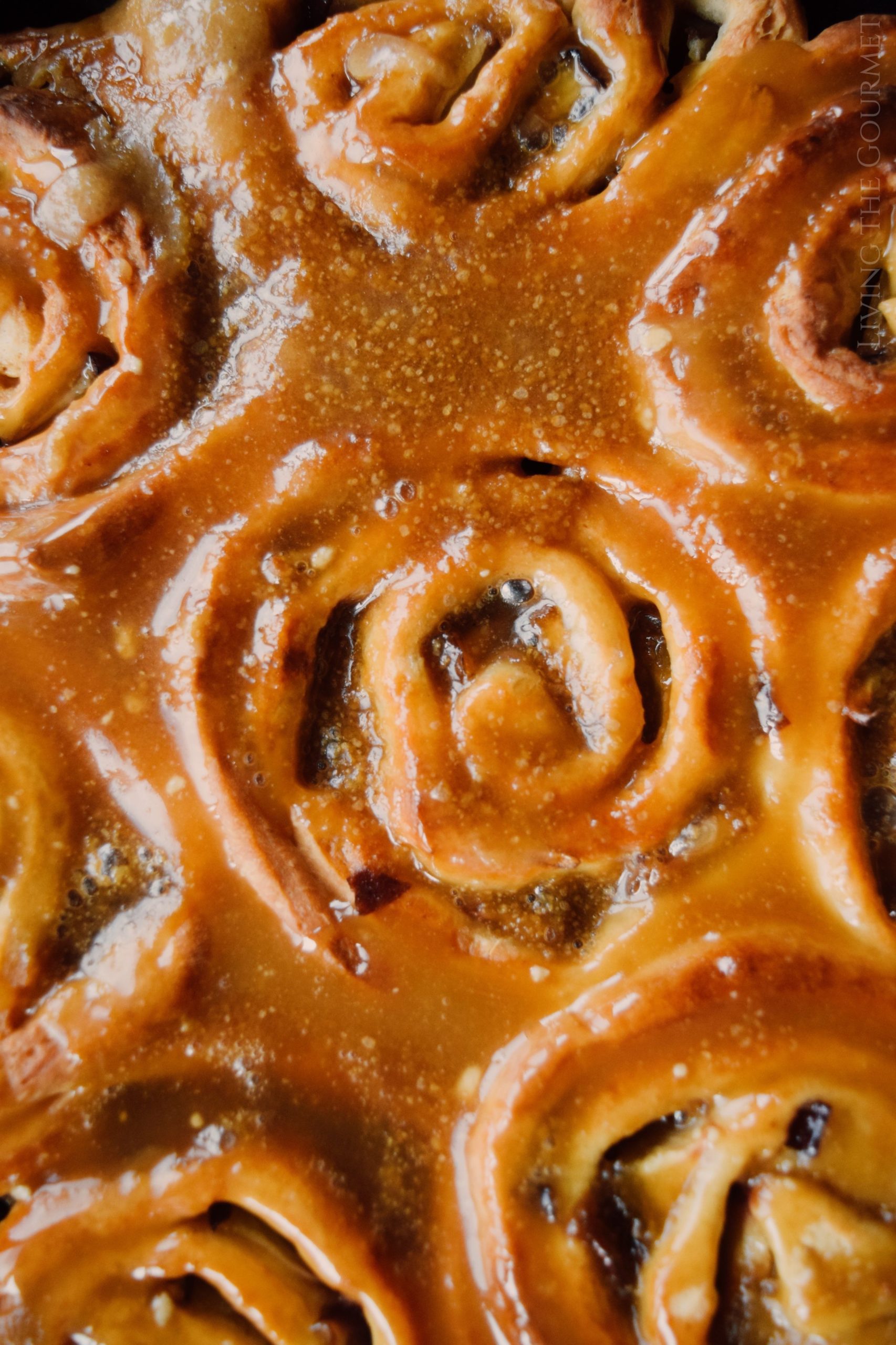 Honestly, the trickiest part for me with this recipe was deciding when to serve them.
Are they a breakfast? Or are they a dessert?
That's a lot of caramel to kick-start your day (or is it?) Then again, who eats bread for dessert? (when rolled in cinnamon sugar with fruit and smothered in caramel, can you really consider it a dinner loaf?)
To answer your question, I shamelessly enjoyed them in the A.M. with coffee for nearly a week. I'm still working out hard to recover (insert wonky face emoji). My brother, was a bit more sophisticated as he enjoyed his as an after-dinner-delight, set with a fork and a knife (while I just pulled mine apart and dunked in coffee).
However and whenever you enjoy, is completely up to you. These peach sticky buns however will soon be your new favorite seasonal treat. Enjoy!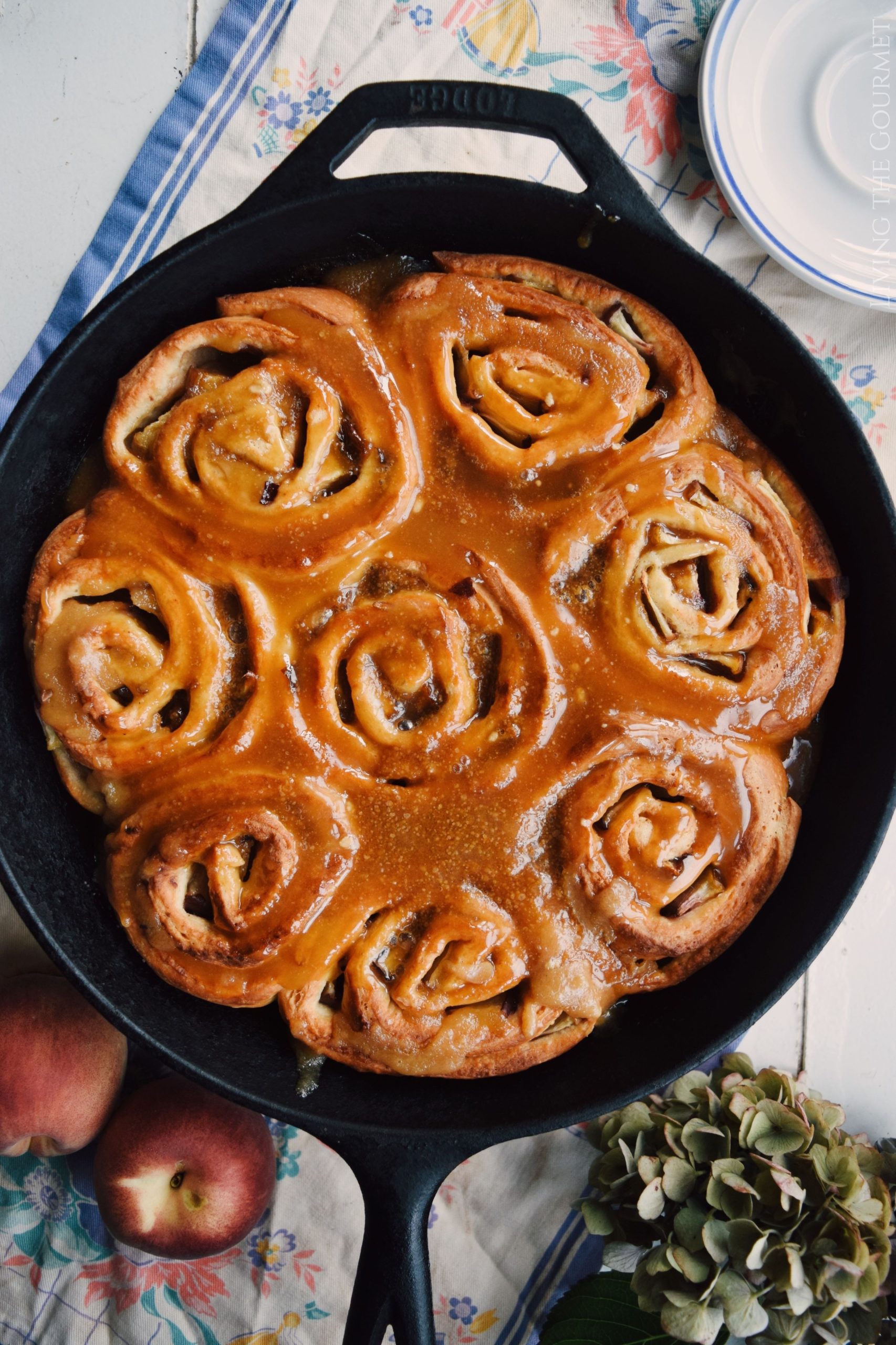 Print
Peach Sticky Buns
Author:
Prep Time:

15 minutes

Cook Time:

35 minutes

Total Time:

50 minutes

Yield:

10

sticky buns

1

x
For the Dough:
3 1/4

cups

bread flour (or all-purpose)
Pinch of salt

1

cup

whole milk, warmed

1

envelope rapid rise yeast

1/4

cup

sugar

2

eggs, lightly beaten

1/2

cup

butter, softened
For the Filling:
3

medium peaches, sliced thin

1 tablespoon

vanilla

1/4

cup

brown sugar, plus

2

tablespoons

3 tablespoons

butter, melted
For the Tahini Caramel Sauce:
1

cup

brown sugar

6 tablespoons

butter

1/4

heavy cream

3 tablespoons

light corn syrup

2 tablespoons

tahini paste
Instructions
For the Dough:
In the bowl of your stand mixer with dough hook attachment, combine flour and salt.
In a small saucepan, warm milk over low heat, just until warm to the touch. Remove from the heat and add to flour mixture. Add yeast, sugar, eggs, and butter. Beat on a low speed until a soft, tacky dough comes together. Cover and place in a dark warm spot until the dough has doubled in side.
For the Filling:
In a medium bowl, toss together sliced peaches, vanilla, and 2 tablespoons of brown sugar. Set aside.
For the Tahini Caramel Sauce:
Combine all ingredients for the sauce in a small saucepan and whisk until the sugar has melted and the mixture begins to thicken.
*Brush the edges of the saucepan with water to keep the caramel from crystallizing around the edges.
Once the sauce has thickened and is bubbling, remove from the heat.
Assembly:
On a well floured surface, turn the risen dough over and roll out into a 12×18 rectangle. Brush with melted butter. Layout the sliced peaches into rows as photographed. Finally, sprinkle with the reserved ¼ cup brown sugar. Carefully roll into cylinder and slice, crosswise into about 10 rolls.
Pour half of the caramel sauce into the bottom of your baking dish or pan, and carefully place each roll on top. Cover and let rise again, until the rolls have doubled in size.
Preheat oven to 375 degrees F. Bake the buns for about 35 minutes, until golden. Remove from the oven and onto a hot plate. Drizzle the remaining caramel sauce over the buns and let cool slightly before serving.
Buns will keep for up to 5 days when stored in an airtight container.
Notes
If you prefer to use a cinnamon sugar for the filling, simply combine ¼ cup granulated sugar and 1 teaspoon cinnamon.
**Prep Time does NOT include Inactive Prep Time.
Nutrition
Serving Size:

10 sticky buns
Recipe Card powered by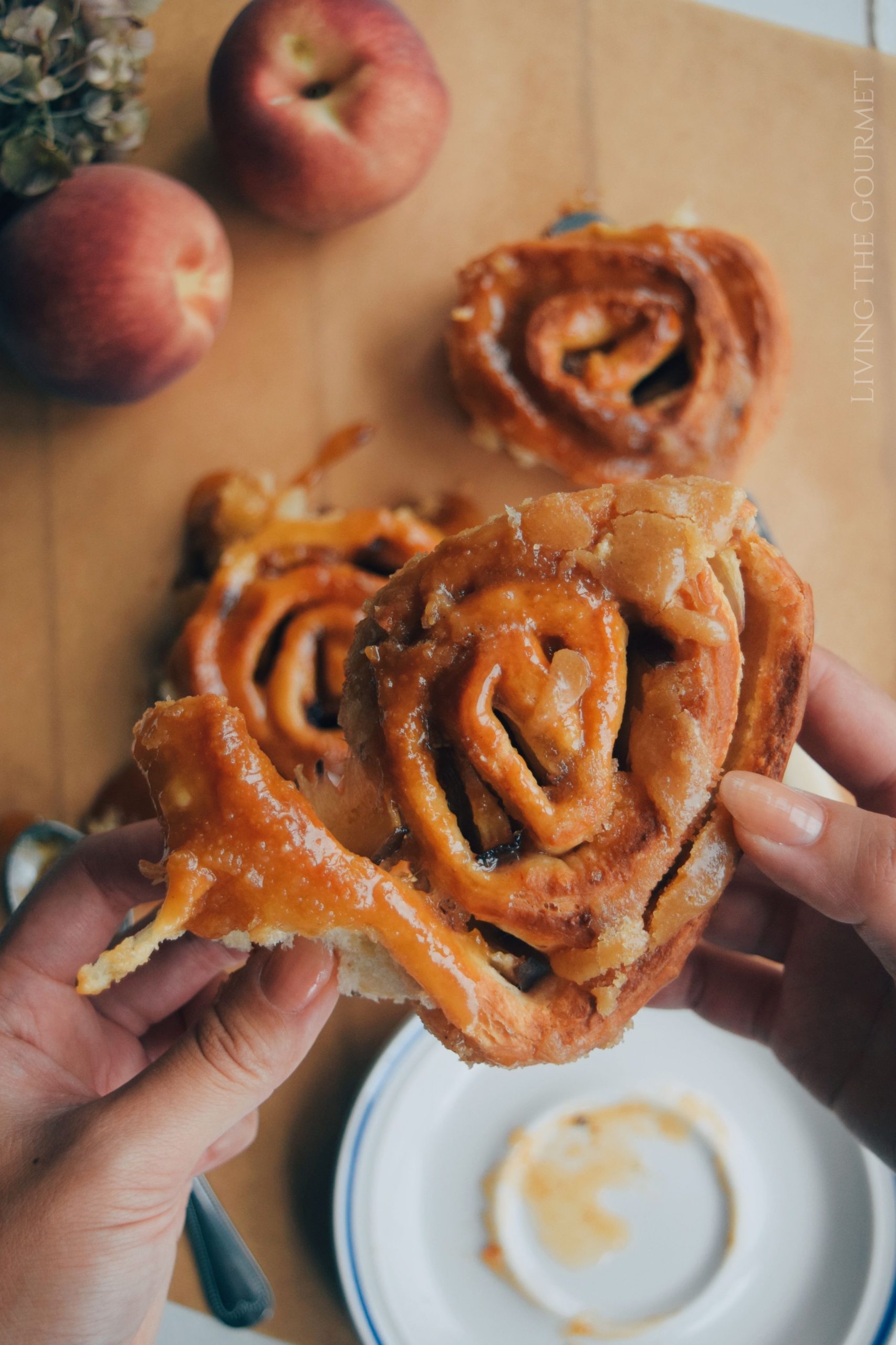 If You Enjoyed Today's Recipe…
Be sure to follow us on Instagram to stay up to date with all things Living the Gourmet, and for more great recipes, tips and tricks.
Did you make this recipe?
If so, let me know in the comments down below, or post a picture to Instagram, or to Pinterest, and I'll give you a shoutout on Instagram, or post your pin to one of my Pinterest boards!
2