This shop has been compensated by Collective Bias, Inc. and its advertiser. All opinions are mine alone. #MazolaHeartHealth #CollectiveBias
February is Heart Health Month, and with that in mind I decided to prepare a recipe using Mazola® Corn Oil. Since a clinical study showed Mazola Corn Oil reduces cholesterol 2x more than extra virgin olive oil,  to learn more about this claim, visit Mazola.com, I decided to use it as one of the key ingredients in today's recipe. For more info, check out Mazola.com, but more on them in just a minute. I thought this would be a good opportunity to try and put to rest the tired old trope of 'heart healthy' recipes being some combination of dry, bland, or simply boring. Today's chicken wings are a moist, thoroughly flavorful delight, that are perfect both for dinner parties and kicked up game-day spreads, or, my personal favorite occasion, 'just because.'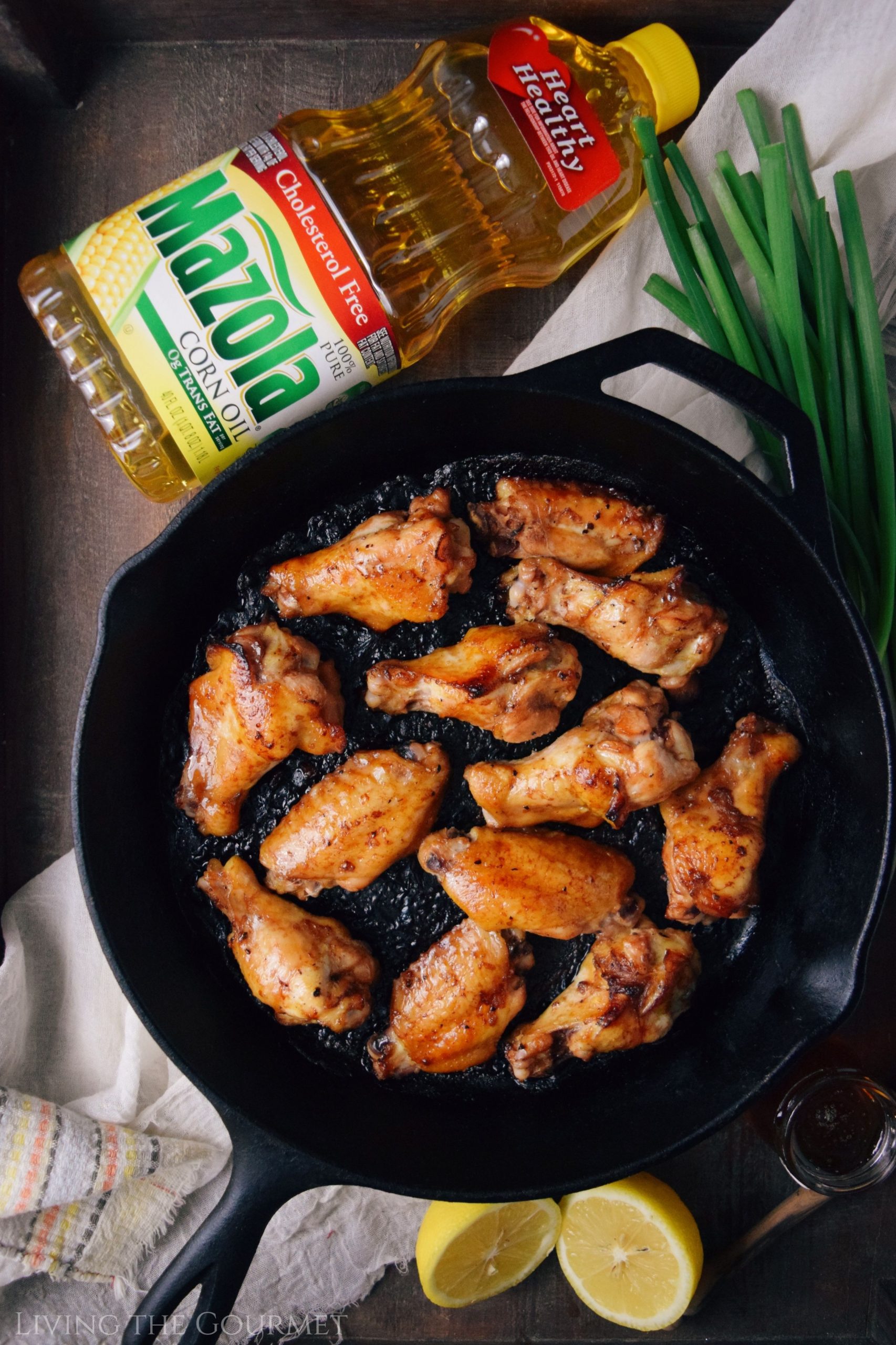 Why You'll Love Today's Chicken Wings
1) Something Different. While I love buffalo wings, southern fried wings, beer batter fried wings, or spicy red Schezuan wings (oh God now I want all the wings) as much as the next person, today's wings are simply 'something different,' something mildly unpredictable and yet just as satisfying, combining a variety of flavors that one typically might not associate with a 'chicken wings' recipe.
2) Crowd Pleaser. Let's be honest, it's not a 'wings recipe,' if it's not a crowd pleaser, and today's chicken wings are true to form. While the ingredient list and flavor profile are slightly 'higher brow' than usual, they nevertheless remain blissfully accessible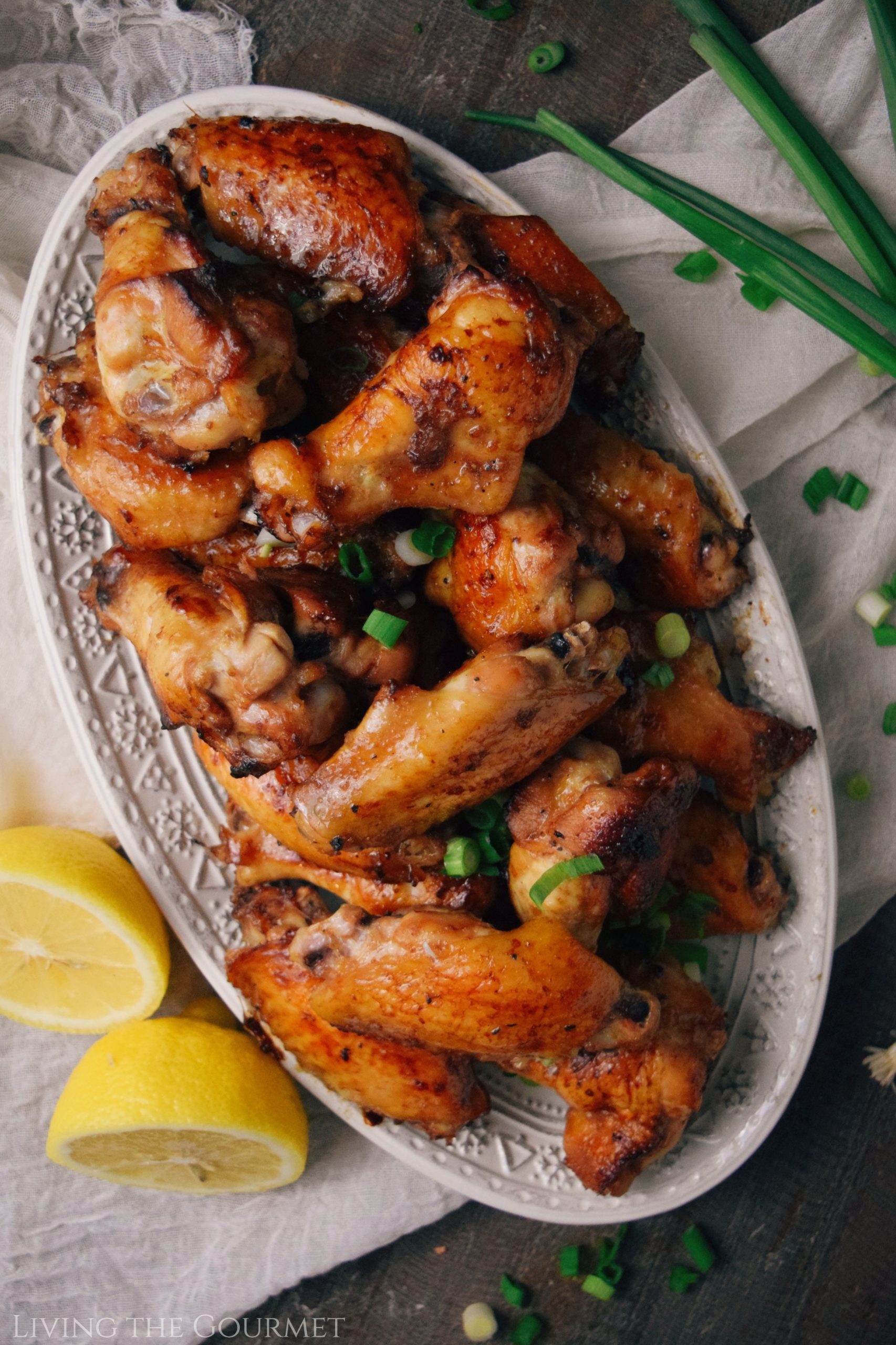 3) Formal or Casual – You Decide. To the above point, today's wing recipe can easily be served at a dinner party with friends, or as a light lunch out on the porch once the warmer weather rolls around, or – on the other end of spectrum – could easily be served on platters for your next game day recipe. As such, this is probably a recipe you want to keep on hand 'just in case.'
4) Great for Chefs of All Skill Levels. In reality, handling the wings is probably the 'hardest' part of this recipe, and only because no one 'really' likes handling raw chicken – and that's coming from a butcher's daughter. However, the truth is, if you can mix together a few different sauces, grate some garlic, and preheat an oven, you can prepare today's recipe.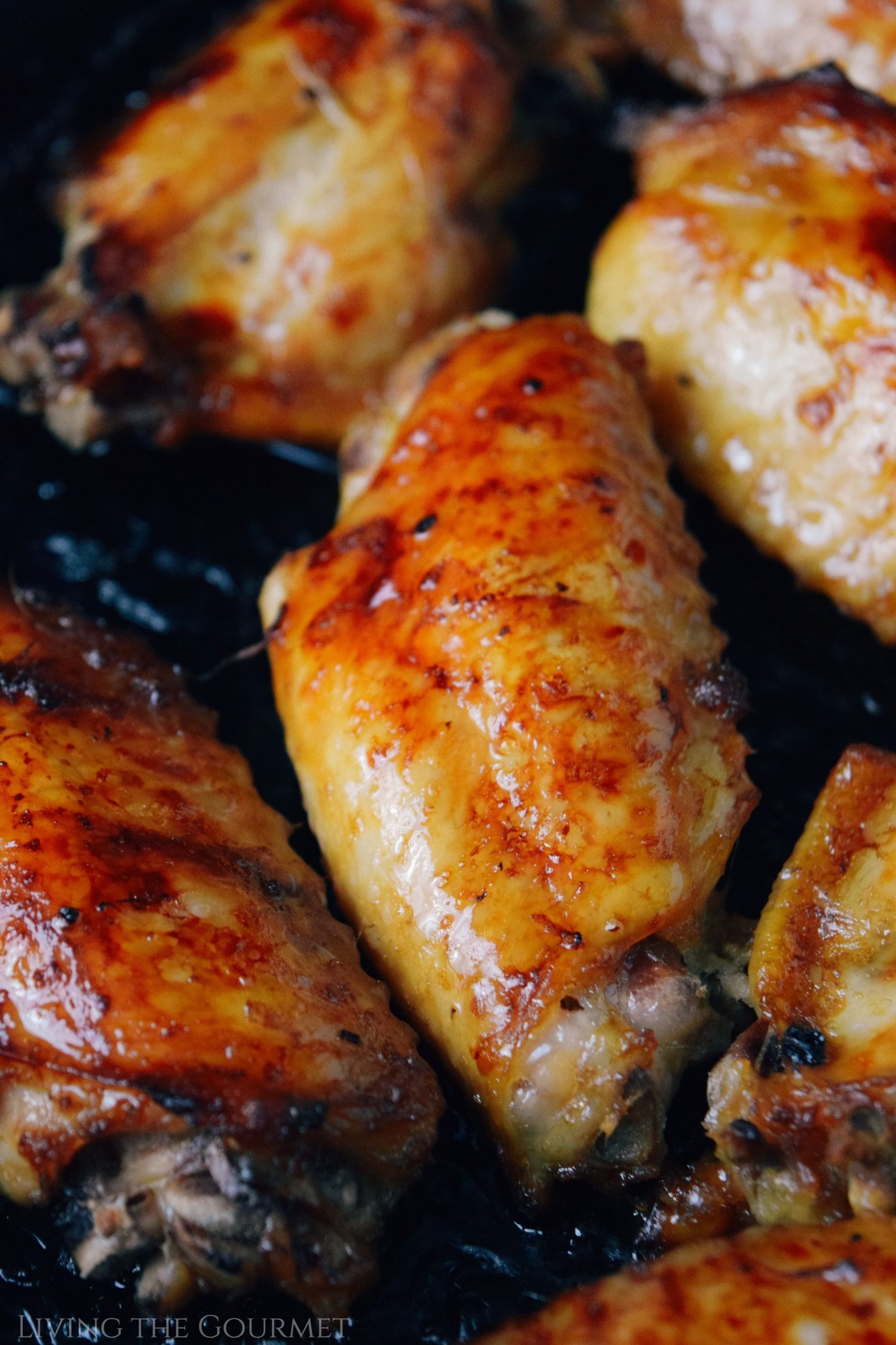 5) Better For You. As mentioned in the opening paragraphs, this is a 'better for you' recipe. As opposed to frying the wings, we're baking them in the oven, swaps cooking oil or olive oil for Mazola Corn Oil, and we're forgoing overly thick cheese dips or syrupy buffalo sauces for a sweet garlic Asian-inspired marinade. Nevertheless, this recipe remains as delicious and satisfying as any other, but goes a bit easier on the 'guilt factor.'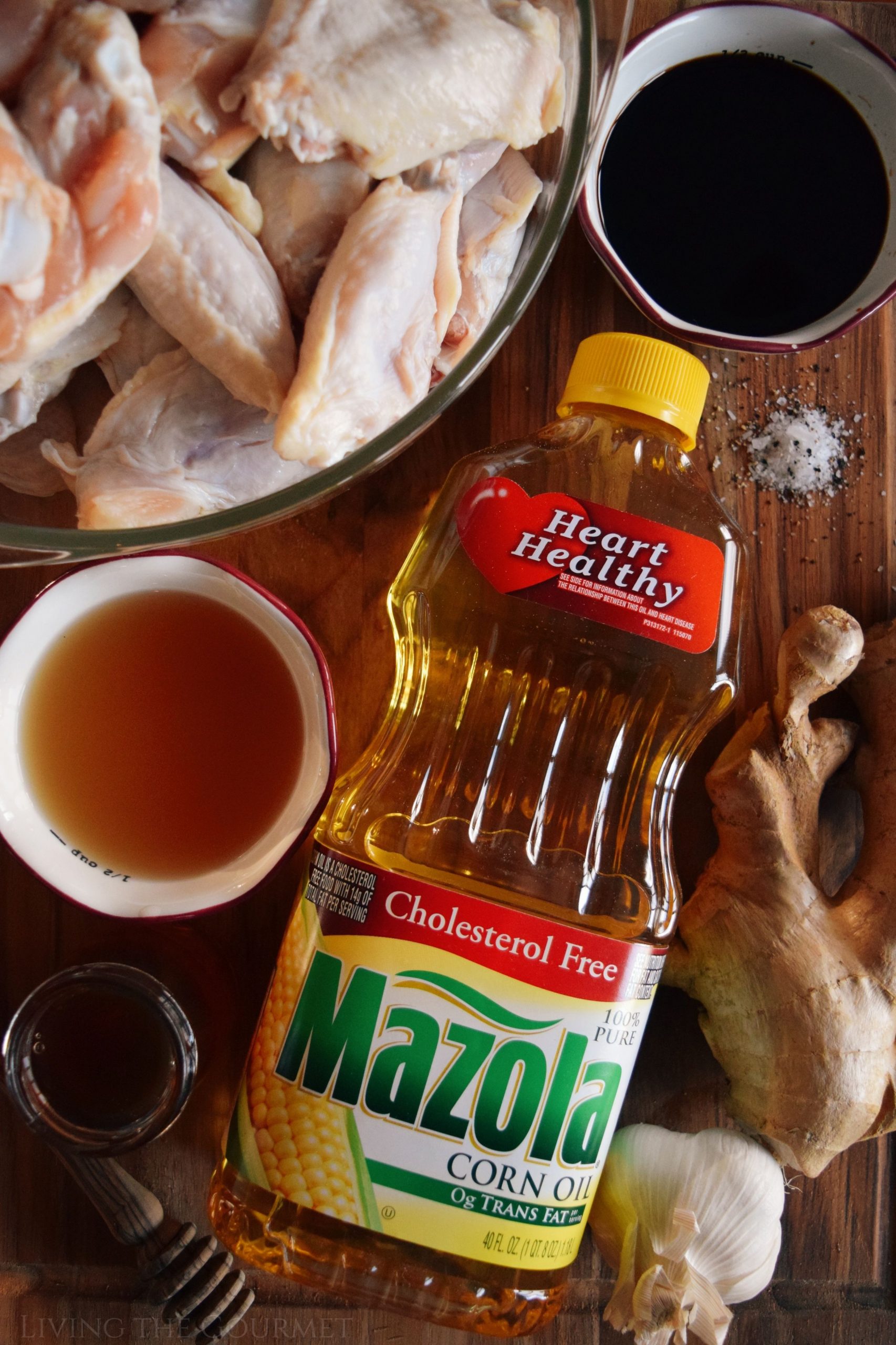 Ingredient Notes and Tips
1) The Soy Sauce. The two principle types of soy sauce are 'light' and 'dark.' Light soy sauce is probably what most people think of when they think of 'soy sauce.' It's 'thinner,' having roughly the consistency of vinegar, and is sharp and salty tasting. Dark soy sauce is notably thicker, and somewhat sweet. Today I'm using light soy sauce simply because that's what I had on hand. However, dark soy sauce would also work excellently, but will result in a slightly 'sweeter' marinade, as well as a stickier and 'thicker' coating for the chicken. As such, use whichever you prefer, or happen to have on hand.
2) The Vinegar. As long as you're not using white distilled vinegar, you're fine. All vinegars are essentially fermented ethanol – with the sole exception of balsamic vinegar. The difference between taste, texture, and the viscosity of different vinegars is shockingly minimal – again with the exception of balsamic vinegar. That said, the primary use of vinegar in any recipe is to add acidity – again with sole exception of balsamic vinegar. Noticing a pattern yet? That said, I would strongly suggest using apple cider or rice wine vinegar for today's recipe. However, I'm not going to say you'll ruin the recipe if you use white wine vinegar, sherry vinegar, or champagne vinegar (yes, that's a thing), and once again the sole exception here, naturally, is balsamic – as that would drastically change the flavor profile of the marinade. If you would like a more in-depth overview of vinegars, let me know in the comments below.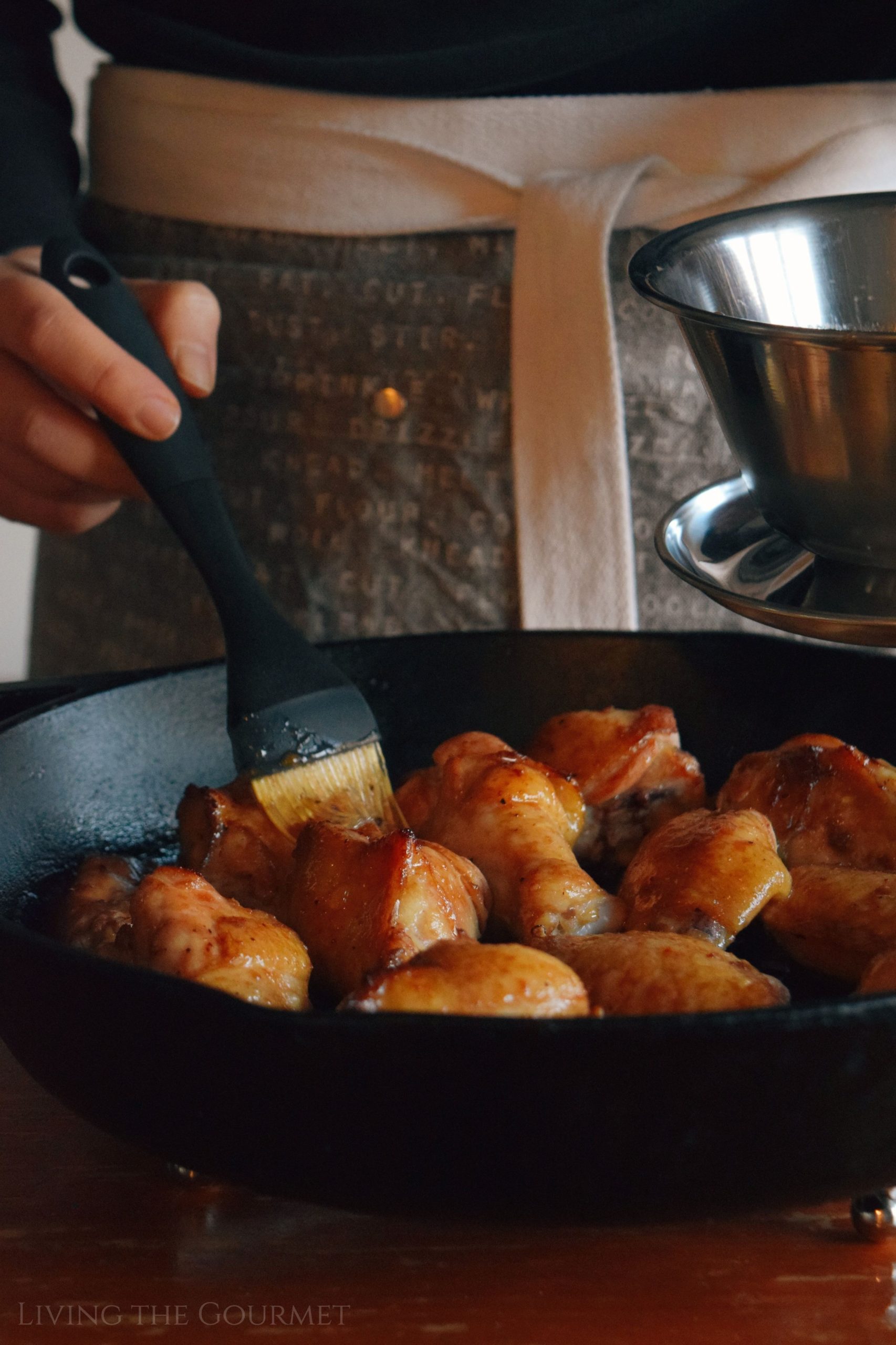 3) Mazola.com. While Mazola Corn Oil has more cholesterol blocking plant sterols than other cooking oils – four times more than olive oil for example – there are other reasons we're using this particular oil in today's recipe. First and foremost, it is completely flavor neutral, meaning I don't have to account for it either in the marinade or in the salad dressing. Instead, it works purely as a 'base' or 'carrier' for the rest of the ingredients – which is precisely what we're looking for in both cases. Also, it has a high smoke point of 450 degrees Fahrenheit, meaning it can reach that temperature without negatively affect the recipe's taste and nutritional value. Mazola Corn Oil is an all-purpose, cholesterol free cooking oil that is a smart heart-healthy* choice for your family. *See Mazola.com for more information on the relationship between corn oil and heart health. It has a variety of uses include baking, grilling, sautéing, stir frying, or mixing up a marinade or dressing.
4) The Chicken – Selecting Quality Wings. Sorry guys, I was too long winded for this to fit in a single talking point, see below for tips.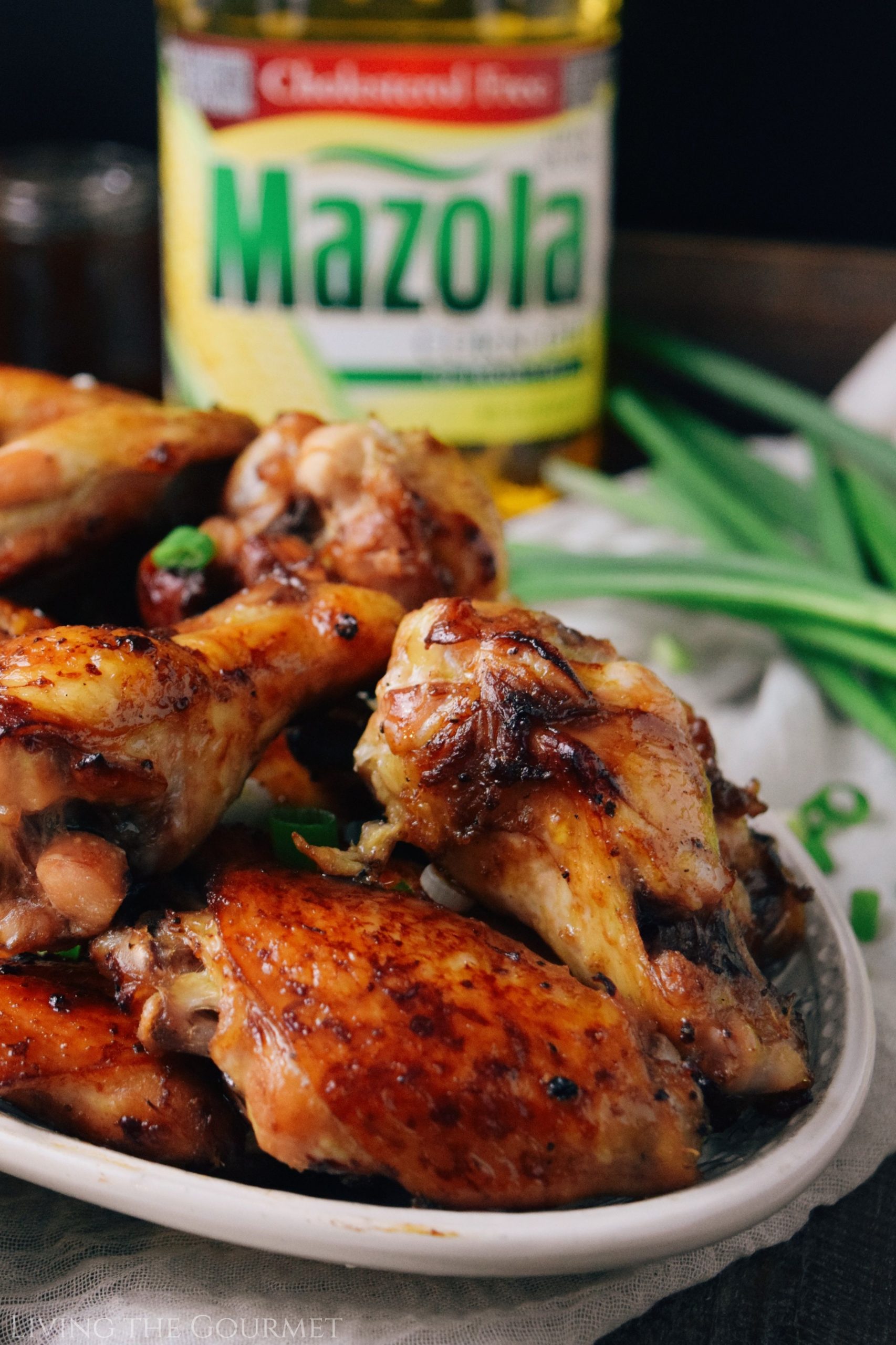 Selecting Quality Chicken – A Brief Primer
Selecting good chicken is much less of an artform than selecting good beef, and there are far fewer boxes to check than when selecting good fish. There's honestly just less to work with. However, there are some key things to look for to make sure you're getting the best of what your market has to offer.
1) The Color. Pinker is better. That is, the 'pink hue' beaming through the chicken's skin. As the chicken sits on the shelf, that pink hue will began to fade, which will result in a 'yellowing' texture, and then finally in a 'greying' coloration. Pink is good, yellow is turning, and grey is decay.
2) The Skin. Beyond coloration or hue, the skin contains other important clues as to the quality of the chicken. First and foremost, you want to make sure that the skin is free of blemishes, gashes, bruises, or discoloration. Spines and/or feather fragments, while certainly unpleasant as you'll have to pick them out of the chicken before cooking, actually have no bearing on the quality of the meat below – it simply indicates a less thorough 'cleaning.' Second, if selecting pieces, make sure that the skin doesn't appear 'loose' or 'torn,' as this indicates that the chicken has been poorly handled.
3) The Bone Test. If you're selecting a whole chicken, press on the breast-bone area. You want the breastbone to feel soft or pliable, which is indicative of fresher chicken.
4) Unfrozen. Chicken that's fresh should feel 'malleable' in the hand, as opposed to stiff or ridged.
5) Frozen. Frozen chicken should be absolutely rock solid, and free of any indication of frost or freezer burn.
Let's Talk Sides
To balance the meal I prepared a crispy spinach salad with thinly sliced radishes, fresh bell peppers, shaved carrots, grated Parmesan cheese and a vinaigrette to serve alongside it.
This salad is refreshingly simple to toss together and complements the Asian flavors of the main dish perfectly. For today's vinaigrette, I whisked apple cider vinegar, lemon juice, honey, Mazola Corn Oil, and simple seasonings. Feel free to serve the wings atop the salad or alongside, either way, it is a meal the whole family can feel good about enjoying! Don't forget to check out Mazola.com for more info on today's star ingredient, and let me know down below how today's recipe turned out.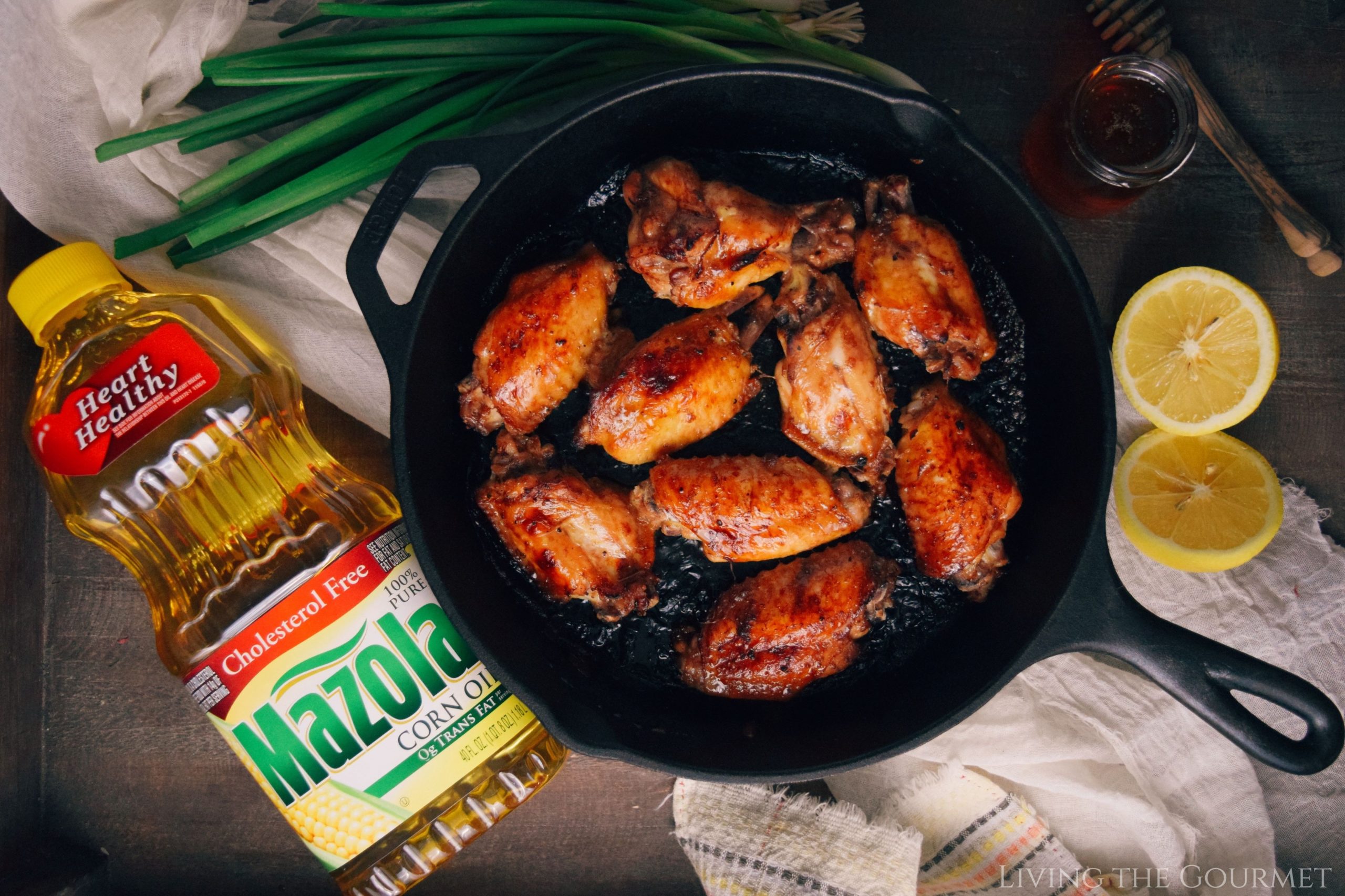 Print
Asian Style Chicken Wings
Author:
Prep Time:

15 minutes

Cook Time:

45 minutes

Total Time:

1 hour

Yield:

2

dozen chicken wings

1

x
24

chicken wings

1

bunch of scallions for garnish – chopped
Honey for garnish
For the Marinade:
1/2

cup

soy sauce

1/2

cup

apple cider vinegar

3

– tbs. Mazola Corn Oil

2

tbs. honey

1

-inch piece of fresh ginger – grated

4

cloves of garlic – grated

1/2 tsp

. fresh ground black pepper

1/2 tsp

. sea salt
For the Spinach Salad:
4

–

6

cups

torn baby spinach leaves
Thinly sliced radishes
Thinly sliced red onion
Thinly sliced red bell pepper slices
Shredded carrot slices

1/2

cup

grated Parmesan cheese
For the Dressing:
3

tbs. apple cider vinegar

3

tbs. fresh lemon juice

1/4

cup

Mazola Corn Oil

2

tbs. honey

1/2 tsp

. fresh ground black pepper

1 tsp

. sea salt

1/4 tsp

. dried oregano
Instructions
For the Chicken Wings:
Preheat Oven 350 degrees F.
Combine all of the ingredients for the in a bowl and whisk.
Place the chicken in a shallow bowl and cover with the marinade.
Cover the bowl and place in the refrigerator for 2 – 4 hours or up to overnight.
Drain the marinade, reserving some for brushing the wings during the cooking process.
Place the chicken on a baking sheet.
Bake wings until cooked through and skin is crispy, 40 – 45 minutes.
Raise oven temperature to 375 degrees F.
Brush wings with remaining marinade and place back in the oven for: 8–10 minutes.
Garnish with the chopped scallions and serve with a small bowl of honey.
For the Spinach Salad & Dressing:
Combine all of the ingredients for the salad in a large bowl and toss.
Combine all of the ingredients for the dressing in a bowl and whisk.
Notes
Prep Time does NOT include Inactive Prep Time.
Recipe Card powered by
If You Enjoyed Today's Recipe… Be sure to follow us on Instagram to stay up to date with all things Living the Gourmet, and for more great recipes, tips and tricks.
Did you make this recipe?If so, let me know in the comments down below, or post a picture to Instagram, or to Pinterest, and I'll give you a shoutout on Instagram, or post your pin to one of my Pinterest boards!  Check out Mazola for more delicious recipe ideas.
2