This shop has been compensated by Collective Bias, Inc. and its advertiser. All opinions are mine alone. #SummerItUpWithHatfield #SimplyHatfield #CollectiveBias
Marinated Pork Tenderloin is stuffed with mozzarella, fresh baby spinach, caramelized onions, and sun-dried tomatoes then grilled to perfection for an easy summertime meal the whole family will enjoy!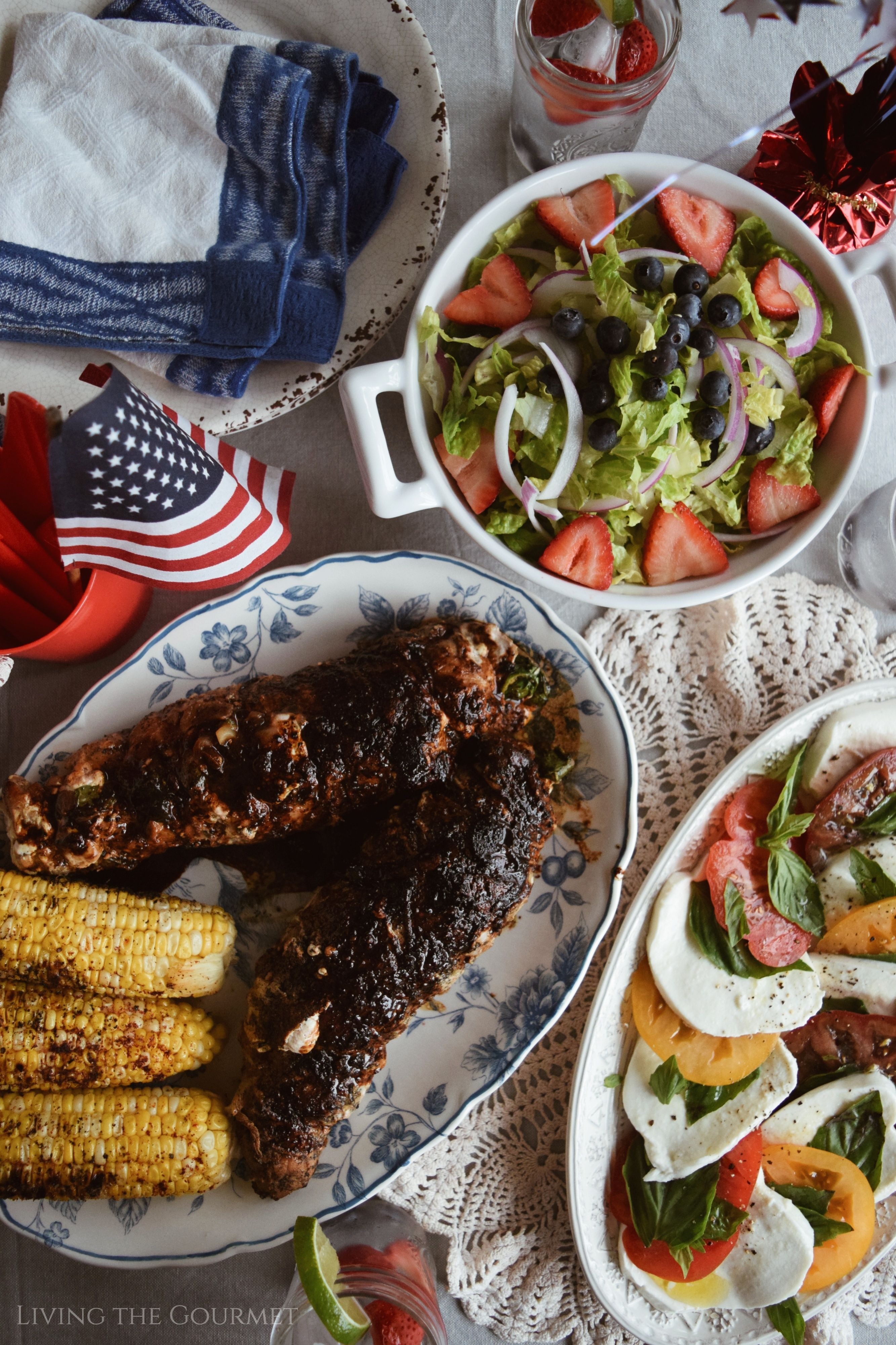 Fireworks, backyard barbecue, and loud music, are likely what come to mind when you think of 'The 4th of July.'
For myself, it's a mix of the above. In particular, I'm taken back to what used to be a 4th of July family tradition – one that I've written about here before. Picture a weather-worn barge well past its prime overlooking a glassy bay and a 'field' of shallows broken up by dunes capped in sea reeds and tall grass. Even then, it was a vestige of a Long Island lifestyle that had long fallen out of fashion, but that had quietly resisted repeating waves of development and urbanization. From that vantage, I would watch the Jones Beach fireworks display against a background of blasting music, and alternating aromas of grilling meat, firework gunpowder, and boat fuel. Dinners for these occasions were invariably some kind of grilled meat – be it thoroughly sauced pork ribs, hardy burgers, sausages in thick red sauce, or even some combination thereof.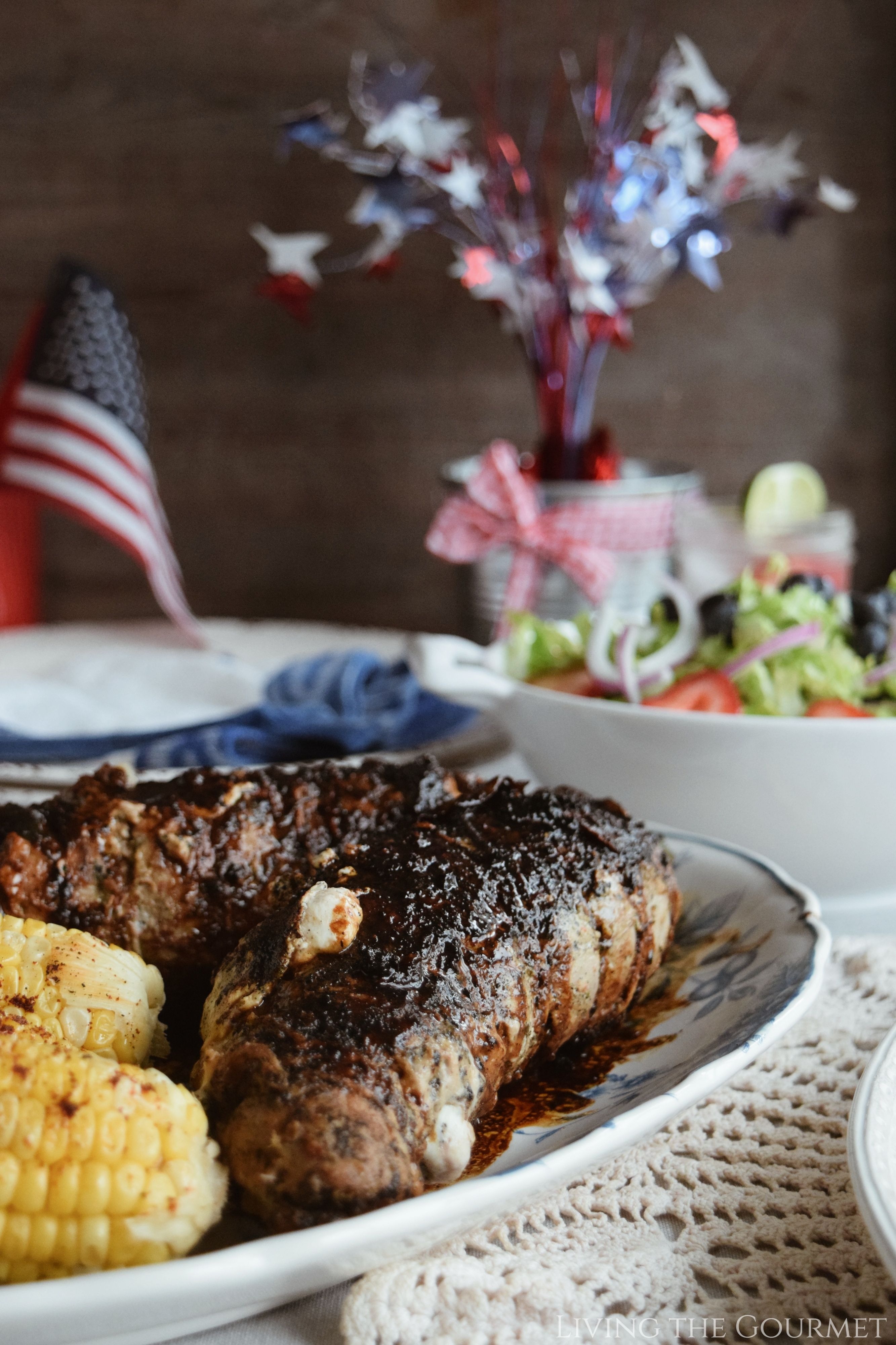 Now, while my 4th of July experiences are a fair bit more 'conventional' these days, I nevertheless try to keep them just as delicious. However, I don't want to be stuck preparing all day, instead, I want time to enjoy the holiday, and to create new memories.
For example, one of the items I'll be preparing this 4th of July is a Stuffed Pork Tenderloin. For today's recipe, we're using a Hatfield® Marinated Pork Tenderloin, since not only do they use ethically sourced and raised meat, but because of the sublime ease of use, and the reliable quality and taste. You can find Hatfield® products at your local Stop & Shop in the meat department.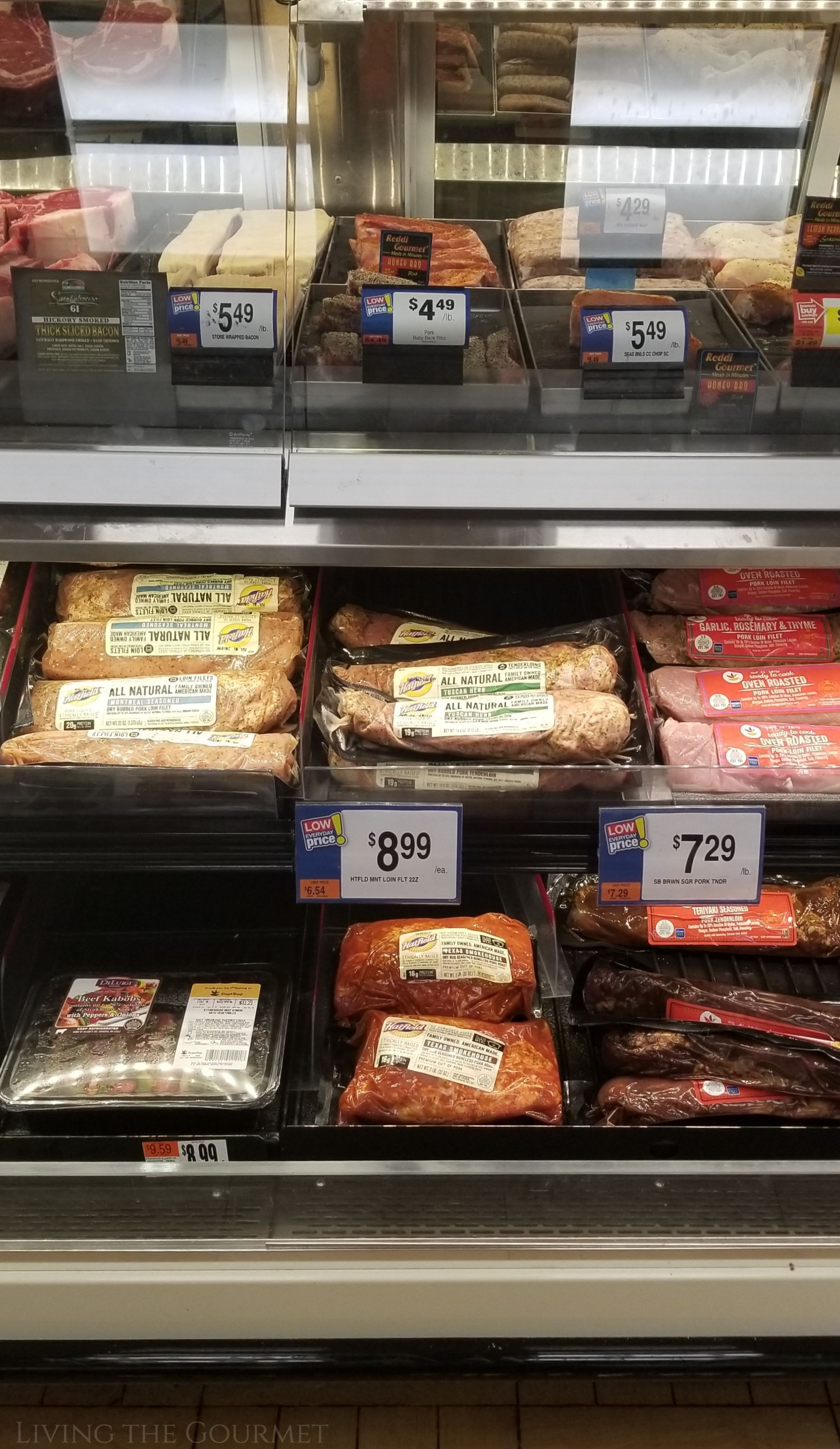 To start things off, we begin by heating a small cast iron frying pan, dry, and then slicing an onion into the pan. We then sprinkle the onion with a bit of sugar, salt, ground pepper, and sweet paprika. Once the onion is soft, drizzle with olive oil, toss, and remove from the heat and set aside.
Now, on a large cutting board, butterfly the Hatfield® Marinated Pork Tenderloin. To do this, we set the tenderloin down flat on the cutting board, and we insert our knife at the 'tail' or 'flatter' end of the tenderloin, such that the knife is horizontal to the cutting board. Do not cut or insert the knife all the way through. Keeping your free hand on the top of the tenderloin, begin cutting with a gentle back and forth or 'sawing' motion down the length of the tenderloin, but never cutting all the way through. Coming to the 'head' or 'thicker' part of the meat, complete the cut, and the tenderloin should open as pictured below.
With the Hatfield® Marinated Pork Tenderloin opened flat on the cutting board, layer each side with spinach, mozzarella, sun dried tomatoes, and the grilled sweet onion from earlier.
Roll the tenderloin tight until it looks like the picture below, and then in two-inch intervals, secure the tenderloin shut with butcher's twine.
Now, the resulting stuffed tenderloin can be barbecued, as I was planning to do, but due to rain, I had to bring this inside, and grill it stovetop in a cast iron pan – which works just fine.
If we were to barbecue this, we would be grilling it over indirect heat for about twenty to twenty-five minutes, turning three to four times, or until the meat had reached an internal temperature of 145 Degrees Fahrenheit.
Grilling stovetop, predictably, the process doesn't change all that much. To start, we coat the bottom of a cast iron pan with olive oil, and set that over medium-high heat, and once the pan has heated, we set the tenderloin in the pan, and let it grill for about twenty to twenty-five minutes, turning no more than three times during the cooking process. Again, we're looking for an internal temperature of 145 Degrees Fahrenheit.
Once done, allow the tenderloin to rest for about five minutes before removing the butcher's twin, and then slice it into one-inch rounds.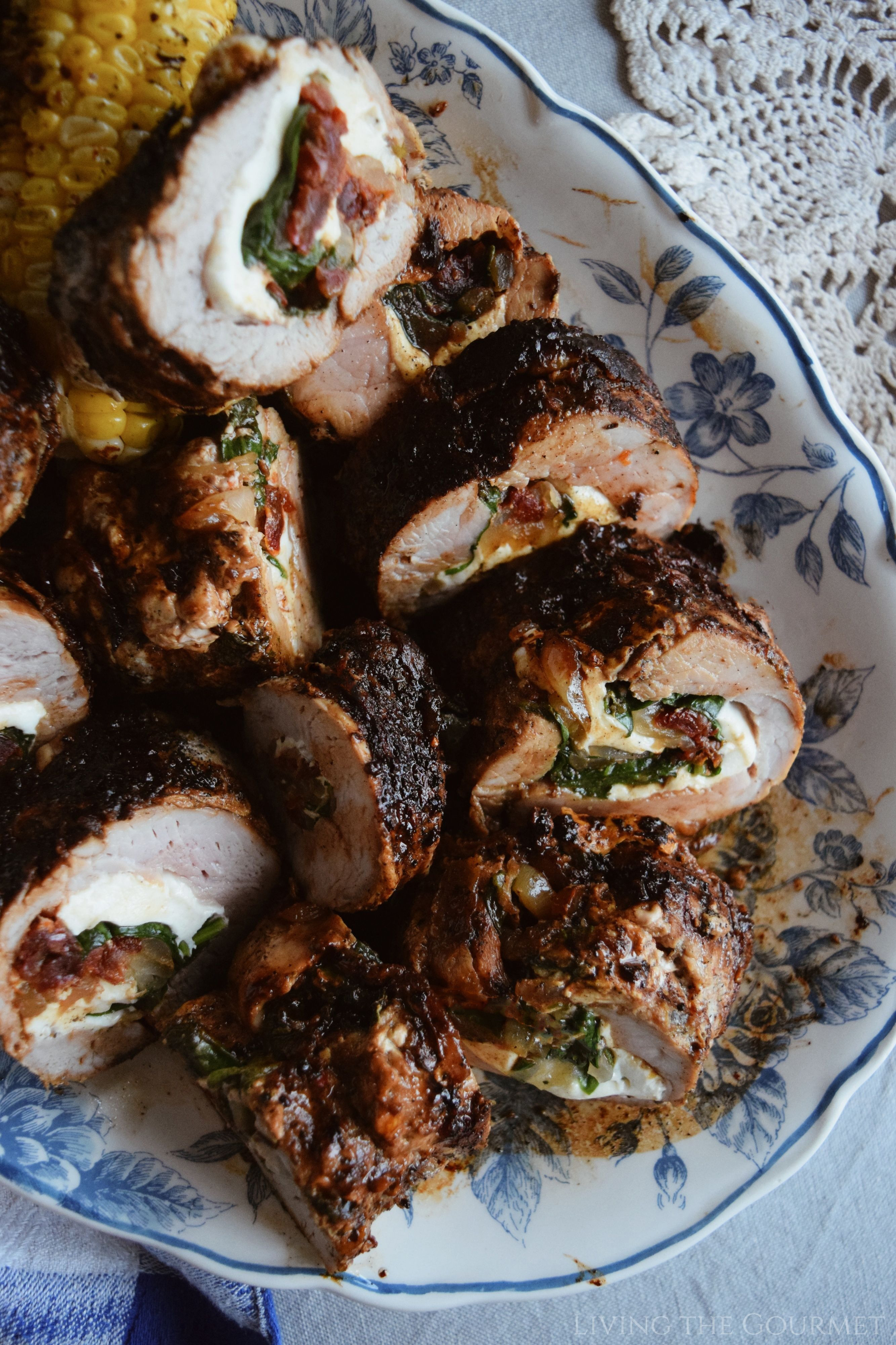 Print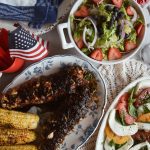 Mozzarella and Spinach Stuffed Pork Tenderloin
---
Author:

Total Time:

30 minutes

Yield:

2

pork loins

1

x
For the Pork:
2

- Hatfield® Marinated Pork Tenderloin (I used the Tuscan Marinated)

2

cups

of uncooked fresh baby spinach

8

slices of fresh mozzarella

6

-

8

sun dried tomatoes - diced

1

medium sweet onion - sliced thin

1 tsp

. sugar

1/2 tsp

. salt

1/2 tsp

. sweet paprika
Fresh ground black pepper

1

tbs. olive oil
Butchers twine
For the Caprese Salad:
3

Heirloom tomatoes
Fresh mozzarella slices
Fresh basil leaves
Fresh ground sea salt
Fresh ground black pepper
Slice the tomatoes 1/4 inch thickness.
---
Instructions
For the Pork:
Heat a small cast iron frying pan. Place the sliced onion in the dry pan and sprinkle with the sugar, salt, ground black pepper and sweet paprika.
When the onion is softened add the olive oil and toss. Remove from the heat and set aside.
Working on a large cutting board, start butterflying open your tenderloin by running a sharp knife about 1/2 an inch above the bottom side of the tenderloin. Keep your knife at a parallel 1/2 inch above the cutting board as you unroll the tenderloin until it is flat.
Layer each flattened tenderloin with the spinach, mozzarella, sun dried tomato and sweet onion.
Roll tightly until it looks like a slightly bigger version of the tenderloin you started with. Tie off every couple of inches with butcher's twine.
The tenderloin may be barbecued or if the weather does not permit, heat a large cast-iron frying pan with a tbs. of olive oil.
Grill with a medium high heat for 20-25 minutes or until the internal temperature of the tenderloin is 145 degrees F. in the thickest part of the meat.
Turn the pork tenderloin every 5 minutes while cooking.
Allow the tenderloin to rest at least 5 minutes before removing the butcher's twine, slicing the tenderloin into about 1-inch thick rounds.
Serve with your favorite sides.
For the Caprese Salad:
Layer the tomatoes alternating with the fresh mozzarella and the fresh basil leaves.
Drizzle with olive oil and sprinkle with the fresh ground sea salt and fresh ground black pepper.
Prep Time:

10 minutes

Cook Time:

20 minutes
Recipe Card powered by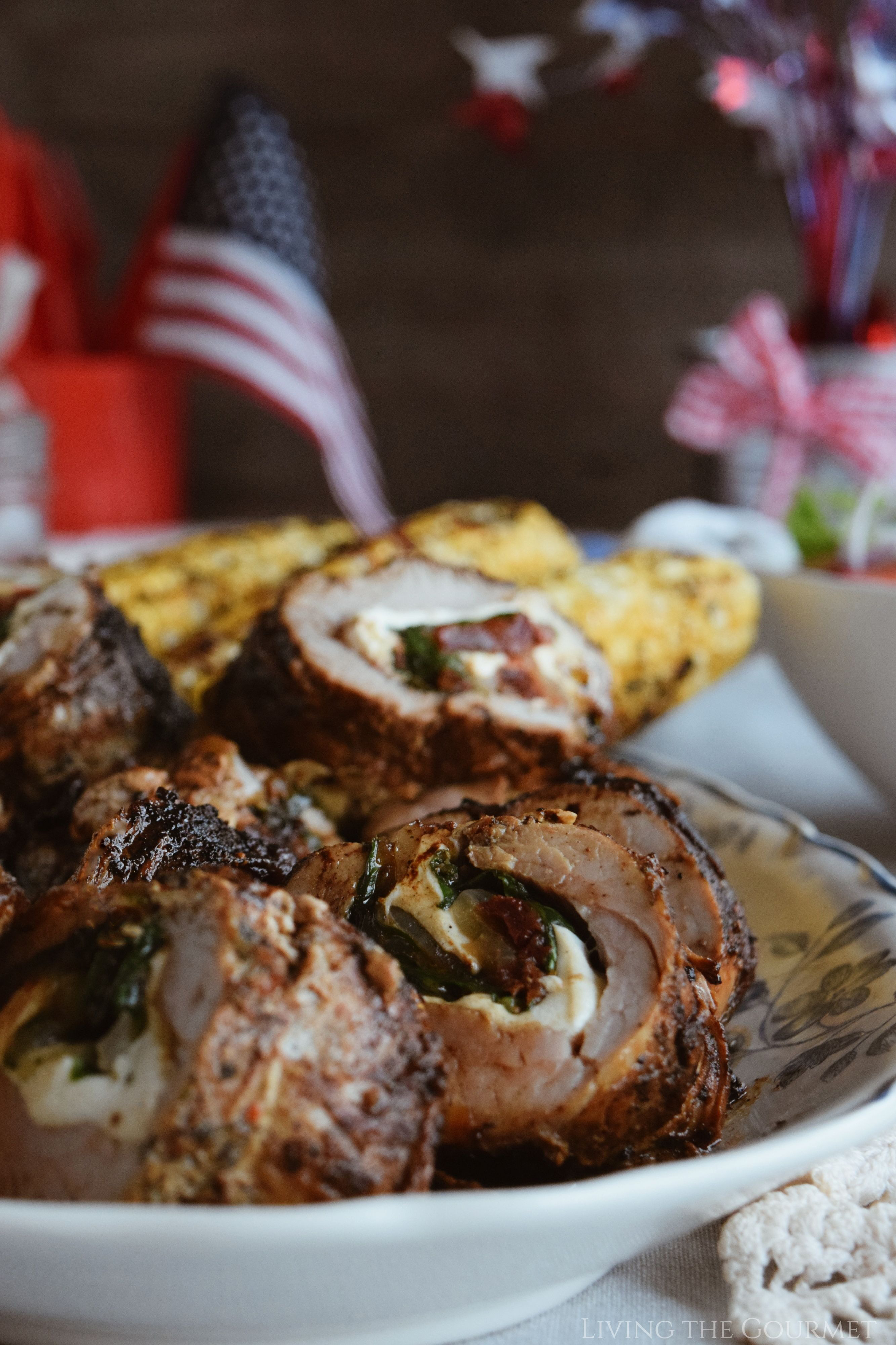 And just like that, you've got a delicious 4th of July meal that the entire family will love and remember.
To complement the summer weather, I decided to serve today's tenderloin alongside a Caprese Salad, which I prepared with heirloom tomatoes, fresh mozzarella and basil leaves, and seasoned that with freshly ground sea salt and black pepper.
Simple, elegant, and delicious, the perfect combination for any summer get-together.
For more delicious summer grilling recipes, follow Hatfield® on:
Facebook
Pinterest
Twitter
Instagram
Enjoy with Love!
6