Thank you to Chef S.T. for stopping by today to discuss his new concept restaurant, Mood, that is taking over the food scene.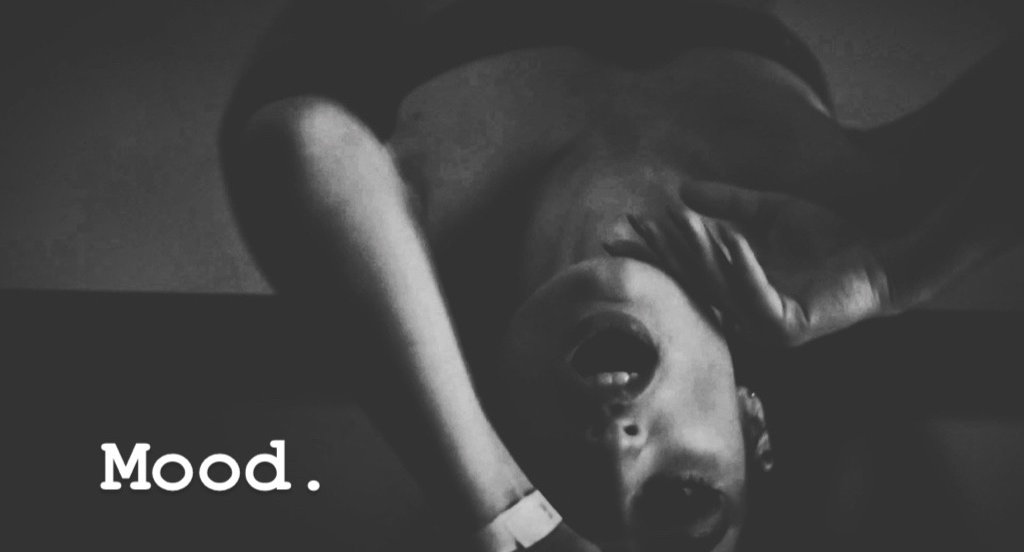 Come for the food. Stay for the Mood.
So, I've got a question for you. What are you in the Mood for?
Because whatever your answer may be, you just might find it at Mood.
I recently had the pleasure of speaking with celebrity chef S.T. who simultaneously runs Kitchen X, serves as Mariah Carey's personal chef, and has now embarked upon a new adventure, perhaps his most exciting one to date- Mood.Popup.
So, what exactly is this new concept about? I'll give you an idea before we dive into the full details.
Hazy nights under city skies surrounded by mysterious faces, yet somehow at the same time, it all feels very familiar. You've never met these people before yet you feel close to them. The space inside is intimate and inviting, separate from the world outside.
No, this is not your average supper club. This is Mood. A pop-up restaurant here only to serve you, fulfill your desires, and embrace you into a world you've never experienced before.
So when Chef S.T. sends out his invitations be prepared for something you've never had before, to taste something new, and explore a part of yourself you never knew existed. Tomorrow it might all feel like a dream, but tonight it's all very real.
Now, I'll ask you again, what are you in the Mood for?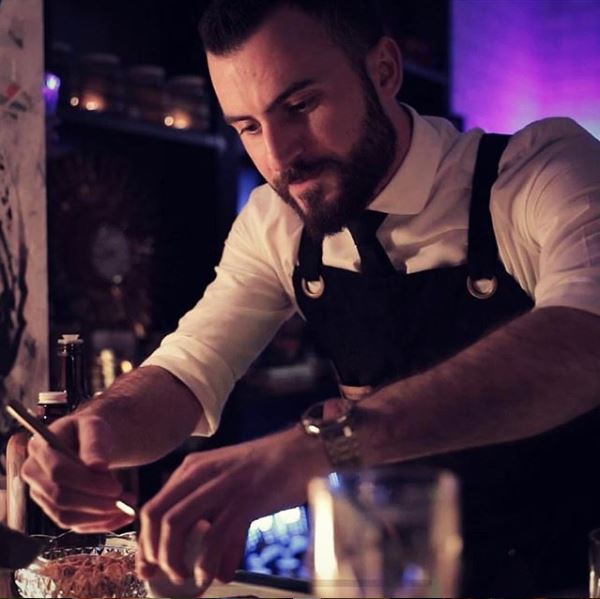 Chef S.T.: Hey Catherine, it's your favorite chef, S.T. calling.
Catherine: Good afternoon! Thank you so much for allowing me to interview you!
Chef S.T.: Of course! Thank you for taking the opportunity to be a part of this.
Catherine: Well foodies have to stick together, right? And after reading about you and seeing your passion for food, I can totally empathize with you. I'm the type of person who goes to sleep thinking about food. I love to go to the market…that to me is the perfect day out.
Chef S.T.: Speaking of which, I am actually at the market right now, shopping for my clients' dinner party. So, I'd love to talk with you as I'm doing this which inspires me even more.
Catherine: That's perfect. Now, I'd like to introduce you a little bit to my audience. I am speaking with Chef S.T. and you are a founder of a new concept in dining- the name of the place is Mood, a pop-up restaurant and you are also a celebrity chef to Mariah Carey and others. That is quite an impressive resume!
Chef S.T.: Thank you so much! I try to keep it up, you know? [laughs]
Catherine: Certainly! So, tell us a little bit about this concept. What exactly is a pop-up restaurant?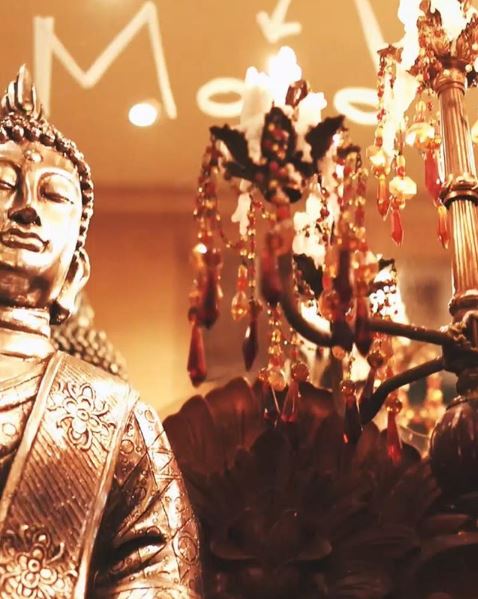 Chef S.T.: So, a pop-up restaurant is pretty much- one day or a certain amount, of let's say three months, six months…it's sort of like an introduction to a concept where people just want to slip into a pop-up for a little bit just to see how the market works- are people liking it? Is it getting good reviews? Bad reviews? Just to test the waters…that's what usually goes on at a popup.
Or, let's say a brand is introducing something very niche and only wants to do it for a limited time, then they can do a six-month pop-up. So, a pop-up is a short amount of time where we try out new concepts, introduce new ideas, and just have fun.
Catherine: OK, got it. This is a whole new idea and after reading about it, I have some questions. Now, you have to apply to become a member of your pop-up restaurant? So, people have to call you and request a membership to Mood to dine?
Chef S.T.: Perfect. Let's do a run through together. So, I would say, "Sure Catherine, why don't you go to our website. Now, there is no information on there, but there is an application where you answer some fun, interactive…somewhat weird questions." [laughs]
Catherine: Yes, and I see some of the questions here, like what is your Instagram handle? Your recipe for a good mood? What do you do for a living? Do you hang out with family? And that's something I do every day [laughs]. So my next question is, what happens if you don't apply? Could you still come in and eat?
Chef S.T.: No, because you never know where it is.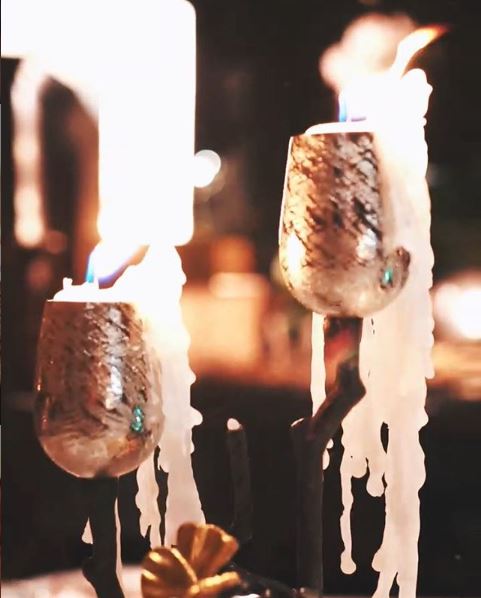 Catherine: Oh, so it changes sites?
Chef S.T.: Exactly. So the people who apply and actually get accepted, after we go through our screening process, after all that, they get a text message saying 'You've been accepted to Mood," and then they get an invitation. Once they get that invitation, they can buy tickets.
For example, if they get a message saying, 'May 21st – Mood / 40', you already know Mood is throwing a 40% dinner party and underneath that, it will give you the city. If you are comfortable with that city, you buy your ticket and hold onto it. Then eight hours before the party, you're going to get a message saying the address, the time, and dress code if we want you to wear something special.
Catherine: Well, this concept sounds very new and exciting. I'm sure you are getting a huge response to this because it also sounds like a lot of fun. And I did look at your food and it looks like you've got a lot of passion for cooking and that's the most important part.
Chef S.T.: It is and I love it. I love it so much. It's like rewarding people with amazing food and giving them an adventure with food.
Catherine: That's how you get people coming back and how the word will spread like wildfire because if you serve people good food and have a good personality, and like I say, 'good music goes with good food,' you've got a winning combination.
Chef S.T.: Absolutely. And that's just one part of the process. We like to pick like-minded individuals from the interview and then we invite those categories of people to dinner. Since November we already have 700 members and we still have about 100 more applicants to weed through.
Catherine: That's fantastic. Now, the name of your restaurant comes from the mood you are in when you cook and I understand that. Sometimes you feel spicy and sometimes you just feel very mild…and your mood changes with your cooking.
Chef S.T.: Yes, and it all depends on the chef's mood. When I started Mood.Popup, I added a friend of mine, Michael Kay, from Vertigo LA. So I said to myself, in order to take over the world, I need a like-minded individual who is as passionate as I am about what I'm doing. So after hosting a few popups, I was like, "you know what Michael? Let's do this together.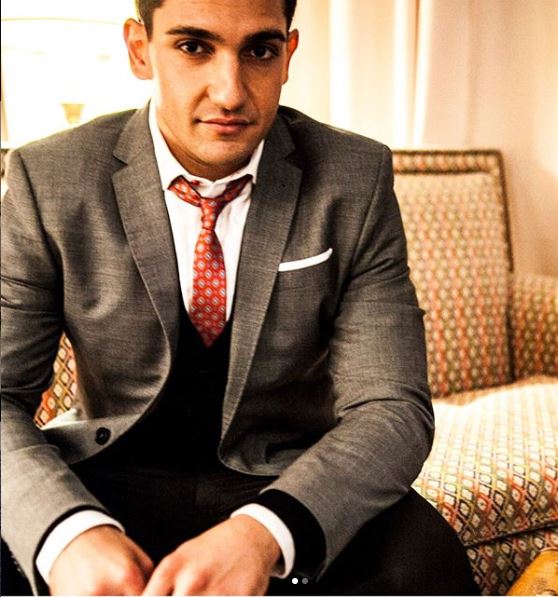 Catherine: That's fantastic. Now, are you from L.A.?
Chef S.T.: Yes, born and raised in Los Angeles and I also have Greek/Armenian background so I have a diverse palate. Then, Mariah Carey, had me train with Chef Nobu of Japanese cuisine because she loves it so much, so now I also have this Asian fusion I bring in. Then being from L.A., I have this Latin/Mexican culture coming in. So this palate has been raked from all courses of cuisines, so I am ready to take over, let's go.
Catherine: I think that's wonderful. I was raised on Italian/Greek…Mediterranean cuisine and it's the best food in the world. It's so healthy and fresh. You will probably understand what I am about to say, but what I grew up on what was considered 'peasant food' and now it's considered gourmet and 'in vogue'. And I love that people are beginning to appreciate this. I don't like fast food and rushing through the process. I like sitting down to a home cooked meal and enjoying it.
Chef S.T.: I do too. That's why I don't like that fast food scene either. It takes away from the experience, the people you're with and the conversations you are able to have. Ours [Mood] is like a step beneath fine dining. We focus more on flavor and love.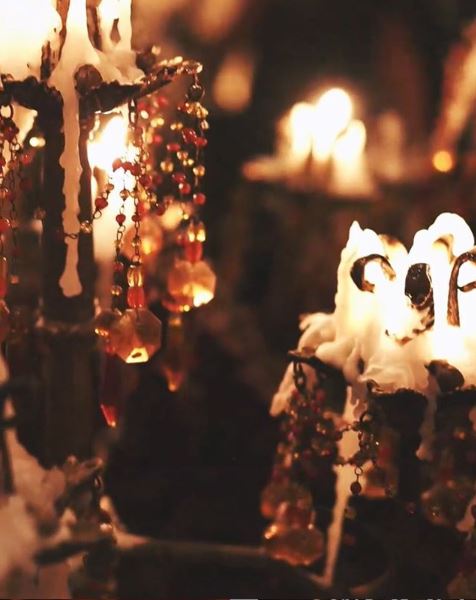 Catherine: I agree 100%. Now, where can people go so they can maybe apply to come to your restaurant and find out more about you and what you're cooking?
Chef S.T.: Ok, so here's how it goes- we decided that this whole time all we did was market through social media. I woke up one morning and said, "I'm in the mood for a pop-up restaurant. Let me know if you're in the mood as well and I will get you tickets." That's exactly what I did. I did that the first time ever and we sold out. So it slowly built up through social media and word of mouth and all we had was a link in our social media to apply. We didn't really need a website. So, all Mood is, is an interview form and text message-based ticket sales. That's it. All it says is the city. No menus, no music, no details about anything. All you know is that you're going to go there and get surprised. Just amazing food, you're going to have a great experience, and you're going to meet like-minded people you never thought you would ever come across in your life because somehow they did an interview and it fell into the same category as you, and now they are sitting at the table with you, sharing the same experience.
Catherine: Well I think it sounds exciting and it sounds like fun and maybe someday you'll expand and come to NY.
Chef S.T.: It's on our bucket list. If you can do your magic…we have about 100 members in NY. I would love to have one there. I'll save you a seat right at the chef's table.
Moving back to where people can sign up, Mood never needed a website, it was all social media-based so that was the design of it, but we needed a place where people can sign-up, so here it is- mooddoesntneedawebsite.com.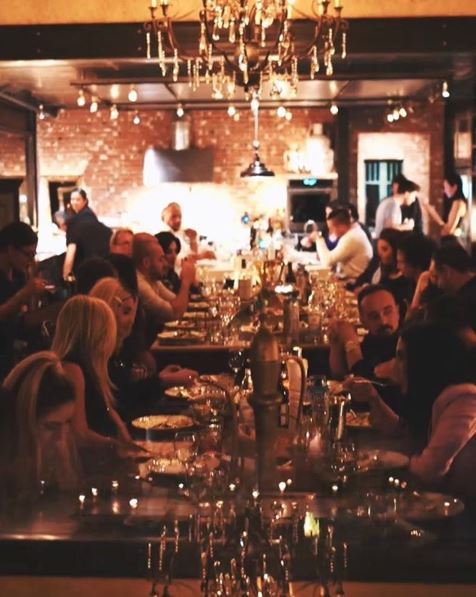 Catherine: [laughs] Ok, I like it! Very, very imaginative! Well, I really appreciated this and I'm so glad you stopped by, but before you go, what are you buying at the market?
Chef S.T.: Currently, I am buying pasta that is fresh made, ravioli with truffle mushrooms, and spinach, and cheese. I'm going to go ahead and make a spicy vodka sauce at home along with fresh basil and it's going to hit the palate and you'll never forget it.
Catherine: Love it. There is nothing like fresh basil! It was so much fun talking with you and I enjoy your spirit and passion. You're getting people interested in good food and I believe that is the number one thing to keep families together. So thank you for visiting with us, Chef S.T.
If you're curious to experience Mood for yourself apply today and don't forget to tag the chefs behind the project.
Think of this as your unofficial invite to meet Chef S.T. for yourself and dine at his enigmatic supper club. Cheers!
3