Add a flare of elegance to your summer soiree with these Chicken Meatballs served alongside a Sweet Sesame Gremolata!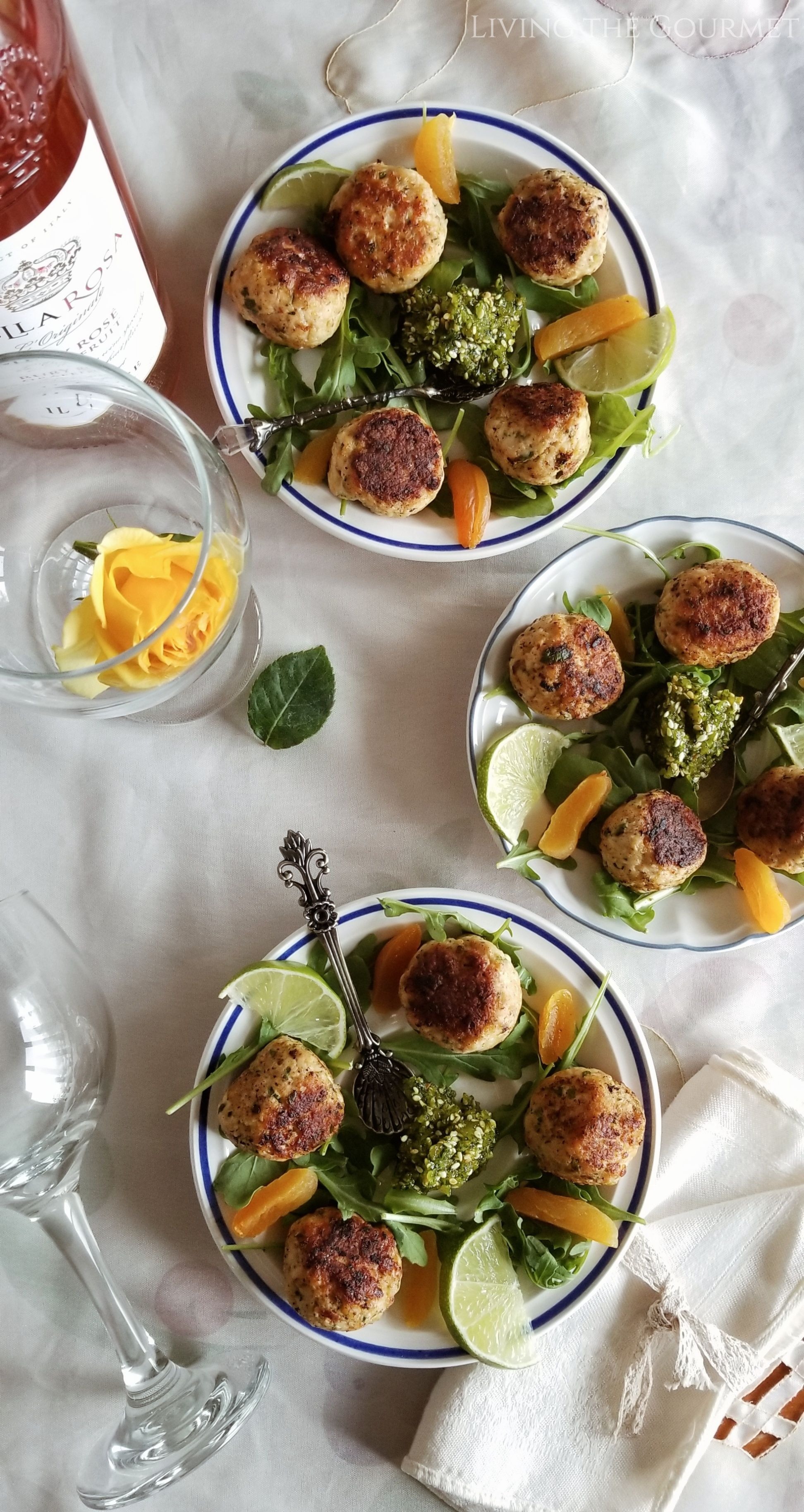 Cecil Beaton once advised, "Be daring, be different, be impractical; be anything that will insert integrity of purpose and imaginative vision against the play-it-safers."
This is a rule that every self-style artist, and online content creator, likes to imagine that they're doing their utmost to follow.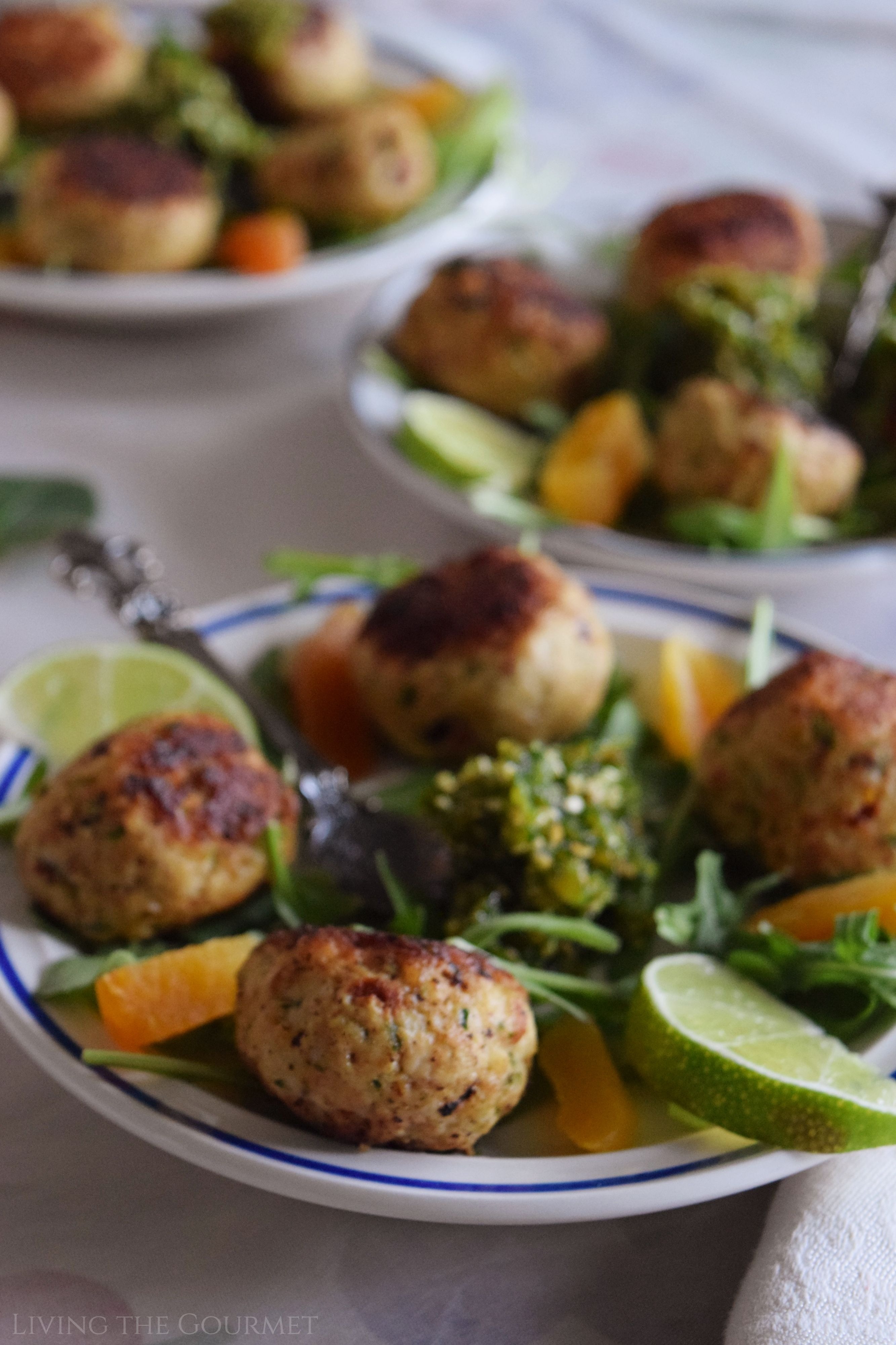 To that point, I remember Bob Grant recounting a story of his very first encounter with a then up-and-coming Howard Stern. "Howard asked me for advice," Mr. Grant explained, "and I was distantly familiar with his act, and I just had no idea what to tell him. So, I told him 'Just be yourself.' Because, let's be honest, that is the best advice you can give anyone – it's never the wrong thing to say."
For myself, that means doing what I must to keep up with the ever-changing world of culinary entertainment, while also being as true to my roots as possible.
Take for example the ever-familiar gremolata. It's a zippy green spread that pairs well with almost anything – especially if that 'anything' has even a vague grounding in Mediterranean cuisine, which is likely the reason that almost every culture that borders the Mediterranean has their own version of this green spread, albeit with the expected regional variants to account for local ingredients and customs.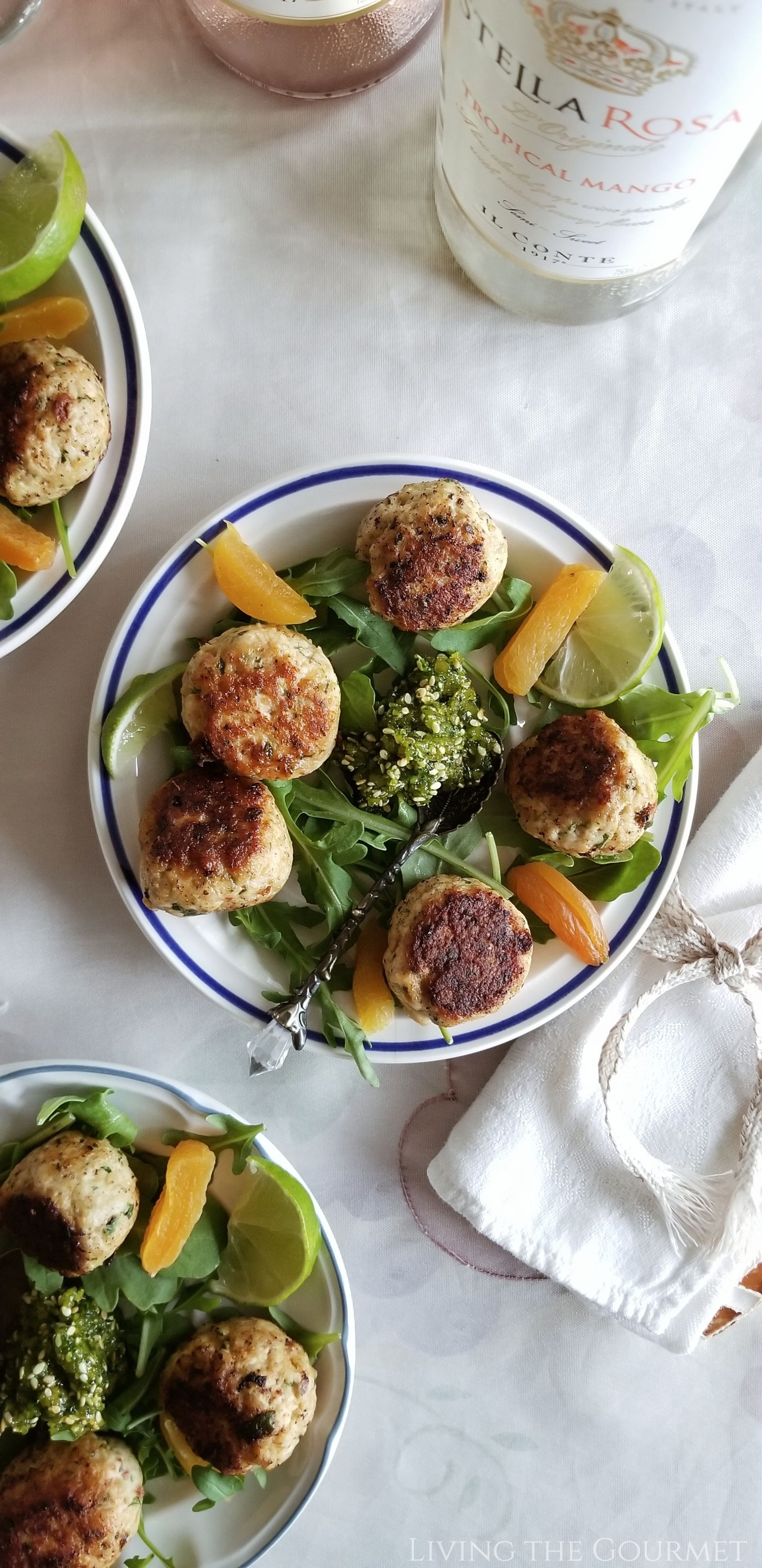 While preparing this post, my son quipped that "You might want to be careful, or gremolata is going to be for you what chipotle was to an early 2000s Bobby Flay," referencing the aforementioned chefs well-worn love affair with that particular species of pepper once upon a time.
Today's incarnation of the typically zippy green spread features a base of toasted sesame seeds and chopped dried apricots, to which we add fresh cilantro, a generous helping of honey, garlic, fresh lime juice, and olive oil. Give that a few chops in a food processor. You're going for the consistency of a coarse paste as pictured.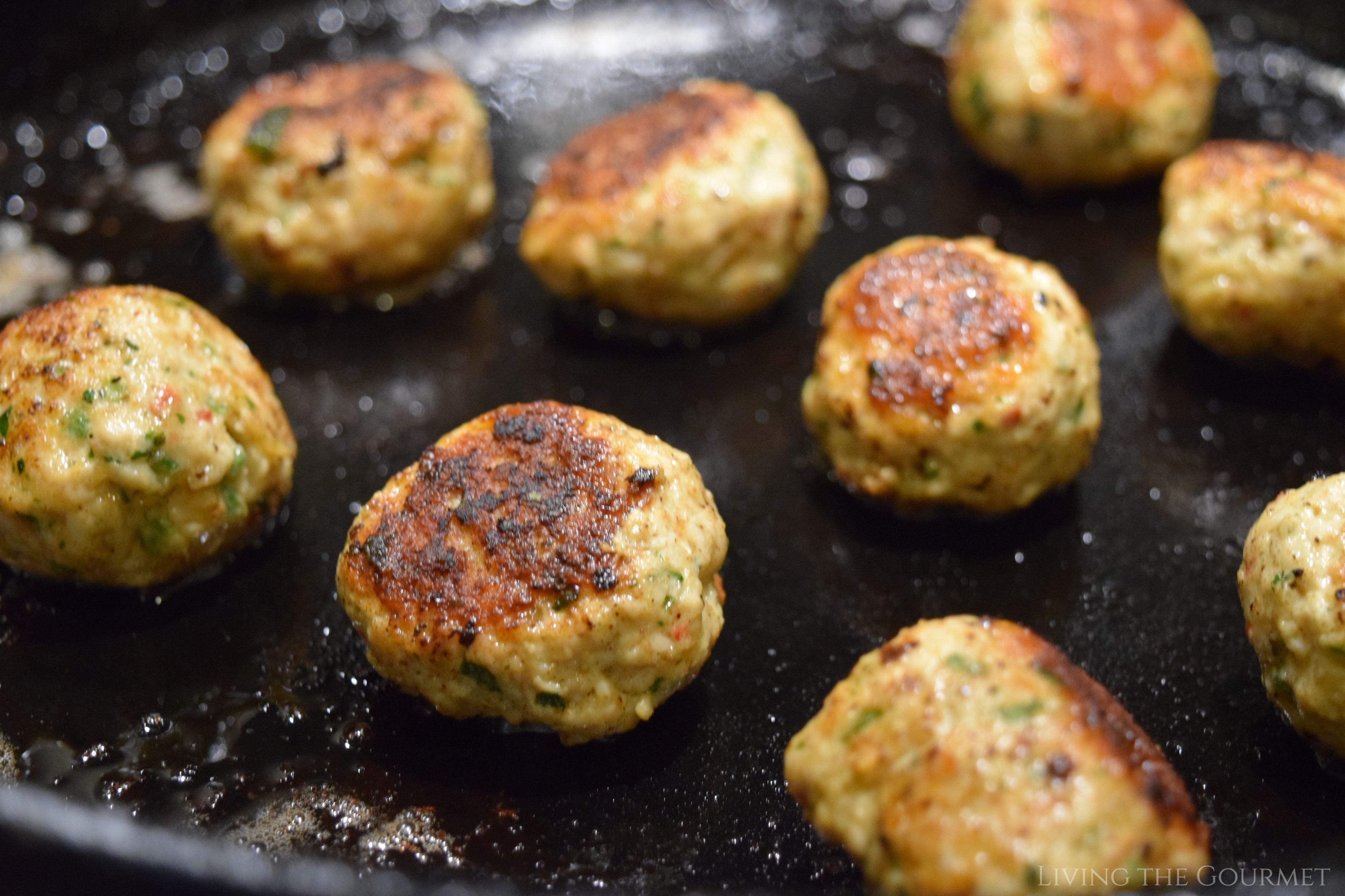 Now, to "lift the veil" ever so slightly, I admit that I prepared today's chicken balls for a previous wine post, but decided against including them in the feature. The idea behind the wine post was a relaxed summer luncheon or light dinner party, as you can see from the pictures and plating, or perhaps as appetizers – for which purposes they are absolutely perfect.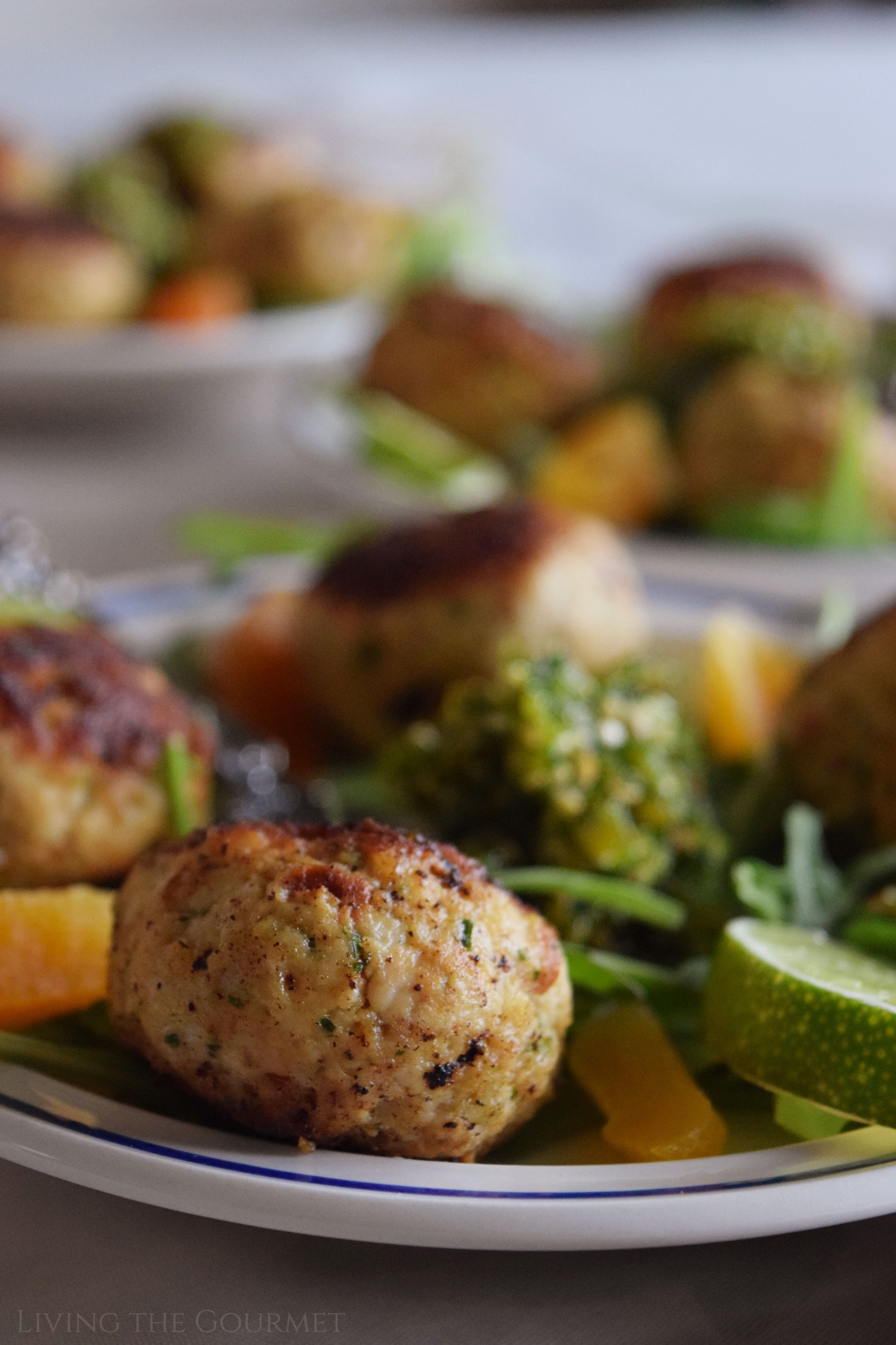 Living the Gourmet
Chicken Meatballs with Sweet Sesame Gremolata
10 minPrep Time
15 minCook Time
25 minTotal Time
5 based on 16 review(s)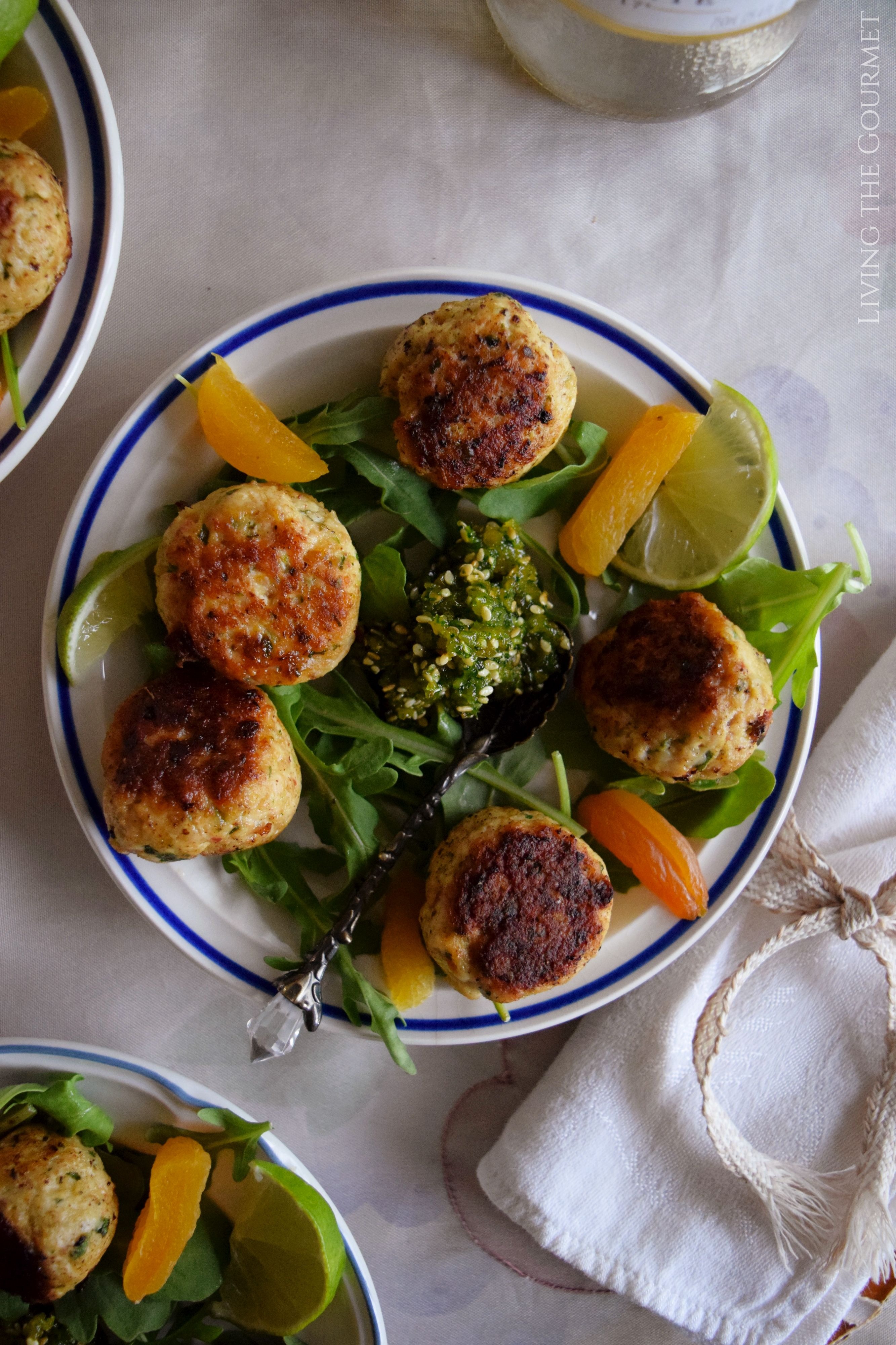 Ingredients
For the Chicken Meatballs:

1 cup Italian style bread crumbs
2 ½ lb. ground chicken
2 eggs
4 cloves of garlic
1 cup loose cilantro leaves – large stems removed
4 sun-dried tomatoes
¼ tsp. red pepper flakes
2 tbs. fresh lime juice
2 tbs. olive oil

For the Gremolata:

¼ cup sesame seed – gently toasted
½ cup dried apricots
1 bunch cilantro – stems removed
4 tbs. honey
3 cloves garlic
Juice of ½ lime
2 tbs. olive oil
Instructions
For the Chicken Meatballs:

Combine the garlic, sun-dried tomatoes, cilantro, olive oil, lime juice and red pepper flakes in a food processor and give a few good chops.
In a large mixing bowl combine the ground chicken, eggs, bread crumbs and the mixture from the food processor and mix together with your clean hands.
Form into desired size chicken balls.
Heat a large cast iron frying pan with 2 tbs. of olive oil.
Add a few of the chicken balls, but Do Not overcrowd the pan. Cook the chicken balls turning as necessary to get a beautiful golden color on all sides.
The cooking time depends on the size of the chicken balls, but they should be firm when gently pressed and the juices should run clear.

For the Gremolata:

Heat a small cast iron frying pan and place the sesame seeds in the dry pan to gently toast. They should achieve a light golden color. This process should only take a minute or two. Remove from the pan and set aside.
In a food processor place the dried apricots, cilantro, honey, garlic cloves, lime juice and olive oil.
Process until a desired consistency is achieved.
Remove from the food processor and stir in the toasted sesame seeds.
7.8.1.2
1303
https://livingthegourmet.com/2019/06/chicken-meatballs-with-sweet-sesame-gremolata.html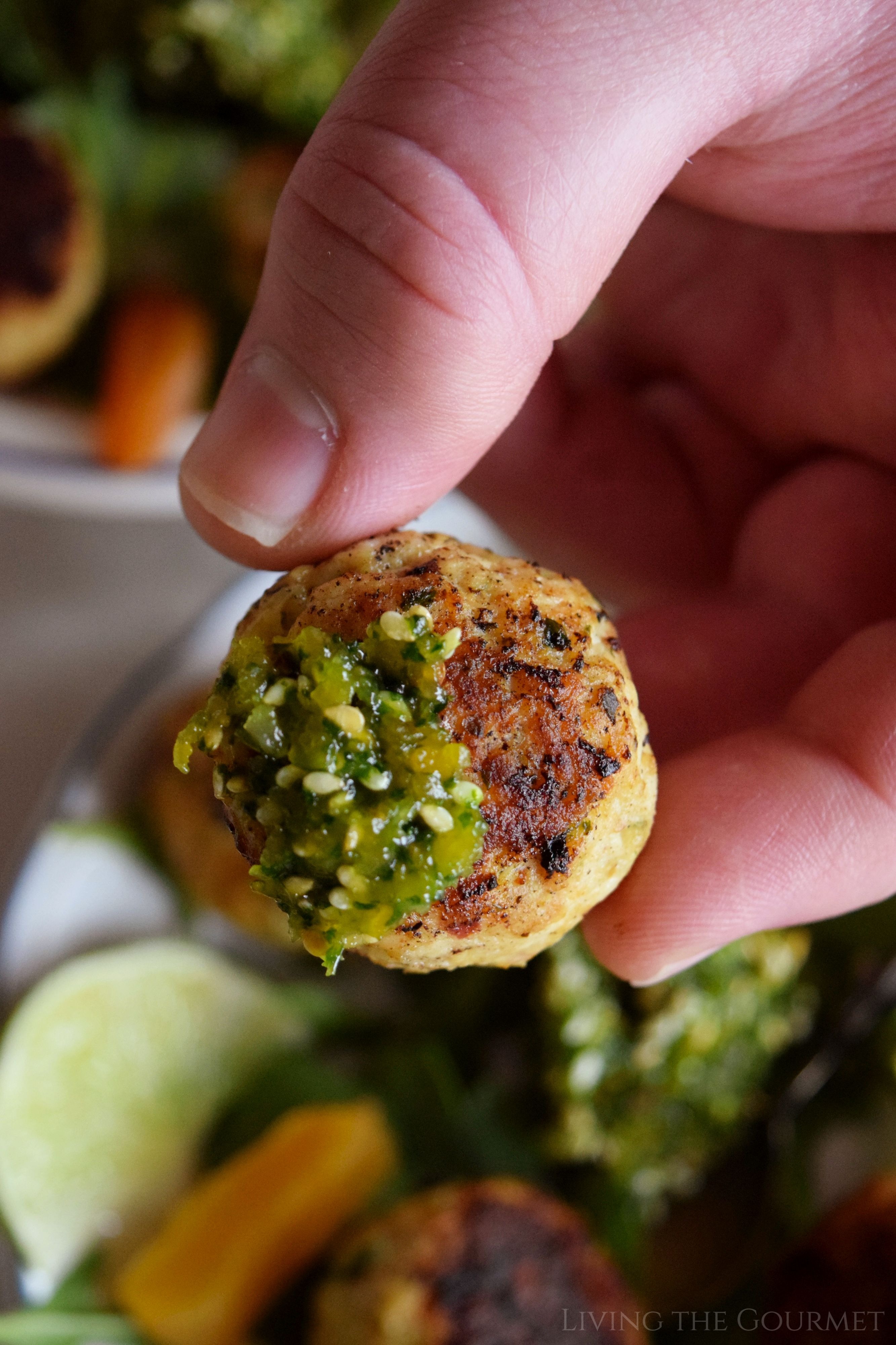 As for wine pairings, think something light and even a little sweet if you prefer. A crisp Chardonnay or fruity Rosé will complete the profile.
And that's a wrap. Let me know down in the comments what you're favorite summer-themed starters are, or if you prepared either of today's recipes and how it turned out. We would absolutely love to hear from you.
Enjoy with Love!
0