These classic British cakes, more commonly known as Hot Cross Buns, are a traditional breakfast served on Good Friday. Soft and slightly sweet, they are speckled with spiced raisins and dried cranberries with a subtle citrus undertone.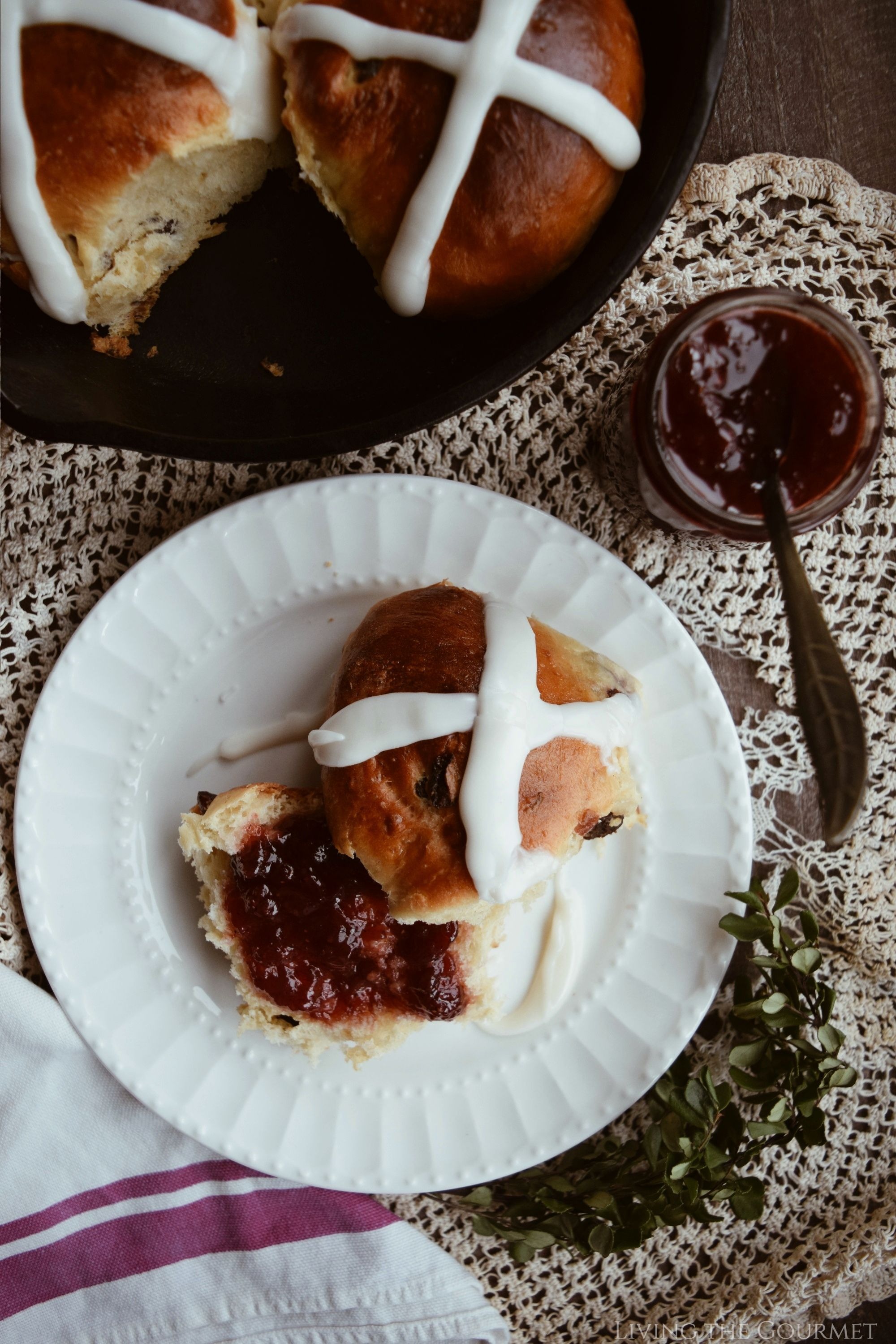 The precise 'moment' when an object or tradition becomes 'iconic' or 'defining' is difficult to pinpoint, but you know it when it happens. Decorated trees at Christmas, for example, or mirror balls being dropped from skyscrapers on New Year's Eve. Similarly, along with bunnies and molded chocolate, Hot Cross Buns have come to symbolize the Easter Season – in particular, the end of Lent.
While not as 'deliberately nonsensical' as dragging a fern into the living room to string with electric lights (fire hazards be damned), or as faux-audacious as dropping crystal balls from skyscrapers, Hot Cross Buns nevertheless found themselves outlawed by the government of Queen Elizabeth I, to be sold and consumed solely at Christmas and Good Friday.
The queen's puritanical ire at these humble cakes was, in my opinion, a bit strange even for the time, considering they're quaint things, really. humble of ingredients and flavor, being almost purposefully simple, and thoroughly antique as if reaching back to a bygone era. I can't help imagining "Black Market Bakers" selling these in the alleys between pubs, or in graveyards past midnight to Hot Cross Bun-craving Londoners in desperate need of their spice cake fix.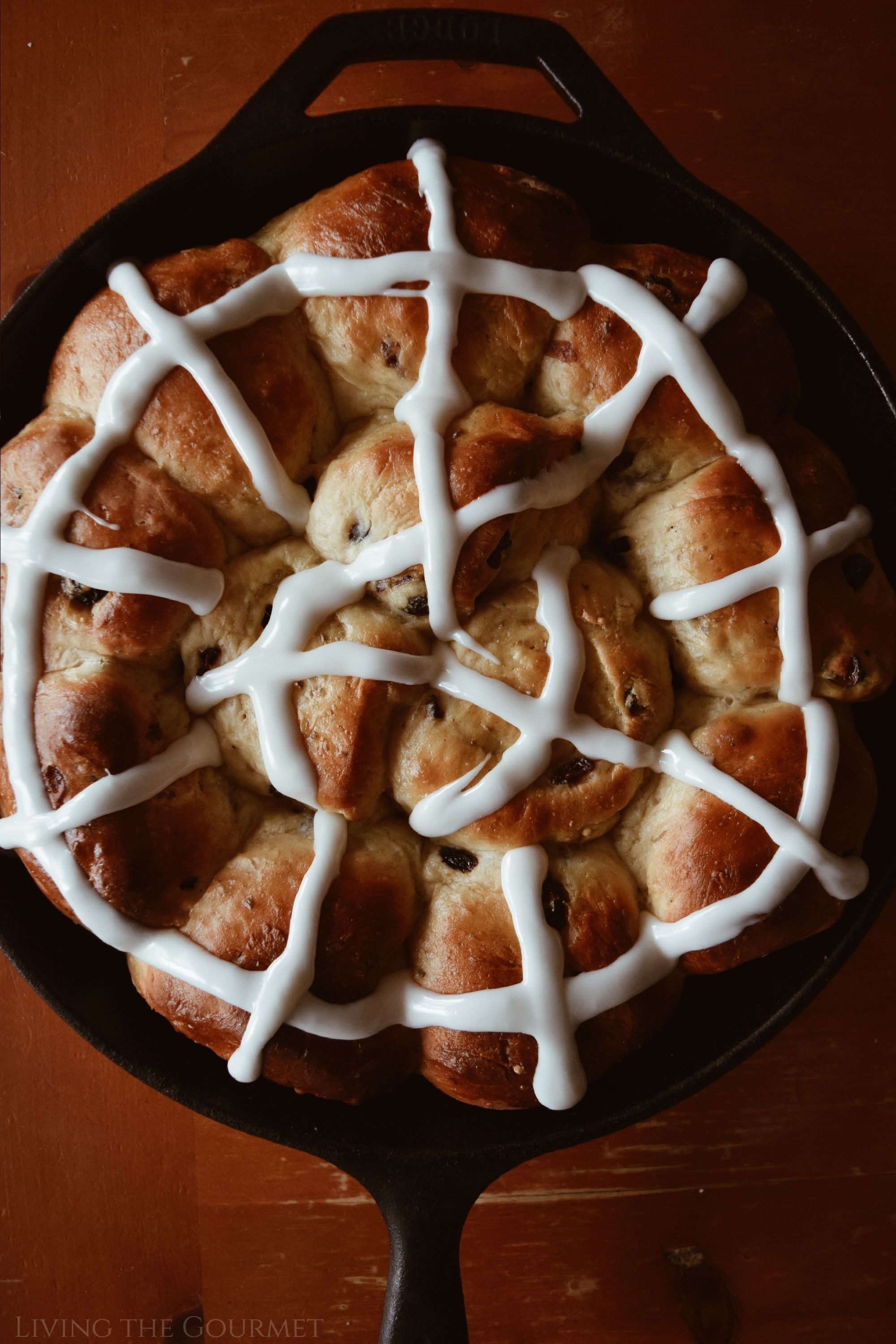 The precise origin of these once fugitive buns is, like most such traditions, largely lost to time. Some attempt to link the eating of hot cross buns to ancient Greek and Roman festival food, where small spiced cakes were common fare for the attendees. However, I can't really imagine how Classical Era festival food would vanish for several millennia only to reemerge in Elizabethan England. Others link the buns to St. Albans Abbey in the thirteenth or fourteenth century, which infers that monks had a habit of piously marking their food with religiously intentioned frosting…for reasons that seemingly elude the history books. This would also imply that the desserts of these isolated monks somehow found their way into mainstream fare.
Regardless, whether you believe these Lenten buns are the descendants of Roman festival fare, or were inspired by the cuisine of isolated monks, or blazed their way into our imaginations after being banned by the queen, they remain an Easter icon, and one that I gladly make a habit of indulging in this time of year.
Growing up, I must admit that we bought rather than baked our Hot Cross Buns and that they were almost exclusively a morning treat.
These days, however, no Easter arrangement in my home would be complete without these now coveted cakes.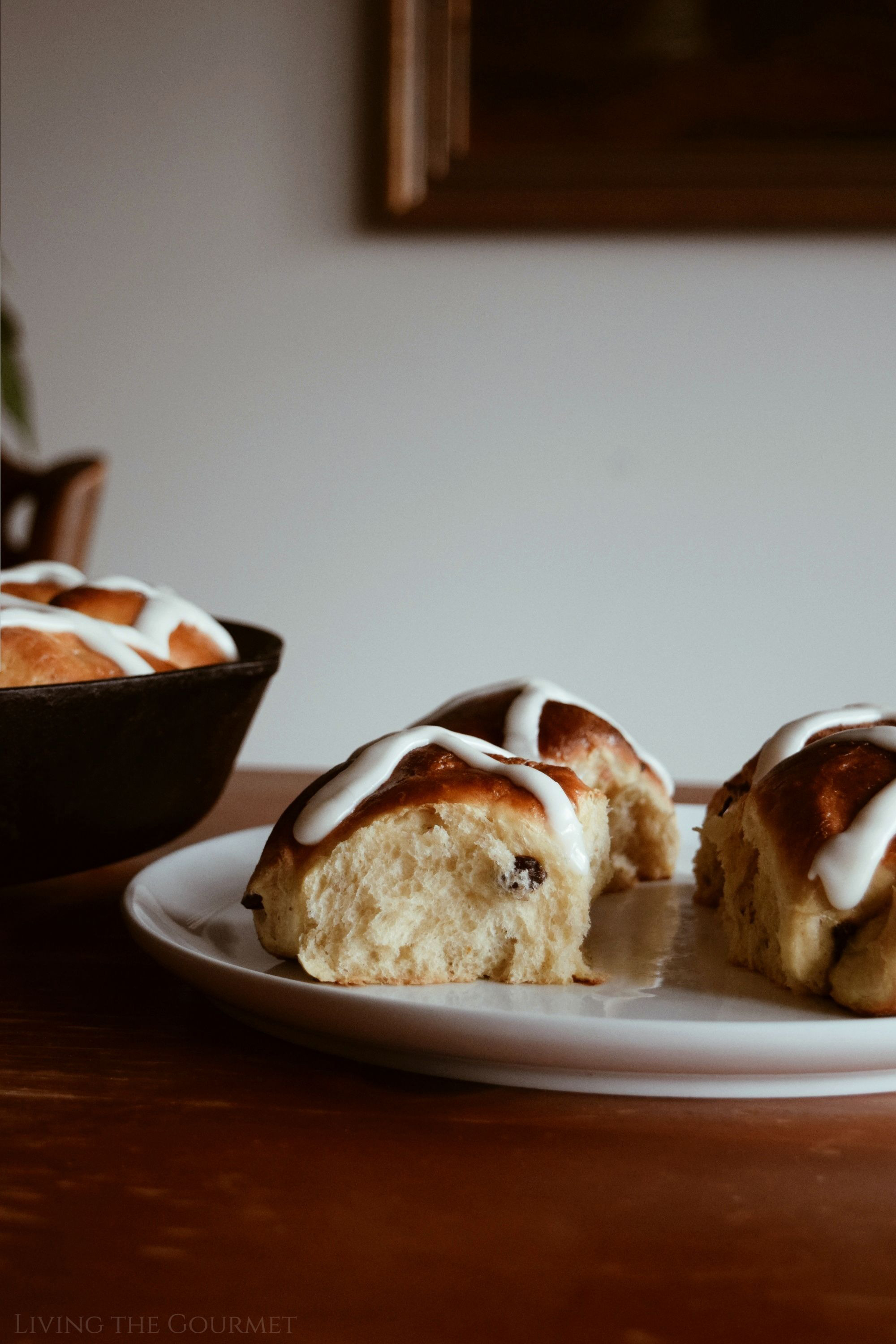 To start things off, we begin by proofing the yeast. To do this, heat a cup of milk until warm. Be careful 'not' to scald the milk. Scalding milk takes only about four to five minutes on medium heat. So, figure you want to warm your milk for perhaps three minutes at most.
After turning off the heat, add the yeast into the milk with one teaspoon of sugar. Let that sit until the yeast has bubbled and frothed.
While you let that happen, place a small saucepan over low heat, and combine all of the ingredients listed below for the spiced raisins. Let them sit over the low heat until the raisins and cranberries have plumped slightly as pictured below, having absorbed the orange juice. Then remove them from the heat and let them cool.
Now, in the bowl of your stand mixer, with the dough hook attached, combine flour, softened butter, salt, eggs, and the proofed yeast, and mix until a soft but dry dough has formed. Cover the dough and let it rest in a warm, dark place for about two hours.
Yes, this recipe requires a fair bit of patience.
Now, grease a cast iron pan, or a baking dish, either will do, and set that aside. THen, on a thoroughly floured surface, set out your dough. Divide the dough evenly in half, and then cut the halves into quarters…yes, doing it this works better than simply 'dividing the dough into the eighths.' Trust me. Shape each of the resulting dough balls, and place them in the greased baking pan. Cover them, and let them rise for about an hour.
Yes, I know, more patience.
Finally, bake the buns at 350 degrees Fahrenheit for about eighteen minutes, twenty at the most. You want them golden as pictured below. Then allow them to cool after removing them from the oven.
Print
Hot Cross Buns
---
Author:

Prep Time:

15 minutes

Cook Time:

18 minutes

Total Time:

33 minutes

Yield:

12

hot cross buns

1

x
For the Dough:
5 ½ cups

AP flour, plus more for shaping

1 cup

warm milk

6 tablespoons

unsalted butter, softened

2

eggs

½

granulated sugar

1

package active dry yeast (plus

1 teaspoon

sugar)

1 teaspoon

salt
For the Spiced Raisins:
1 cup

raisins

½ cup

dried cranberries or currants

1 tablespoon

vanilla

2 tablespoons

orange zest
Juice of

½

orange

½ teaspoon

cinnamon

½ teaspoon

ginger

½ teaspoons

nutmeg
For the egg wash:
For the Icing:
1 cup

confectioner's sugar

½ teaspoon

vanilla

2 tablespoons

milk
---
Instructions
Begin by proofing your yeast. Heat milk until warm to the touch (be sure not to scold milk). Add the yeast and 1 teaspoon of sugar. Let stand until the yeast has bubbled and frothed.
In the meantime, in a small saucepan over low heat, combine all ingredients for the spiced raisins. Once the raisins and cranberries have absorbed the orange juice and plumped, remove from heat and let cool.
In the bowl of your stand mixed with the dough hook attachment, combine flour, softened butter, salt, eggs, and proofed yeast. Mix on low just until a soft but still dry dough has formed. Add the spiced raisins. Mix again on low speed. Cover the dough and let it rest in warm, dark place for about 2 hours.
Grease a cast iron pan or baking dish, whichever you prefer and set aside.
On a very well floured surface, turn the risen dough out. Divide it in half and then quarter the halves. Shape each dough ball and place in the prepared baking pan. Cover again and let rise, about 1 hour.
Preheat oven to 350 degrees F. In a small bowl, whisk the egg wash and brush over each bun. Bake for 18-20 minutes, or until golden.
Remove the buns from the oven and let cool to room temp (it is ok if they are still warm, just make sure they have cooled enough for the icing).
In a small bowl, whisk all the ingredients for the icing. The icing should be thick, not runny. Fill a pastry bag with the icing and pipe a cross over each bun. Serve and enjoy!
Notes
Prep Time does NOT include Inactive Prep Time
Recipe Card powered by
While they cool, you can quickly prep the icing, which you do by simply whisking together the ingredients listed below. Then pipe the icing over each bun in the shape of a cross, and enjoy!
1