Have your cake and eat it too. This Vanilla Heart Cake is every bit the decadent treat you might expect with the perks of being low-carb and gluten-free!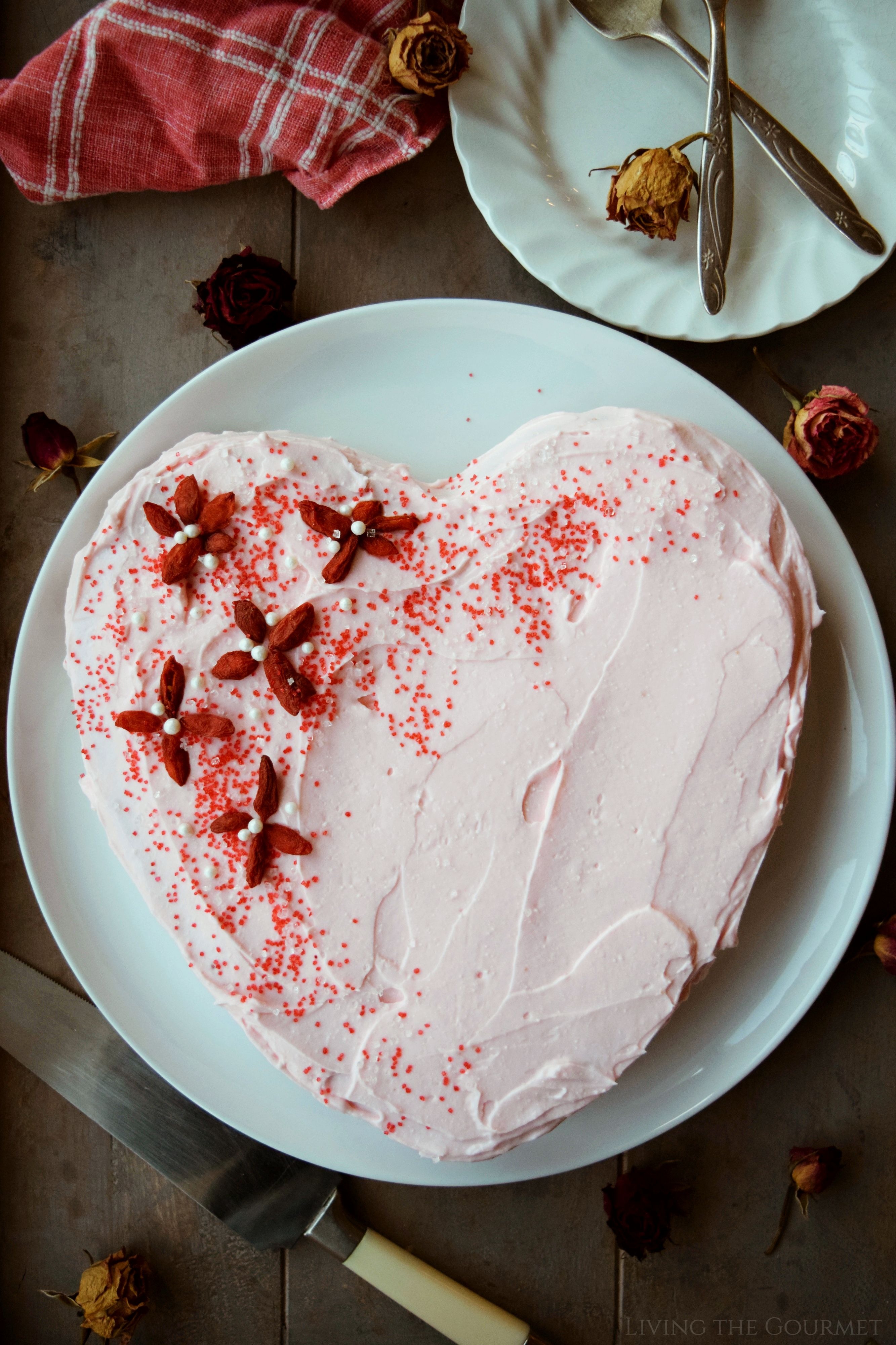 Valentine's Day is no doubt the most dubious holiday of the year. Some people love it and live for it…others, well, cringe at the thought, sometimes the very sound of it gives them anxiety. Then there are the few who don't know where they stand in their blossoming relationship and if they even should celebrate. While in that mix, are a few optimists who simply see it as a day to celebrate love in its most general and broad terminology. Where do you fall in this category?
I guess, over the years, I've become the latter. I used to have a very hard-nosed opinion of this day. Scoffing at romantic gestures, rolling my eyes at what I deemed to be overtly tacky. That's what modern day romcoms will do to an angsty teenager – with their lame pick-up lines and poorly executed portrayals of love where the girl most likely makes a fool of herself for some very random guy.
But as I said above, some years later, here I am today – with a very different outlook, a more positive one to be clear. Five years ago, I'd be wracking my brain as to what to write in the spirit of Valentine's, but these days I don't think of romance with nausea.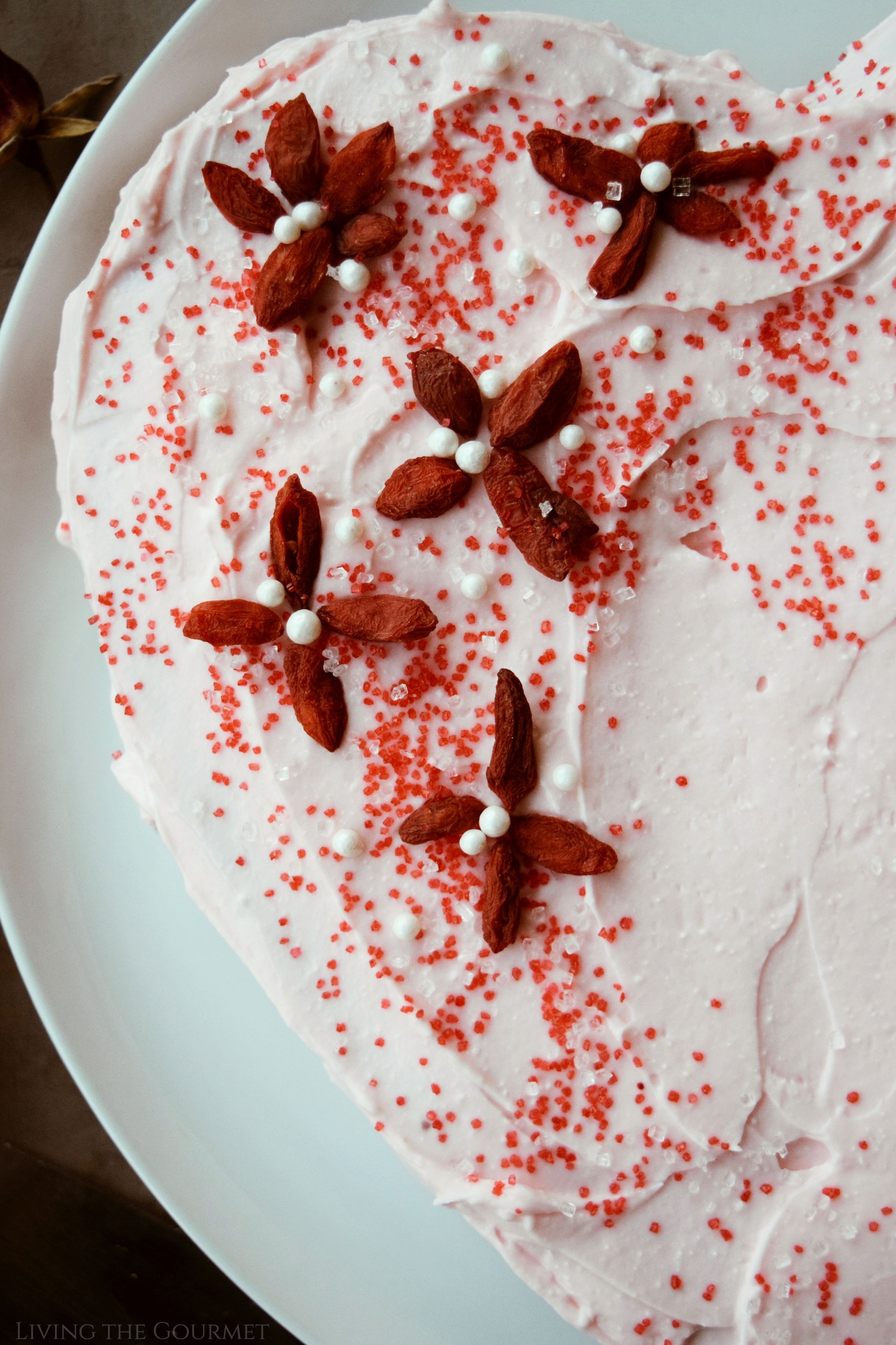 Love comes in many forms, my friends. I think my experiences so far in life have almost softened my attitude towards 'love'. Having a more open heart and mind to those around us, recognizing that each day is a gift and can be taken from us at any moment.
When I was younger I was taught to count my blessings every night and in reflection, then ask myself, if I could do one thing differently, what would it be? I make it a point to acknowledge my mistakes each day so that I don't make the same mistakes tomorrow.
Sometimes, I wish I were more patient, maybe a little bit calmer when I'm having a disagreement with someone, sometimes though, I regret not spending more time with those closest to me.
All these things are forms of love. To give your time, your attention to others is the greatest act of love. You see, it's not always just wine and roses.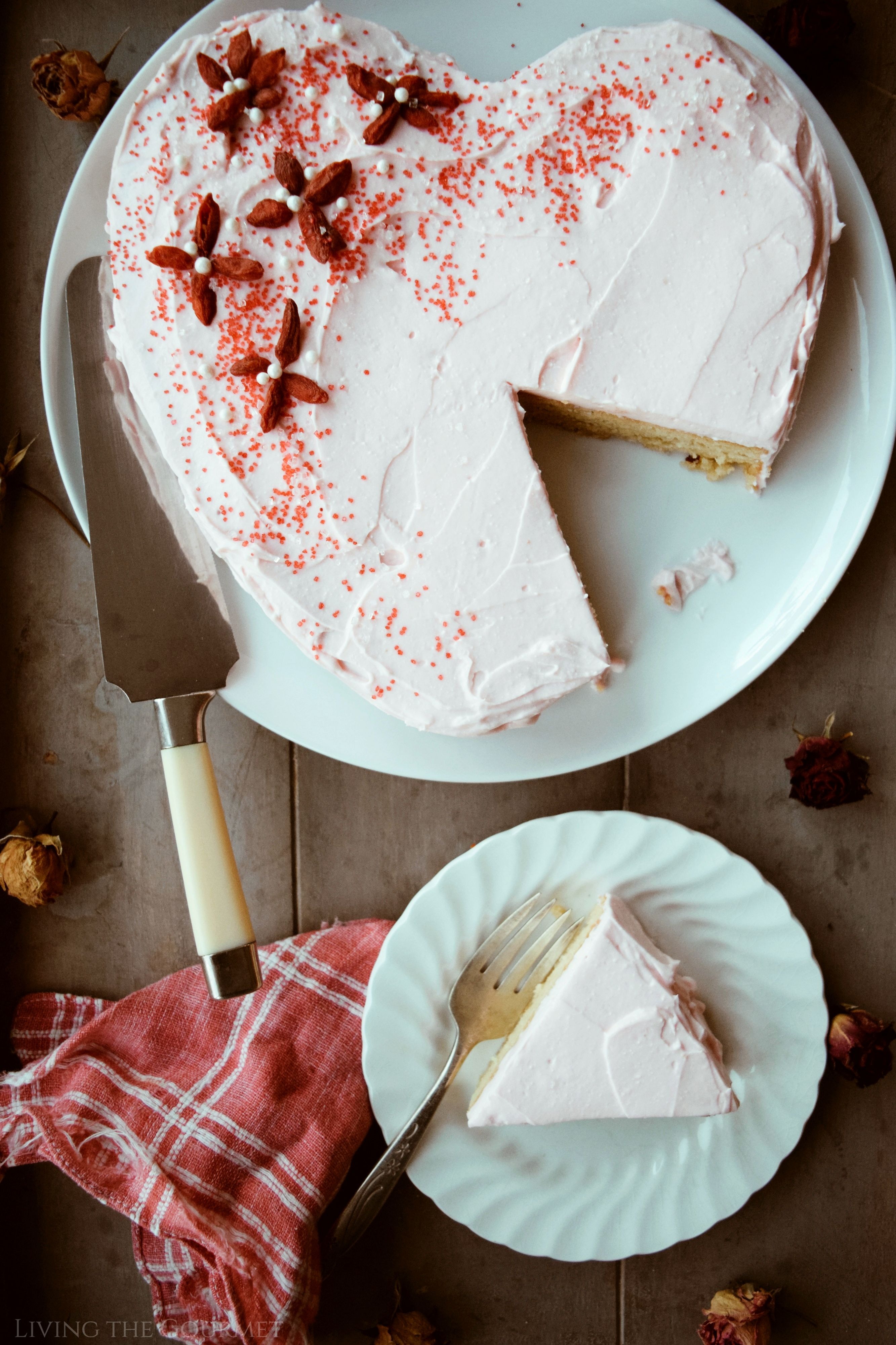 So, Valentine's Day has a multi-dimensional meaning for me. I am full of so much love today and gratitude. Love for my family- as chaotic as we may be, I am blessed to call them mine. Love for friends- I don't think they realize how they helped me through some of the most troubling moments in my life by just being there even in the smallest way. I have immense love for those who are no longer with me, yet I carry their memory and stories in my heart always.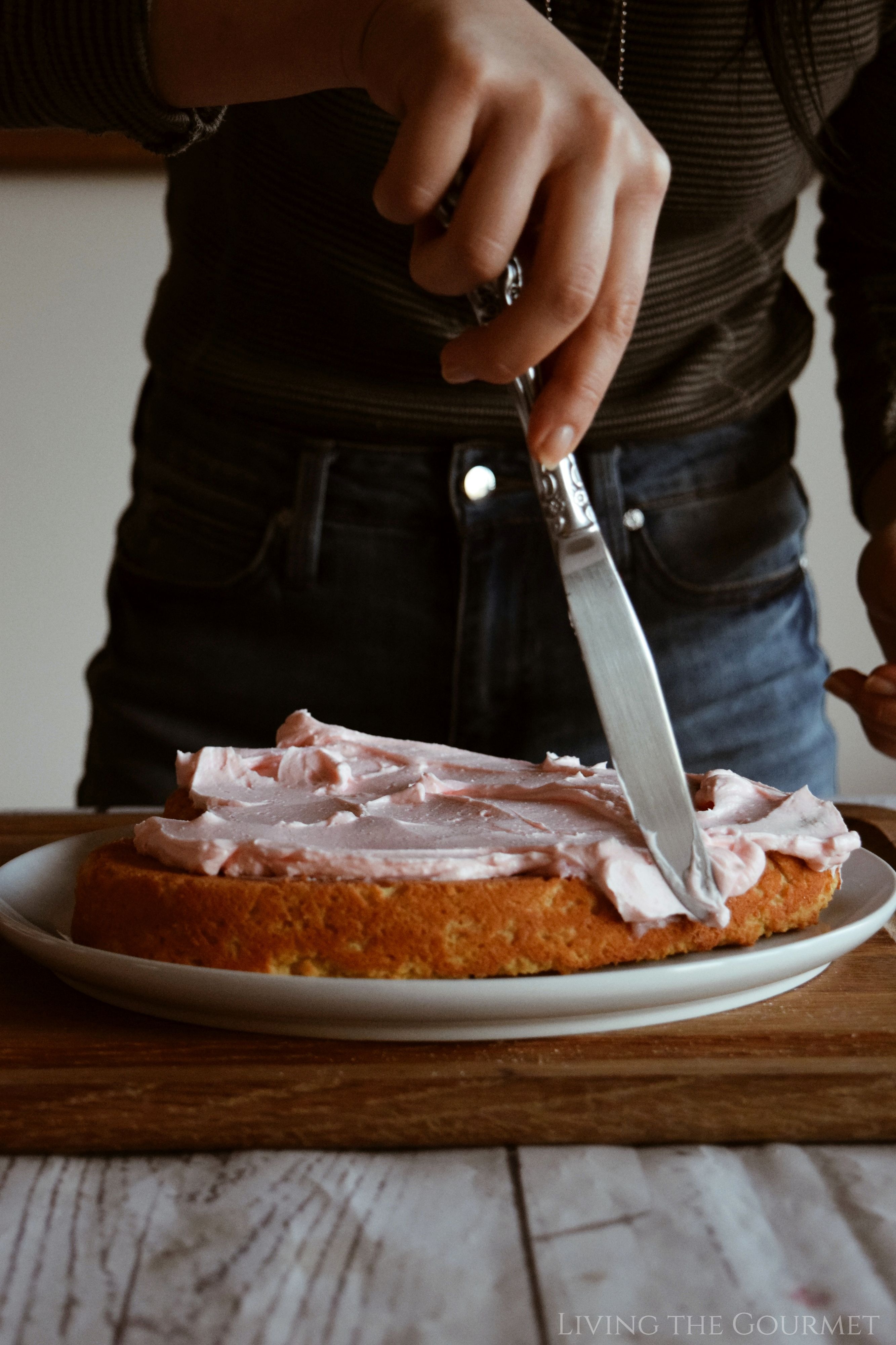 Today, I'm honoring love in all its forms with this Vanilla Heart Cake.
It's low-carb and gluten-free, but I promise you, it is just as decadent as any other. This cake is ultra moist and a little dense. I used a combination of almond flour and coconut flour which plays into the flavors of the vanilla really nicely. For the top, I made a simple cream cheese frosting. You can decorate this cake however you like, but I put a few flower designs with goji berries and sprinkles.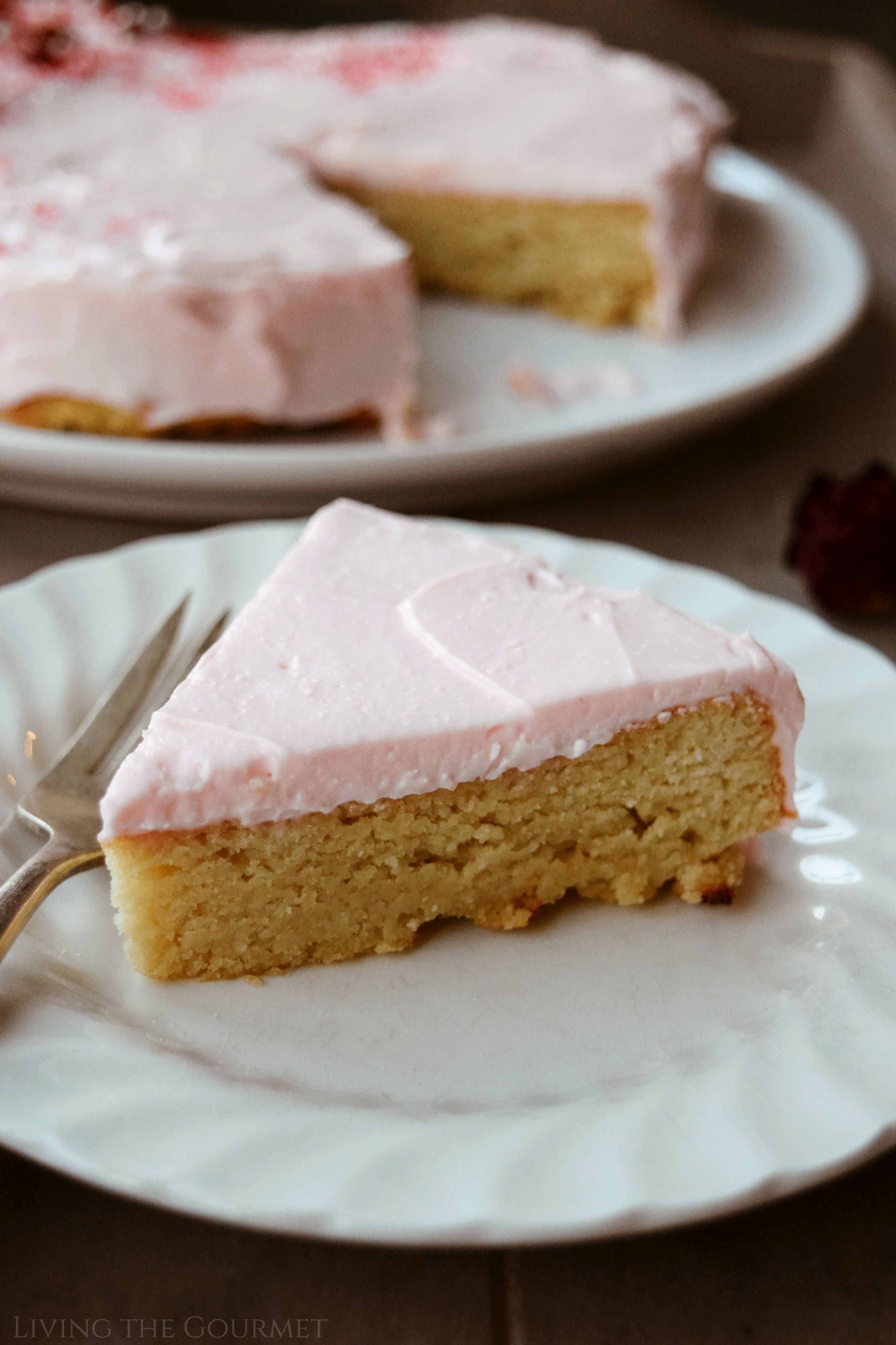 Print
Vanilla Heart Cake (Low-Carb, Gluten-Free)
Author:
Prep Time:

10 minutes

Cook Time:

25 minutes

Total Time:

35 minutes

Yield:

1

cake

1

x
1 1/2

cup

almond flour

1/2

cup

coconut flour

1/3

cup

vegetable oil

1/4

cup

whole milk

1/2

cup

monk fruit sweetener

2

eggs, plus two egg whites

1/4 teaspoon

cream of tartar

1 tablespoon

vanilla

1 teaspoon

pink Himalayan salt

1/2 teaspoon

baking powder

1/2 teaspoon

baking soda
For the cream cheese frosting:
1

8oz

package

cream cheese

1/4

cup

monk fruit sweetener

1 teaspoon

vanilla

1

drop pink food coloring
Spinkles and dried goji berries, for garnish
Instructions
Preheat oven to 250 degrees F. and grease your cake pan.
In a medium glass bowl, whip 2 egg whites and cream of tartar until still peaks form. Set aside.
In the bowl of your mix master blend flours, baking soda, baking powder and salt together. Add vanilla, sweetener, vegetable oil, milk and 2 whole eggs. Mix until a thick batter forms. On low speed, add the whipped egg whites to the bowl. The cake batter will be lighter and airy now.
Transfer the batter to the prepared cake plate and bake for 25-30 minutes until the top is golden and the cake tester comes out clean.
Transfer to a wire rack and let cool before turning over onto a cake plate.
For the cream cheese frosting:
In a small bowl, whip cream cheese, sweetener, and food coloring.
Spread evenly over the entire cake.
Garnish with your desired toppings. (See notes for ideas).
Notes
To keep the cake as keto friendly as possible, you can swap the sprinkles with fresh berries. I used what was on hand and just a few sprinkles for a decorative touch. You can also omit the toppings all together and just serve with the frosting alone.
Recipe Card powered by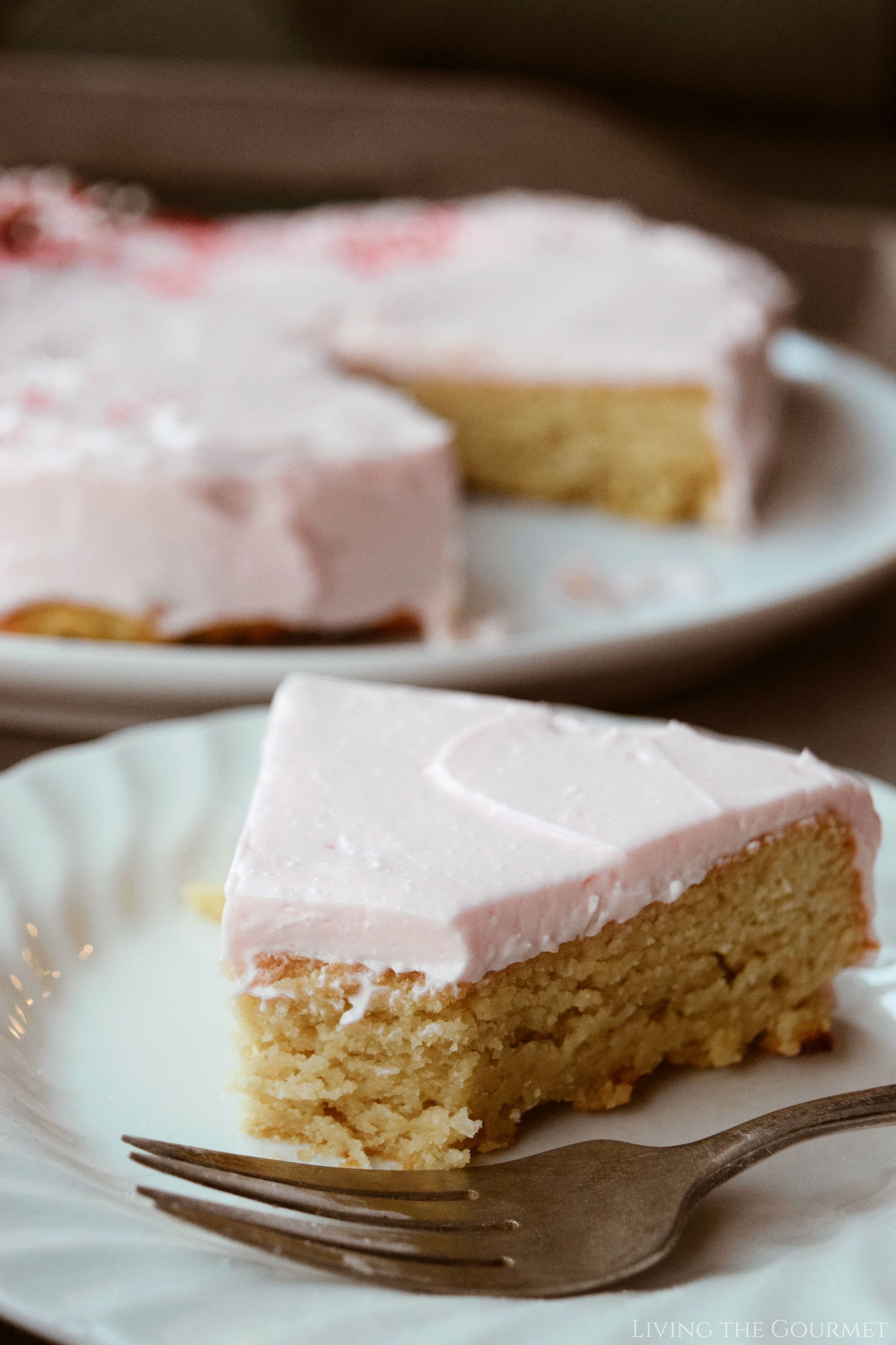 Maybe, at the end of it all, I am a bit of a romantic. I'm a sucker for roses, pink heart-shaped cakes, and one of my favorite stories is the tumultuous romance between Elizabeth Bennet and Fitzwilliam Darcy. I read the book more times in high-school than even I would like to admit; the same goes for the film adaption too. Like most of you, I'll probably indulge myself in a romcom later tonight (most likely You've Got Mail in which Meg Ryan's character coincidentally also cherishes Pride & Prejudice. That cafe scene is probably my favorite). While my romantic opinions and interpretations more than likely differ from most, make no mistake about this, "We are all fools in love".
Enjoy with much love,
Tammy
3