Nothing warms the soul on a winter's evening than this hearty Italian classic. Our Chicken Cacciatore is prepared by cooking the chicken before simmering it in a thick red sauce alongside vegetables.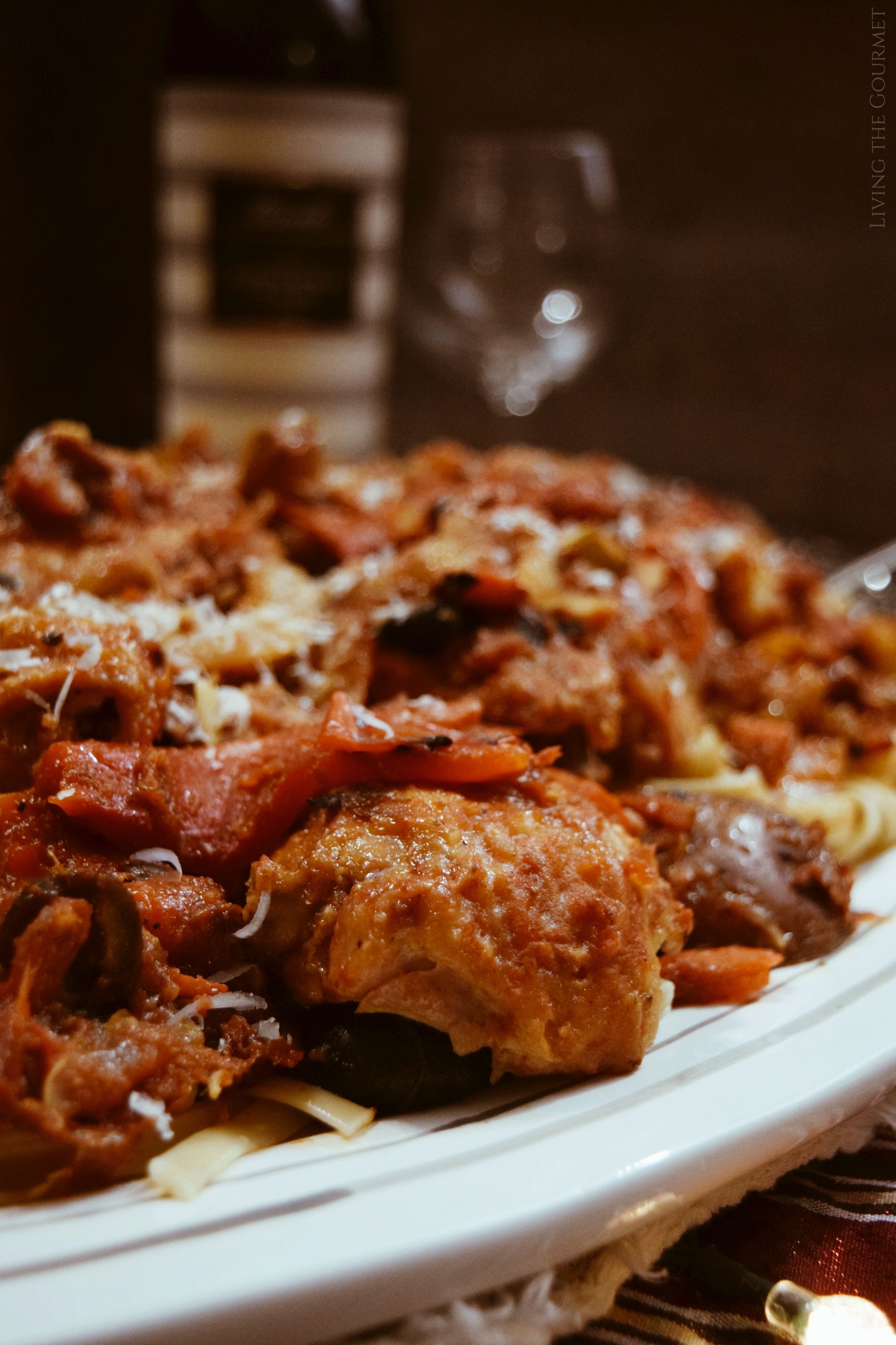 In America, Chicken Cacciatore is a 'staple' or 'standard' of "Italian American" cuisine. Almost every Italian restaurant, sit-down pizza place, and even a fair few dinners have some incarnation of this instantly familiar recipe. However, as if often the case, the Old and New World versions of this recipe reflect a marked difference in taste and lifestyle.
In Italian, 'cacciatore' means 'hunter,' and when you consider the typical ingredients in the original incarnation of cacciatore, you'll likely understand why – you can almost think this as the Italian version of an American 'frontier meal.' Prepared in a single pot or deep pan, this recipe originally called for items that were easily and readily available not just for someone of limited means, but also for someone 'on the hunt.' Garlic, red wine, peppers, herbs, root vegetables, and dried seasonings were all fairly standard, though none were 'universal,' and it was prepared with either rabbit or some form of fowl. Marinara and pasta were not always a part of the mix – and only rarely so when prepared by 'actual' hunters and outdoorsmen.
In America, however, Cacciatore is almost exclusively 'Chicken Cacciatore,' and, at least commercially, is prepared most often in its marinara incarnation over pasta or with a side of pasta, while red wine and root vegetables are increasingly left out of the recipe. And in case you were wondering, no, I have never once encountered a version prepared with rabbit here in New York.
With that said, I'd like to think my recipe is somewhere in the middle of the Old and New World varieties, being prepared over pasta and flour-dredged chicken, but without the thick marinara. Now, without further delay, let's get cooking.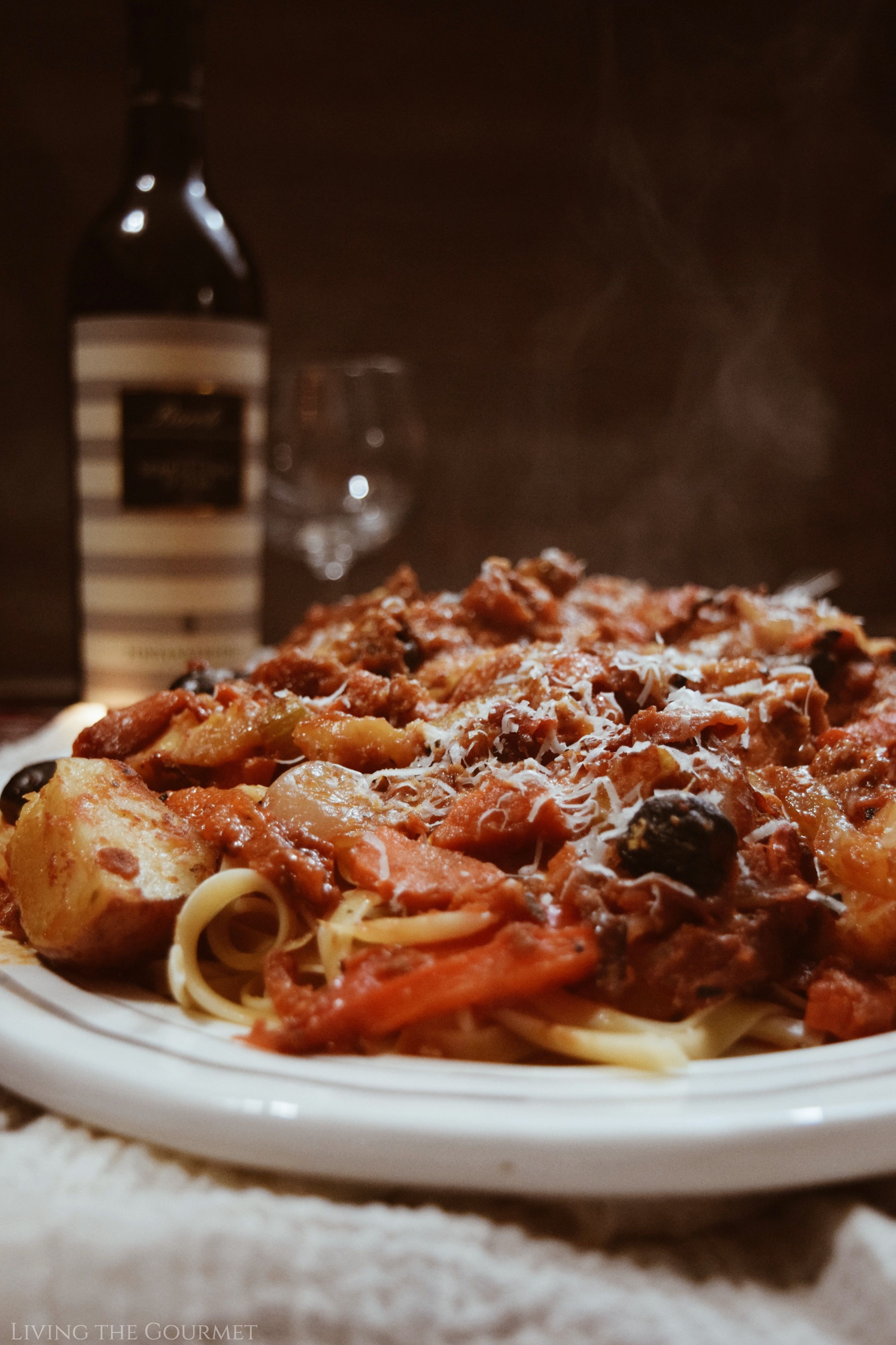 To start, we boil some potatoes until they are fork tender, and then slice them into quarters. After this, we heat a large cast iron frying pan with some olive oil and place the sliced potatoes into the pan, and sauté until they are nice and golden on each side. Once that's achieved, we season them with freshly ground black pepper and salt, sauté for another minute or two, and set them aside.
Now, char the red peppers either in a dry cast iron pan or stovetop, and then set them aside and let them cool. Once cool, scrape off the skin, remove the seeds, and slice lengthwise for nice long strips about half an inch in thickness.
Now, heat a cast iron pan with olive oil, and add in sliced onions, chopped garlic, chopped celery and diced carrots, and sauté that until the onions are soft and the garlic is fragrant. Then add in the sliced peppers and toss. Add in the capers and caper juice in the amounts listed below and toss again.
Then add in crushed tomatoes, chicken broth, fresh parsley, grated cheese, seasonings, sugar, and wine, and allow that all to simmer for about twenty-five minutes. At this point, taste for seasonings, and adjust to your preference.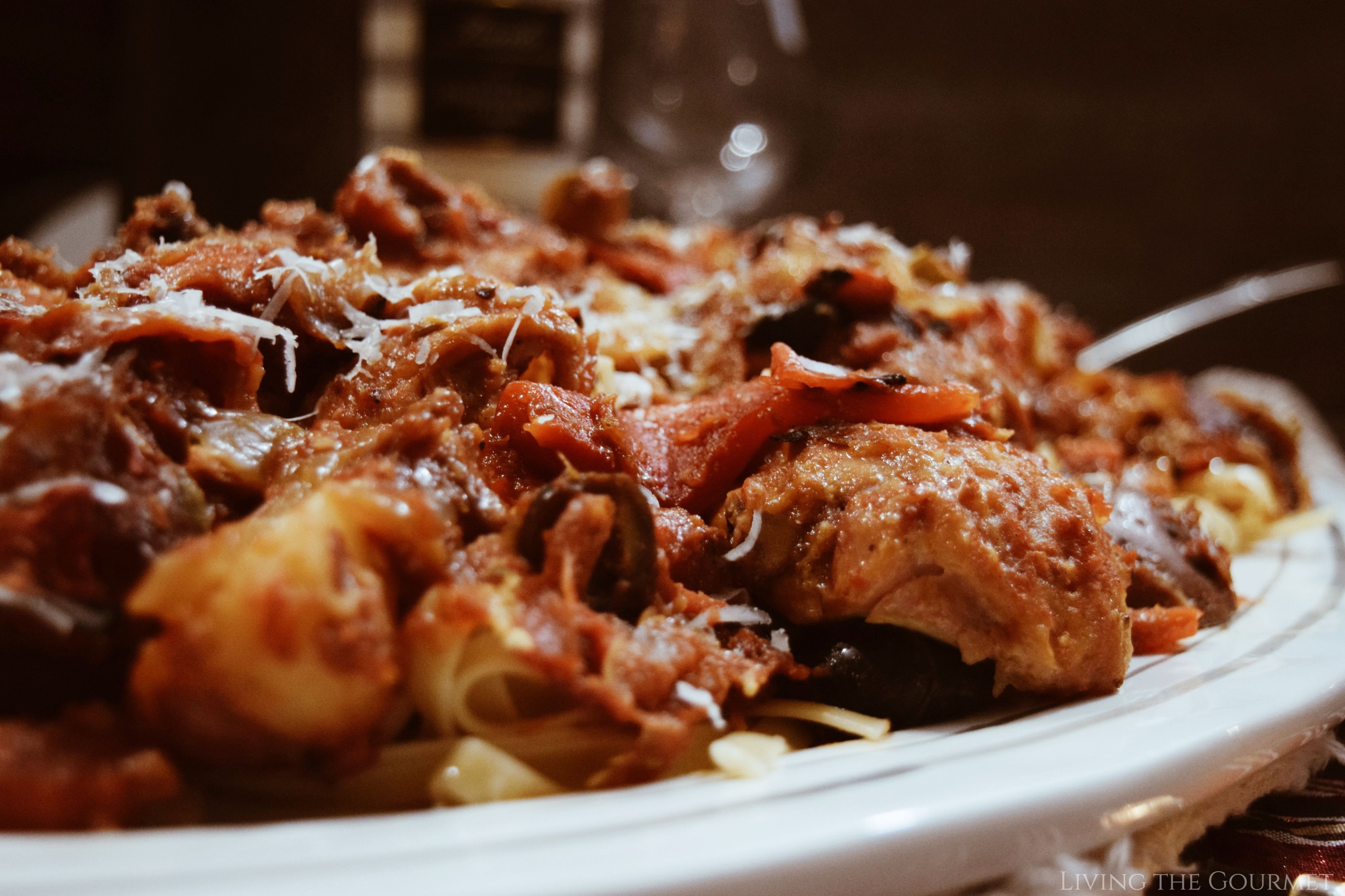 Now, the chicken. First, dredge the chicken thighs in flour, then place in a baking dish, and drizzle each thigh with a bit of olive oil, and bake for about thirty to thirty-five minutes.
Spoon the sauce over the chicken, and arrange the potatoes around the chicken. Now dust the entire arrangement with some grated cheese, drizzle with a bit more olive oil, and bake for about thirty minutes.
Now, place your cooked pasta on a serving platter, and carefully top that with the remaining sauce, and then the chicken, and serve with yet another drizzle of oil and a fresh dusting of grated cheese.
Living the Gourmet
Yields 6
Chicken Cacciatore
15 minPrep Time
20 minCook Time
35 minTotal Time
4.9 based on 12 review(s)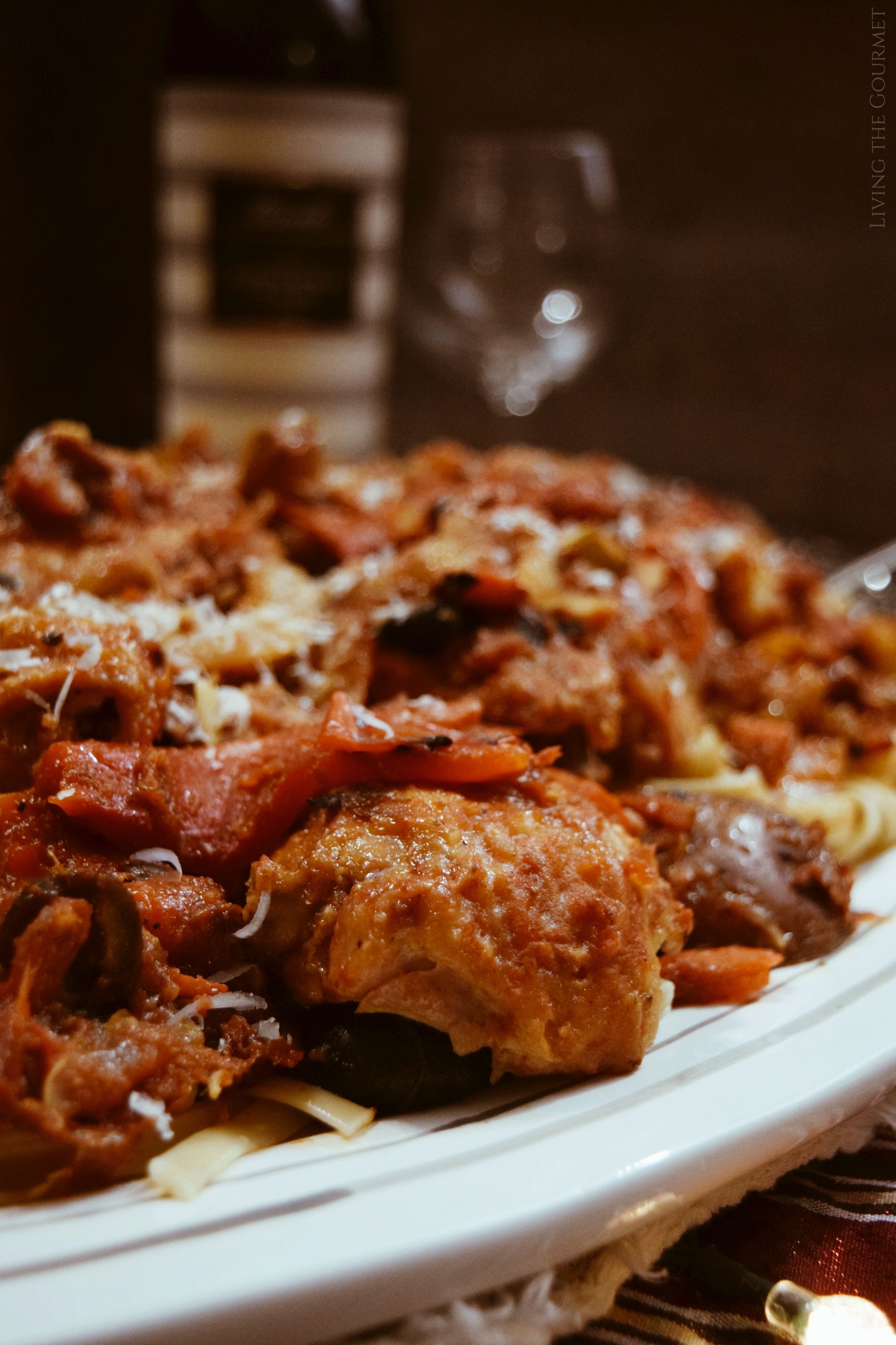 Ingredients
For the Sauce:

2 carrots – diced
2 celery stalks – sliced
4 – 5 cloves of garlic – chopped
1 large sweet onion – sliced thin
1 tbs. of capers – plus a tbs. or two juice
3 red peppers – skin charred – skin peeled off and sliced
½ cup of chicken broth
6 oz. can of black olives - drained
4 tbs. of wine
2 tsp. salt
1 tsp. black pepper
1 tbs. dried oregano flakes
½ tsp. red pepper flakes
½ tsp. sugar
4 – 5 tbs. of grated Romano or Parmesan cheese
1 bunch of fresh Italian parsley – stems removed and chopped
28 oz. can of crushed tomatoes
4 red potatoes – boiled to fork tender, drained and grilled to a nice golden color
1 lb. of your favorite pasta – (I used fettuccine)

For the Chicken:

12 – 14 chicken thighs – bone in with skin
2 cups flour – seasoned with salt and black pepper
Olive oil for drizzling
Instructions
For the Sauce:

Boil the potatoes to fork tender; drain and slice into quarters.
Heat a large cast iron frying pan with 3 – 4 tbs. of olive oil. Place the quartered potatoes in the frying pan and sauté until golden on each side. Season with fresh ground black pepper and salt while sautéing.
Set the potatoes aside.
Char the red peppers skin, to do this either set carefully over a flame or in a cast iron frying pan until charred then set aside and let cool; then scrap the skin, remove the seeds and slice.
Heat a cast iron frying pan with 3 – 4 tbs. of olive oil. Add the sliced onion, chopped celery, chopped garlic and diced carrots. Sauté until the onions are softened and the garlic is fragrant; add the sliced pepper and toss.
Add the capers and caper juice, and drained olives and toss.
Add the crushed tomatoes, chicken broth, fresh parsley, grated cheese, seasonings, sugar and wine and simmer on a gentle heat for twenty to twenty-five minutes. Taste for seasonings; if you like more salt, pepper, etc.

For the Chicken:

Preheat Oven 375 degrees F.
Dredge the chicken in the flour, then place in a baking dish. Drizzle each piece of chicken with olive oil.
Bake for 30 - 35 minutes.
Remove from oven.
Spoon the sauce over the chicken and place the potatoes around the chicken.
Finish the pan off with more grated cheese over the top and a drizzle of olive oil.
Bake 30 - 35 minutes.
Prepare the pasta as directed.
Place the cooked pasta in a serving platter. Top with the sauce, chicken and veggies. Serve with a drizzle of olive oil and fresh grated cheese.
7.8.1.2
807
https://livingthegourmet.com/2018/12/chicken-cacciatore.html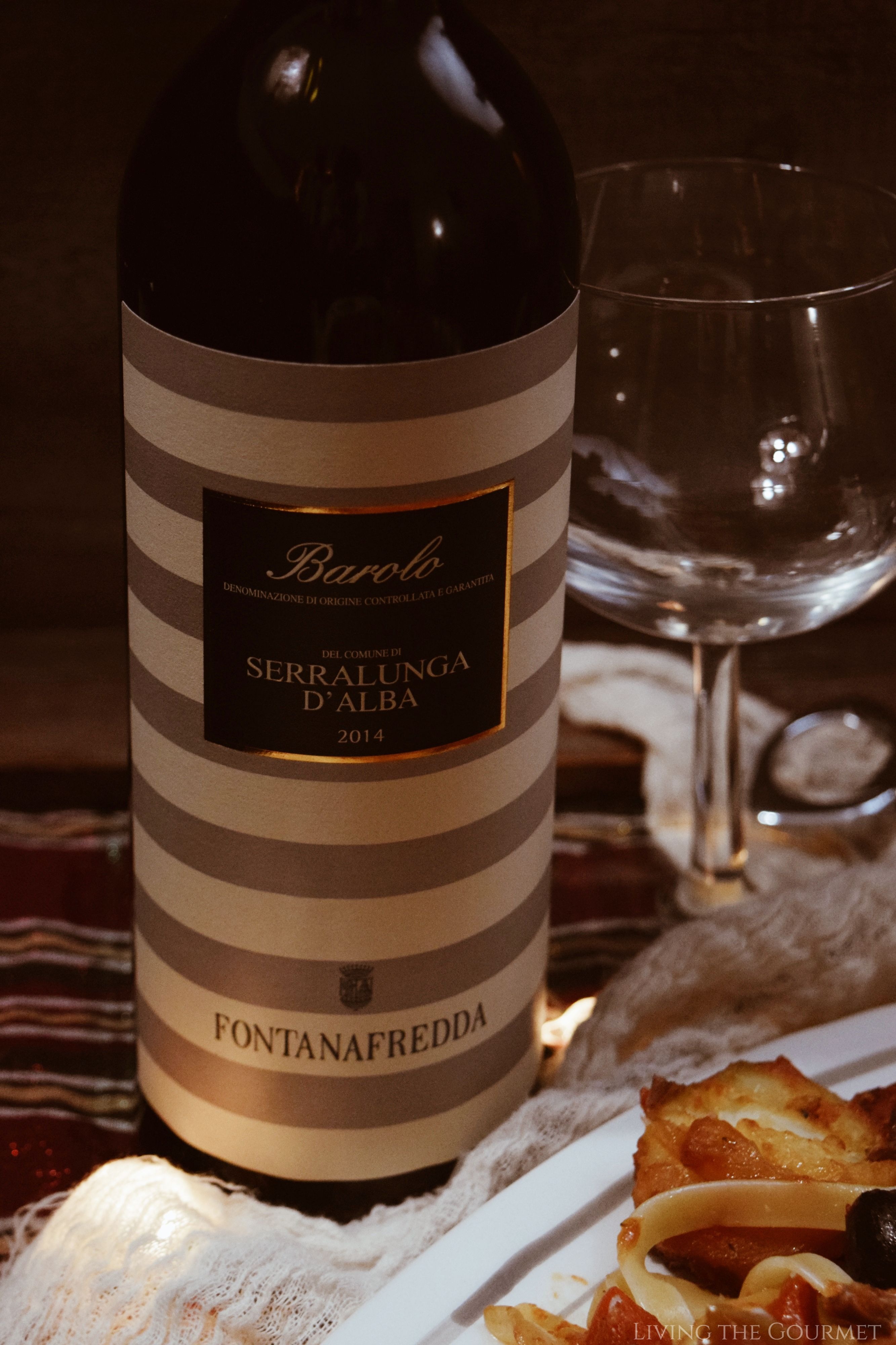 Serving Suggestions:
1) Red Wine – Whether prepared Old World or New World style, this is a quintessential meal to pair with a decent red wine. Today, we have a bottle that would pair excellently alongside this dish, courtesy of Fontanafredda winery, their 2014 Barolo.
The wine introduces itself with floral aromatics off the top of the glass, think of cut iris flowers and fresh green leaves, ivy and dew damp grass. Deeper into the glass, the wine becomes very herbaceous, with hints of dark berry peppered throughout. On the palate, the wine is pleasantly by the book for a Nebbiolo varietal, featuring a bright acidity and pleasant tannins carrying deep red fruit flavors mixed with herbs.
2) More Garlic is Better Garlic – While this is certainly a 'perfect' one plate meal, you'll want to pair this with some crusty Italian bread, preferably a nice fresh out of the oven garlic bread.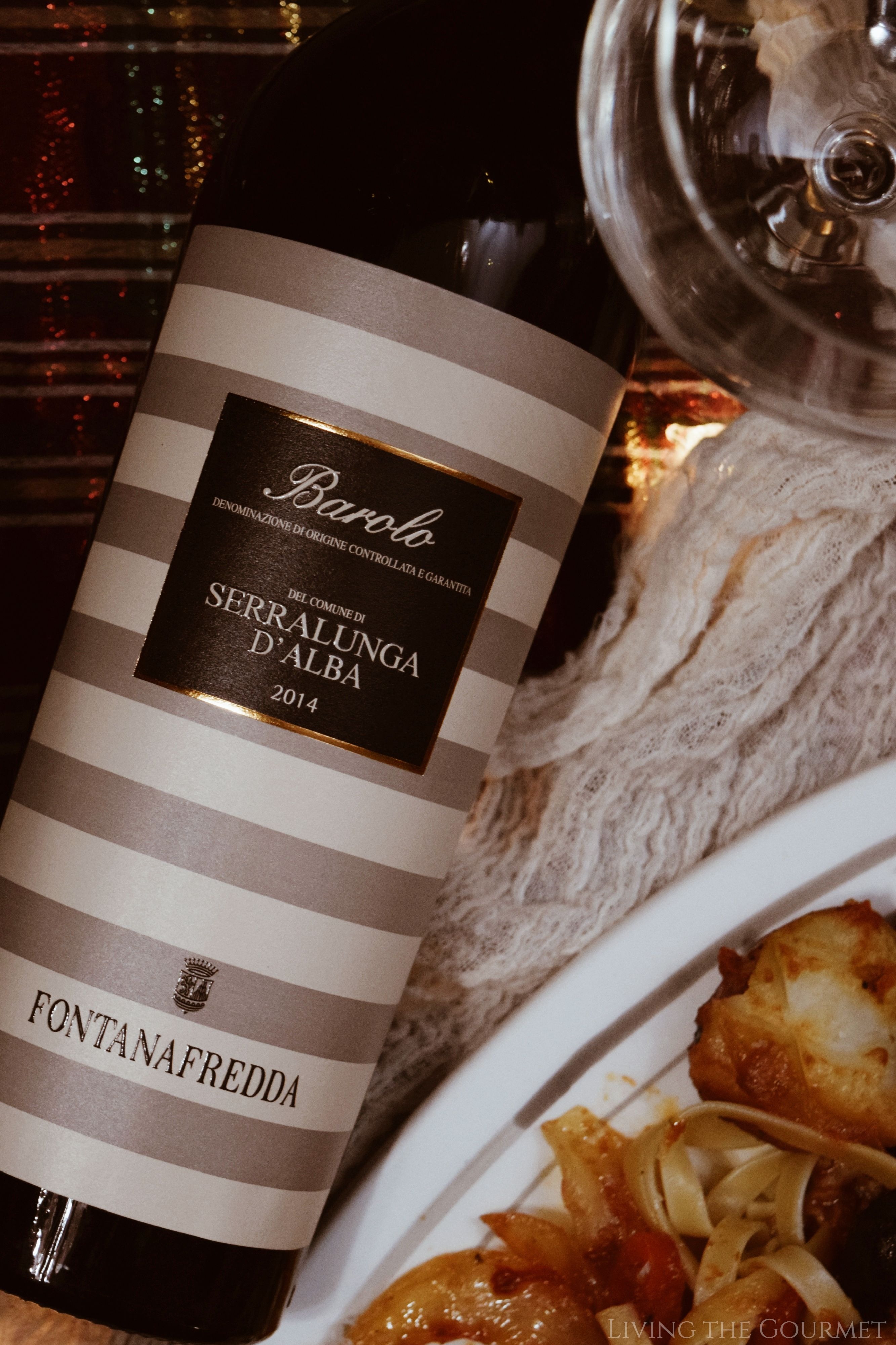 Variations:
1) Boneless – Feel free to use chicken cutlets for this recipe, or deboned thighs if you prefer. The cooking process remains the same.
2) Spice it Up – If you prefer the hotter things in life, you can always add an Italian friggitello pepper into bell pepper count in the recipe. More readily available spicy pepper varieties work equally well.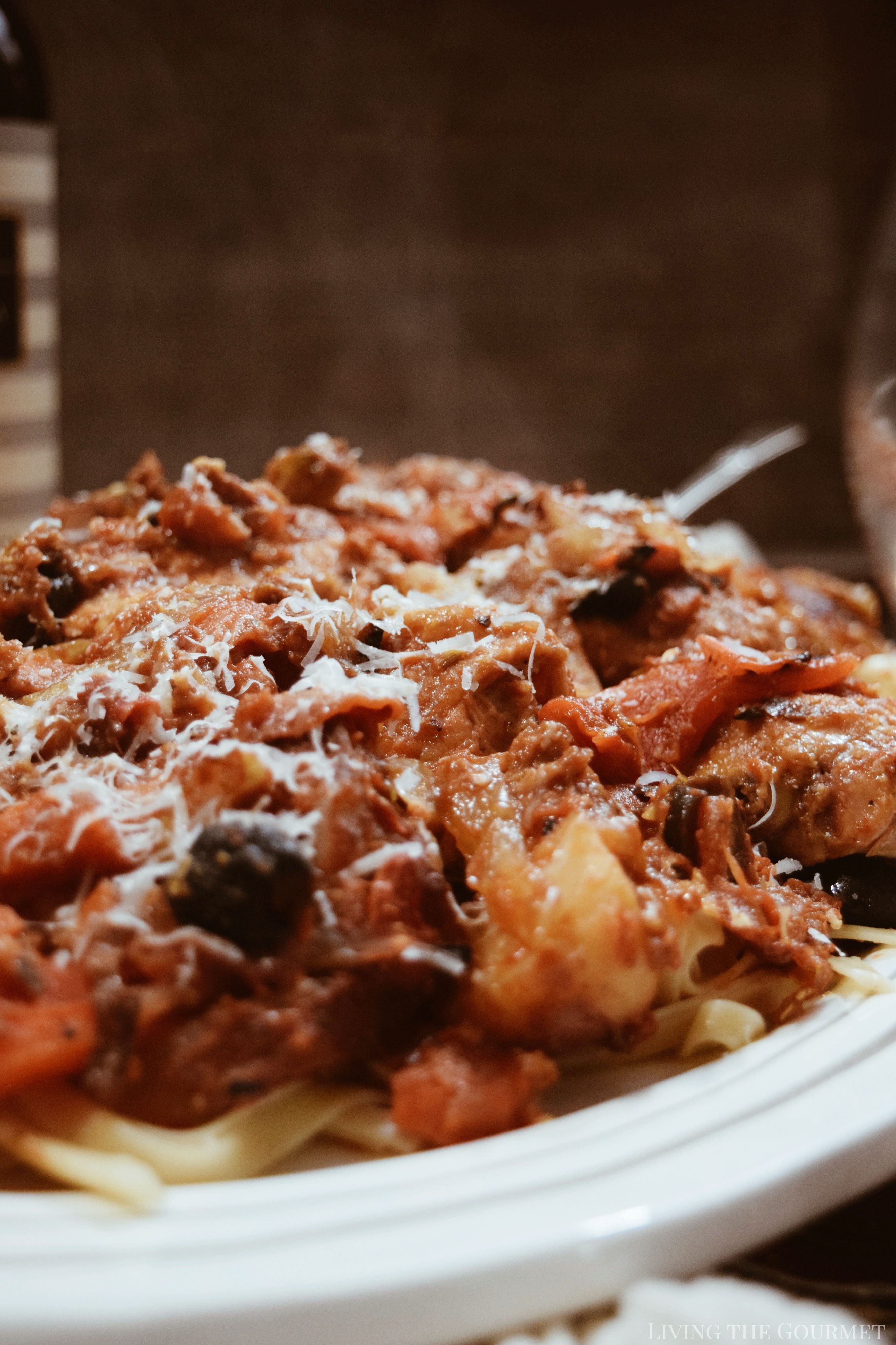 Enjoy with Love!
This post has been sponsored by Fantanfredda Winery and is intended for those 21+. Please enjoy responsibly!
1