This shop has been compensated by Collective Bias, Inc. and its advertiser. All opinions are mine alone. #TeaProudly #FallforBigelow #CollectiveBias
This buttery, light cake is speckled with walnuts and notes of citrus then layered together with a fruit preserve center. It's a seasonal treat that is perfect for cozy Autumn days and holiday occasions as well.
Today, we're serving up a slice of Walnut Tea Cake alongside Bigelow Pumpkin Spice Tea. If you're interested in trying Bigelow, hover over the image below to shop their variety of seasonal and classic blends available at Walmart!
"Of all the wonders of nature, a tree in summer is perhaps the most remarkable: with the possible exception of a moose singing 'Embraceable You' in spats," as Woody Allen remarked.
Now, in light of today's product, you might be asking "What does any of that have to do with tea or walnut cake?"
There answer is plainly that, for me, 'Autumn in New York' is the 'most remarkable of all the wonders of nature,' while pumpkin spice is the 'singing moose' portion of Mr. Allen's equation. Cue a thousand pairs of rolled eyes. Yes, I know, the preponderance of "pumpkin spice everything" has entered the realm of meme material poking fun at leftover hipsters past their prime clinging to the 'once cool lattes of yesteryear,' but for me pumpkin spice is simply the flavor of the season. It's warm and vaguely hardy, spicy in that 'earthy' way that conjures images of hearth and home, and it just…it tastes like the changing of the leaves.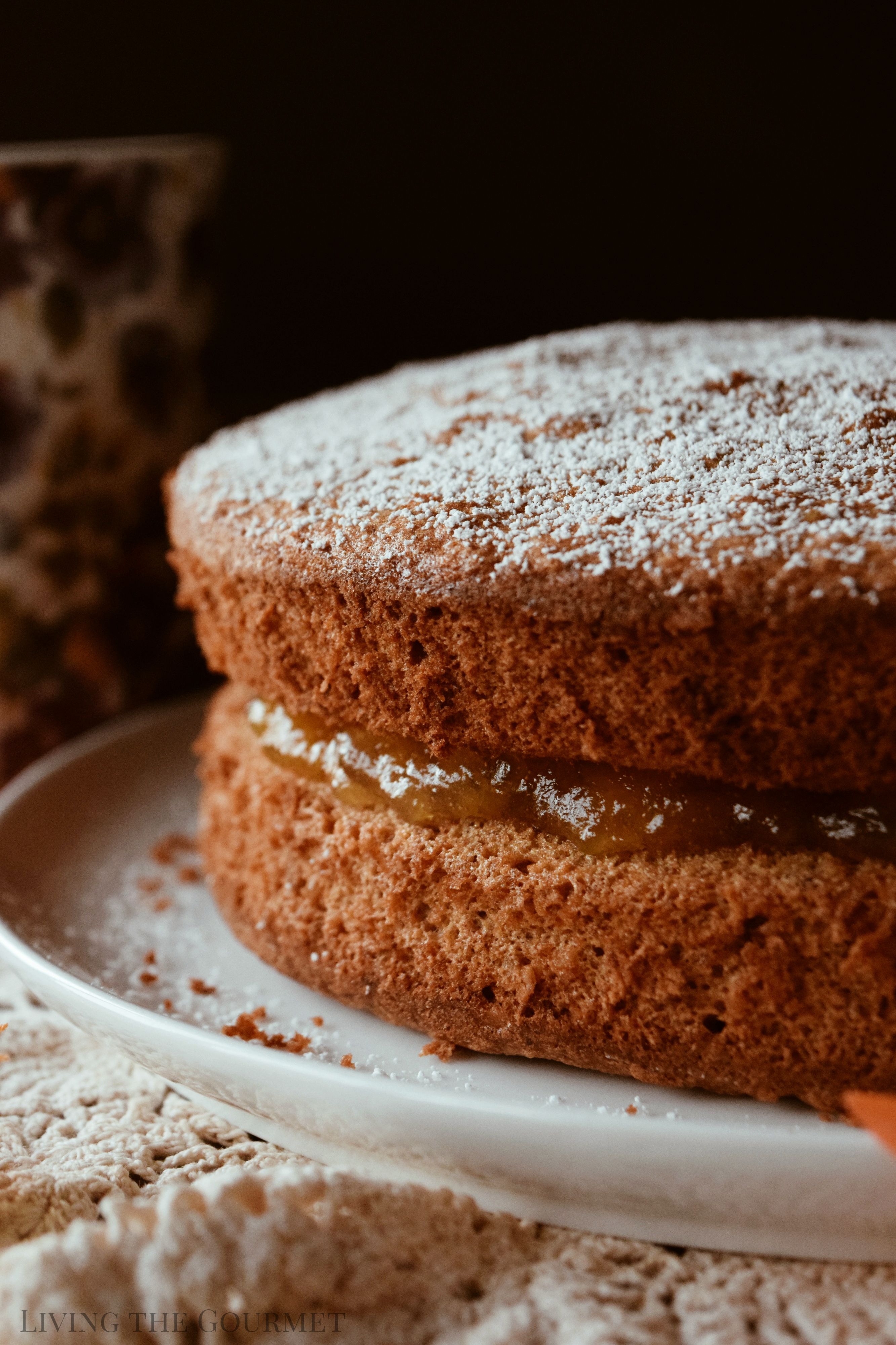 For me, pumpkin spice is to autumn what tea is to a rainy day spent by the bay window; combining those three things, well, now that's simply bliss. Picture a lazy autumn morning, and a hot cup of natural pumpkin flavor, hints of licorice root, cinnamon, ginger and cloves, set against a backdrop of black tea. Naturally, I'm describing Bigelow Pumpkin Spice Tea.
Bigelow has been, my family's tea of choice for quite literally my entire life due to its reliable quality and simply delicious flavor. Conveniently available at Walmart, the teas come in a convenient foil packaging which seals in freshness and flavor.
Today, alongside my seasonal favorite Pumpkin Spice, I'm also serving Earl Grey, another fine blend of black tea and bergamont oil from the gardens of Calabria.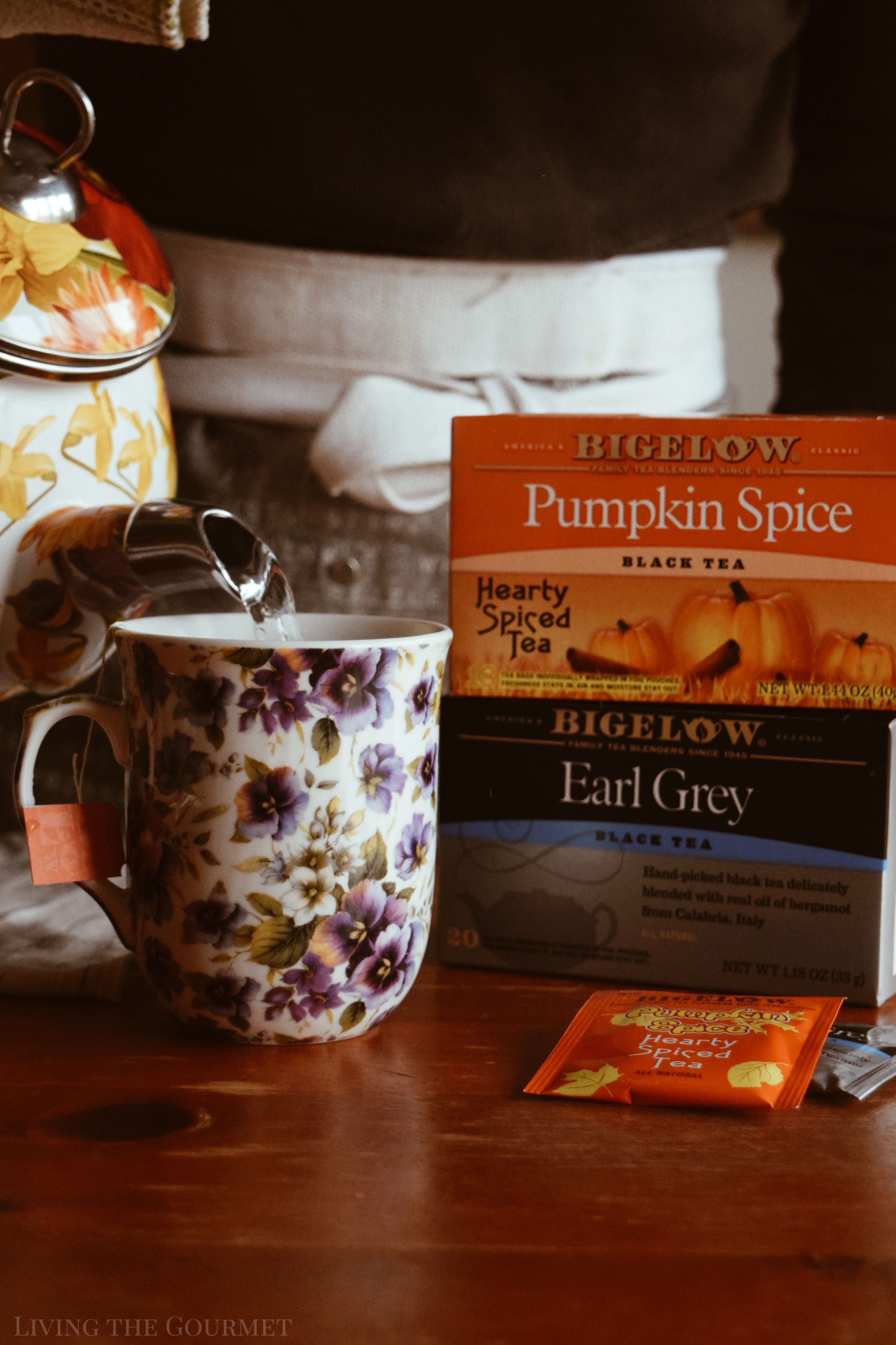 Now, being who and what I am, why stop at the tea? Why not have an accompanying slice of 'something' that also comes packed with its own assortment of quintessential fall flavors? That, of course, brings us to today's recipe – Walnut Tea Cake.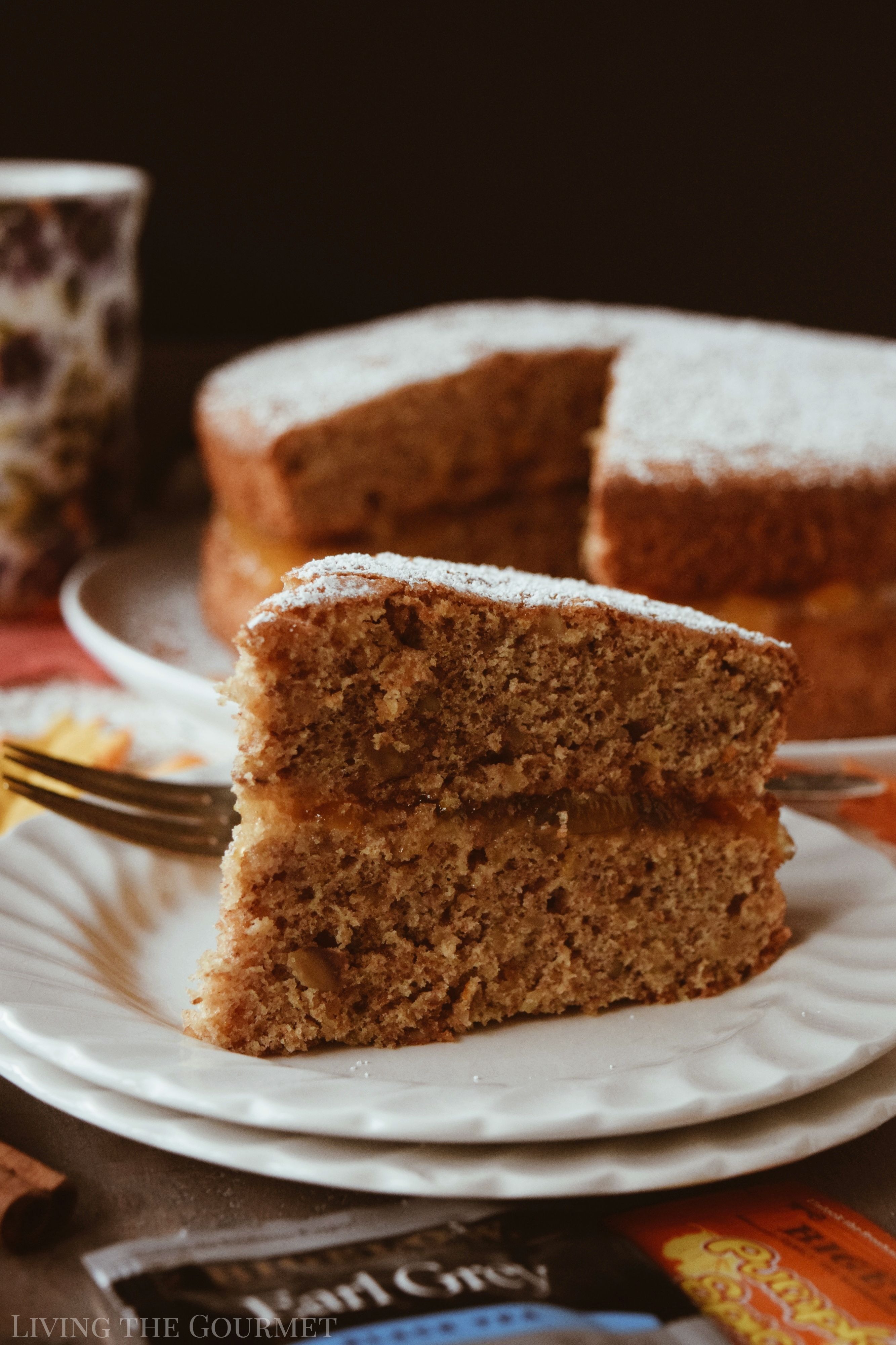 Today's walnut cake is almost precisely what it sounds like – a walnut cake that pairs excellently with tea.
To start things off, we begin by buttering and flour dusting two nine inch baking pans. After that, combine butter and sugar in the amounts listed below, and mix them until they form a cream-like substance. Then add in six egg yolks to the butter and flour, one at time, beating the mixture thoroughly after each yolk.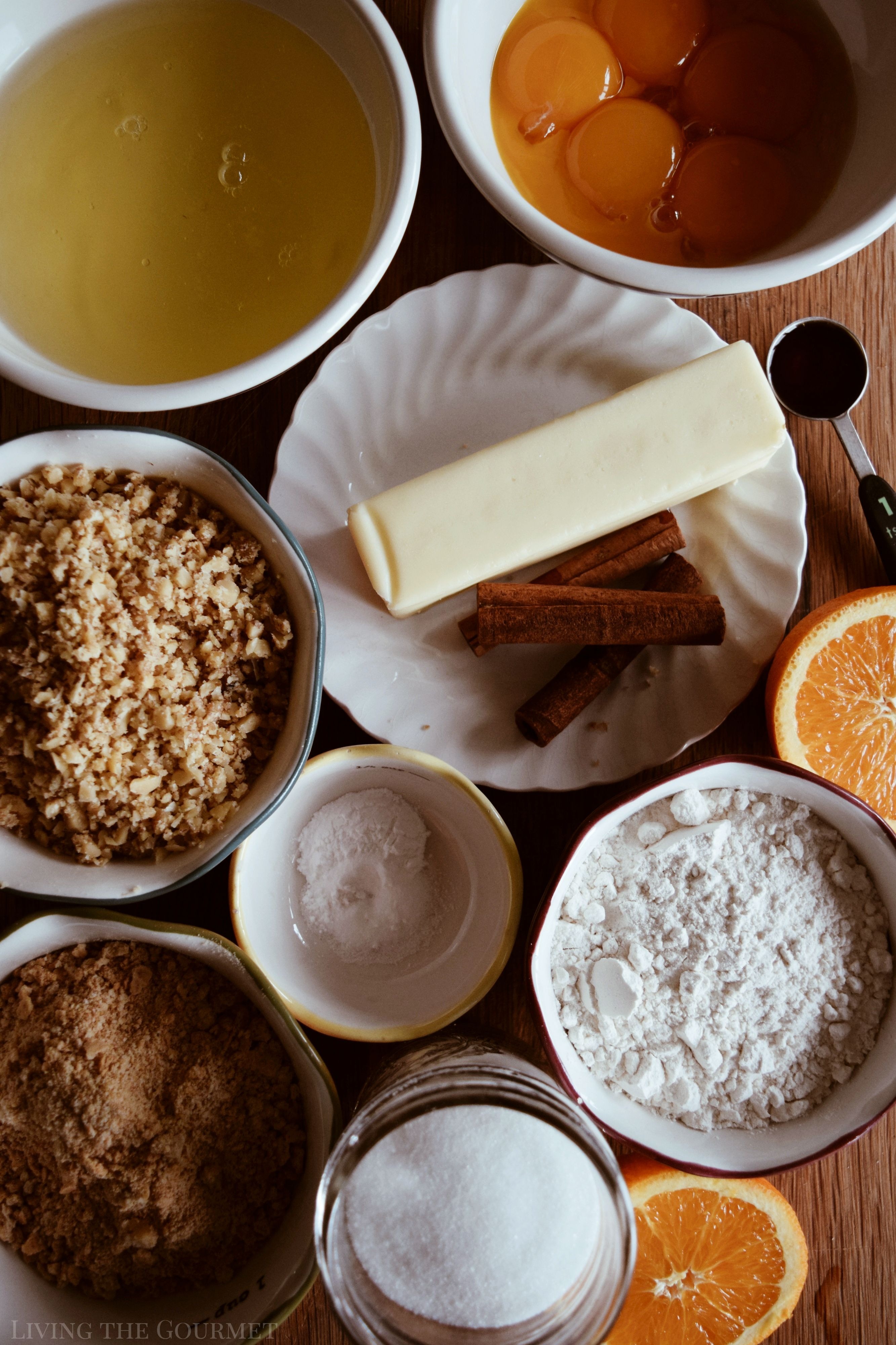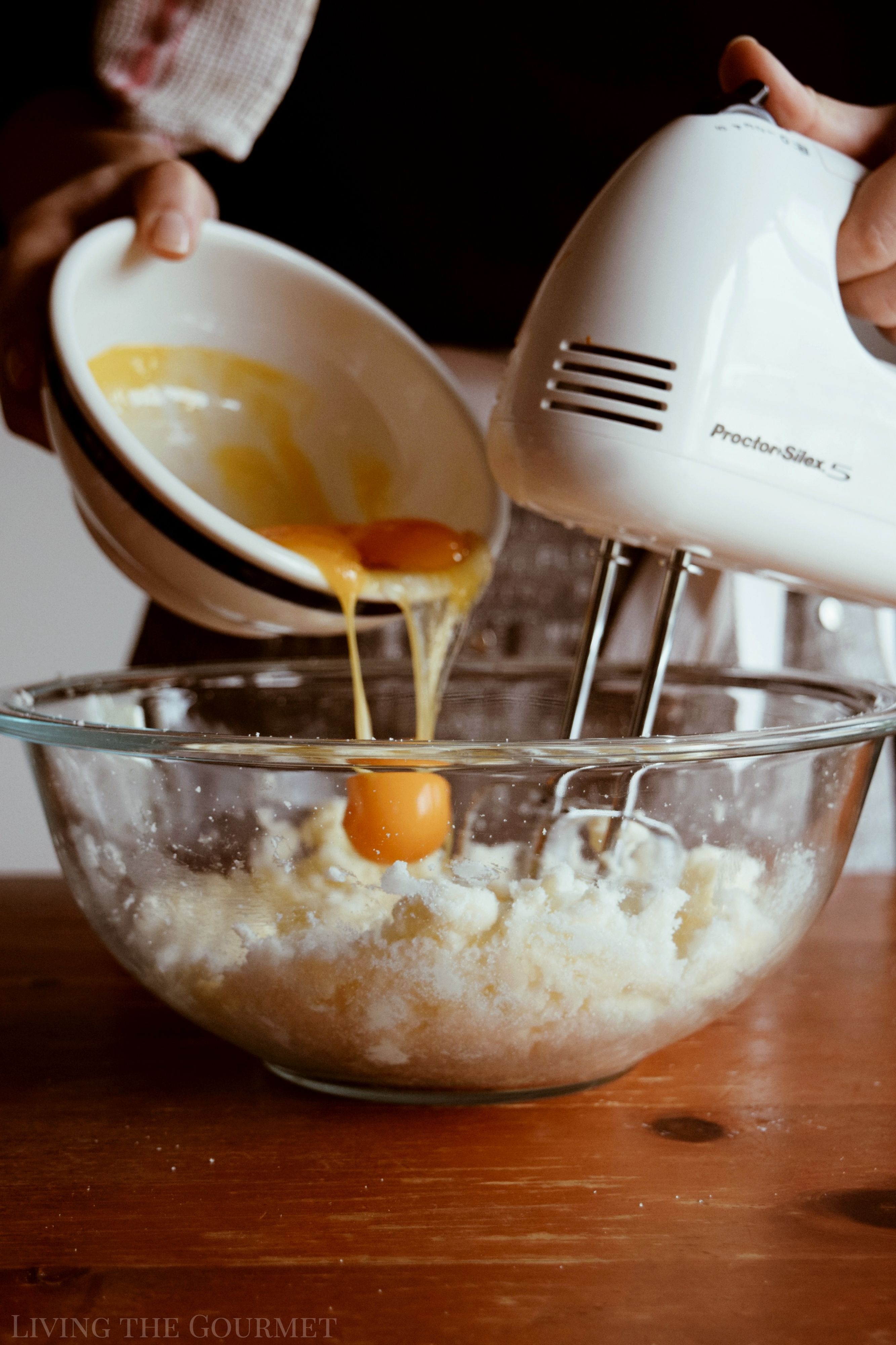 After that, combine graham cracker crumbs, flour, baking soda, and salt, and mix thoroughly before adding to the sugar and flour mixture. Then stir in orange rind and chopped walnuts, and set it aside.
Now, whip six egg whites until they stiffen, you want to achieve nice sharp peaks. Once that's done, fold the whites into the batter, and pour the batter into the prepared pans and bake for about forty minutes. Once the cakes have finished baking, let them cool and remove from their pans. Spread the apricot preserves over the flat side of one of the cakes, then assemble and dust with powdered sugar, and you're done.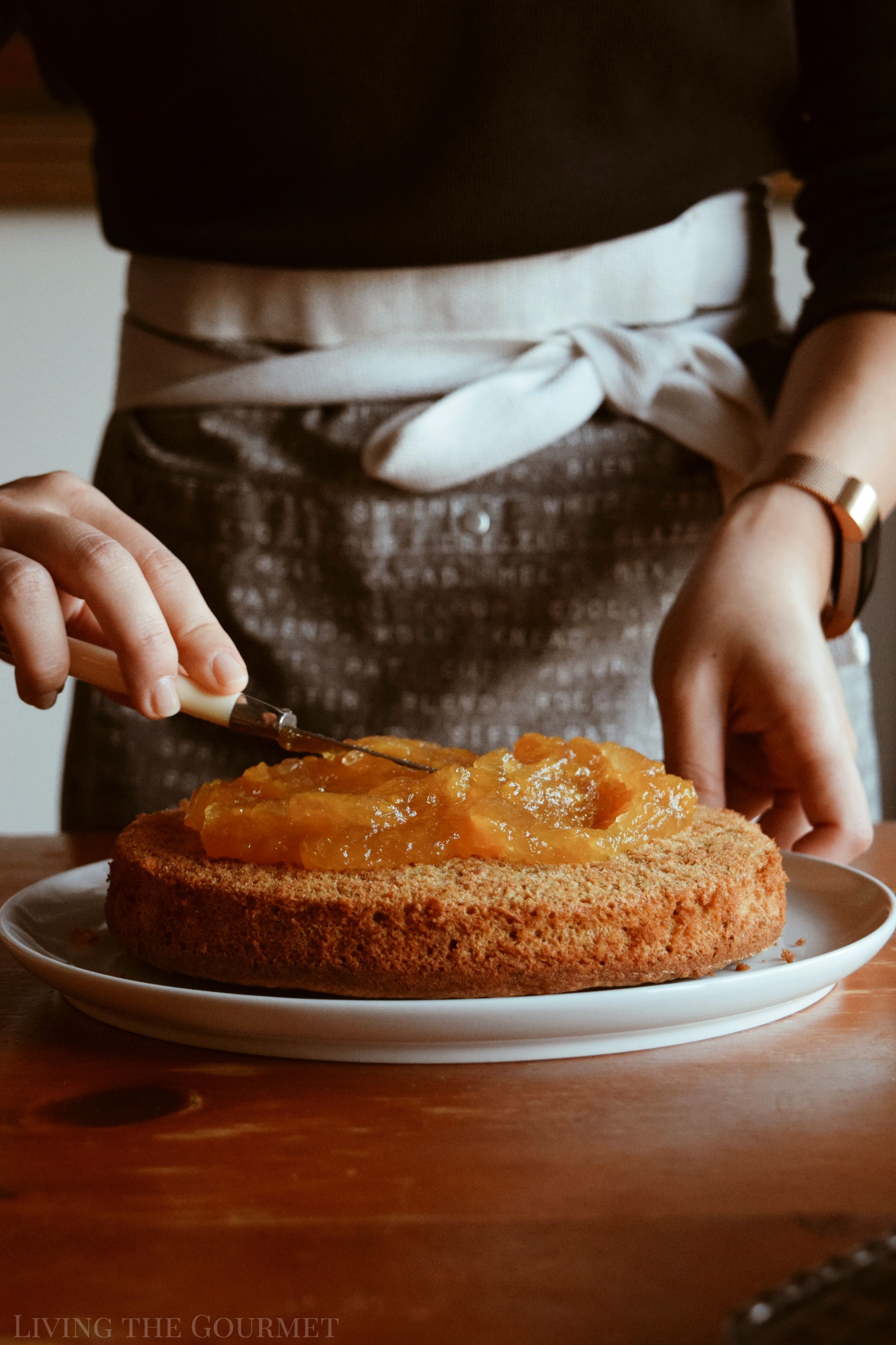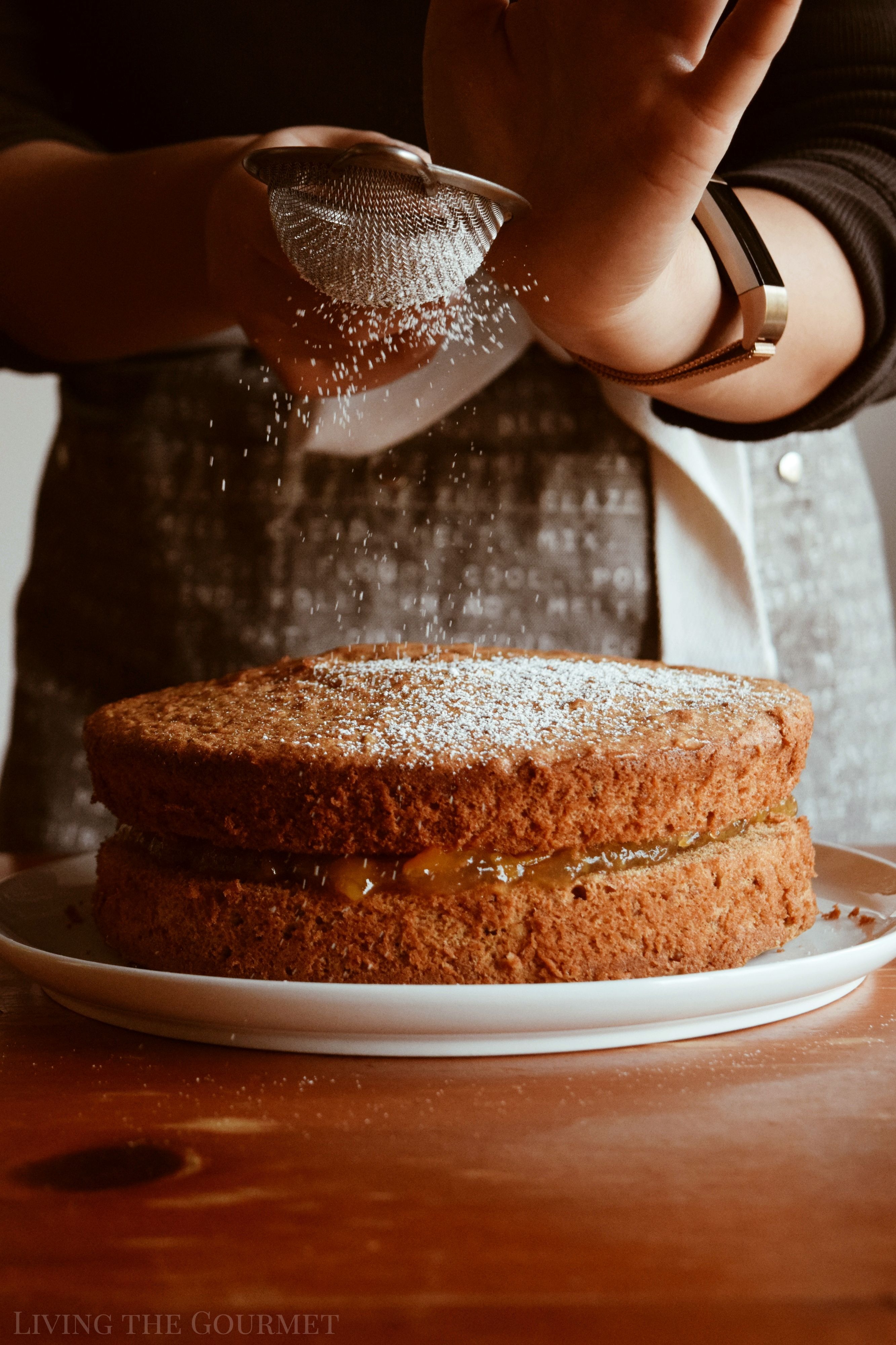 Living the Gourmet
Yields 1 cake
Walnut Tea Cake
10 minPrep Time
40 minCook Time
50 minTotal Time
5 based on 29 review(s)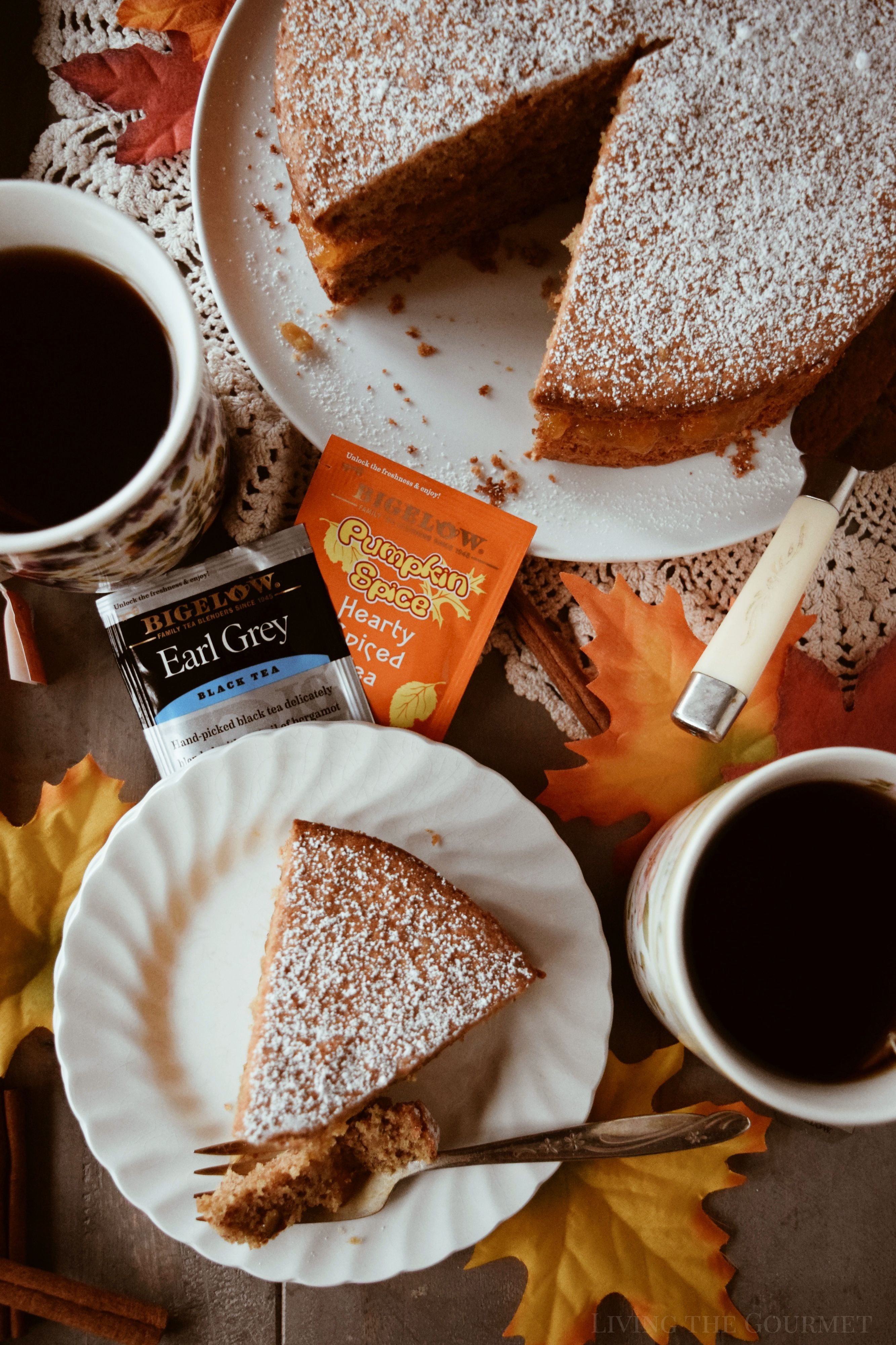 Ingredients
½ cup unsalted butter – (one stick) softened
1 cup sugar
6 eggs – separated
6 oz. graham crackers – pulsed fine
½ cup flour
1 tsp. baking powder
¼ tsp. salt
½ cup orange juice
1 ½ tsp. orange zest
1 ½ cups finely ground walnuts
1 cup apricot preserves or preserves of your choice
Confectioners' sugar for dusting
Instructions
Preheat Oven 325 degrees F.
Butter and dust with flour - two 9- inch layer pans
Cream together butter and sugar until fluffy
Add the yolks, one at a time, beating the mixture after each yolk
Combine the graham cracker crumbs, flour, baking powder and salt
Add to the butter and sugar mixture along with the orange juice and beat
Stir in the orange rind and the chopped walnuts
Beat the egg whites until stiff and fold into the batter
Pour the batter into the prepared pans
Bake 35 – 40 minutes or until the toothpick test comes out clean
Allow the layers to cool 10 – 12 minutes before removing from pans
Place the preserves on the flat side of one layer and top with the other layer
Dust the cake with confectioners' sugar and serve.
7.8.1.2
787
https://livingthegourmet.com/2018/10/walnut-tea-cake.html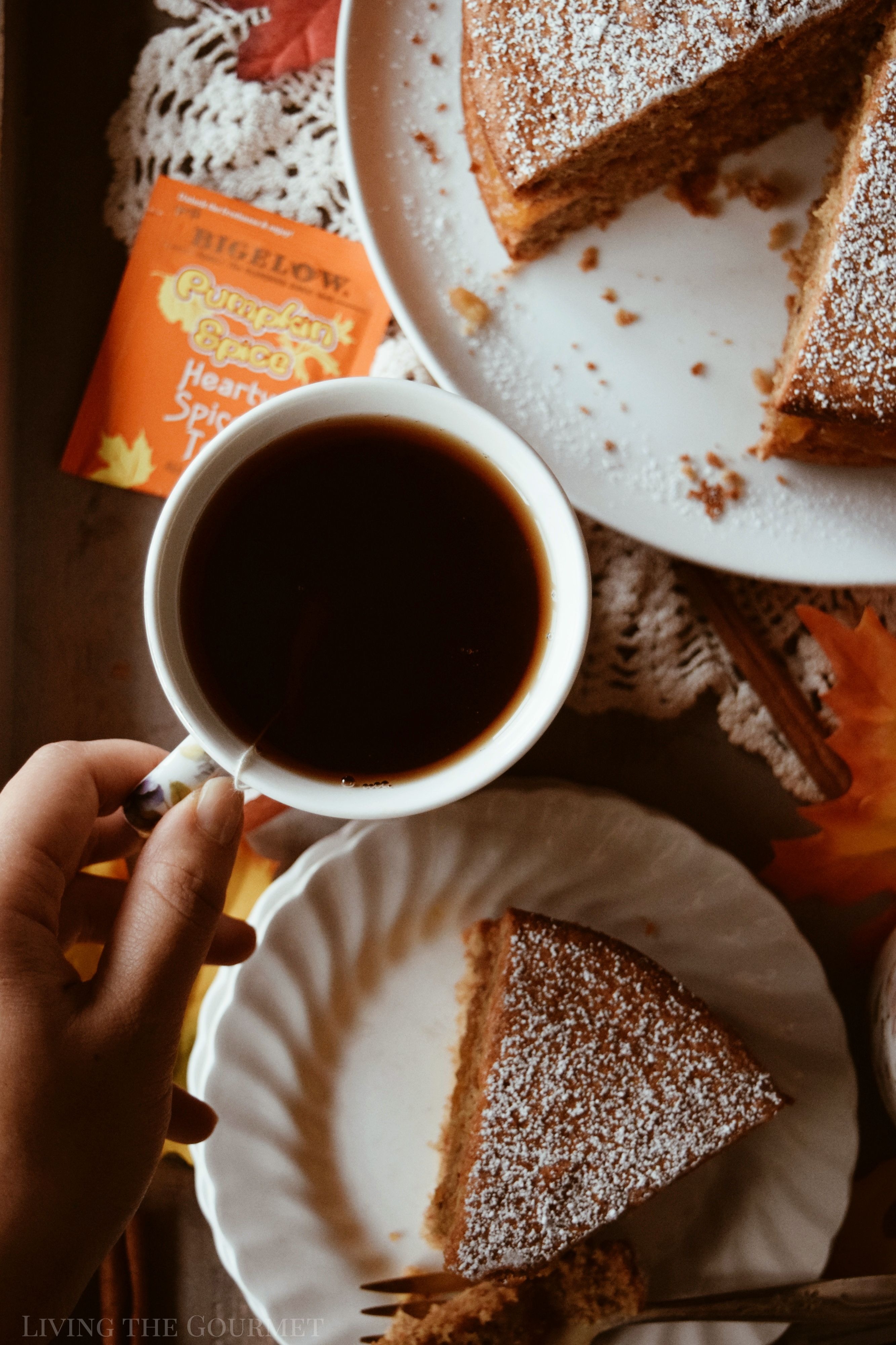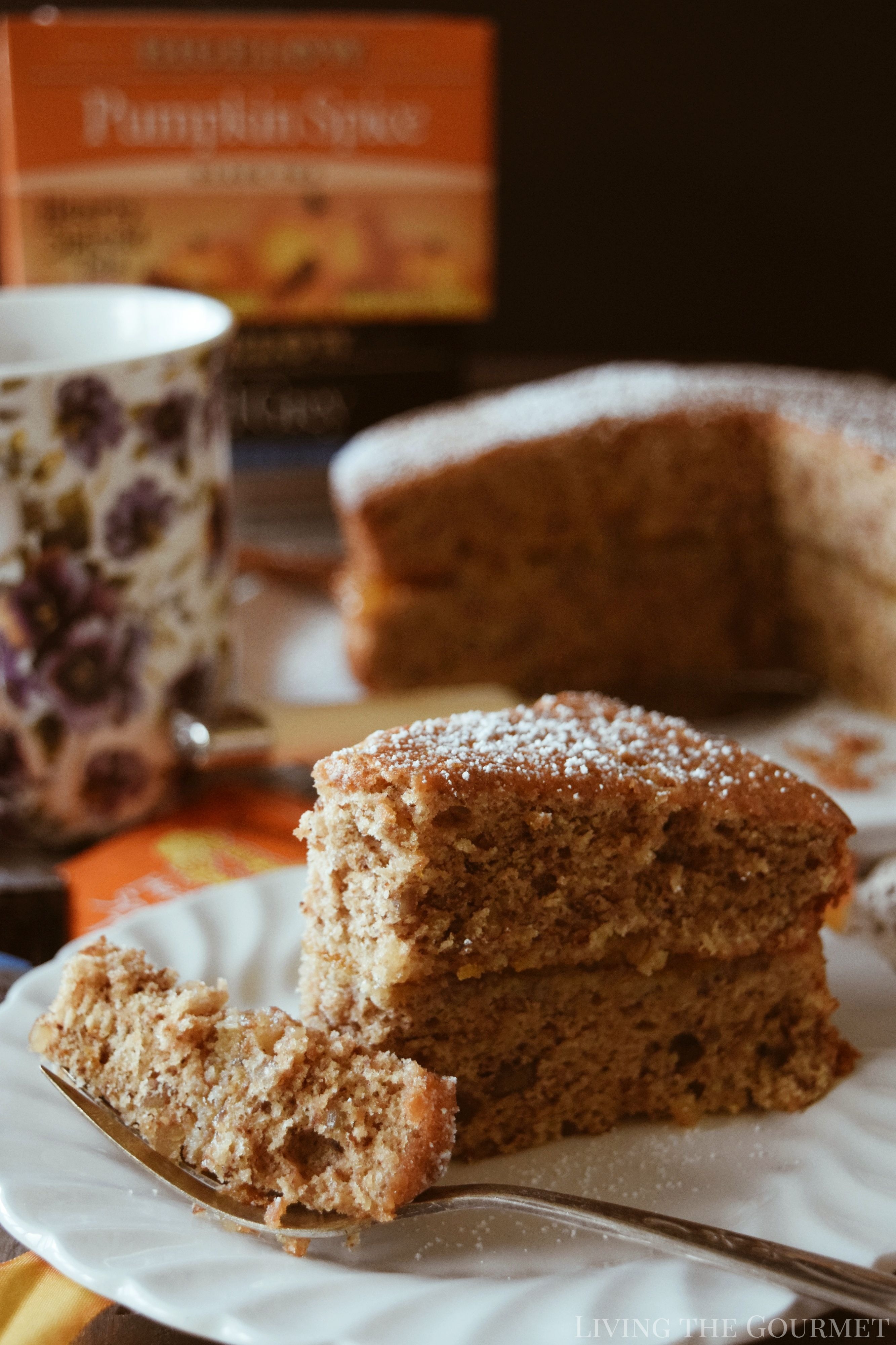 Served alongside Bigelow Pumpkin Spice Tea or any other preferred Bigelow tea, and this is simply a perfect fall dessert.
Don't forget to connect and follow Bigelow for tea time inspirations and updates on all your favorite seasonal blends:
Twitter
Facebook
Instagram
Enjoy with Love!
2