I am pleased to welcome composer Jake Monaco to Living the Gourmet, who is immensely successful in the world of animated television scoring.
Jake most recently scored the Warner Bros. Animation's Scooby Doo and the Gourmet Ghost, starring world-famous chefs Bobby Flay and Giada De Laurentiis, which released on DVD September 11. It's a perfect family movie for Halloween.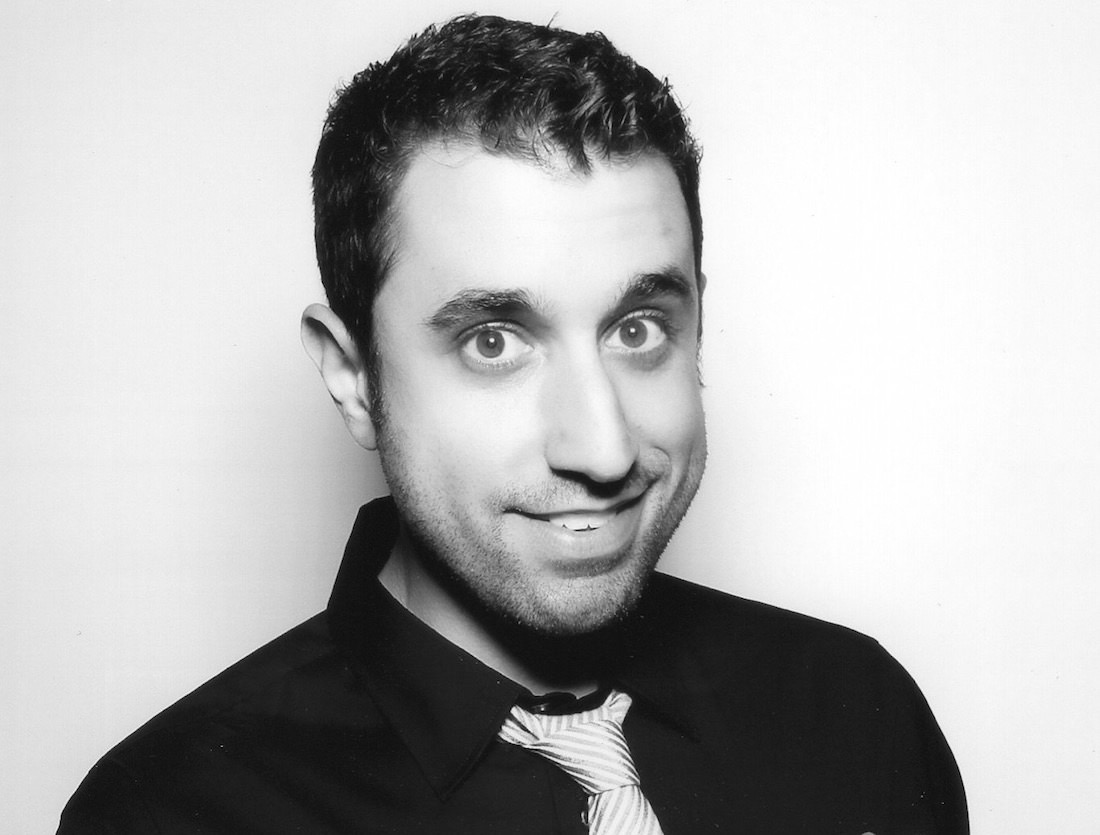 In their latest adventure, Scooby and the gang get into their usual hijinx as they venture out to Rocky Harbor Culinary Resort to meet Fred's uncle, world-famous chef Bobby Flay. However, Mystery Inc. quickly learns that this state-of-the-art cooking resort isn't all steak and potatoes after they find out about the legend of the Red Ghost and the unsolved disappearance of Bobby Flay's great ancestor chef!
The film is scored by Jake Monaco who is currently featured in family-favorite animated series, Amazon's The Stinky and Dirty Show and Netflix's award-winning Dinotrux.
Today, Jake is here to talk about the long-running legacy of Scooby Doo, the nuances of mixing genres in animation with music, and the unique instruments he uses to get the perfect sounds for the score.
Catherine: Hi Jake, I want to thank you for visiting with Living the Gourmet.
I'm speaking with Jake Monaco who is scoring the new Scooby Doo & the Gourmet Ghost. I am a huge Scooby Doo fan and I have my Scooby Doo coffee mug in front of me as we speak!
Jake: (Laughs) I love it! Now, do you have a Scooby Doo apron? That's the question!
Catherine: No, I don't but I have my mug and I love it…it just brings back lots of happy memories. My kids grew up with it and I loved it, so this was just a really fun opportunity. It's something dear to my heart!
So this movie is incorporated with cooking which is what I do, so who's better than me?
Jake: Exactly! Two of your favorite things combined! (Laughs)
Catherine: Yes! So, tell us a little bit about this. The voices are Bobby Flay and Giada De Laurentiis, so that's exciting. Please tell us more about it.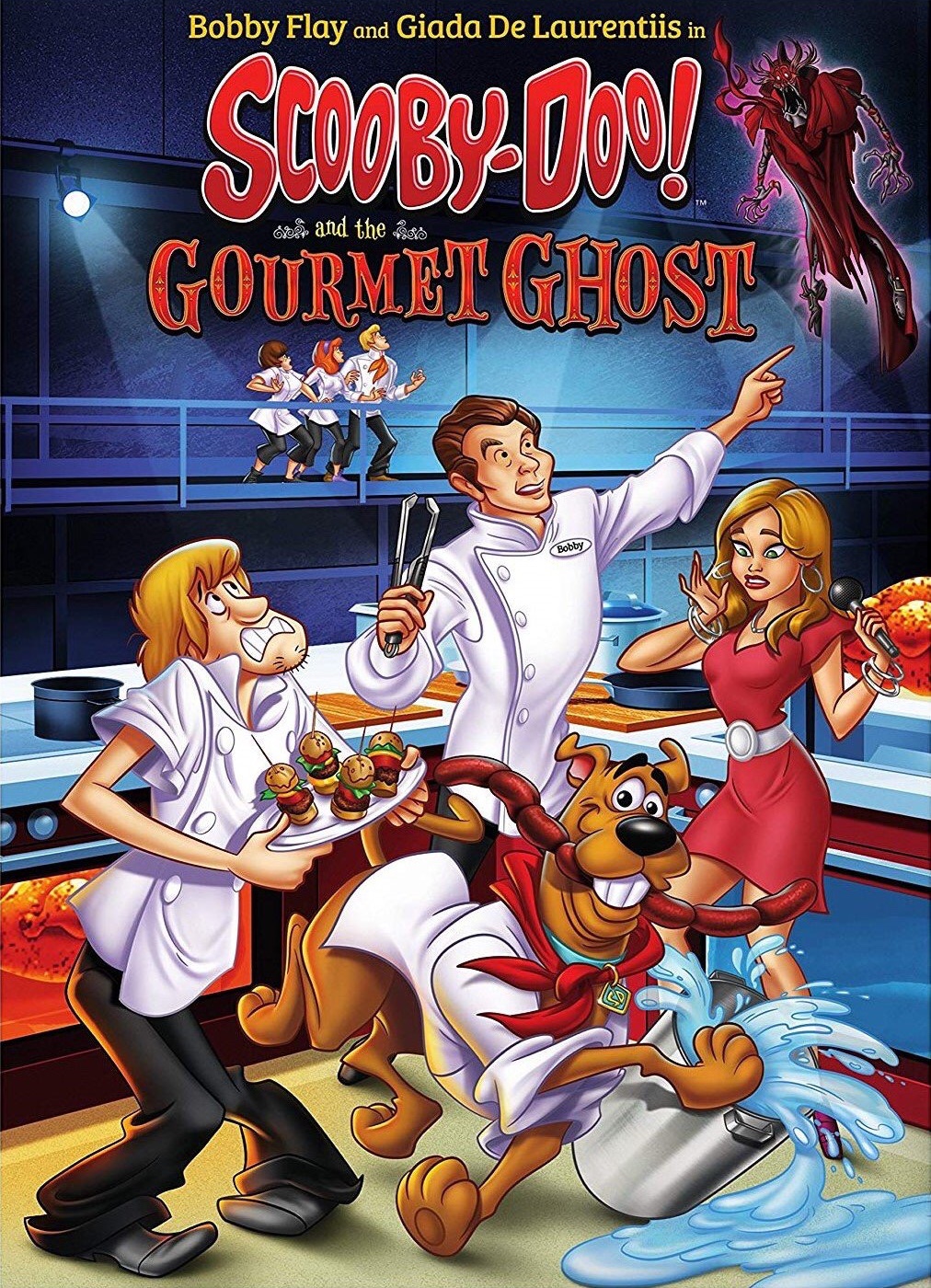 Jake: Well, it's a series of events. Fred is going to visit a relative of his and it's at an old inn that has been around since Colonial times and has been turned into a cooking arena of sorts…like a nice bed and breakfast situation but for more established chefs. Bobby Flay and Giada De Laurentiis get voices in the film, and the entire mystery centers around this cooking arena and cooking competition.
Catherine: Especially since cooking has been elevated to a new form of stardom with the celebrity chefs. Everybody knows Bobby Flay and Giada so it's whole new world of celebrities…so I am sure that will attract a lot of people. Would you like to tell us a little bit about the legacy of Scooby Doo? I know it's a cartoon that has been around for a long time.
Jake: Absolutely. I've been a fan since the original show. I think when I first started getting into it, it was around Hey Scooby-Doo! And then being able to go back and see the original version of the 70s is great. Definitely pulled some sonic inspiration from the scores from the original series. So bringing back some of those elements in for the film, Gourmet Ghost.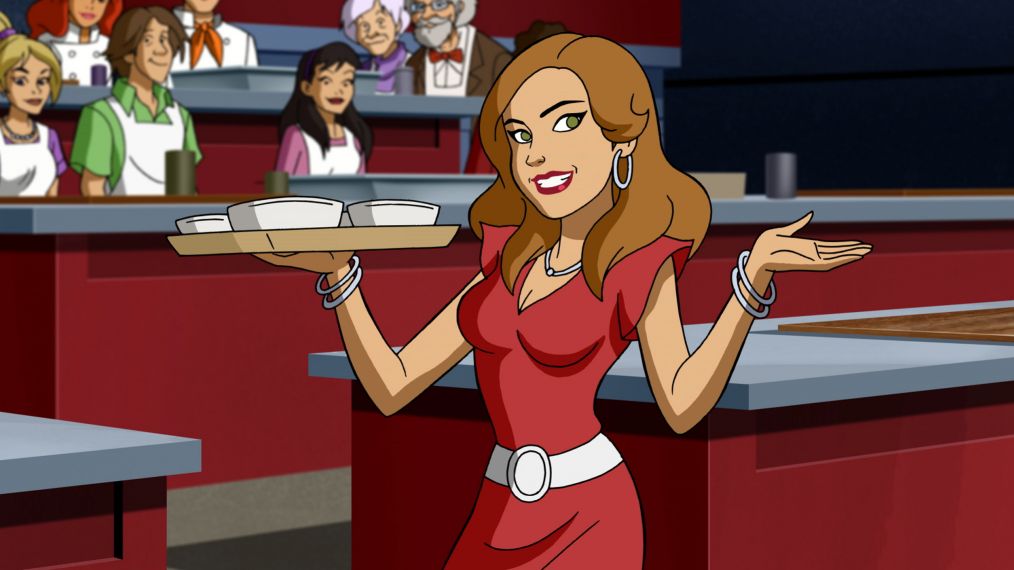 Catherine: Well, Scooby-Doo is definitely leftover, with the van and whole persona, it's really leftover from the hippie generation and the 60s and 70s. So did that influence your music at all?
Jake: Oh absolutely. Definitely, flavors from that, and mainly the jazz side of things….not necessarily the hippie, free love kind of sound, but the original period embraced the small jazz combo. So, it was just taking that and making it more modern and contemporary…a little more accessible to a wider audience at this time.
Catherine: You will also get the older audience exactly for that reason…because Scooby-Doo is a part of so many people's lives. So you're going to get a whole array of age groups to see it- from people who love to cook to people who grew up with it. Did that influence how you wanted to approach the music?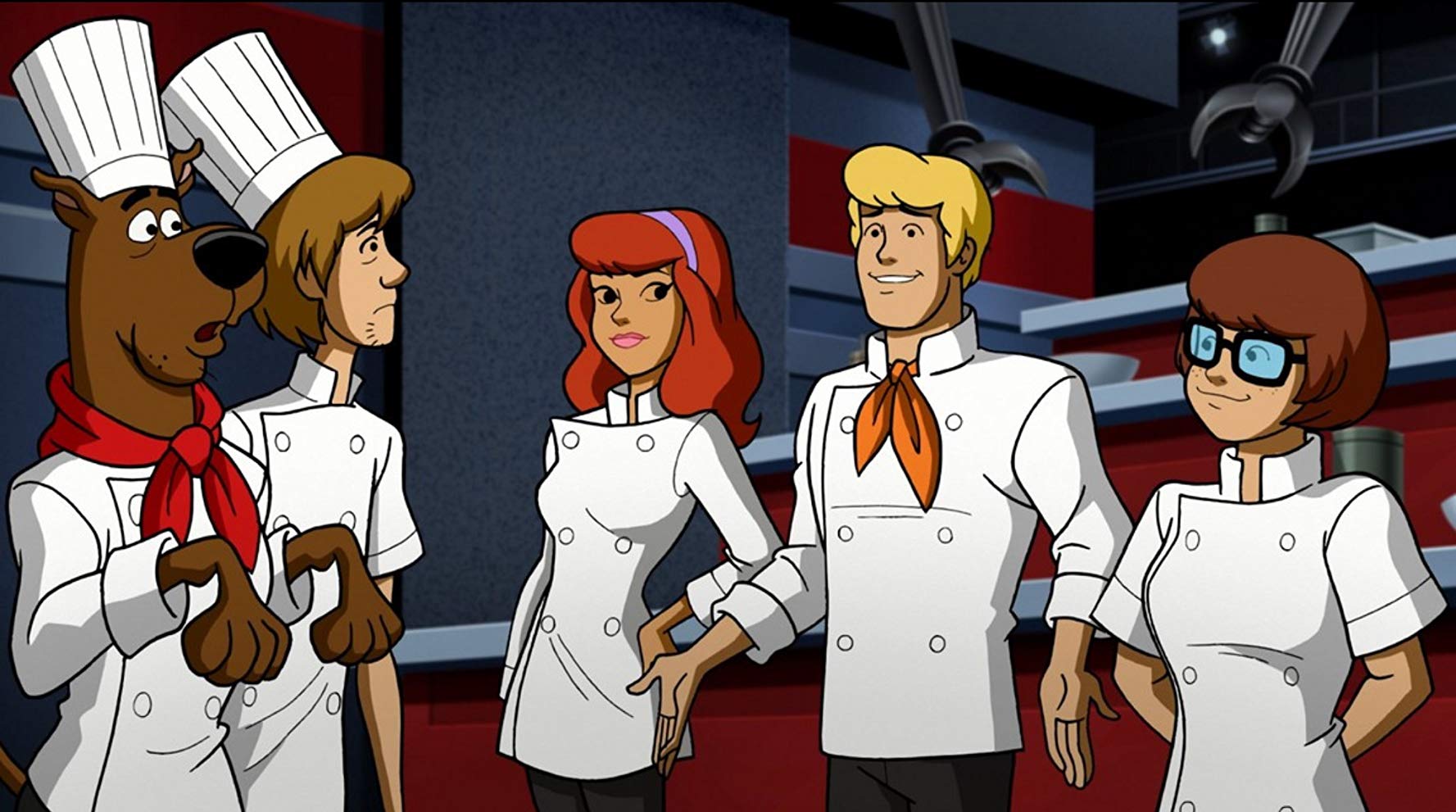 Jake: In some parts yes. Scooby and Shaggy kind of go off and have their hijinx that they usually get involved in. So that does tend to go a little bit more in the younger direction. However, during the rest of the parts especially having to do with the mystery or having to do with the ghost, it sets the point-of-view in a more mature way and treating the music a little more seriously can help enhance the comedy in a lot of ways and help it feel slightly more mature in that respect. So, it is more widely appealing to an older audience as well…you know, bringing back some good and nostalgic memories from when the older audience may have seen the show in the 70s, 80s, or any iteration between then and now.
Catherine: Right, with the classic rock, the glam rock…you know, it just spanned so many generations. So that's great…including all the different age groups.
Now, your music is featured in a lot of animations, I see. Do you tend to stick to animations or do you work on other features as well?
Jake: I do all types of things, it just so happens that over the course of the last few years it has taken me down the road of animations. The first show being Dinotrux, then Scooby-Doo came in, and there have definitely been a lot of other animation projects…but it very nice to enter into the live action, more adult realm. I love working on hard-r comedies like Absolutely Fabulous: The Movie that came out a couple years ago and I find really fun to embrace…it's just a different style of writing and gives a little bit more freedom in direction.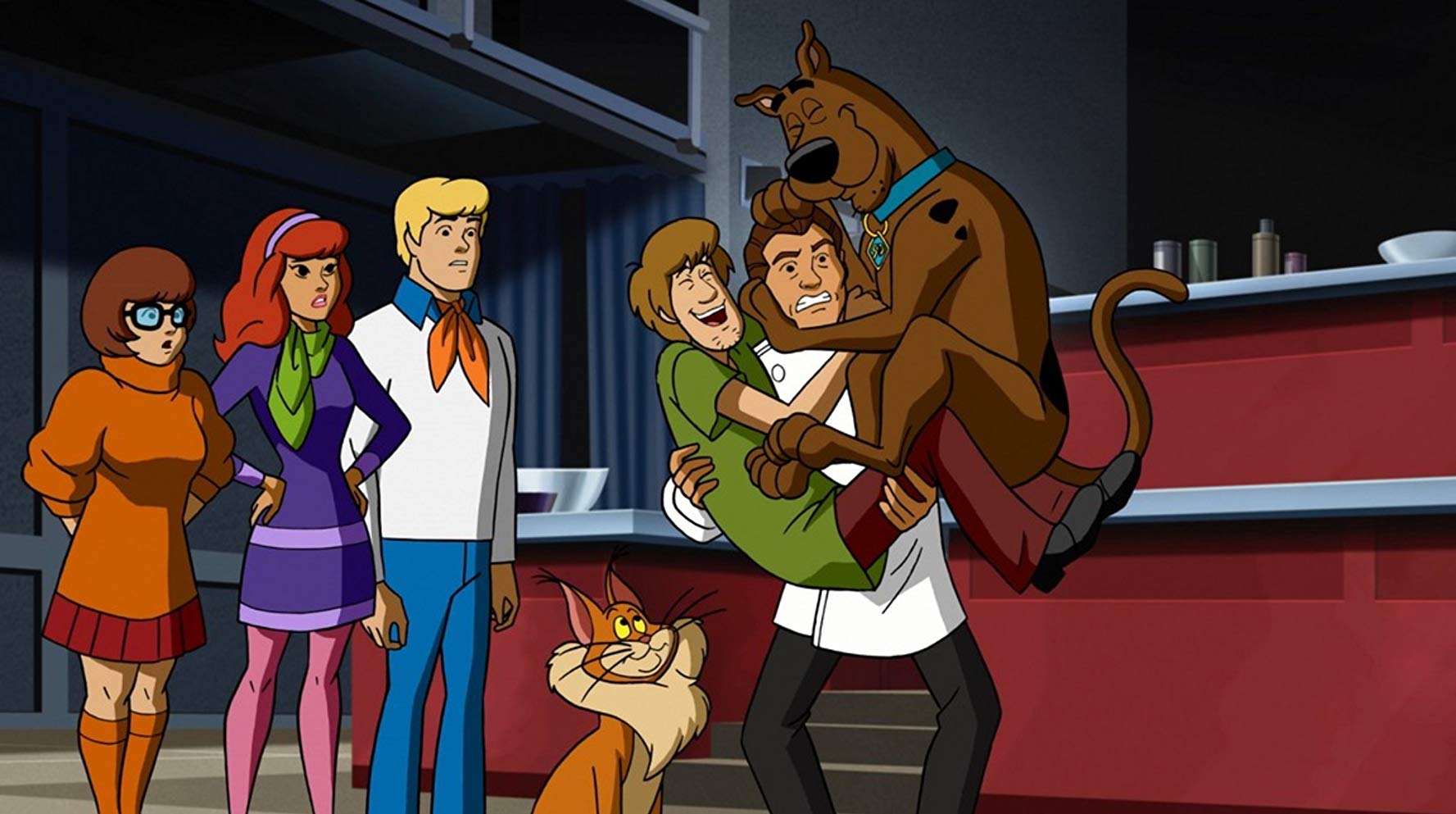 Catherine: Absolutely, especially now so many people are doing voice-over and animation is becoming very popular. It does bring in a whole variety of age groups…a lot of people go to see the movie with their children, and the music is really what gets you attached to a movie. I remember when my children were younger, I would love the music and scores behind the movies that they saw. You really are winning over many age groups with your music.
So now I have to ask, do you love to eat too? [laughs]
Jake: I absolutely love to eat. [laughs] And I love to cook! It was nice to be brought on this project.
Catherine: Well, music and food go hand-in-hand. You can't have a good meal without having good music in the background. It enhances everything.
Jake: I couldn't agree more.
Catherine: What is your instrument of choice?
Jake: I started out playing guitar and that eventually evolved into anything shaped like a guitar- So the mandolin, the ukulele, banjo…I also have a lot of traditional Greek instruments. But again all threaded instruments. Then anything I can bang on and make something musical. [laughs]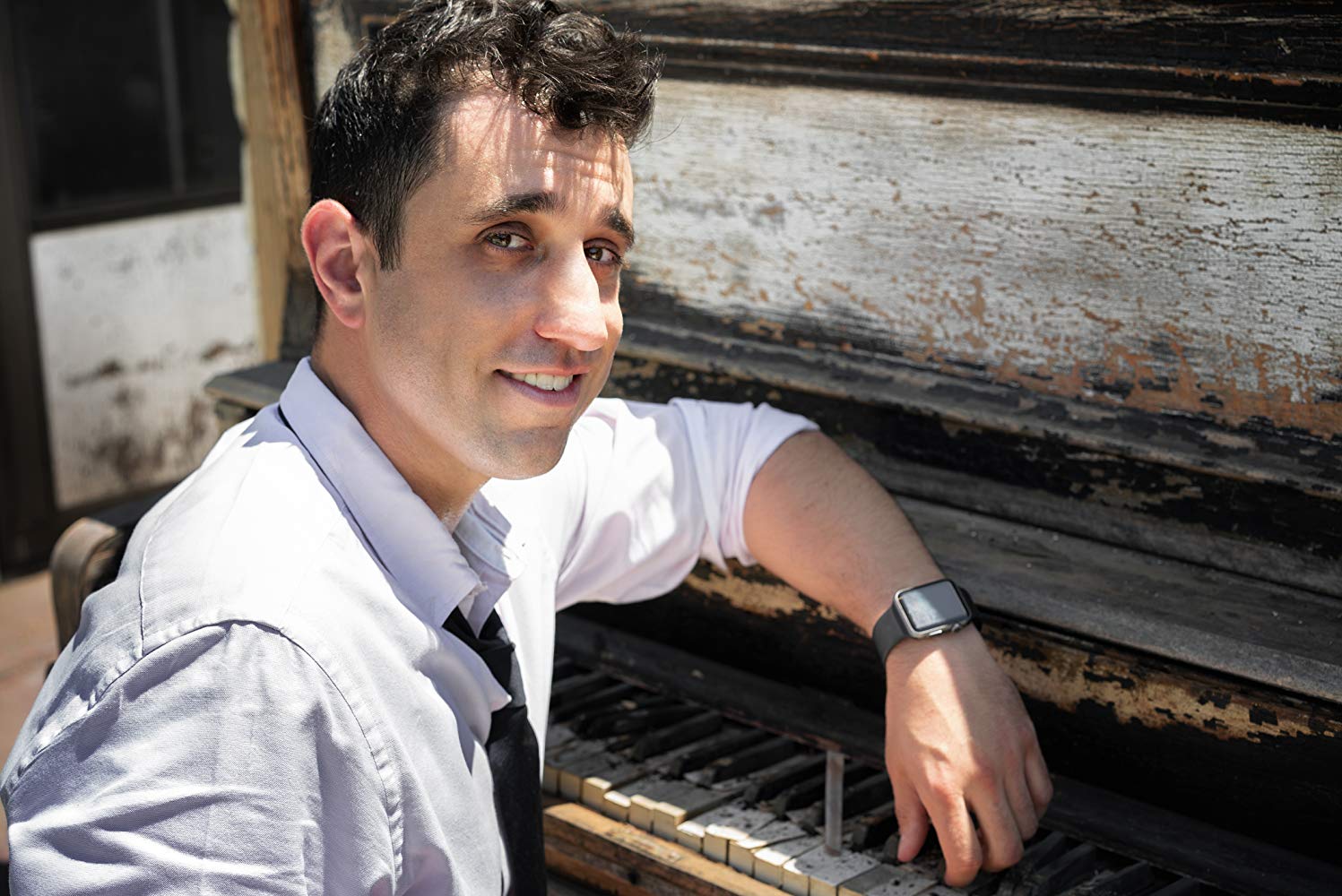 Catherine: That's funny. I was always with the piano but you mentioned the mandolin and I could remember growing up, you would have aunts and uncles- I come from an Italian family- but my aunt had her mandolin and you would always have people break into song and it was so much fun. I haven't heard the mandolin in so long but it's a great instrument and brings back so many memories.
Now you're located in California?
Jake: That's correct.
Catherine: Well if you're ever in NY I invite you to LI and I'd love to cook you a meal.
Jake: I'll hold you to it! [laughs]
Catherine: Well Jake, thank you for coming by. You've already got a fan of the movie and I haven't even seen it yet! Is there a website people can go to, to learn more about your music and upcoming projects?
Jake: Sure. They can go to www.JakeMonaco.com. There's a bunch of new music and updates on projects I'm working on so they can go and listen from the small jazz stuff I've done to the large orchestral stuff.
Catherine: Wonderful. Thank you so much for visiting and I hope on your next project, you come back again!
Thank you, Jake, for visiting! We hope you enjoyed this interview and check out Scooby-Doo and the Gourmet Ghost soon! Don't forget to check out Jake's next project, the highly anticipated film Dumplin coming this December to Netflix!
0