This post has been sponsored by Pindar Vineyards. The following message is intended for an audience 21+ and all opinions expressed are my own. Please enjoy responsibly.
We're celebrating Labor Day with a sophisticated feast showcasing the best of what Long Island has to offer. From locally grown produce highlighting the menu to a regional wine selection from Pindar Vineyards, it's an evening you and your guests will never forget.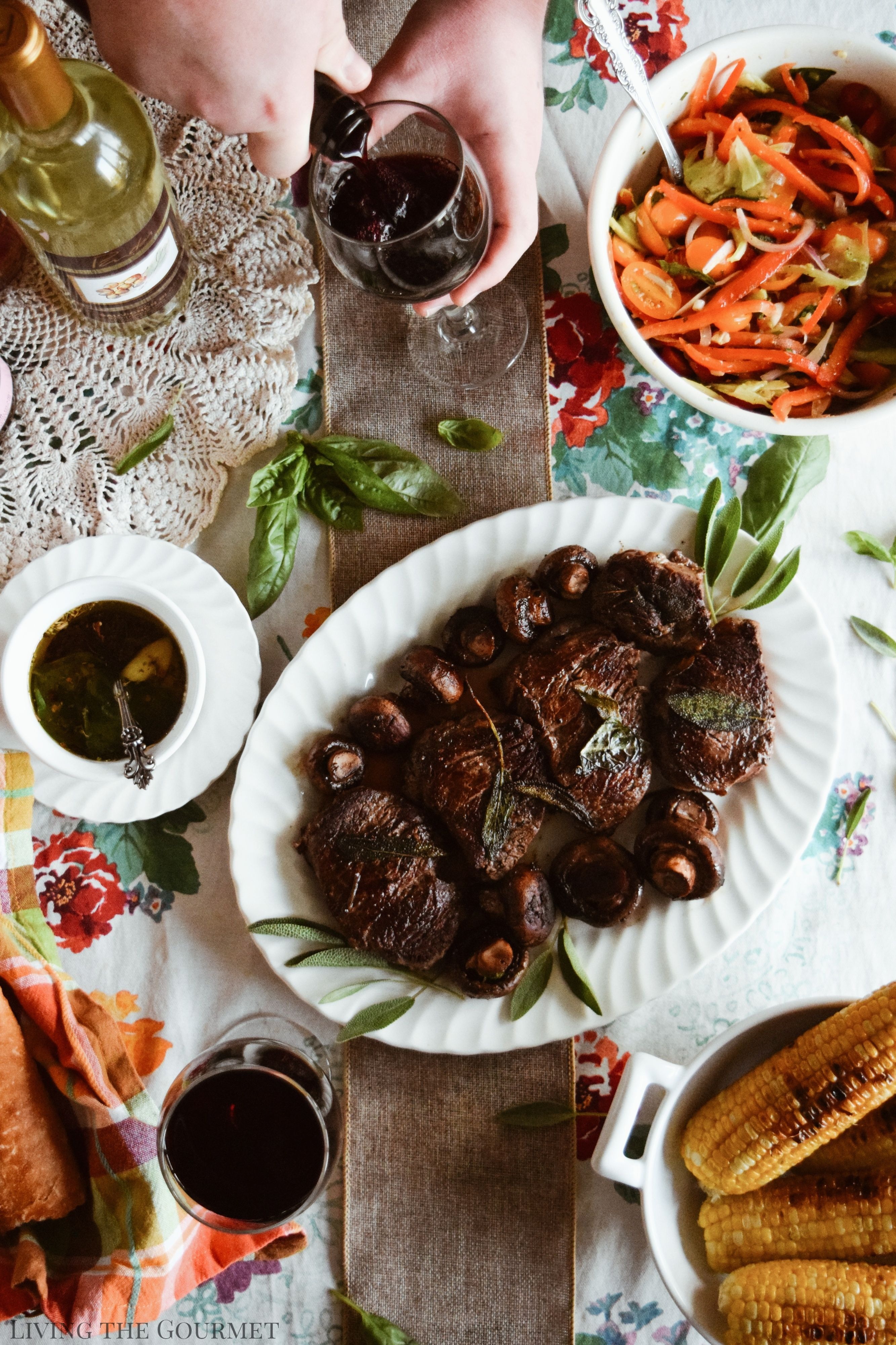 Exploring New York Wines Part One: Touring Long Island
"Learn to love change, learn to thrive on change, because as life teaches us Constant Change is the only Constant in Mortal Life."
Perhaps few places in living memory better embody that sentiment than Long Island. As a child, and even well into my early adulthood, I can remember Long Island being rife with local farms crisscrossed by tiny two-lane roads – which were predictably and blissfully empty. Shopping for 'locally grown produce' wasn't a declaration of 'natural living' or 'going gourmet,' it was just a simple fact of life, and I can remember shopping at local farm stands with my mother, regularly, for everything from tomatoes and corn to string beans and apples. Back then, Long Island was positively rural, so much so that when my parents moved out to the Island from the Bronx, my uncle jokingly quipped that they had moved to 'The Sticks.'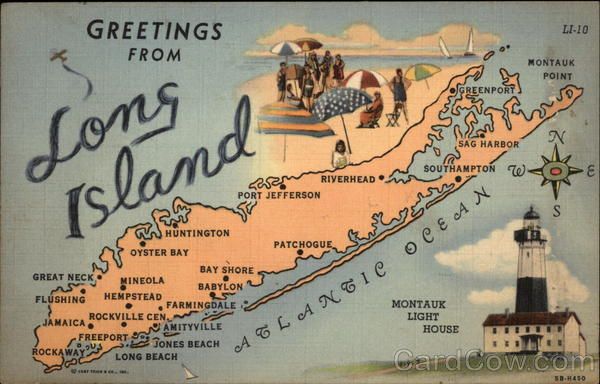 Then things started to change, and change rapidly. As the seventies drew to a close, agricultural subsidies dried up, land prices skyrocketed, and rapid development was fanatically encouraged and heavily subsidized. The intended end result was achieved, and most of the local farms were sold off and paved over.
Today, the rural areas of a still rapidly urbanizing Long Island exist largely as escapes for well-heeled city dwellers and celebrities, meaning the Island's relative handful of farms live on as tourist novelties or as a source of 'organic local ingredients' for local gourmets.
However, one very curious change happened right before that aforementioned push for rapid development – and its one that has persisted. You see, just as many of Long Island's farms were on the brink of shuttering, the first seeds of a completely different kind of agricultural undertaking were being sown – those of Long Island's first vineyards, with the first being established in 1973. Fast forward decades, and Long Island has transformed into a critically acclaimed wine region, home to award wineries such as the one being featured here today.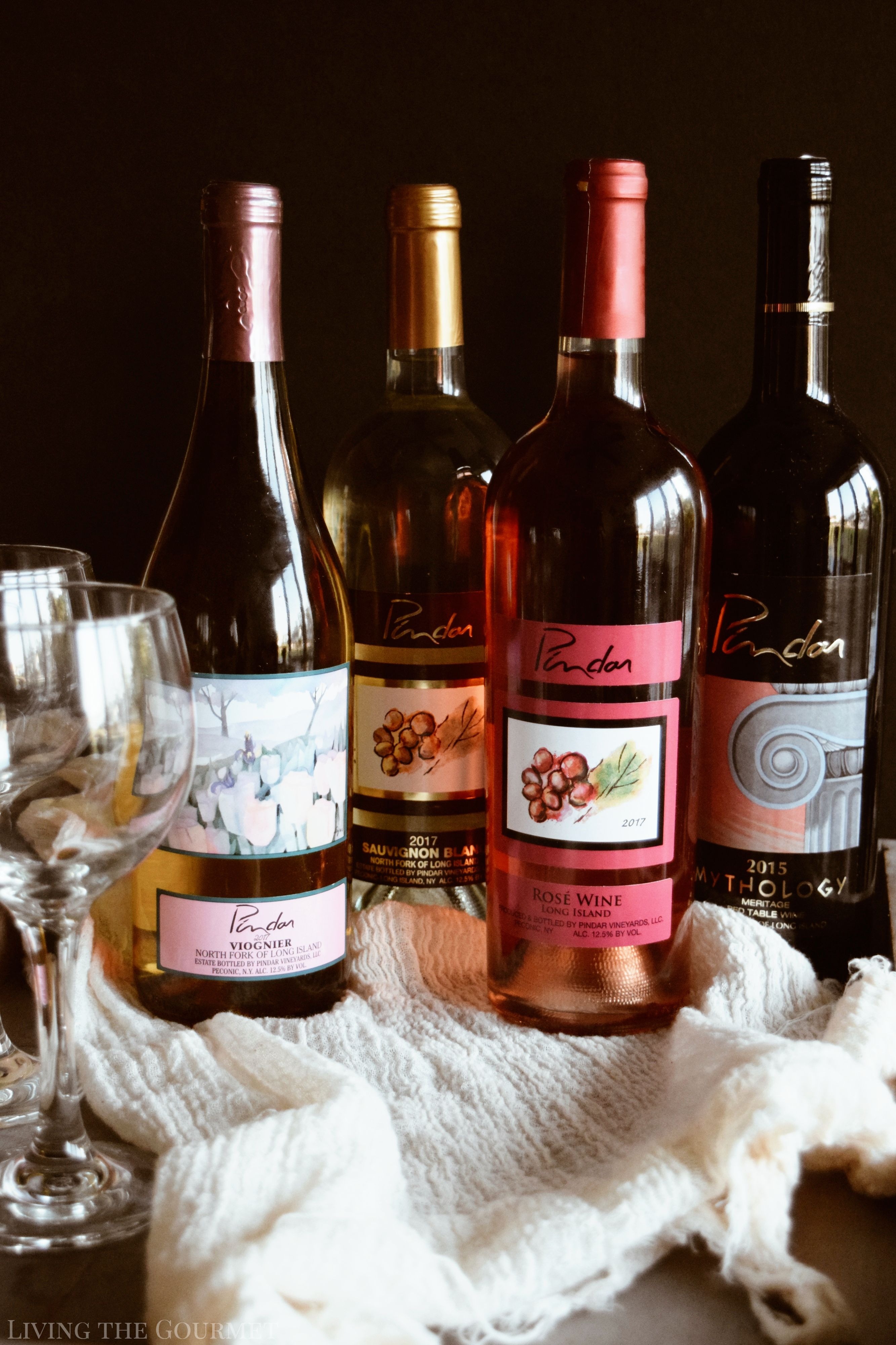 To be sure, it's an unlikely success story if ever there was one. In reviewing wines from around the world, Long Island hardly seems like the 'vinicultural ideal.' For example, the simple 'fact' of Long Island geography means that wineries will never have 'horizon to horizon' vineyards like Napa, nor are there rolling foothills as in Rhône or Mendoza. In reviewing Greek wine, I'm fond of saying that "There is no excuse for a bad Greek wine," since the soil is famously and abundantly volcanic, and both the mainland and the islands are lashed with Aegean sea breeze and blessed with copious elevation, and, of course, winemaking in Greece dates back to at least Neolithic times, giving them ample history and tradition to draw from. Italian winemakers draw from all of the above with the addition of what is arguably the most ideal climate for vines on the planet.
Long Island, well, it's another matter entirely.
In contrast to Greek or Italian winemaking, both of which draw from traditions older than recorded history itself, winemaking on Long Island is barely four-decades old. Long Island's forks, where the vineyards are located, by comparison to Mendoza or Napa, make for rather cramped geography, and there are obviously no foothills or volcanism to take advantage of. In contrast to Italy, Long Island's maritime climate is home to torrential rains that can, quite literally, rot away crops, and, on the other end of the spectrum, droughts that can starve away even the hardiest of vines. Add on flooding, hurricanes, infamous Nor Easters, harsh winters, and exorbitant land prices, and Long Island seems like an area most winemakers would seek to avoid.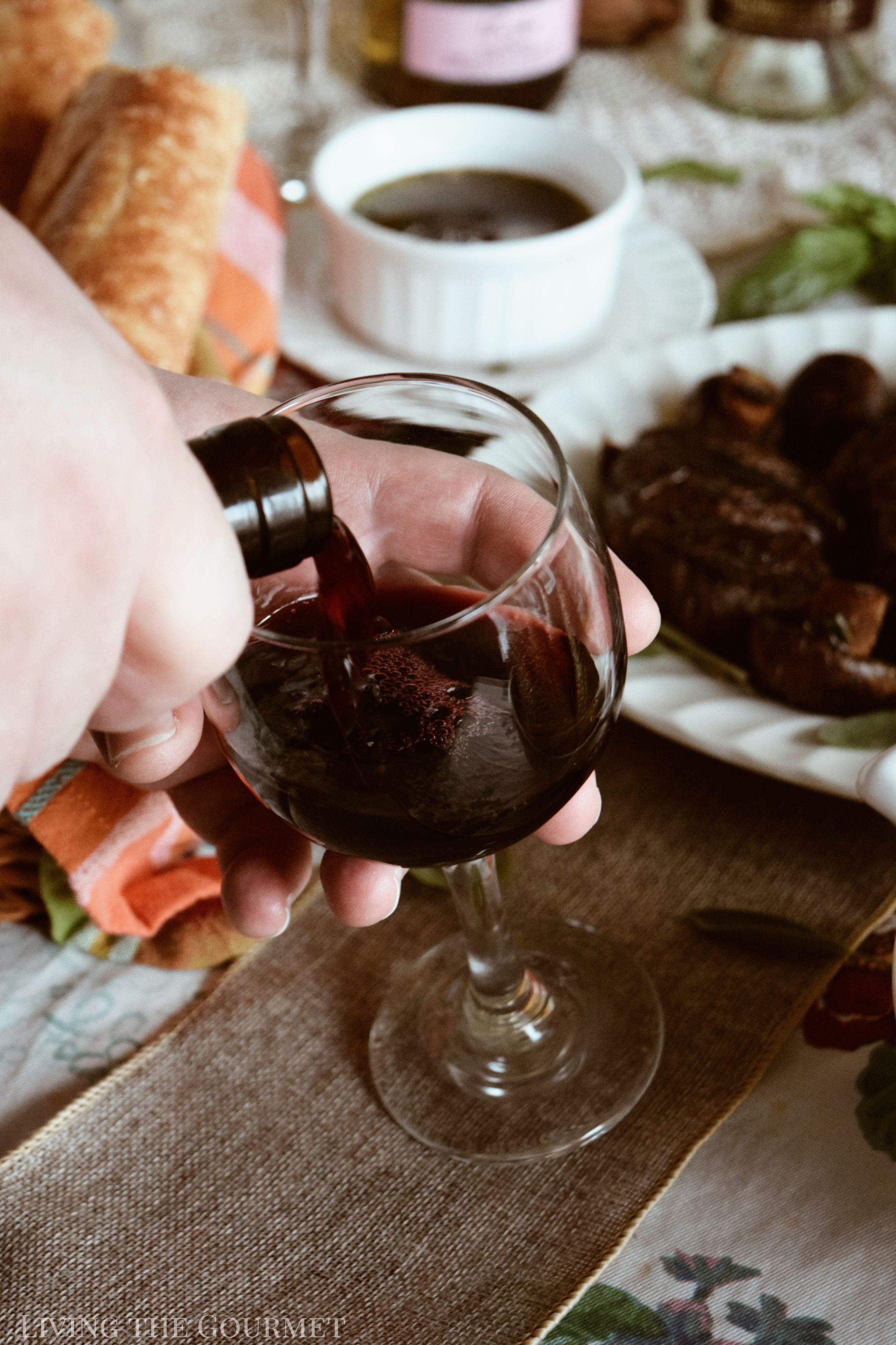 Yet, despite all of that, Long Island wine is considered by countless critics to be the home of the best wines on the Eastern seaboard, with the Wine Industry Advisor commenting in a January 30th article of this year that "Long Island wines have earned their place among the top tier of American wines."
To that point, the very best Long Island wines are said to be the best balanced. Restauranteur Mike Mraz is quoted in a 2012 Saveur article as saying of Long Island wine that "It's not earth-driven, rustic, Old World, and it's not the fruit bombs of the West Coast. We're in between…Balance is a hallmark." On this, I wholeheartedly agree. However, that same Saveur article attempts to attribute the success of Long Island wines in part to the local temperatures, saying that "Sea breezes keep temperatures moderate." Perhaps I'm just unlucky, but I've yet to have the sea breeze off the Great South Bay prevent the river outside my office window from transforming into solid ice…from rushing water…in the span of an afternoon. So much for 'moderate' temperatures courtesy of the salty air.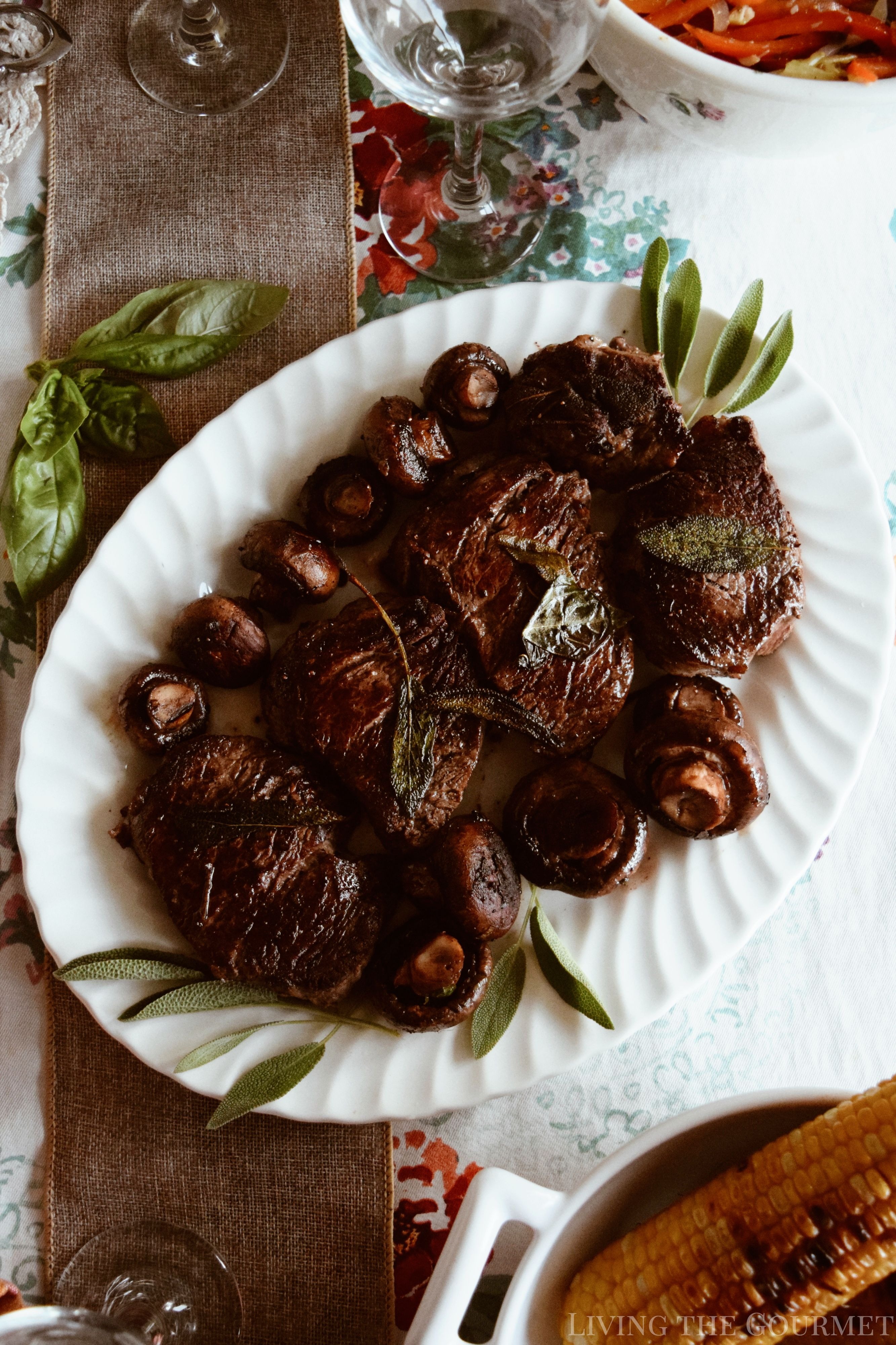 So, what accounts for the success, in terms of quality, of Long Island wines?
To be honest, as much as I would like to sit here and sound smart – I haven't the faintest idea. In fact, I have yet to read or hear anything conclusive that would explain away the success of Long Island wine based purely, or even largely, on its location. This is one time where I'm going to have to defer solely to the dedication of the winemakers themselves who, obviously, have found ways to not only tailor their crops to the local maritime climate, but also to thrive in it.
Long Island is one of America's most diverse wine growing regions, producing exciting, high quality wines. With a wide range of grapes that successfully grow in Long Island's cool maritime climate, the region produces wine with moderate alcohol, intense aromatics, and crisp acidity.
Now, with all of that background and explanation out of the way, we finally come to today's wines, courtesy of Pindar Vineyards which offers a beautiful selection from delicate rosès, aromatic reds, and full-bodied whites.
With the page of its website opening with a quote from the vineyard's namesake, that 'like poetry, good wine can be an emotional experience, lifting the spirit and delighting the senses as it satisfies the soul,' while also being owned and operated by a Doctor named 'Herodotus,' let's just say that for my half-Hellenic heart, this was a stellar first impression.
However, without further ado, let's see if those positive first impressions held true.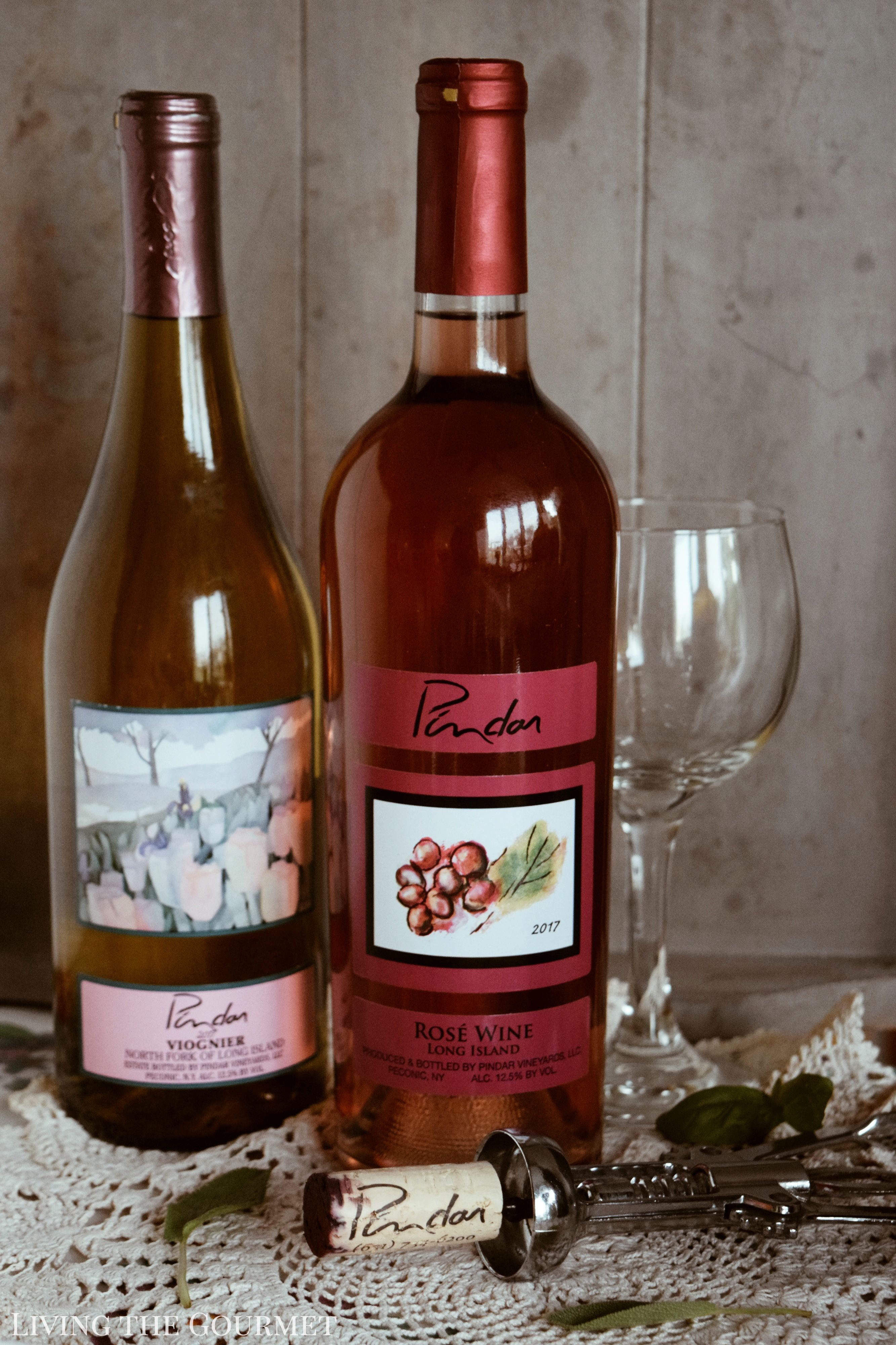 From Pindar, I received four bottles for review, the first of which was a 2017 Rose. The wine introduces itself with a delicate garnet hue, with hints of peach and Mirabelle plum off the top of the glass, veiled over light tropic fruit notes. On sampling, the aromatics largely carry over to the palate, think light fruit notes such as berries, and ripe yellow plum.
For pairing, think fairweather entrees such as light white bodied fish prepared with herbs and olive oil, braised herbed chicken, or perhaps alongside a frisee salad with roasted pine nuts and a light lemon vinaigrette.
Up next, we have their 2015 Mythology Meritage Red Table Wine, which is a cabernet franc led blend of cabernet sauvignon, Merlot, Malbec, and Petit Verdot. Off the top of the glass, tart red berry mixed with herbal essences predominate. Deeper into the glass, the herbal essences become tinged with a pleasant spiciness, and the berry aromas ripen considerably. Throughout the aromatics, the word 'crisp' comes to mind, though without being unpleasantly light or thin bodied. On sampling, juicy red fruit notes, grounded in decidedly herbal qualities are dominant from start to finish. However, I was caught off guard by a vague almond quality laced in the background, which I thought gave the wine I nice touch of complexity.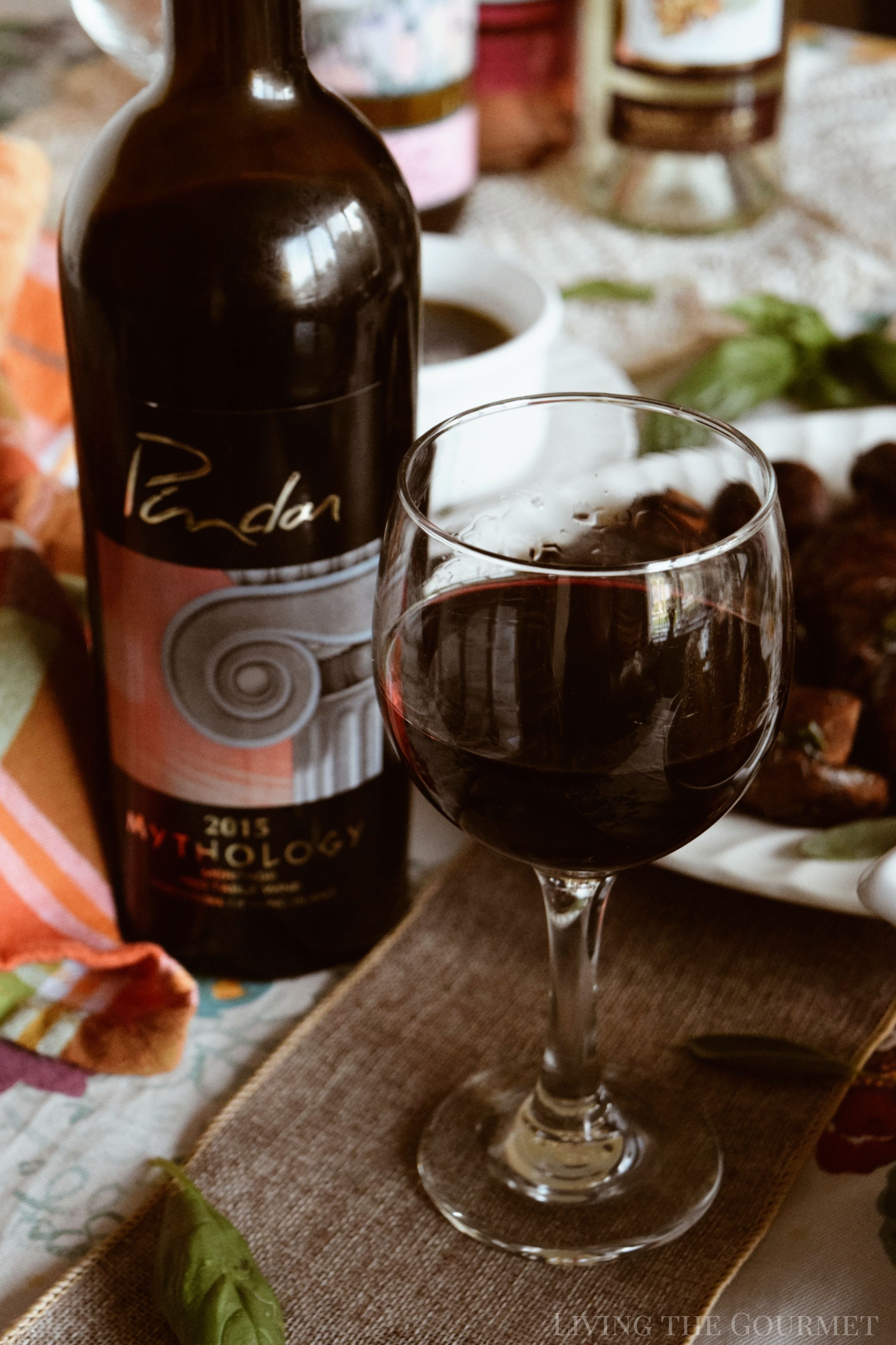 For pairing, while similar blends often plead to be paired with roasted meat, such as herbed lamb or hearty red sauces, the crisp and refreshing nature of Mythology is guiding me down a somewhat less conventional route. Think appetizers such as barley rusks (or halved crusty Italian bread if you can't find rusks), topped with feta tossed with diced tomatoes, oregano, quality olive oil, and pitted kalamata olives. On the more conventional side, a plate of pasta with a sundried tomato sauce would also pair quite admirably.
Then we come to the Viognier. For the uninitiated, viognier is an intensely aromatic, full-bodied white wine, with the most notable examples of this varietal coming from the Rhône valley. Beneath this varietal's peach and honeysuckle lead aromatics is an unusually full-bodied white wine with a moderate acidity – though I have personally sampled excellent instances of the wine with uncharacteristically strong acidity. Despite the above characteristics, viognier often requires delicate and thoughtful pairings tailored towards its telltale aromatics.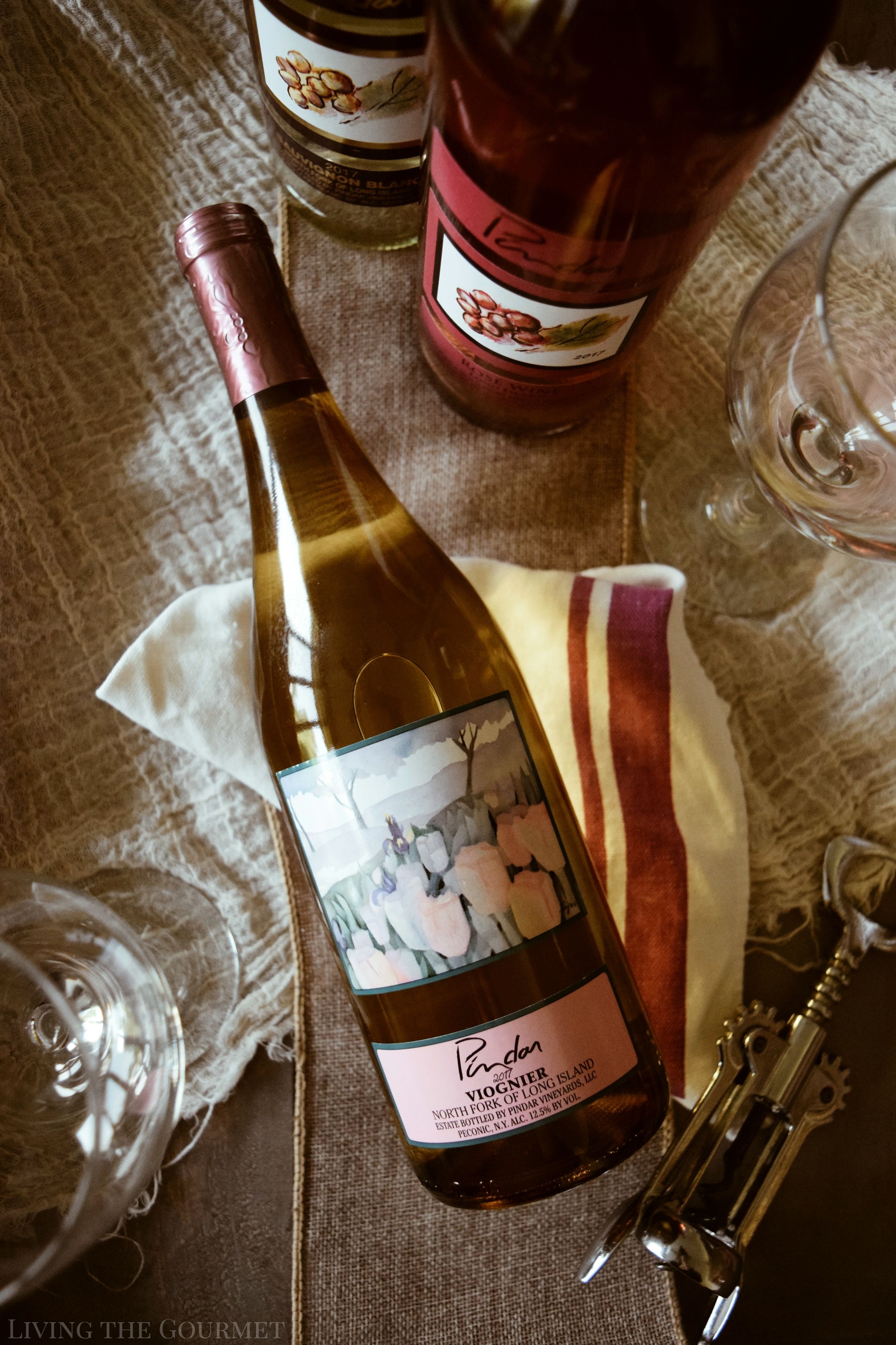 Today's viognier is pleasantly by-the-book, with aromatics slanted towards white, juicy fruit and crisp melon essences framed in white floral notes. On the palate, sliced tangerine predominates, dispersed across the palate by a pleasantly muted acidity.
For pairing, think grilled fennel topped with a balsamic vinaigrette, oven roasted quail with herbs and garlic, baked brie with crusty bread as a starter, or roast pork chops glazed with a spiced apricot reduction.
Finally, we come to the 2017 Sauvignon Blanc. The wine greets with a characteristic translucent golden hue, and fresh lime zest off the top of the glass, punctuated by hints of fresh sage and perhaps just a hint of sliced jalapeno. On the palate, the aromatics largely carry over, manifesting with perhaps tad bit more acidity than the lime aromatics would have suggested, creating a very crisp and clean mouthfeel – which is precisely what anyone is looking for in a decent sauvignon blanc.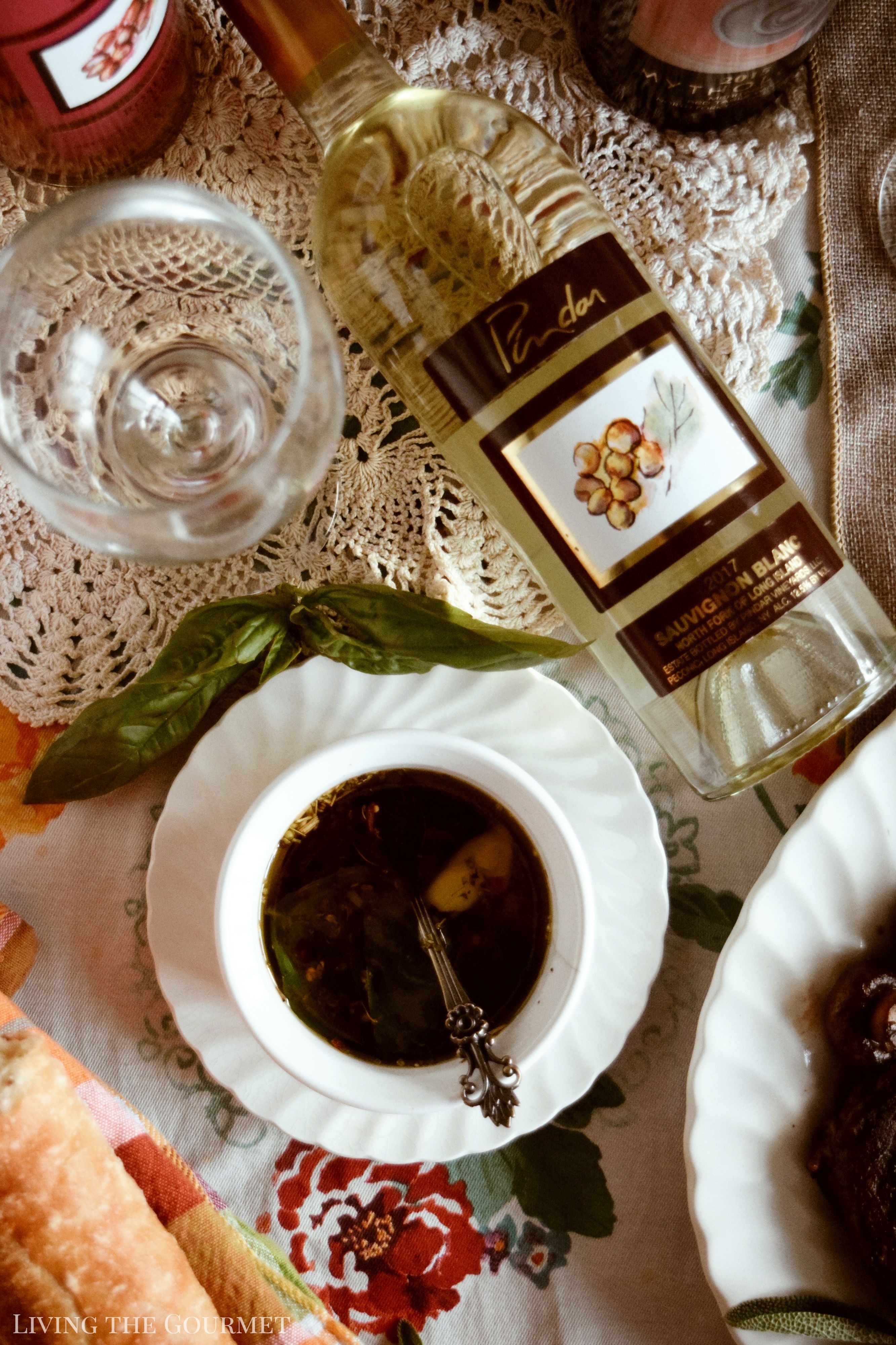 For pairing, I'm probably a bit more classicalist than I should be, and will simply advise you to think 'salad.' Think substantial leafy green salads with a complex mix of flavors. Think arugula and goat cheese, romaine and herbed vinaigrettes, or warmed salads with olive oil and roasted nuts. If you 'must' pair this with entrees or meat, think light white meats such as grilled chicken, thinly sliced pork strips, or mild white fish – and in each case think mild marinades and herbal flavors.
Overall, I was very, very pleased with my first in depth sampling of Long Island wines. I'm struck by how quickly the wine country has evolved in such a comparatively short period of time, and how the winemakers have defied and thrived over what I would have thought were agonizingly unsuitable conditions for the kind of predictable quality necessary for critically acclaimed products.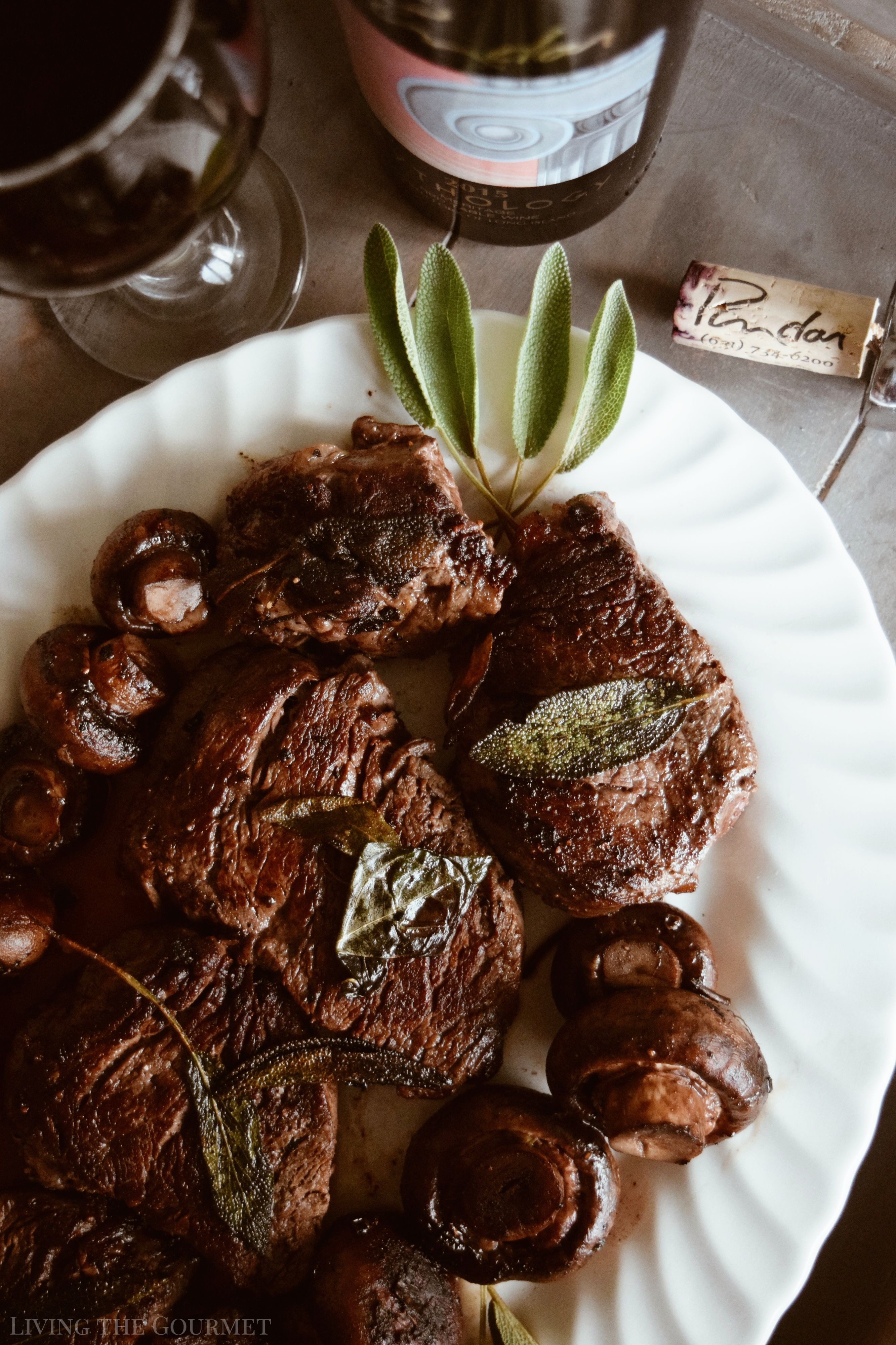 However, being who and what I am, I can't simply 'suggest' a pairing, instead I naturally need to demonstrate one. However, I'll be keeping it simple and local, building my menu around the Pindar wines.
To start I tossed together a cool, refreshing Tri-Colored Tomato Salad made of the freshest produce from Long Island and featuring a few green tomatoes from my own backyard garden as well. The locally grown tomatoes are sweetest this time of year and make for a perfect accompiment for almost any meal.
Alongside the salad, I served grilled corn, also bought fresh from the farmer's market. The prep is kept simple by grilling the cobs on a hot griddle with a pat of butter. Once the corn has a nice golden color and a few grill marks, you know it's done.
In my previous post I spoke about Garlic & Herb Infused Dipping Oil served alongside crusty Italian bread. The infused oil isn't just for dipping bread though, as it is also delicious drizzled over the tomato salad.
Last, but certainly not least, we come to the main course- Brown Butter Sage Filet Mignon. It's the finishing touch to this lighter end-of-summer spread boasting of a rich nutiness from the brown butter and the subtle herb infusion of homegrown Sage leaves. The meat cuts like butter when seared in the butter sauce, just until a nice crust forms around the outside and its desired doneness is reached (we prefer ours medium-rare).
And just like that, we had a beautiful spread that paired perfectly with today's wines.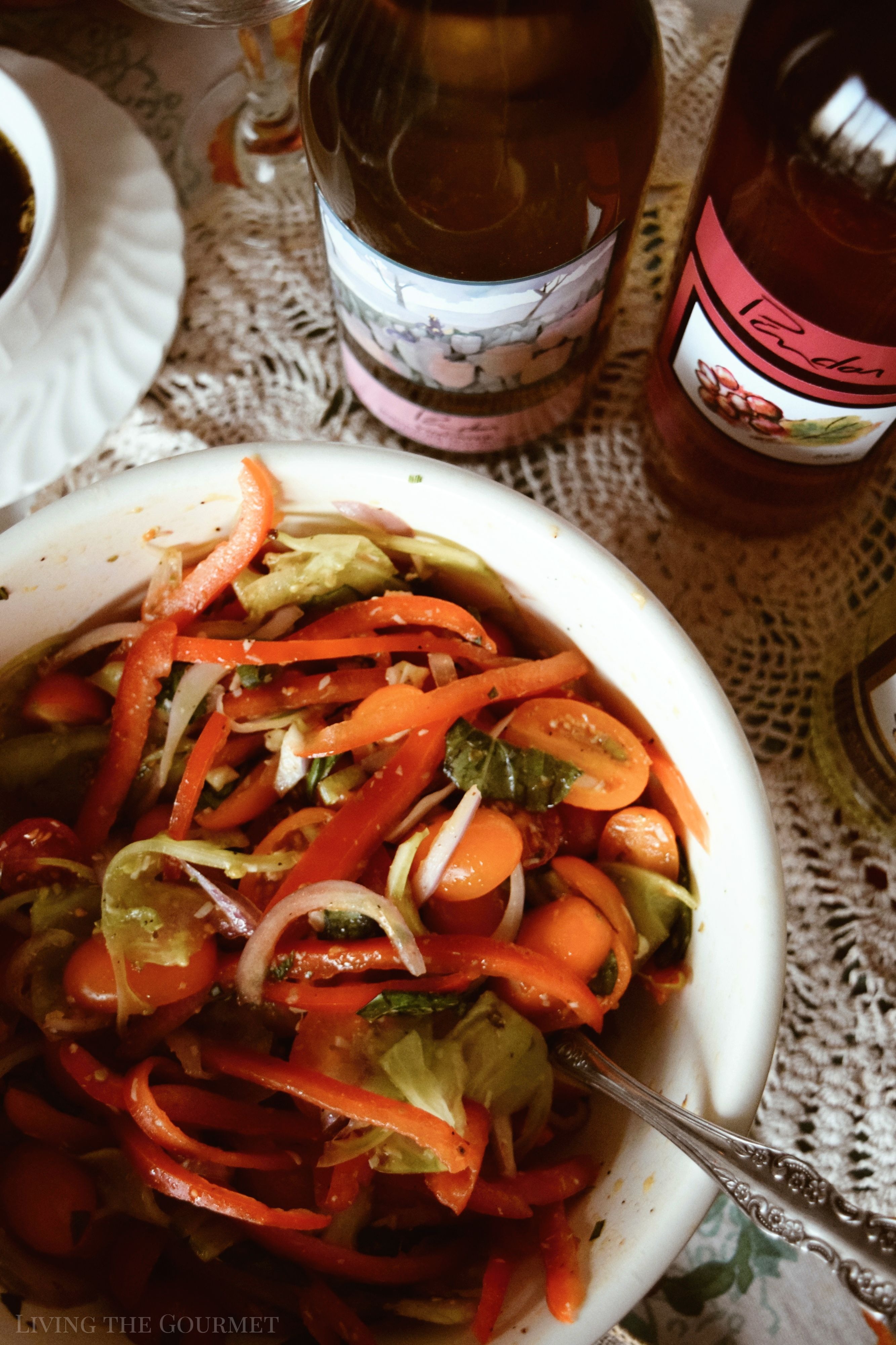 Print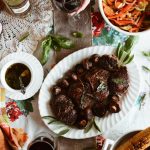 Brown Butter Sage Filet Mignon and Tri-Colored Tomato Salad
---
Author:

Total Time:

35 minutes
Brown Butter Sage Filet Mignon:
4

filet mignon steaks – about

1 ½

inch thickness – room temperature

1 quart

of baby bella mushrooms – dusted and cleaned with a damp paper towel
Fresh sage leaves
Butter
Olive oil
Sea salt and Ground black pepper
Tri-Colored Tomato Salad:
1 pints

of golden Cherry tomatoes – halved

2

green tomatoes – sliced thin

1

-pint cherry tomatoes – halved

1

small red onion – sliced thin

2

garlic cloves – finely chopped
Handful of fresh basil leaves (about 10) – ripped
Handful of fresh Italian parsley – stems removed and chopped

1 tsp

. small capers with juice

1 tsp

. fresh ground sea salt

1 tsp

. fresh ground black pepper

1 tsp

. dried oregano

½ cup

of fresh grated Romano cheese or Parmesan cheese

½ cup

olive oil
---
Instructions
Brown Butter Sage Filet Mignon:
Heat a large cast iron frying pan with a tablespoon of butter, a drizzle of olive oil and a few fresh sage leaves.
Rub the steaks with a salt and black pepper mixture on both sides and place the steaks in the hot frying pan.
Let the steaks sear on one side about 3 minutes and turn and let them sear on the other side.
Cook to desired doneness. The firmer the steak is when gently pressed the more well done it is getting.
When the steaks are cooked to desired doneness place another tablespoon of butter in the pan and a few fresh sage leaves and add the mushrooms.
Season with sea salt and fresh ground black pepper.
Toss until the mushrooms are slightly grilled and golden.
Tri-Colored Tomato Salad:
Combine all of the above ingredients in a bowl and toss.
Prep Time:

15 minutes

Cook Time:

20 minutes
Recipe Card powered by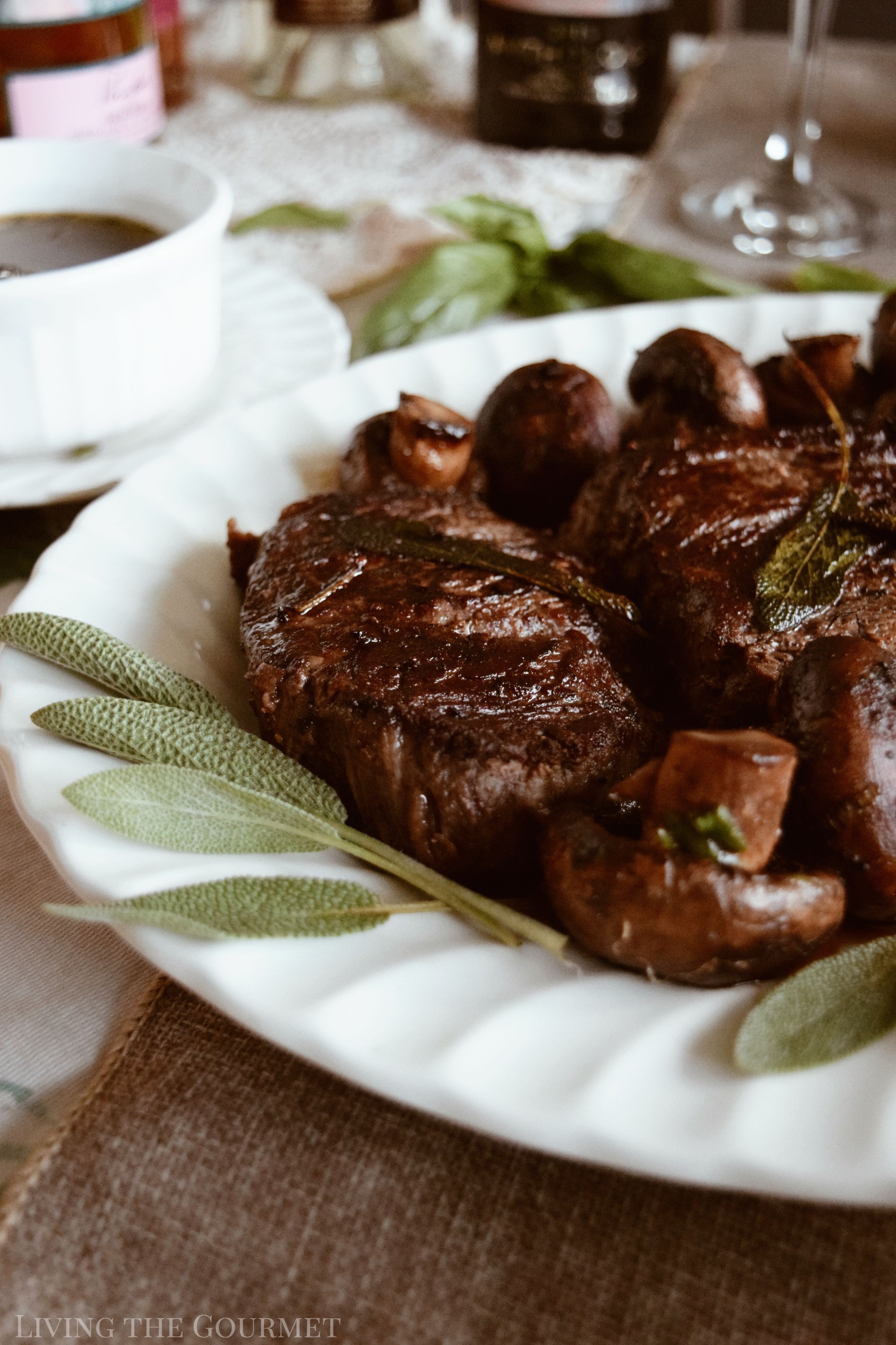 I'll be continuing my tour of the Island's wines over the coming weeks, and will be expanding into the greater New York area shortly thereafter, so be sure to keep an eye out for updates because things are about to get very delicious very quickly.
Once again, today's wines courtesy of Pindar Vineyards. To order, or for more information, check out this link.
Cheers!
0