Spring is finally in full swing and to celebrate we've made Lemon and Lavender Ricotta Bundts- light, delicate cakes topped with a citrus icing.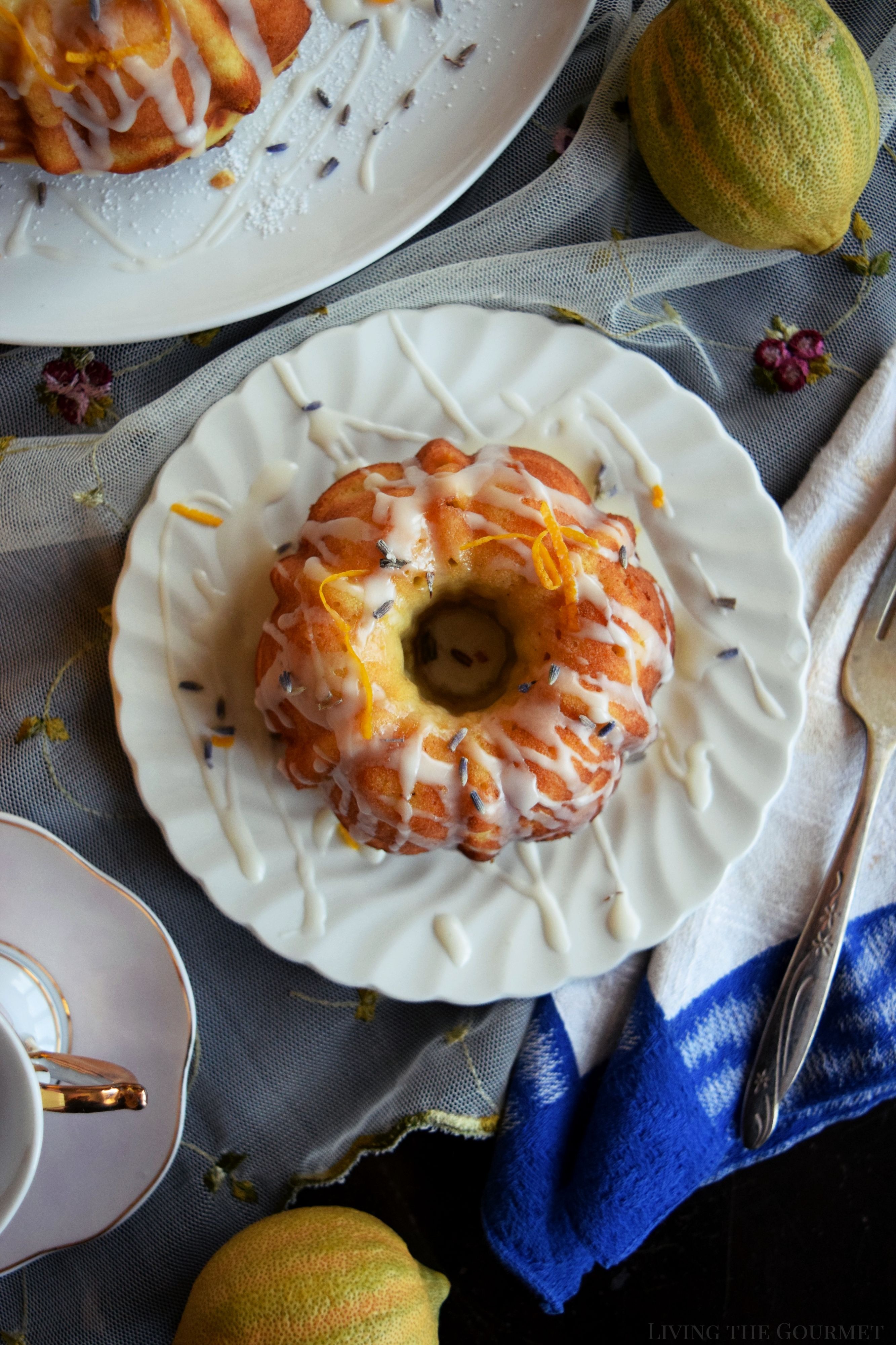 Despite the long and arduous winter that has been plagued with what has felt like never ending gray skies, bitter temperatures and personal heartbreaks, I've been in the best of moods the last couple of weeks. I'm finally ready to shed the winter skin and clean out long overdue Christmas decorations, turn the garden soil, and venture out for my first walk of the spring season. The warm sun on my skin nearly brought tears to my eyes.
I look forward to brighter days ahead and hosting some outdoor parties. I've already begun menu-planning for Mother's Day, envisioning a back porch luncheon with little tea sandwiches, some lavender lemonade and, to keep with the theme, a batch of these Lemon and Lavender Ricotta Bundts.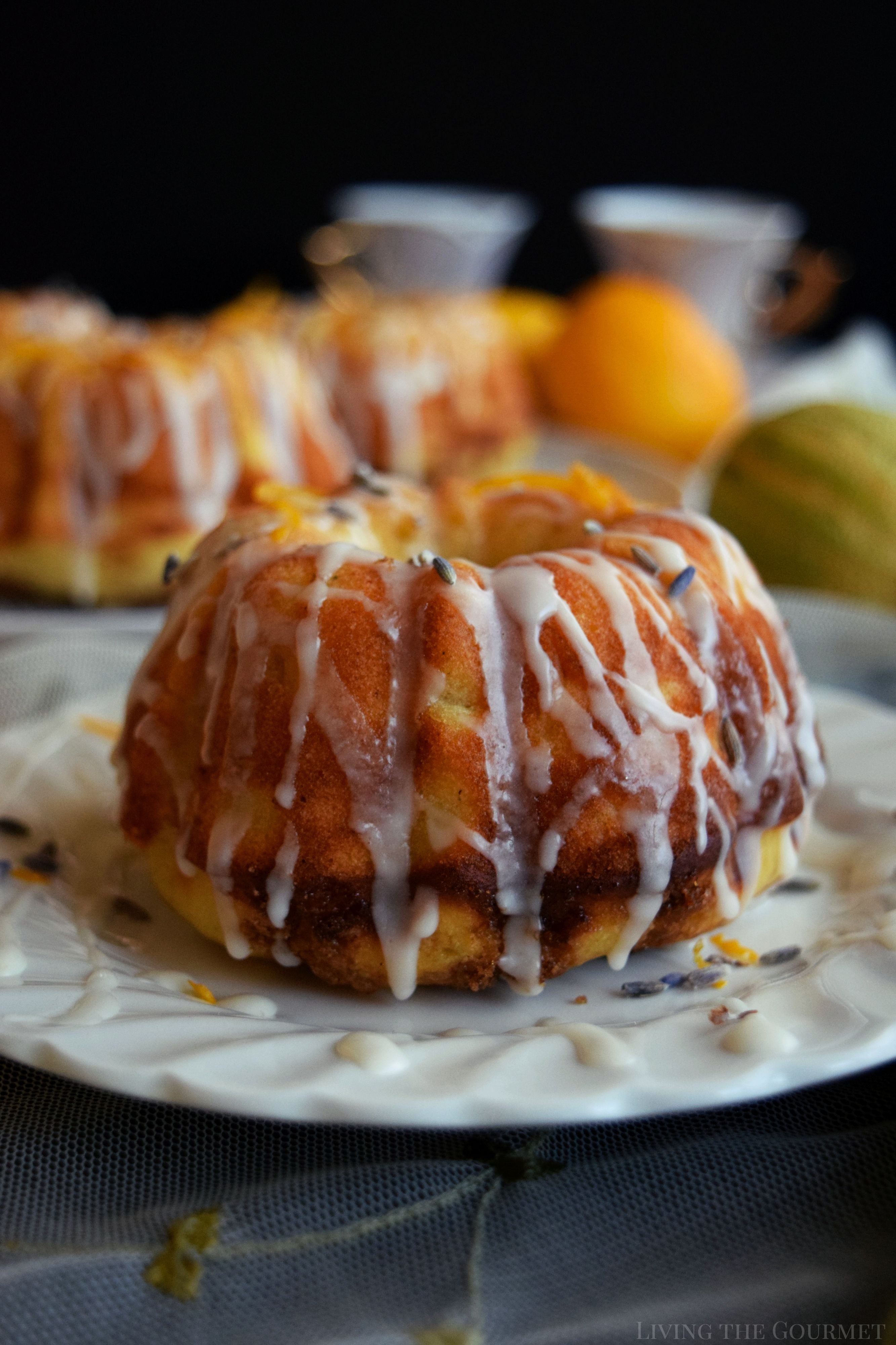 Due to personal reasons, I took a long break from #BundtBakers but I'm excited to rejoin the group as we kick off the Spring season this month.
Our hostess this month is Wendy from A Day in the Life on the Farm and the theme is flowers.
I originally wanted to incorporate something with roses or even chamomile but ultimately decided upon lavender and lemon for two reasons. I've always enjoyed the taste of lavender especially in lemonade which is a warm-weather staple in our home. It's an unexpected, elegant twist that everyone seems to love. I thought it would play well into some spring menus I've been organizing. Secondly, I recently received a beautiful gift box of California lemons from our good friends over at Limoneira.
The California lemons were perfectly ripened and every bite was bursting with that bright lemony taste, but not in an overpowering way. The ricotta gives the cakes a delicately moist consistency which plays well into the lighter Spring menu theme I'm going for. When I first took the cakes out, I thought they would have been denser, but they are deceptively light.
The tricky part about this recipe for me was incorporating the lavender buds. When I make lemonade, I first begin with a simple syrup infused with lavender. I played around with putting some of that simple syrup into the cake batter but I would have to scale down the sugar, which resulted in a very moist batter.
So ultimately, I decided to grind the lavender buds- with the sugar. The recipe calls for 3/4 cup of sugar which I pulsed with 3 teaspoons of lavender buds in a bullet blender. The sugar instantly turned to powder with a faint purplish tint and a beautiful floral aroma that filled the air when I unlocked the lid of the blender.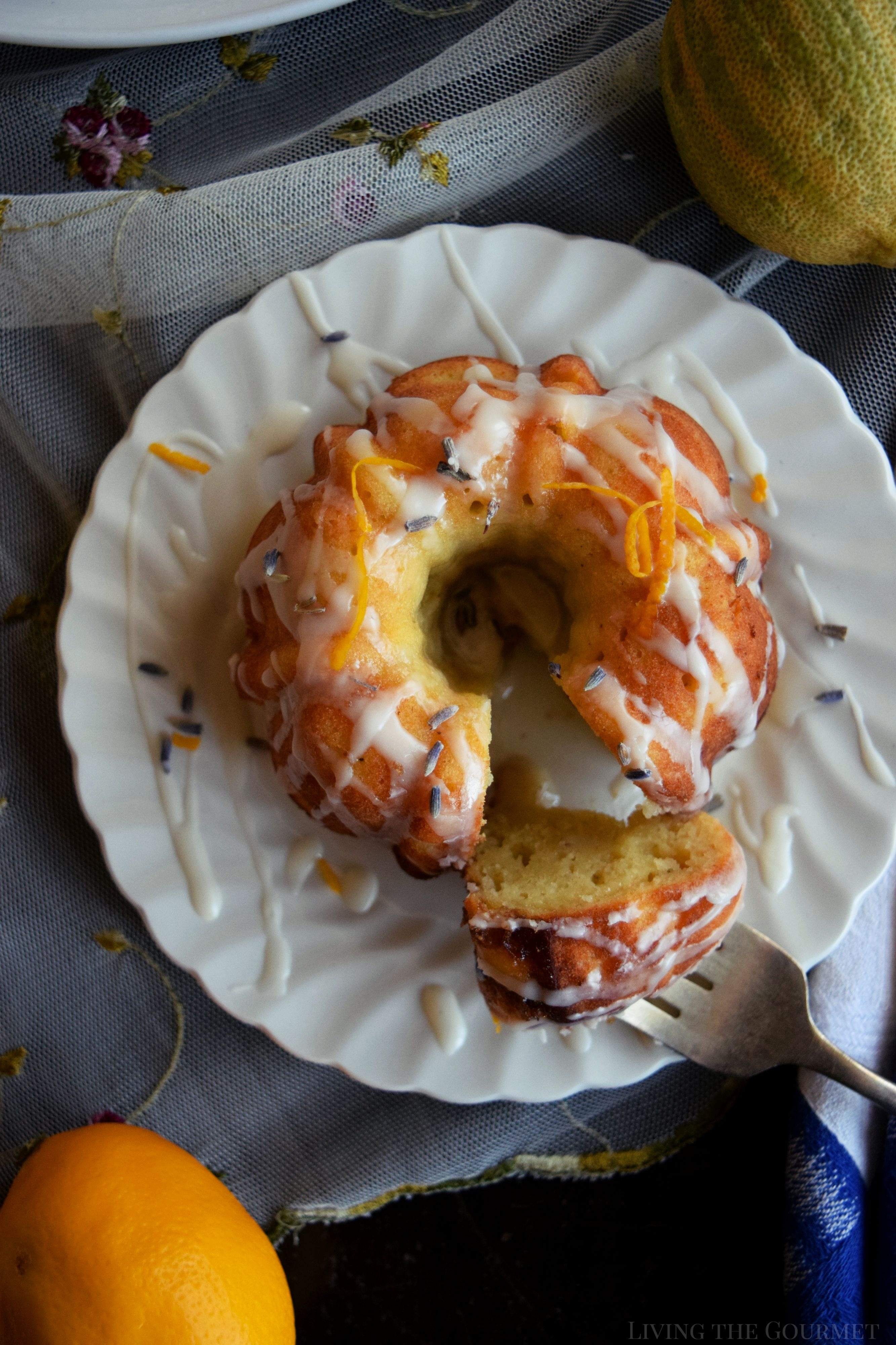 The final product was exactly what I was aiming for. The cakes were more citrusy but not bitter. The lavender was subtle and sweet but more like an afternote. I topped each cake off with a citrus icing but if you want to scale down a bit on the bright lemon flavor, you can always just go for a classic icing. In this case, I whisked powdered sugar with vanilla and lemon juice. Simply swap the lemon juice for cream or milk.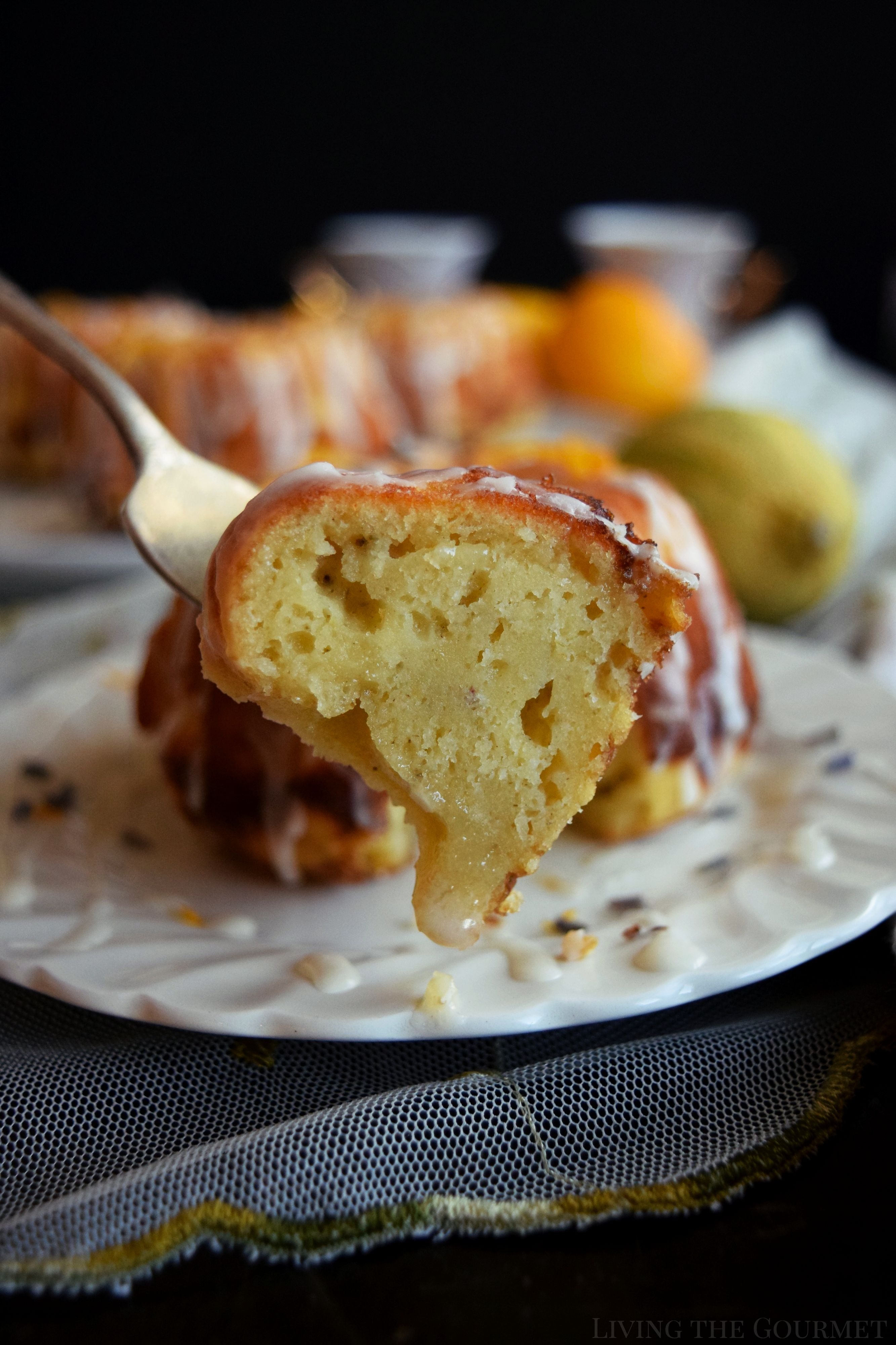 Living the Gourmet
Yields 5-6 bundts
Lemon and Lavender Ricotta Bundts #BundtBakers
5 minPrep Time
25 minCook Time
30 minTotal Time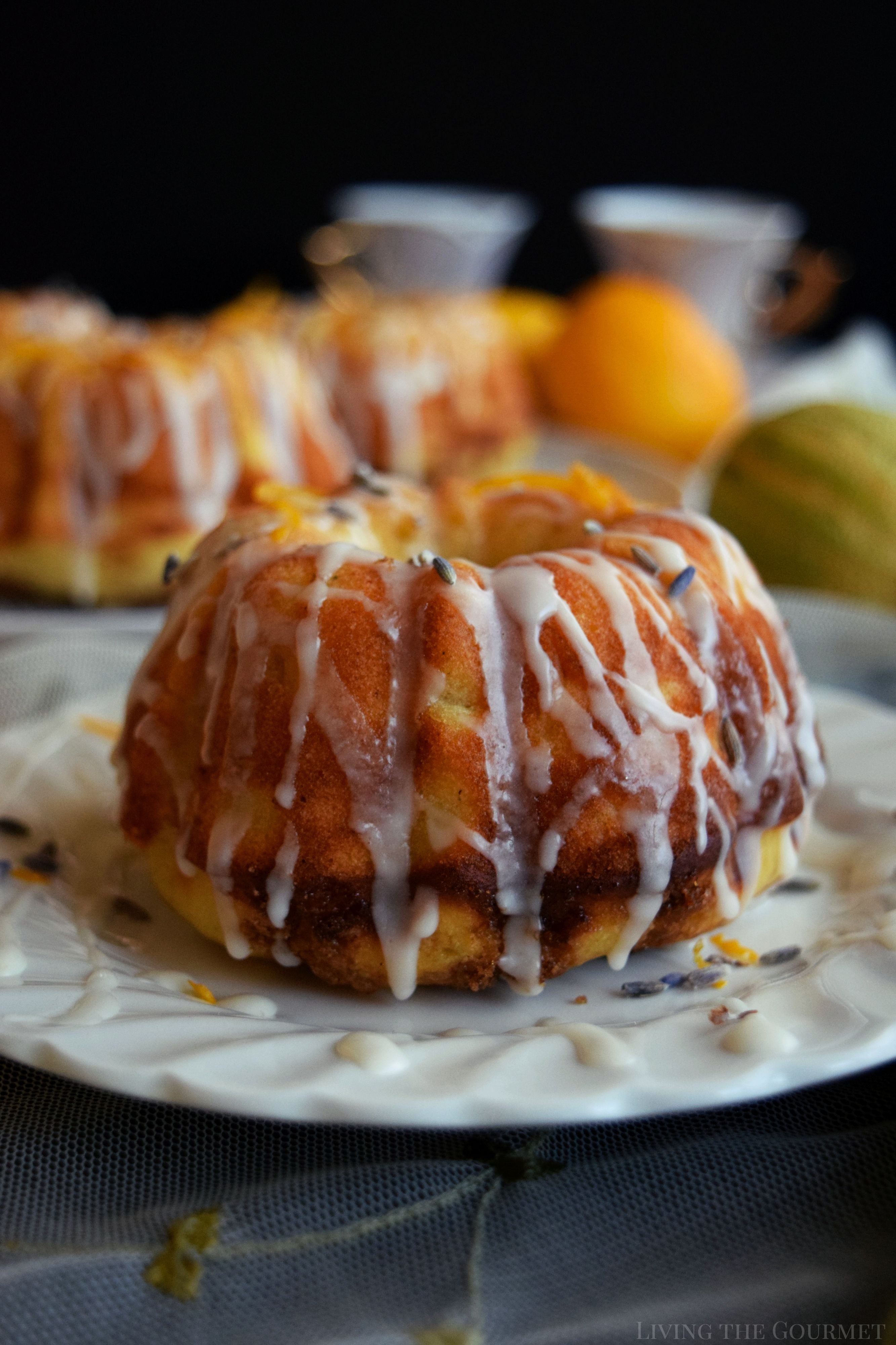 Ingredients
1½ cups AP flour
3/4 cup granulated sugar pulsed in a blender with 3 teaspoons lavender buds
2 teaspoons baking powder
3 eggs
1½ cups Ricotta cheese
1 teaspoon vanilla
1/3 cup vegetable oil
Juice of 1 lemon
1 tablespoon lemon zest
1 teaspoon vanilla

Lemon Icing:

½ cup confectioner's sugar
2 tablespoons lemon juice
1 teaspoon vanilla extract
Instructions
Preheat oven to 350 degrees F. Grease a mini bundt pan and set aside.
In the bowl of your mix master with the paddle attachment, beat eggs, ricotta, sugar, vegetable oil, vanilla, lemon juice and zest. Once it is all incorporated, add in flour and baking powder. Beat again until a smooth batter comes together.
Divide the batter between the bundt molds and bake for 25-30 minutes or until the cake tester comes out clean.
In a small bowl whisk together the ingredients for the lemon icing. If you prefer a regular icing, just swap out the lemon juice for cream or whole milk.
Once the cakes have cooled, drizzle each with icing and a sprinkle of lemon zest and some additional lavender buds for garnish. Serve and enjoy!
7.8.1.2
742
https://livingthegourmet.com/2018/04/lemon-and-lavender-ricotta-bundts-bundtbakers.html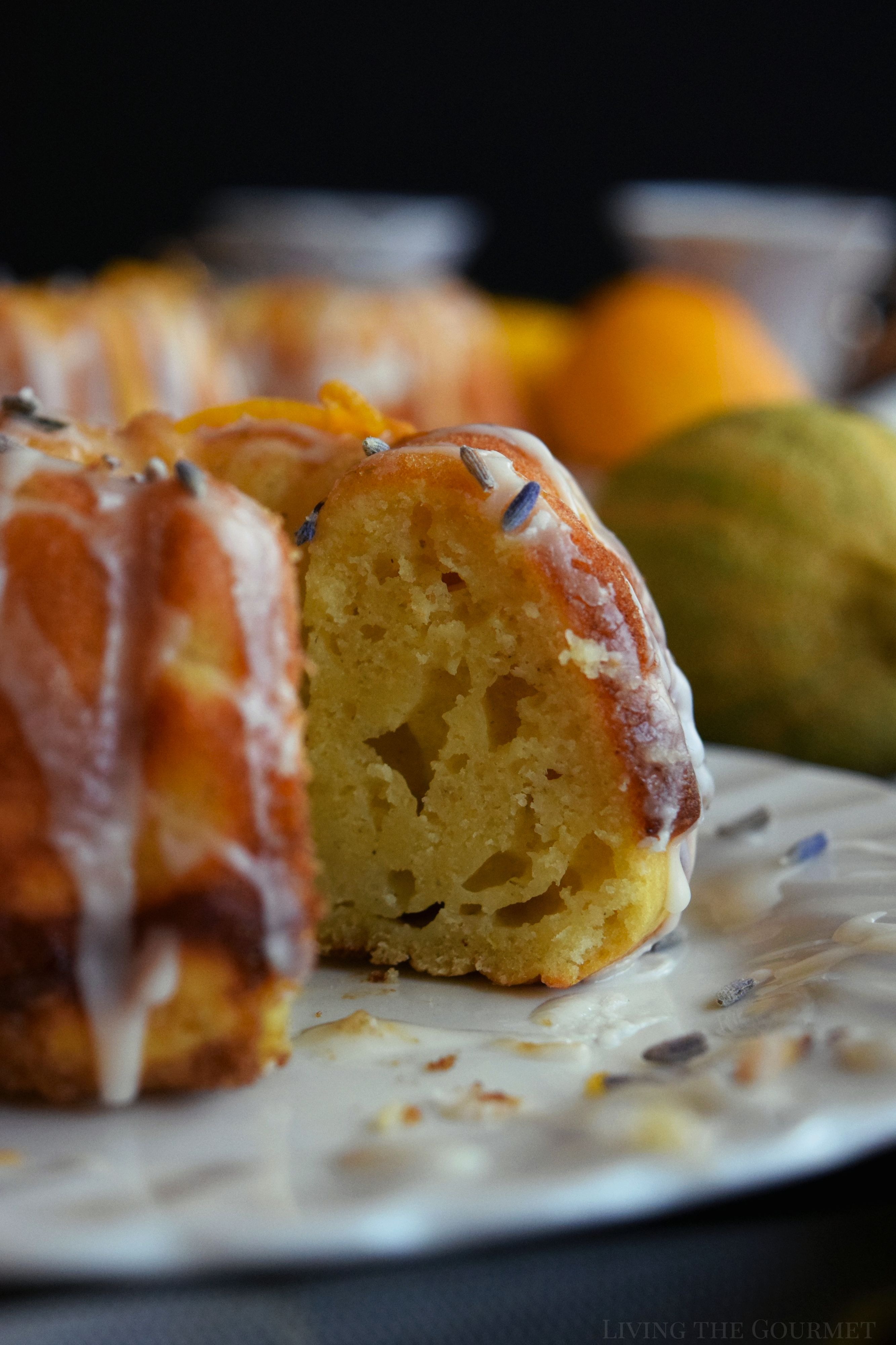 #BundtBakers is a group of Bundt loving bakers who get together once a month to bake Bundts with a common ingredient or theme. You can see all our of lovely Bundts by following our Pinterest board. We take turns hosting each month and choosing the theme/ingredient.
Updated links for all of our past events and more information about BundtBakers, can be found on our home page.
Enjoy with Love,
Tammy<3
0