Thank you to Vivanco Winery for sponsoring this post. All opinions expressed are my own. This message is intended for those 21+. Please enjoy responsibly.
Give chicken dinner a makeover with this Mediterranean inspired stuffing and spice rub served alongside an aromatic rosé!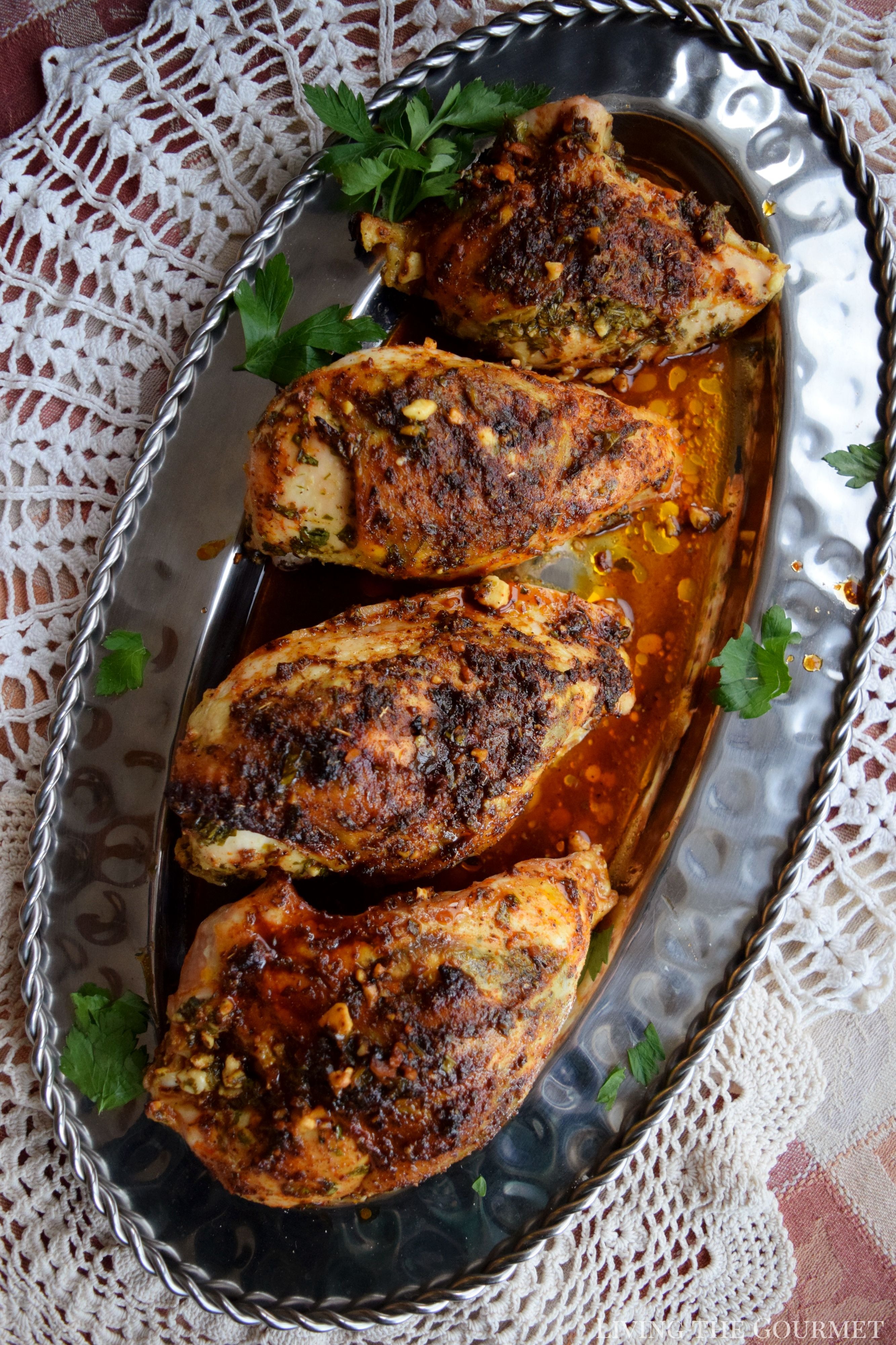 One of my favorite quotes comes from the Matrix via Morpheus, who observed to Neo that "If real is what you can feel, smell, taste and see, then 'real' is simply electrical signals interpreted by your brain." It's one I have used here once before since it perfectly encapsulates the immaterial plane on which we all partially exist each and every day.
We, humans, have created for ourselves 'realities' that we cannot quantify except to say that "they are." Virtue, vice, art, and elegance, for example, exist solely because we say or 'imagine' that they do. These words give voice to quantities whose sole realm of existence is within imagined reality contained within the biological computer resting between our ears – which is why no singular set of definition or universal understanding exists for any of them.
Now, what is my point? My point, of course, goes back to the presentation.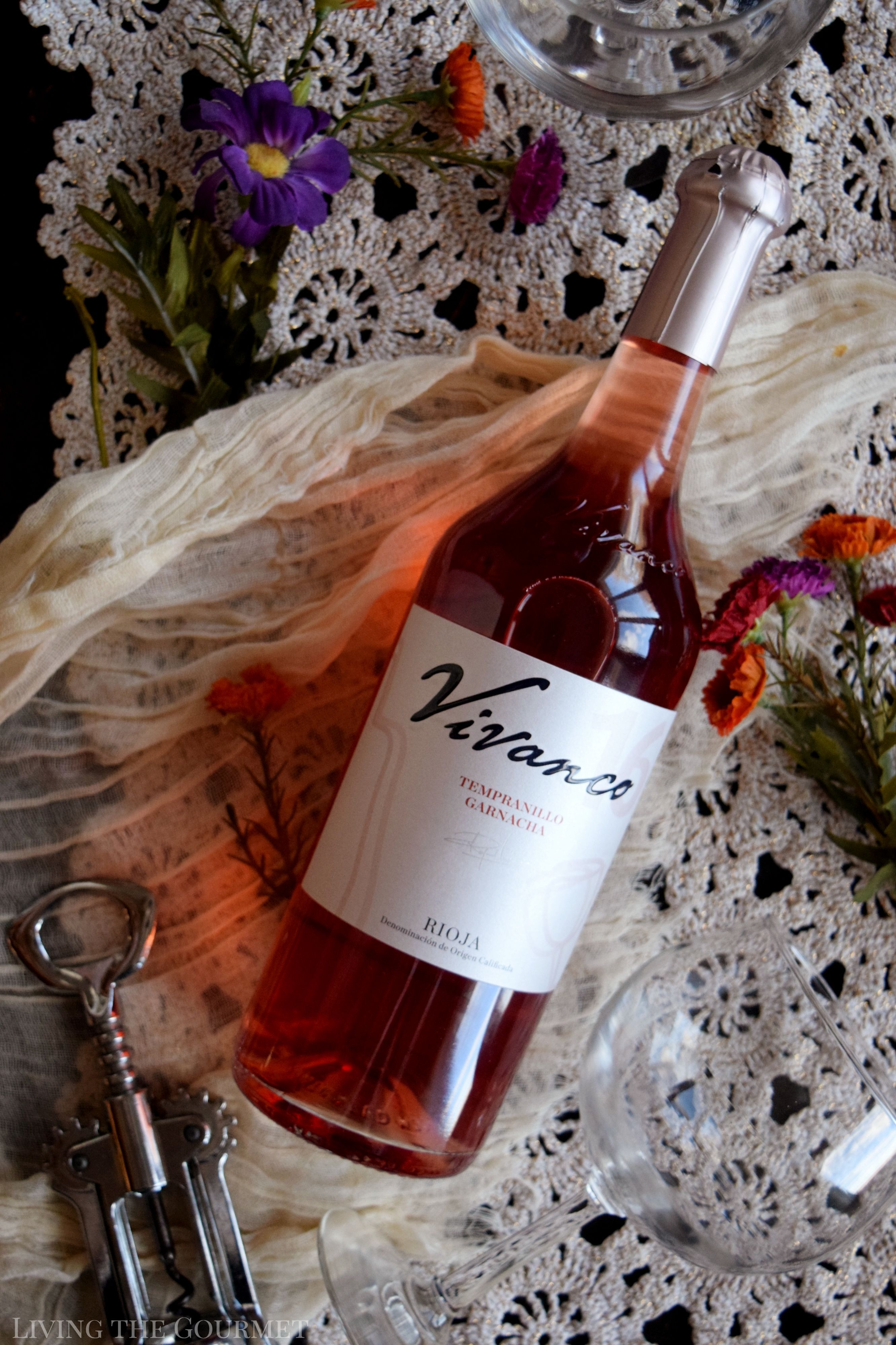 As fate would have, the arrival of a new bottle from Vivanco Winery, a Rioja Tempranillo Garnacha, coincided with a surprise dinner party for a close friend of mine. I, being who and what I am, decided to take this cross of paths as an opportunity. Naturally, I needed something that was equal parts elegance and flavor for my guest, but I also needed it to pair well with both the wine and gloomy weather – which again cuts to the presentation and the necessity for 'elegance' despite the inclement mix of fog and rain just outside my window.
To start, the Rioja Tempranillo is a bright rosé wine, featuring pink to garnet hues. On the nose, the wine introduces itself with red berry notes with a slight raspberry or cranberry acidity lingering in the background framed in summer or wildflower aromatics. On the palate, the acidity from the raspberry or cranberry notes is what carries over predominantly, which brightens into red fruit essences to create a crisp and pleasant finish.
The pairing for this, of course, is what brings us to today's recipe – Mediterranean Style Chicken Breast.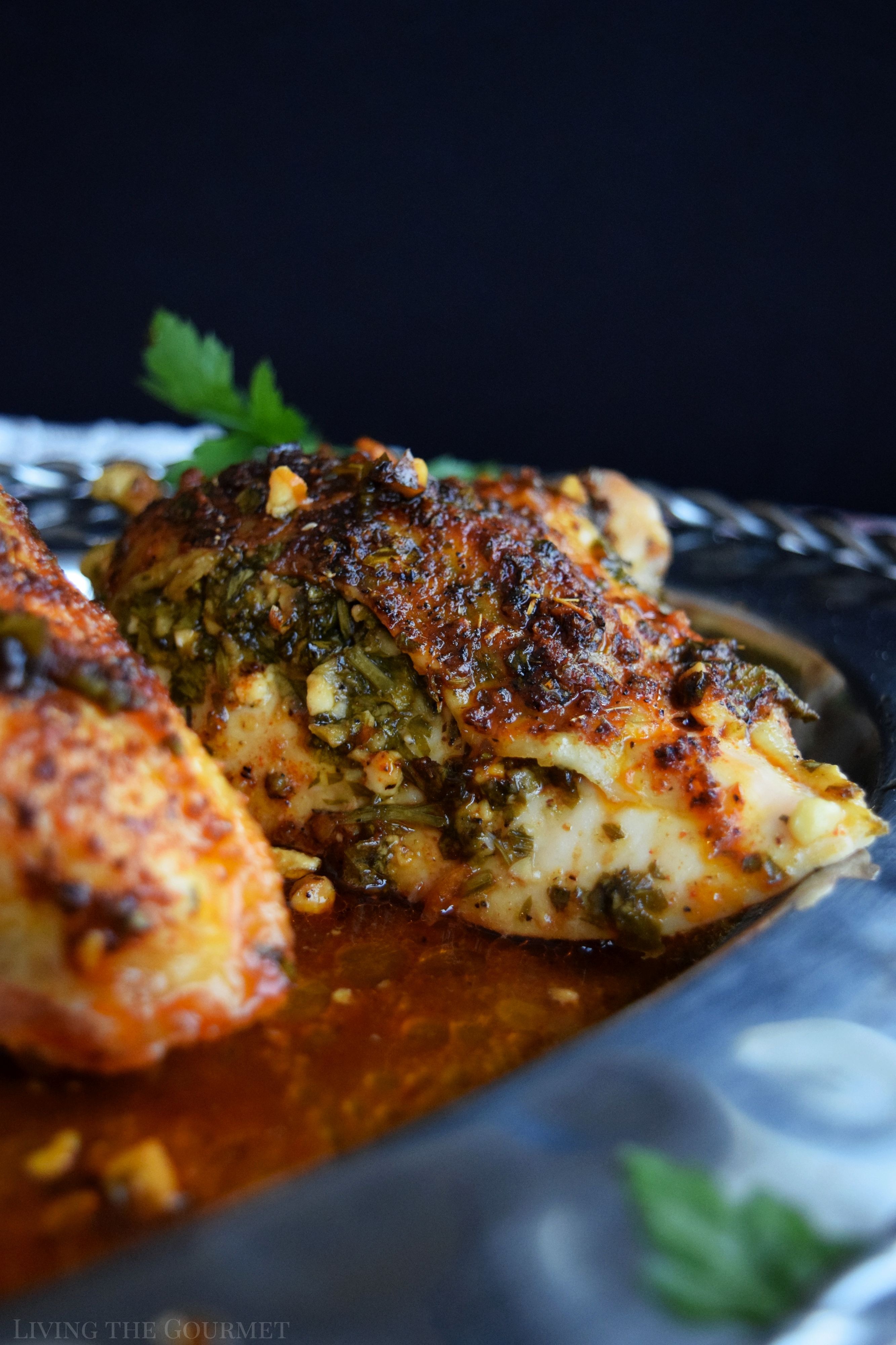 To start things off, we begin by combining the ingredients for the stuffing and mix them together. From there, you need to gently loosen the skin on the chicken breasts, while being careful not to tear or fully detach it, and then gently push the stuffing under the skin.
After that's done, prepare a rub for the chicken using two tablespoons of canola oil as a base, and add paprika, salt, black pepper, and dried oregano. This mixture should become paste-like upon mixing, and once it has, rub it over the outside of the chicken breasts. From there, prepare a simple broth with wine, powdered chicken brother, and water.
Set the chicken breasts in a baking pan with the brother at the bottom, and back at 350 degrees F. for about fifty-five to sixty-five minutes or until the internal temperature is of the chickens is one-hundred and sixty-five degrees and the juices run clear.
Print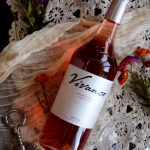 Mediterranean Style Chicken Breast
---
Author:

Prep Time:

15 minutes

Cook Time:

50 minutes

Total Time:

1 hour 5 minutes

Yield:

4

-

6

1

x
4

bone-in chicken breasts – with skin
For the Stuffing:
2

bunches of fresh Italian parsley – stems removed and chopped

4

cloves of garlic – chopped fine

¼ cup

of Parmesan cheese – grated

¾ cup

of crumbled Feta cheese

2

tbs. honey

½ tsp

. salt

½ tsp

. black pepper
Juice of

1

fresh lemon

2

tbs. olive oil

1

tbs. Canola oil
Rub for Chicken Skin:
1 tsp

. paprika

1 tsp

. salt

½ tsp

. black pepper

1 tsp

. dried oregano

2

tbs. Canola oil
Broth for the Baking Pan:
2

tbs. wine

1 tsp

. powdered chicken broth – such as Vegeta

1 cup

of water
Combine the wine, Vegeta and water and stir.
---
Instructions
For the Stuffing:
Combine all of the ingredients for the stuffing and toss.
Gently loosen and lift the skin of the chicken breast and gently push the stuffing under the skin.
Rub for Chicken Skin:
Combine the paprika, salt, black pepper, dried oregano and canola oil in a small bowl to for a paste-like mixture.
Rub this mixture over the skin of the chicken.
Broth for the Baking Pan:
Preheat Oven 350 degrees F.
Place the stuffed chicken breasts in a baking pan and place the broth at the bottom of the pan.
Bake 55 – 65 minutes or until the until internal temperature is 165 degrees and juices run clear and the chicken is a beautiful golden color.
Recipe Card powered by
And just like that, you've got a satisfying and elegant dinner with an excellent wine pairing.
Enjoy with Love!
0