Impress your guests with these Skirt Steak Appetizers served over a fresh Bell Pepper Relish!
"As humans, our most important and complex concepts exist purely because we say they do. Virtue, morality, tradition, and honor are purely constructs of our over-evolved minds, as if plucked from the ether of the cosmos and applied as invisible barriers within our minds to order and shape our societies."
Elegance, too, fits that description. Today, however, elegance is a fading virtue. In the few areas where it still exists, the object of mockery and constant reduction. In this way, the drive for 'simplicity,' 'accessibility,' and 'no effort' is a sort of 'rebellion in search of an overlord to overthrow.' That said, elegance is often relegated to the realm of the inaccessible, something that exists purely in impossibly priced metropolitan restaurants staffed by celebrity chefs, or something enjoyed by the residents of chateaus overlooking sapphire seas.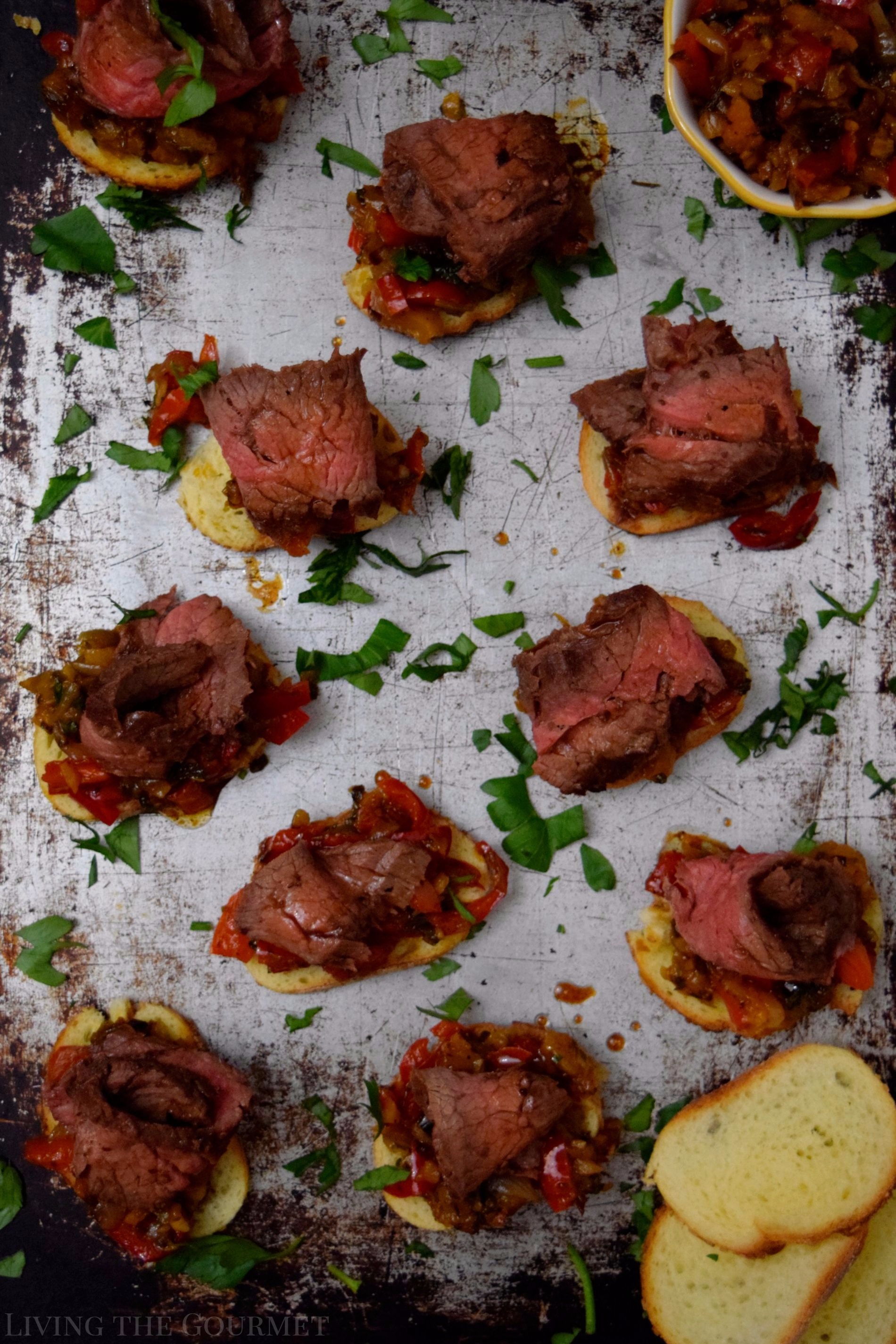 During the holiday season ideas of 'elegance' are revived from their chronological tombs, reentering for the briefest of moments our modern psychology. We want the holidays to be memorable, after all, and what better way to do this than to add a pinch of elegance to the perennial recipe?
Naturally, I'm not here today to tell you that today's recipe is 'not' complex or tedious to put together. Just the opposite, in fact. You see, I'm of the train of thought that certain things are indeed worth the effort, and that particularly around the holidays adding an extra ten to fifteen minutes of prep time.
This, of course, brings us to today's recipe – Skirt Steak Appetizer with a red bell pepper relish.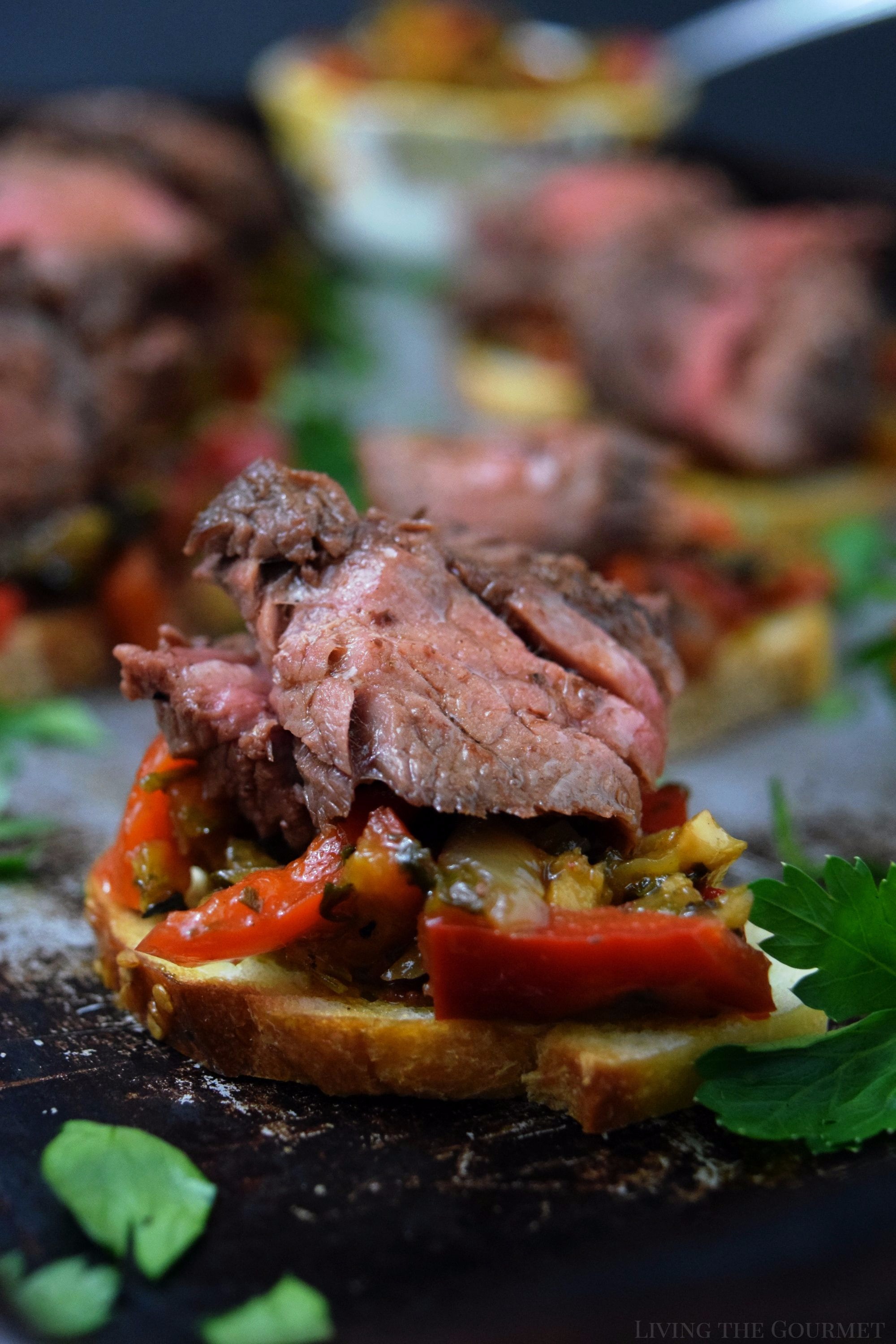 First, the relish. To start things off, we begin – naturally – by heating a large cast iron frying with olive oil, and then adding in chopped garlic and the onions. We sauté until the garlic is fragrant and the onions are soft and clear, and then add in the peppers with a drizzle of more oil, and continue sautéing until the peppers are soft. We then add in the seasonings listed below along with chopped apricots, fresh lemon juice, cilantro, and we toss this over low heat and let this cook for another ten or so minutes. Then turn off the heat, and add in the basil and honey, and toss again.
After the relish is taken care of, slice a loaf of Italian bread as thin as you can manage, and then pan fry one skirt steak, and slice that as thinly as you can manage as well. Once that's done spoon about a teaspoon of the relish evenly over each slice of Italian bread. Then wrap or fold a slice of the steak, and place that over the relish, and you're done.
Living the Gourmet
Yields 6
Skirt Steak Appetizers with Bell Pepper Relish
10 minPrep Time
15 minCook Time
25 minTotal Time
Ingredients
3 large red bell peppers – sliced thin
5 – 6 cloves of garlic – chopped fine
1 large sweet onion – sliced thin
1 cup dried apricots – chopped fine
1 cup of fresh cilantro – chopped
5 – 6 fresh basil leaves – ripped
Juice of 1 fresh lemon
Drizzle of honey
3 tbs. olive oil – and more for drizzling
1 tsp. salt
1 tsp. black pepper
½ tsp. red pepper flakes
1 tsp. dried oregano
Instructions
Heat a large cast iron frying pan with the olive oil with a medium heat.
Add the chopped garlic and onions. Sauté until the garlic is fragrant and the onions are softened.
Add the peppers and sauté with an extra drizzle of olive oil, until the peppers soften.
Add the seasonings, chopped apricots, lemon juice and the chopped cilantro and toss.
Continue to sauté on a low heat for another 10 – 15 minutes.
When the heat is turned off add the chopped basil, a drizzle of honey and toss.

For the Appetizer:

Loaf of Italian bread sliced thin
One steak – pan fried – I like mine medium rare and this is achieved by gently pressing the steak and the less firm the steak the rarer the steak is.
The firmer the steak the more well done the steak is.
Don't keep slicing into the steak since you release all the juices and cause the steak to be dry!
When the steak is done, let it rest and then slice thin.
Place the relish on the sliced bread followed by the thinly sliced steak.
7.8.1.2
701
https://livingthegourmet.com/2017/11/skirt-steak-appetizers-bell-pepper-relish.html
Nutrition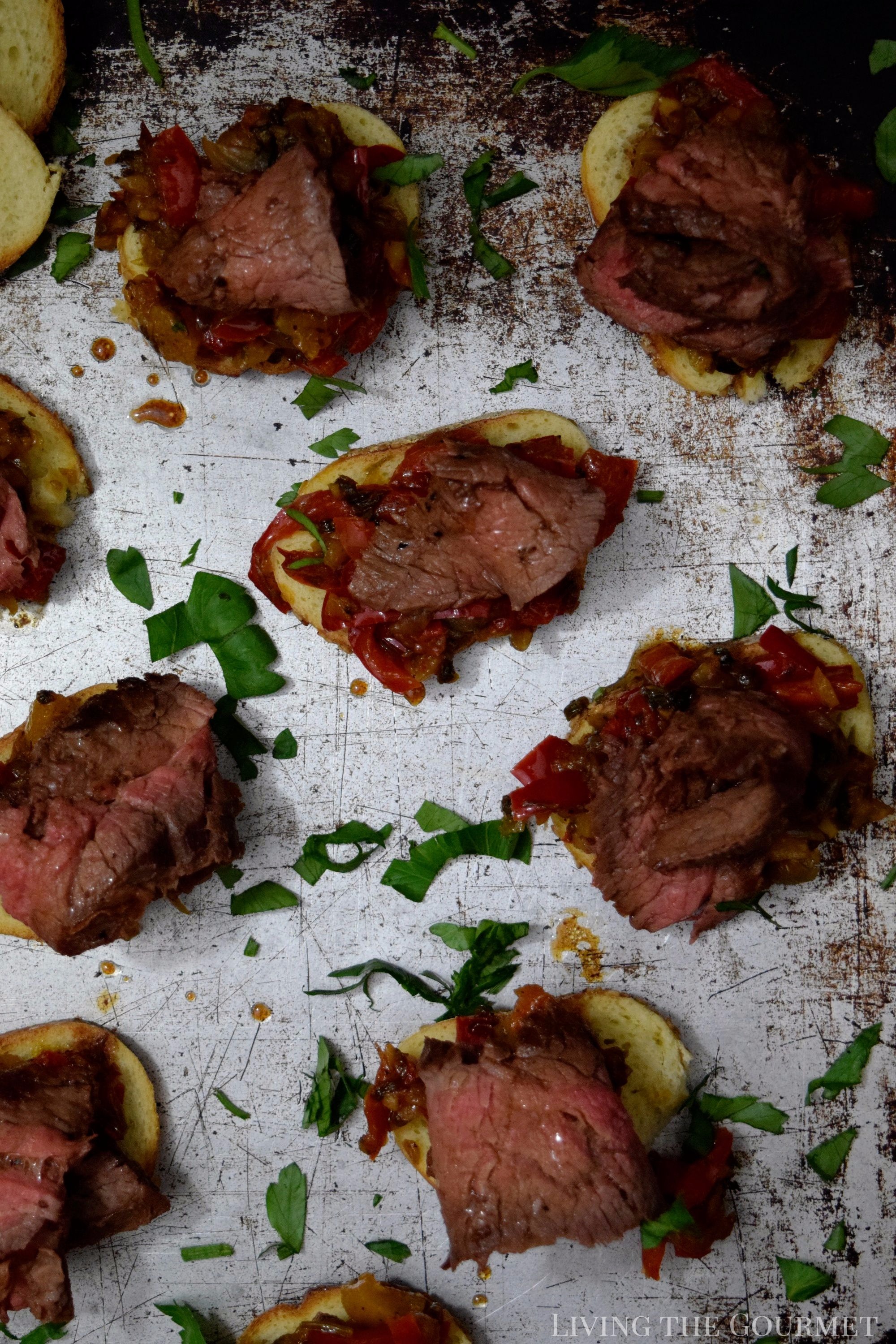 Enjoy with Love!
0