I have the pleasure of welcoming composer Paul E. Francis to Living the Gourmet today, whom you might recognize from projects with director and special effects wizard, Paul Hyett. Their films include Howl, The Seasoning House, and the upcoming horror, Heretiks. Now on the opposite end, Paul E. Francis has also worked on music for children's pieces such as Bunnicular and Escape from Mr. Lemoncello's Library.
It's quite an impressive resume and I am honored to have Paul join us for this Halloween special. Enjoy!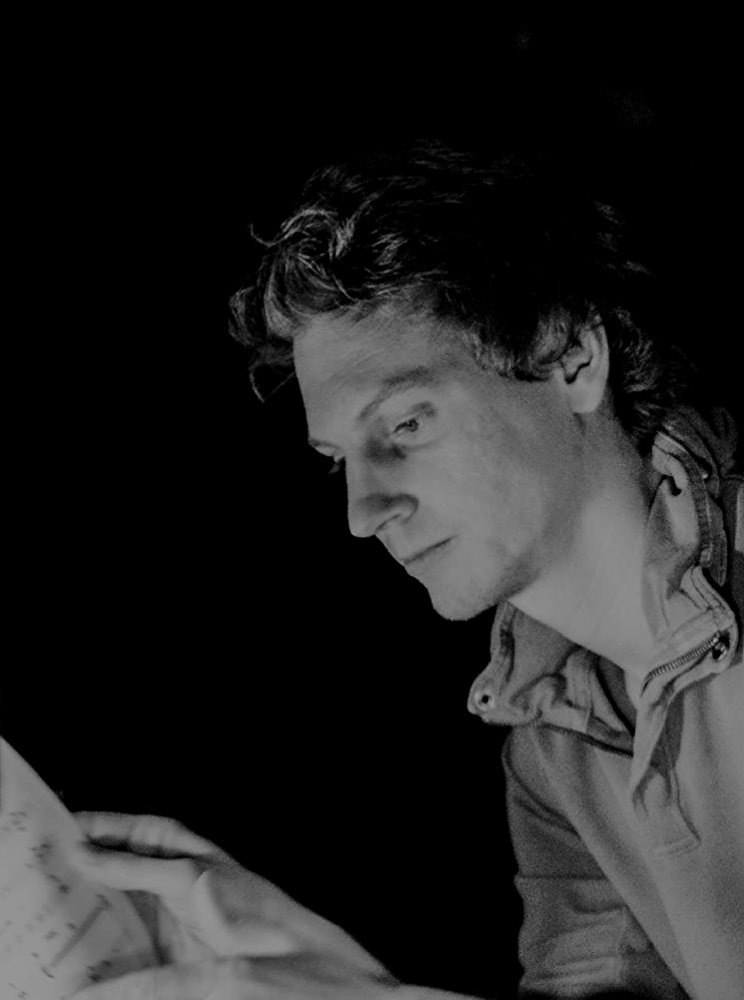 Catherine: I did a little research on your for this interview and I saw that as a young person, you played the piano with your father's band, The Memphis Bell Orchestra, and that you started out playing the piano by ear. My dad used to play beautiful piano by ear, then I practiced for fourteen years and he would just sit down and play what I had been learning all week. So, it is a real gift to be able to do that. Now how did that influence you and is it something you still reach back to today?
Paul: Yes, absolutely. It's funny because I wasn't sure if I wanted to be involved in the music world, even though I had been brought up in that world, and as a kid I was taken all around the country and around Europe with my dad's band. I naturally just started playing very different instruments…I started off with the drums to the bass then the piano, and I even tried the trumpet, but I ended up sticking with the piano simply because I enjoyed writing.
When you're a kid you have these aspirations of being a lead singer in a rock band or whatever, but the guiding hand of my father kind of convinced me that I should stop playing in bands and learn music theory, which would help me move forward as a musician and then essentially as a writer as well.
Even though Dad led a big band, he also orchestrated and did a lot of arrangements and started off with the BBC orchestra back in the 80s and 90s and then when I was around 15 he started orchestrating a film called, John Murphy, over in Liverpool. Then he worked on Lock, Stock and Two Smoking Barrels with Guy Richie and then Snatch, and a movie with Chris O'Donnell called, The Bachelor. So they did all these songs together, and my dad would drag me along to the studios. So when I was a kid, I was seeing the process of film composing taking place before my eyes and it watching that process that made me think, 'yeah you know what, this is what I want to do.'
Catherine: Well, imagine a movie without music…there would not be a movie. You really set the tone as the composer for the whole movie. So you have it on your shoulders to make people scared, make people happy, and you have quite a task. How do you approach that? And how do you balance the different projects you produce- working on children's pieces and then adult pieces?
Paul: You know what, it's tricky. It's definitely an art (laughs). It's a fine line between being comedic with scary and genuinely scary. I think with the whole Bunnicular stuff and Lemoncello and the scary moments within those films, the key is to be a little bit tongue-in-cheek and playfully scary. That means you can harp back to the days of the Hammer Horror Films with Christopher Lee. In those days they were scary but if you watch them now, they aren't necessarily scary. If you can take reference from them then that's where the playfulness can come in. So that's great for the more youthful audience, but when you want to cross over to the genuinely more darker stuff, the horror stuff…I always find the scariest music is the stuff you can't work out. The stuff that isn't melodic in a sense and it's something that sounds a little bit alien, unrecognizable, that the ears aren't used to listening to. That's how I draw the line in the sand.
Catherine: Oh yeah, you can't picture an Alfred Hitchcock movie without the music in the background. You know what's coming next just by the music. But then also, when my son was younger, the Tim Burton movie had come out, A Nightmare Before Christmas, and the music to that is something you can probably appreciate because it was geared towards younger ones, and yet it was so cheerful and fun. So that's what you're up against…it has to be a bit scary but still where the kids want to sing along to it.
I also saw you had the honor of having the Royal Film Harmonic Orchestra and the City of Prague Film Harmonic play your music, so that is quite an accomplishment.
Paul: Yes, that was quite interesting. It was for a company called, Sky TV, over at England. I worked on one of my first projects there which included the Color of Magic with Christopher Lee, Sean Astin and Tim Curry…it was great. It was an all-star cast with Jeremy Irons…so it was brilliant. From that the head of music eventually said 'we're doing this new thing and putting our own music album together for all different channels and we would like a live orchestra and we would like you to be involved.' So I ended up writing about seven or eight tracks for them. I believe the City of Prague played the first four and the Royal Film Harmonic played the rest. So that was fun…a learning process to say the least.
Catherine: Well everything is a learning process, not matter how old you get.
Paul: You never stop.
Catherine: No, you ever stop…and if you do, then you begin to worry (laughs). This is perfect month to speaking with you since you work on all these scary movies and it's Halloween. Is there a website or anything that people can go to and see more about you?
Paul: Yes, it's https://www.paulefrancis.com. I've got a few music excerpts up there and a little bit of a story; a biography if you will. I have Twitter and Instagram but I'm really bad with them (laughs). For the most part I usually upload pictures of my dog…so if you find dogs interesting then go and check them out.
Catherine: That's wonderful (laughs) I'm a dog lover as well.
I've listened to your music and it's beautiful and you will be in great company with some of the greats that have scored beautiful motion pictures because I think that's something we need to bring back…some really good music that you don't find in the movies the way you did.
Paul: It really is changing and evolving.
Catherine: Well you would watch a beautiful movie and want to go out and buy the album to go with it and I think that's what we need to bring back. I'm glad there are people like you out there to begin the process.
Paul: Well thank you!
Catherine: It's been wondering interviewing you, Paul and if you ever come to New York, I'd love to have you over and cook you a meal…I also have a Baby Grand piano you can play (laughs).
Paul: (Laughs) Well that's where all the good food is, right?
Catherine: Especially New York. We do love to eat good food…not fast food. Food should never be eaten fast.
Paul: I completely agree! I used to spend a lot of time over in Europe and I used to live off tupper and I adored it…I've not had much since I've been here.
Catherine: Well, I do believe that you have to eat good food to keep and it's a process of love just like playing the piano or writing a song, it's a process of love and you're putting it out there for everyone. And you don't want to just throw something out there, you want them to say, 'oh this is great!'
Paul: So true. I've got to say as well, music and food really do go together. They just go hand-in-hand, and the amount of times I've gone to restaurants or gone for a meal, the food is nice and the surroundings are nice, but they don't have music. And it kills it for me. Ruins the whole experience…I often wonder if it's because of my profession, but if they don't have good music playing in a restaurant, it spoils it for me.
Catherine: You're so right. When we sit down for a meal, I always tell my daughter to put some music…even when I'm cooking, I need to have some music on. It varies because you could go from jazz to Pavarotti…it just makes you want to cook and it makes you want to eat.
Paul: Exactly. You know, growing up in England…the cuisine over there, there is a lot of Indian food and I was brought up eating a lot of good, good Indian food. Even now, and this was when I was a kid, but to this day if I hear Indian music, all of sudden I've got an appetite. There is a correlation there…or any place, if I hear a little French gypsy jab, I get the cheese board out.
Catherine: You have a lot of a great music too! The English Invasion…so much great music. Well, it has been such a great pleasure speaking with you. Thank you so much for visiting, Paul!
—
Thank you for stopping by and joining us today and special thanks to Paul. Be sure to visit his website and check out all his upcoming projects.
Enjoy with Love!
0