This post is written in partnership with Reese Specialty Foods. All opinions expressed are mine.
Indulge on hot summer nights in this cool and easy Artichoke and Lentil Salad featuring Reese Hearts of Palm.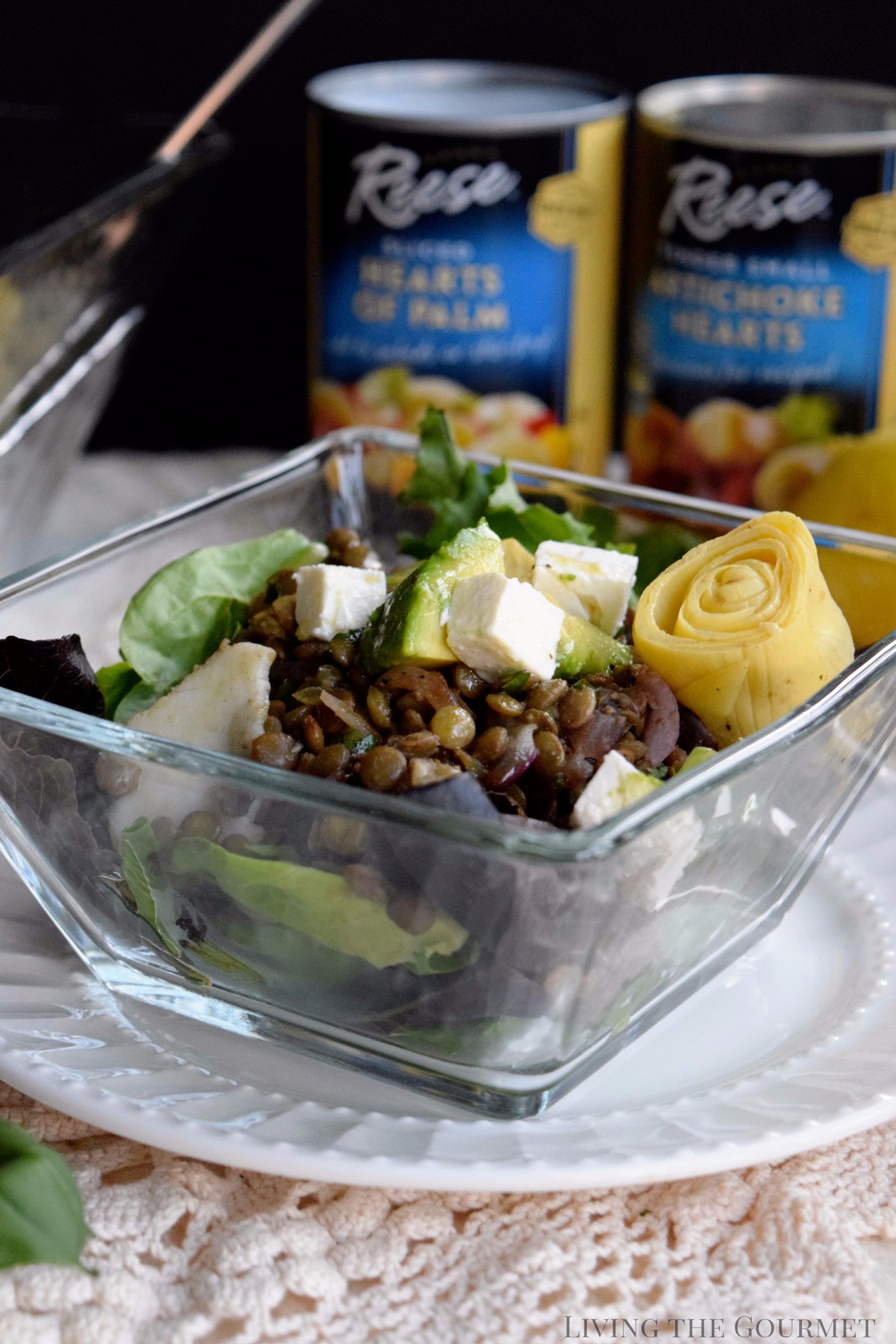 Confucius advised that "Wherever you go, you ought go there with all your heart."
To that point, there is an all-encompassing quality about the idea of a good meal. From scenes of feasting and overly detailed descriptions of food in the Iliad to the idea of 'Viking heaven' being essentially an oversized catering hall with swords in the Icelandic ballads, 'culture' is shaped as much by how we sustain ourselves through food as it is by literature, music or even war.
To understand why this is, we need not delve into any comparative cultural studies, instead, we need only look at our own lives. Whether it be childhood memories of holiday tables or the peaceful quiet of a summer night's meal, it's not difficult to see why the cliché of the kitchen is the 'heart of the home' has such traction – because it's largely true.
Aside from the sweeping epics and 'big events' of our lives, moments at a table etch preciously brief 'visions' into our hearts. Whether it was studying how my grandfather opened peach pits with his knife or noticing for the first time the familiar similarities in thought and manner between uncles you once thought were different as night and day, the table and its meal is the staging ground for such memories.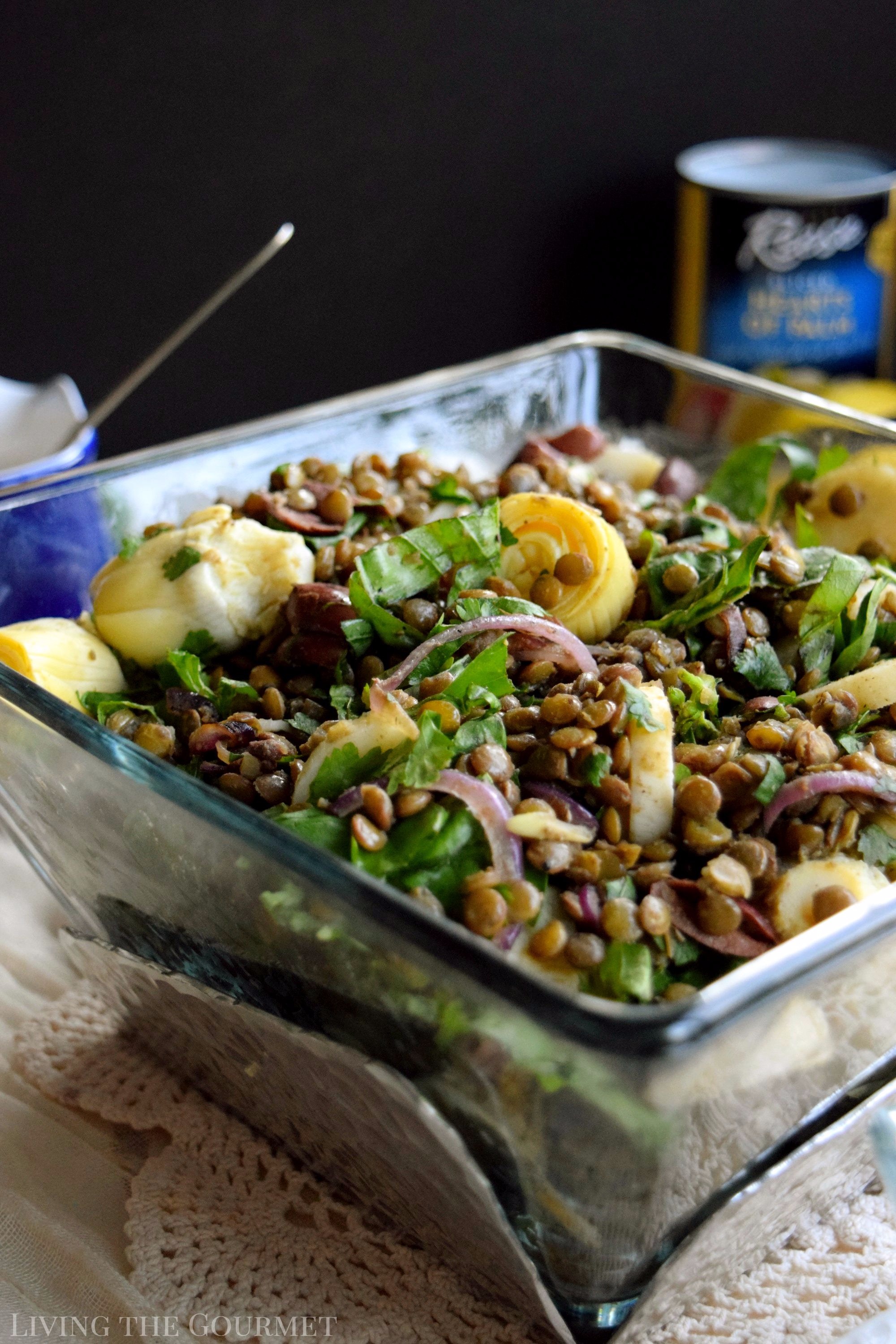 Why do I bring this all up? Naturally, because I poured a fair few 'hearts' into a salad I prepared recently for my post-Fourth of July luncheon – hearts of palm, that is.
You see, I wanted to create something light but still satisfying, and something that was equal parts refined, healthful, and rustic. While I had never used hearts of palm before – at least that I can remember – I noticed the Hearts of Palm offer from Reese Specialty Foods, whose artichoke hearts have been a staple in my pantry for years, since Reese products are Non-GMO Project Verified and rich in potassium. I figured why not give them a try.
After all, what better time to experiment than in the lazy aftermath of a busy Fourth of July?
This, of course, brings us to today's recipe – Mediterranean Lentil Salad.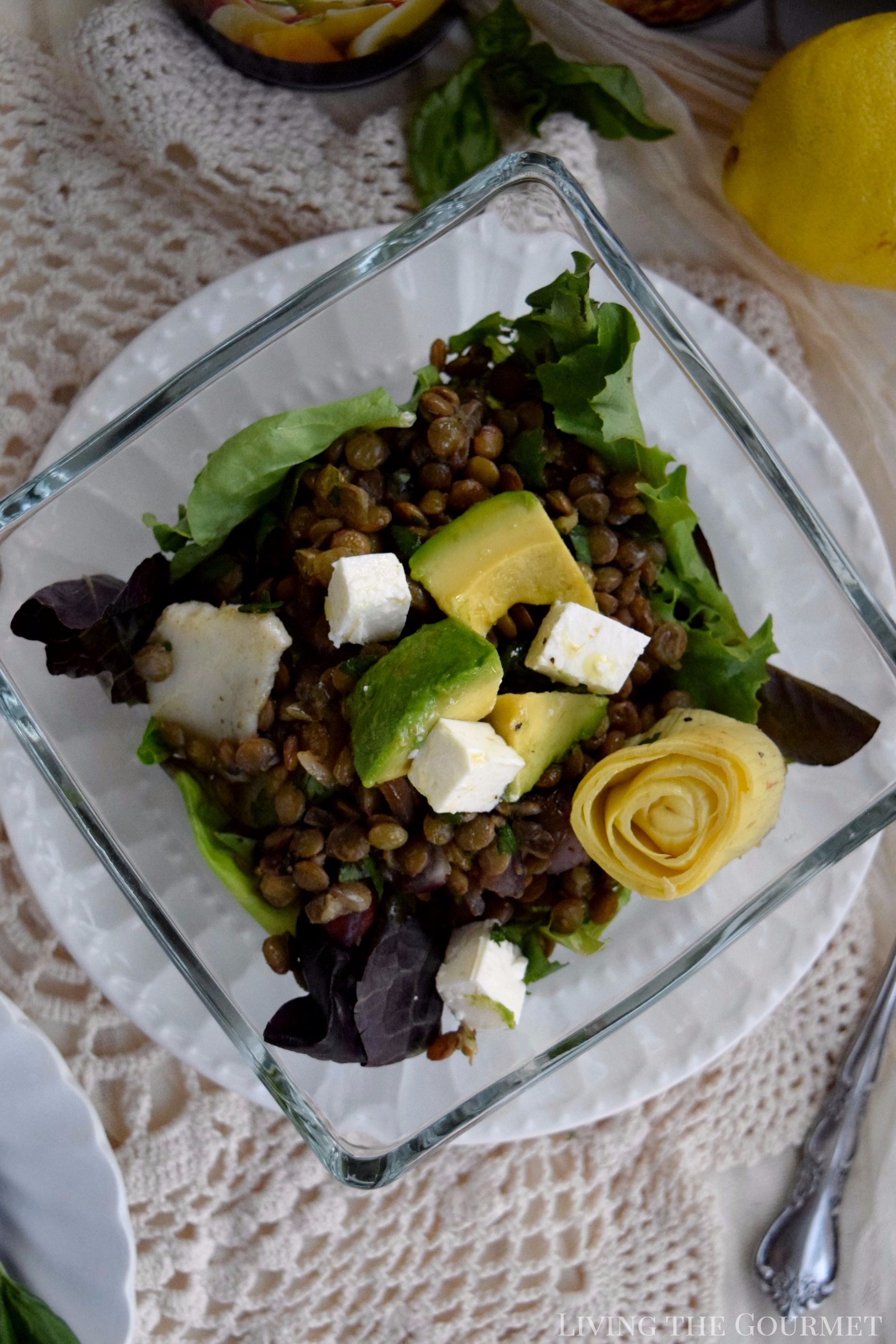 To start things off, we begin with sixteen ounces of dried lentils, which we sift thoroughly, then rinse and drain – also thoroughly. Next up, we heat a large saucepan with olive oil and chopped garlic, allow the garlic to become slightly fragrant and then add in the lentils and toss. We then add four cups of water to this, along with the seasonings listed below, and let this come to a simmer. Once the simmer has been achieved, lower the heat, and let the lentils absorb the water, tossing from time to time; at which point you turn off the heat and leave loosely covered.
While the lentils cool, quickly grill up a red onion, either in a cast iron frying pan or ideally on a griddle. After the lentils have finished cooling, add in the Kalamata olives listed below, along with the onion, basil, chopped parsley or fresh cilantro, Reese Tender Small Artichoke Hearts and the Reese Sliced Hearts of Palm and toss gently. At this point, you'll want to prepare the dressing as directed below with lemon juice, honey, salt, and black pepper.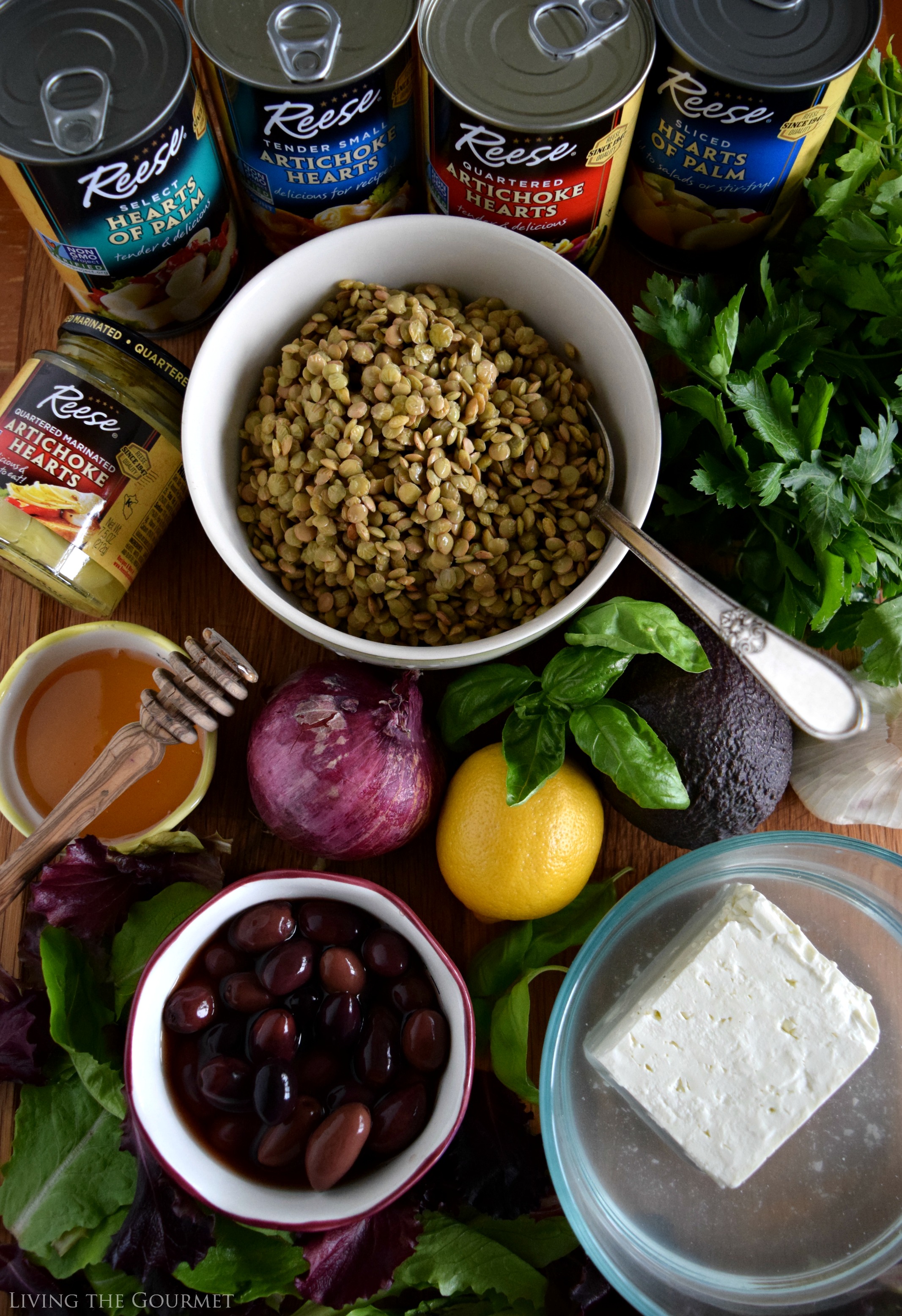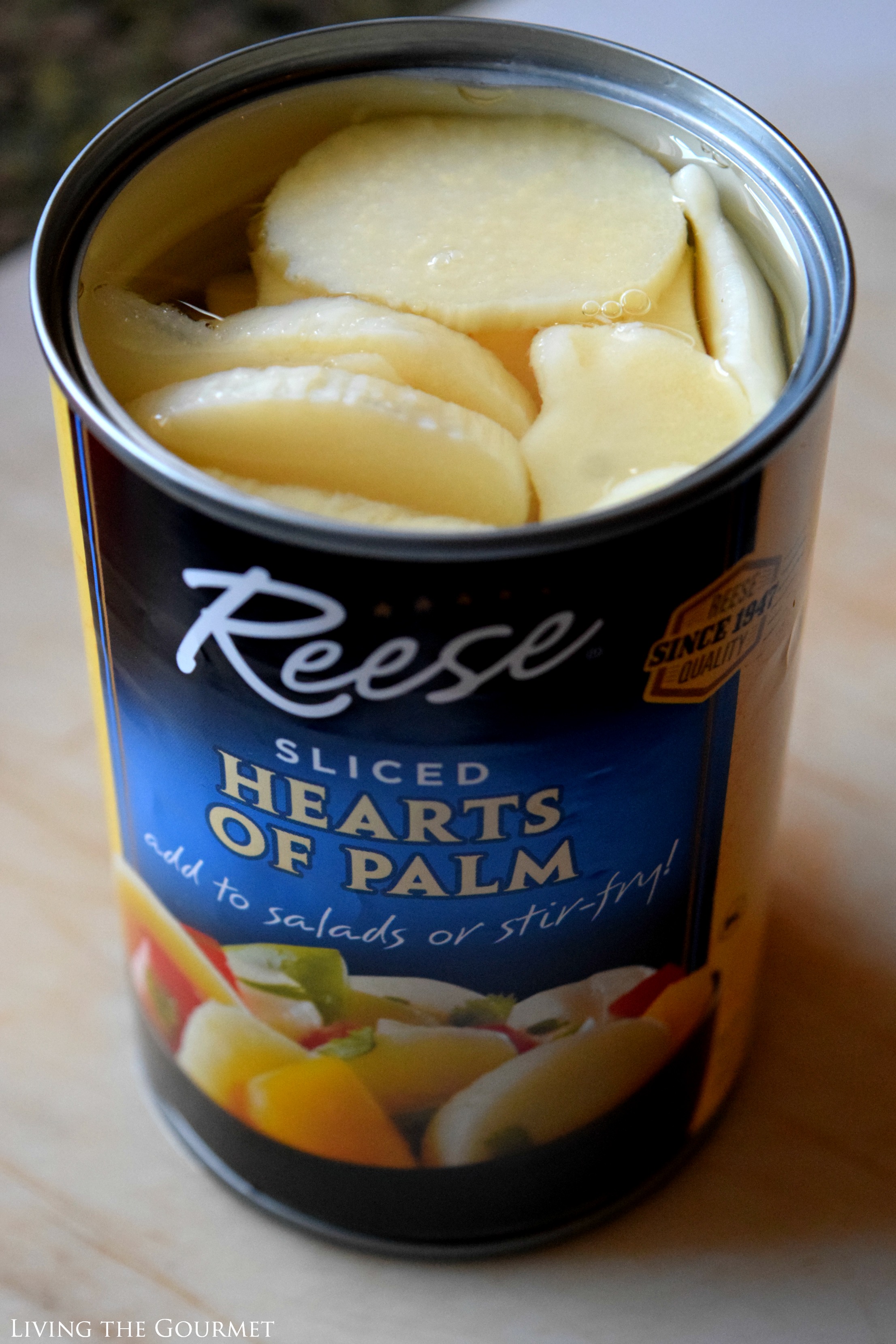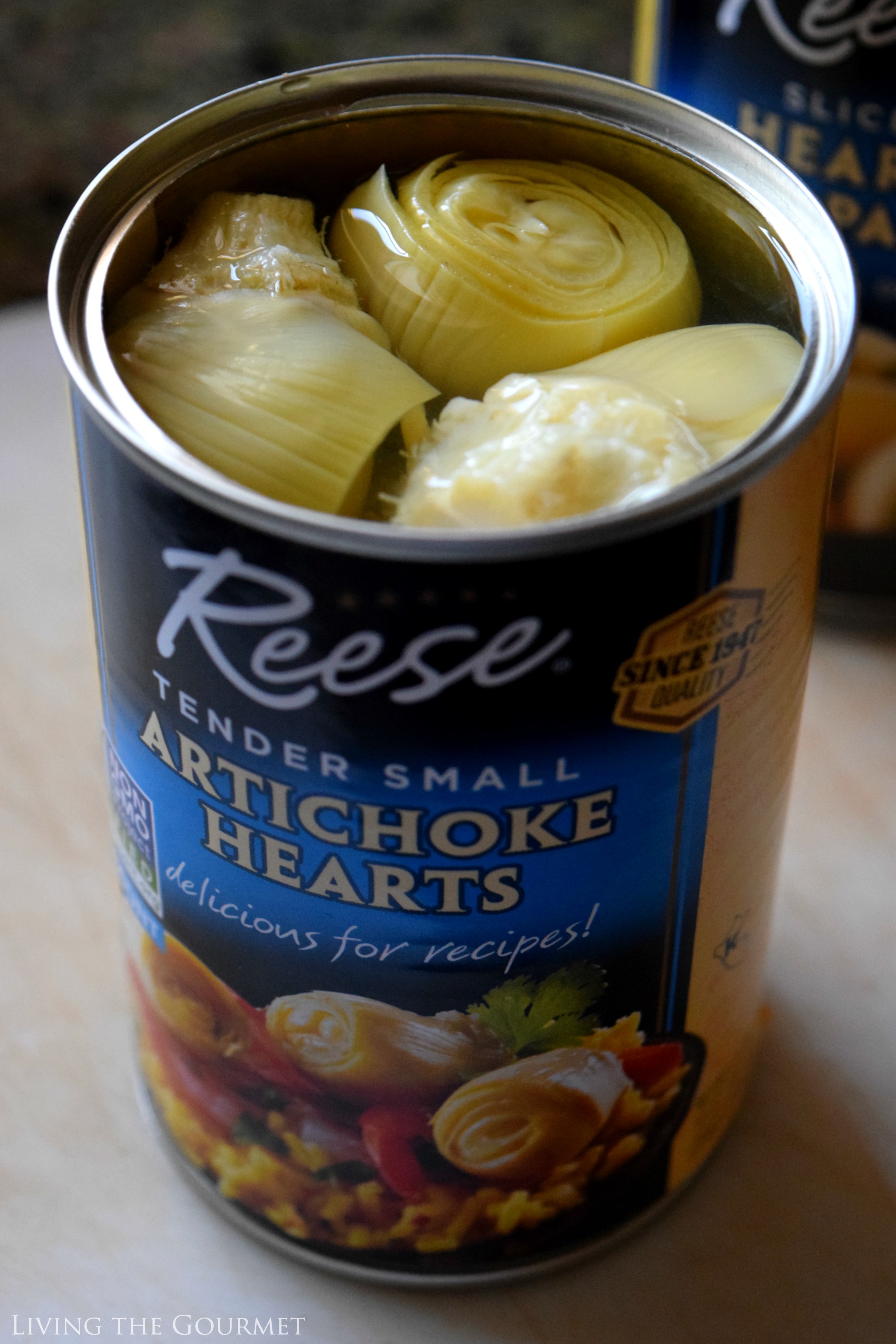 Print
Mediterranean Lentil Salad
Author:
Prep Time:

10 minutes

Cook Time:

20 minutes

Total Time:

30 minutes

Yield:

4

-6

1

x
Category:

Salad
For the Lentils:
16

oz

. of dried lentils

4

cups

water

2

tbs. olive oil

3

cloves of garlic - chopped

2

bay leaves

1 1/2 tsp

. salt

1 1/2 tsp

. black pepper

1 tsp

. ground cumin

1 tsp

. Jamaican Curry

1 tsp

. ground coriander
For the Salad:
1/2

cup

pitted Kalamata olives

1/2

cup

fresh cilantro or Italian parsley - chopped

6

-

7

fresh basil leaves - torn

1

red onion - grilled

2

Avocados - cubed
Feta cheese - cubed
Reese Tender Small Artichoke Hearts
Reese Hearts of Palm
Fresh spring greens of your choice
For the Dressing:
Juice of

2

lemons

1/4

cup

of honey

2

tbs. olive oil

1 1/2 tsp

. salt

1/2 tsp

. black pepper
Instructions
For the Lentils:
Sift through the lentils. Rinse and drain the lentils.
Heat a heavy saucepan with the olive oil and chopped garlic until the garlic is slightly fragrant; add the lentils and toss. Add the water, bay leaves and the seasonings and bring to a simmer. Lower the heat and loosely cover until the water is absorbed and the lentils soften. Turn the heat off and let the lentils cool.
For the Salad:
When the lentils have cooled remove the bay leaves; add the olives, grilled onion, chopped basil, chopped cilantro or parsley, artichoke hearts, hearts of palm and gently toss. Serve over fresh spring greens and top with the cubed feta cheese and avocado. Finish the dish off with a drizzle of the dressing.
For the Dressing:
Combine the lemon juice, olive oil, seasonings, honey and stir.
Spoon over the salad as desired.
Recipe Card powered by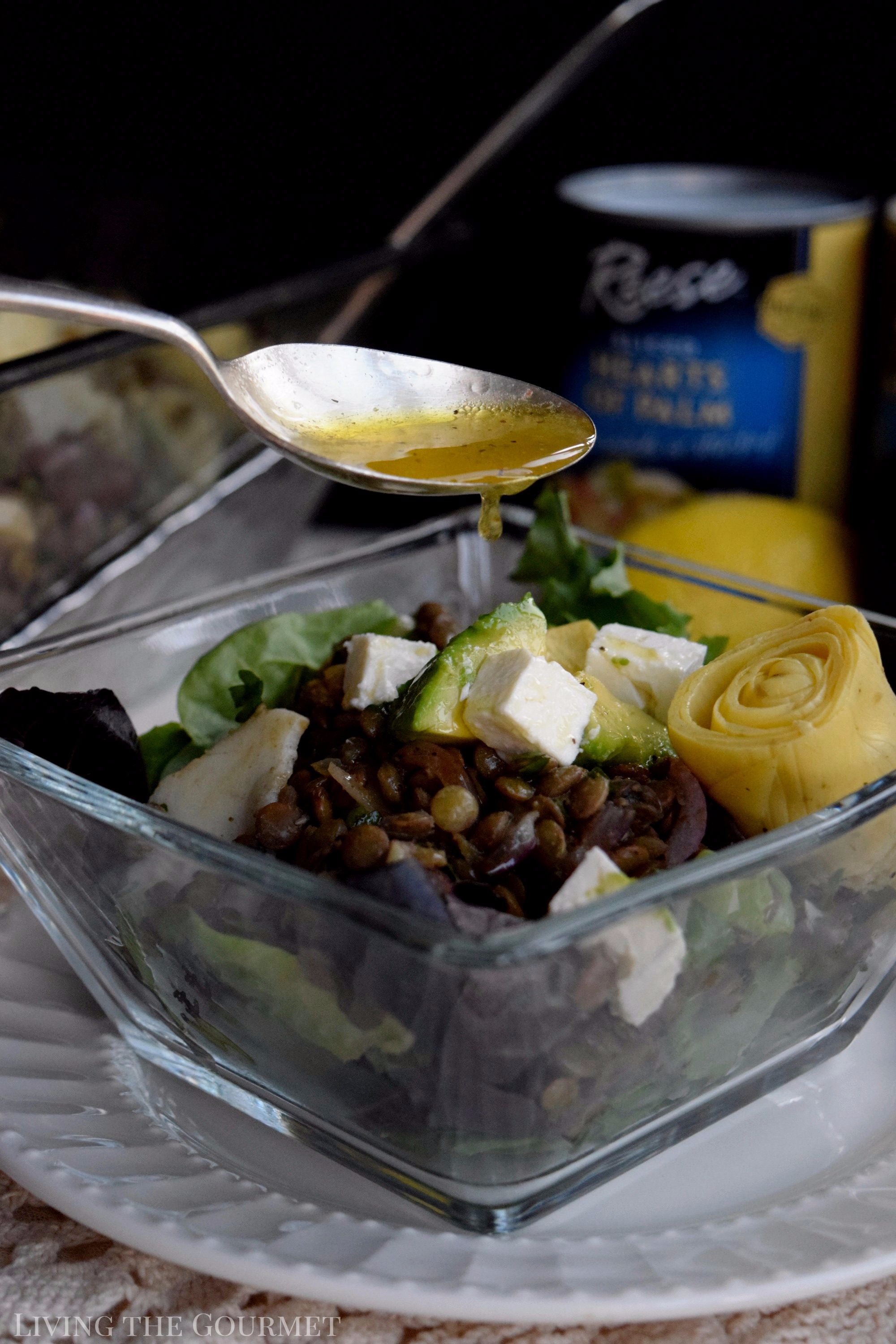 Now you serve the salad over a bed of fresh spring greens, topped with fresh avocado chunks, and top with feta cheese and a drizzle of the dressing. While I opted for the 'Sliced' hearts of palm variety for today's recipe, they also available in 'Select,' 'Pieces,' and 'Marinated,' making them super versatile.
And just like that, you've got authentic bistro-style Mediterranean flavor perfect for a balmy summer afternoon.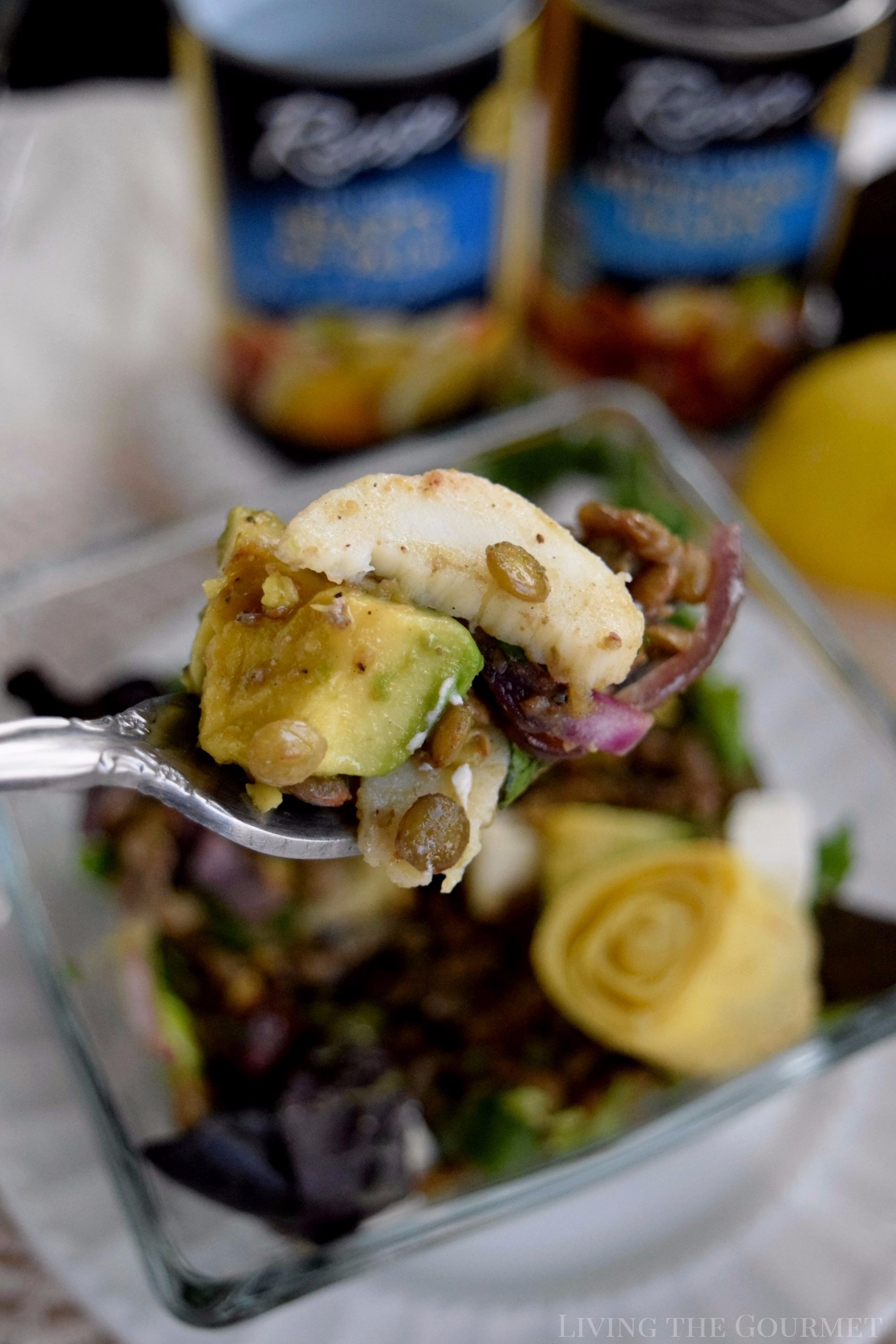 Don't forget to check out Reese on the Ibotta app to earn rebates on Reese products.
Enjoy with Love!
0