This shop has been compensated by Collective Bias, Inc. and its advertiser, MARS Incorporated. All opinions are mine alone. #SweeterEaster #CollectiveBias
Brighten up your holiday tablescape this season with these fun and festive Easter Cake Pops and for a twist on the traditional egg hunt, make little candy bundles with mason jars featuring M&M'S® and Starburst® Jelly Beans!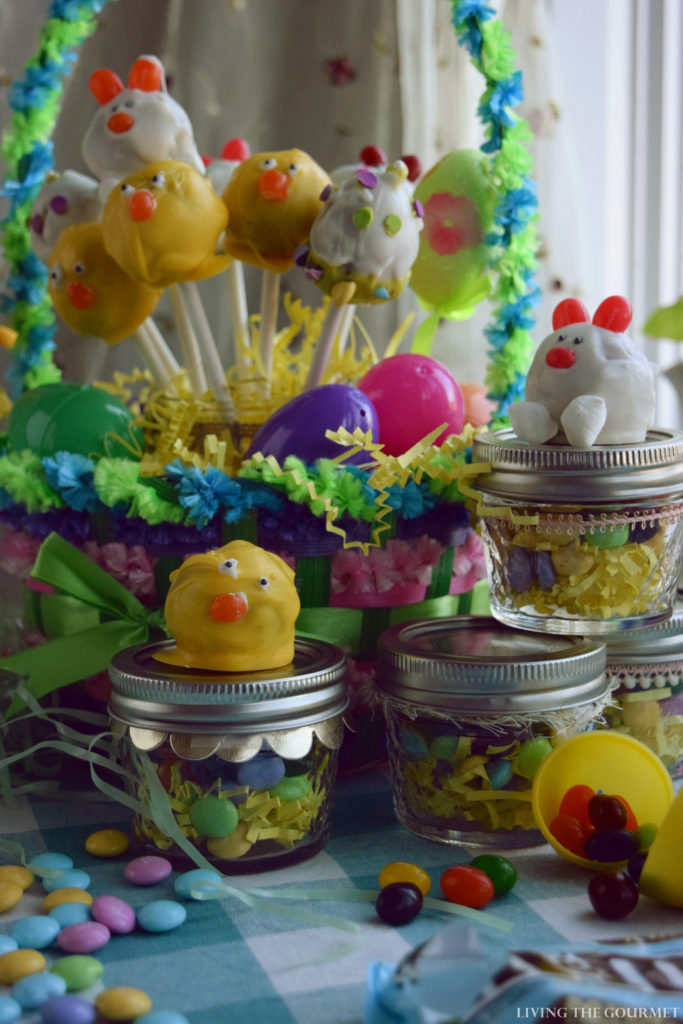 Imagine an antique church setting from a distantly bygone era. Beyond the darkened stained glass windows, grey clouds hang overhead, the prelude of a storm gathering in the distance, conjuring faint echoes of thunder across an otherwise still and silent Sunday afternoon. Now, imagine a priest's pious voice booming through that aforementioned church "Tradition is the voice of our ancestors." Needless to say, that particular Sunday afternoon was rather thoroughly impressed upon my then still young mind.
I suppose in some vague, subconscious way that formed how I view tradition today, and I've written here on Living the Gourmet a fair bit about tradition. I've spoken about the paradox of certainty in an ever-changing world, of the false-security it provides against the unknown of tomorrow, and how it connects us to our fast fading past.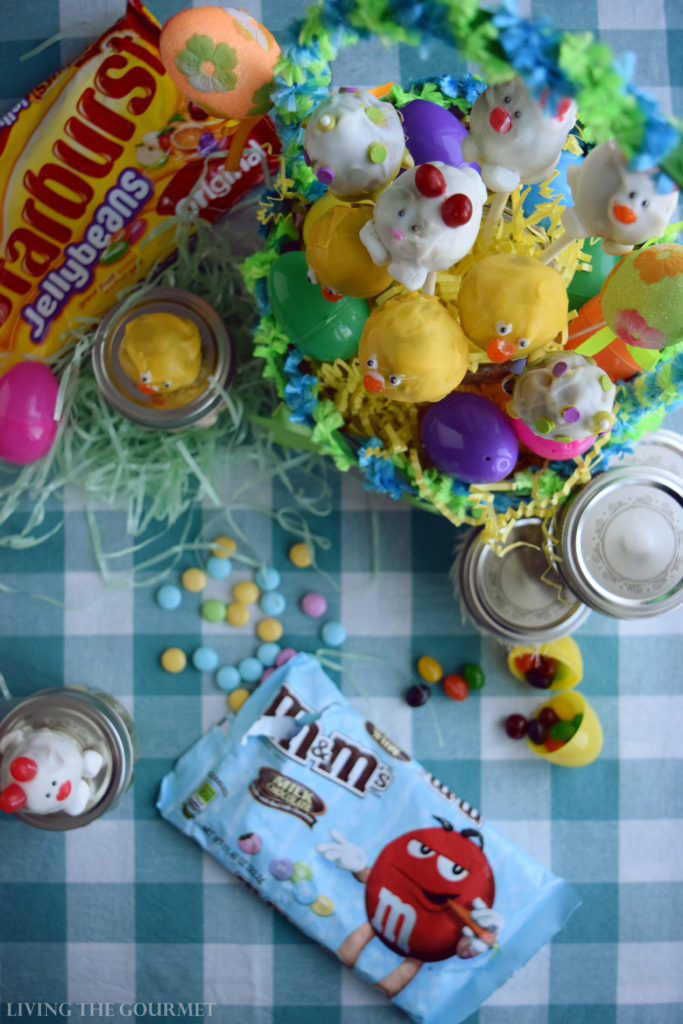 Growing up, my family's Easter traditions, like those of all the other holidays, reached back not merely generations but across an ocean. Without delving into detail, suffice it to say that with the passage of time, the dispersal of family, and an oral tradition that proved only as strong as the memories that held it, those 'ancestral voices' are growing faint.
For better or for worse, Easter today is all about the sweets, and given the holiday's aesthetic of bright colors and 'rebirth,' it's safe to say that not merely any arrangement of sweets will suffice, but rather sweets that are in and of themselves decorations and symbols of the season. Whether its overwrought baskets, molded chocolates, or multicolored eggs, it is as though the crafters of these confections were seeking to instill a sort of guilt in their consumption.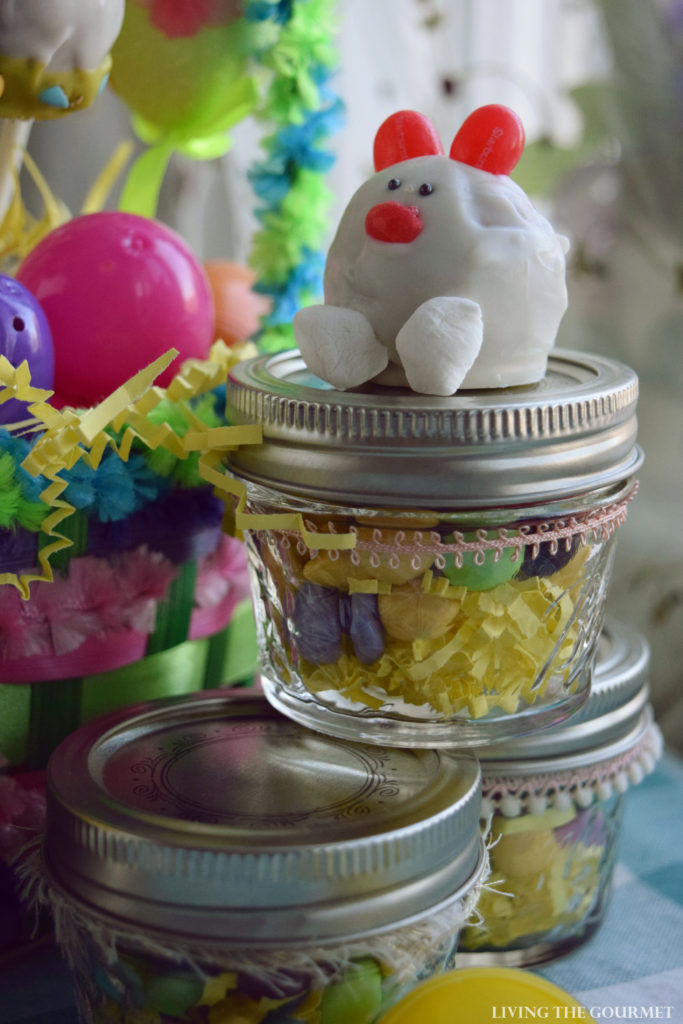 That said, I will admit that this is a part of the holiday I have come to thoroughly enjoy. Indeed, I've posted here in the past about my family's copious Easter basket giving, and how the crafting of such baskets has become an annual event.
This year, however, while shopping through Walmart for Easter supplies, I decided I wanted to try to do something a little more 'elaborate' than just the baskets, or to perhaps craft something extra for them. That said, I picked up a pack of Starburst® Jelly Beans, a pack of M&M'S® Milk Chocolate candies, some DOVE® Peanut Butter Eggs, and the new Walmart exclusive M&M'S® White Chocolate.
I decided to put together a medley of Easter goodies. I was going to craft Easter Cake Pops in the shape of Bunnies, Chickadees, and Eggs. To pair with these, I was also going to put together candy jars, which would be great either as basket stuffers, or to give as gifts on their own.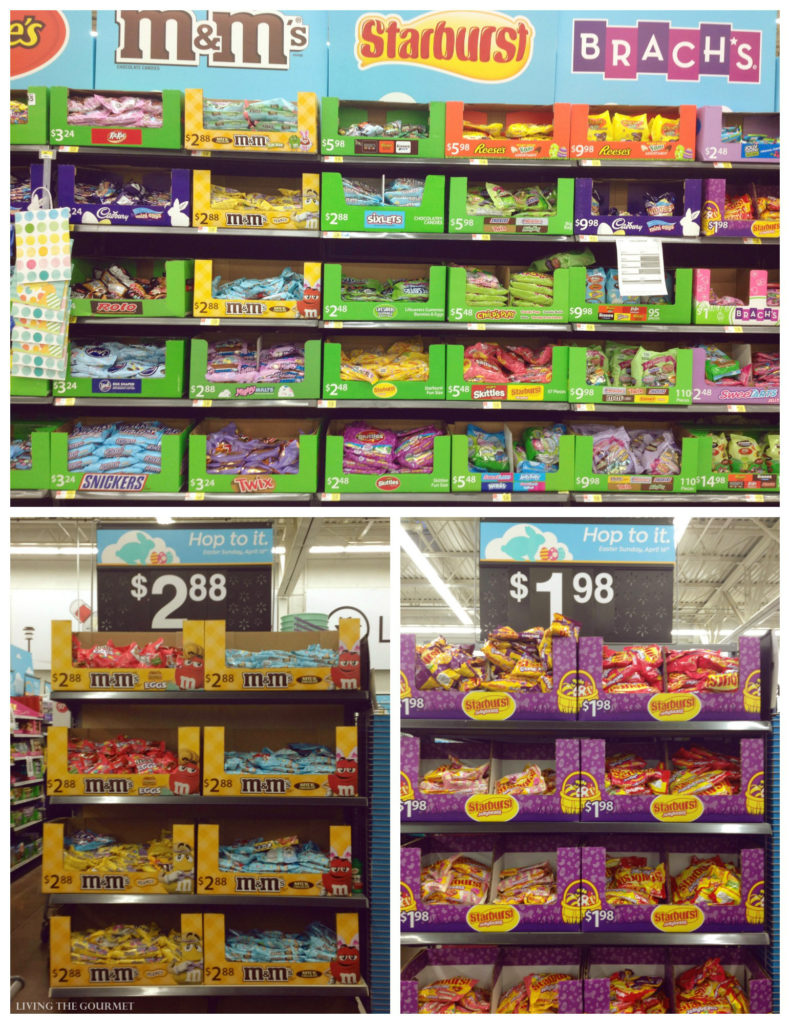 Before we begin, I should warn you that this is not a 'half hour' project. Instead, you're going to have to roll up those proverbial sleeves, because by the time you're done you're going to be elbow deep in cake and melted chocolate…and covered in a fair bit of sprinkles, you may also find your faith in humanity waning, but it will be restored, I think.
Sounds fun, right? Right…? Moving right along.
We start off with a vanilla cake mix, which we prepare as directed. Once the cake is cooled…break them. Yes, take your newly baked cakes and break them.
Don't give me that look, you can't make an omelet with breaking a few eggs, and in this case you can't make Easter candy without breaking a few cakes.
While breaking the cakes, add in honey and frosting until you reach maximal 'workability.' Once the cakes are sufficiently broken, begin rolling them out by the tablespoon, and begin shaping them into balls as shown below.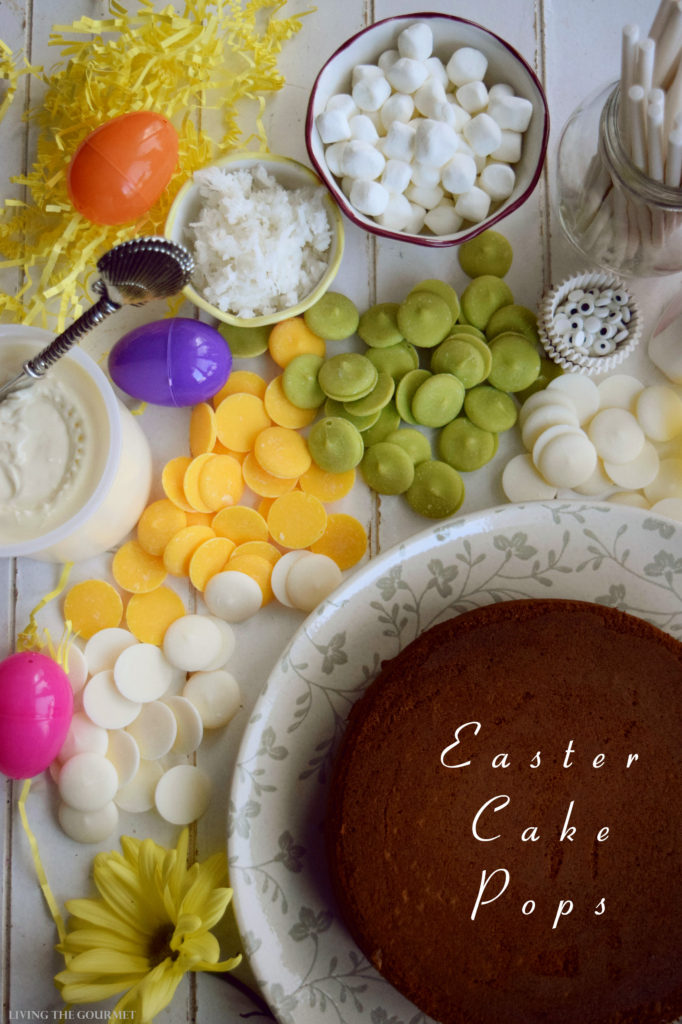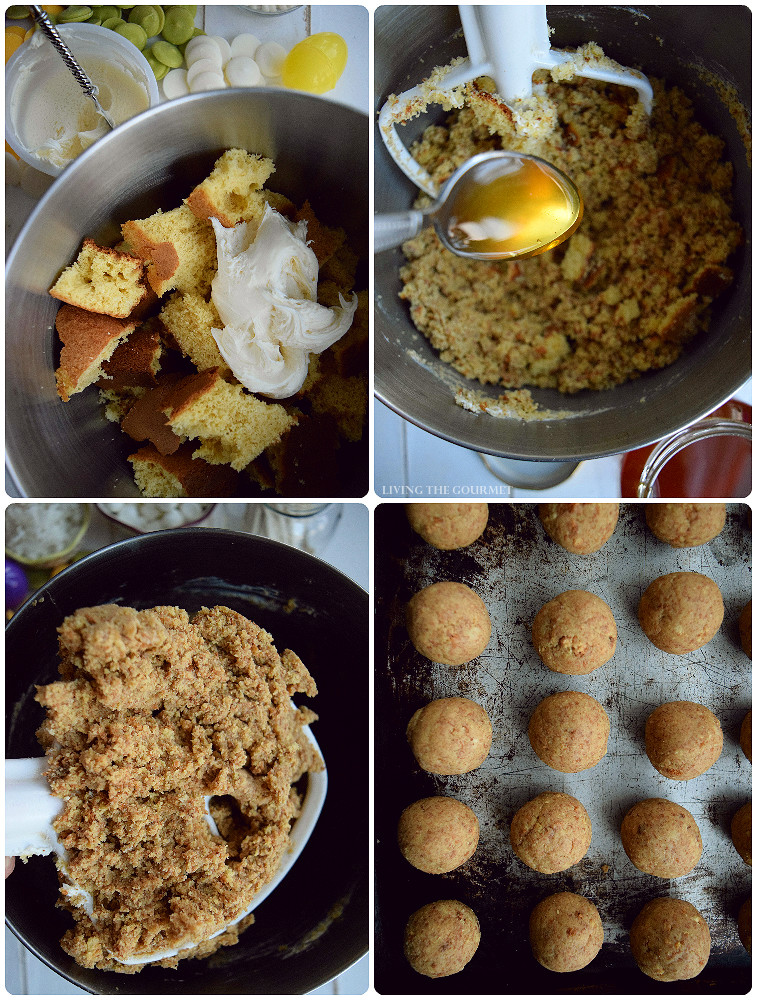 This should result in roughly two dozen or so cake balls…depending on how much cake-frosting-honey batter you've devoured in the aforementioned process.
My son tried making this in our LTG Test Kitchen, we ended up with about five cake balls, and he swore that was all the batter made.
True story, different recipe.
Once that's done, melt down white and yellow melting candies as shown below, and coat the balls as directed. After that, you want to let them cool for about five or so minutes.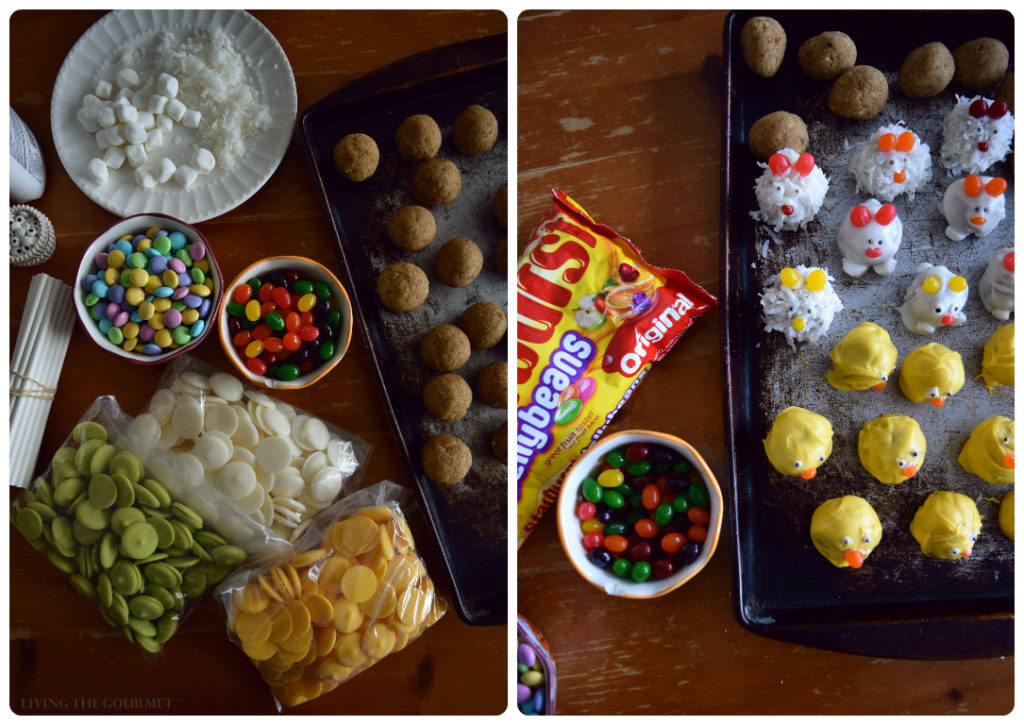 Now, to prepare the Bunnies we use the white coated cake balls. First, we're going to need to cut some Starburst® Jelly Beans and mini marshmallows in half.
Once that's done, we use the candies to form the ears of the bunny as described below using the remaining melted white chocolate. We repeat this process with the marshmallows but this time to form the bunnies' feet. For the eyes, carefully poke two appropriately positioned holes and dote them with a single candy sprinkle. This is delicate work. Finally, for the nose, cut the end off of a jelly bean, and paste it on with a bit of melted chocolate. Once that's all done, you have the option of dusting the entire Bunny in shredded coconut for added cuteness.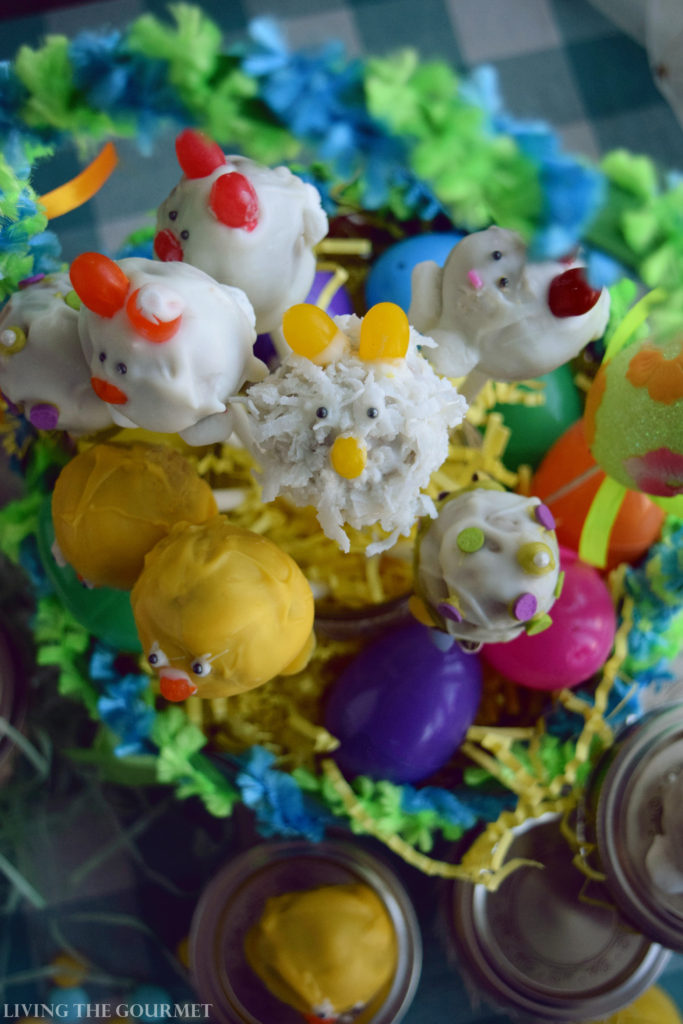 For the Chickadees, I'll make this simple…repeat the entire aforementioned but with the yellow coated balls. When I said 'simple,' I meant for me.
For the eggs, begin by finely chopping about a quarter of a cup of M&M'S® Milk Chocolate candies and then set these aside. After that, prepare melted green chocolate as described below, and coat the bottom of your white coated cake balls in the chocolate. Once that's done, dust the bottom of each egg with the chopped M&M'S® Milk Chocolate, and then dot with green chocolate using a toothpick as described below.
Now, here comes the fun part, impaling your carefully crafted chickadees and bunnies on lollipop sticks to form your Easter Cake Pops.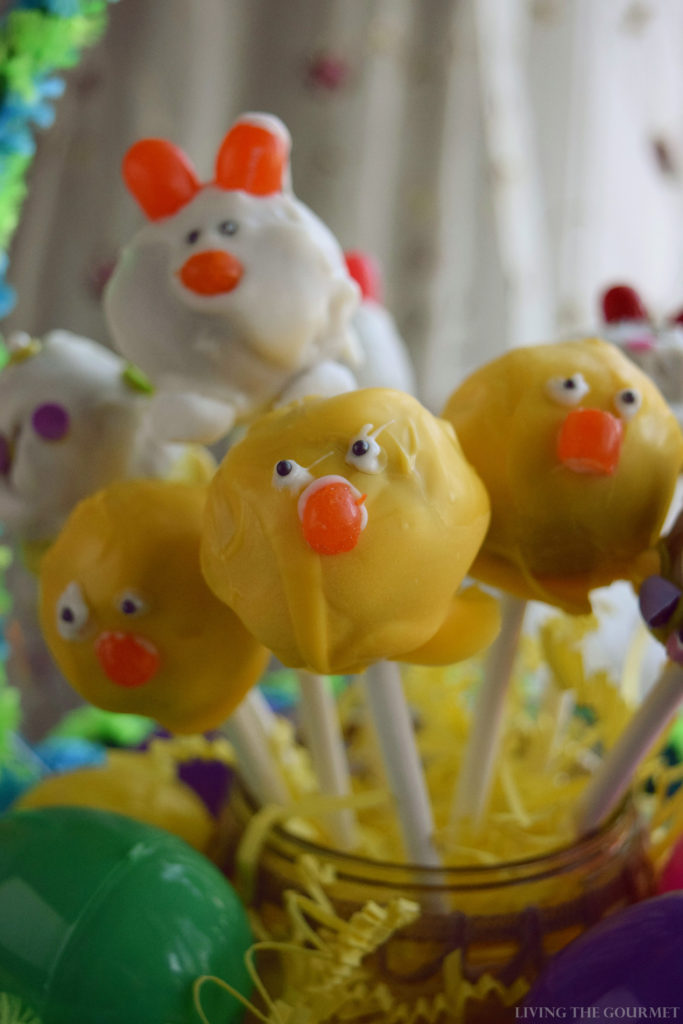 Living the Gourmet
Yields 2 dozen cake pops
Easter Cake Pops
25 minPrep Time
20 minCook Time
45 minTotal Time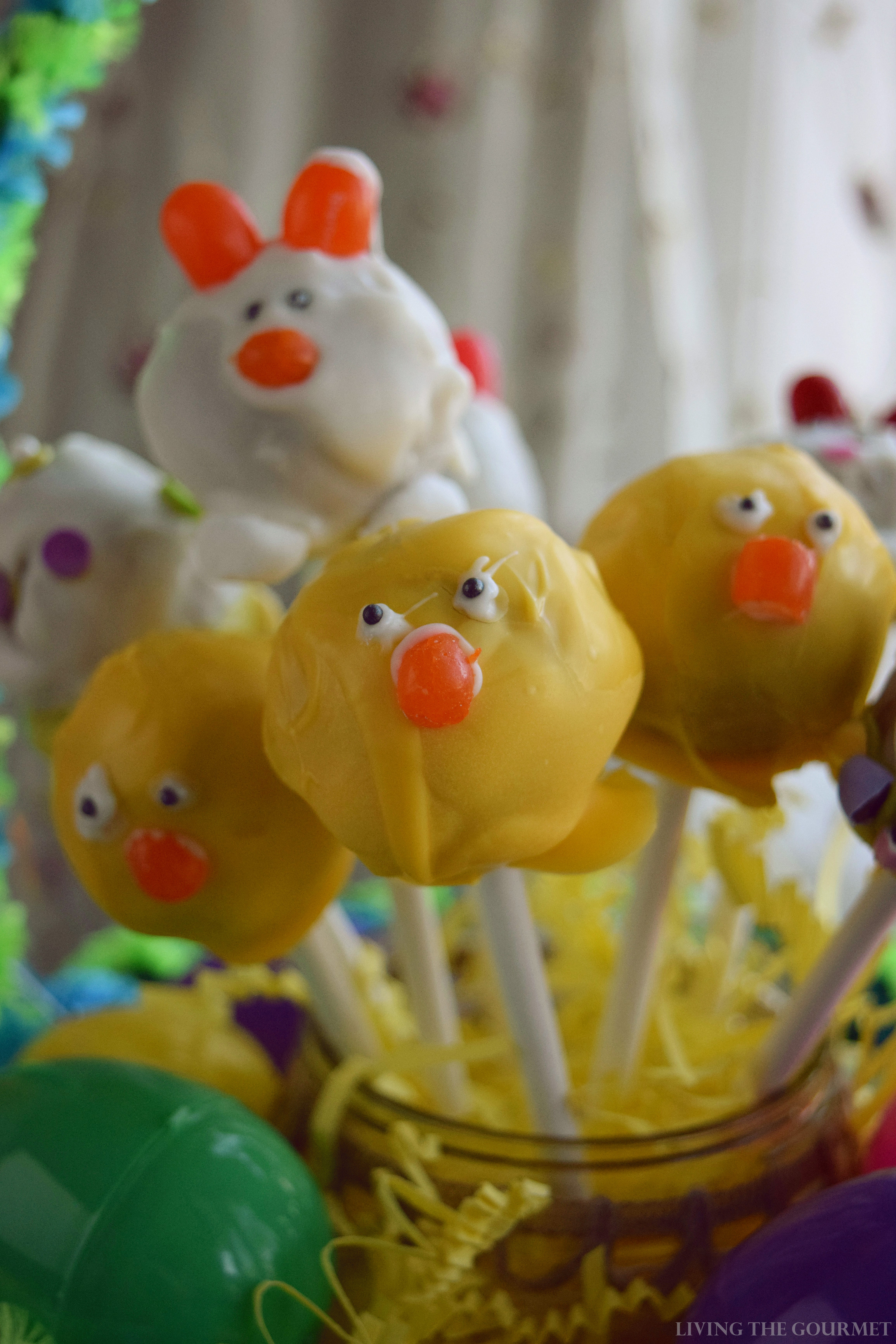 Ingredients
For the Cake Pops:

1 box vanilla cake mix
8 oz vanilla frosting
2 tablespoons honey

Decorations:

16 oz white chocolate melting candies
8 oz yellow melting candies
8 oz green melting candies
¼ cup Starbust® Jelly Beans
¼ cup M&M's® Milk Chocolate candies
Sprinkles (assorted Spring colors)
Pearl Sprinkles
Black sprinkles (for eyes)
1/8 cup Mini Marshmallows (for feet and tails)
½ cup Shredded coconut (optional)
Lollipop sticks
Instructions
Prepare vanilla cake mix as directed. Let cool completely before proceeding to make cake pops.
In the bowl of your mix master, break up the cakes. Add frosting and honey until the mixture is sticky enough to roll out.
Roll out about a tablespoon amount of cake mix onto a parchment lined baking sheet. You should have about 2 dozen cake balls. Make sure to shape about ¼ of the cake balls into oval shapes for the eggs. Take a lollipop stick and carefully place underneath each cake ball to mark the hole for later. Refrigerate the cake balls for up to an hour or overnight.
Melt down the white and yellow melting candies. Coat ¾ of the cake balls in the white chocolate and the remaining ¼ in the yellow chocolate. Let the chocolate set before continuing about 3-5 minutes.

For the Bunnies:

Cut Starbust® Jelly Beans in half and mini marshmallows in half.
With the remaining bit of white chocolate (you may have to reheat slightly if it has set), dab a little of the white chocolate on the jelly beans and place on top of each cake ball for the 'ears'. Do the same with the marshmallows to create the feet and tail.
Use a toothpick to dab a light bit of chocolate for the eyes and carefully place a black sprinkle.
Finally, for the nose, cut the end off a jelly bean, dab with a little chocolate and place accordingly to finish each face of the bunnies.
*If you like before adding the faces, immediately after coating the cake balls in the white chocolate, roll in finely shredded coconut flakes for the bunnies. This is optional.

For the Chickadees:

Follow the same basic outline for the bunnies minus the mini marshmallows to create the faces on each chickadee. Use only the orange jelly beans.

For the Eggs:

Finely chop about ¼ cup M&M's® Milk Chocolate candies and set aside.
Melt down the green melting candy and dip the bottom of each egg in the green chocolate.
Sprinkle the chopped M&M's® Milk Chocolate candies all around and place on the parchment lined baking sheet to set.
Using a toothpick, dot each egg with the remaining green chocolate (or white chocolate if you prefer) and carefully place the sprinkles all over.
One each of the cake balls have set, place the lollipop sticks in the holes we made earlier. Serve and enjoy!
Notes
Prep Time does not include inactive Prep Time.
7.8.1.2
482
https://livingthegourmet.com/2017/03/easter-cake-pops.html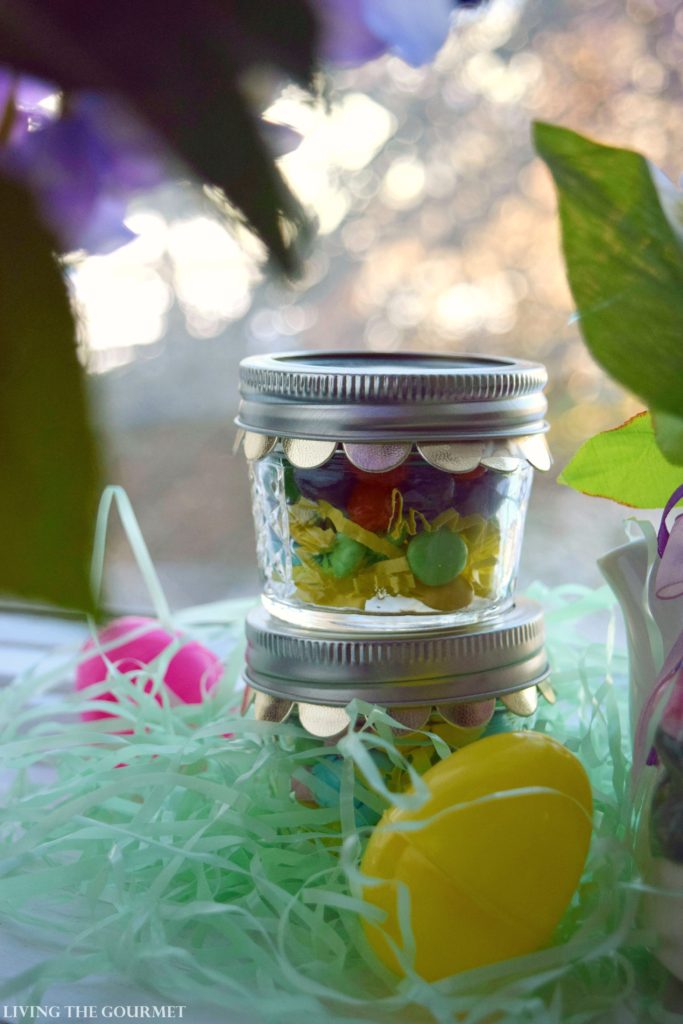 Once that's done, it's time to prepare the Candy Jars. We begin with 4 ounce Mason jars. To start, prep the bottom of each jar with Easter grass, and then begin layering the candy. Don't shy away from being creative, use your MARS candies like Skittles®, the new DOVE® Peanut Butter Egg, or the New Walmart Exclusive M&M's® White Chocolate. Then seal the jars with ribbon, and you're done.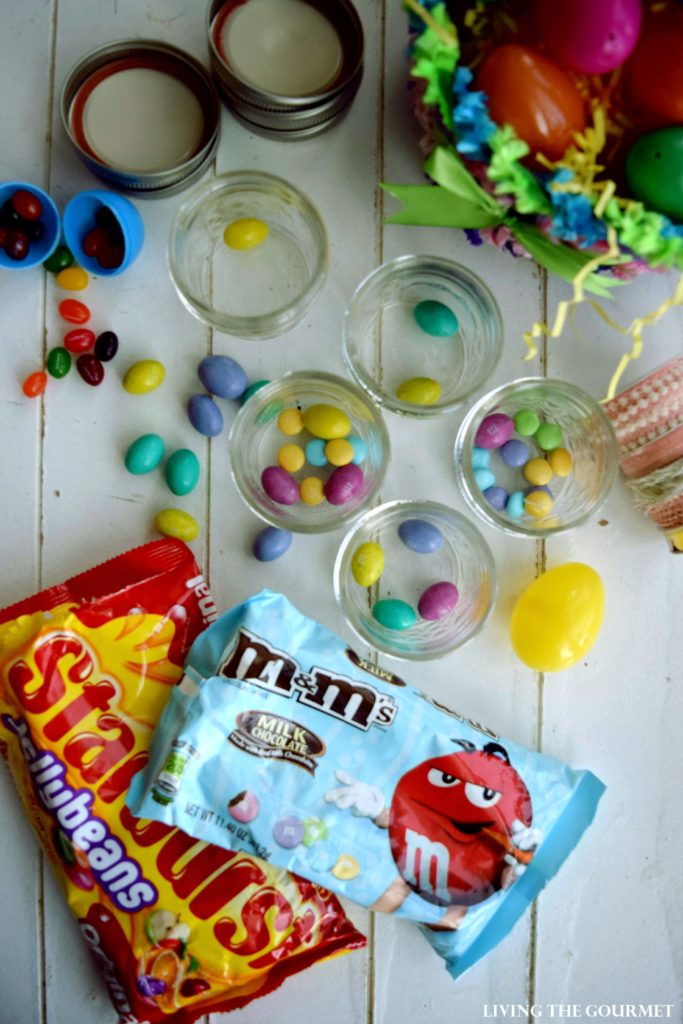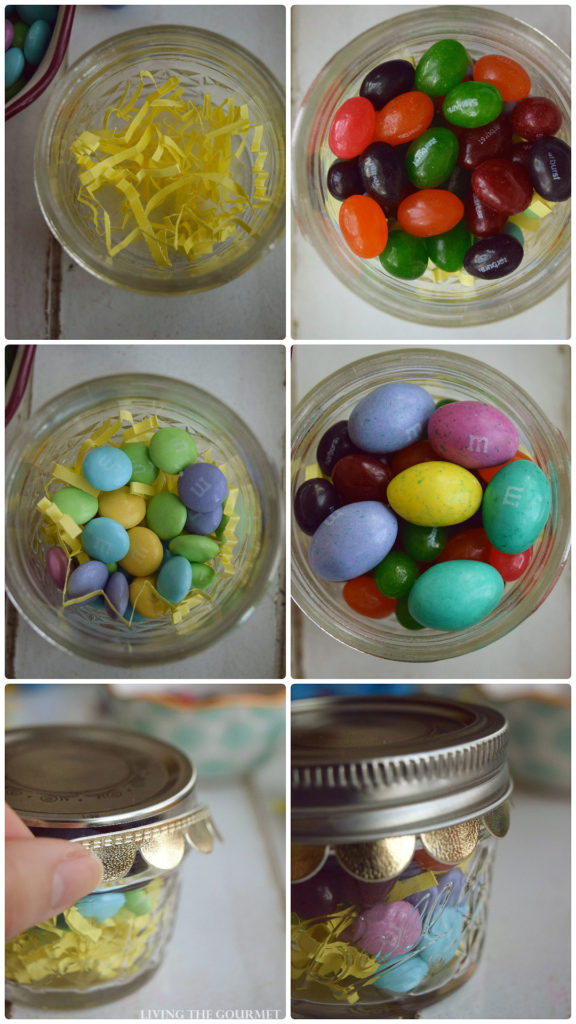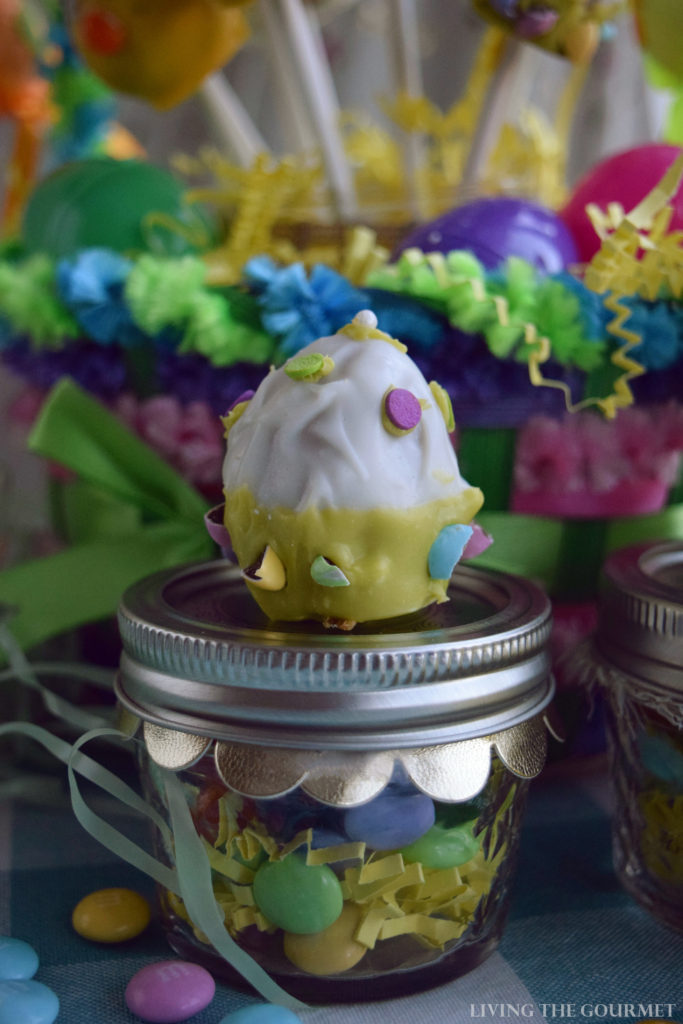 What are some of your favorite Easter projects? We would love to hear from you. Find more sweet Easter confections and inspiration HERE!
Don't forget to download this exclusive Ibotta rebate on your MARS Easter candy purchase this season!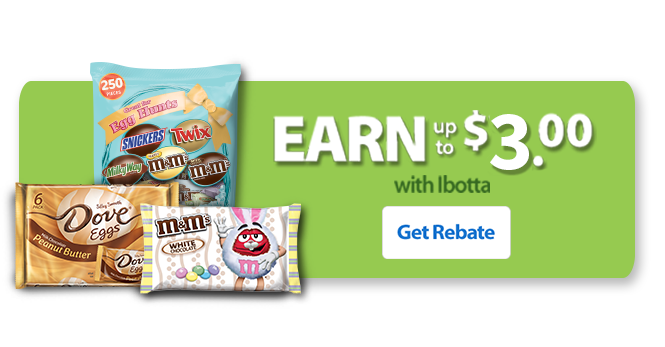 Enjoy with Love!
0