This shop has been compensated by Collective Bias, Inc. and its advertiser. All opinions are mine alone. #LatteMadeEasy #CollectiveBias
With the new International Delight® One Touch Latte™ coffee breaks have never been so easy! Make your favorite warmed beverage right in the comfort of home in 3 easy steps!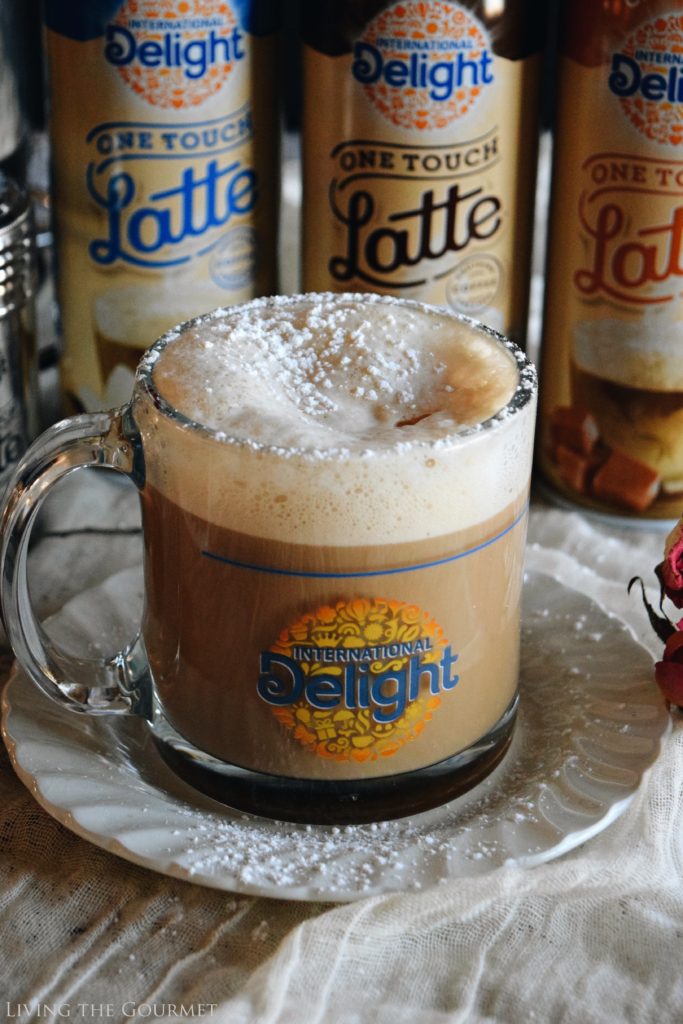 We are told to relish small pleasures. How many times have we all heard to 'enjoy the little things?' Or that we can't 'have our cake and eat it too?'
Certainly there is joy to be found in these proverbial 'little things,' especially since physics doesn't particularly abide the notion of a cake being 'had' once it's already been eaten. However, there are times we simply need to indulge ourselves, to forsake mediocrity, and, as the saying goes, 'think big.' Perhaps it is the Roman in my veins, but I can't help commiserating with Nero who remarked of the Domus Aurea, his notorious 'gilded palace,' "Finally, a dwelling worthy of a human being."
However, for those of us without access to gilded palaces or Imperial Roman treasuries, we must, instead, 'make mountains of our molehills.'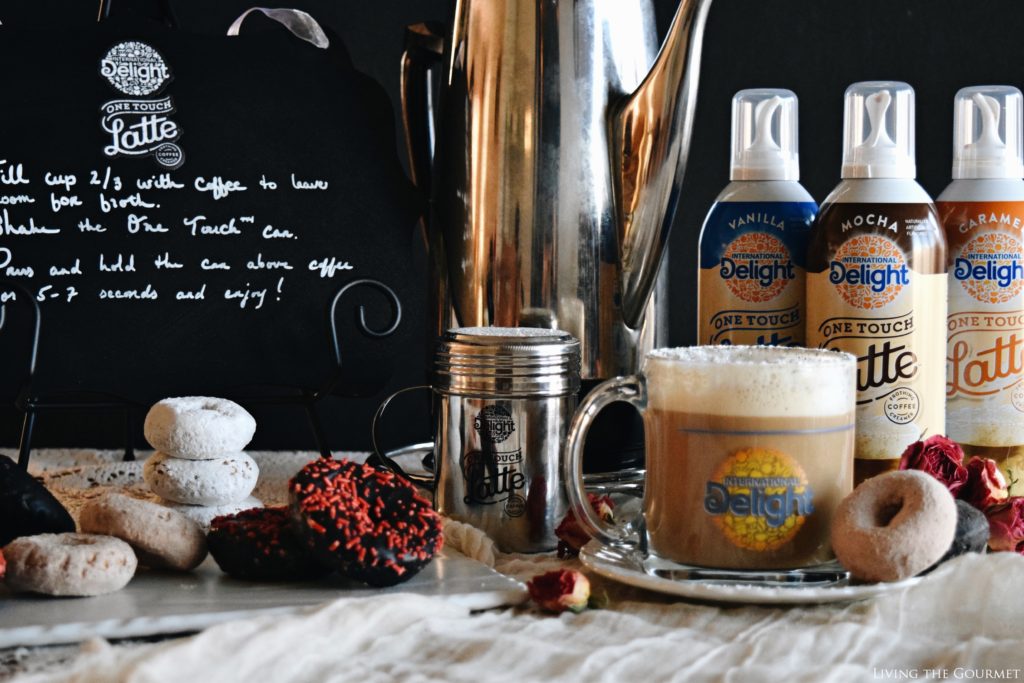 For example, waking up to a pristine New York snowfall on the coast is, admittedly, one of life's 'little joys.' To quote Plutarch, "Extraordinary rains generally follow great battles." Similarly, the first moments after a great snowfall seemingly follow a general pattern. Once the snow has settled, it is in these first moments that the world itself sleeps, and an icy silence as smooth as glass veils the air of the earth's momentary slumber, a slumber that is at once both deafening and all encompassing. The sun's light spills out of the chilled horizon, and like silver through the air, reflects in blinding auras and beams of white across the winter's frozen tundra as if crystal. As the world wakens, a stray gull tours the icy dessert, and a nautical bell chimes from somewhere in the distance in long, tired wails across the ice of the bay.
And then, right on cue, as if conducted by some unseen maestro…oh who am I kidding, a plow rumbles down the block, and just like that we've got slush for a week.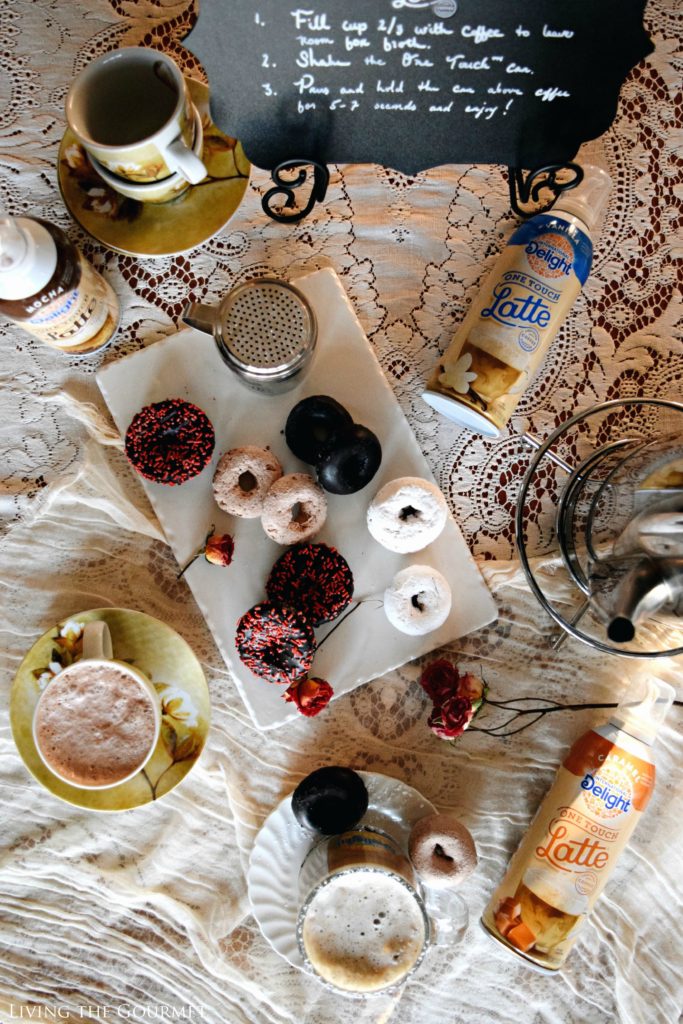 Contrasted fantasies and realities aside, there are very few things more relaxed than a laid back winter morning here on the coast. However, I must admit, I did want something 'more,' a bit of 'accentuation,' if you will. I wanted to indulge the morning more than merely acknowledging its quiet, pristine beauty – no matter how inconvenient that snow would later prove to be. And, naturally, being who and what I am, that 'enjoyment' would be of a purely gastronomic nature.
International Delight One Touch Latte™ comes in three delicious flavors- Mocha, Vanilla, and Caramel, and soon it will be available at your local Walmart within the next few weeks. I was most excited about being able to prepare myself a coffeehouse-style latte in mere seconds on my busy mornings. Timed saved and deliciousness added. After all, what better way to jump start the day than with a reliably delicious cup of coffee?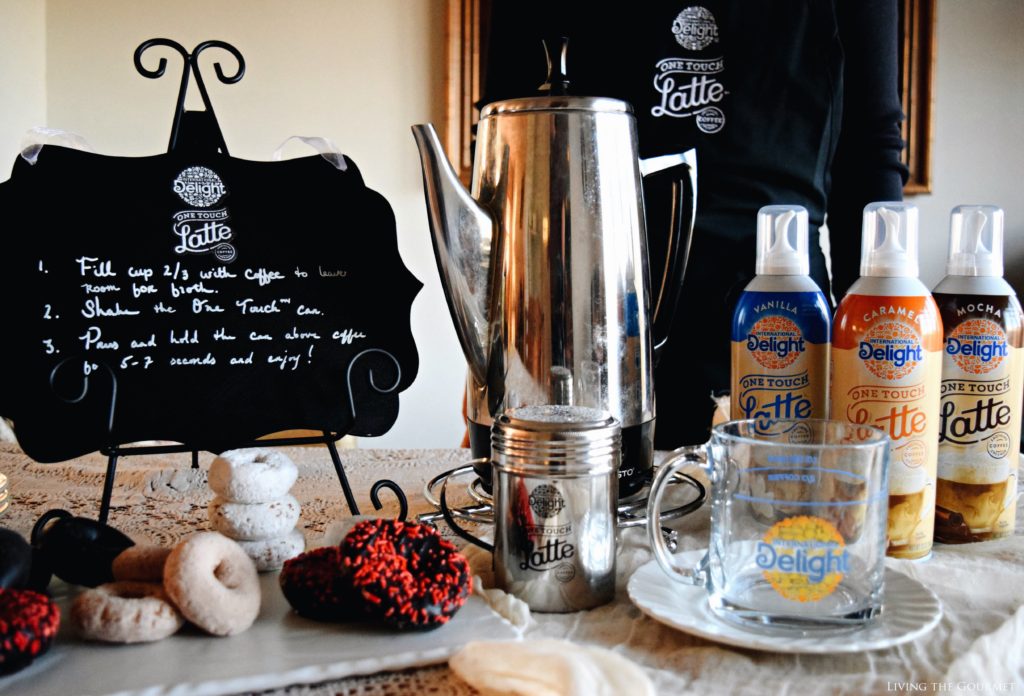 If you're unfamiliar with this product, picture a can of whipped cream, and how you would squirt that onto strawberries or brownies. This is the same thing…just Latte. Basically, this is a morning-style 'party in a can,' that effortlessly froths your coffee. To use, simply fill a standard mug about 2/3rds of the way with coffee, and then, shake the One Touch Latte™ can, then infuse your brew with the frothy goodness for about 5-7 seconds. That's it! You're done. Just like that, you've got a great tasting, super easy to make coffeehouse-style morning latte, complete with froth. Check out the video below to see how it's done:
Now, what best to pair with a freshly frothed cup of coffee-turned-latte? Well, this is winter in New York, after all, and that means a variety of simple mini-donuts, my personal favorite being the cinnamon coated, but of course I'm hardly one to resist the chocolate and powdered sugar varieties.
I simply set that up for myself and it was time for an effort-free, relaxed winter morning.
What are some of the ways you de-stress? Or what are some of your favorite wintery treats? We would love to hear from you.
Make sure to Follow International Delight here:
Facebook
Twitter
Pinterest
Instagram
Enjoy with Love!
2