An elegant Spring menu inspired by Gloria Ferrer wines is the perfect welcome to the warmer season. Bursting with bright colors and flavors, our simple Spring linguine with blistered tomatoes and basil is served alongside a fresh citrus arugula salad and light mixed berry cheese tortes!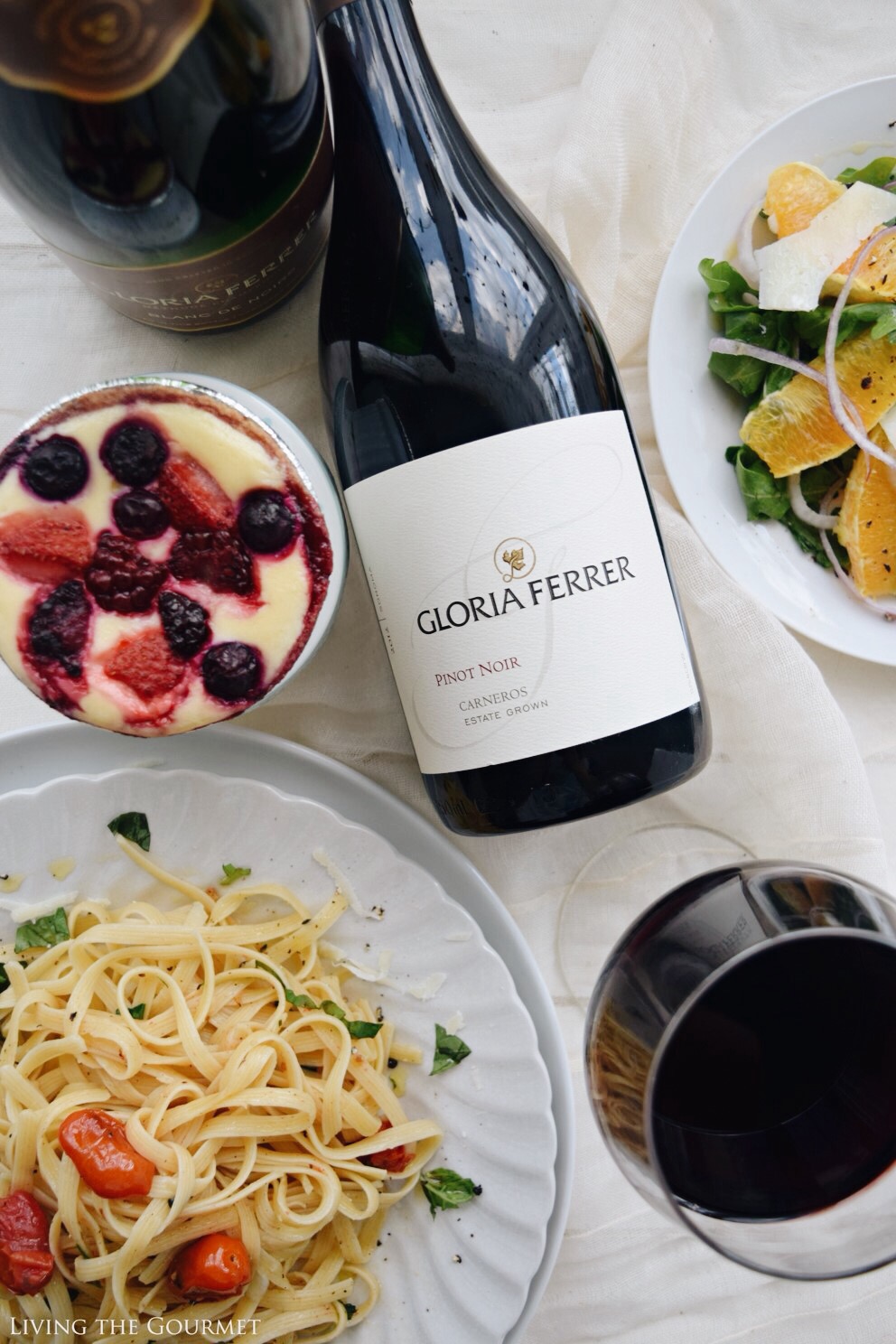 With Easter now just days away, it's safe to say that the rush is now reached its maximum flare. The last minute preparations, each a seemingly trifling task, have accumulated into a monumental task, prep on the menu still remains to be done, and the more I try to prepare my house for the eventual gathering, the more I seem to have to do. Add to that a seemingly endless stream of new Easter themed content for the site, and it can be easy to forget that the purpose behind all of this rushing is actually in anticipation of a pleasant celebration.
However, as St. Thomas Aquinas remarked, "Sorrow can be alleviated by good sleep, a bath and a glass of wine."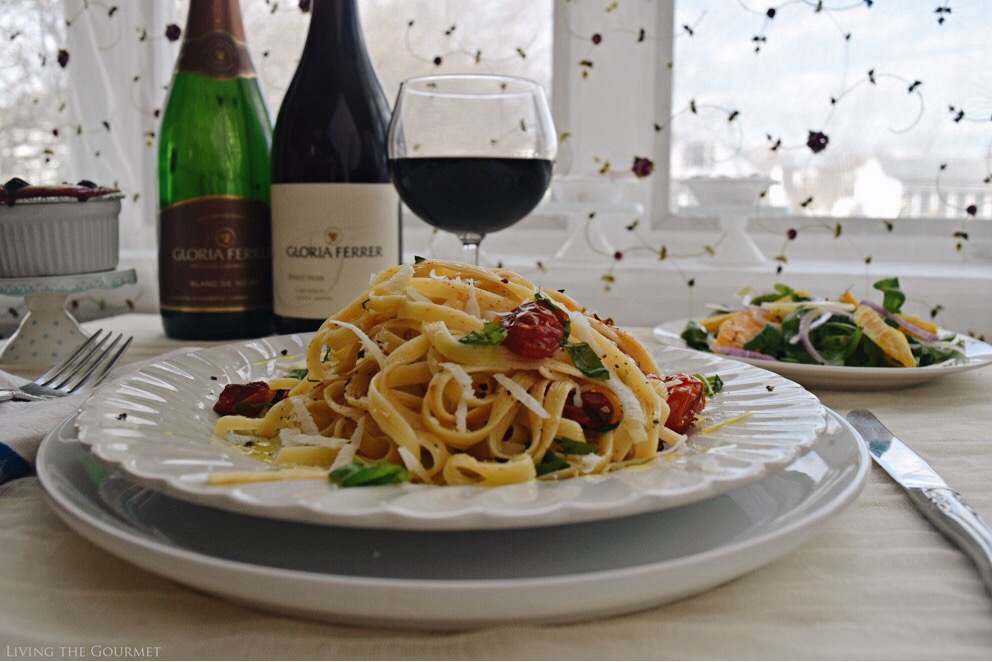 With that in mind, I decided to clear my schedule yesterday evening, and simply allow myself and the crew here at Living the Gourmet to take a much needed breather, to actually enjoy the season for which we've been doing so much work.
At the risk of sounding originalist in my pairings, I decided to start the night off with a Gloria Ferrer Blanc De Noire Methode Champenoise sparkling wine, which is one of Gloria Ferrer's hallmarks for their over 400 gold medals and fifty 90+ scores in the last five years. Wanting to keep things elegant yet simple and fun, I paired this with a citrus arugula salad prepared with fresh basil and shavings of Romano cheese.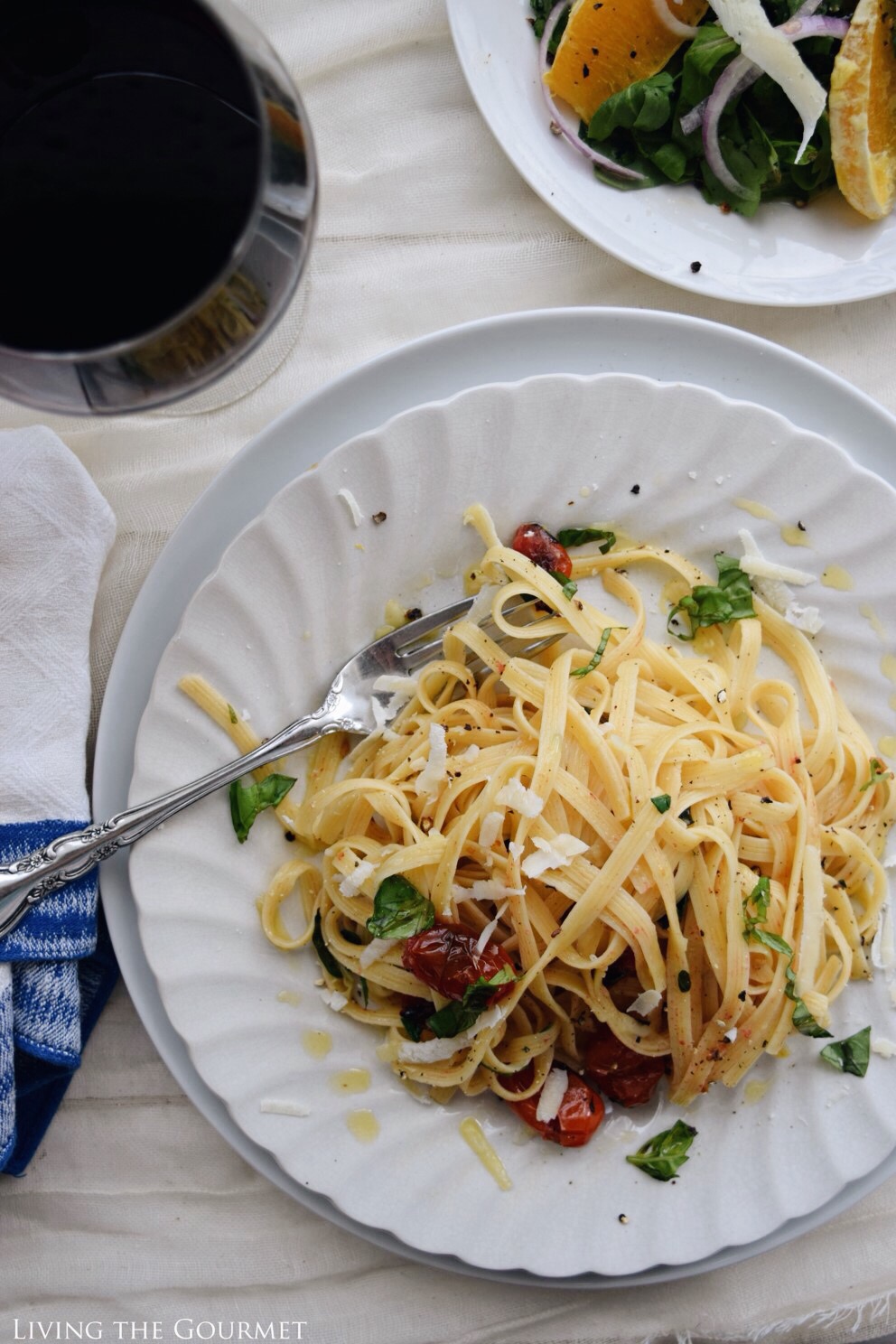 The pairing was superb. Carried on a distinct effervescence, the wine introduced itself with a rich bouquet of freshly sliced red berries. The prominence of these berry notes fades somewhat into the middle of the glass, giving way to almond notes laced with subtle hints of vanilla. On sampling, the bouquet largely carries over with accentuated strawberry and vanilla tones present throughout on very fine, very persistent bubbles.
I'll admit that I wasn't surprised at the good quality of the wine, since Gloria Ferrer was both the first sparkling wine house in Sonoma Carneros, as well as the first to bring back samples from France with which to plant their vineyard.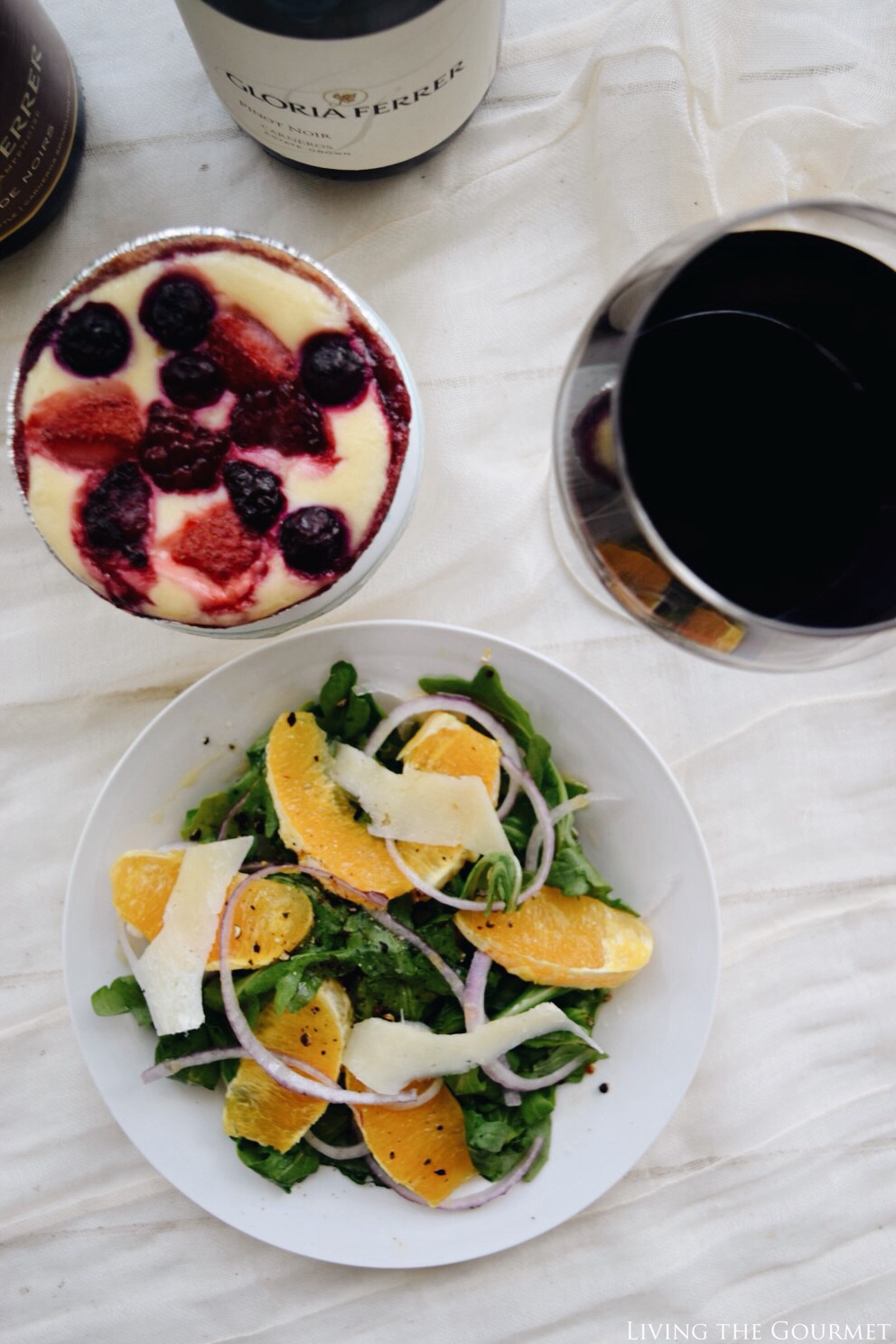 After we had finished with the citrus salad, it was time for the night's main course – a spring linguine prepared with blistered cherry tomatoes, garlic, olive oil, and basil. I paired this with the Gloria Ferrer Pinot Noir. The wine introduced itself with a nose of dark berries, beneath which lies a bed of moist earthen essences towards the middle of the glass, especially wet autumn leaves and barely-there hints of cigar box towards the bottom of the glass. On sampling, the berry aromas carry over instantly, set against a backdrop of ripe pomegranate. Through sampling, ripe plum and sliced raspberry notes are persistent throughout, and linger in a very pleasant finish.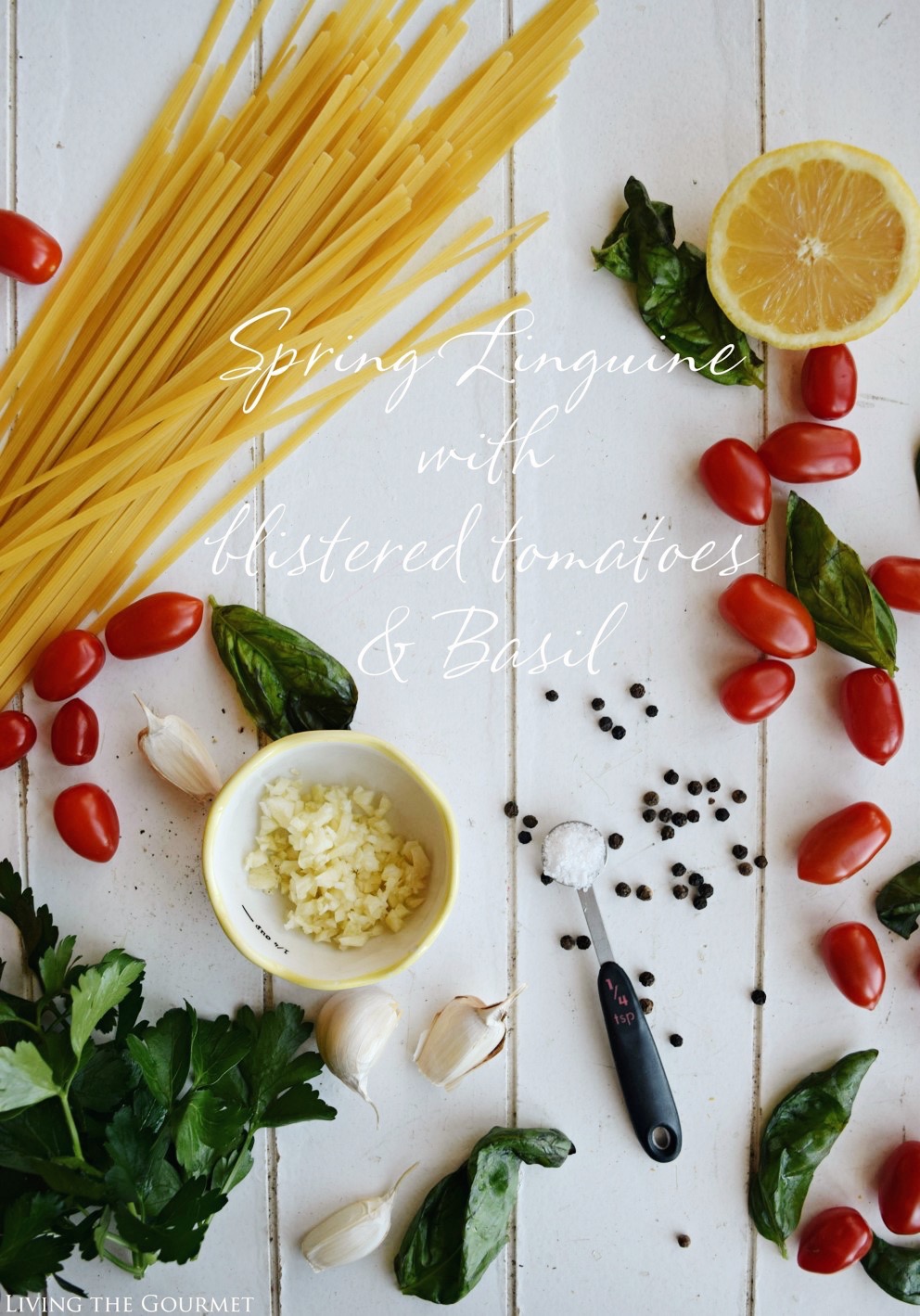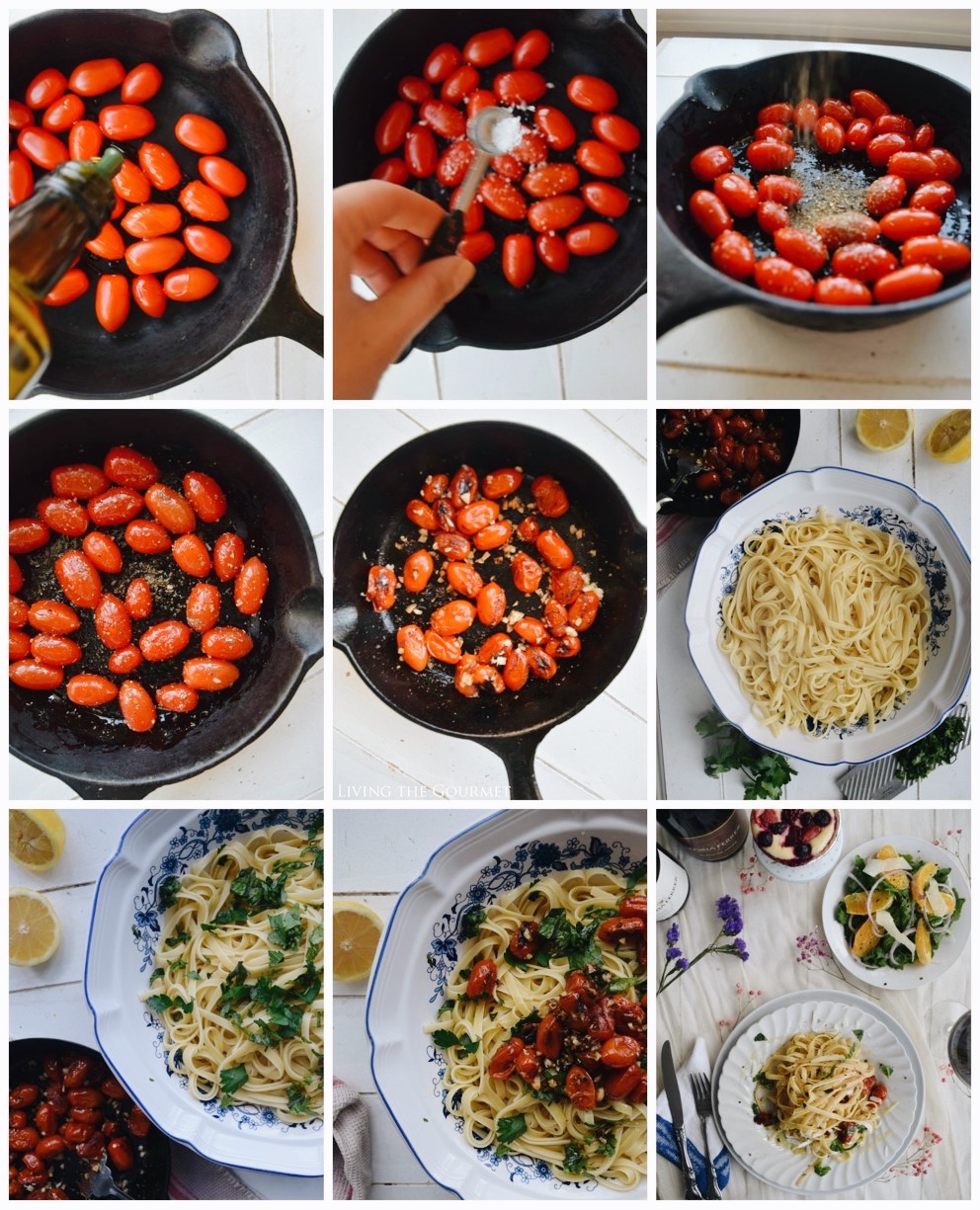 Living the Gourmet
Yields 4-6
Spring Linguine with Blistered Tomatoes & Basil Mixed Berry Cheese Tortes
10 minPrep Time
35 minCook Time
45 minTotal Time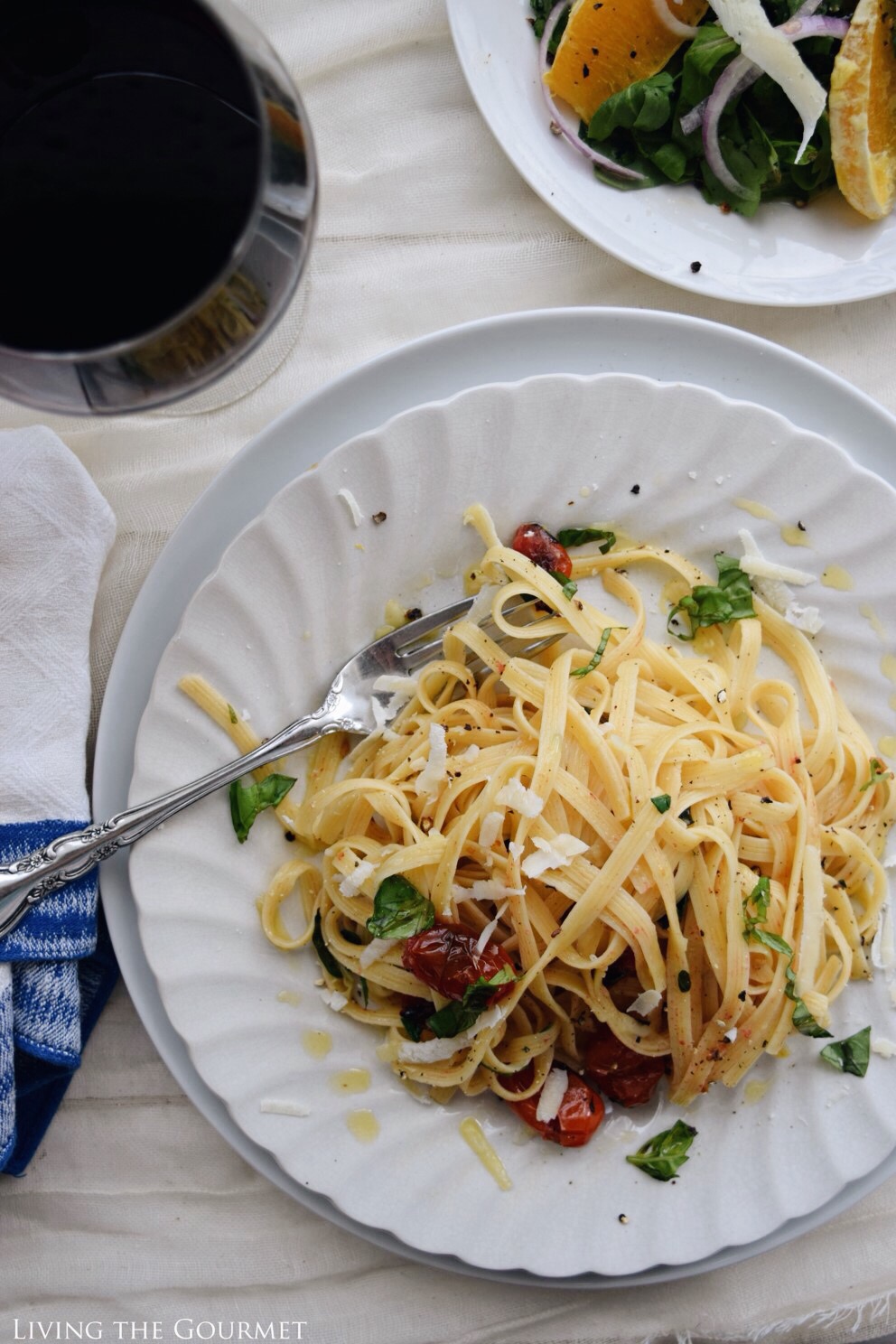 Ingredients
1 lb. linguine
16 oz. container of cherry tomatoes
1/2 cup fresh basil, chopped
Handful fresh parsley, chopped
2 cloves garlic, finely chopped
Salt and Pepper to taste
Olive Oil
Juice of 1/2 lemon
Asiago cheese
6 mini pie crusts, I used graham cracker crusts
1 (8 oz.) bar of cream cheese
1/2 cup sugar
1 egg
1 teaspoon Vanilla extract
1/2 cup chopped mixed berries
1 tablespoon flour
2 teaspoons lemon juice
Zest of 1 lemon
Instructions
Place tomatoes in a small cast iron pan, drizzle with olive oil, then season with salt and pepper.
Cook over medium heat and roast the tomatoes until they burst open and cook down.
Turn the heat off and add the garlic.
Cook pasta as directed.
Place the pasta in a serving bowl and toss with tomatoes and lemon juice, then top with fresh basil and parsley.
Serve with shaving of Asiago cheese and a drizzle of olive oil.
Preheat oven to 350 degrees F.
In a small bowl, toss fruit with 1 tablespoon flour and a 1 tablespoon sugar. Set aside.
In the bowl of your food processor, process cream cheese, sugar, egg, vanilla, lemon juice and lemon zest. Blend until smooth.
Fill each pie shell and top with berries.
Bake for 30-35 minutes or until the center has set and the edges are golden.
Let cool and serve with whipped cream is desired.
7.8.1.2
256
https://livingthegourmet.com/2016/03/spring-linguine-blistered-tomatoes-basil.html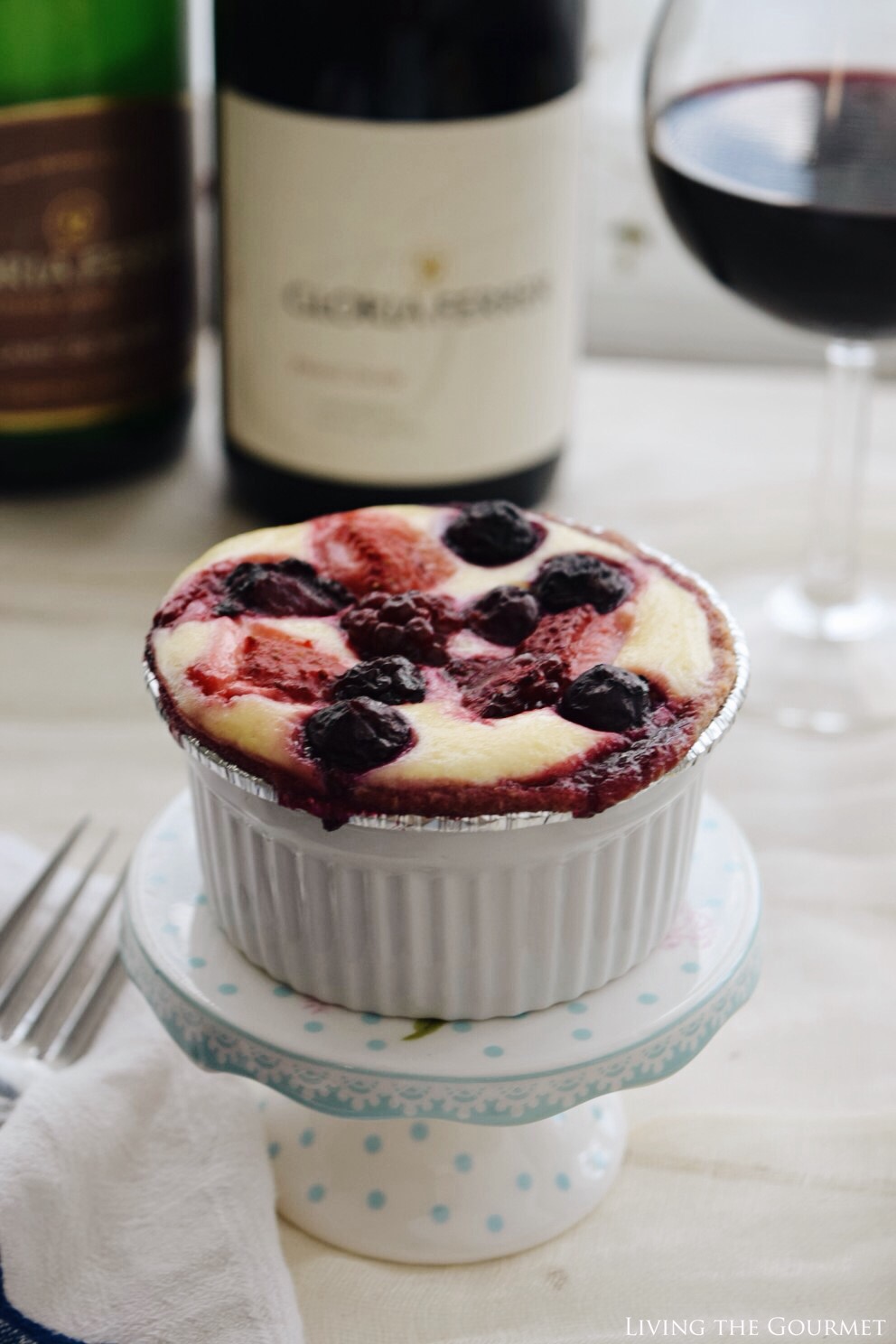 Again, I wasn't at all surprised with the quality of the wine, since thirty years after their founding in the now famous Sonoma County, the Gloria Ferrer winery is regarded as an expert in the production of Pinot Noir and Chardonnay, producing estate grown still and sparkling wines that rival some of the world's finest.
Enjoy with Love!
I was selected for this opportunity as a member of Clever Girls and the content and opinions expressed here are all my own.
0