Fettuccini is tossed with a fresh white clam sauce for an elegant spread for any occasion. The meal is complimented with unique crostini, a capri-style appetizer and VOVETI Prosecco.
I wrote recently about the overlong nights of winter, and the drear of waking up in the dark with only a handful of hours of cold daylight to look forward to. In reference to that, I quoted Andrew Chekhov who remarked that "People don't notice whether it's winter or summer when they're happy."
To put it bluntly, I've felt like its winter since before the winter even started. Between endless lines of seasonal content, and late nights hunched over a keyboard, suffice it say it's been something more than easy to feel like the overworked protagonist of your favorite low-budget comedy-drama who stands jadedly between learning how to live life, and just barely going through the motions.
Yet, I was determined not to let myself slip. Like Dorian Gray realizing he was own demon, or like Faust, whose troubles were of his own making, I decided to shake a proverbial fist at my seasonal gloom, and enjoy myself.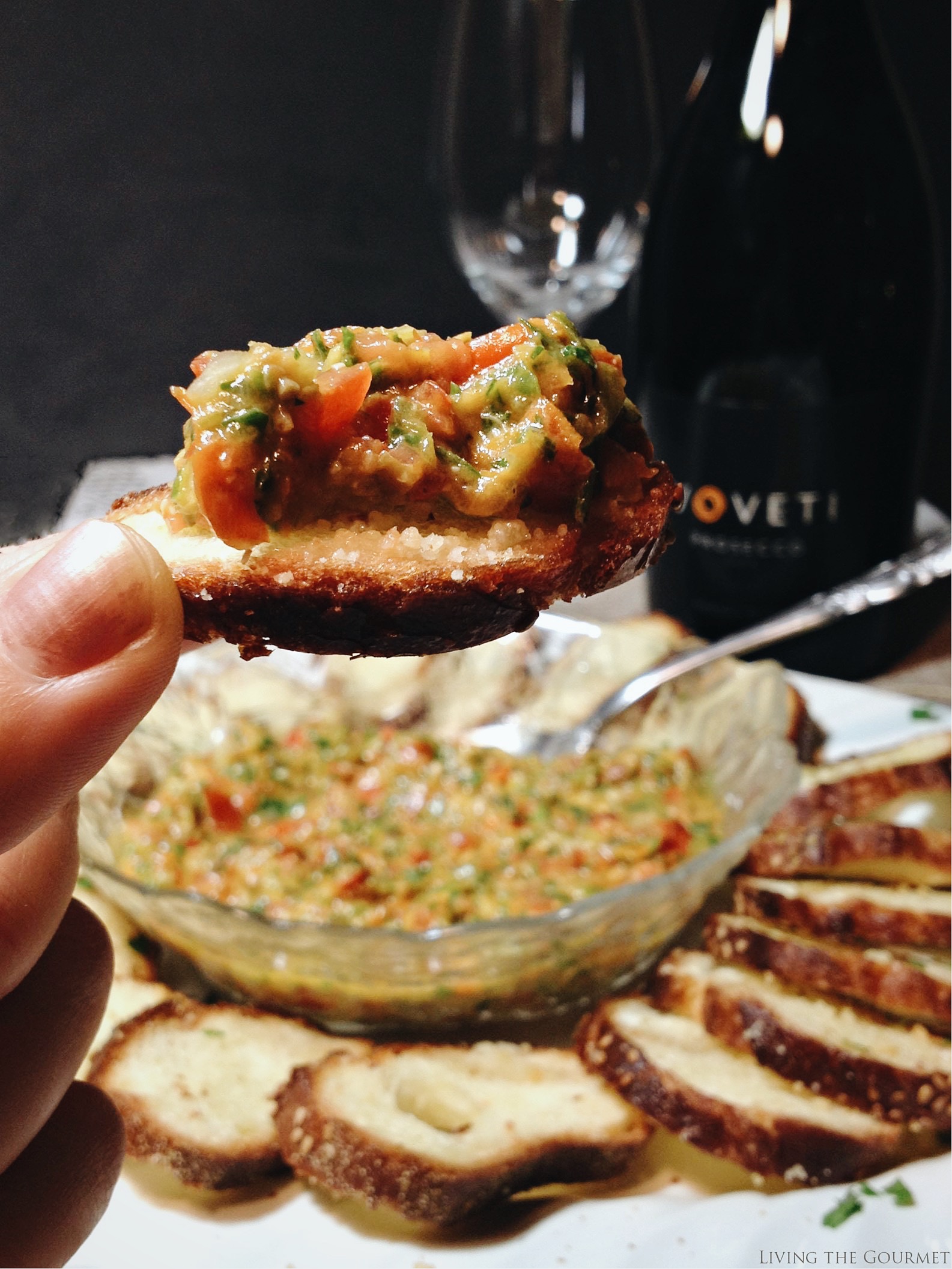 To help lift my spirits, I invited a few close friends over for an impromptu dinner party. To prepare, I had my son finish up his assignments early, a seemingly never-ending project, while my daughter finished the rest of decorating and assembled the night's playlist. While they did that, I ran to the store for a few last minute supplies, in particular the clams for the sauce I was planning, along with a few fresh loaves of Italian bread, since I prefer to buy both of those no more than a day ahead of time.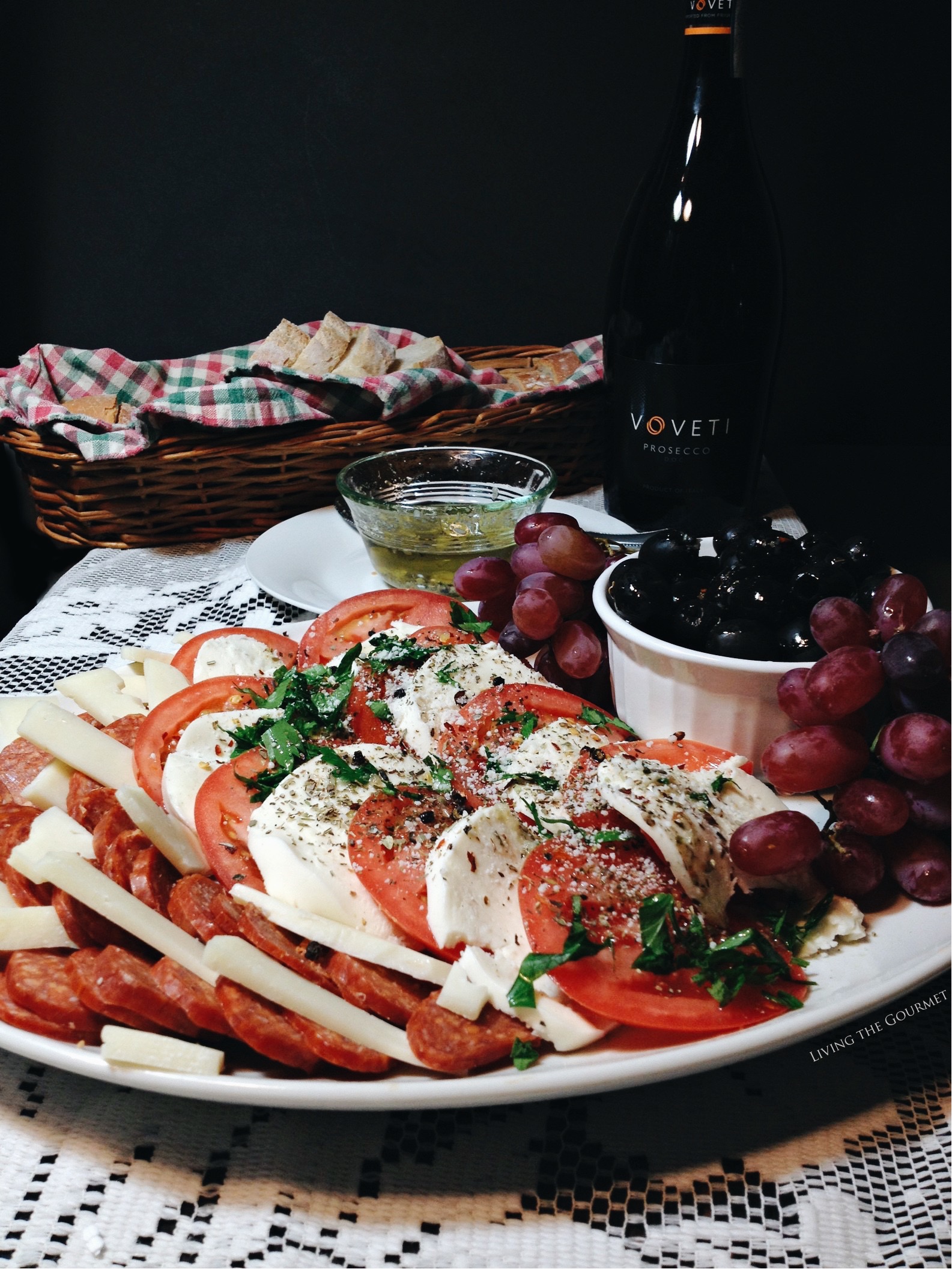 After I got back home, I put together an antipasto with fresh mozzarella over sliced tomatoes with herbs and olive oil, and assembled the rest of the platter with olives, pepperoni, sliced parmesan cheese, and infused olive oil for dipping. The antipasto led into a clam sauce over fettuccini, served with homemade crostini and a fresh tomato salsa. The menu was meant to emphasize and encourage the festive nature of the night, as well as the company.
To change things up a little, however, I began the evening by serving a hearty Cabernet Sauvignon with the first round of appetizers instead of the dinner – heresy I know, but I felt the solid red complimented the perhaps somewhat heavier tone of what was on offer as appetizers. With the dinner itself, I instead served a VOVETI Prosecco, and I did this for a few reasons. First and foremost was the mood I was going for, and so I felt that this chic, modern Italian prosecco would help accentuate the classic style I was going for, while still being accessible for everyday gatherings.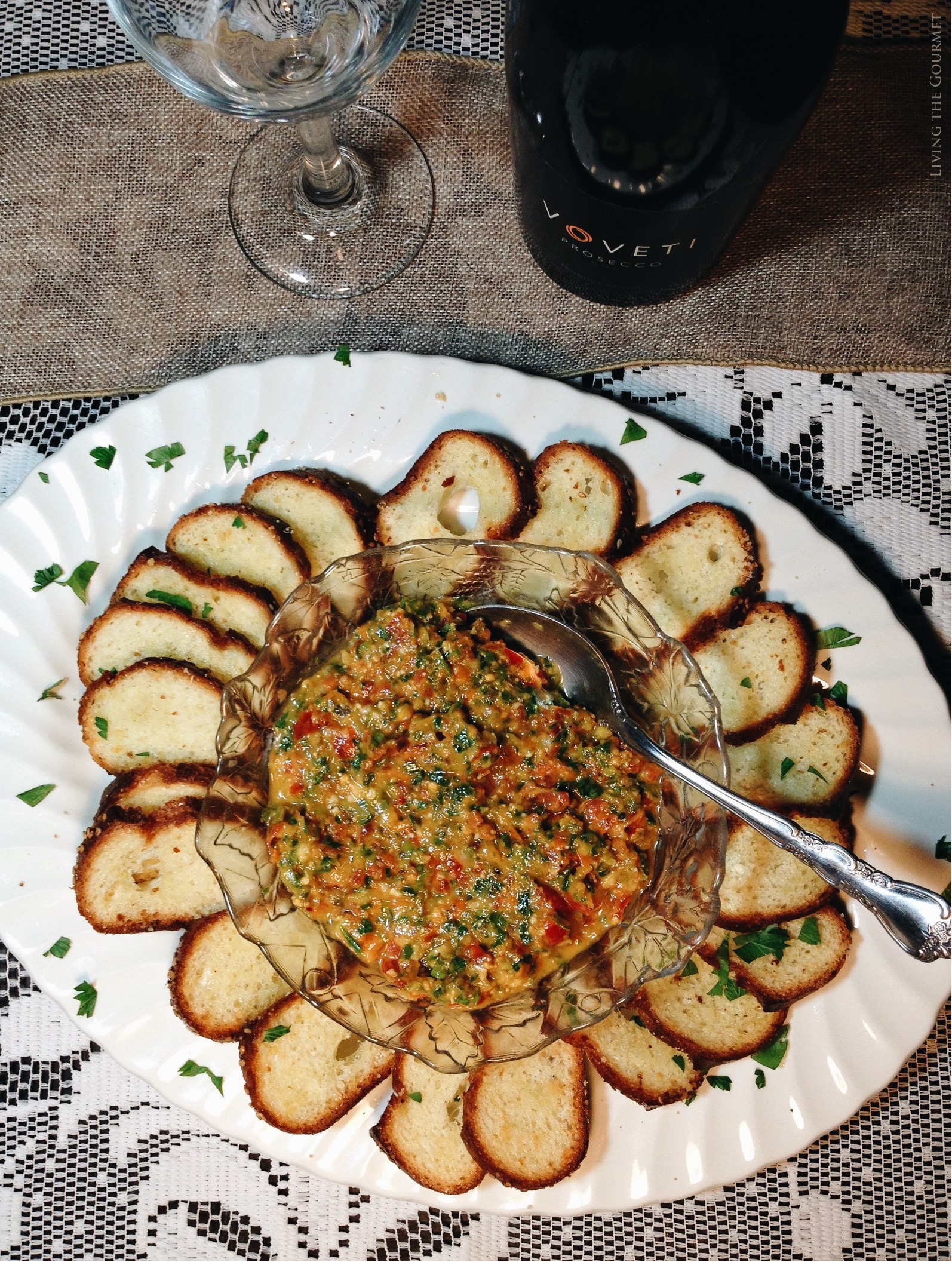 Print
Crostini with Fresh Tomato Salsa Fettuccini with White Clam Sauce
Author:
Prep Time:

10 minutes

Cook Time:

15 minutes

Total Time:

25 minutes

Yield:

5

-6

1

x
Fresh Tomato Salsa:
2

pints

of grape tomatoes

3

–

4

fresh scallions

3

cloves of garlic

1/2

bunch of Italian parsley

2 tsp

. capers

1/2 tsp

. red pepper flakes

1/2 tsp

. ground black pepper

3

tbs. grated Parmesan cheese

3

–

4

tbs. olive oil
For the Crostini:
1

loaf of Italian or French bread – sliced thin
Olive oil
Grated Parmesan or Romano cheese

1

pint

of clams with their juice

3

cloves of garlic – chopped

1/2

bunch of Italian parsley – chopped

1/2 tsp

. red pepper flakes

1/2 tsp

. salt

1/2 tsp

. ground black pepper

2

tbs. olive oil

1

tbs. butter

2

tbs. fresh lemon juice
Romano or Parmesan cheese for grating

1

lb

. of fettuccini or your favorite spaghetti
Instructions
Fresh Tomato Salsa:
Combine all of the ingredients for the salsa in a food processor and process to a desired consistency.
If there is too much liquid in the salsa, place the mixture in a colander and drain the extra liquid.
Place in a serving bowl and refrigerate until ready to serve.
For the Crostini:
Preheat Oven 350 degrees F.
Place bread slices on a baking sheet and brush with olive oil on each side and sprinkle grated cheese on each slice.
Bake 8 – 10 minutes.
Serve the crostini with the salsa.
Prepare pasta as directed.
Heat a large frying pan with the butter and olive oil. Add the garlic, red pepper flakes, salt and black pepper and sauté until fragrant.
Add the clams with their juice and heat to gentle boil; reduce to a simmer and cook three to five minutes.
Add the pasta to the pan along with a drizzle of olive oil and more red pepper flakes, black pepper, fresh parsley sprigs, grate cheese, lemon juice and toss.
Recipe Card powered by
The prosecco paired excellently with the clam sauce, just as I had expected, since, as with most prosecco, this VOVETI Prosecco is an excellent pairing either with light seafood, spicy dishes, or as the perfect end to a pleasant evening.
What are some of your favorite prosecco pairings? Or what are some of your favorite dinner party recipes? We would love to hear from you.
Enjoy with Love,
Catherine
xo
I was selected for this opportunity as a member of Clever Girls and the content and opinions expressed here are all my own.
0