"I am a member of the Everywhere Society and Everywhere has provided me with compensation for this post. However, all thoughts and opinions expressed are my own."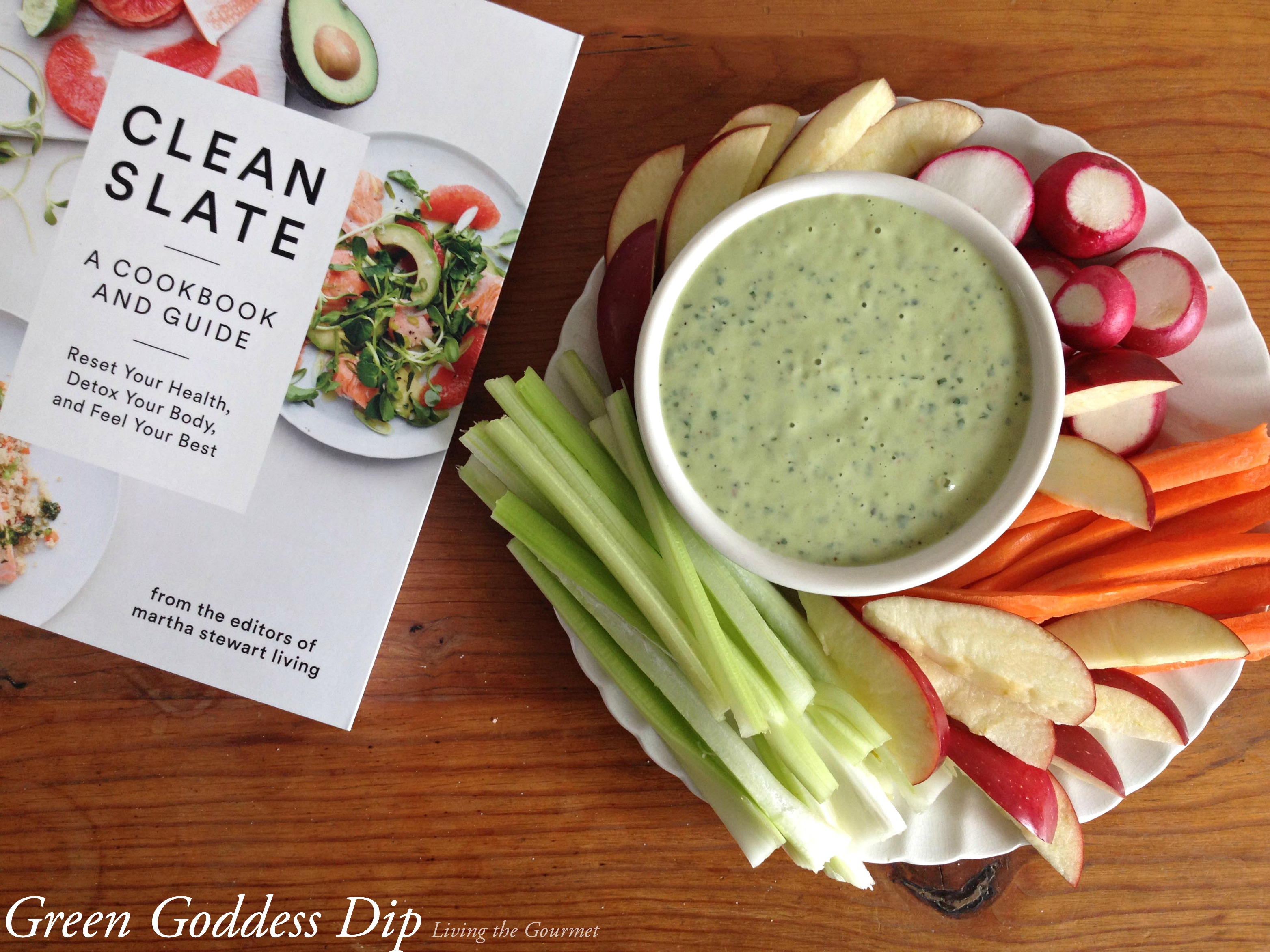 Living the Gourmet had the pleasure of being invited last Sunday to Macy's celebrated release of Martha Stewart's new cookbook, Clean Slate: A Cookbook and Guide: Reset Your Health, Detox Your Body, and Feel Your Best
.
Upon arriving, nothing initially seemed out of the ordinary. There were the bustling, mostly well-dressed crowds perusing well lit, pristine displays. Just behind the haze of the chatter, a backdrop of upbeat modern pop set the mood, neatly tying together the entire scene. Thus far, typical Macy's fare.
Stepping out onto the eighth floor, however, the atmosphere instantly changed. The reserved hustle and bustle dimmed to a mere whisper, and the usually crowded aisles were suddenly barren of life. The music, too, was gone. A few more aisles in and the crowds reemerged, amassed around a stage setup about midway towards the back of the store. Working through the masses, photographers roamed the floor, taking pictures and rolling video, while ushers and security kept an eye on the proceedings. Through the quiet haze, a single, unmistakable voice carried over the crowd – Martha Stewart guiding her audience through a step by step preparation of a Green Goddess dressing taken from her new book Clean Slate.
The event was a brief but instantly 'Martha' affair, peppered with pleasant anecdotes such as debating juicers versus blenders with her daughter, numerous references to St. Bart's, and a demonstration on the proper way to zest a citrus fruit. Following a raffle for an enamel cast iron pan, Martha took questions from the audience, ranging from a heartwarming story from a woman who learned to cook through Martha's magazine, to questions on Martha's Chow Chow, Genghis Khan, and her variety of cats.
Nevertheless, from the Green Goddess Dressing, to the abundance of health tips, and the health slanted question and answer segment, everything that transpired tied back directly to the day's unmistakable theme – the release of Clean Slate.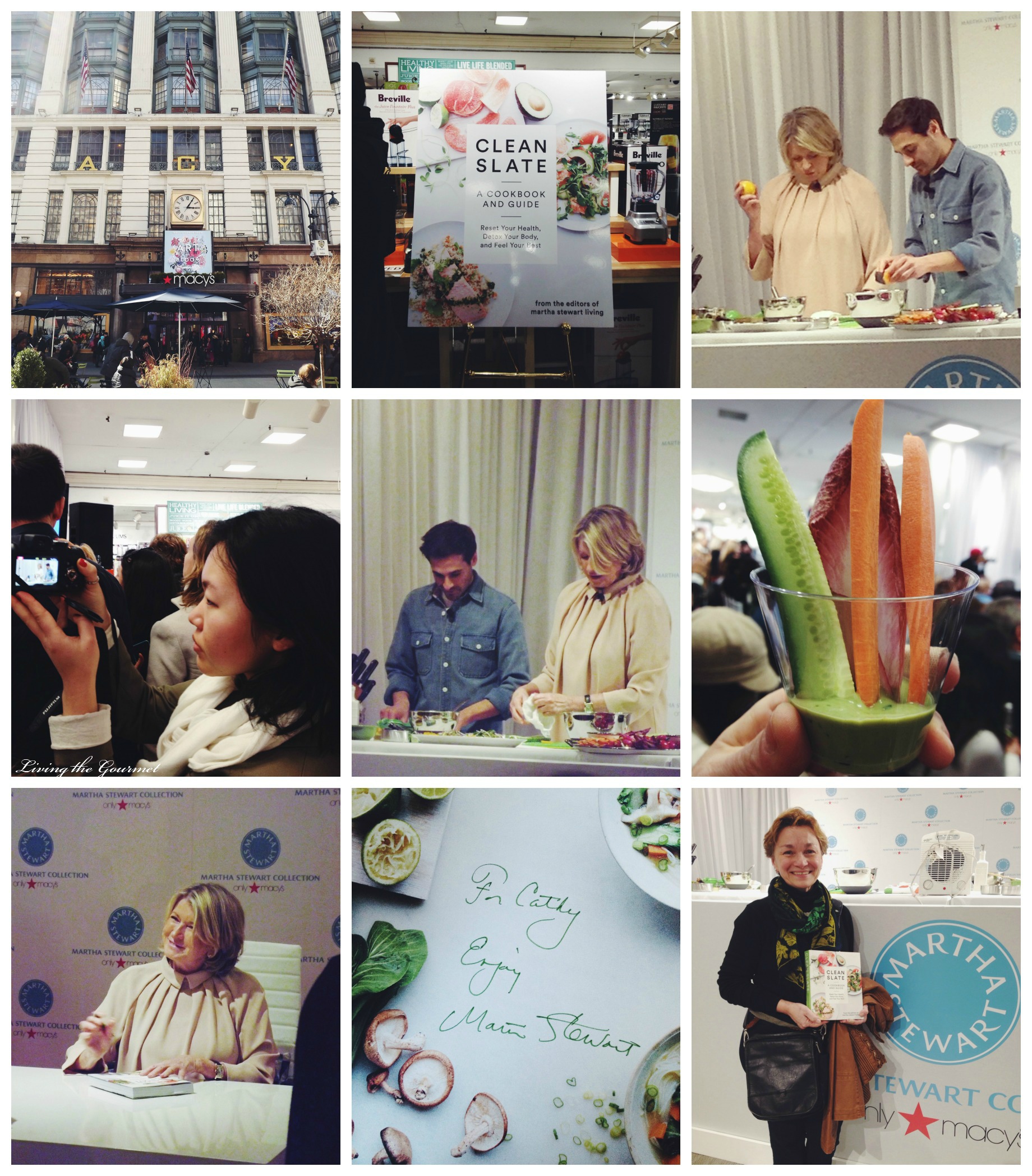 From the editors of Martha Stewart Living, Clean Slate opens with a series of foundational 'Golden Rules' ranging from choosing whole foods over processed items, and engaging in an active lifestyle, essentially practical, commonsense tips to achieving overall better health. From there, the book continues building the reader's foundation to a healthier life by classing foods according to their benefits, from detoxifiers such as artichokes and avocados, to anti-inflammatory foods such as papaya, various spices, and cold-water fish.
However, the true meat of the book is certainly the recipes, almost all of which could easily stand on their own apart from the healthy-living theme. Apart from a few obvious theme-additions such as 'Green Machine' detox smoothies, these are a selection of recipes that won't make the reader 'feel' like they're about to embark upon a health regime. In fact, I could easily recommend the book on the merit of the recipes alone, with the health tips being a sort of added bonus.
The majority of the recipes are elegantly rustic dishes, ranging from entrees such as almond crusted chicken breast, to breakfast recipes such as a mushroom and microgreen omelet. One in particular item that caught my eye was a deceivingly hardy dish hidden behind a well woven veil of gourmet earthy tones – baked eggs over mushrooms and toasted flatbreads. Then again, I'm perhaps a tad biased on that last dish, as I've come to love baking my own flatbreads.
As no cleansing book would complete without an assortment of various smoothies and shakes, Clean Slate comes with a 'Drink to Your Health' menu that's as complete as it is diverse. While the quintessential 'Green Machine' blend makes an appearance, the chapter also features a smooth watermelon and coconut water juice, in addition to a simply delicious strawberry, grapefruit and ginger smoothie. As a result, while detox and energy is the goal, flavor and texture are nevertheless at the forefront.
The book also features a surprisingly robust variety of desserts. Again, the recipes have obviously been developed and selected on a gourmet-first, no sense of denial basis. For example, on offer is a recipe for chocolate walnut brownies, alongside a delightful berry almond crisp. Needless to say, I was very pleasantly surprised in this regard.
In conclusion, Clean Slate is a powerful addition to Martha Stewart's already formidable bibliography, easily carrying on her well established standard for quality, ease of access, and exquisite presentation. Whether you're in the market for a quality-assured detox diet, healthy living strategies, methods for eating clean, or just excellent quality recipes, Clean Slate is a must have.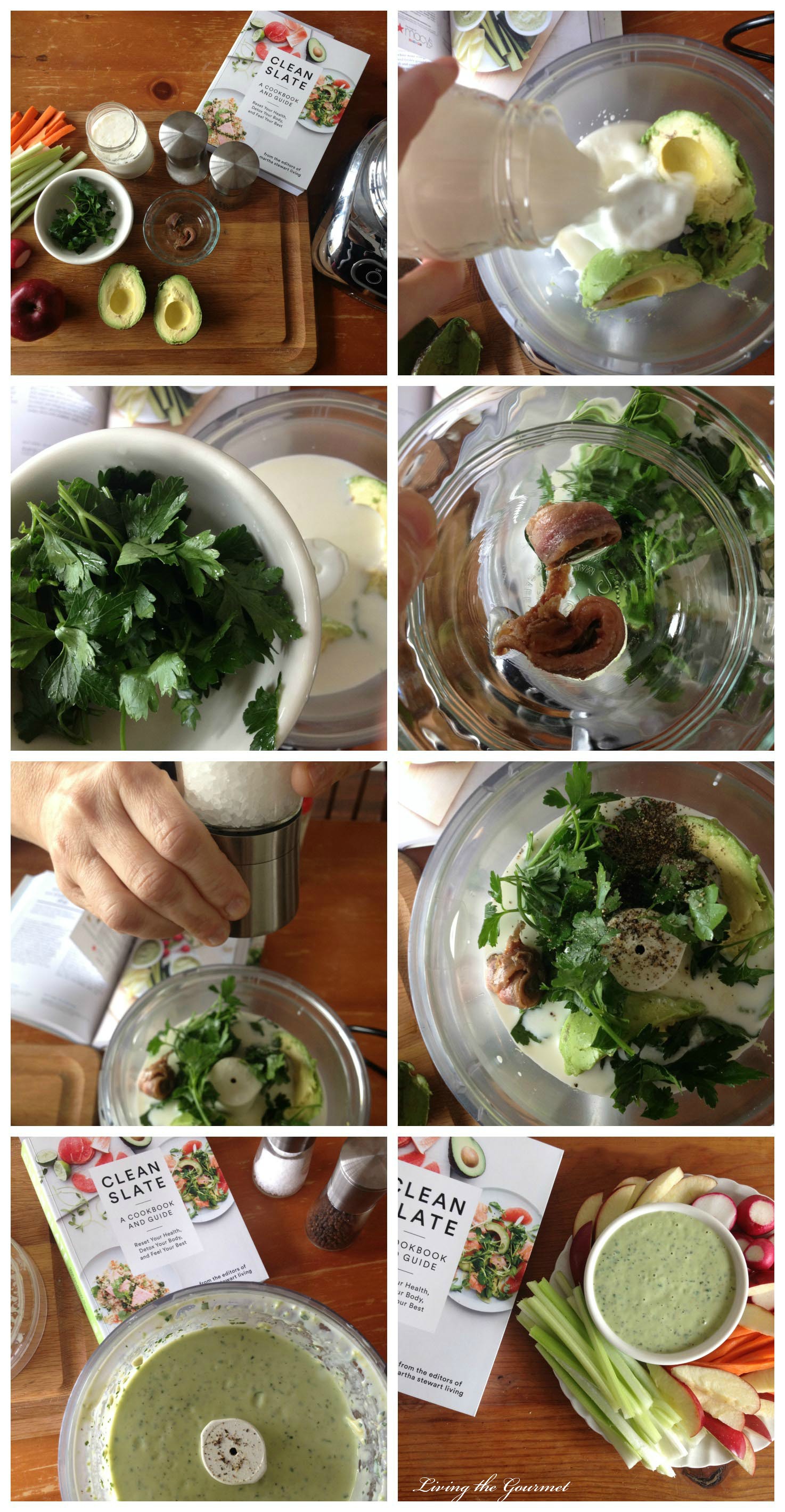 Print
Green Goddess Dressing
In Martha's words: "Avocado (in lieu of sour cream or mayonnaise) is to thank for the silken texture of this healthy reinterpretation of a favorite salad dressing. Anchovies, among the best sources of omega-3 fatty acids, boost flavor and nutrients."
Author:
Prep Time:

5 minutes

Total Time:

5 minutes

Yield:

2

1

x
Category:

Dips
1

ripe avocado

1 1/2 cups

buttermilk

1 cup

chopped herbs (such as flat-leaf parsley, basil, chives, and tarragon)

2

anchovies (preferably salt-packed, and rinsed well)

1 tablespoon

plus 1 teaspoon white-wine vinegar
Course Salt
Pepper
Instructions
Scoop avocado into a food processor, add buttermilk, herbs, anchovies, and vinegar. Season with salt and pepper and pulse until smooth and combined.
Transfer to a bowl, and refrigerator for at least 1 hour (or up to 2 days), pressing clingfilm directly on surface.
Serve with crudités.
Notes
Adapted from Martha Stewart's Clean Slate.[br][br]**This recipe is Nut Free & Gluten Free.
Recipe Card powered by
Enjoy with Love,
Catherine & the crew of Living the Gourmet
Linking up to these parties and here.
1