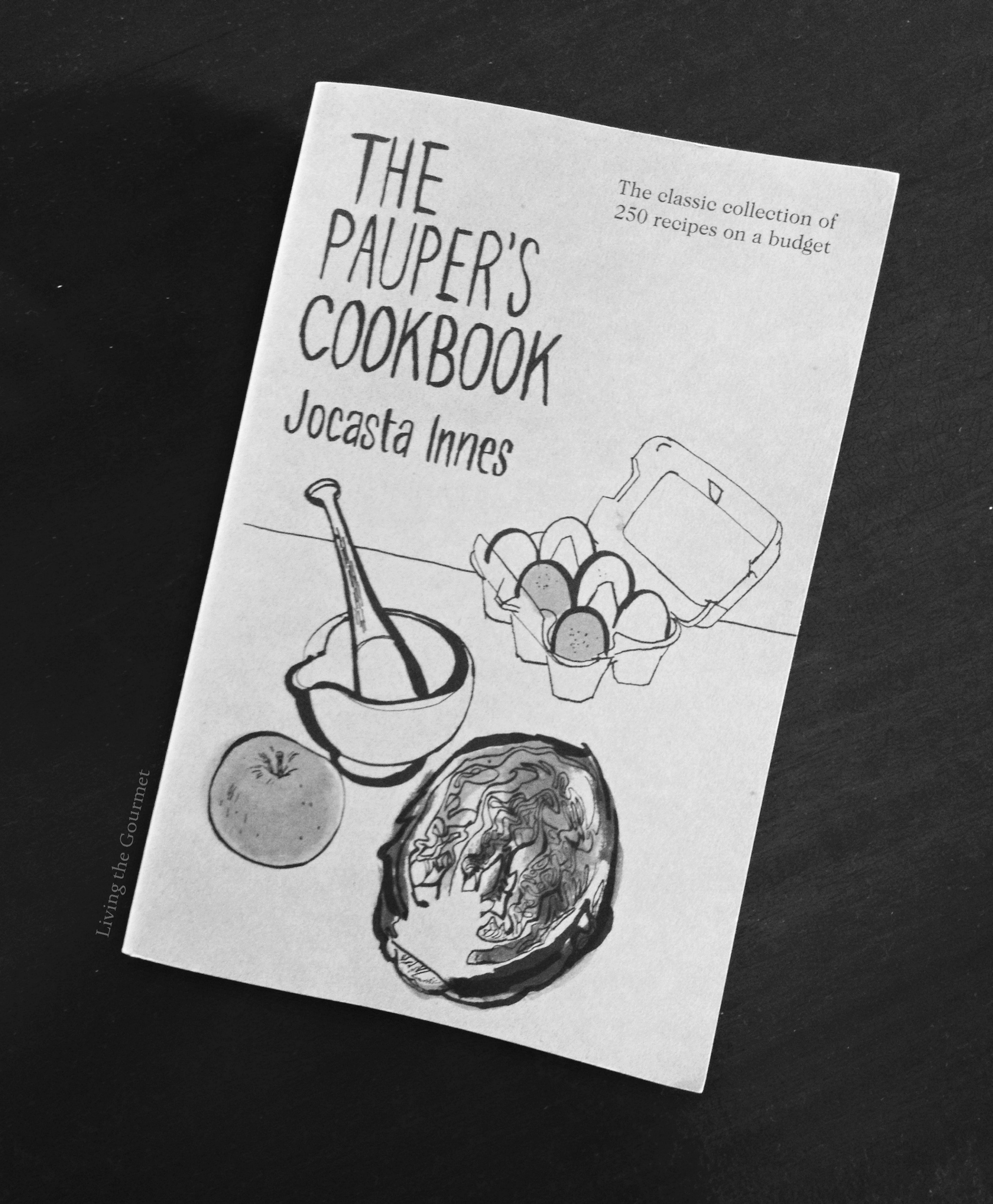 Living the Gourmet is pleased to present a culinary classic The Pauper's Cookbook by Jocasta Innes. Originally published in 1971 by Penguin, The Pauper's Cookbook has been rereleased by Frances Lincoln Limited.
Part personal economic primer, part cookbook, and part culinary crash course, The Pauper's Cookbook covers a wide range of topics, all of which orbit around its recipes. For example, the introduction covers how to handle leftovers, how to 'stock up' the most economical way possible, and covers the basic kitchen items every cook needs, and why every cook needs them. In addition, it covers brief 'rules of thumb' for the kitchen, in addition to proper timing for poultry, meat, rice, and pasta, which the author regards as core culinary items for the purpose of the book. And that is merely the beginning of the beginning.
From there, the book moves into Standards, which covers what the author regards as foundational recipes such as 'Simple Stock,' fish stock, and vegetable stock. The author also offers recipes for Borscht, which she describes as 'cheering to look at,' in addition to her take on minestrone, and a recipe for fried onions. The recipes are simple, and for the most part rather straightforward by modern standards, but just as the book describes them, they are intended to be foundational rather than absolute. In this regard, they more than achieve what they set out to do.
From Standards, we move onto a chapter entitled Padding. As the name of the title might suggest, this chapter essentially covers how to 'stretch' food, and in turn money. The chapter opens with a discourse on rice, and then proceeds to cover a variety of rice recipes, such as a stir fried rice with beef. The chapter then moves onto oats, and includes a number of recipes that are likely unfamiliar to modern pallets, such as Scotts Fried Herring, which is basically herring rolled in oats and then fried. The chapter also includes a recipe for barley soup, a variety of uses for millet and buckwheat, and the author's take on hummus. While reading through Padding, I found myself having to remember that many of these items were common fare several decades ago. For example, preparing dried or fresh buckwheat and barely is no longer a common process, nor common supermarket ingredients.
The following chapter is entitled Fast Work, and is devoted to meals that can be prepared quickly and cheaply. The opening of the chapter is devoted primarily to soups and broths, such as Miso, Eggo Drop Soup, and a 'Quick Onion Soup.' Other 'quick' items include roasted red peppers with garlic and anchovies, as well a grilled cheese sandwich with onions. The chapter also includes a section devoted entirely to soufflés. While it is hardly uncommon for recipe authors to prize the 'speed' with which their recipes can be assembled, and how much 'gourmet' they can pack into a forty minute prep time, Jocasta Innes succeeds in creating not just 'fast dishes' but also offers very practical approaches as to 'how' to navigate quick prep times.
Continuing her exposition on fast cooking, the book moves into Pasta Faster. Written at a time when pasta was hadn't quite yet entered the mainstream of American cooking, the author takes a moment to explain pasta preparation, and how to incorporate it into one's cooking. Recipes include "Japanese Cold Noodles," pasta with red clam sauce, and pasta shells with prawn among a variety of others. The chapter also includes a primer on fresh pasta.
Now a classic, The Pauper's Cookbook has, over time, easily overshoot its original goal of serving as a kitchen economics primer and 'simple' recipe book, and now endures as something of a 'culinary time capsule,' offering a glimpse into the home kitchens and food trends of decades past. That being said, Living the Gourmet can easily recommend adding The Pauper's Cookbook to your culinary library.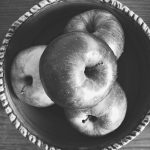 Apple Pie
---
Description
Adapted: The Pauper's Cookbook
---
4

large cooking or firm eating apples
Juice of

1

lemon

1 teaspoon

ground cinnamon

10 tablespoons

self-rising flour

6 tablespoons

caster sugar

¼ cup

canola oil
A drop of Vanilla essence

4 oz

. full fat milk

2

eggs
A pinch of salt
---
Instructions
Preheat oven to 350 degrees F.
Peel, core and slice the apples. Add the cinnamon and pour the lemon juice over them to stop them browning. Toss and set aside. Grease an 8½-inch cake tin.
Put the flour and sugar in a bowl, make a well in the center and add the oil, vanilla essence, milk, eggs, and salt. Beat well to incorporate all the flour and form a smooth, thick batter. Pour the batter into the prepared cake tin.
Arrange the slices of apple on top of the batter, as you like. Sprinkle two tablespoons of cold butter, cubed, around the top of the cake and then sprinkle with sugar.
Bake for 30-40 minutes or until the apples are golden and the cake tester comes clean.
Notes
Serve each slice with a dollop of fresh whipped cream and a hot cup of coffee, or tea if you prefer.
Prep Time:

10 minutes

Cook Time:

35 minutes
Recipe Card powered by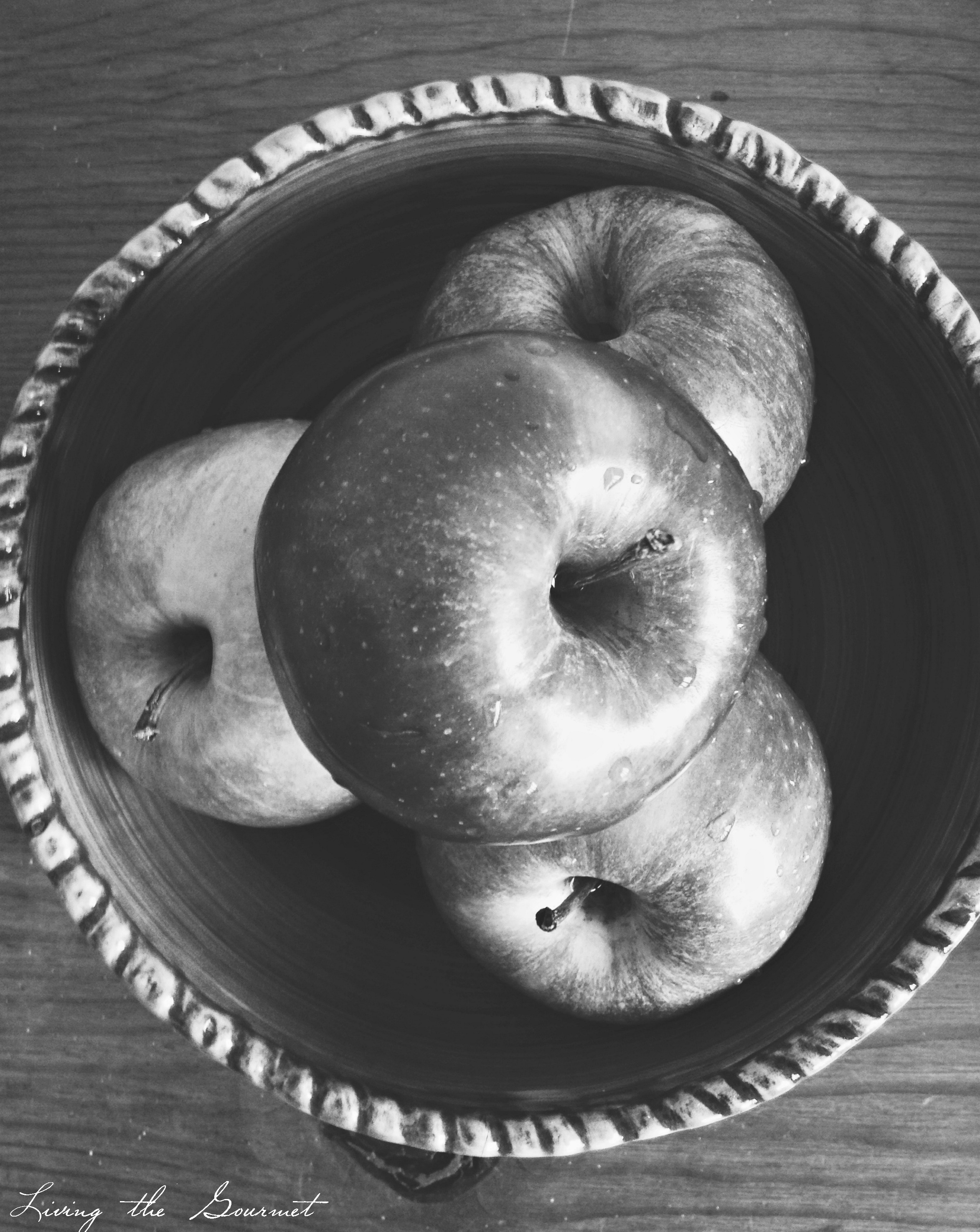 Feature by Michael Pappas
Twitter: @MikeSilverGod
Linkups:
Mix it up Monday
Clever Chicks Blog Hop
See Ya at the Gumbo
Merry Mondays
Monday Fundays
Inspire Me Tuesday
Treasure Box Tuesday
The Scoop
Tweak it Tuesday
Two Cup Tuesday
Simple Supper Tuesday
A Return to Loveliness
The Yuck Stops Here
Totally Talented Tuesday
Create Link Inspire
The Southern Special
Time to Sparkle
Tuesdays with a Twist
Tickle My Tastebuds Tuesday
Tuesdays Table
Whimsy Wednesday
Wonderfully Creative Wednesday
Wednesday Whatsits
Creative Munster
Wow Us Wednesday
Life of the Party
Lovely Link Party
Full Plate Thursday
Thursday Favorite Things
Showcase Your Talent Thursday
Home Sweet Home
Thank Goodness It's Thursday
The Pin Junkie
Foodie Friends Friday
Foodie Friday at Rattlebridge Farm
Foodie Friday at Simple Living and Eating
Friday Favorites
Freedom Fridays
Fabulously Creative Fridays
Feathered Nest Friday
Fridays Unfolded Linky Party
Weekend Retreat
Eat Create Party
Fabulous Finds Friday
Weekend Potluck
Foodie Friday with the Seaman Mom
Best of the Weekend
Weekend Bloggy Reading
G'Day Saturday
Saturday Night Fever
Bewitchin Projects
Party Time
Also find this recipe here:
Cook Eat Share
Foodista
Key Ingredient
Just A Pinch
0