Happy Mother's Day everyone!
Here is a delicious treat that is sure to please and add a little sweetness an spice to your day!
Sweet & Spicy Ice Cream Chicken Cutlets
5Prep Time
25Cook Time
30Total Time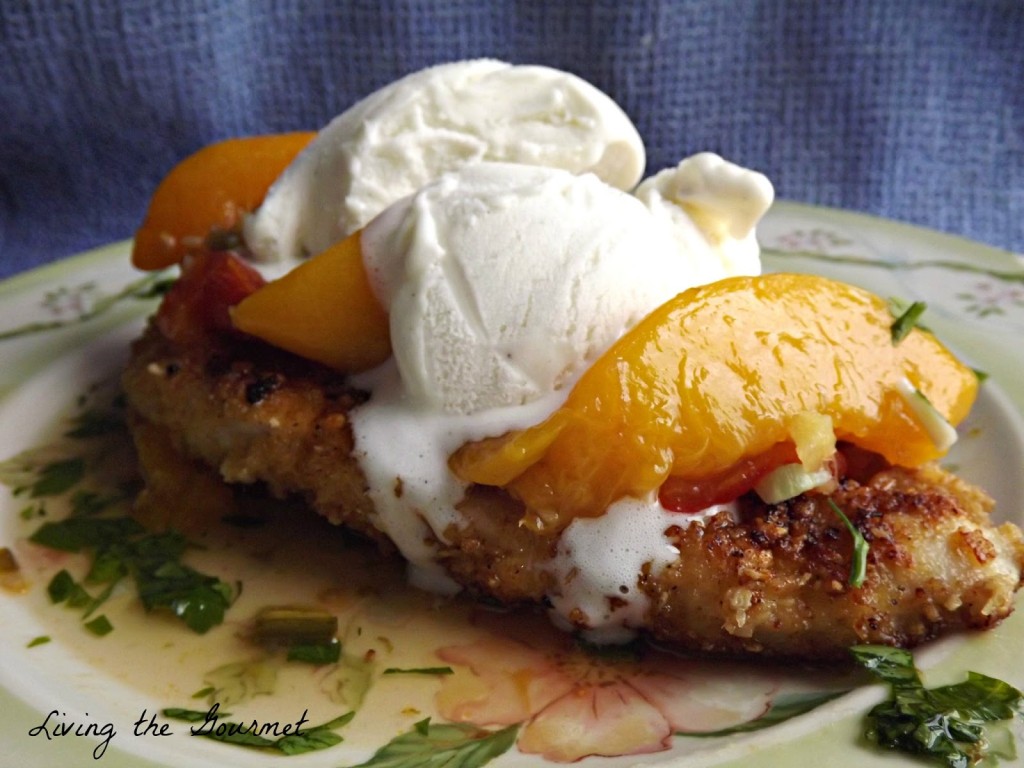 Ingredients
For the Chicken8 chicken cutlets

3 cups honey nut shredded wheat
½ cup honey roasted peanuts
3 eggs plus ¼ cup milk
1 cup flour
2 tbs. olive oil and more as needed for sautéing

For the Sweet and Spicy Sauce1 Jalapeño – chopped with seeds

1 beefsteak tomato – cut into eighths
2 inch piece of fresh ginger – chopped
Zest and juice of 1 lime
29 oz. can of peaches in heavy syrup
1 large clove of garlic- chopped
½ cup sugar
1 tsp. salt
2 tablespoons olive oil
1 tablespoon vinegar – (red wine or balsamic)
2 tablespoons olive oil

Garnish1-2 scoops Vanilla ice cream

Italian parsley – chopped
Instructions
Prepare the Sweet and Spicy Sauce firstHeat a large 10-inch cast iron frying pan with the olive oil. Over medium heat add the sliced tomato, chopped ginger and the chopped jalapeño. Sauté over medium heat for a minute or two.

Add the garlic and continue to sauté until the garlic is fragrant.
Add the peaches and syrup. Add the sugar, salt and the zest and juice of 1 lime.
Just before serving add the vinegar to the sauce.
Let this simmer on low while preparing the cutlets.

For the Chicken CutletsPlace the honey nut shredded wheat and the honey roasted peanuts in a food processor and process until they are breadcrumb consistency and place in a shallow dish.

Prepare the egg wash with the quarter cup milk.
Place the flour in a shallow dish.
Dip the cutlets first in the flour, then the egg wash and finally in the honey nut shredded wheat and honey nut peanut crumbs.
Heat a large frying pan with the olive oil and place the prepared cutlets in the pan. Do not overcrowd the pan. When the cutlets are golden on one side gently turn over and finish cooking on the other side. The cooking time for the cutlets will depend on the thickness of the cutlet being used.
Plate the cutlet and top with the peach sauce. Finish the cutlet with a scoop or two of vanilla ice cream and a parsley garnish.
7.8.1.2
690
https://livingthegourmet.com/2013/05/sweet-and-spicy-ice-cream-chicken-cutlets.html
7
Reader Interactions