This traditional braided bread is slightly sweet and soft, and best served warm for a perfect treat on Easter morning!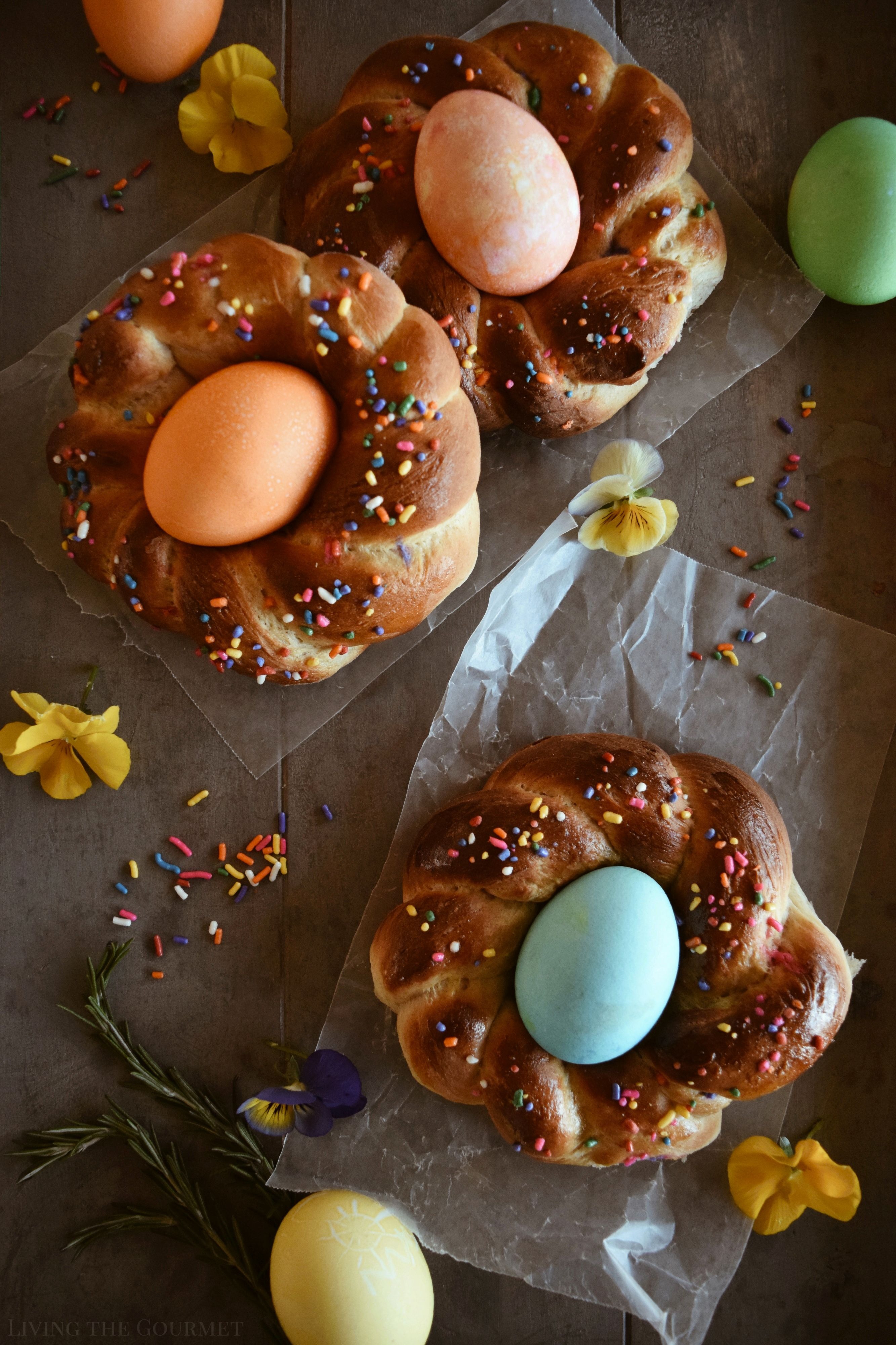 When I think of Easter Bread, I think of the colorful loaves or buns that are typical of bakeries here in New York. They tend to be sweet but not overly so, often being somewhere in the realm of a 'dessert muffin' or 'coffee cake.' In terms of appearance, they can be decorated with glazes, sprinkles, and sometimes colored eggs, since they're intended to be as much a feast for the eyes as for the palate.
Invariably, when I was growing up, these 'breads' would be displayed in virtually every bakery window during the Easter Season, and in particular on Easter Sunday for people on their way back home from Mass. Back then, even the priests would joke about the Easter Mass attendance. "Remember, this coming Sunday you're going to see a lot of strangers in here. It will be loud, it will be hot, and many of you who are accustomed to the front row will arrive to find standing room only. Be charitable, my sisters and brothers, and welcome these wayward members of our flock with open arms. And remember, you don't have to like them, you only see them once or twice a year. Just do what I do and offer it up."
After those Easter masses we would have to pass by a bakery window on our way back to our car, and I remember trays and trays of these colorful and artfully formed 'breads,' often in the shape of wreaths. They were positively works of art – but they weren't pastries. Oh no, the sign made sure to tell me that they were "Easter Breads."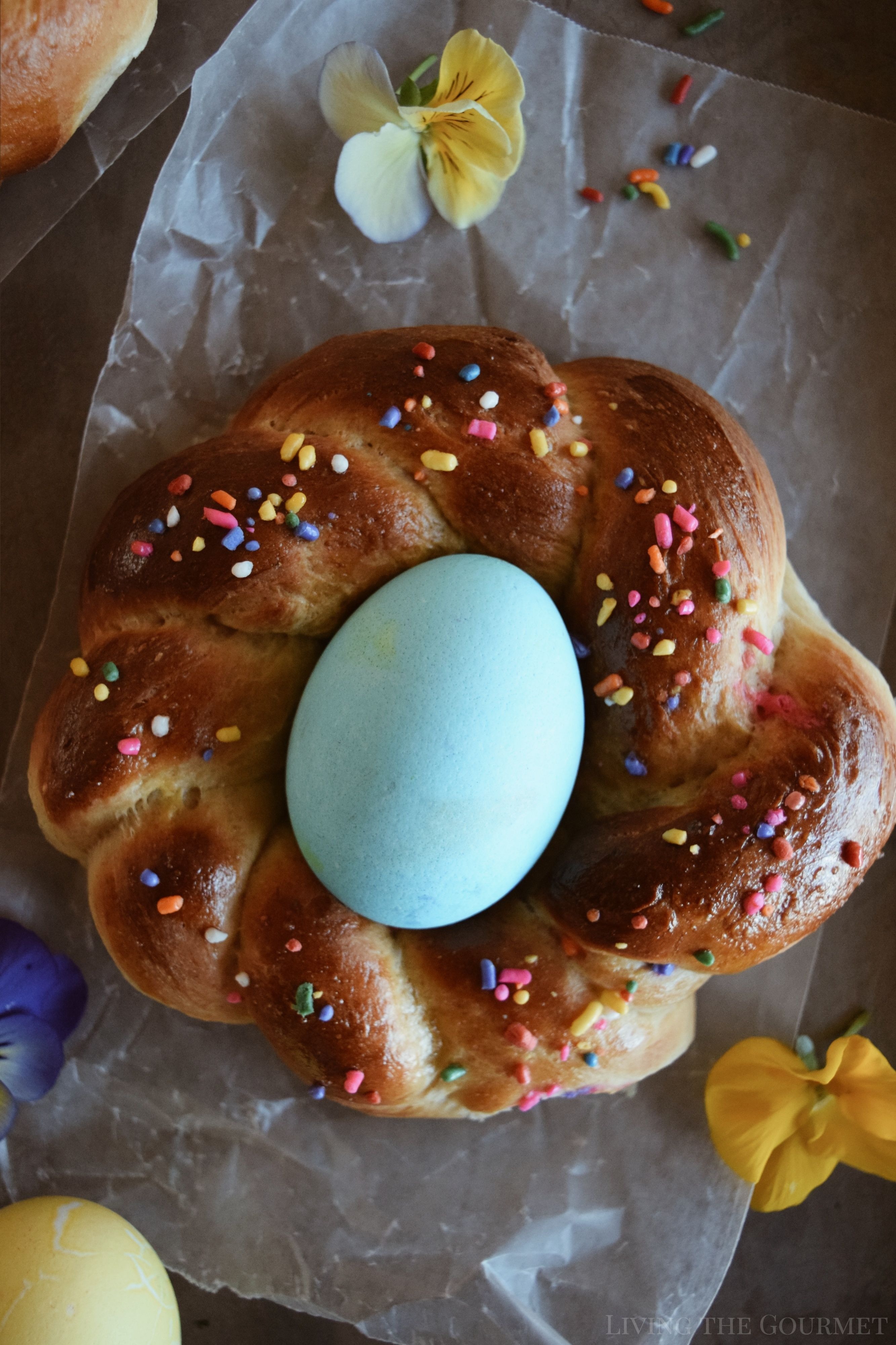 Naturally, we would never buy these breads – my mother always made her own.
The origins of 'Easter Bread' are hazy to say the least – in part because virtually every cultural group in Europe claims some version of this bread as their own, and almost no two are alike…at all.
For example, German 'Osterbrot' typically resembles a loaf of plain raisin bread with the addition of chopped almonds, and sometimes features a glaze, and rarely a colored egg as decoration. On the opposite end of the spectrum, Spanish Hornazo is a savory 'meat bread' with chorizo, hard boiled eggs, and bacon folded inside.
Growing up, my family's Italian version of Easter Bread – 'Colomba Pasquale' – was a loaf my mother would form into the shape of a dove. The loaf was semi-sweet, though slightly sweeter than the more familiar pannetone, and had candied fruits and peels baked in. After baking, the loaf was topped with a white glaze and coarse sugar. While most often served as coffee cake in the morning, it was more like 'dessert for breakfast,' at least in my mind. Back then, you could sometimes find these in Italian bakeries and grocers imported them from Italy during the Easter Season.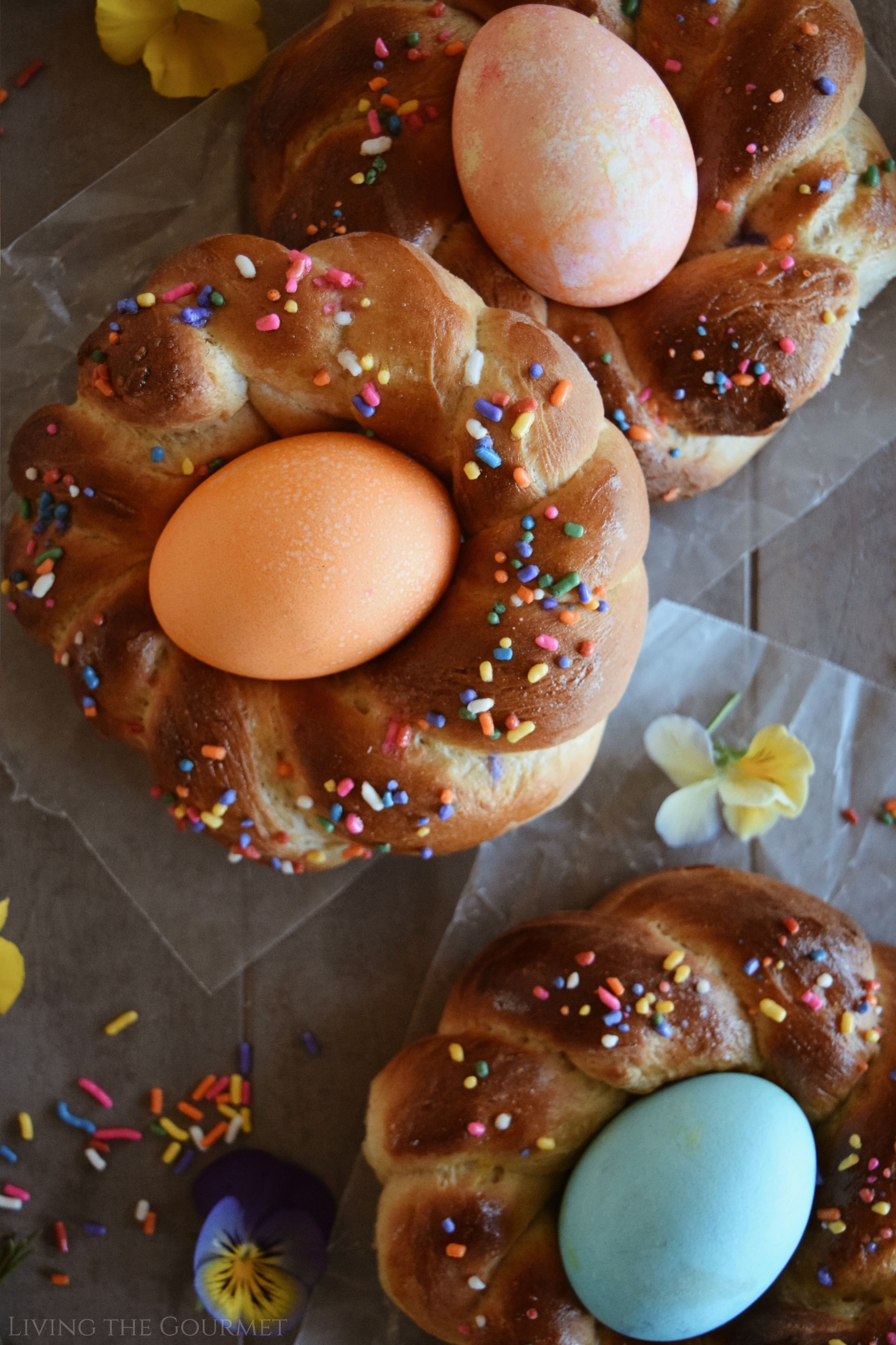 Greek Easter bread, Tsoureki, is likely where things start to become a bit more familiar for those of us from the states – that is, slightly sweeter and (usually) more colorful. Tsoureki, in my experience, is prepared from a sweetened yeast dough, and is often formed into braided loaves with a challah-like consistency, although you can expect circular and roll shapes as well. Red colored eggs are a hallmark – though not a rule. Glazes and sprinkles are also not off limits, but are not 'traditional.'
So, what's the right way to make Easter Bread? Whichever way brings you the most joy, of course, and for someone like myself who thinks of those sweet and colorful confections from the windows of New York bakeries when I was growing up, that's precisely where today's recipe comes in.
Now, I know what you're thinking as you're looking at the pictures, that this is hard, and…yeah, it's not going to be easy. Just follow along, and you'll do fine.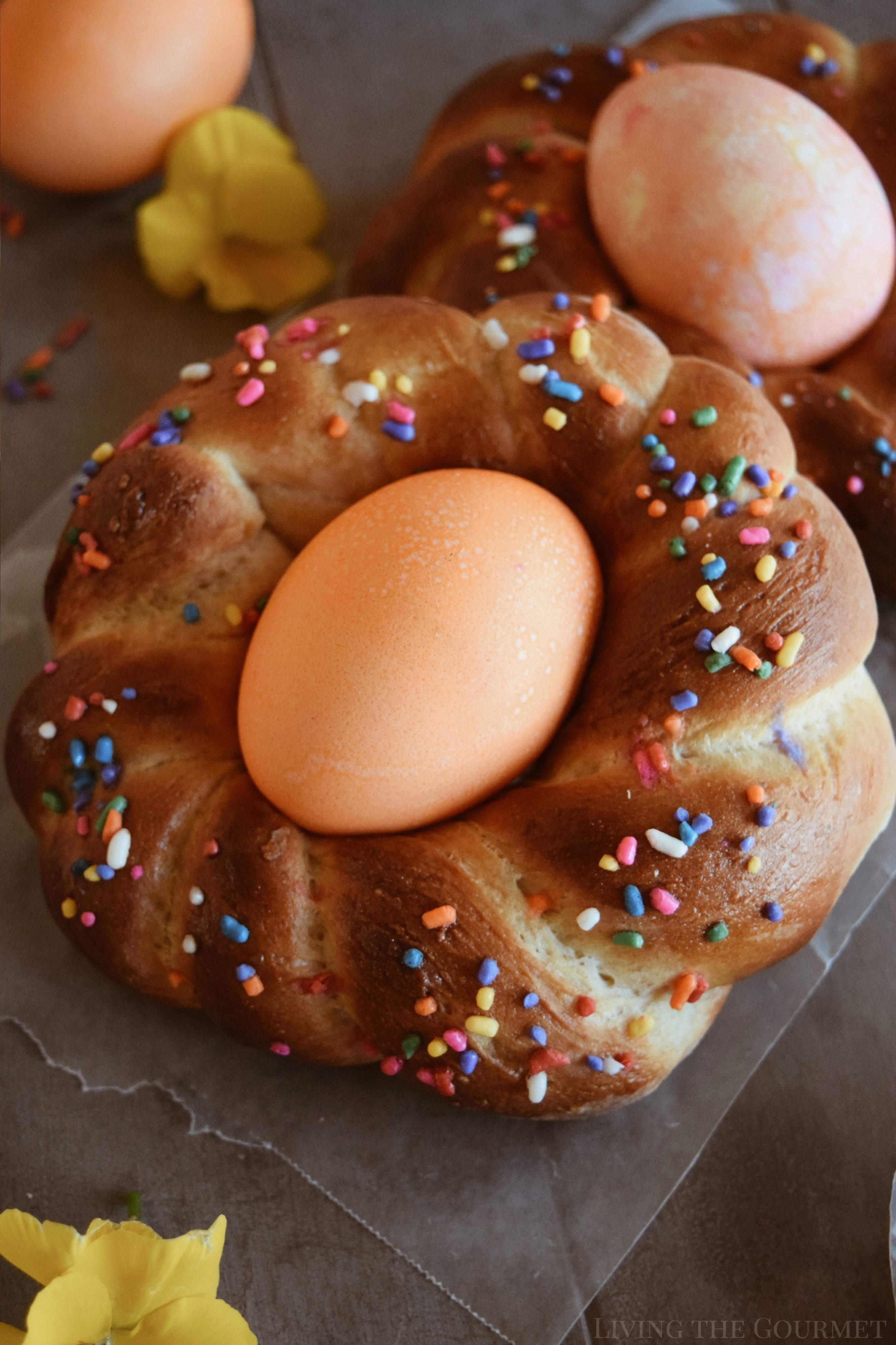 We begin by sweet-proofing some yeast. To do this, we heat milk in a small saucepan until it's warm to the touch. You want to warm it, not scald it. Scalding takes about four minutes, so you're not going to want to heat this for more than two. Once warm, transfer the milk to a sturdy glass – I prefer a mason jar – and then add in your yeast and a tablespoon of sugar. Set this aside and let it froth. No, don't cover it.
Next, in the bowl of a stand-mixer with the hook attachment in place, combine your flours, three tablespoons of sugar, and a teaspoon of salt. Add your proofed yeast to the mix, along with butter, eggs, and honey. Now mix the dough on low speed until it comes together as a smooth, soft dough. Cover the dough and let it rest in a warm place for about two hours. You want the dough to roughly double in size.
Transfer the dough onto a well-floured surface, and begin gently kneading the dough into a smooth ball. Now, divide the dough in half, and then divide those halves into quarters. You want to end up with eighths. No, you cannot just cut the dough into eighths. Trust me on this.
Working with one of those pieces, divide it yet again, and then 'rope' those halves until they are about twelve inches long, and then twist the ropes together as shown below. You want to construct 'wreaths' as pictured below. Repeat this process with each piece of dough, setting the wreaths on a baking sheet covered with parchment paper.
When you're done, cover the wreaths with a cloth, and let them rise in a dark, warm place for about an hour.
After that's done, brush the breads with an egg wash, and top with colored sprinkles, and then bake for about ten minutes at 400 degrees Fahrenheit, or until golden.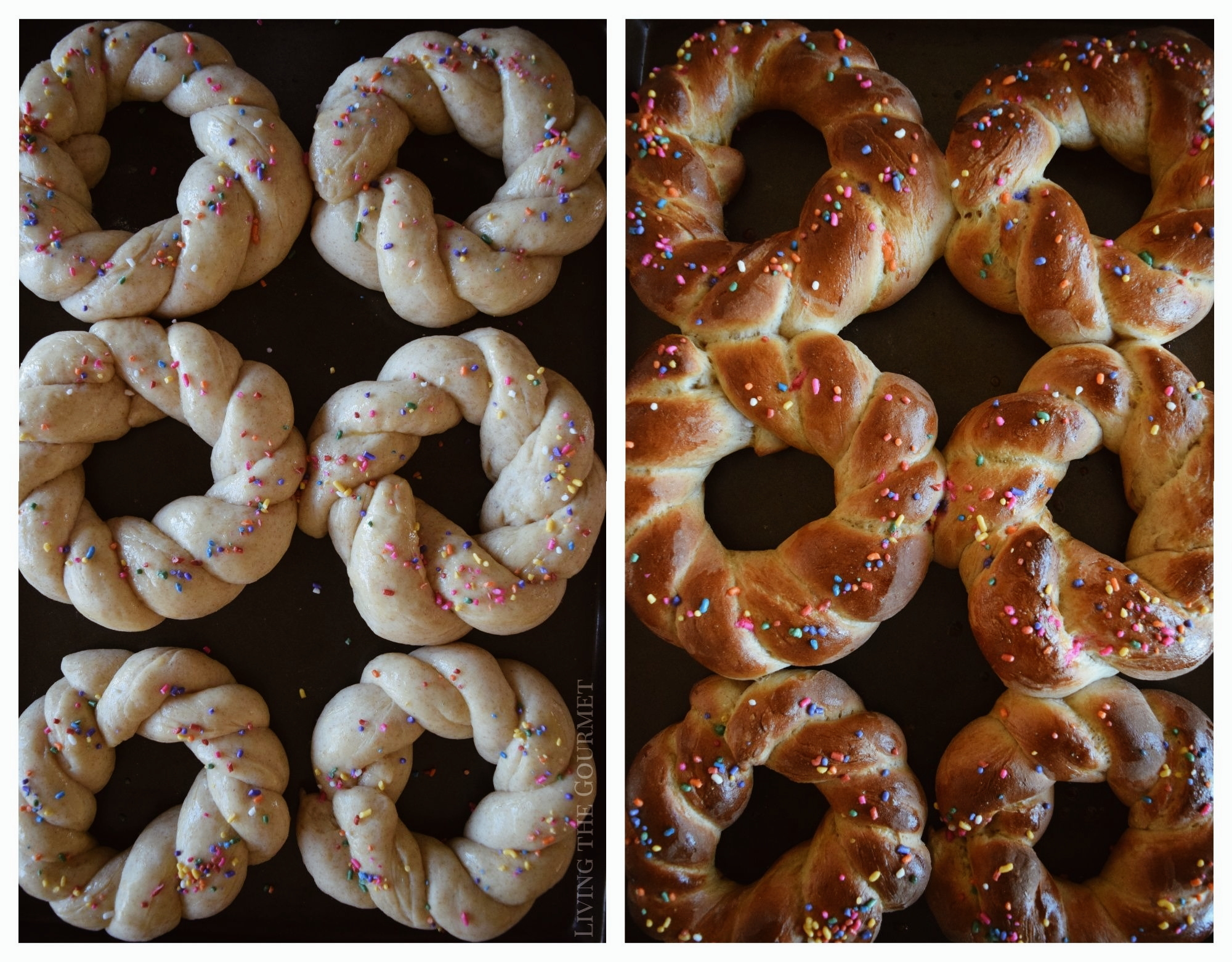 Print
Easter Bread
Author:
Prep Time:

15 minutes

Cook Time:

10 minutes

Total Time:

25 minutes

Yield:

6

Easter breads

1

x
3

cups

AP flour

1/2

cup

whole wheat flour

4 tablespoons

sugar

1 teaspoon

salt

2

eggs

6 tablespoons

butter, melted and cooled

1 tablespoon

honey

1

package active dry yeast

1

cup

milk
Egg wash (1 egg + 1 tablespoon water whisked together)
Sprinkles for topping
Colored eggs (optional)
Instructions
Begin by proofing your yeast. In a small saucepan, heat milk just until warm to the touch. Transfer to a glass then add your yeast and 1 tablespoon of sugar. Set aside and let the yeast froth.
In the bowl of your mix master with the hook attachment, combine flours, remaining tablespoons of sugar, and salt. Once your yeast has proofed, add to the flour mixture along with butter, eggs, and honey.
Mix the dough on medium-low speed until a soft dough comes together. Cover the dough and let rest in a warm place for at least 2 hours, or until the dough has doubled in size.
Transfer the dough onto a well-floured surface and lightly knead into a smooth ball. Divide the dough ball in half, then in quarters.
Working with one of the quarters, divide them in half and 'rope' both halves until about 12″ long. twist the ropes together, then make a wreath with them by pinching the edges. Place each wreath on a parchment-lined baking sheet. Repeat this process for the rest of the quarters.
Cover the Easter breads and let rise once again in a warm place for about 1 hour.
Preheat oven to 400 degrees F.
Brush the Easter breads with an egg wash, then top with colored sprinkles. Bake for about 10 minutes or until the breads are golden.
If you choose to serve these breads with colored eggs, be sure to let them cool to room temp before place the colored eggs in the center of the hole.
Serve and enjoy! These bread will keep for up to 1 week.
Notes
Prep Time does NOT include Inactive Prep Time.
Recipe Card powered by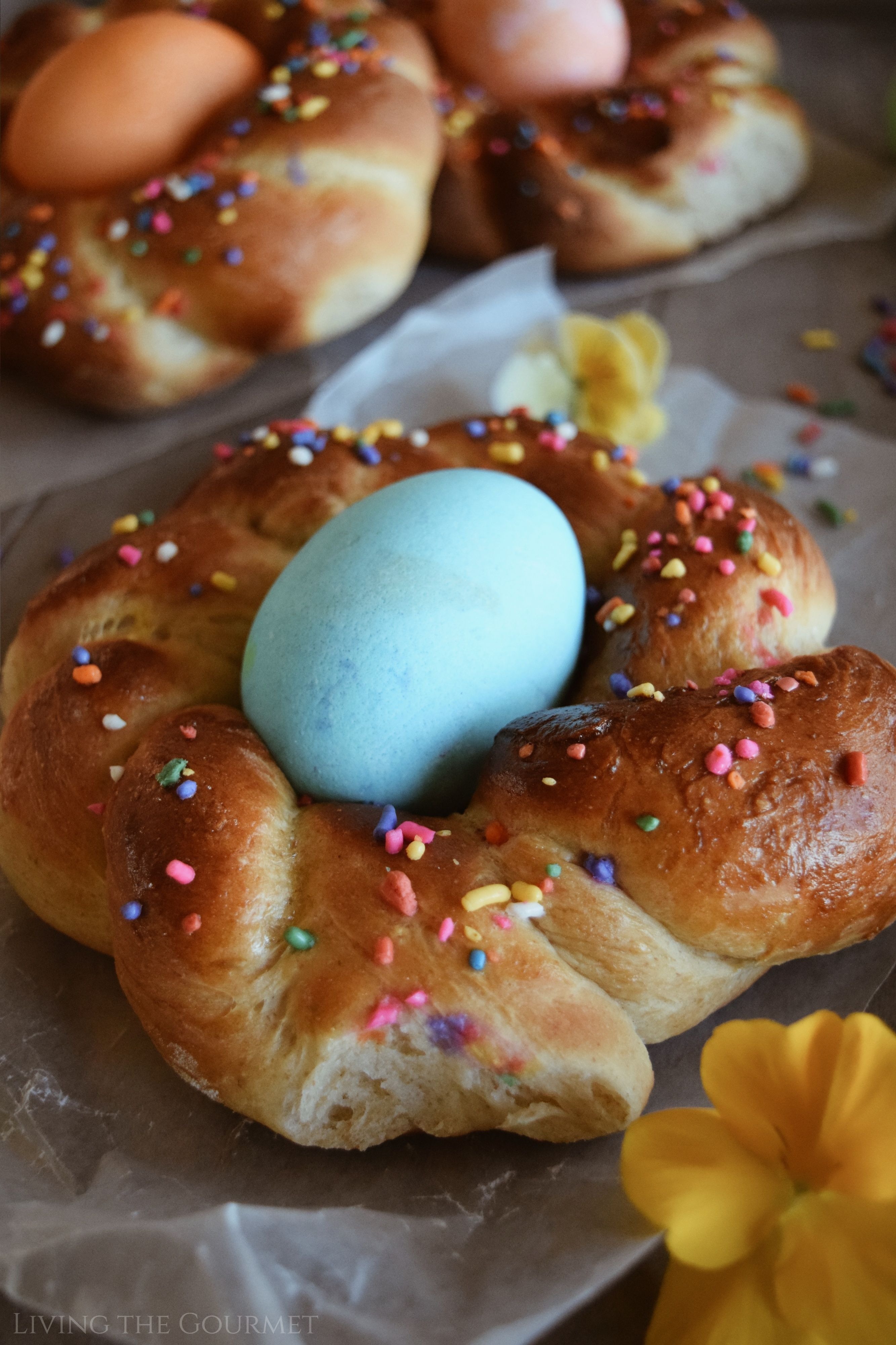 You can, of course, serve these with cooled colored eggs propped in the middle.
And this is what I think when I think Easter Bread. What are some of your favorite Easter themed confections? I would love to hear from you!
Enjoy with Love!
3