This post has been sponsored by Mahatma Rice. All opinions expressed are my own.
Kick off the spring season with flavorful stuffed mini poivrons! They are a fresh and delicious appetizer for all your seasonal gatherings when served alongside a Mediterranean olive spread!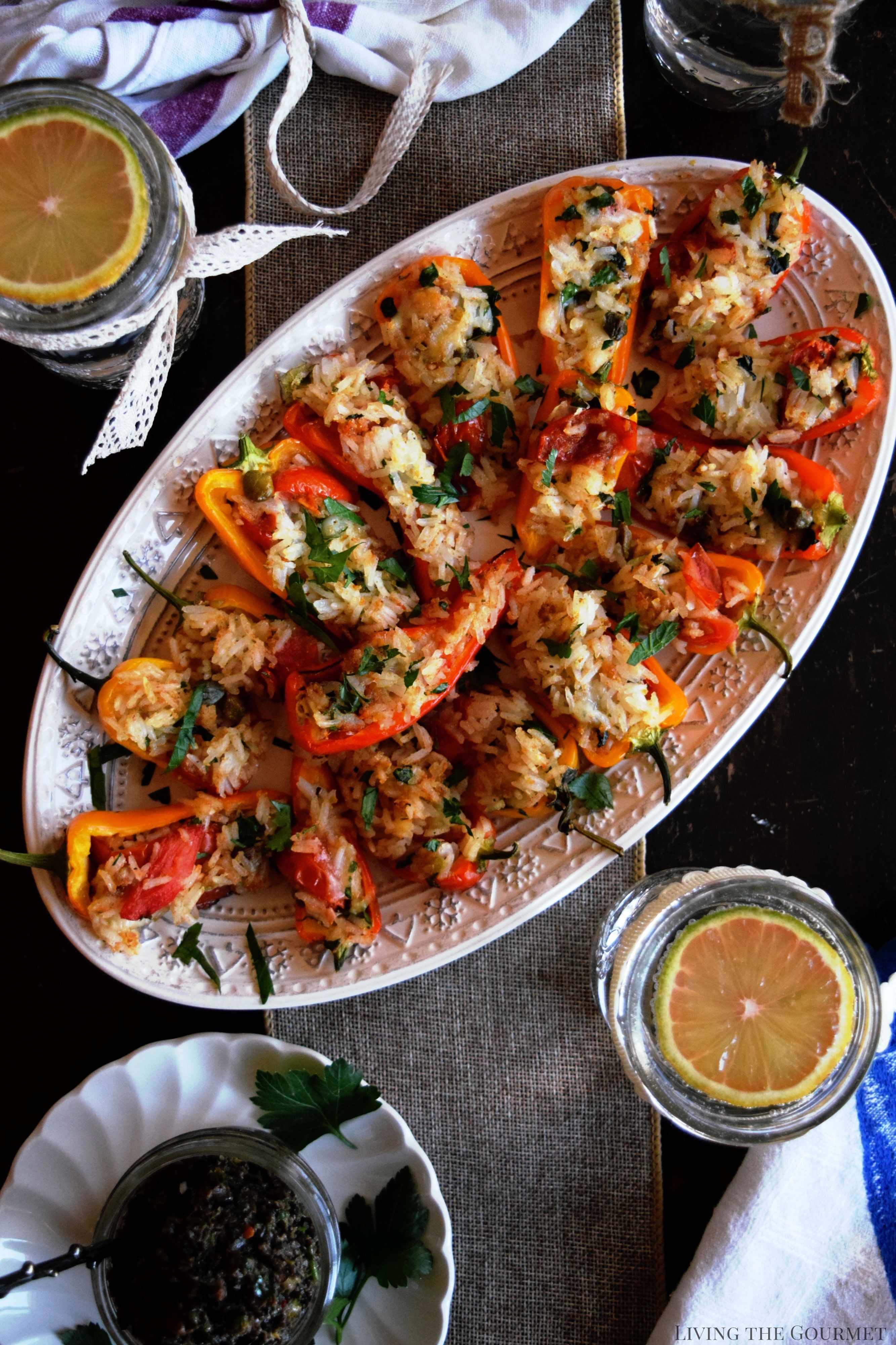 Once upon a time, the Idus Martiae or 'Ides of March,' marked feasts sacred to the god Jupiter and the ancient goddess Anna Perrena. Naturally, in true Roman fashion, this was also the point on the calendar used as a deadline for settling debts. Later in the Imperial Period, the Idus became a 'general' Holy Week marked by festivals and sacrifices.
Naturally, we better remember the Ides of March for…no, not a famous assassination, but rather the beginning of the descent into Madness, the Madness of March.
That said, basketball season is a big deal in my house, rife with its own bit of ritual and tradition. While I myself am largely a Sports-Agnostic, I am nonetheless surrounded by wholehearted devotees. However, the allure of the enthusiasm is hard to resist, and I have learned to bend the season to my own purposes, using the games from time to time as a reason to gather the family in one place and put together a few sports-friendly dishes to add to my Spring menu, as well as to turn out a few tried and true crowd-pleasers.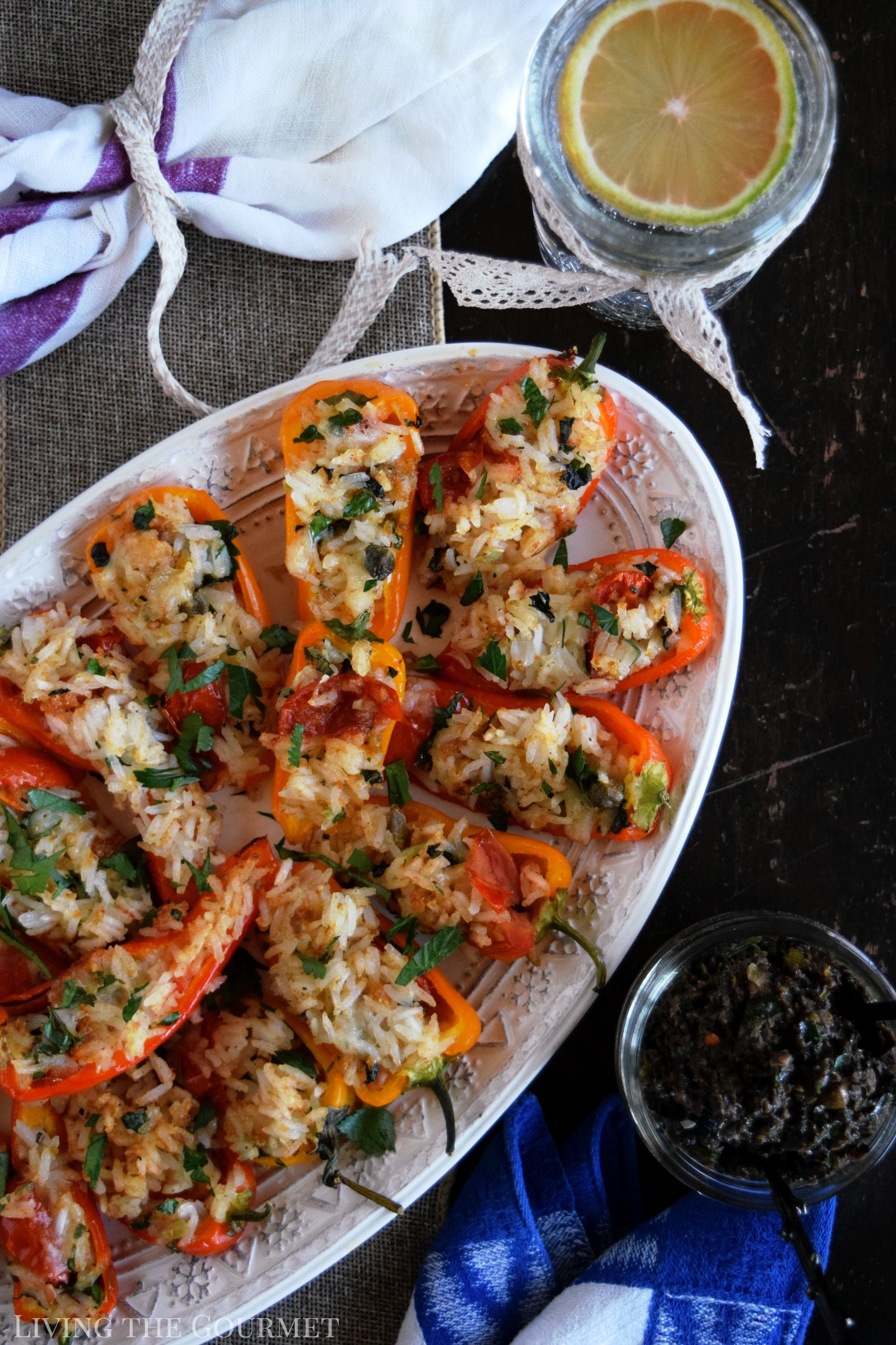 One such favorite is my Stuffed Mini-Poivrons with Mahatma Jasmine Rice, which is a long grain exotic rice imported from Thailand. Savory, filling yet light for spring, and just small enough to still be finger food, they are the quintessential sports-party item. Served alongside a cool drink and a game, or sometimes after the game with debates and replays, there's sure to be few if any left over.
Naturally, that brings us to today's recipe.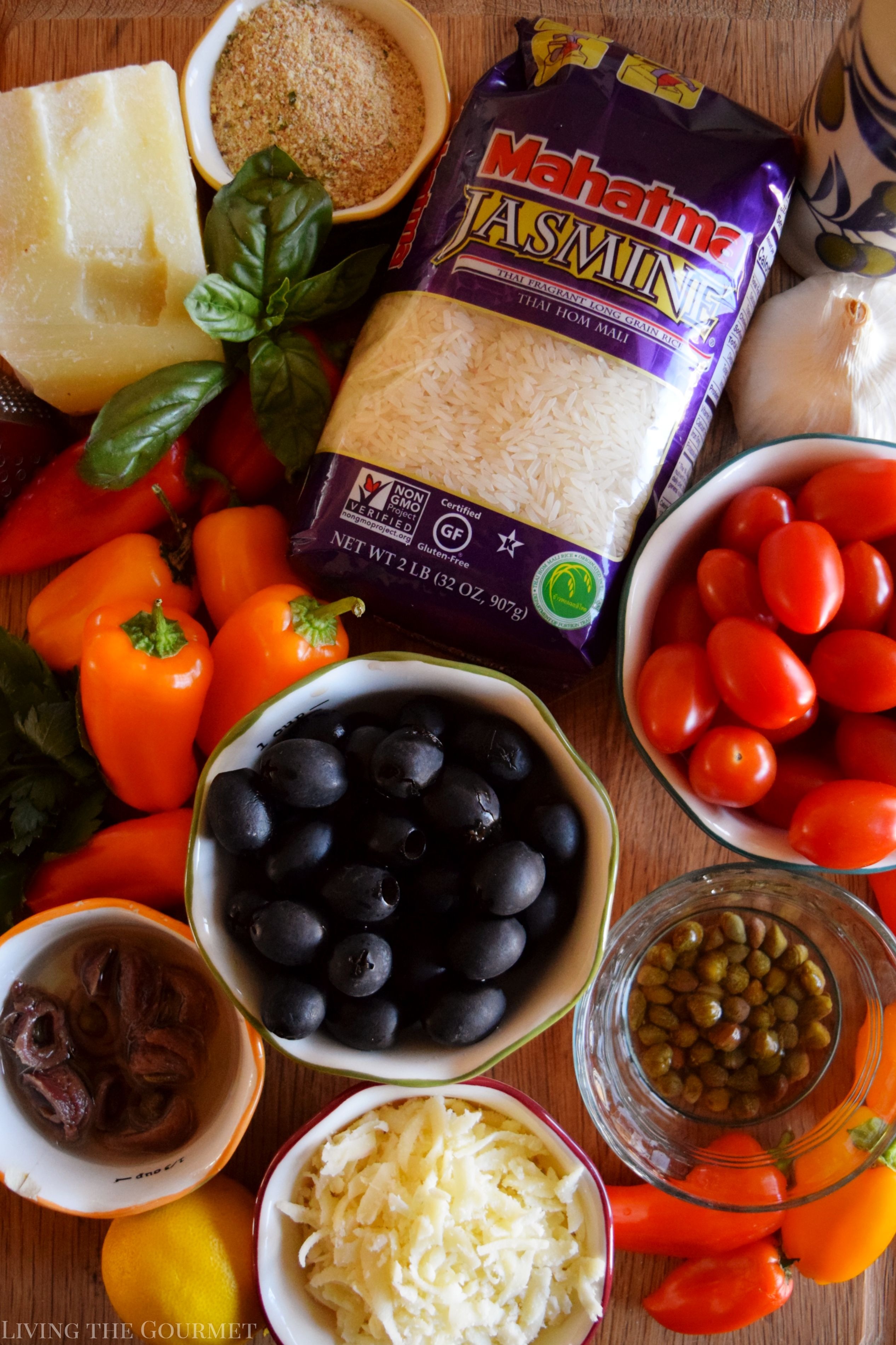 To start things off, prepare about one cup of Mahatma Jasmine Rice as described on the package. For the recipe, I do prefer Mahatma Jasmine Rice from Riviana Foods since it's all natural with no additives, while the delicate natural Jasmine aroma compliments the rest of the flavor profile of the recipe quite nicely. Also, Jasmine rice tends to cook into a soft texture, which complements the outer crunch of the pepper quite deliciously, adding a layer of complexity to the recipe. When selecting Mahatma Jasmine Rice, be sure to look for the seal of the Thai Hom Mali Rice, which guarantees the authenticity of the rice, as without this seal the rice is not authentic.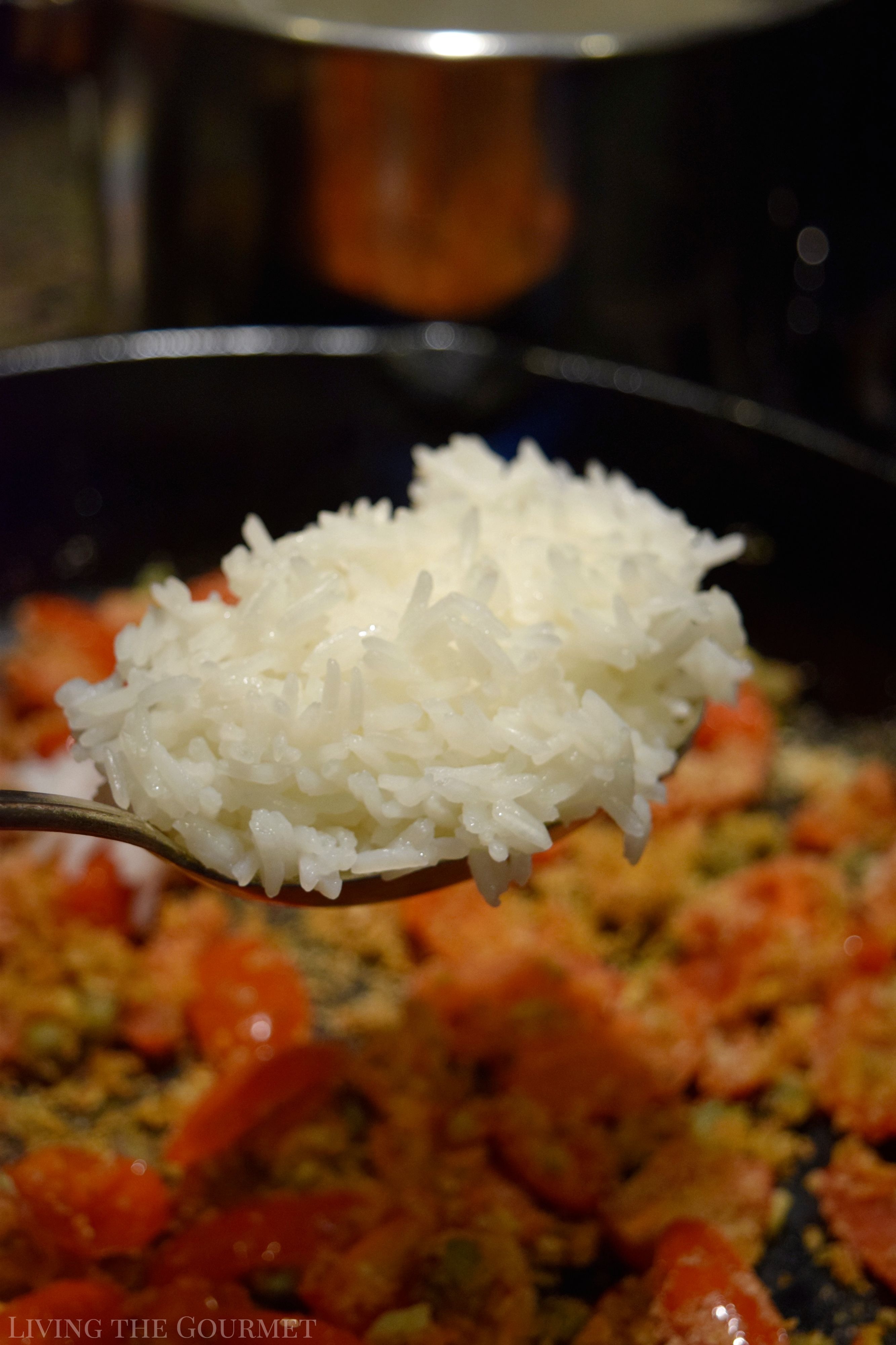 On a side note, Mahatma Jasmine Rice remains soft when chilled, making it great for making dishes ahead of time, or for leftovers.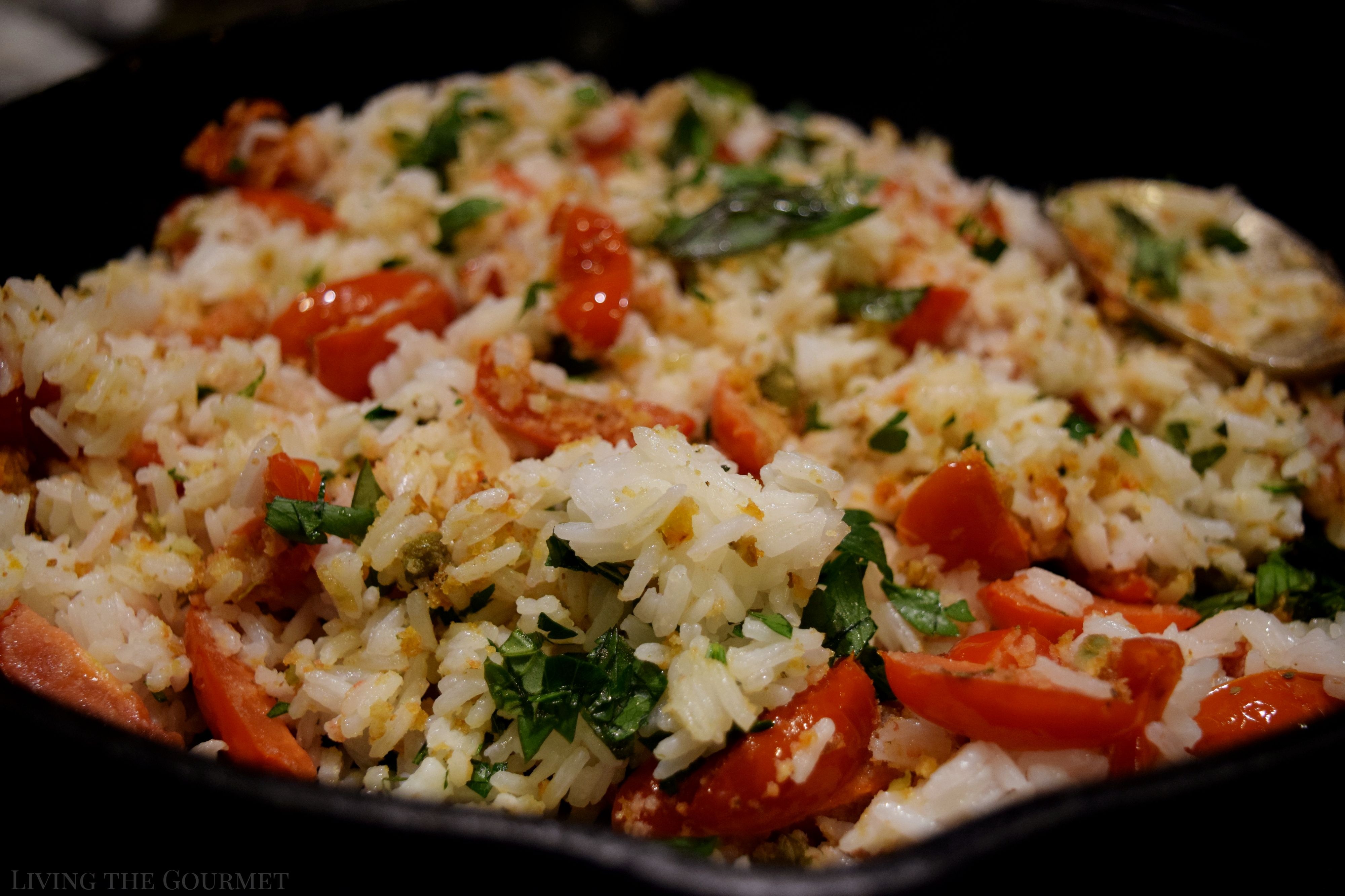 After the rice is cooked set aside for a moment and heat a large cast iron frying pan with a bit of olive oil. Add the quartered tomatoes and the garlic, and sauté until the garlic is fragrant. Then add in the bread crumbs and toss until the crumbs stick to the tomatoes. Once Maximal Tomato Stickiness has been achieved, add in the cooked rice, the capers plus a dash of caper juice, the parsley and basil, grated mozzarella, the grated Romano cheese and then toss. Once it's tossed, turn the heat off.
Now, slice the baby Poivron peppers down the middle, carefully take out the tiny innards, and carefully fill each half with the mixture you just prepared, setting them on a baking sheet as you do.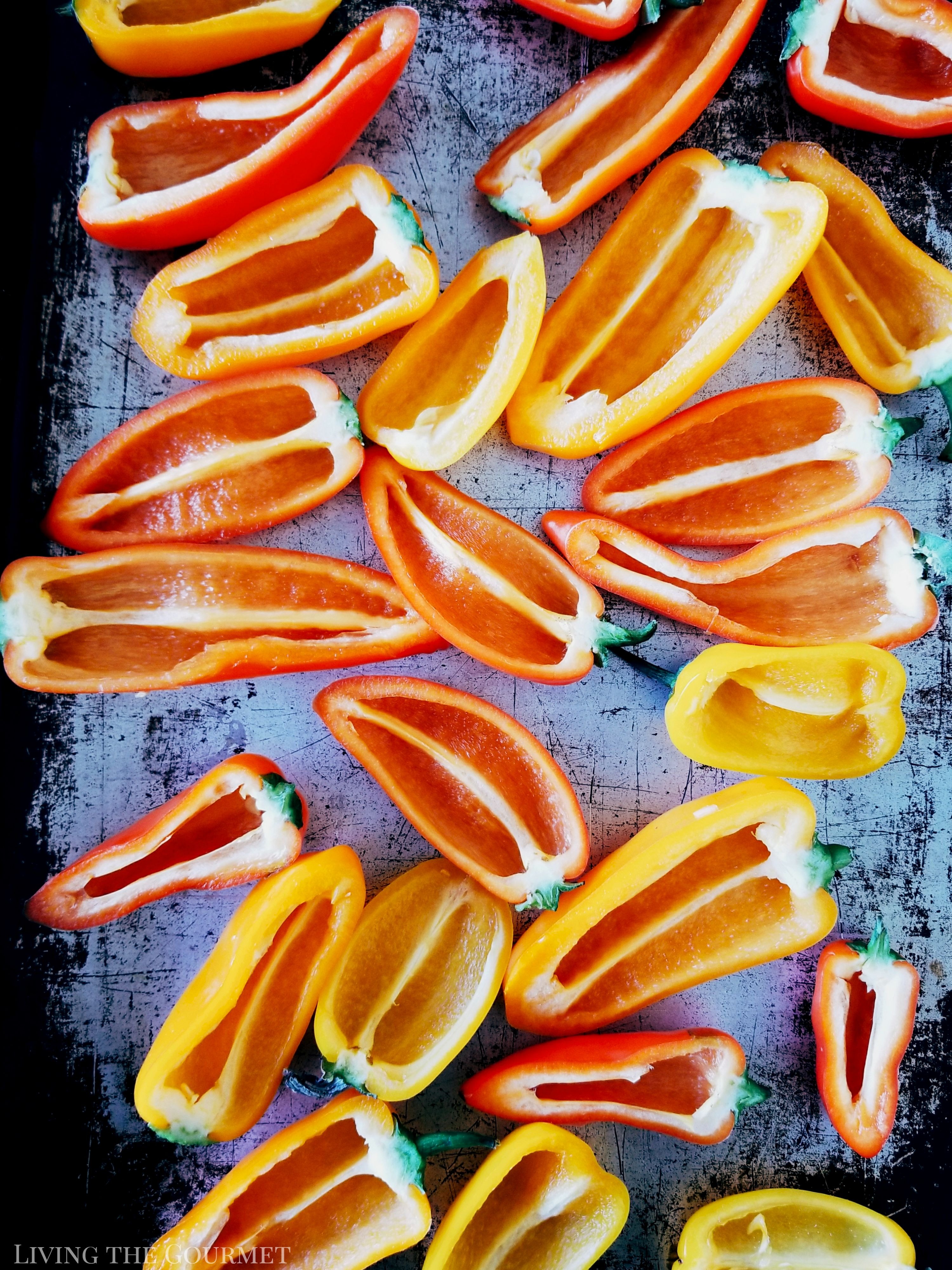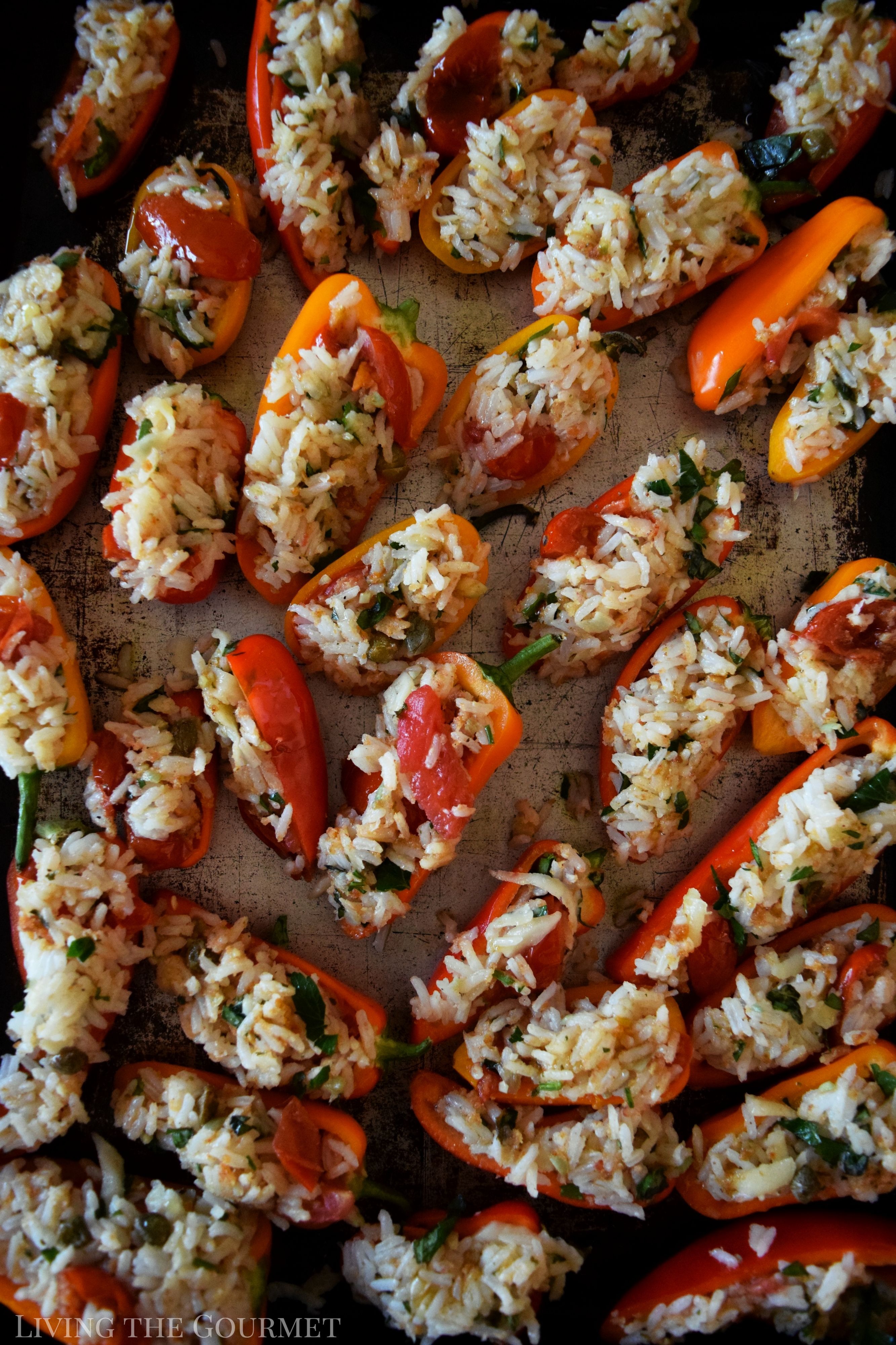 Once you've finished, bake them for about ten minutes at 350 degrees F.
While they bake, prepare the accompanying olive spread as described below, and serve them with something cold, and just like that, you've got a delicious game-time snack.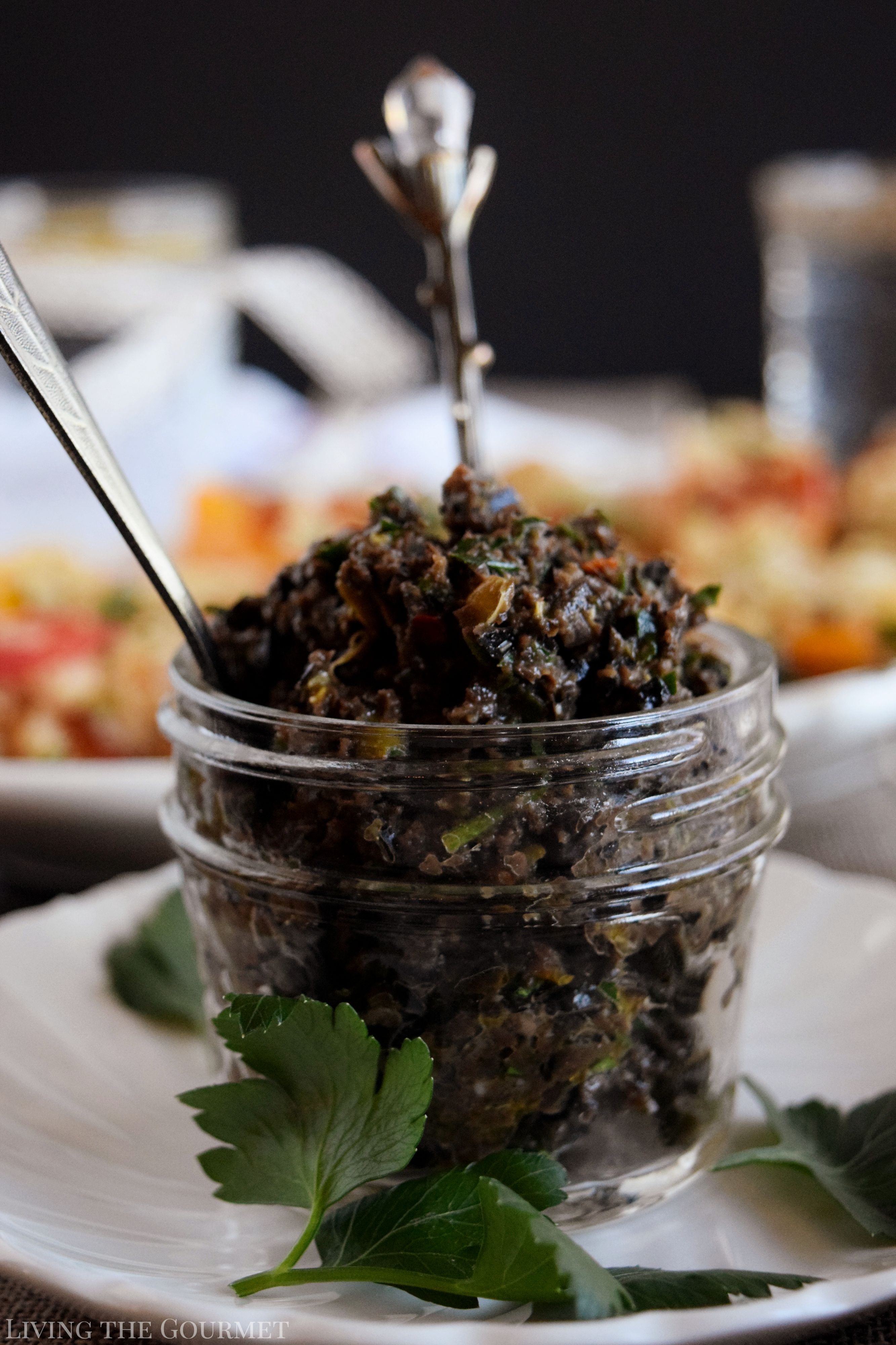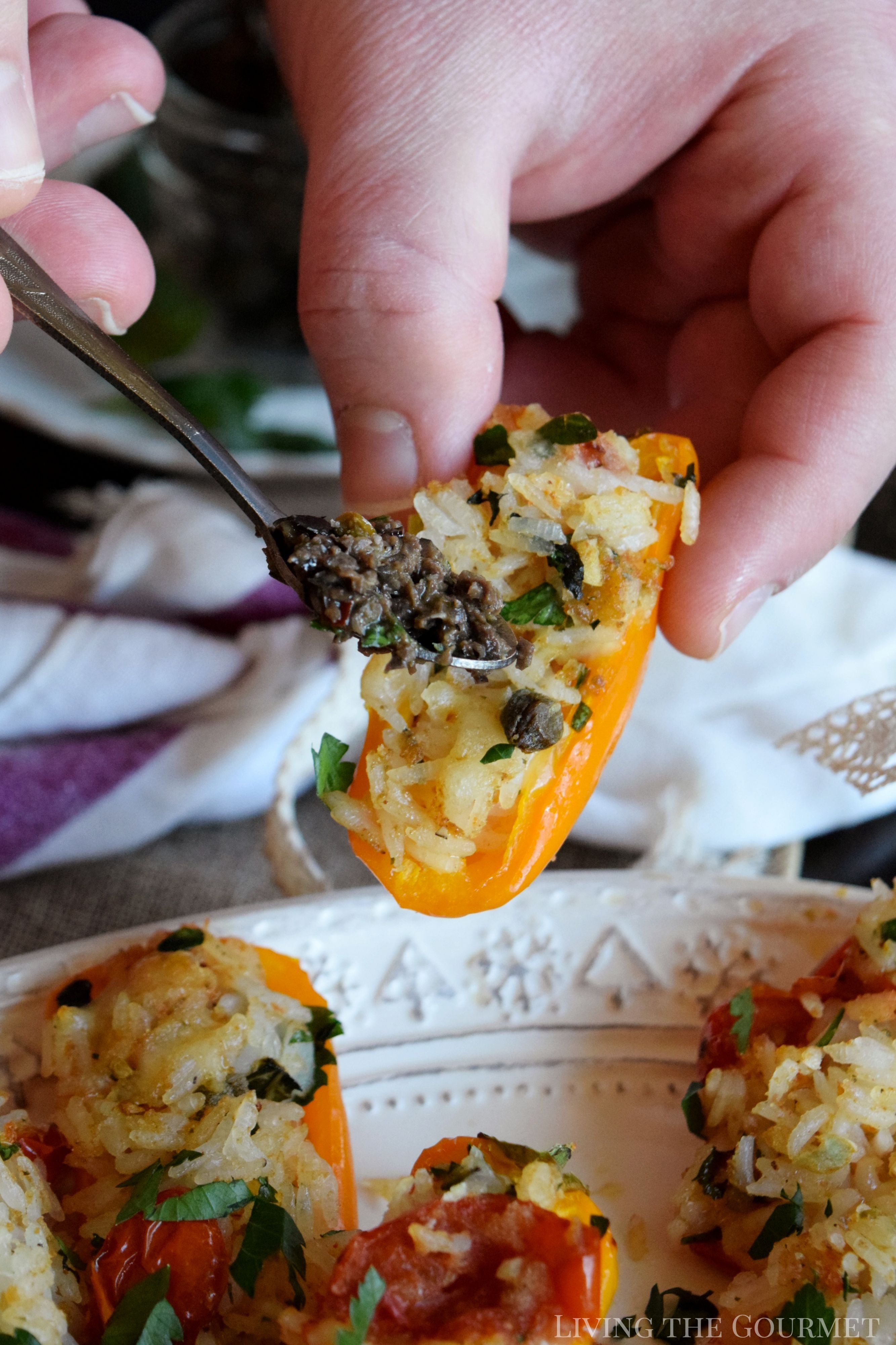 Print
Sweet Mini Poivrons Stuffed with Rice
Author:
Prep Time:

10 minutes

Cook Time:

20 minutes

Total Time:

30 minutes

Category:

Appetizer
25

mini poivrons – halved
For the Rice Stuffing:
1

cup

of Mahatma Jasmine Rice– uncooked

1

cup

of grape tomatoes – quartered

2

tbs. capers – plus 2 tbs. caper juice

3

large cloves of garlic – chopped

1/4

cup

of fresh basil – chopped

1/4

cup

of fresh Italian parsley – chopped

1/4

cup

of Italian style seasoned bread crumbs

1/4

cup

of fresh grated Romano cheese

1/4

cup

shredded mozzarella cheese

2

tbs. olive oil
For the Olive Spread:
1 1/2

cups

of pitted black olives

2 oz

. can of anchovies – drained

2

tbs. olive oil

3

–

4

tbs. fresh Italian parsley

1/4 tsp

. red pepper flakes

3

–

4

tbs. fresh basil

4

tbs. fresh grated Romano cheese
Zest of

1

lemon – plus the juice of 1/2 lemon

2

tbs. capers – plus tbs. of caper juice
Instructions
For the peppers:
Prepare the rice as directed on the package.
Heat a large cast iron frying pan with the olive oil. Add the quartered tomatoes and garlic and sauté until the garlic is fragrant.
Add the bread crumbs and toss until it is sticking to the tomatoes. Add the cooked rice, capers plus caper juice, chopped parsley, chopped basil, grated Romano and grated mozzarella cheese and toss. Turn the heat off on the frying pan.
Preheat the Oven to 350 degrees F.
Using a small spoon, carefully fill each half of the sliced peppers and set on a baking sheet.
Bake for 10 minutes, do not over-bake!
For the Olive Spread:
Combine all of the ingredients for the olive spread in a food processor and process until a fine consistency is achieved.
Refrigerate until ready to use.
Recipe Card powered by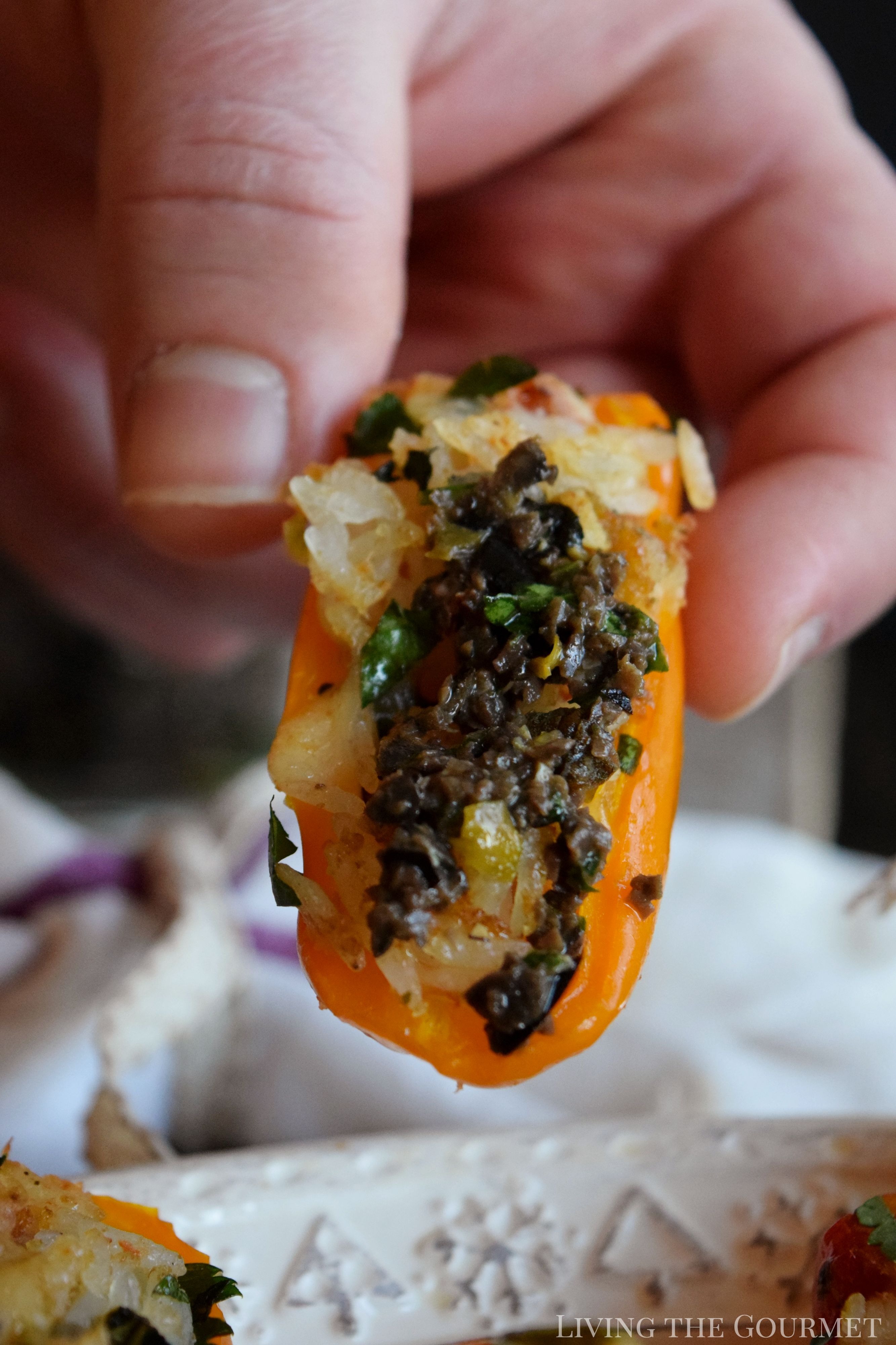 What are some of your favorite game-themed appetizers? We'd love to hear from you. Check the Mahatma store finder to see where it's sold near you (please note it is not sold nationally).
Enjoy with Love!
1