These macaroons feature just six super basic ingredients, including shredded coconut, egg whites, almonds, almond extract, vanilla, and powdered sugar. It's really just 'that' simple, and for a bit of indulgence they will be dipped in melted chocolate, but that finishing touch is wholly optional (but highly recommended for added decadence).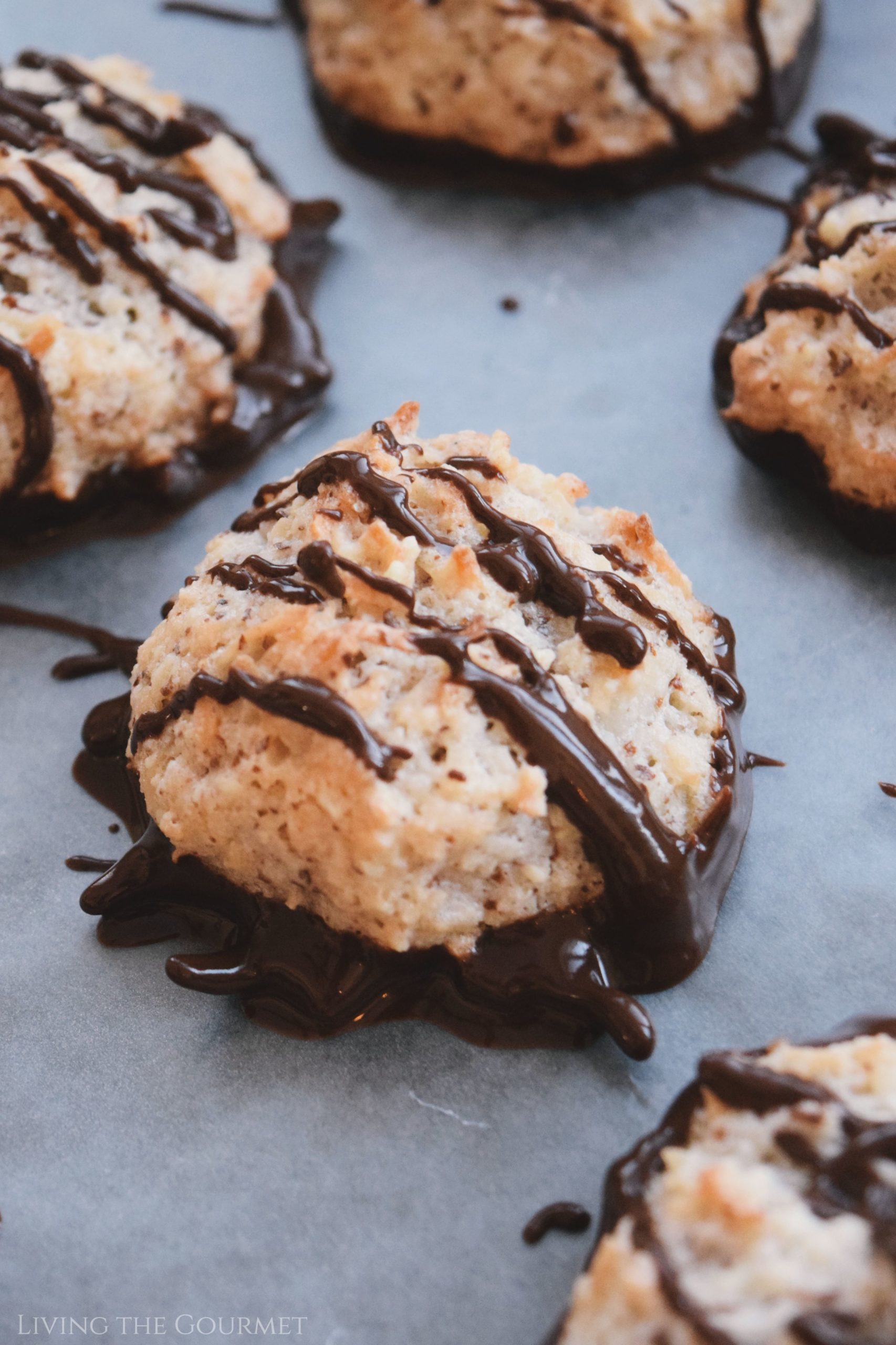 Macaroons – What are they, really?
I could start off by saying that the macaroon dates back to an Italian monastery in the ninth century. Or that the Larousse Gastronomique traces the macaroon to Commercy, France in 791 AD. I could go on to say that the 'most basic' formula for the macaroon has changed quite little over the past millennium and a half, with the earliest macaroons being composed of egg whites, almonds, and sugar, and were – as they are today – devoid of any leavening or flour.
According to Judy Pister, writing for the Kashruth Council of Canada, says that this original recipe had spread across Europe by the mid-sixteenth century, and that "Since the cookie has no flour or leavening, Italian Jews adapted the recipe in order to enjoy it on Pesach…Eventually the minhag (custom) spread all over Europe and although it was consumed year-round, the chewy almond paste variety remained a Pesach treat. By the late 19th century and especially in North America, the almond was replaced with coconut as the almond cookie tended to be more fragile to make as well as transport."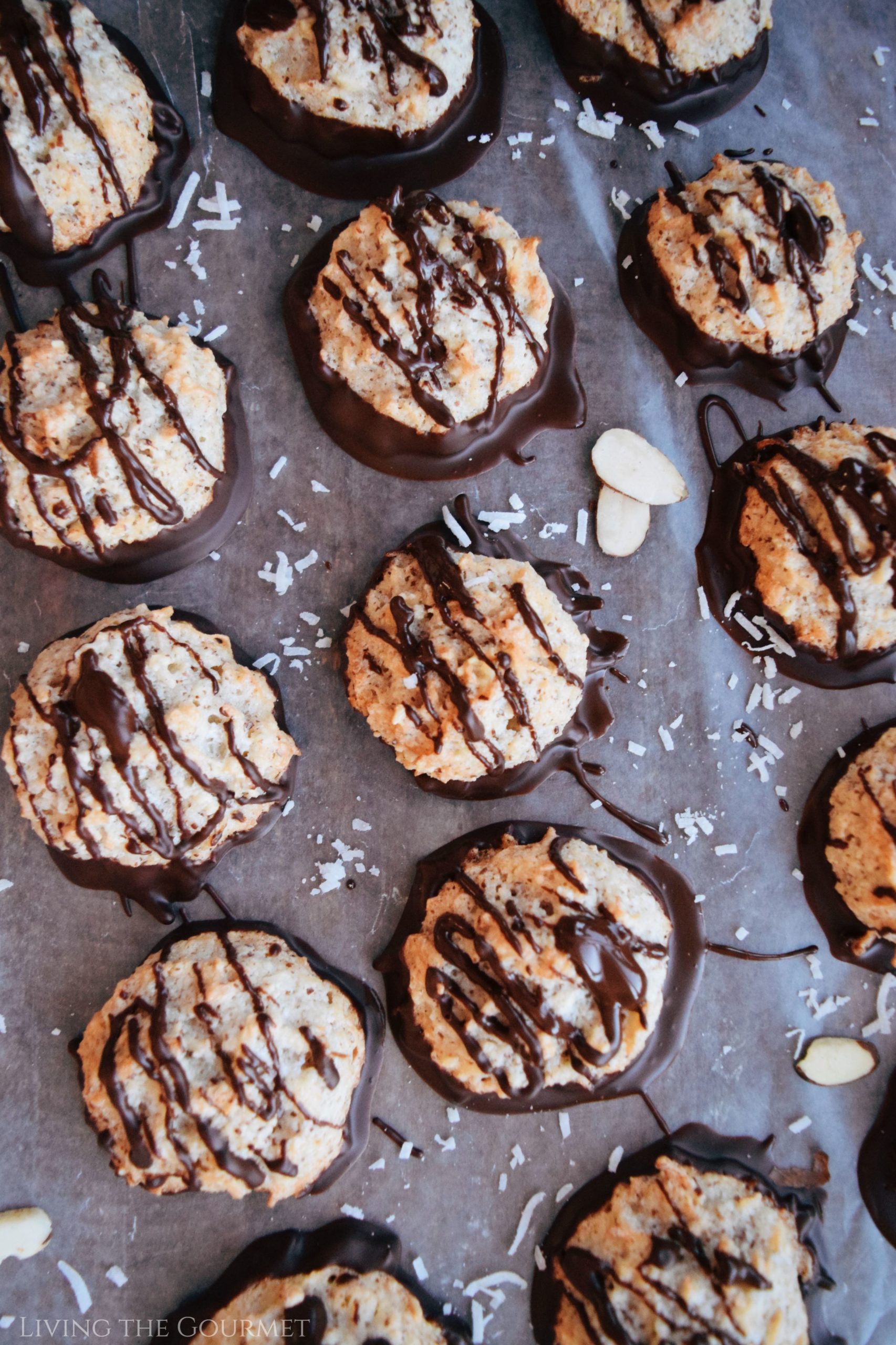 Again, this basic formula has changed very little.
To that point, the textbook definition of macaroons tells us that these delightful little treats are simply almond cookies, whose primary ingredients include egg whites, sugar, and coconut.
However, these days macaroons are far more than simple almond and coconut cookies. In fact, the far more 'relevant' answer as to 'what' they are is that macaroons are 'a lot of things.' One might even say that 'macaroon' is more of a 'flavor' or 'flavor and texture' than a 'thing.'
Macaroons come in a seemingly infinite variety of shapes and sizes, from small cookies to proper cakes. Commercially, and perhaps most commonly, you're likely to encounter "French Macaroons," which feature uniform disc shape cookies sandwiched over a filling, typically jelly, chocolate, frosting, or sweetened almond paste.
Then, of course, there are regional variations on macaroons. For example, Puerto Rican macaroons (besitos de coco), are made primarily with coconut and feature lemon zest and vanilla, while Italian Ricciarelli are quite soft, featuring a traditional almond base mixed with honey.
In short, the basic 'formula' for a macaroon has changed very little over the better part of two-thousand years, although we've embellished on the concept quite a bit over the last century or so.
Ingredient Notes and Tips
1) Confectioners Sugar. Also called icing sugar, and 10X Sugar, is simply finely ground granulated sugar. The primary use for this sugar is for industrial-scale baking, particularly in items where 'quick dissolving' sugar is needed. At home, and in bakeries, confectioners sugar is primarily used to make icing, frosting, as garnish, and as a 'finishing sugar.' Today, we're using confectioners because – as mentioned above – we want a sugar that will rapidly dissolve. Since we are only lightly cooking today's cookies, standard granulated sugar would leave the cookies with crunchy 'granules' of sugar laced throughout the cookie. Not pleasant.
2) Almonds 'and' Almond Extract? Yes. While almonds are providing the 'meat' of today's cookie, along with a copious amount of shredded coconut, almond extract serves to evenly permeate 'almond flavor' throughout the cookie, allowing for a more intense concentration of almond flavor than would otherwise be achievable purely by the use of almonds alone.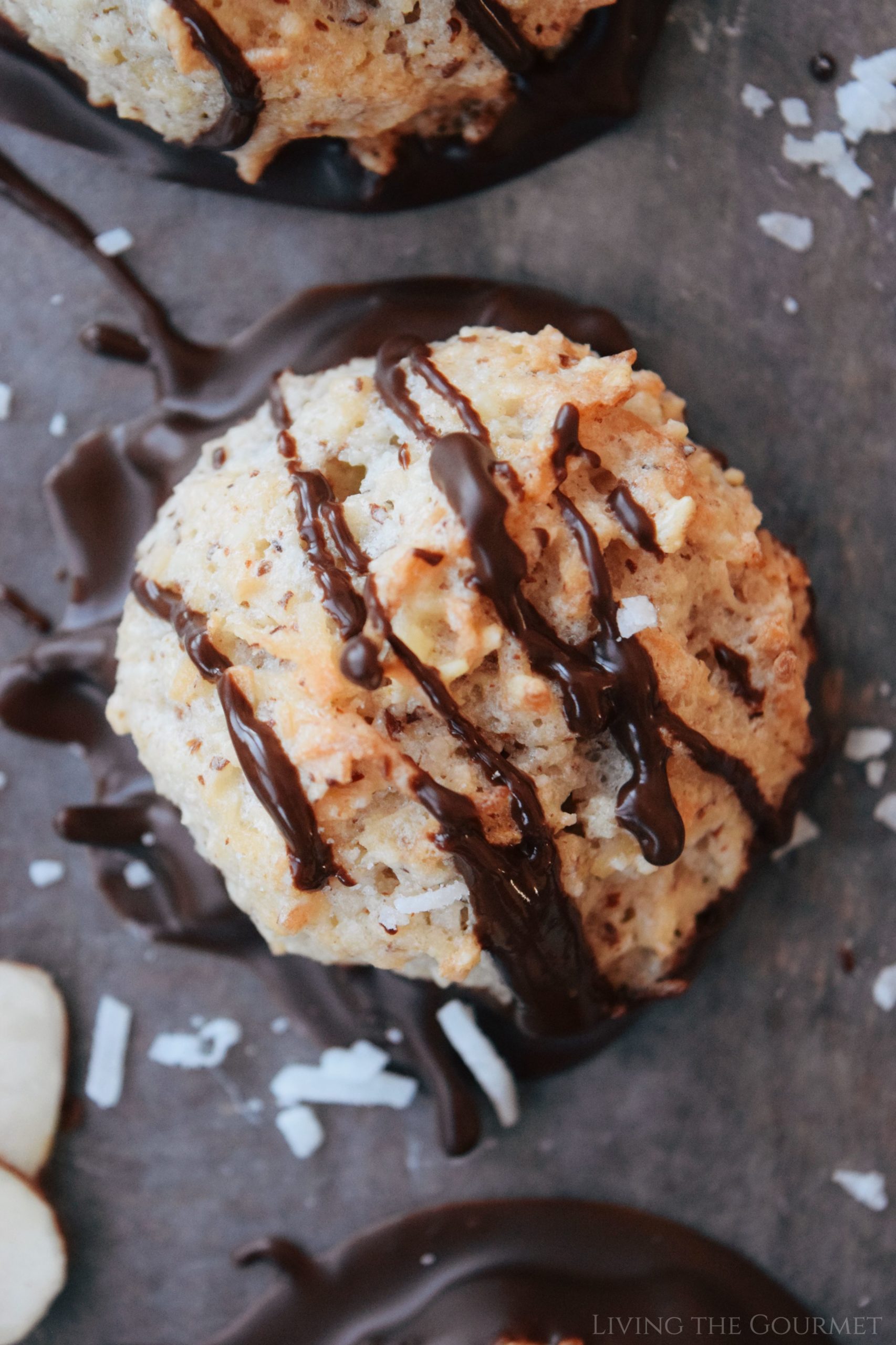 More Cookies from Living the Gourmet
1) Brown Butter S'mores Chocolate Chip Cookies. Indulgently chewy and gooey, and decadently sweet, this is a cookie on which no corners were cut, and no indulgences spared. Featuring nutty brown butter, melted marshmallows, and copious amounts of chocolate chips, this is one of my favorite cookie recipes.
2) Black and White Cookies. Sweet, cakelike, and decadently moist, Black and White Cookies are something of an institution unto themselves here in New York, and are found everywhere from dinners to delis to bakeries – and not without cause. These things are delicious.
3) Chewy Peanut Butter Chocolate Chip Cookies. These are probably the most popular cookies I've ever posted to Living the Gourmet. Delightfully chewy, decadently moist, and cutting no corners on 'guilty' ingredients, try these – trust me.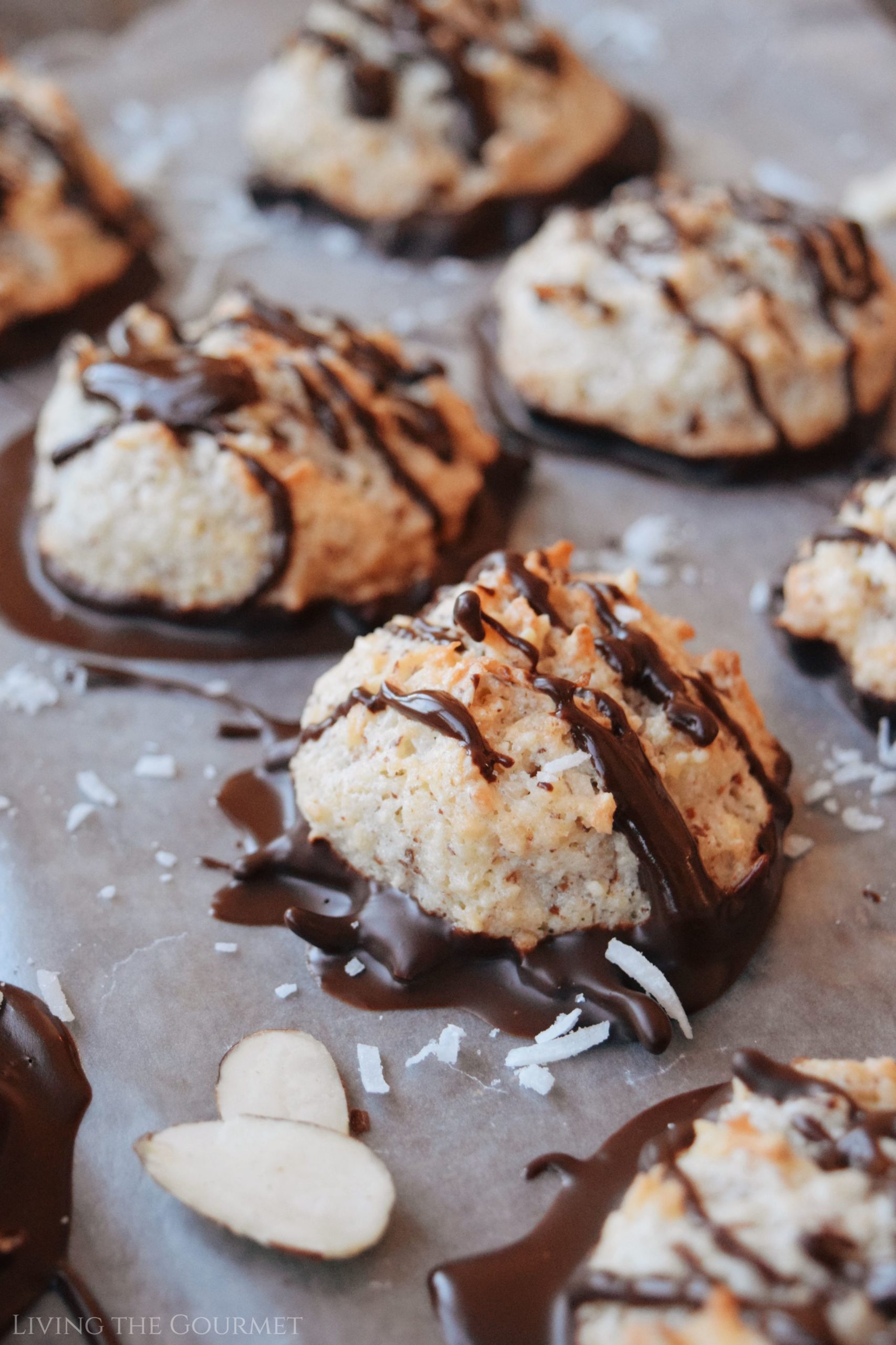 Print
Coconut Almond Macaroons
Author:
Prep Time:

10 minutes

Cook Time:

20 minutes

Total Time:

30 minutes

Yield:

2

dozen macaroons

1

x
For the macaroons:
2

egg whites

1

cup

almonds slices – ground

1

cup

confectioners' sugar – sifted

1 tsp

. almond extract

1/2 tsp

. vanilla extract

1

cup

sweetened shredded coconut
For the melted chocolate:
1

cup

semi-sweet chocolate, chopped

2 teaspoons

coconut oil
Instructions
For the macaroons:
Preheat Oven 325 degrees F.
Sift the powdered sugar into a medium sized bowl.
Grind the almonds in a food processor.
Add the ground almonds and shredded coconut to the sifted sugar and toss.
Beat the egg whites until stiff peaks are formed.
Fold the egg whites into the almond mixture along with the extracts.
Prepare a baking sheet with parchment paper.
Place slightly rounded teaspoonfuls, about 2 inches apart, onto the prepared baking sheets.
Bake 20 – 25 minutes, until slightly golden in color. Transfer to a cooling rack.
For the melted chocolate:
In a double-boiler set over medium heat, melt down the chocolate and oil until smooth.
Line a baking sheet with wax paper and set aside.
Dip the macaroons in the melted chocolate and set on the prepared baking sheet. Then with the remaining chocolate, drizzle each.
Refrigerate the macaroons for about 5 minutes to allow the chocolate to set.
Serve and enjoy!
Recipe Card powered by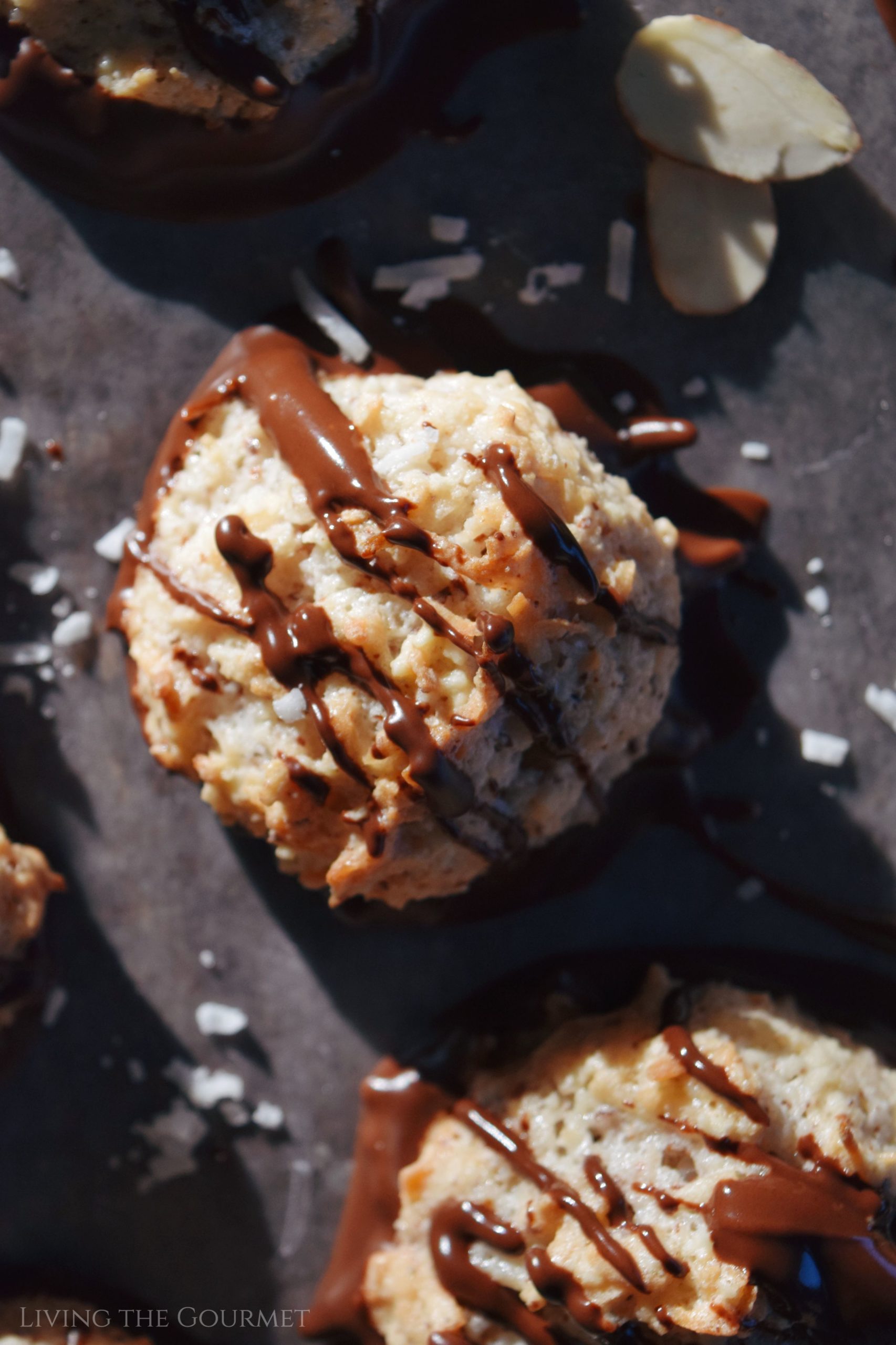 5