Today's cake is a combination of fresh fruit and sweet Moscato, swathed in a moist vanilla cake with just a a hint of orange zest.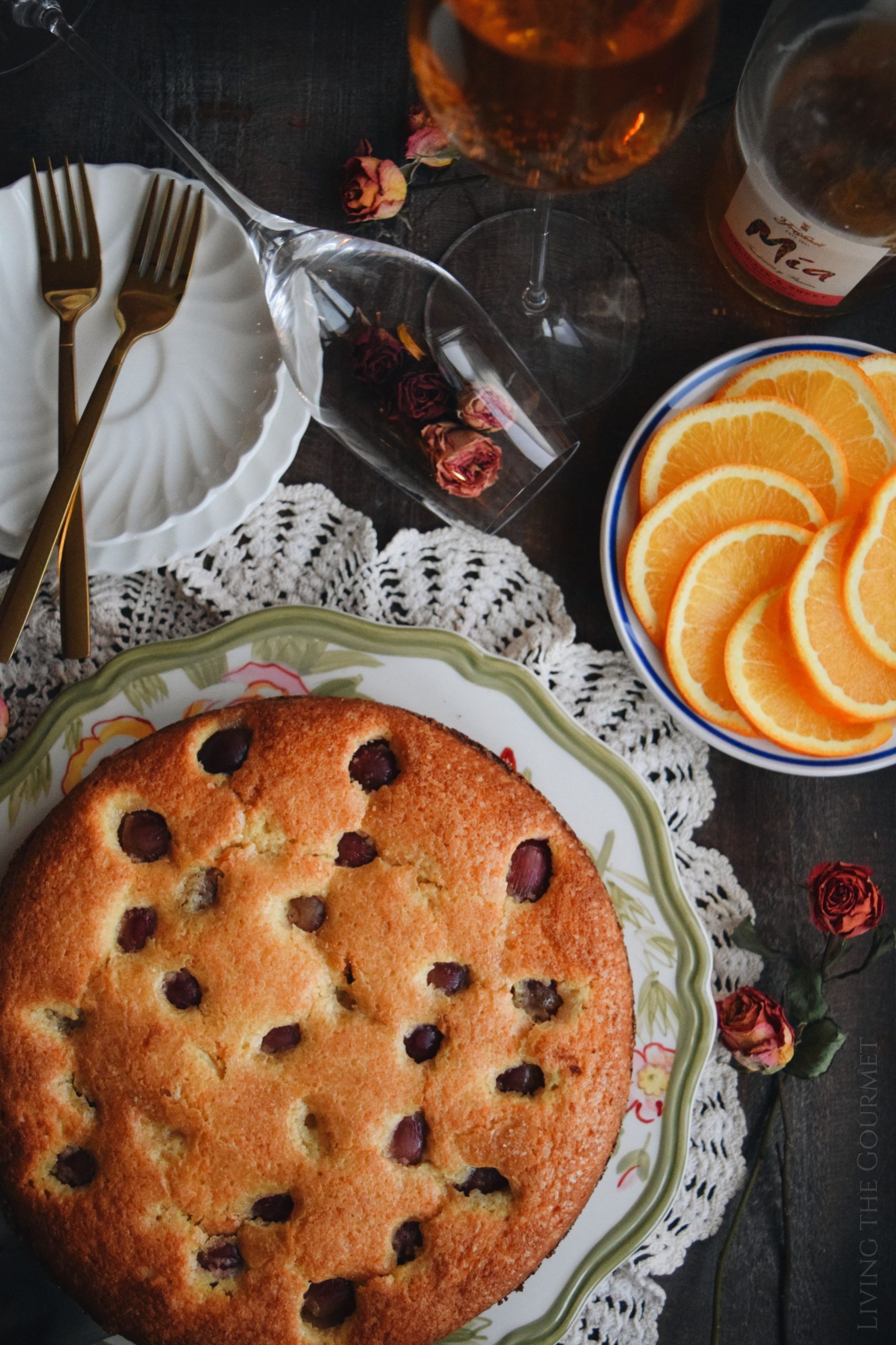 Why You'll Love Today's Sweet Wine Cake
1) Have Your Wine and Eat It Too. The 'secret' about cooking with alcohol, is that very rarely does anything cooked with alcohol actually contain any 'alcohol.' How so? Simple, the boiling point of alcohol is a meager 173 degrees Fahrenheit, well under than the 212-degree boiling point of water – and less than half of the 400 degrees at which we'll be baking today's cake. This means that even before the cake has begun to solidify, the alcohol will have entirely departed the batter in the form of steam. Translation – feel free to pair today's cake with a dessert wine! In my opinion, this Sweet Wine Cake would actually pair beautifully with something like a well-aged Vinsanto, where the bitingly sweet, almost syrupy red dessert wine would contrast beautifully with today's light cake.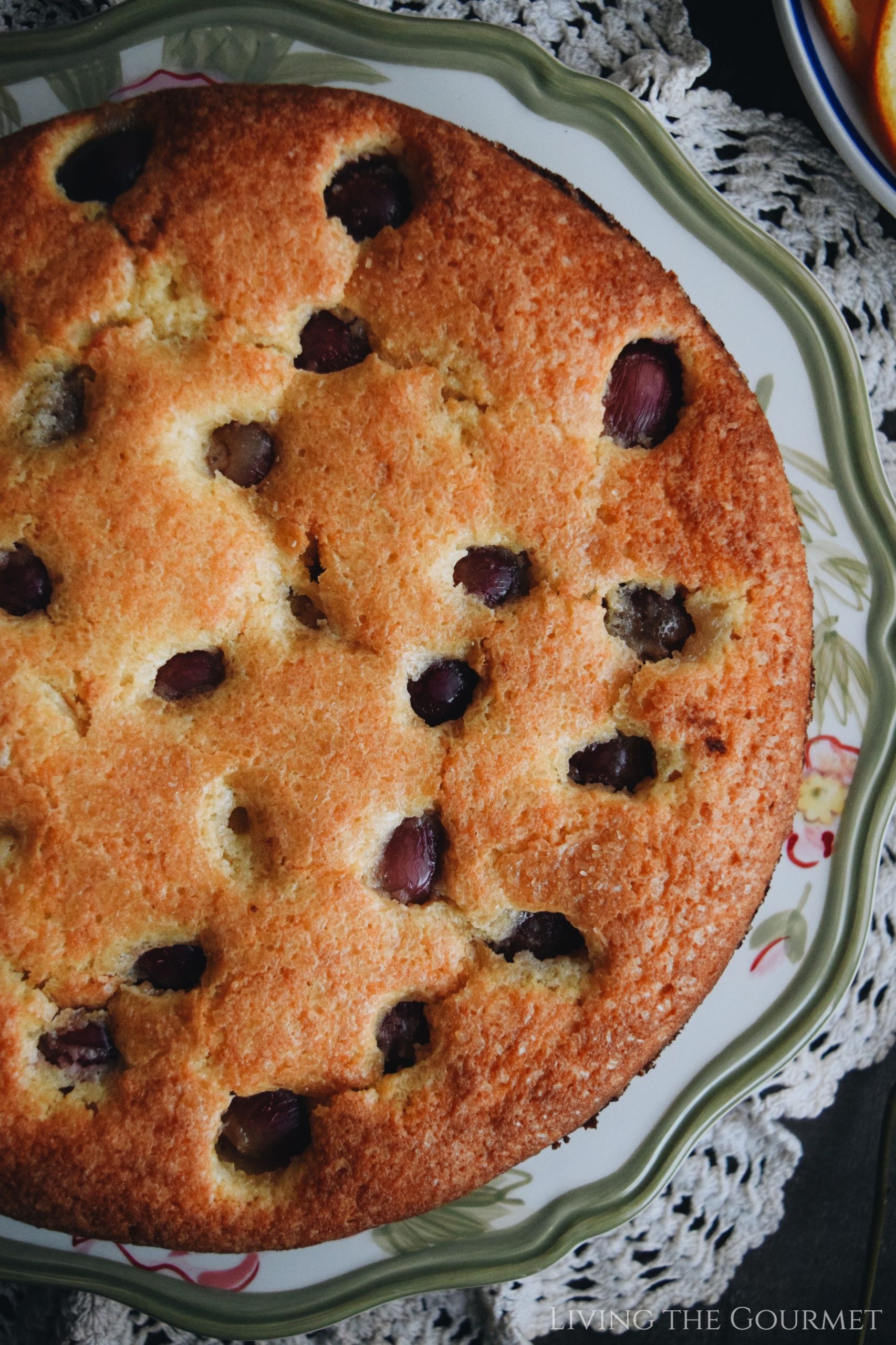 2) A Cake That Is a Canvas. While I'm using a Moscato Sparkling Wine, feel free to experiment. As some suggestions, you might consider subbing in a sweet ice wine, honey wine, or even a sweet dark red wine. You might also try swapping today's selection of grapes and strawberries for…well, there's where you and your imagination come in. Also, in case the vanilla in the ingredients list didn't give it away, you might also try swapping out wine entirely for rum to take today's cake in a wholly different direction.
3) A Light Dessert. Today's cake is light, moist, and almost 'airy' in texture. This makes it a blissfully light dessert for nights when you want something sweet, but want to avoid more 'substantial' desserts.
4) It Keeps. Today's cake keeps well for up to four days in the fridge, meaning you can prep this Sunday night, and have it throughout the week.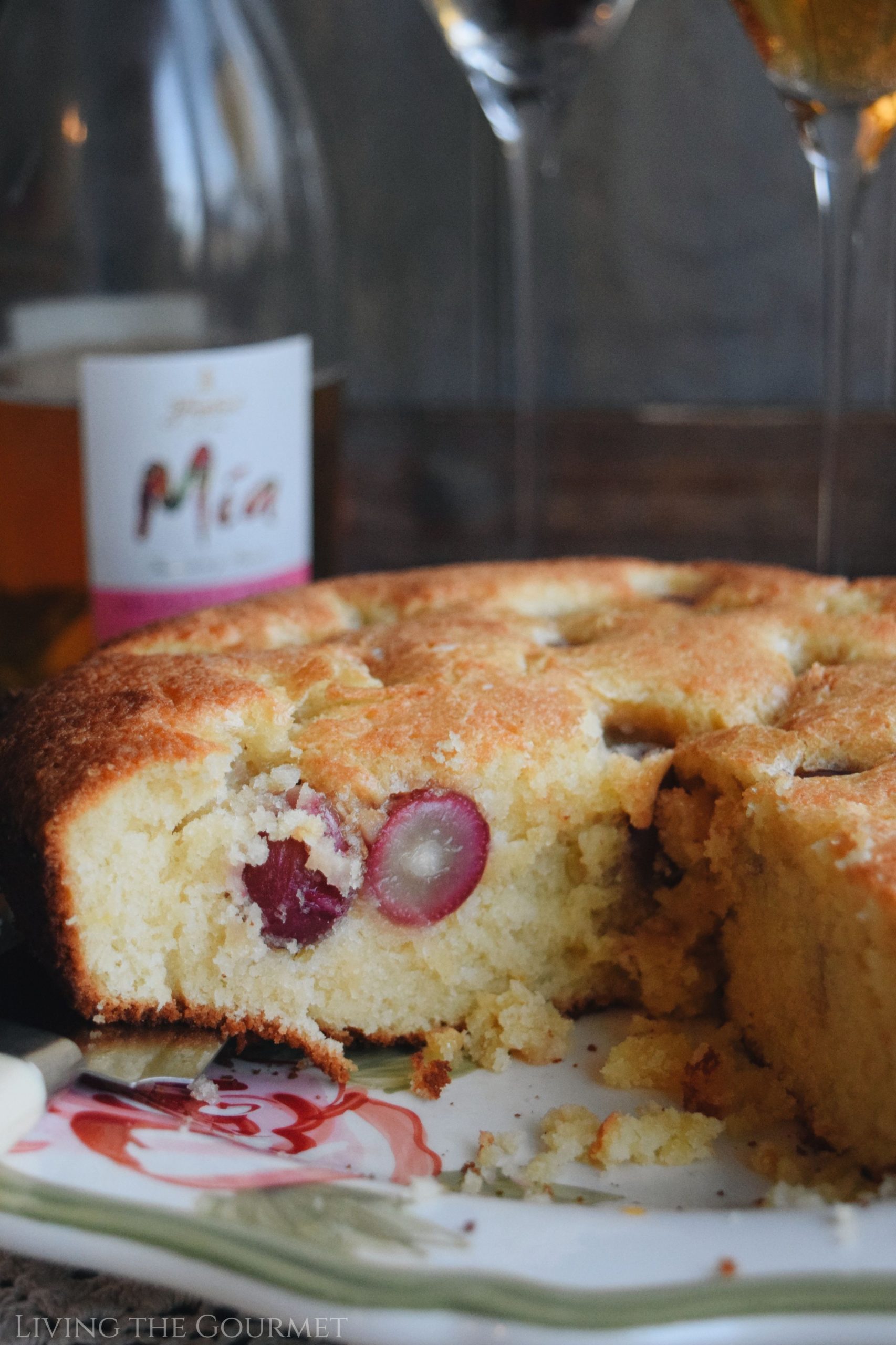 How to Serve a Sweet Wine Cake
1) Topping Suggestions (And a quick wine syrup recipe). For toppings, while fresh whipped cream will do nice, you might consider getting fancy with a red wine syrup or 'wine sauce.' To do this, simply bring red wine to simmer over low heat with sugar – preferably something like pinot noir – at a ratio of about two and half to three cups of wine per cup of sugar. Once the wine has started boiling, reduce it down to a simmer, and here's where you add in flavorings (if desired) such as any combination of fresh cinnamon sticks, star of anise, grated ginger, and cloves, and then continue simmering until the sugar is fully dissolved, and let it cool. And just like that you've got a wine lover's dessert without equal. Pro Tip: After drizzling the wine syrup over the cake, dust with some grated dark chocolate to really bring things to the next level.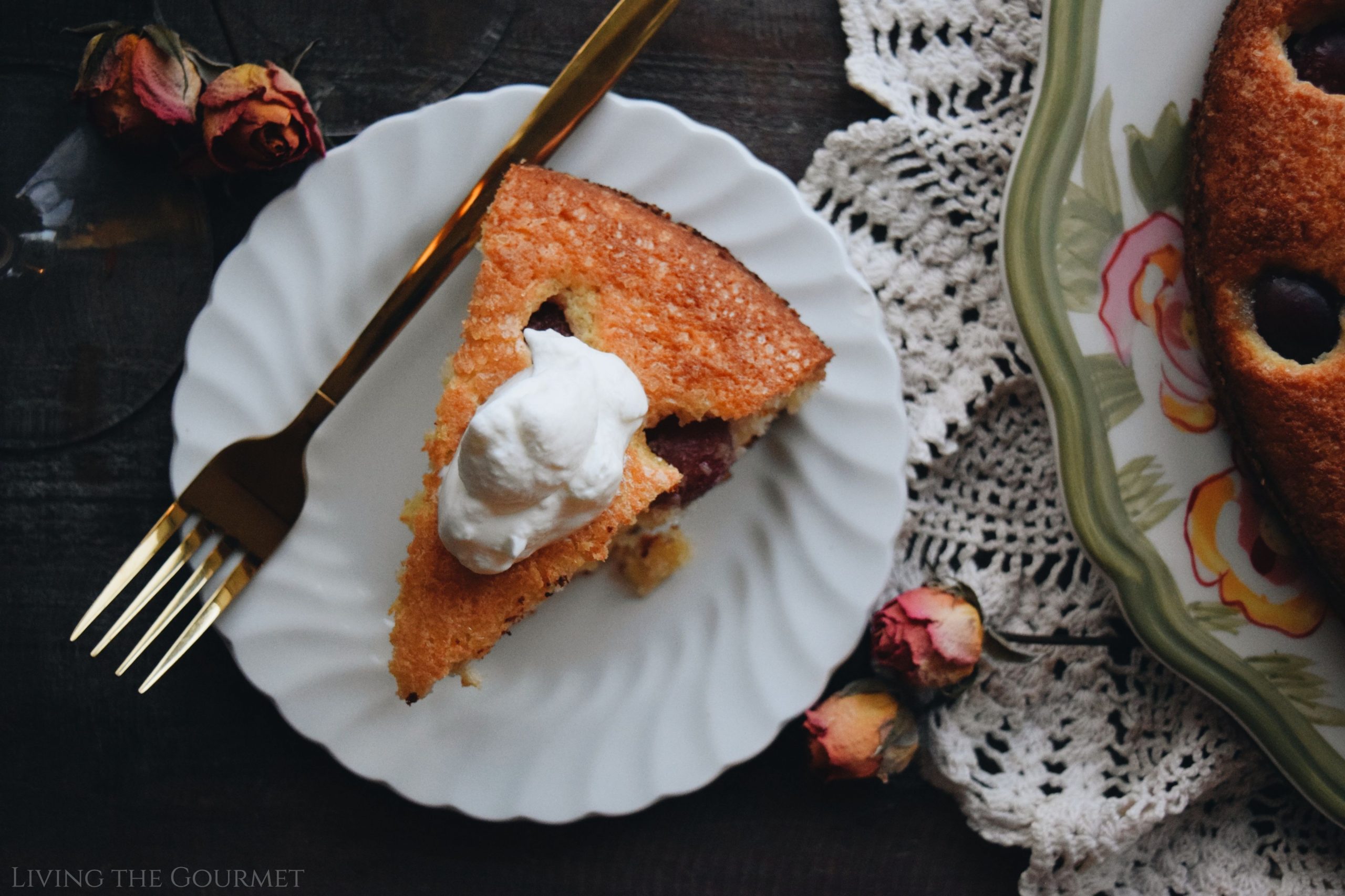 2) With Coffee. Surprisingly (or not?) today's cake is at home alongside black coffee, preferably with a dollop of whipped cream.
3) With Dessert Wine. As alluded to earlier, this is – to my mind – the quintessential 'dessert wine' dessert. While ice wines and the such are typically paired with fresh fruit, flan, gelato, or plain dark chocolate, today's cake is one example of an excellent baked good pairing for dessert wines.
4) After Light, Fresh Meals. Today's cake goes best after a meal that's similarly light and 'fresh' tasting, since it tends to get lost on a palate that finished processing an overly heavy meal. Think of things like light pasta dishes, grilled chicken paired with warmed greens and a lemon vinaigrette, or light bodied seafood.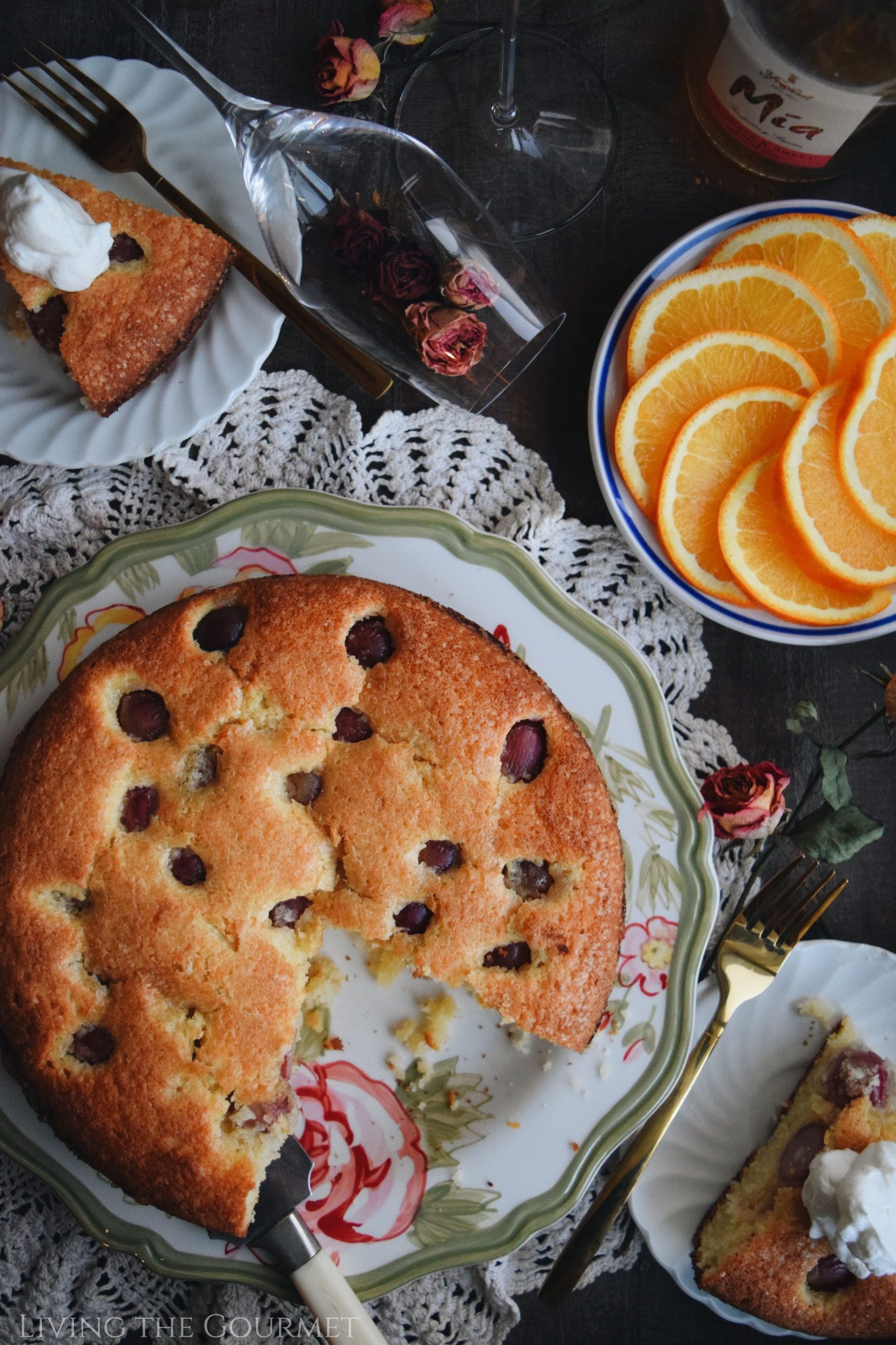 For More Dessert Goodness…
1) Pecan Tartlets. More or less mini pecan pies, these tartlets are a crowd pleaser like few others, and pairing perfectly at virtually any occasion, formal or casual.
2) Candied Pecan and Dark Chocolate Cinnamon Rolls. Need a sweet bite for breakfast? These dark chocolate cinnamon rolls have got you covered. Dark chocolate, cinnamon, and flaky dough, what's not to love?
3) Apple Crisp. A classic apple crisp recipe, this is a dessert that ever at home chef should have in their repertoire.
Print
Sweet Wine Cake
Author:
Prep Time:

10 minutes

Cook Time:

30 minutes

Total Time:

40 minutes

Yield:

1

cake

1

x
1½ cups

all purpose flour

1 teaspoon

baking powder

1 teaspoon

salt

¼ teaspoon

baking soda

1 cup

sugar

8 tablespoons

unsalted butter

3 tablespoons

good quality olive ol

2

large eggs

1 teaspoon

lemon zest

1 teaspoon

orange zest

1 teaspoon

vanilla extract

1 cup

sweet champagne, muscat wine or any sweet dessert wine

1 cup

red seedless grapes

2 tablespoons

raw sugar
Instructions
Preheat oven to 400 degrees F.
Butter an 10-inch round cake pan.
In a large bowl, swift together flour, baking powder, salt, and baking soda. Set aside.
In the bowl of a mix master with the paddle attachment, beat butter and sugar until fluffy. Add olive oil, eggs, lemon zest, orange zest, and vanilla. Beat until smooth.
On low speed, add the flour mixture alternately with wine in three additions, beating until smooth between each addition.
Transfer the batter to the prepared cake pan and smooth top. Sprinkle grapes over the batter, then the raw sugar. Bake until the cake is slightly golden and the cake tester comes out clean, about 35-40 minutes. Transfer to a wire rack and let cool before transferring to a cake plate. Serve with whipped cream if desired.
Nutrition
Serving Size:

8 slices of cake
Recipe Card powered by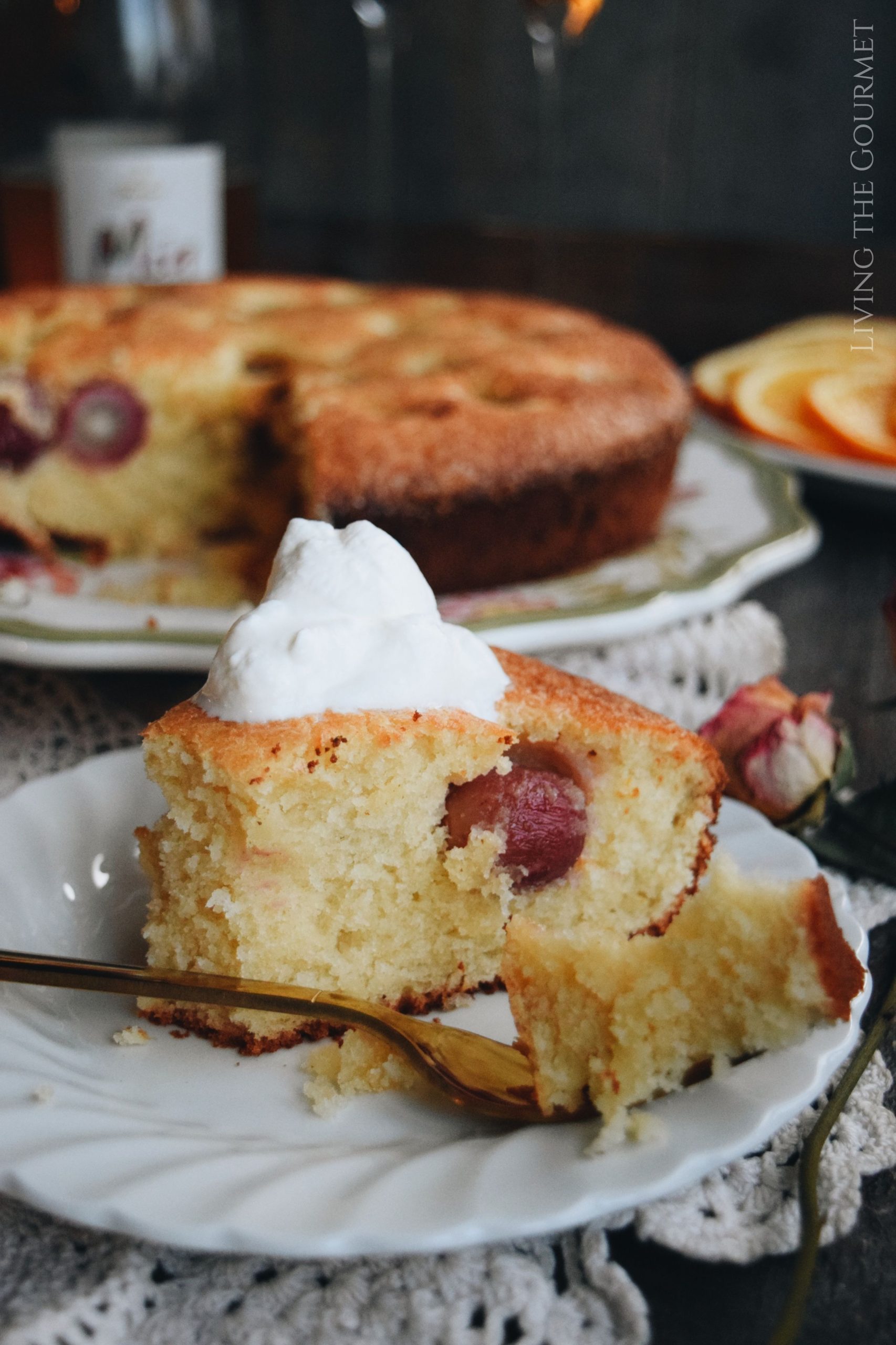 If You Enjoyed Today's Recipe…
Be sure to follow us on Instagram to stay up to date with all things Living the Gourmet, and for more great recipes, tips and tricks.
Did you make this recipe?
If so, let me know in the comments down below, or post a picture to Instagram, or to Pinterest, and I'll give you a shoutout on Instagram, or post your pin to one of my Pinterest boards!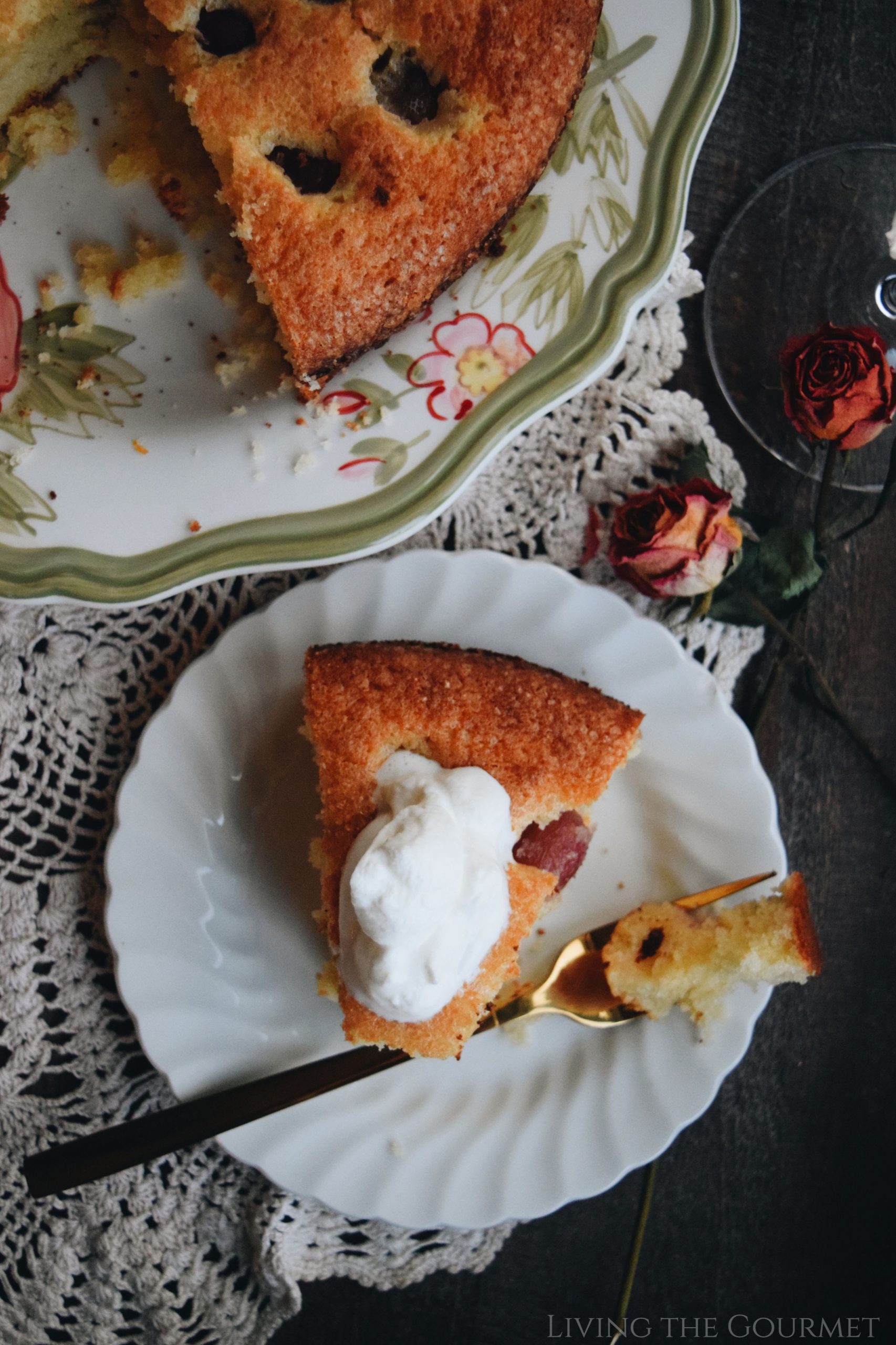 Enjoy!
5