This moist, decadent breakfast cake is filled with zucchini and fruit, sprinkled with brown sugar and cinnamon, then baked to perfection to create a sweet sugar crust. For an extra special morning treat, grill this with a pat of butter and serve with a drizzle of maple syrup!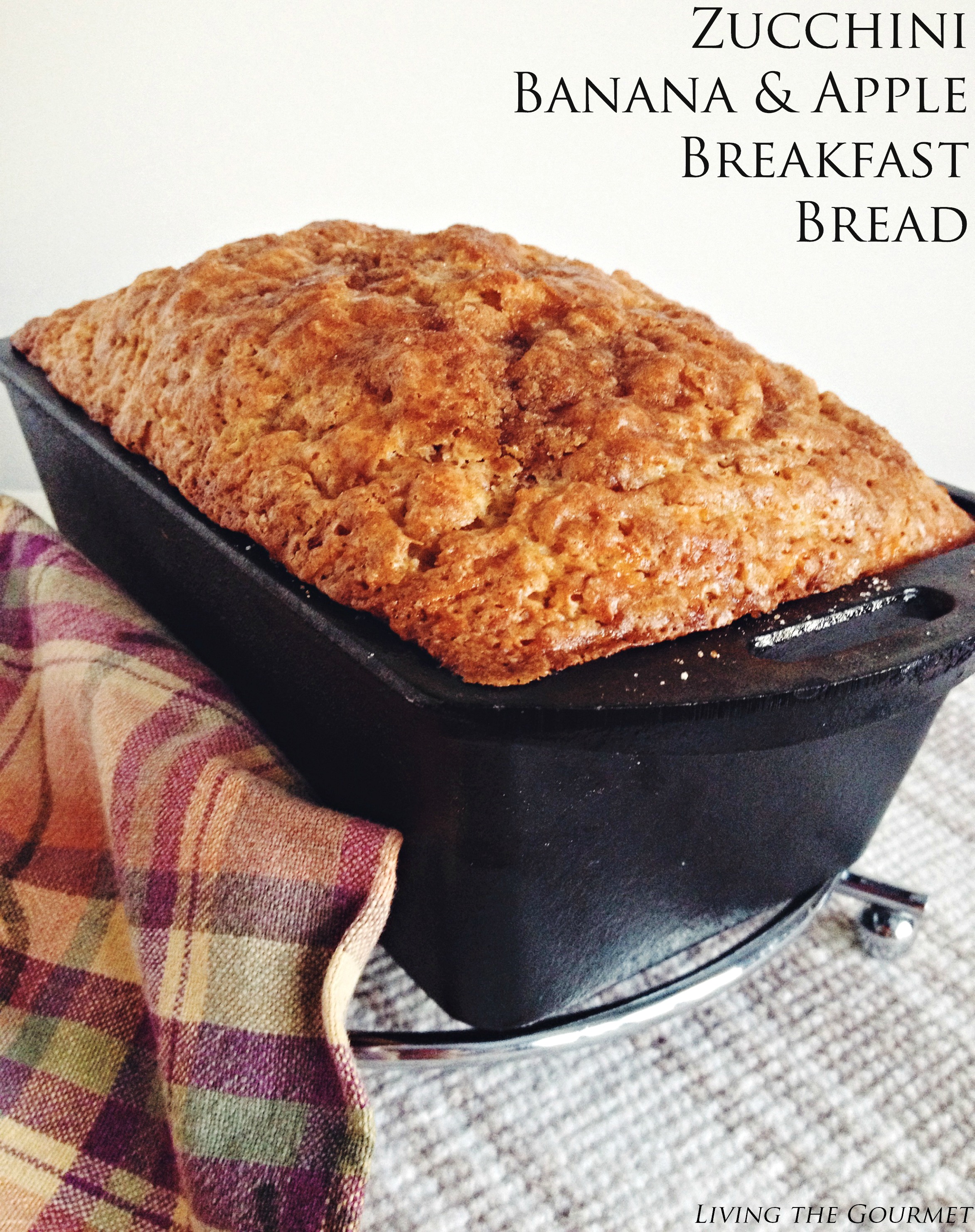 I always like to have breakfast. It really is one of my favorite meals, although sometimes one does not always have time to cook-up eggs, toast and all the trimmings.
I was at the market the other day and zucchini were on special. I being in true form could not pass this up, so I came home with quite a few zucchini. Well, guess what? The bananas were also on special!! So once again, being in true form I could not pass up the bananas. Consequently I also came home with quite a few bananas. I have been eating one of my favorites; I call it my "Elvis" sandwich. I have one more special to tell you about; the apples, yes lots and lots of apples!! Yes, I know good thing they did not have a bridge on special or I would have needed a bigger cart; lol. I needed a few ways in which to use these zucchini, bananas and apples and voila this bread was born!!
It really is quite good, especially warm and with butter.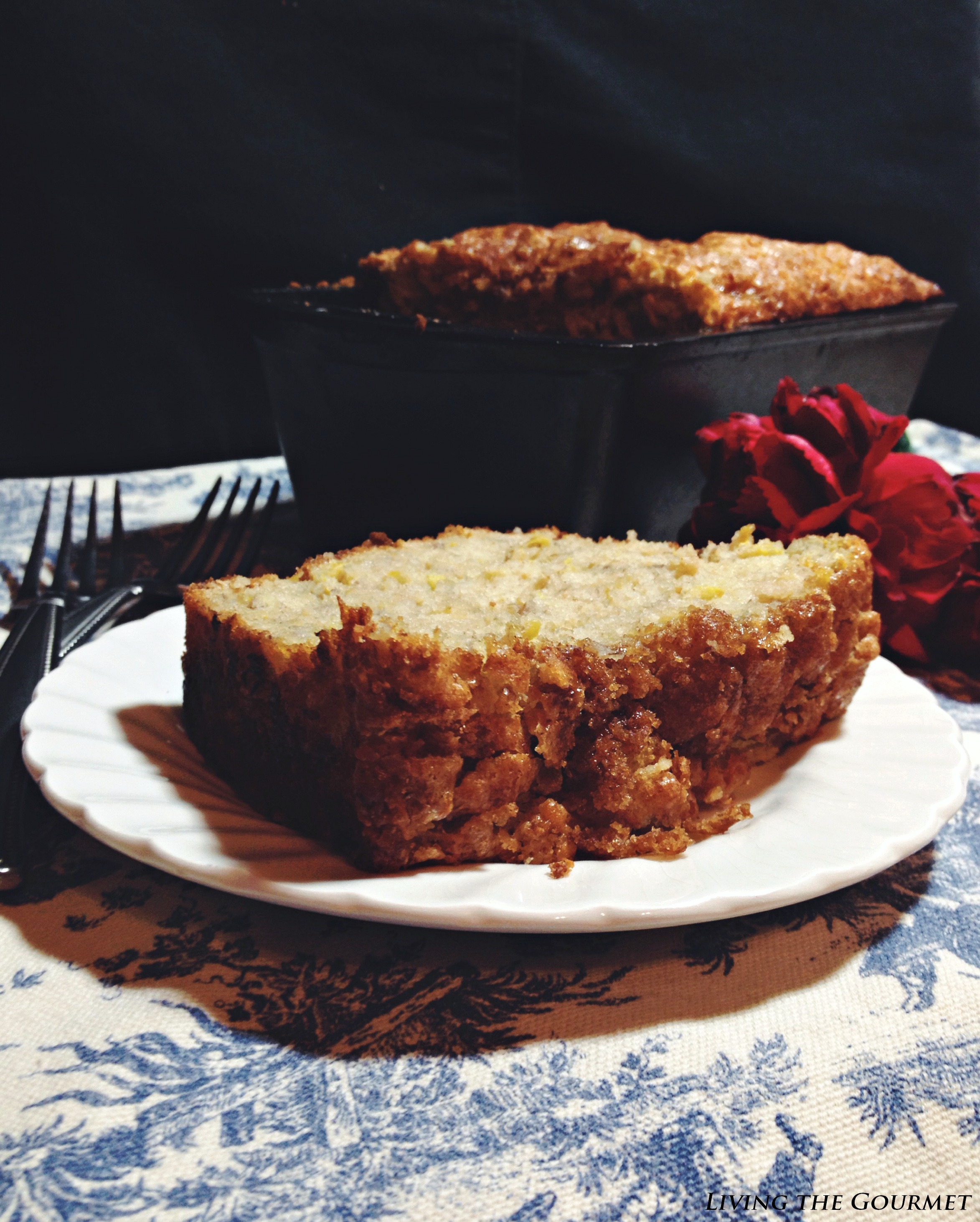 Living the Gourmet
Zucchini, Banana & Apple Breakfast Bread
5 minPrep Time
45 minCook Time
50 minTotal Time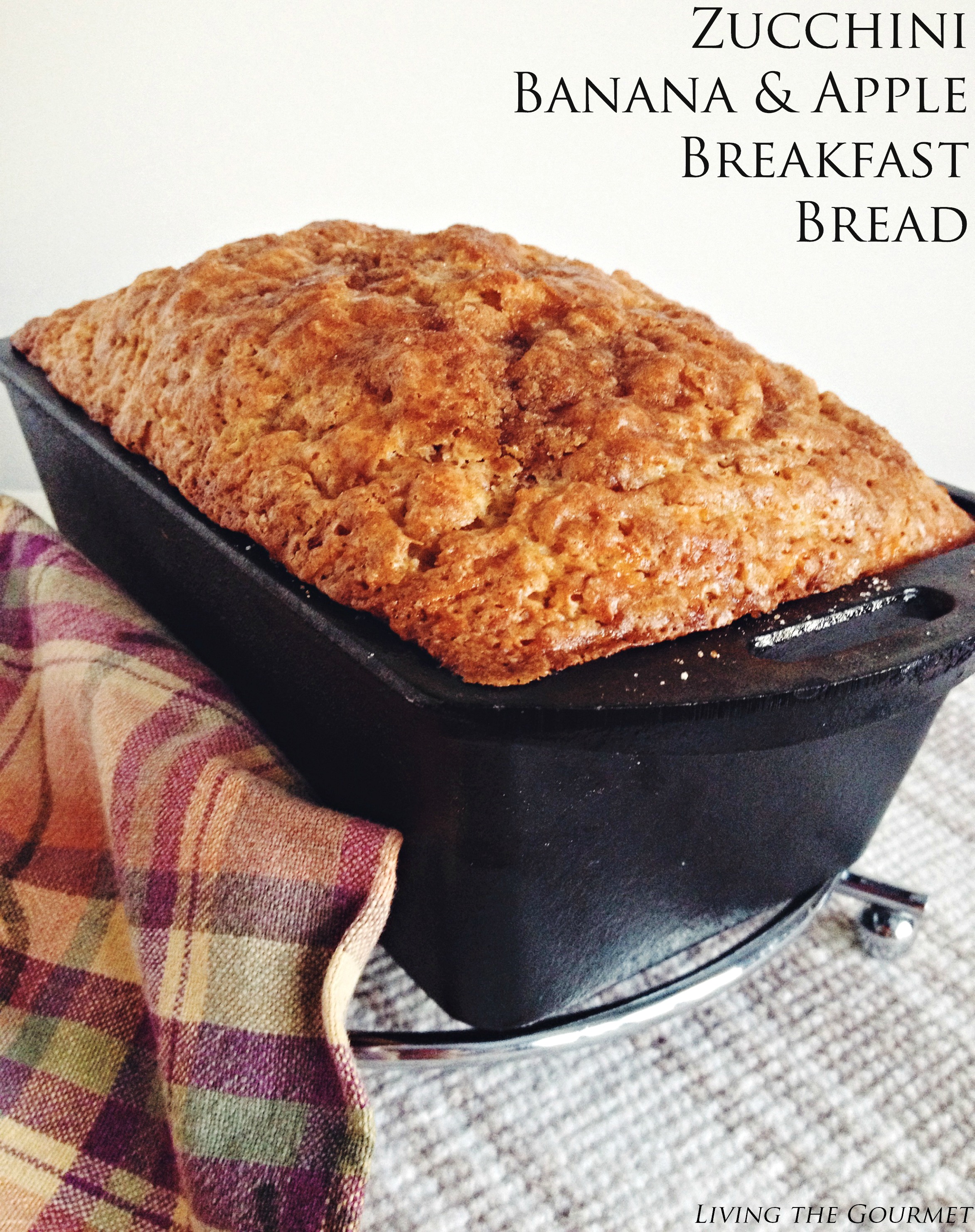 Ingredients
For the Breakfast Bread:

1 1/2 cups flour
1 cup shredded zucchini (about 1 zucchini)
1 cup mashed banana (about 2 bananas)
1 cup shredded apple
1/2 tsp. salt
1/2 tsp. cinnamon
1 egg
1 cup sugar
1 tsp. vanilla
Zest of 1 lemon
1 tbs. lemon juice
1 tsp. baking soda
1/4 cup canola oil
Butter for greasing pan

For the Topping:

3 tbs. butter
2 tbs. flour
2 tbs. sugar
2 tbs. brown sugar
1 tsp. cinnamon
Instructions
For the Breakfast Bread:

In a large bowl; combine the shredded zucchini, apple, lemon zest and mashed banana.
In a separate bowl whisk together the egg, canola oil, vanilla and lemon juice and stir into the mashed banana bowl.
Combine all of the dry ingredients and stir into the mashed banana bowl.
Butter a loaf pan and add the batter.

For the Topping:

Combine all of the ingredients for the topping and form a crumble.
Sprinkle over the bread.
Preheat Oven 350 degrees:
Bake for 40 – 45 minutes or until the toothpick test comes out clean.
Notes
For this recipe, I suggest using a larger loaf pan - larger than the standard 8"x4". Also note, this bread is very moist.
7.8.1.2
72
https://livingthegourmet.com/2015/01/zucchini-banana-apple-breakfast-bread.html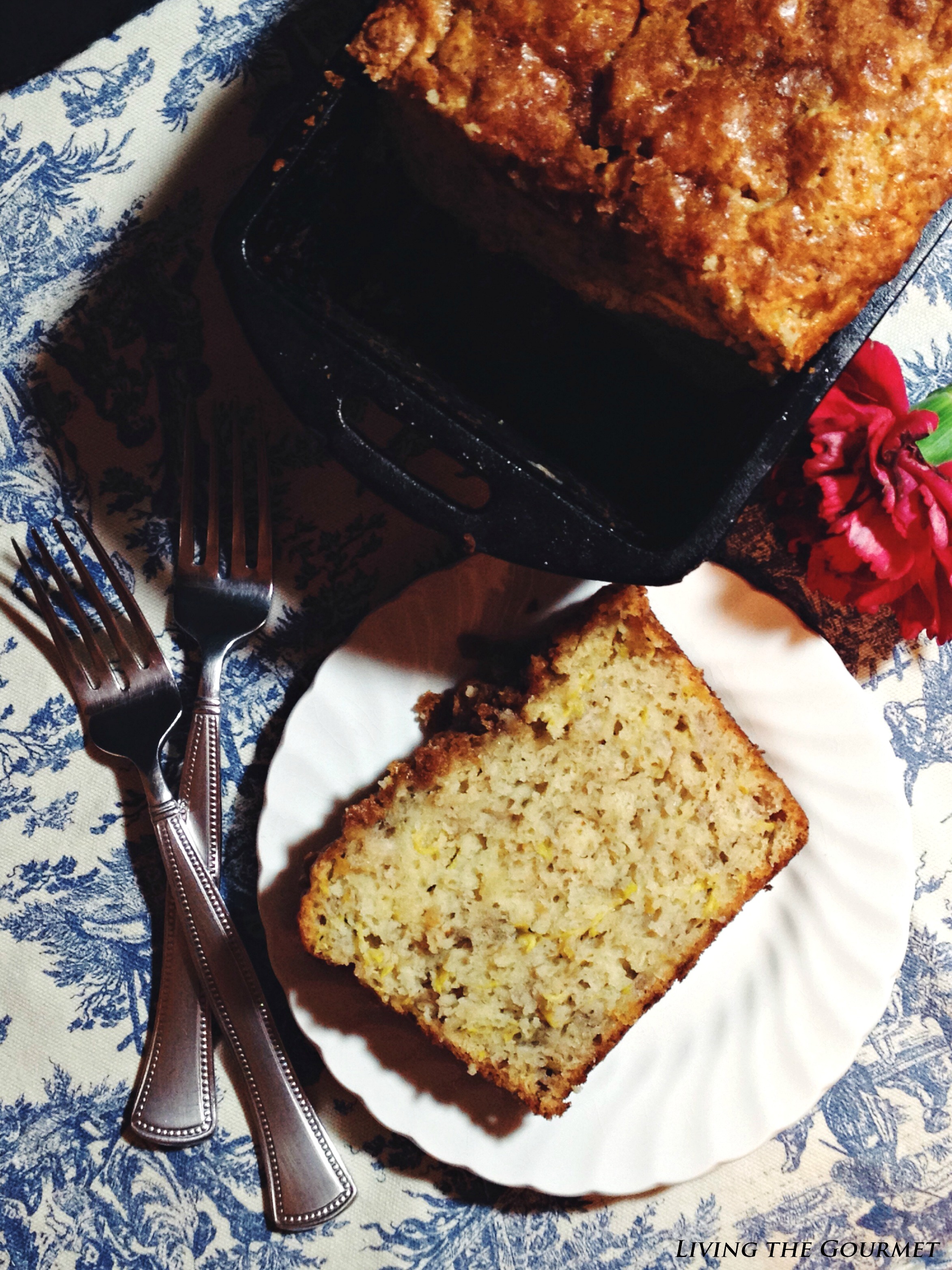 If You Enjoyed Today's Recipe…
Be sure to follow us on Instagram to stay up to date with all things Living the Gourmet, and for more great recipes, tips and tricks.
Did you make this recipe?
If so, let me know in the comments down below, or post a picture to Instagram, or to Pinterest, and I'll give you a shoutout on Instagram, or post your pin to one of my Pinterest boards!
Enjoy with Love!
35